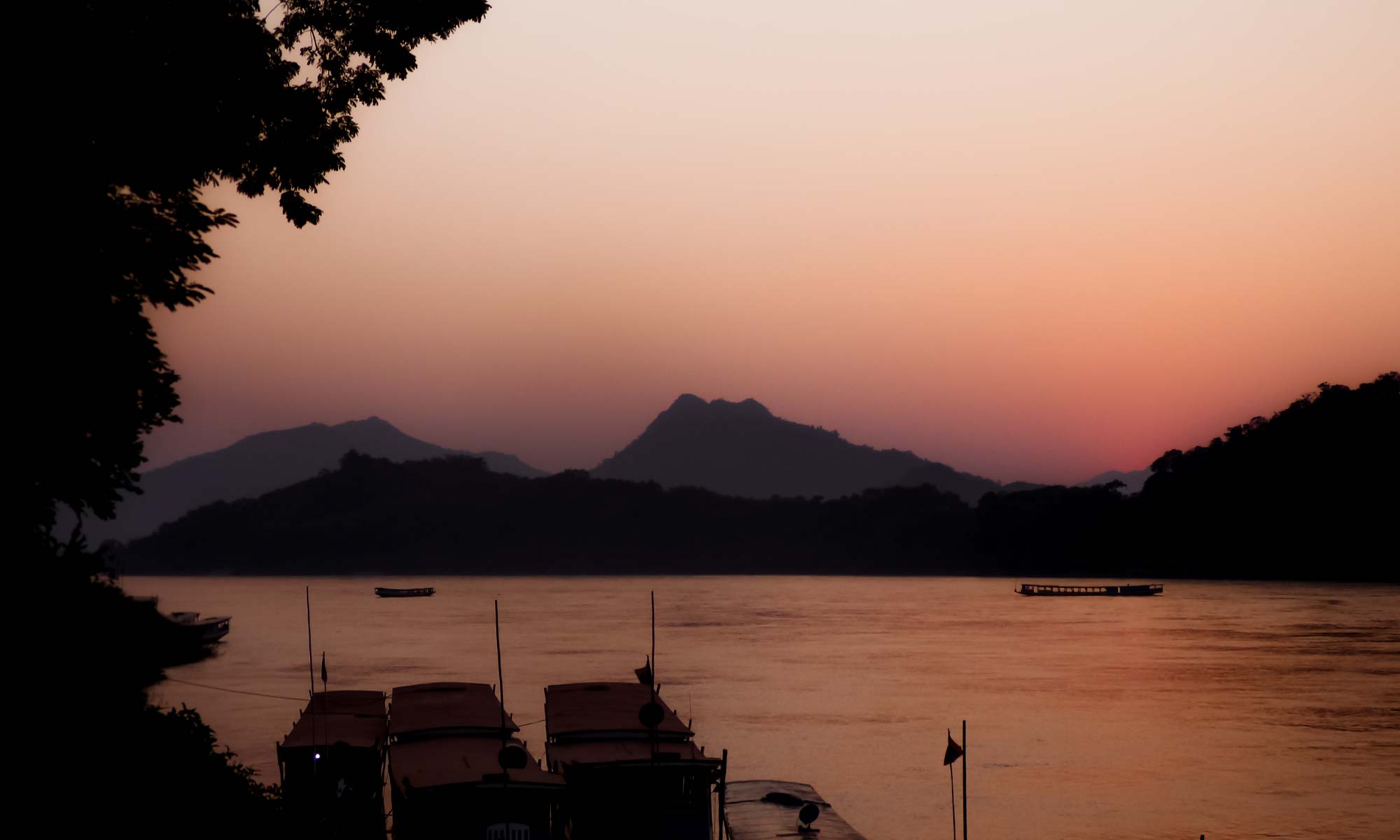 Luscious jungle, tropical waterfalls, incense scented temples and not a fraction of the tourists that seem to flock to other parts of Southeast Asia. We simply had to go. There are so many incredible places to visit in Laos! Traveling through this landlocked country is safe, relaxed and packed to the brim with gorgeous views. Though mostly bypassed by travelers focusing on its more famous neighbors like Thailand, Cambodia and Vietnam, you'll encounter nothing but friendly locals and the most pristine nature we've ever seen. Read on to discover the best places to visit in Laos and how to incorporate them into an unforgettable 2 week Laos itinerary!
---
Assuming you are reading this because you are planning on visiting, we have a ton of helpful Laos content to ease your planning woes! Click below for:
---
Is Laos worth visiting?
Think of Laos and imagine an enchanting world of prehistoric volcanic landscapes, limestone rock formations straight out of a fairytale, Buddhistic colonial cities and a gazillion of crystal clear waterfalls. It's not for nothing Laos is becoming more popular amongst nature lovers and adventure seekers. Is Laos worth visiting? Well, YES!
Best part of it all? It hasn't been overrun by massive tourist crowds yet. While Laos is slowly making its way out of communism into capitalism, the "forgotten country" will undoubtedly also make its way into more tourist hearts in the future.
Time feels fluid in cities like Luang Prabang and Vang Vieng. Almost no street advertising, no neon signs, more motorcycles than cars and no Heinz ketchup or McDonals in sight. In the evening, strings of lightbulbs illuminate the tranquil riversides and markets.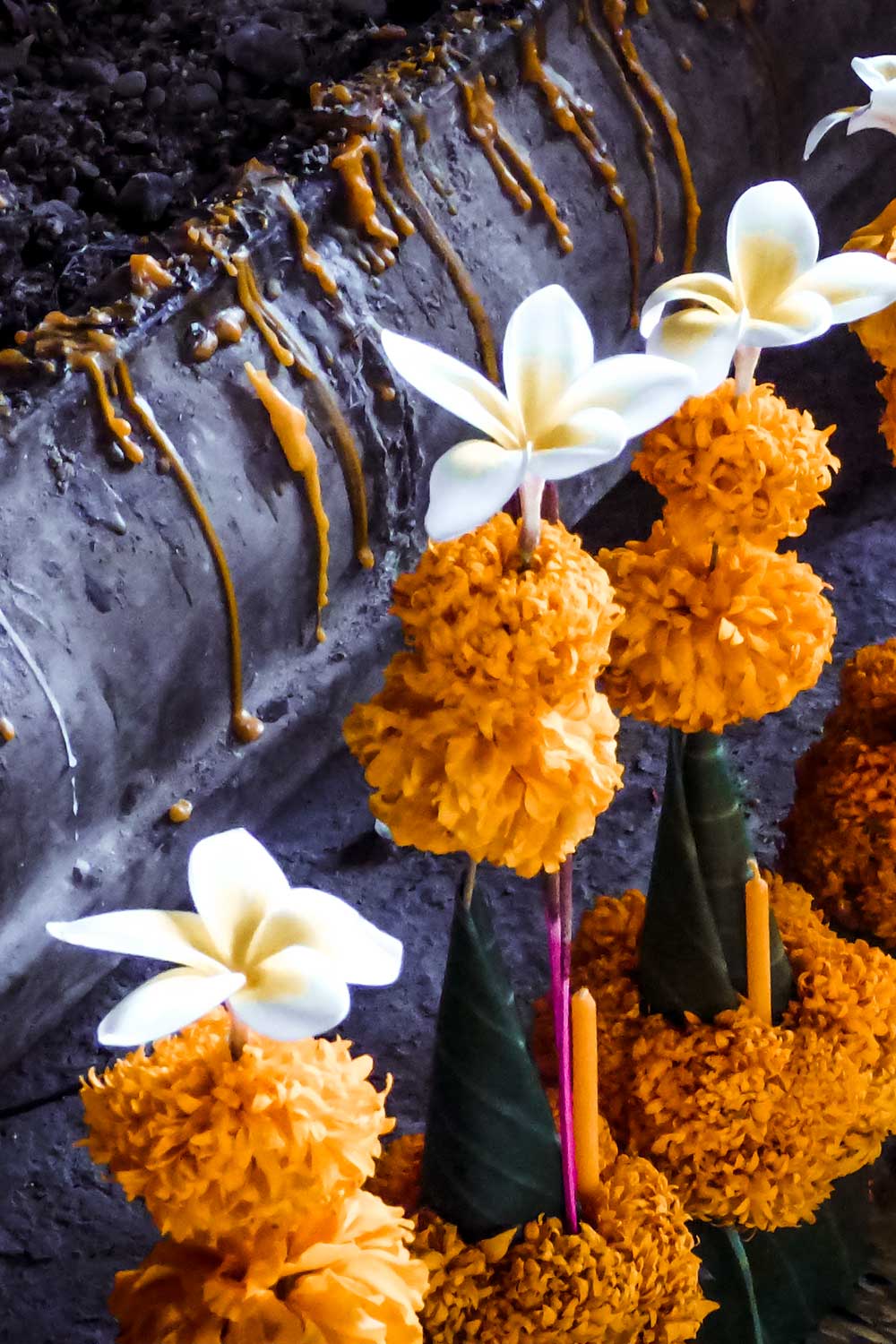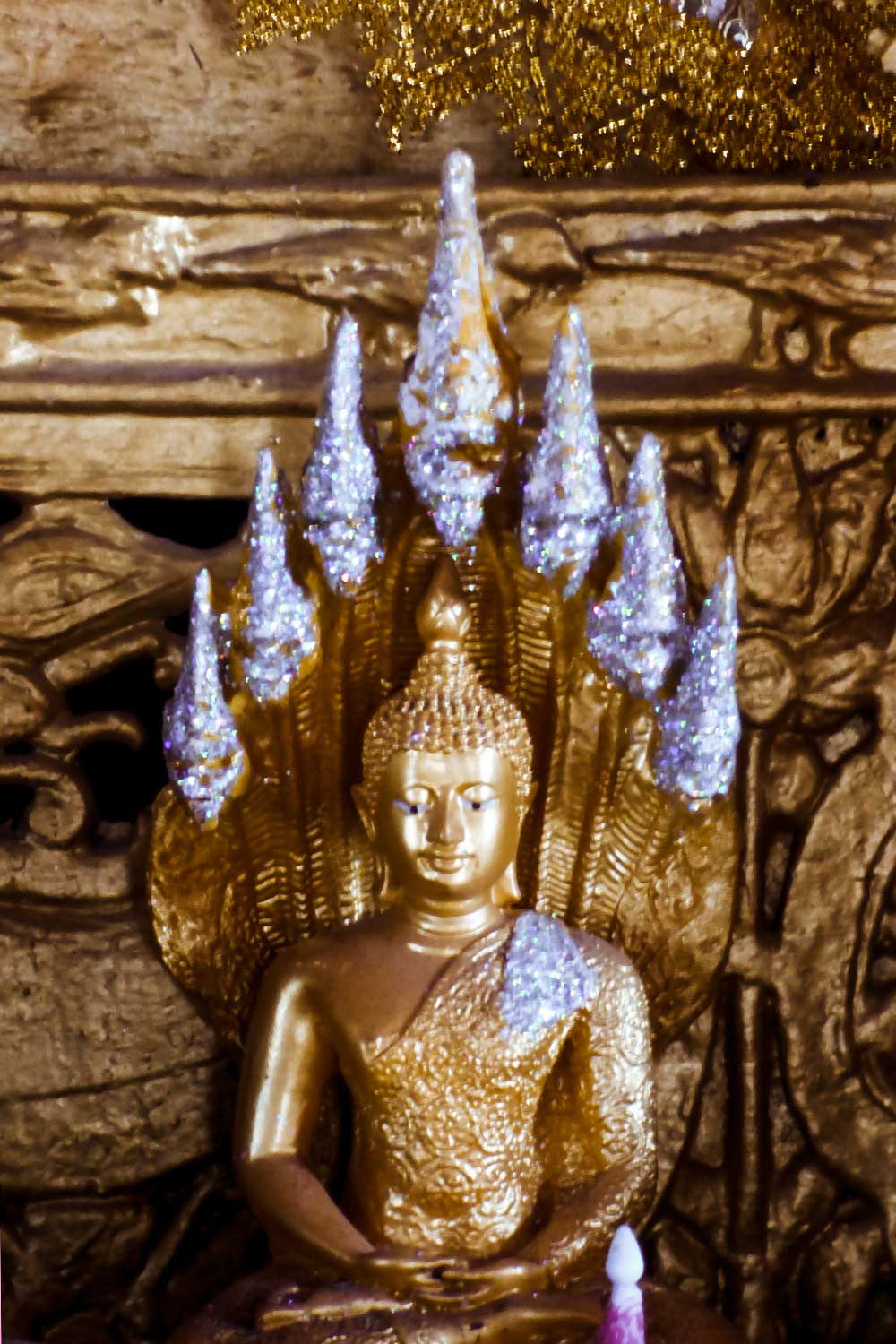 How many days in Laos?
We had two weeks in Laos (14 days). Most visitors tend to spend one to two weeks in Laos and focus on the north or south wile combining with one of its neighboring countries like Cambodia or Vietnam. If you would want to dive further into Laos' hidden secrets, we'd recommend to dedicate around 3 weeks in Laos.
One week in Laos: Northern Laos itinerary
Laos in one week? Is that even possible? Yes, well only if you focus on one part of the country that is. While Laos doesn't attract hordes of tourists, the main tourist attractions are located in the North, with Luang Prabang being its crown jewel. Easily reached from Chiang Mai and Bangkok in Thailand, its also perfect as a little side trip from Hanoi, Vietnam.
Our Northern Laos itinerary brought us from Luang Prabang (3 nights) to laidback Vang Vieng (2 nights) for some downtime in nature and onward to Vientiane (2 nights), Laos' easygoing capital. Nature lovers might perhaps want to dedicate an extra night in Vang Vieng and shorten their stay in Vientiane or Luang Prabang.
One week in Laos: Southern Laos itinerary
A perfect one week Laos itinerary can be enjoyed in Laos' lesser known southern parts, which ranked high on our travel radar. Easy to combine with Cambodia's jungle covered templed in Siem Reap!
Our Southern Laos itinerary included stops in sleepy Paksé (2 nights), the Jungle of the Bolaven Plateau (3 nights) and the relaxed shores of Don Khone (2 nights), one of Laos' 4000 islands in the lush Mekong River.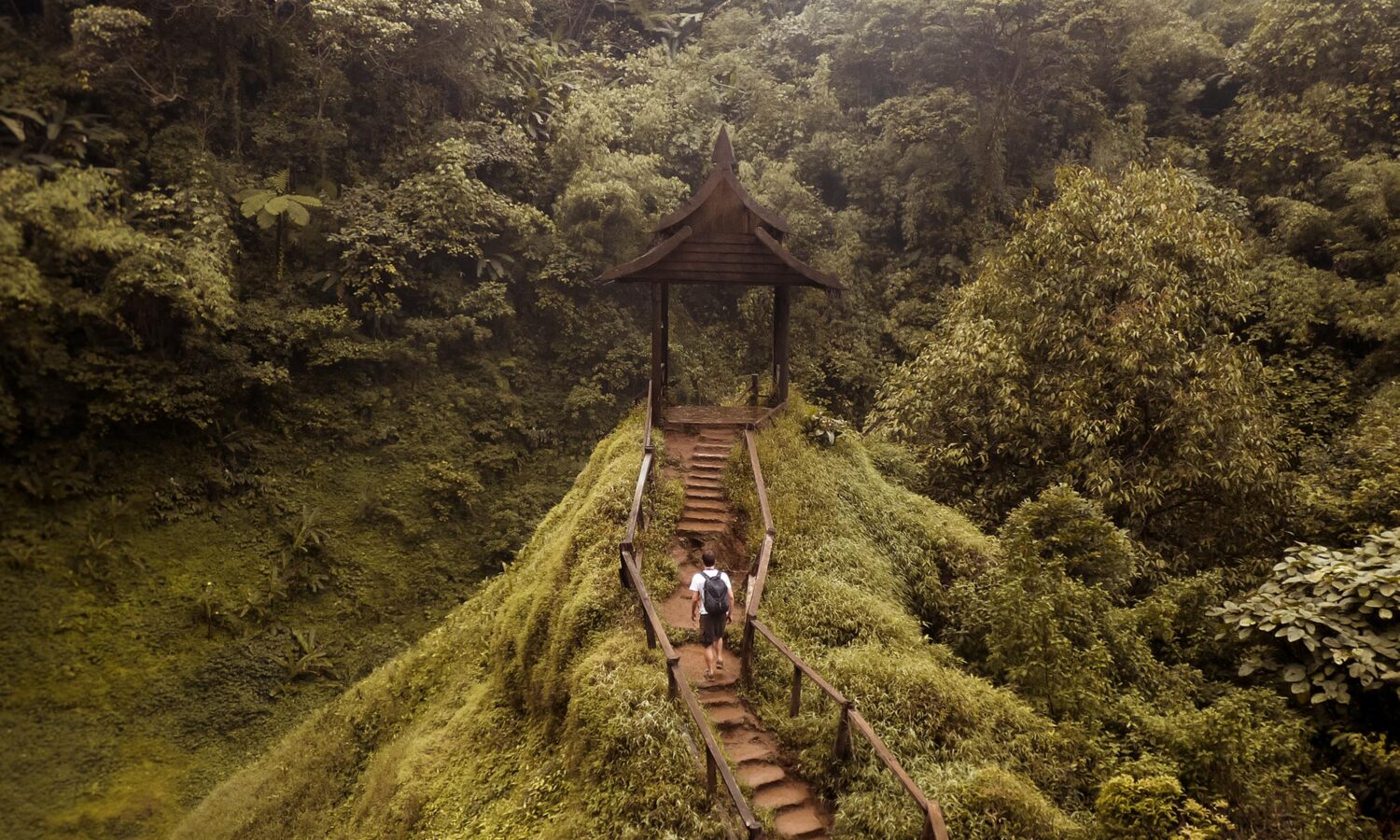 The perfect 2 week Laos itinerary
To give you an idea about what you can expect during your journey through Laos you'll find a map with our two week Laos itinerary below. All destinations on this itinerary, have a separate mini guide in which you can find all our tips for fun activities, good restaurants and nice hotels. So you can tweet this canvas into your own ideal Laos itinerary and hopefully get a good idea of what each destination has to offer.
We spent 2 weeks in Laos and roughly followed the Mekong River from north to south. Below is a map of Laos showing what places we traveled to and highly recommend. You can click on each highlighted site on the map to get a better impression of that particular destination and the best places to visit in Laos.

Laos
Let's do this! Let's dive into the best places to visit in Laos and best things to do in Laos se you can shape your perfect 2 week Laos itinerary!
Day 1: Arrive in Luang Prabang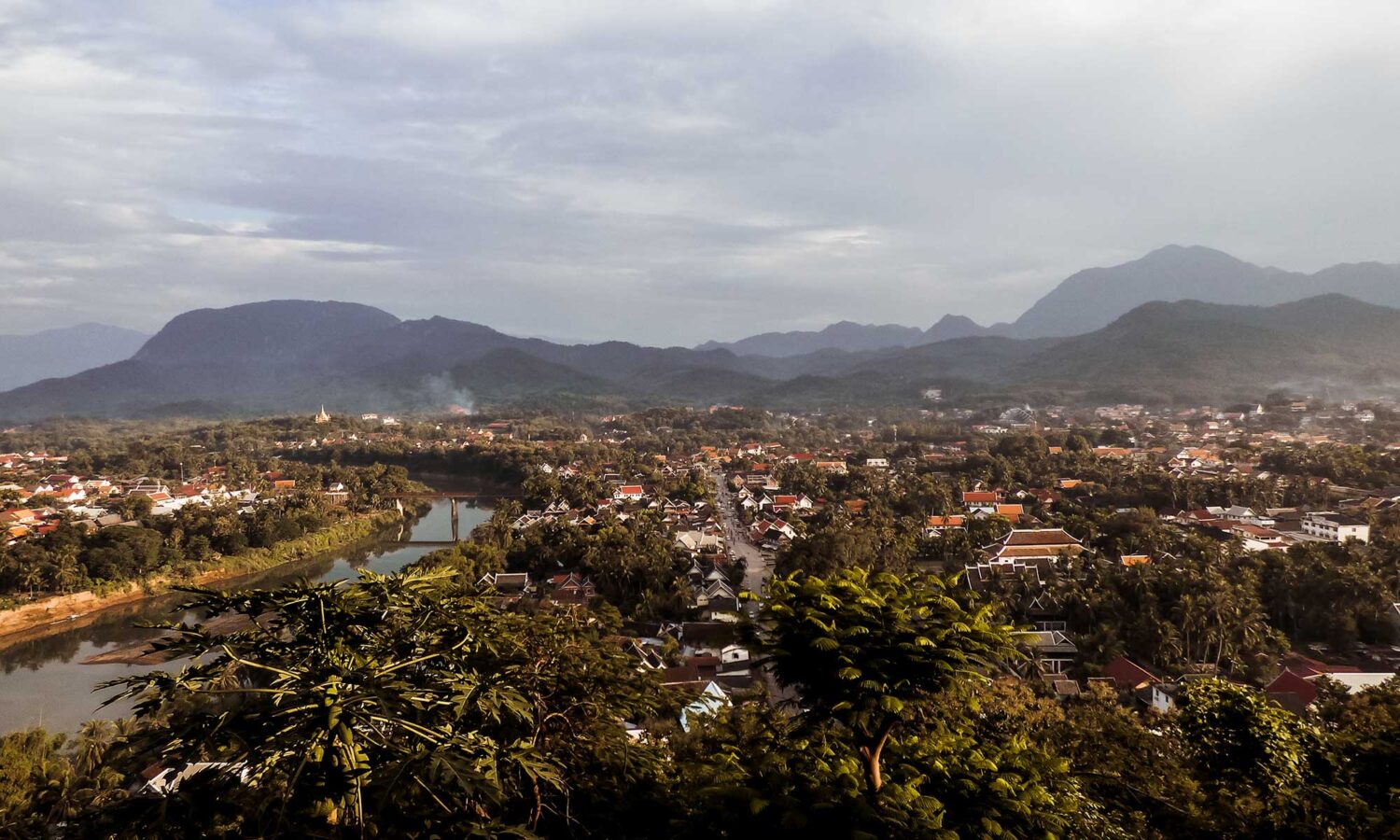 Having never traveled to Asia before, we weren't too keen to start our travels in a chaotic capital, but preferred a more tranquil kickoff of our trip. So we decided to start our trip in the sleepy town of Luang Prabang!
The flight into Luang Prabang was one of the most scenic flights and landings we've ever witnessed! The little propeller plane will take you through majestic mountains, limestone cliffs and over never ending rice fields into the colonial heart of Laos!
Luang Prabang is the perfect place to leisurely start your Asian explorations and recover from your jetlag. Spend your first day getting your bearings at your hotel or head out into the Old Town and explore the sites of Phousi Hill. The golden temple of Phousi Hill towers over the city and gives superb 360 degree views of the city!
Day 2: Luang Prabang - exploring UNESCO heritage sites
Luang Prabang is Laos' cultural epicenter, flaunting a picturesque French colonial old town which is a delight to stroll through. Cultural buffs will eat their heart out as there are over 30 temples dotted around the city and food lovers will drool over the deliciousness that is offered in the street stalls.
Luang Prabang is filled with UNESCO heritage side and is most enjoyably discovered by just walking around and taking in all the beautifully restored colonial buildings. Wander around town and see all the small temples dotted around the historical centre. Don't skip Haw Pha Bang, Wat Xieng Thong and Vat Sensoukharam, which were our favourite of the bunch.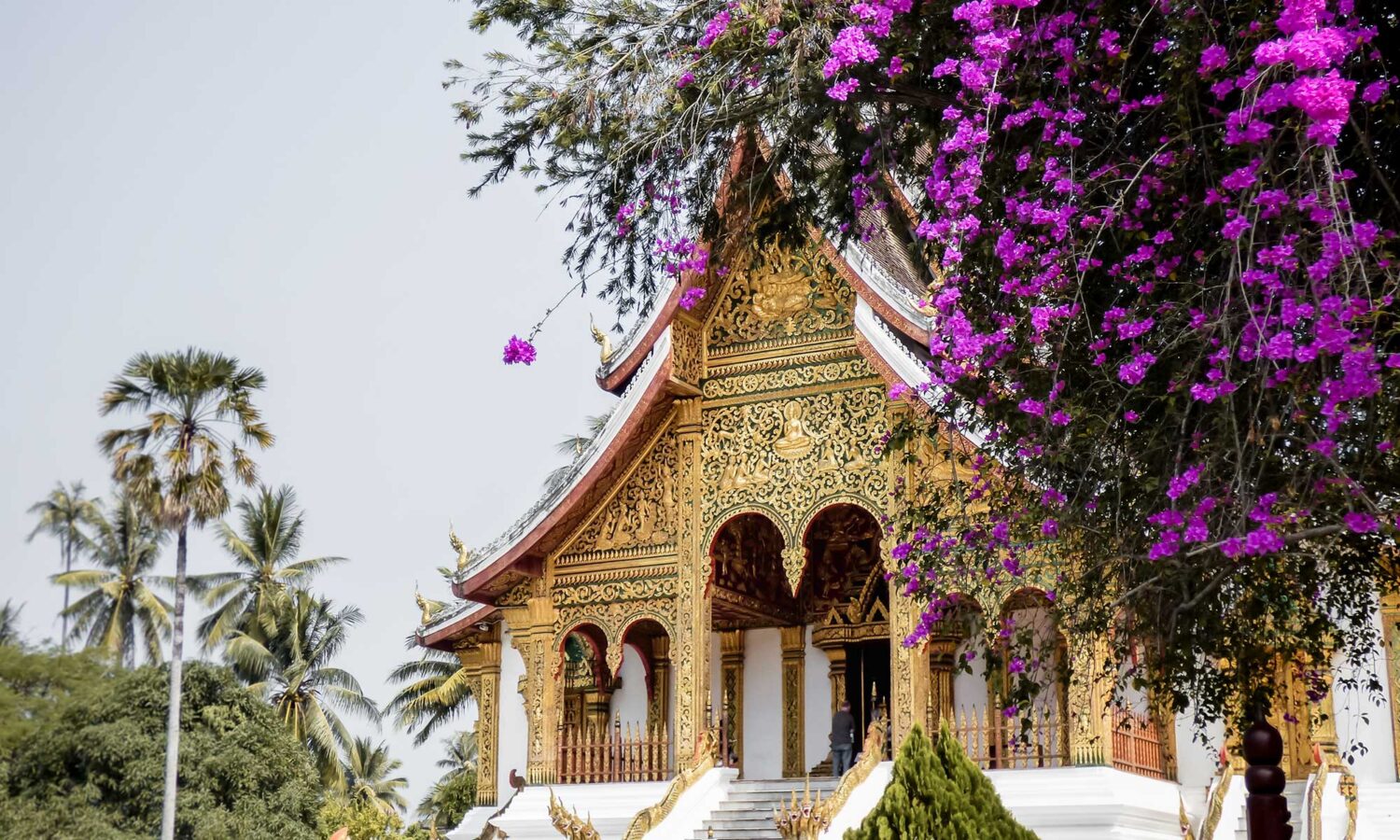 Enjoy lunch at Tamarind and enjoy traditional Lao dishes and tranquil riverfront views from their covered terrace. We highly recommend the Lao Cuisine Explorer set menu which serves two (320,000 LAK for two) and takes you on a culinary journey through Laos.
Enjoy a waterfront stroll, hop into the nearby smaller temples and watch the day to day life of the monks pass by. In the evening, Sisavangvong Road is transformed into an open air market and its side streets are filled with delicious street food stalls.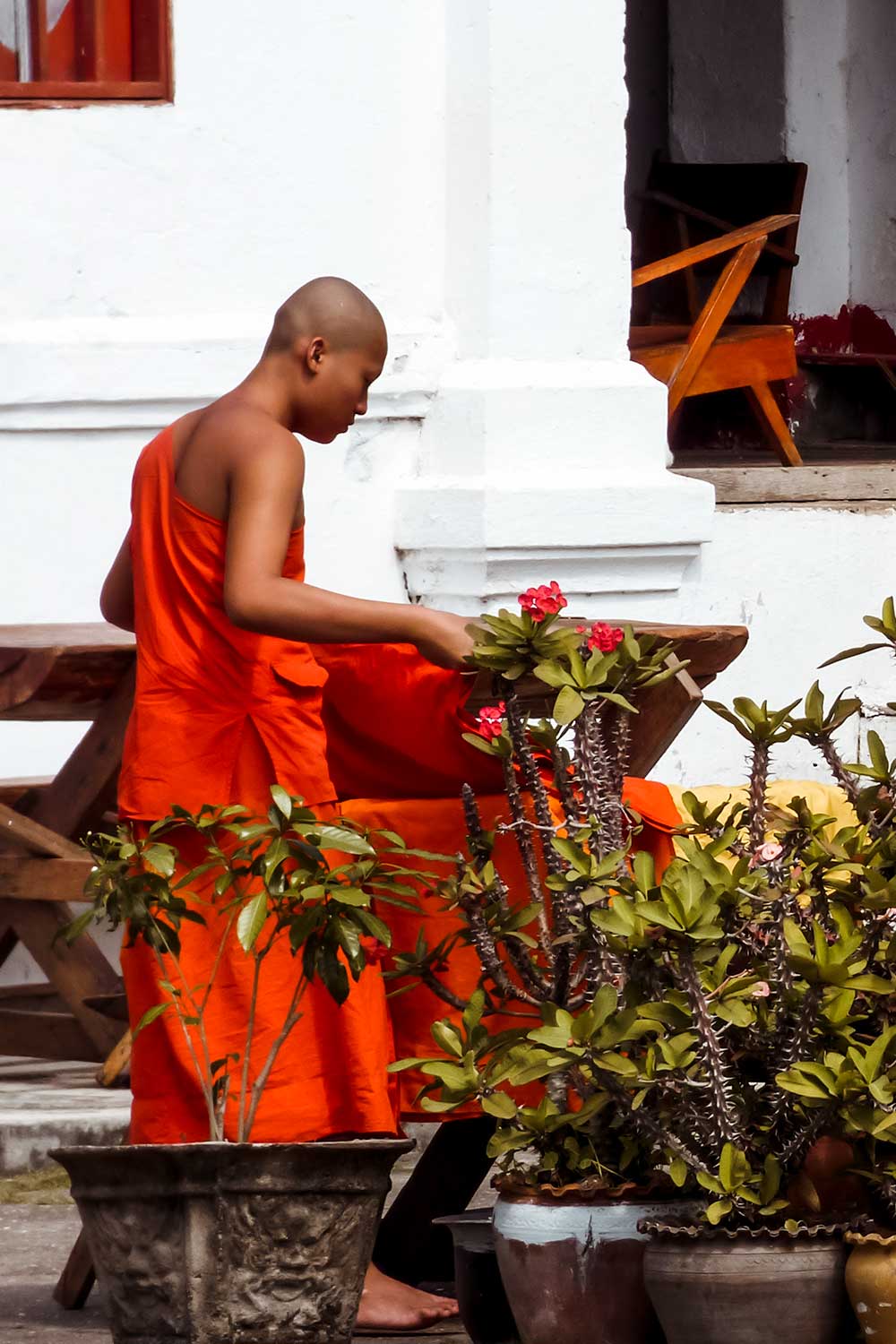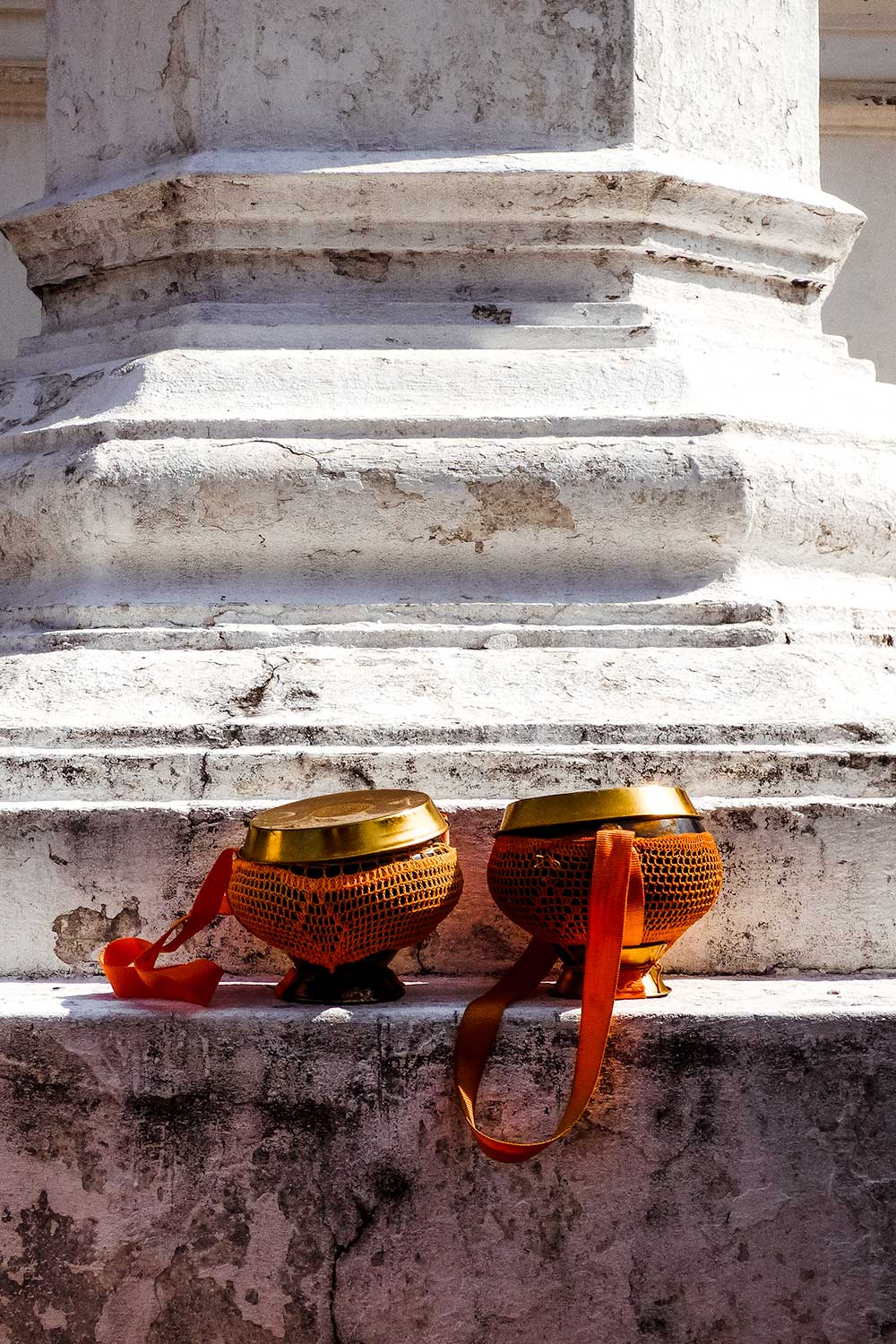 Day 3: Luang Prabang - Morning alms, Pak Ou Caves and Kuang Si Falls
Rise and shine! The tradition of the morning alms (Sai Bat) is a Buddhist cultural tradition and one to observe in silence and wiht respect. Every morning, the monks walk the streets of Luang Prabang, mostly following the trail of the most important temples, and receive food offerings from devotees.
Pro tip: the morning alms start early morning around 05:30 to 06:30 am in March to October and 06:00 to 07:00 am in November to February.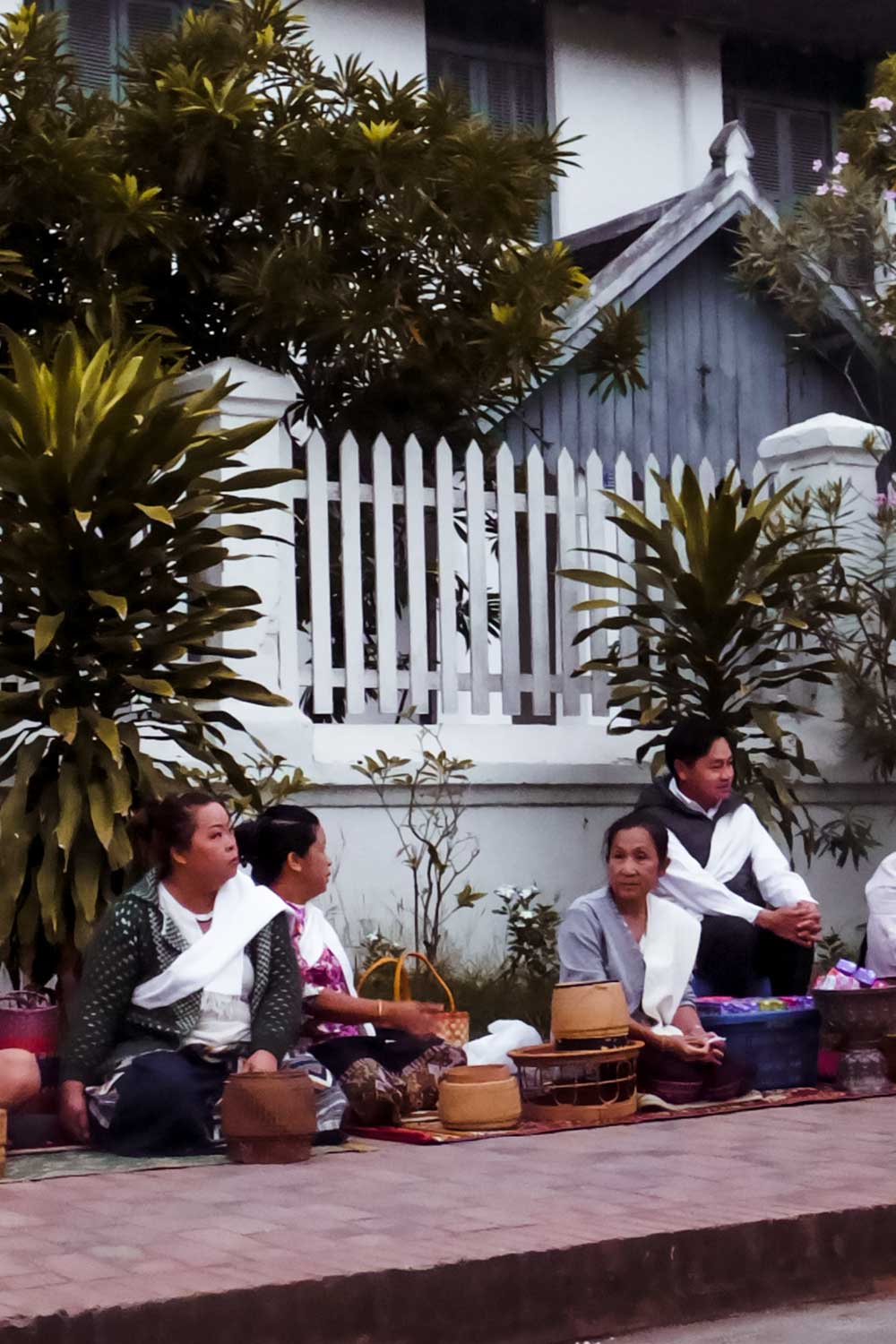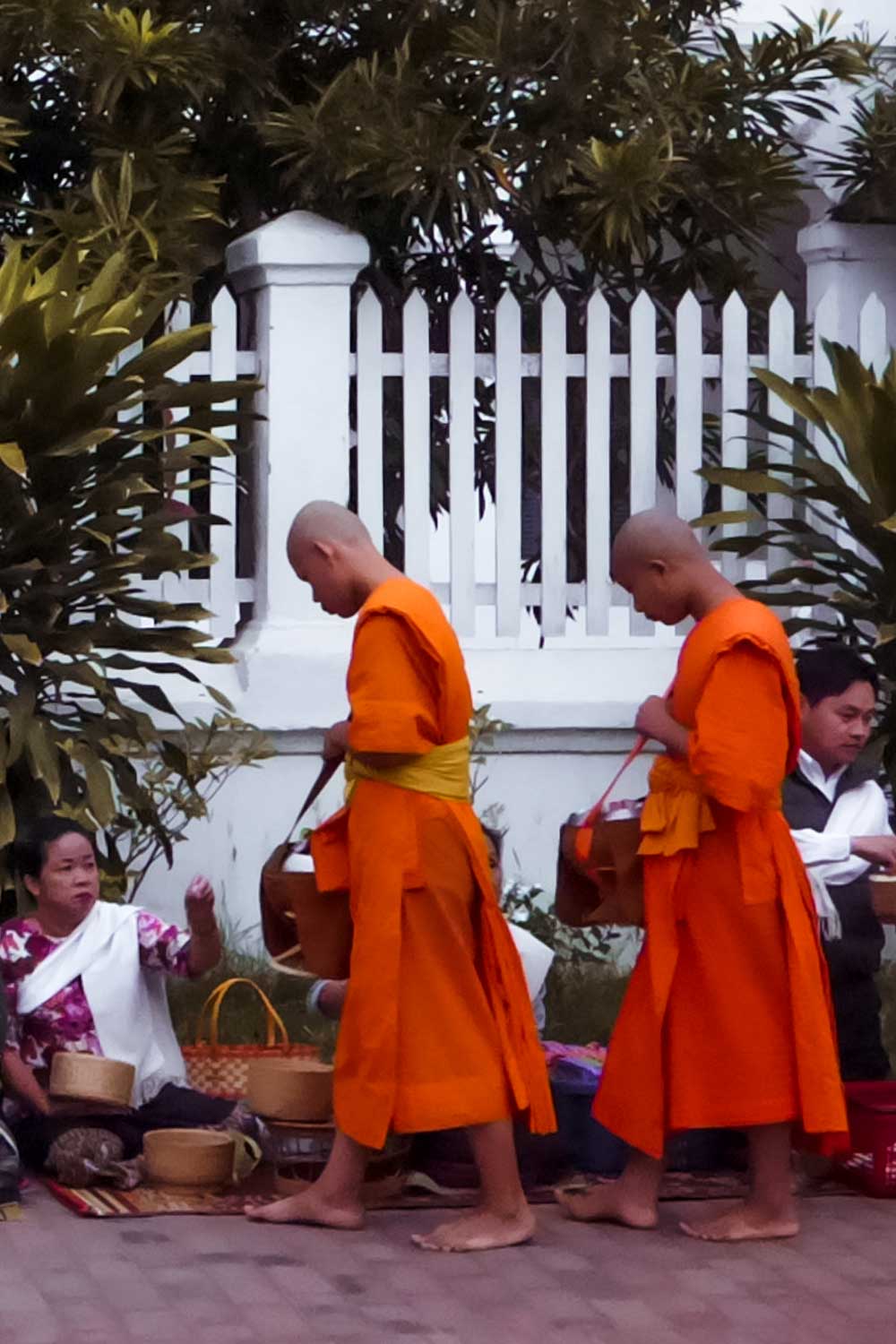 Head back to your hotel for some breakfast or get your morning caffeine fix at Saffron, one of the best breakfast bars and coffee houses in Luang Prabang.
Now you've seen the morning alms, it is time to visit another Buddhist site: the Pac Ou Caves. Packed with over 4,000 Buddha statues, the Pak Ou caves are a shrine to the river spirit and Lord Buddha. The Buddha images in the Pak Ou Caves ca be found in different positions, from meditation to peace and nirvana (the reclining Buddha). The caves are shrines to Buddha, offering places of worship with the largest image in Tham Ting being a popular place to burn incense and offer prayers.
It's easy to book a tour to the Pak Ou Caves or you can buy your own ticket at the Luang Prabang Longboat office for boats departing around 8:30 am. (get there by 8am for a ticket)! Price is 65,000 LAK per person, the tour lasts about 2 hours including a stop at Whiskey Village.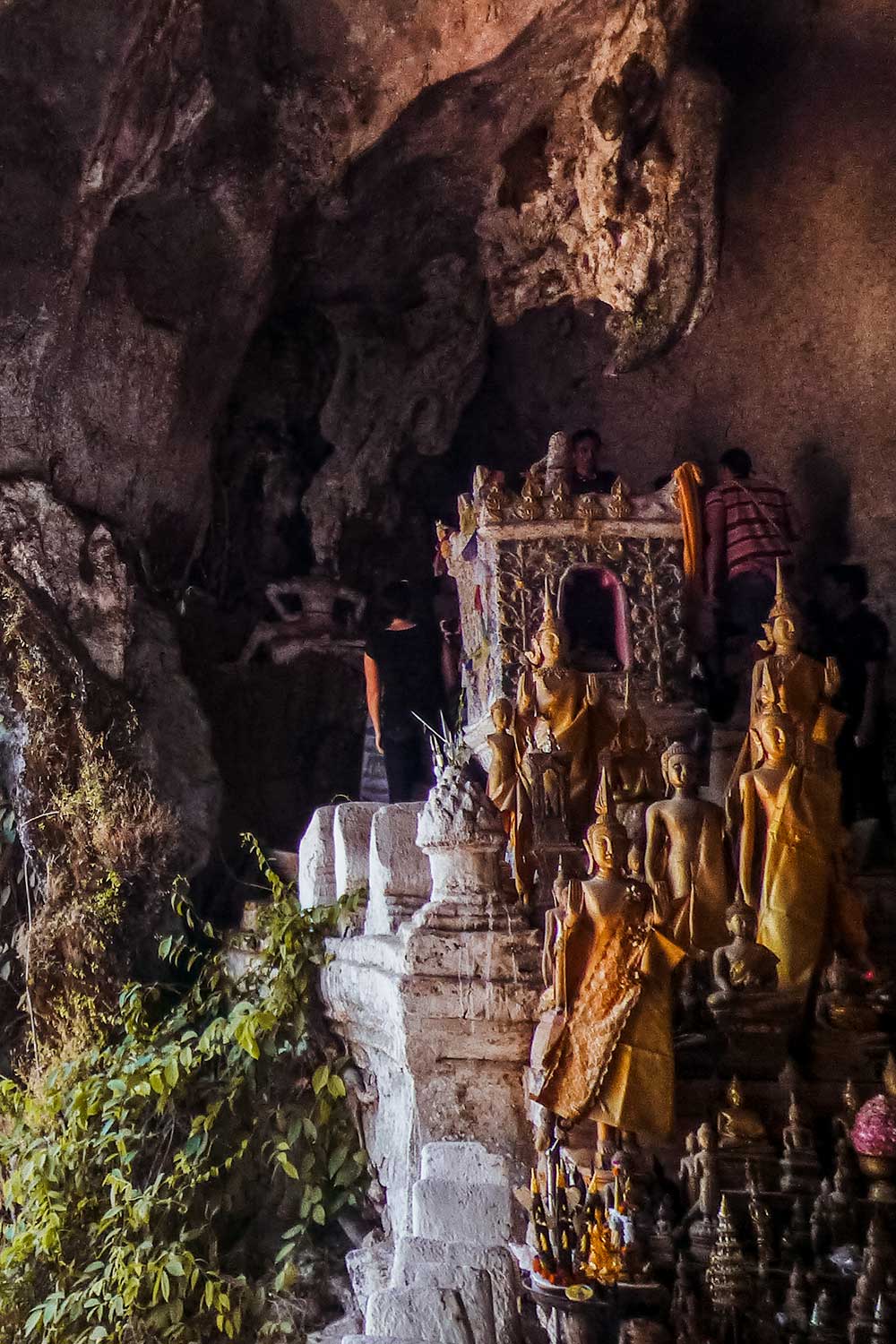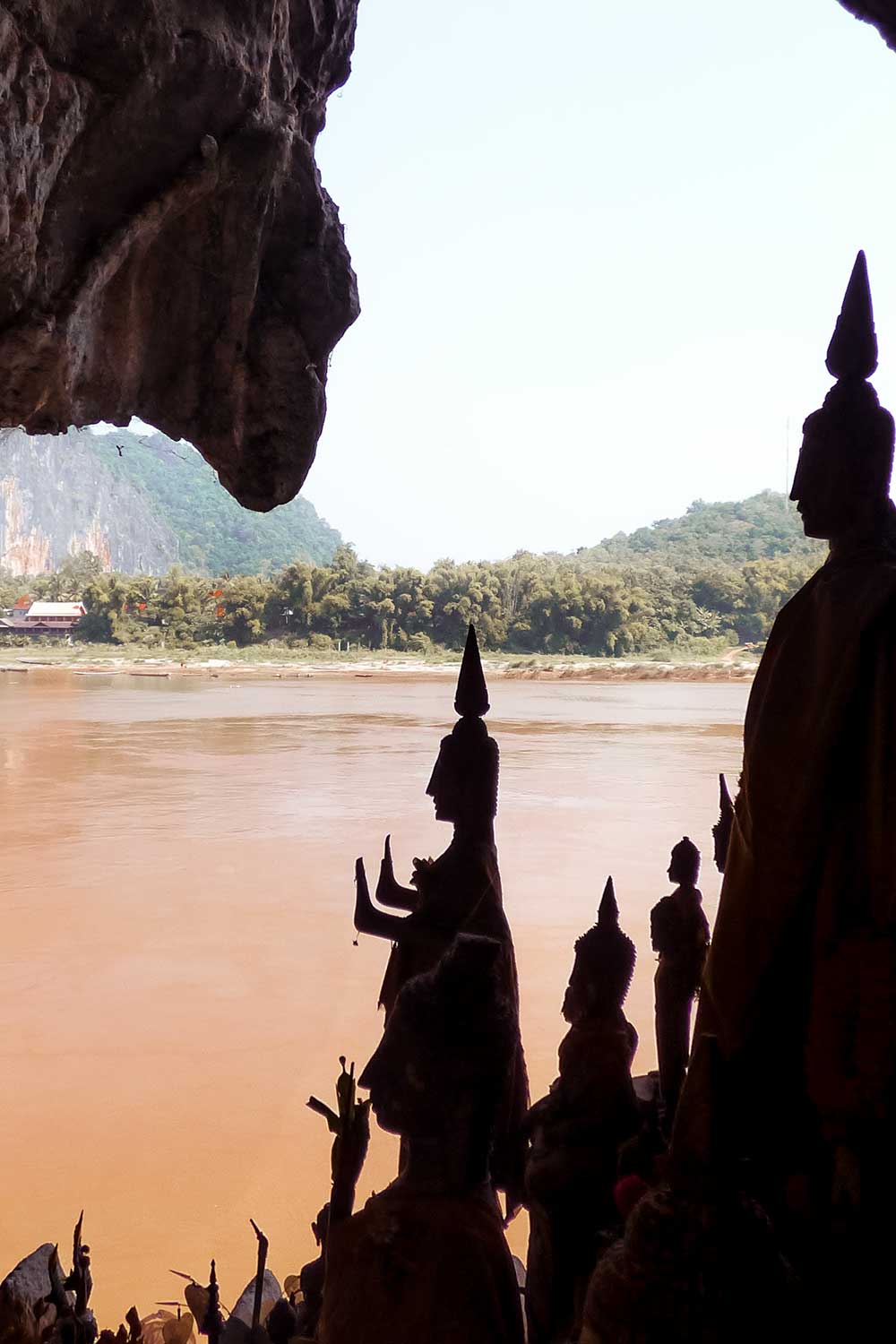 Head to the Indigo Café for lunch, a mere 12 minute walk from where the longboat dropped you back in Luang Prabang. Offering a combination of hot and cold local dishes, Indigo Café is the perfect place to taste the famous Lao sandwiches!
Spend the rest of your afternoon soaking in the mint-blue waters of Kuang Si Falls. Aqua colored pools flow into each other, fed by a magical waterfall. Many pools are big enough to allow for swimming so schedule enough time in the afternoon for some relaxing.
You could easily arrange your own tuk tuk, there are a bunch of them right across the street of Indigo Café, or you can visit the falls with an airconditioned van or by joining a group tour: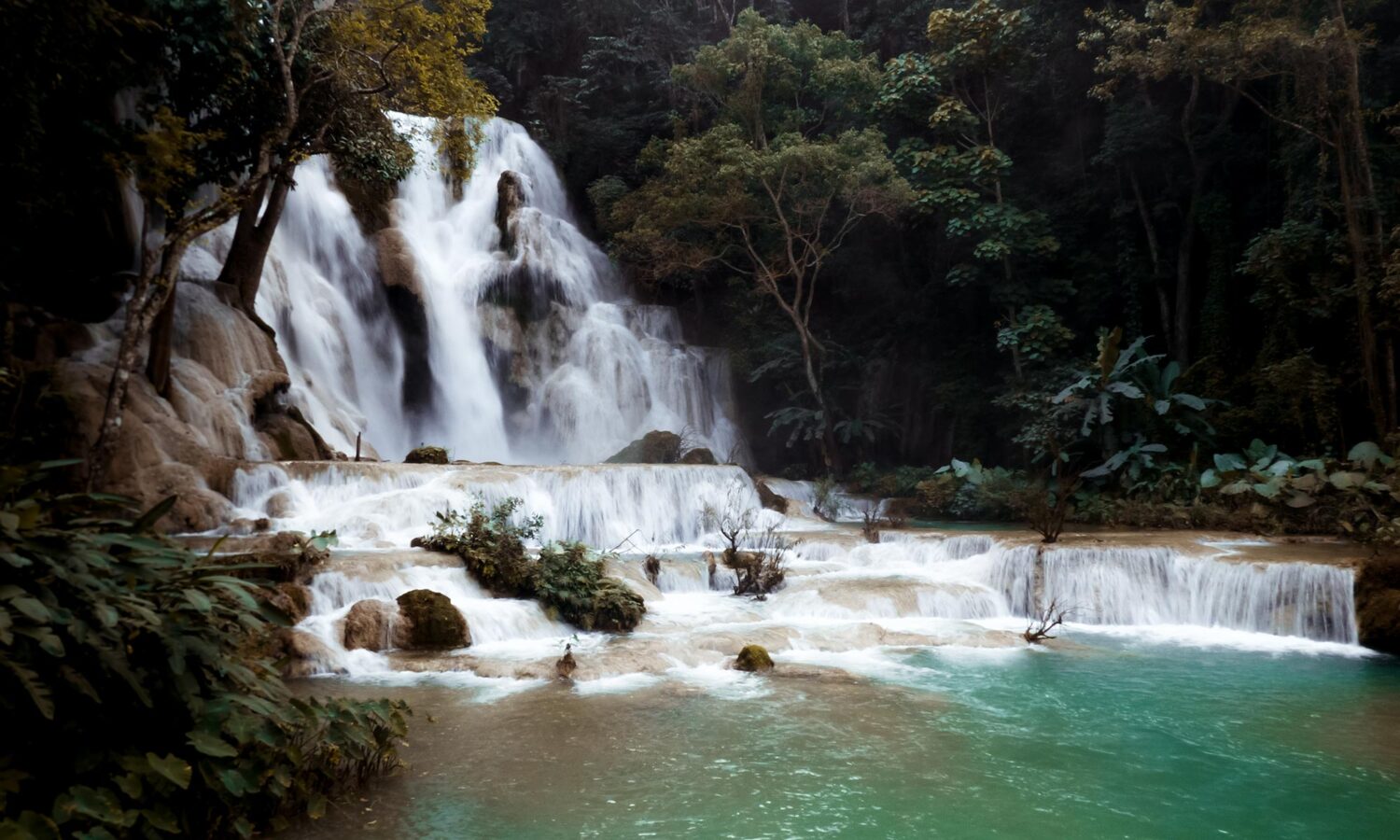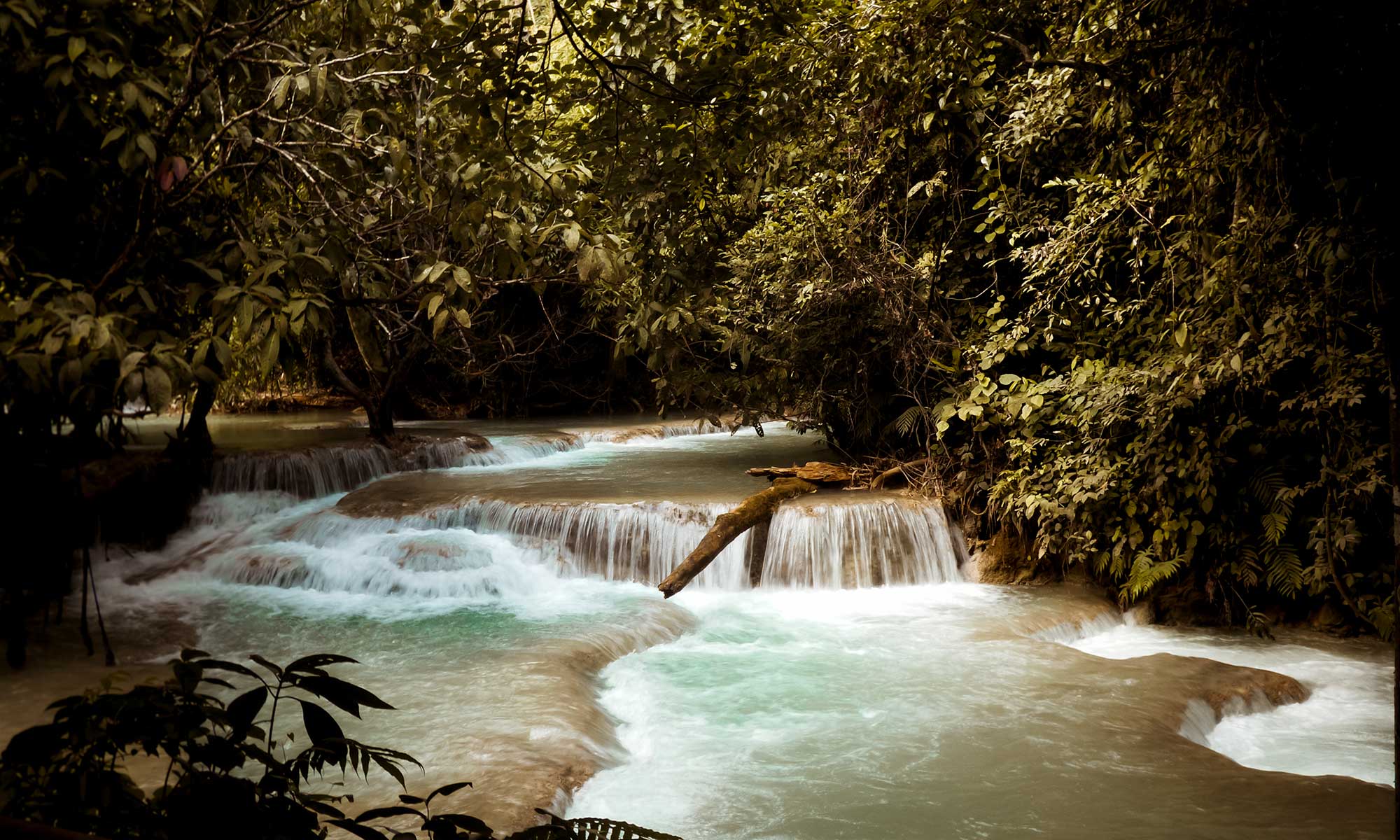 How to get to Luang Prabang
Flying into Luang Prabang from Europe or other continents will require a layover in Bangkok, Thailand most of the time. Lao Airlines operates regularly from Bangkok, Chiang Mai, Siem Raep and Hanoi. From the airport you can easily arrange a taxi or you can arrange an airconditioned transfer beforehand.
Luang Prabang is also the perfect starting point for this 2 week Laos itinerary when you're planning on entering the country overland by slowboat from Thailand.
Where to stay in Luang Prabang
Mid Range (€75-€150 per night): A nice boutique hotel is Maison Dalabua. It is perfectly located in the Old Town and has a swimming pool and spa. Perfect to get your bearings after a long flight and some occasional cooling off after sightseeing.
Luxury Range (> €150 per night): One of the few hotels with an infinity pool in Laos is the Belmond La Residence Phou Vao. Boasting beautiful views over the surrounding jungle, The Belmond offers both unique views and is centrally located to explore Luang Prabang on foot. If you're looking for grand French Colonial interiors and beautifully kept gardens, Satri House might be a perfect hideaway for you. If tropical luxury is what you're after, why not opt for a jungle luxury tent overlooking Luang Prabang at the Rosewood? Pure luxury at the outskirt of Luang Prabang offering out of this world views and adventure at your doorstep.
KEEP READING: 12 jaw-dropping accommodations in Laos you wish you could stay at!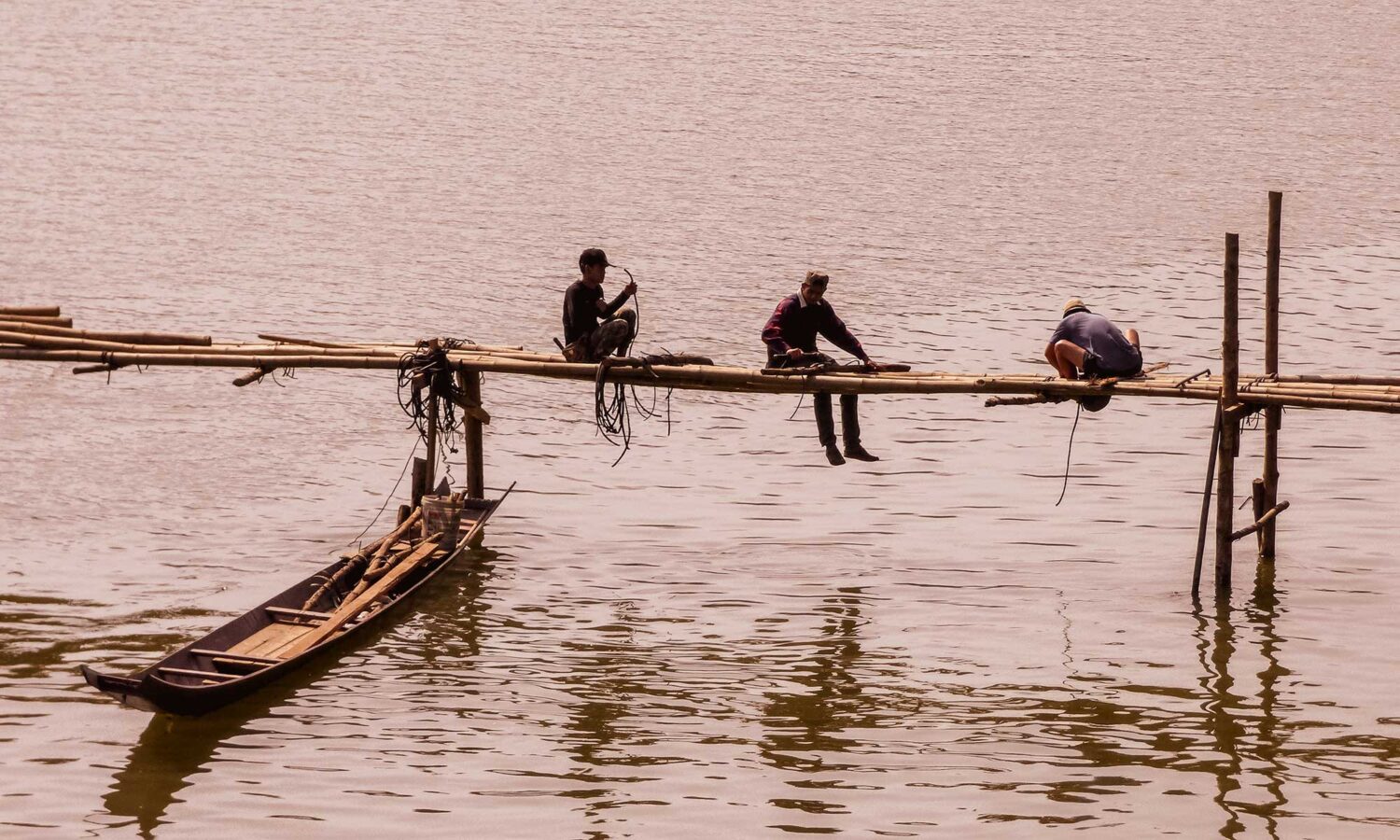 Day 4: the winding road to Vang Vieng
The second destination on this 2 week Laos itinerary is one of the most beautiful. Vang Vieng is wedged between Luang Prabang and the capital Vientiane and smack in the middle of a fairytale landscape. You only need one glimpse of the splendid limestone cliffs to fall completely in love with the Laotian countryside.
Best way to get to Vang Vieng is by using one of the mini vans riding back and forth between Luang Prabang and Vang Vieng. They're comfortable and come with AC. Those that are prone to travel sickness might best bring medication since the road is long and winding. The mini vans leave three timer per day at 7am, 9am or 3pm, cost about $16 per person and will take about 5hours.
Click here to book the minivan to Vang Vieng!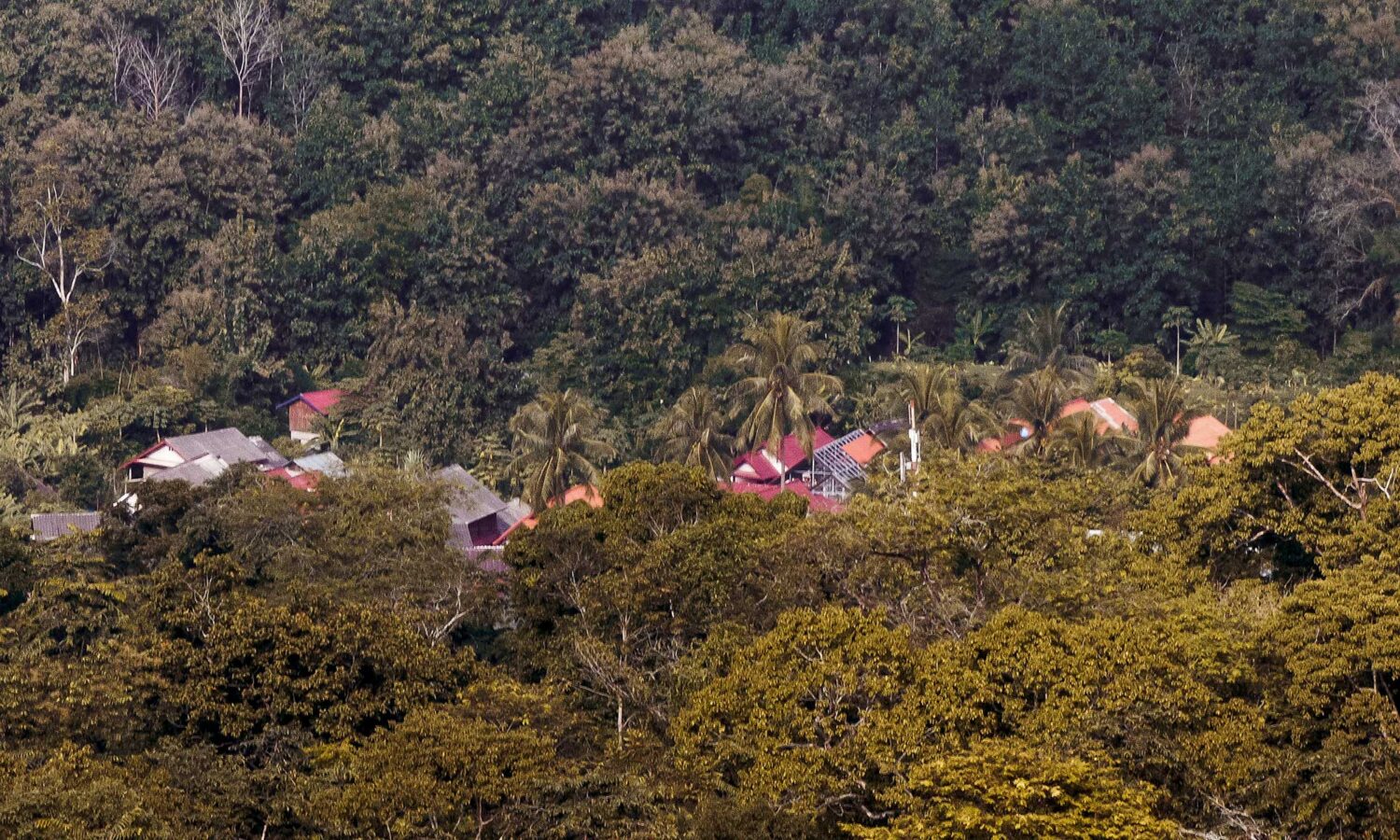 Depending on when you left Luang Prabang for Vang Vieng, you might have time to spend an afternoon river tubing the Nam Song River or visiting the nearby Tham Chang Cave (about 2km from Vieng Tara Villa).
This tour combines both options: a visit to the Tham Chang Cave and river tubing back to Vang Vieng!
Day 5: Vang Vieng
Vang Vieng is perfect to enjoy incredibly beautiful hikes and let the wind blow your hair during a motorbike trip. Vang Vieng used to be famous for parties and drunk tubing down the Nam Song River, but is now a hub for adventure and nature lovers. Discover natural swimming pools, caves, authentic villages and pass the most stunning viewpoints all in the direct vicinity of Vang Vieng. One of the best places to go in Laos to experience its peaceful countryside.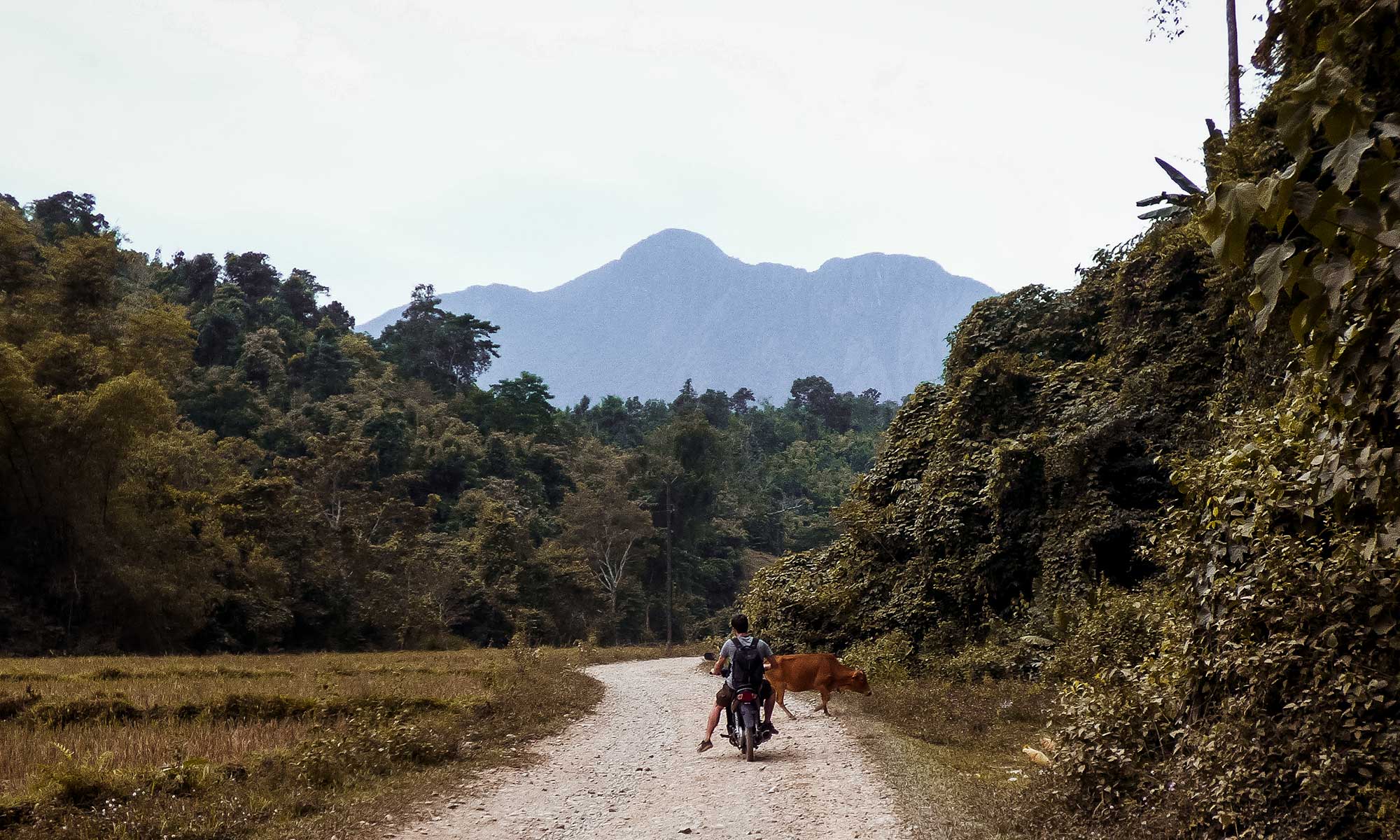 Start in the early morning by renting out a motorbike. Since we stayed behind the toll bridge, at Vieng Tara Villa, there was no sense in renting a motorbike in town and then having to pay toll to cross the bridge. We ended up renting our motorbikes just across the toll bridge. Most motorbikes are rented out with almost no fuel so your first priority will be to get some gas. Count on 60,000 LAK per bike for a semi-automatic and 40,000 LAK for an automatic.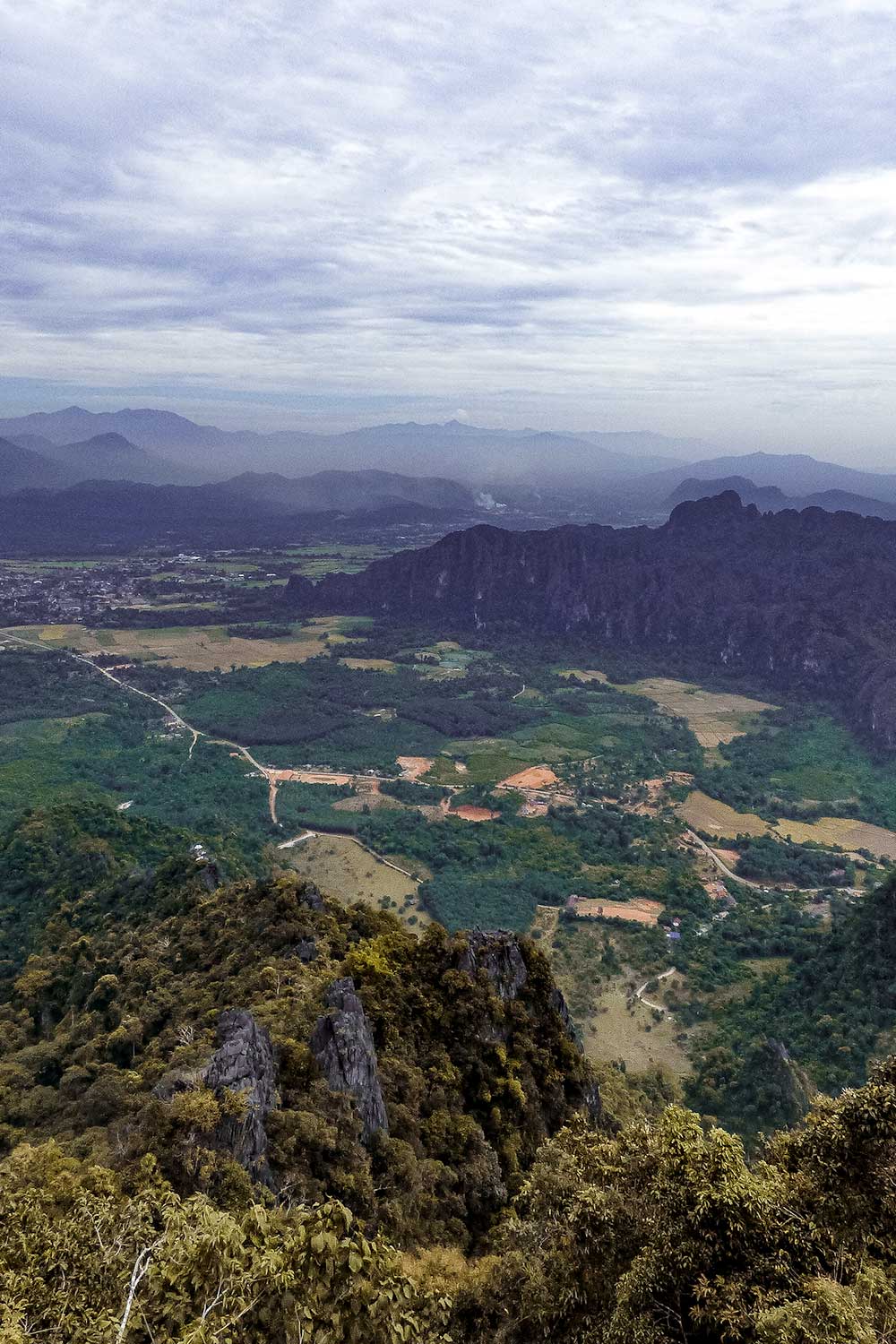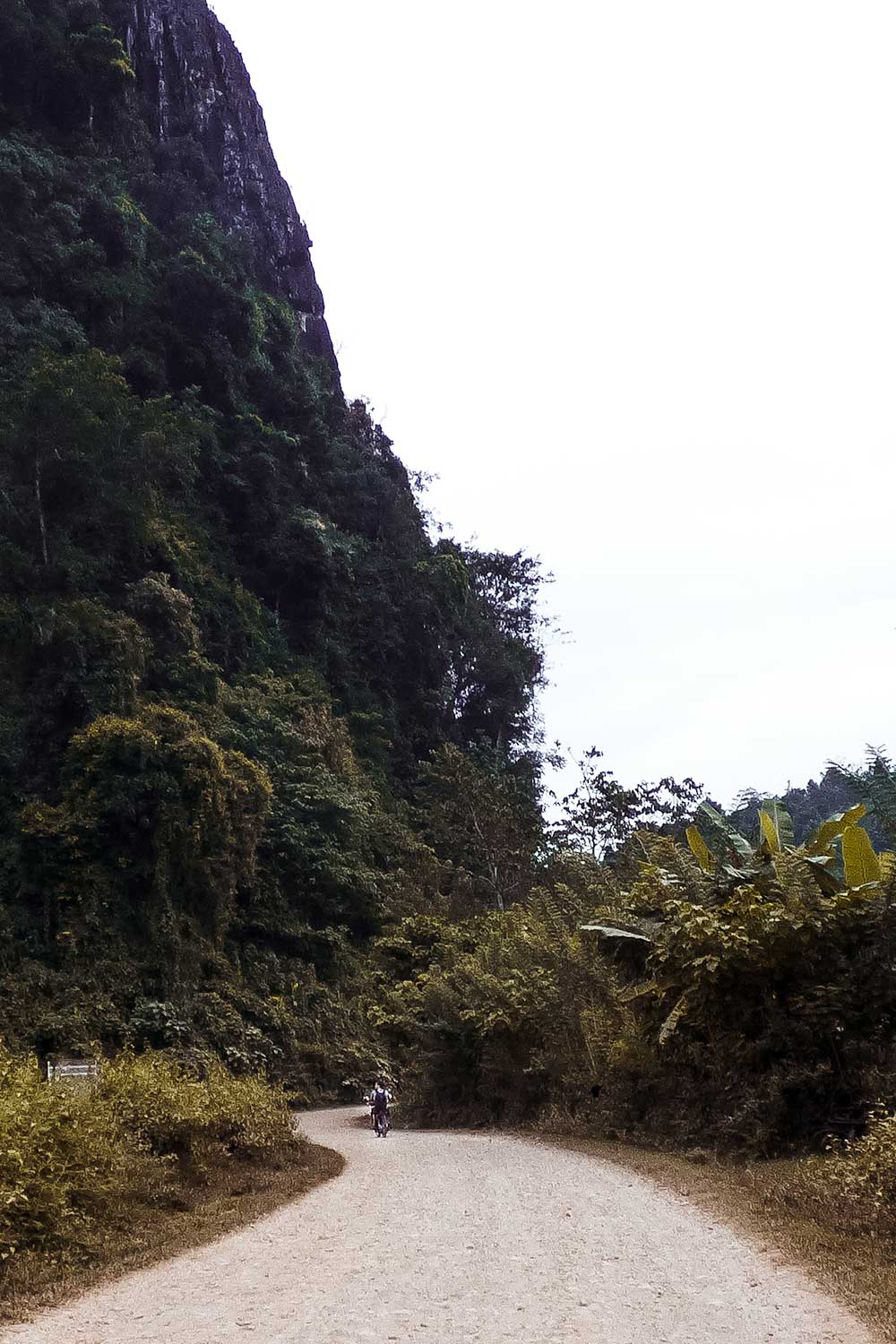 The major attractions aren't far in between so Vang Vieng is the perfect place to ride a motorbike for the first time. Our first stop of the day was at the Pha Ngern Trailhead. It's a 2,2km drive to the trailhead which leads to three viewpoints. It takes 20-30 minutes to reach the first one, then 45 more minutes to reach the next two which are only 5 minutes apart. The views are really amazing!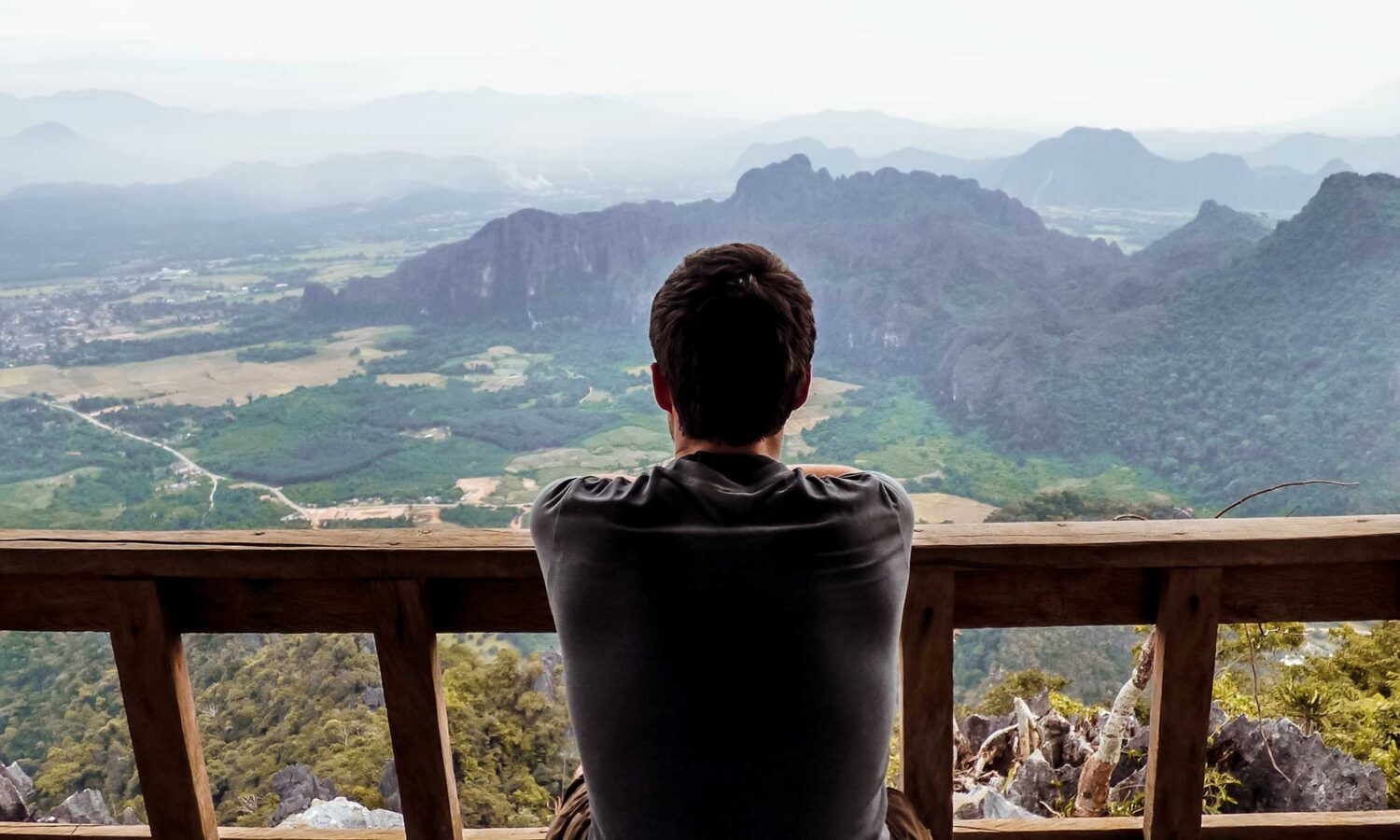 Next up was a stop at the Blue Lagoon. Honestly, I didn't find it spectacular, these types of pools can be found anywhere. This place is also accessible by quad bike so it attracts a lot of tourists. To me it was unfortunately not quite appealing. There are a number of places to eat, go for a toilet break and there is a gas station if you need fuel, so we opted to take our lunch break here. Before heading back out, we briefly explored the Phu Kham Cave on site. The cave was nice to explore, a golden Buddha resting inside.
Phu Kham Cave Opening Hours: 8am – 6pm
Entrance Fee: Included in Blue Lagoon entrance fee
Headlamp Rental Fee: 10,000 LAK (USD 1.20) - we just use the lights on our phones
The area offers different viewpoints over the surrounding karst mountains, all are locally owned. This means the local families charge the entrance fees and maintain the trails. They are often advertised by billboard type posters along the road to assure you you're still driving in the right direction.
If you still have energy left, there are two incredible viewpoints a bit further than the Blue Lagoon: Namxay Vieuwpoint and Pha Hon Kham cliff Viewpoint. Both take about 40min to reach to the top but can be less if you're very fit. You can find the directions here.
Try to schedule one of these viewpoints, one of the best places to see in Laos at sunset! Try not to linger though and make sure to get down before dark, the paths can be difficult to descend and a lot of bugs tend to come out when dark.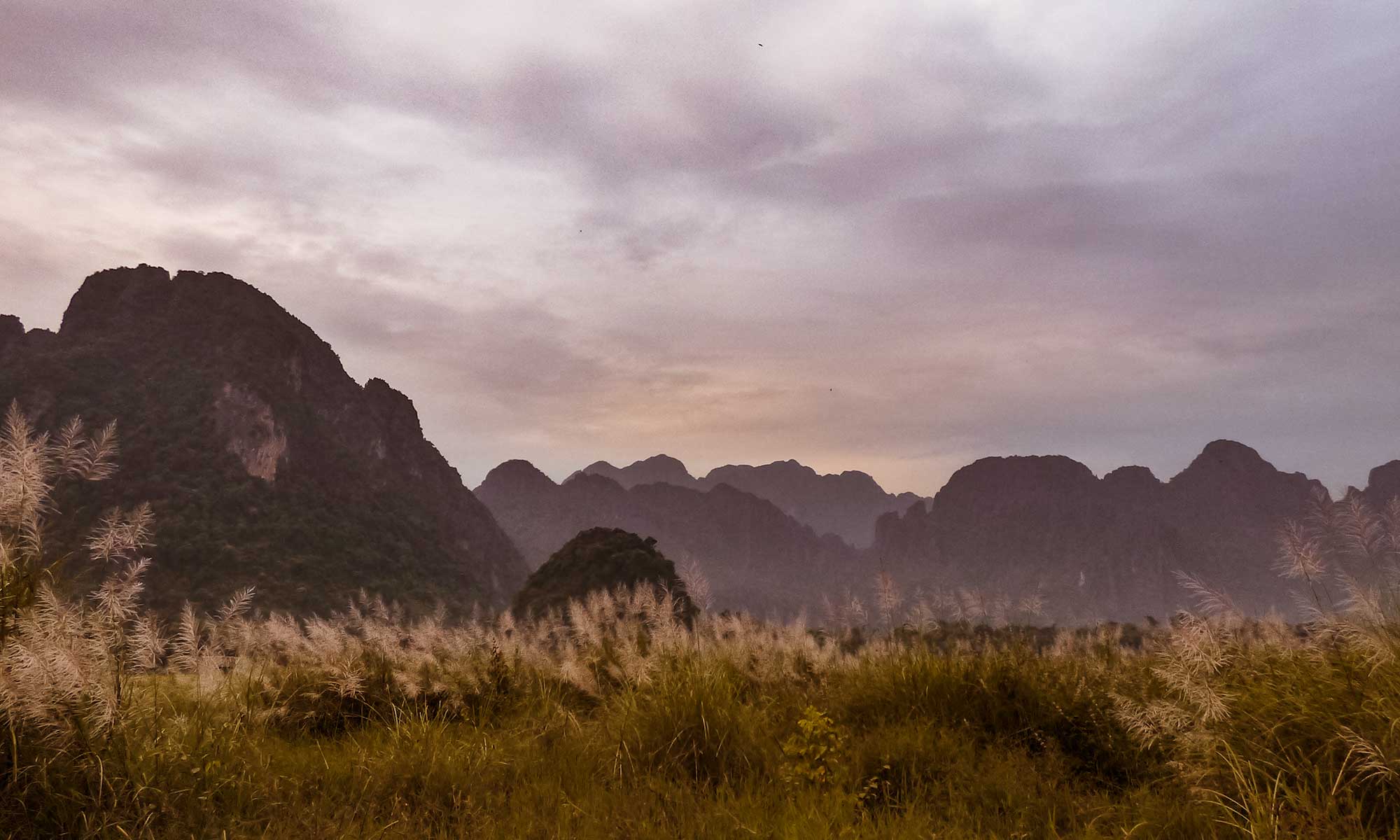 How to get to Vang Vieng
There is no airport in Vang Vieng, so the best way to reach this jungle paradise is to travel there from Luang Prabang or Vientiane. A five hour ride in mini van is your best option. From Luang Prabang you can chose between three departure times per day in a shared mini van.
Where to stay in Vang Vieng
Mid Range (€75-€150 per night): when it comes to unique locations, Vang Vieng surely delivers. We spend two nights at Vieng Tara Villa, a set of bungalows right in the middle of rice fields and surrounded by limestone cliffs. Now that's a view to wake up to!
Luxury Range (>€150 per night): The Riverside Boutique Resort is perfect if you plan to spend a few days in Vang Vieng. The luscious pool screams for relaxing. Sip a cocktail on the terrace while enjoying the sunset dip below the spectacular mountains.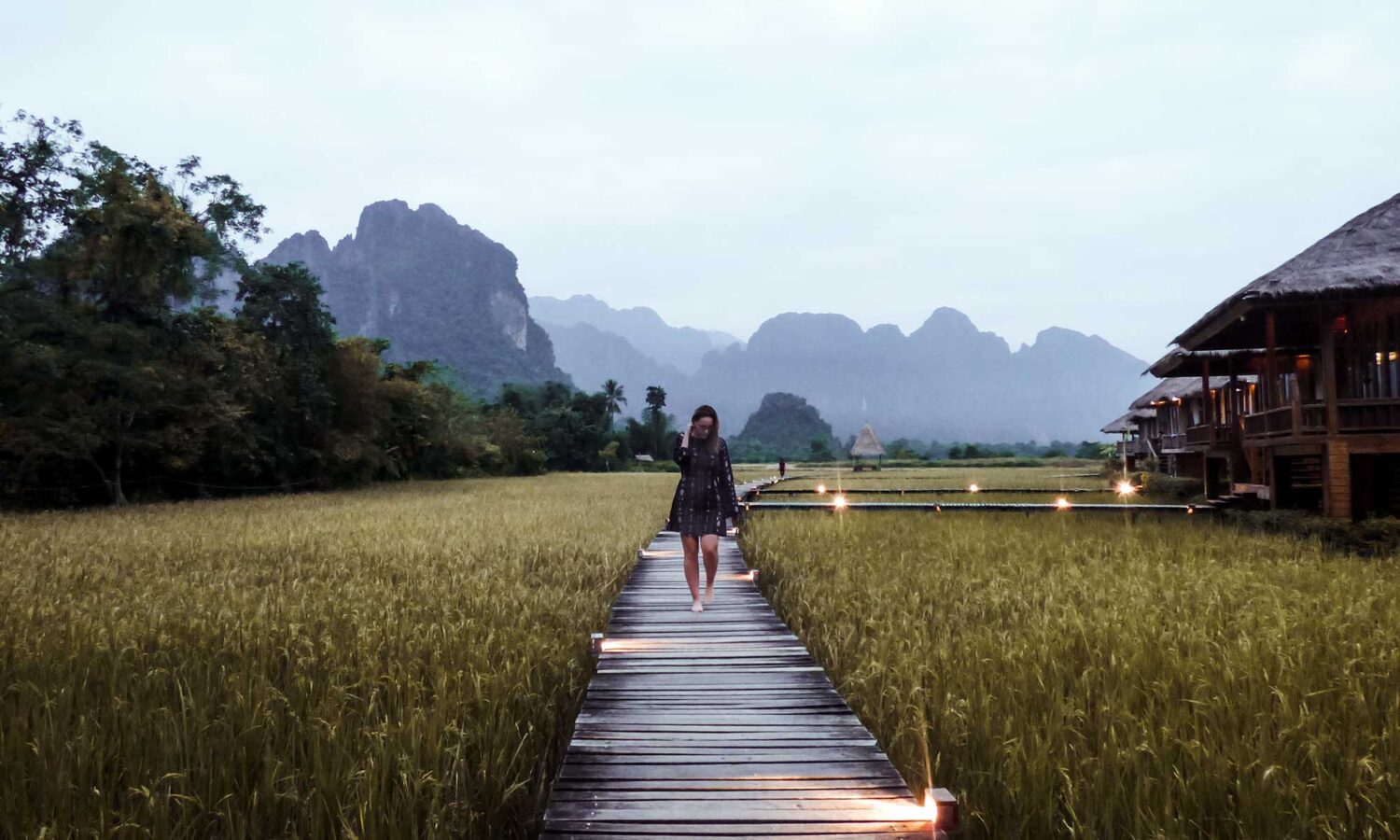 Day 6: travel from Vang Vieng to Vientiane
Traveling to Vientiane can happen two ways:
By bus: you can easily arrange bus tickets through your hotel. In our case a tuk tuk transfer to the Vang Vieng bus terminal was included in the ticket price. You can also book the tickets yourself through Sout Chai Travel.
By private transfer: when traveling in group or in family, it might be more convenient to book private transportation. You can book a private minivan to bring you to Vientiane right here.
Day 7: Vientiane
The third stop on this 2 weeks in Laos trip is in its capital Vientiane, Laos' largest city. Though not as hectic as other Southeast Asian capitals (think Bangkok or Hanoi), it was a brisk awakening from our blissfully tranquil stay in the Laotian countryside.
While it doesn't have the pull of Luang Prabang's culture or Vang Vieng's nature, it has a decent amount of temples to explore. Pha That Luang, Wat Si Saket and Patuxay (Arch Of Triumph van Vientiane) are an excellent way to spend you morning. It's a standard tour offers by most tuk tuks but you could also arrange a tour by car with AC.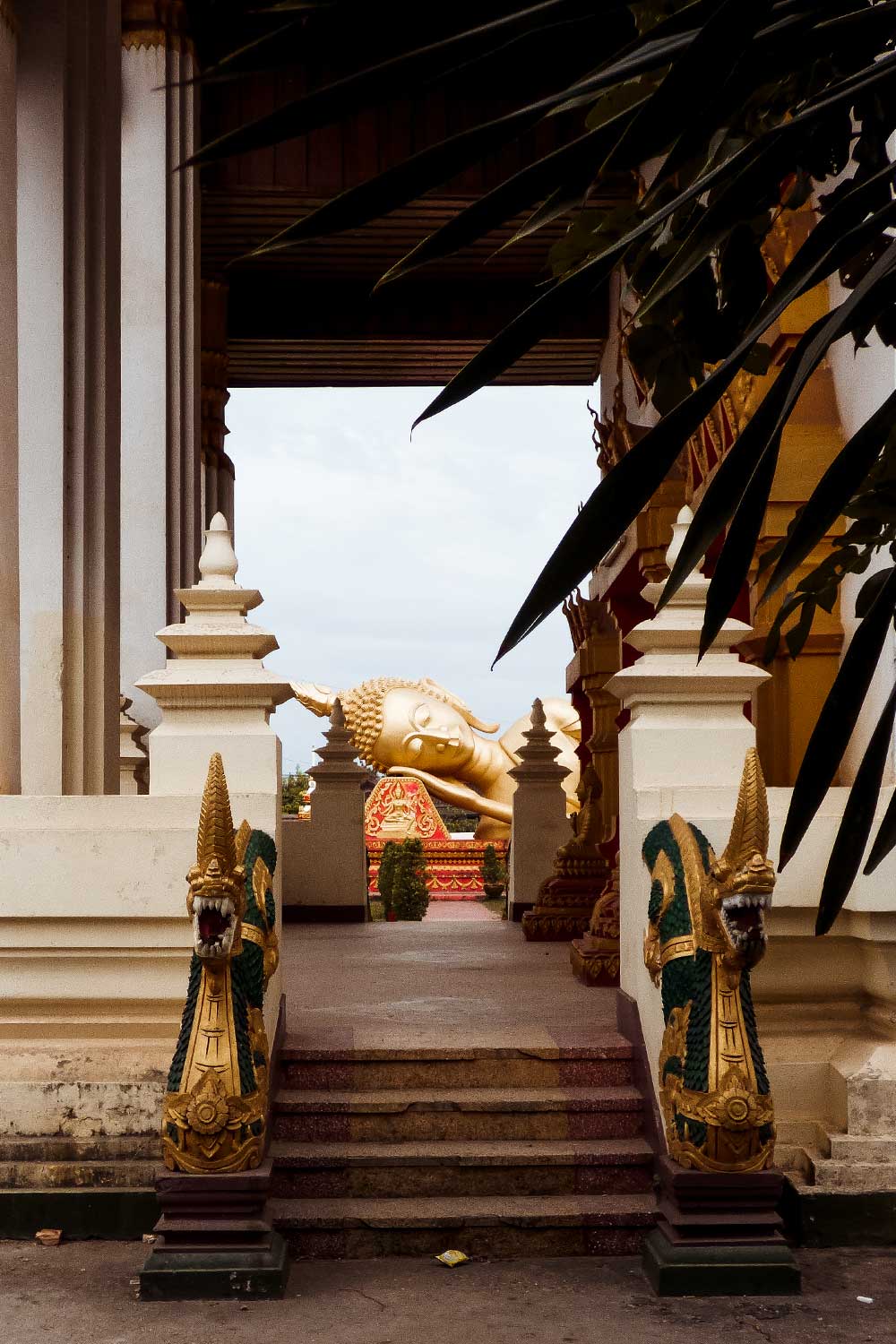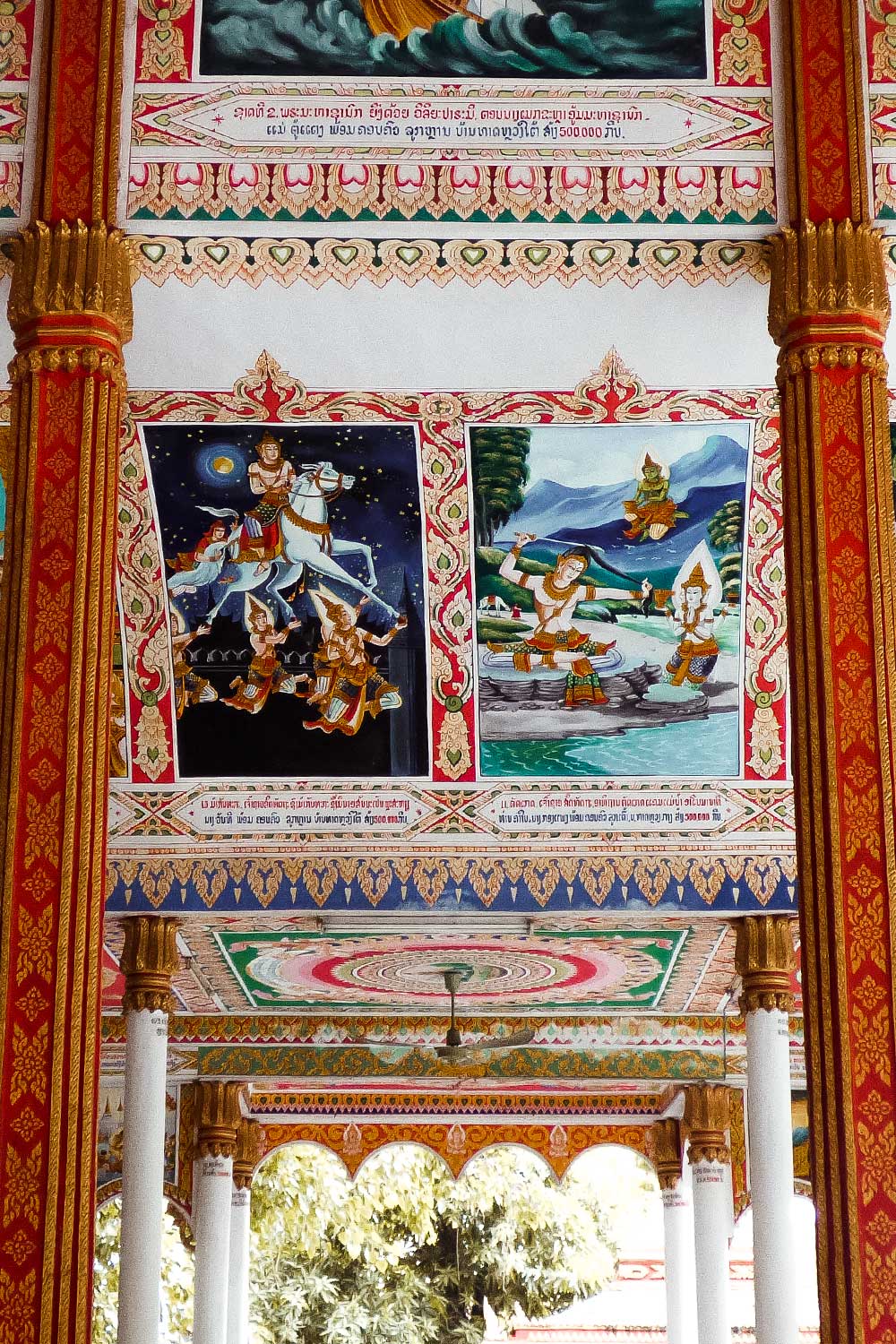 For lunch we highly recommend the Timeline Café, where you can fuel up your caffeine intake and enjoy a light lunch.
A large part of our afternoon was dedicated to Laos' war past at the COPE Visitor Centre. COPE provides prosthetic limbs to victims of the 1960s and 1970s bombings of Laos by the USA. Many bombs remain untouched in the Laotian landscape and sadly continue to maim or kill local today.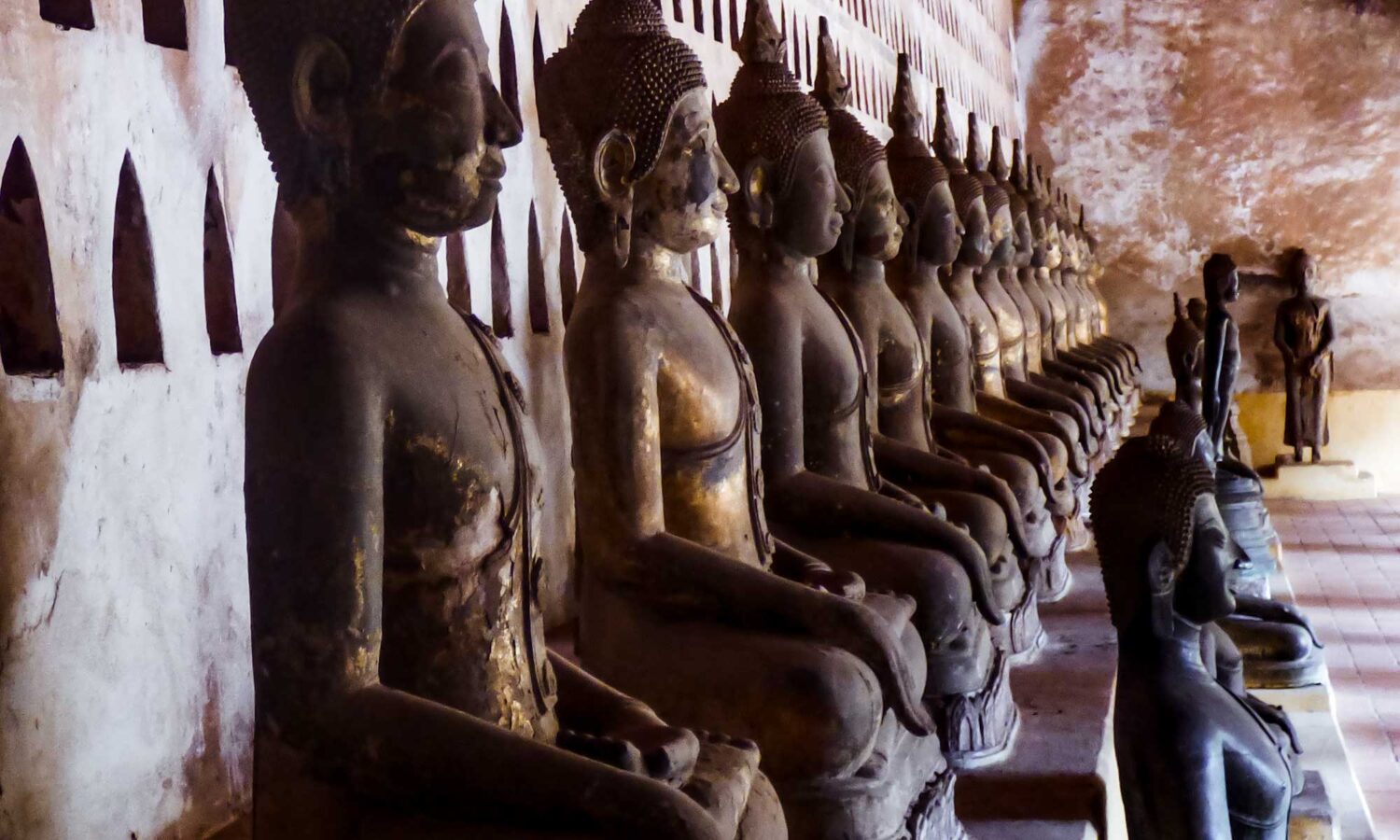 We spend some time visiting the exhibits and documentaries about the bombings, prosthetics, rehabilitation work and ongoing bomb clearance. A sad reminder of Laos' horrifying war troubled past but one of our most educational moments in Asia, as was our visiting to the S21 prison and Killing fields in Cambodia.
Opening hours: open every day from 9am – 6pm
Entrance fee: free but donations are always gladly accepted
How to get there: located on the grounds of the Centre for Medical Rehabilitation (CMR), across the street from the Green Park Hotel.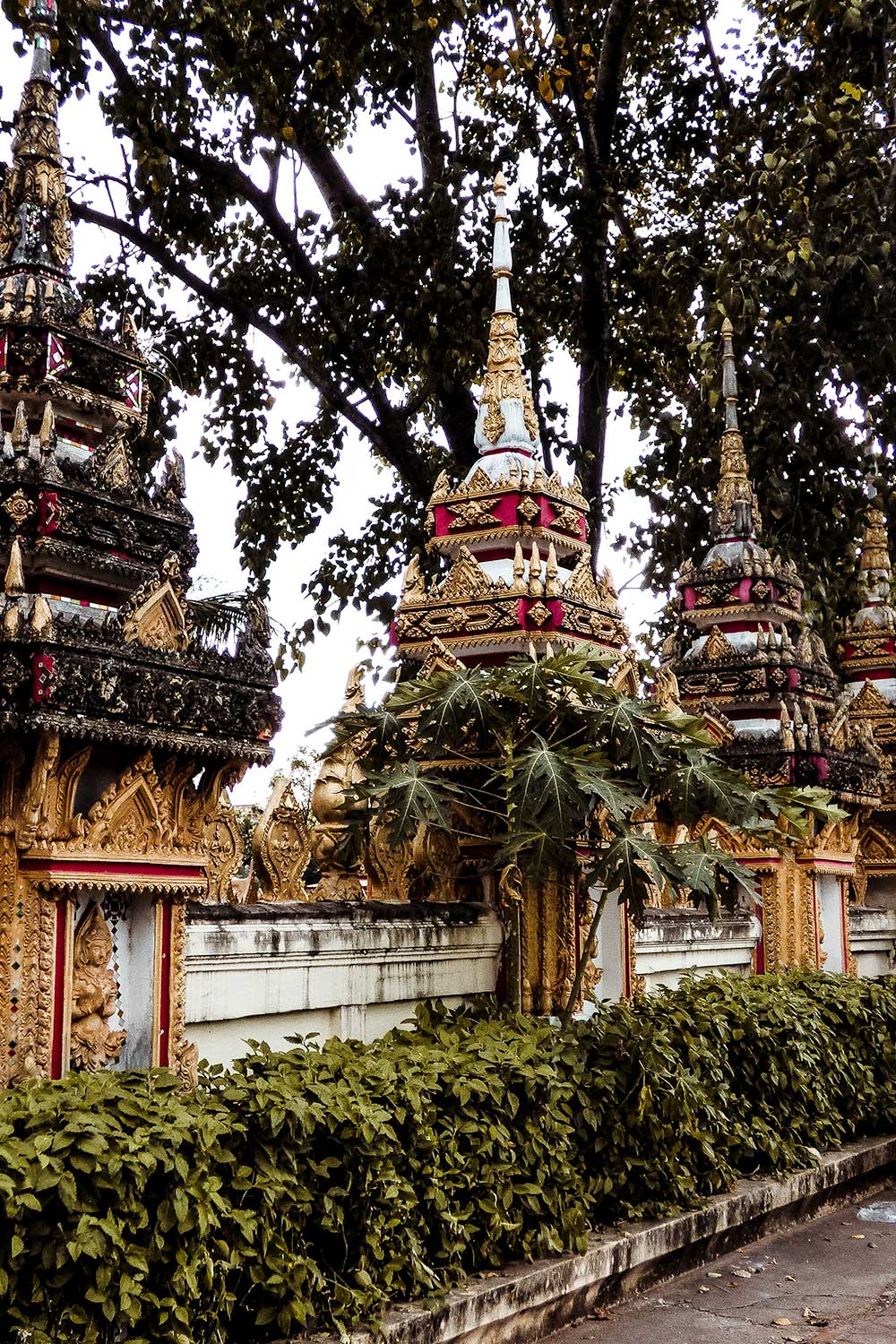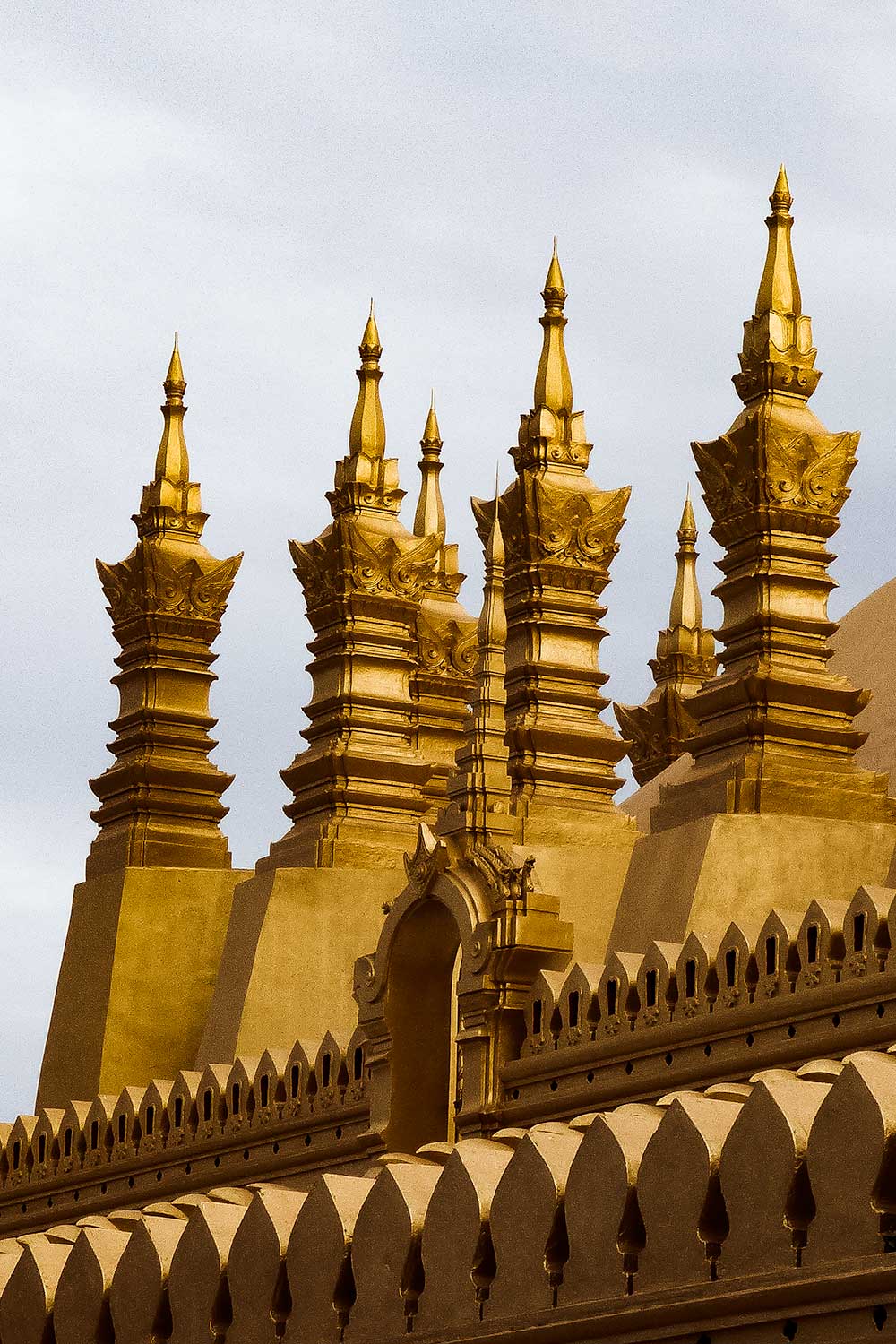 For a more frivolous afternoon you cab opt to explore the small Xieng Khuan Buddha Park which is located 25 km from Vientiane. 200 sculptures of Hindu and Buddhist statues are sprinkled across a meadow by the Mekong River. Count between 1-2 hours to explore at a leisurely pace.
Opening hours: open every day 8am - 5pm
Entrance fee: 15,000 LAK per person (about $2).
How to get there:
- by motorbike, there's an additional 3,000 LAK fee for parking
- by shared tuk-tuk that can be arranged by your hotel
- by bus route 14 at central bus station in Vientiane, costs 8,000 LAK per person and drops you off at the entrance of the park
Day 8: internal flight from Vientiane to Paksé
The flight from Vientiane to Paksé is a short one, taking around 1h30. The flight operates daily at 8am and on Monday a Saturday a second flight at 4pm is offered. The flight with Lao Airlines can be subject to delays (our flight was rescheduled 1 hour later a few days before it was scheduled) but besides that everything went smooth.
At Paksé airport it's easy to arrange a transfer into town. We chose to use the afternoon to test out the motorbikes we will use the next couple of day, to the nearby UNESCO heritage site of Wat Phu.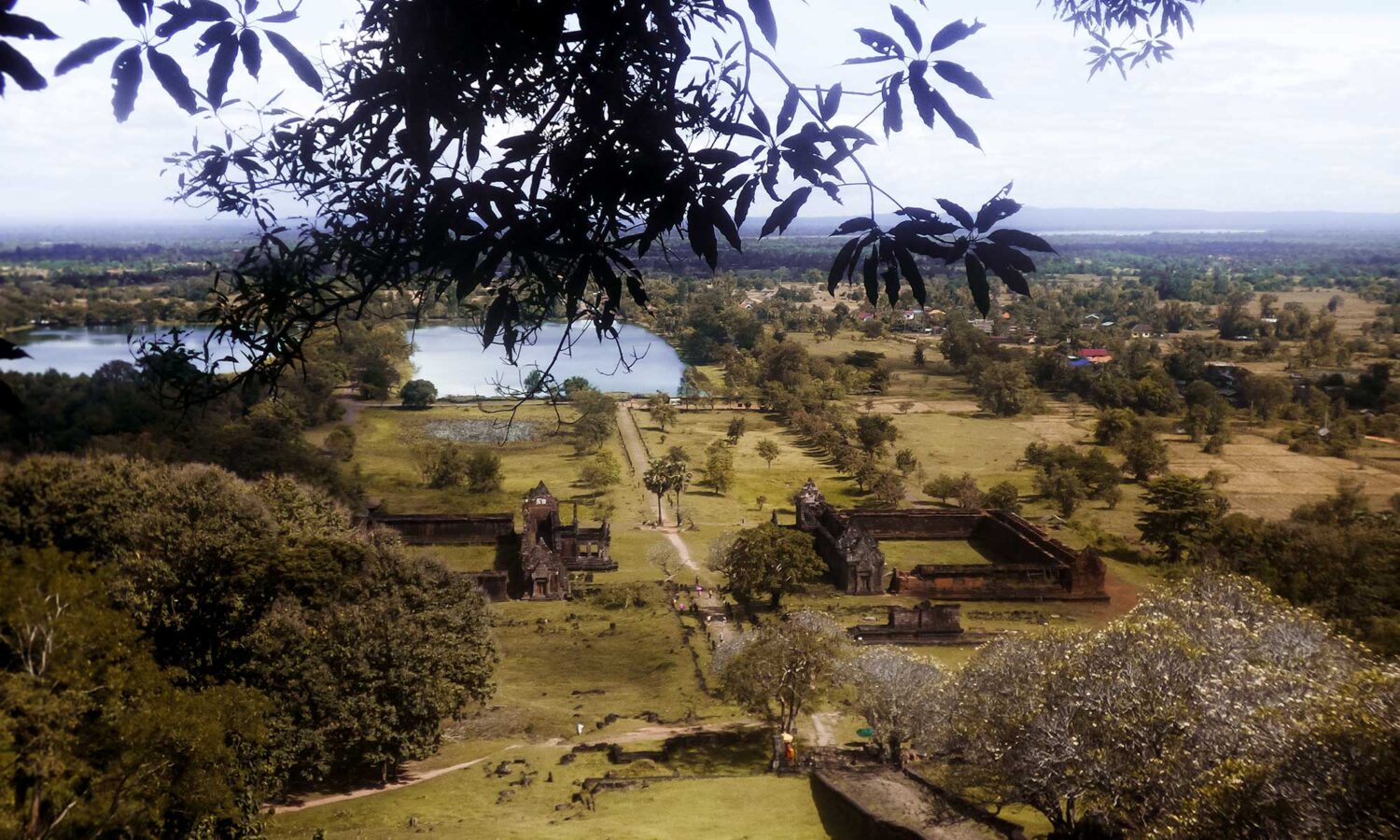 CONTINUE READING: 4 days motorbiking through Laos' jungle paradise, the Bolaven Plateau
Day 9-11: waterfall spotting on the Bolaven Plateau
The Bolaven Plateau is located in the South of Laos and was formed by ancient volcanic activity. Nature has had free game here for centuries, creating the most marvelous collection of waterfalls we've ever seen.
The local life on the Bolaven Plateau is very basic. It's like heading back in time and embarking on an expedition with your trusty motorcycle or scooter. The Bolaven Plateau is one of the best places to visit in Laos if you want to see some spectacular waterfalls. Pretended to be Indiana Jones and visit Wat Phu, Laos' largest temple complex, and tame Laos tropical jungle. While most travelers skip this Southern Laos itinerary, it was our absolute highlight! Far from the busy tourist trail and pristine nature to fall in love with.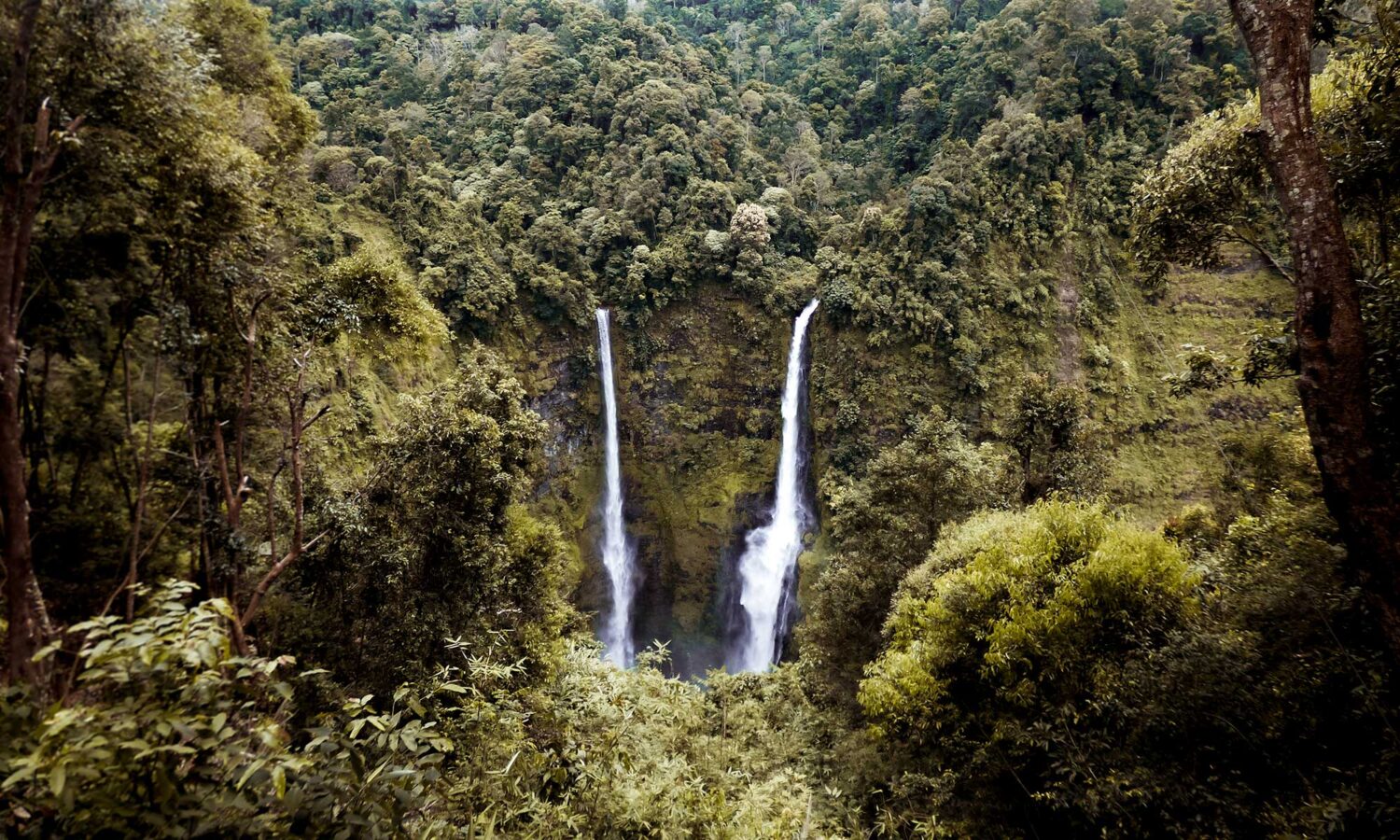 Discovering the Bolaven Plateau is a pure experience which, until now, remains untouched by mass tourism. Because of the elevation of the plateau, it is pleasantly cool. A welcome change after the sulturing heat of Paksé, the launching point for discovering the Bolaven Plateau. You can read our detailed Bolaven Plateau motorbike itinerary here.
CONTINUE READING: these are the most beautiful waterfalls in Laos
Day 12-13: Relax time at Si Phan Don (4000 islands)
What an absolute piece of heaven this is! Nothing should be, anything goes… at the end of your 2 weeks in Laos, it's a necessity to schedule some downtime in your hammock, cycle around the islands of Don Det and Don Khon looking for waterfalls or go river tubing. The laidback atmosphere and fine restaurants make you very much in danger of never wanting to leave!
We picked Don Khone island and the beautiful Sala Done Khone Hotel as our humble abode. Bicycles are available along Don Khone's main road at 10,000 LAK (1,25$) per day. Try to find some time to get out of your hammock and cycle to the Liphee Falls, the islands' main attraction.
Whatever you do, do not skip a meal at The Garden Resaurant on Don Khone island!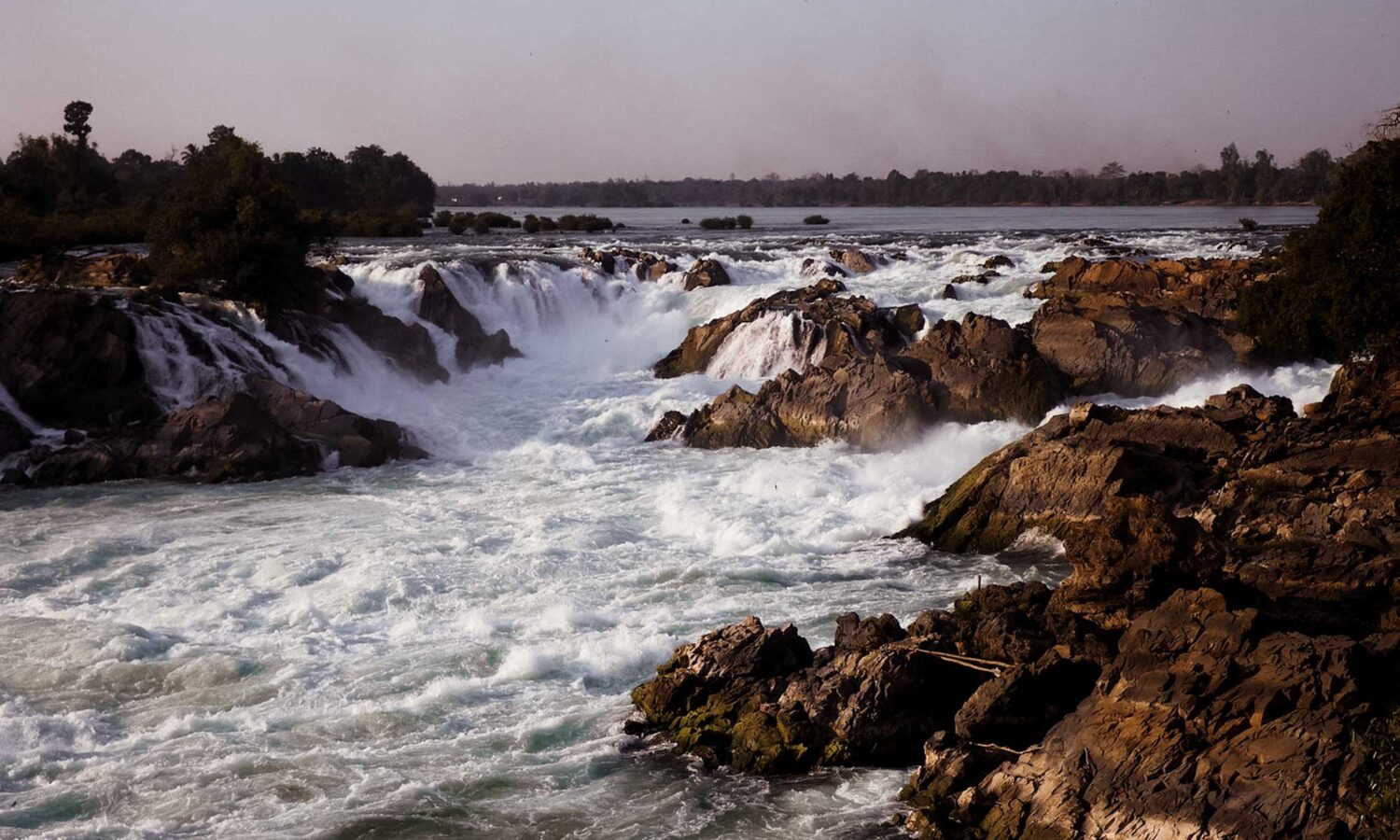 How to get to Si Phan Don (4000 Islands)
The easiest way to get from Pakse to Don Det or Don Khon is by buying a combined bus and ferry ticket. This will cost you $10 and travel time takes about 3,5 hours with Green Paradise Tours.
Busses leave at 8:30 am from Green Paradise office in Pakse and should arrive around noon. You can purchase tickets online here.
Day 14: continue your travels
It's the end of the perfect 2 week Laos itinerary!
Today you'll either continue your trip to one of Laos' neighboring countries or make your way back home. From Don Det you can easily travel overland to Siem Reap, Cambodia without having to backtrack or take a flight.
You can make your way back to Paksé by purchasing the same tickets from Green Paradise Tours. You can purchase your tickets here. You'll leave at 12pm and arrive in Paksé around 4pm.
Paksé offers different international flights. Flying to Bangkok (Thailand), Siem Reap (Cambodia) and Ho Chi Ming City (Vietnam) are easy options to extend your trip or get a connecting flight back home.
What to pack for this 2 week Laos itinerary?
Your Laos travels will take you from Laos mountainous north to the tropical, jungle clad south. Laos' greener side is luscious due to its rainfall, which means you better prepare for some random showers during your two weeks in Laos.
Whether you're visiting for a few days or spending two full weeks in Southeast Asia hidden gem, rain-proof packing is necessary. Luckily we've created a detailed a complete packing guide for humid destinations like Laos!
Pssst, this blog post contains affiliate links. This means that if you click a link, I may receive a small commission at no additional cost to you.
---
Are there any places on this two week Laos itinerary that we missed?
---
Love it? Pin it!