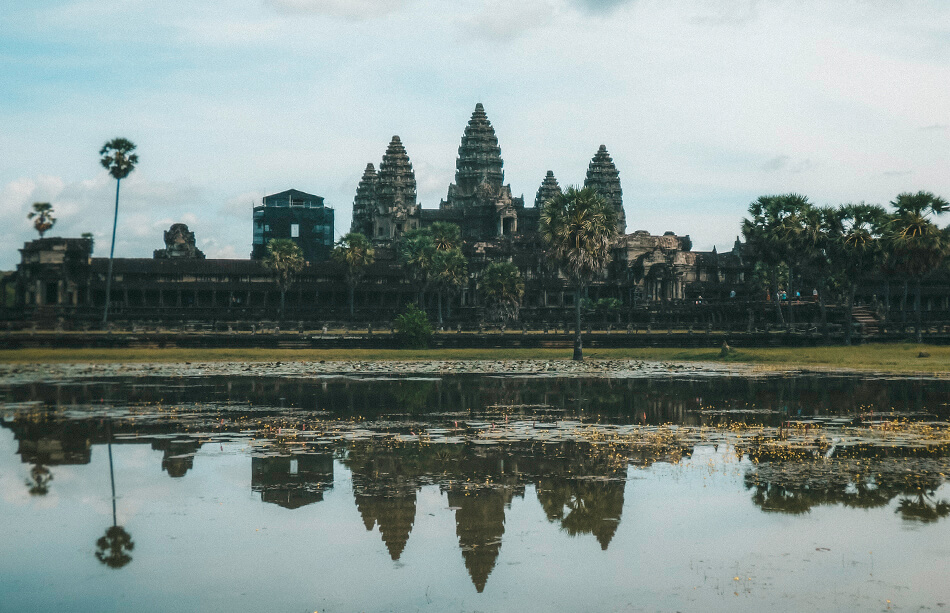 Visiting the temples of Angkor Wat? Here's our comprehensive guide on what to see, how to get around and where to lay your head while visiting Cambodia's Angkor Wat Temples near Siem Reap.
---
Our complete guide to the temples of Angkor Wat
---
Welcome, you have just arrived in heaven.
Angkor Wat, once the 'humble abode' of Cambodia's god-kings, is without a doubt one of the highlights of your journey through Cambodia. Situated in the north of the country, the famous UNESCO World Heritage site bears testimony to the once immensely powerful Khmer Empire that ruled Southeast Asia until it collapsed in the 15th century.
Angkor Wat is the world's largest religious building and most notable ancient site. At its heart lies Mount Meru, home of the ancient gods Brahma, Siva, Vishnu and the Devas and the Mount Olympus of the Hindu faith. Its sheer size and scale trumps any other divine crib of epic proportions like
Borobudur
,
Theothihuacan
or
Karnak
.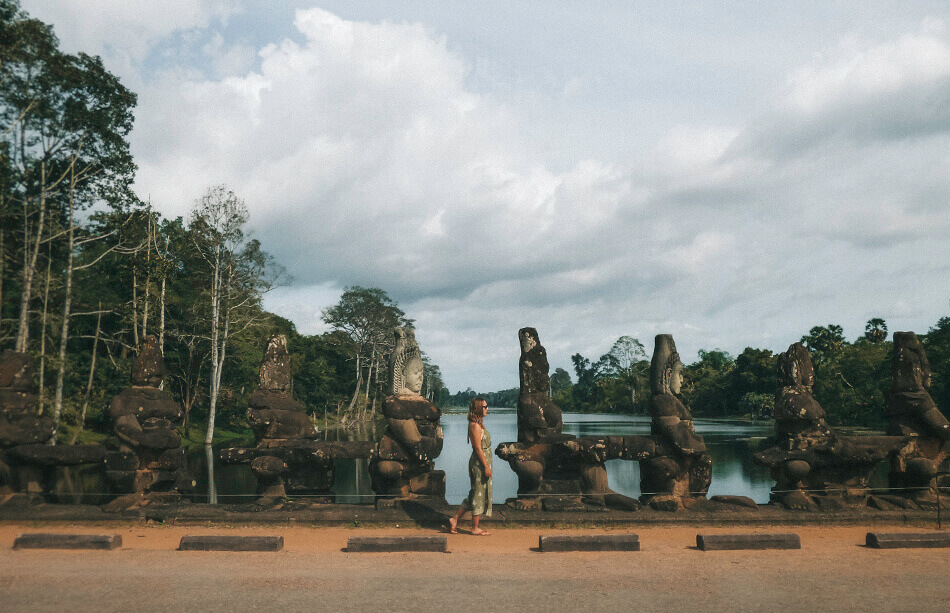 The ancient temple complex of Angkor Wat was hidden for centuries underneath the dense Cambodian jungle until it was found by western explorers in the 1800's. It was extensively restored in the 20th century for people from around the world to explore. Today, the temples of Angkor Wat attract more than 2 million visitors every year. Sharing these breathtaking structures and delicately sculpted marble steps with the overwhelming amount of other tourists (and there are a lot of them!) can make it quite difficult to enjoy the beauty of it all. To make it easier for you, we've put together a curated guide to the temples of Angkor where we share our best tips with you on where to stay, how to get around and what to see.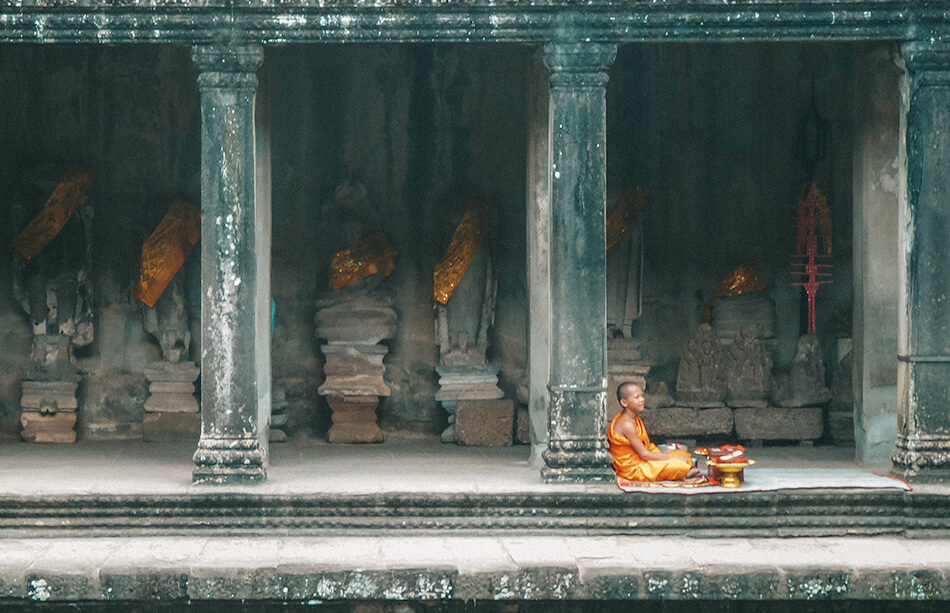 ---
What it costs to visit the temples of Angkor Wat
How much it costs to visit Angkor depends entirely on how many days you want to explore, what temples you want to visit and with how many people you will share a tuk tuk.
There are three ticket options for visiting Angkor Wat:
A one day ticket will cost $37 USD.
A three day ticket will cost you $62 USD and give you the flexibility to explore most of the temples of the Angkor Wat complex. You are able to use your three entries over the next seven days, which gives you the opportunity to switch it up a bit and discover some of the other things Siem Reap has to offer.
If you're one of those lucky bastards who have plenty of time in Siem Reap, you can also purchase a 7 day pass at $72 USD. Your seven entries are valid for a month.
You can buy your entry pass at the ticket office as from 5 pm the evening before you want to enter the archeological park. Try to get your ticket then because if you want to
catch the sunrise at Angkor Wat
on your first morning there, buying a ticket before 4a.m. is just really painful. You'll need to go there in person as you picture is digitally printed on your ticket.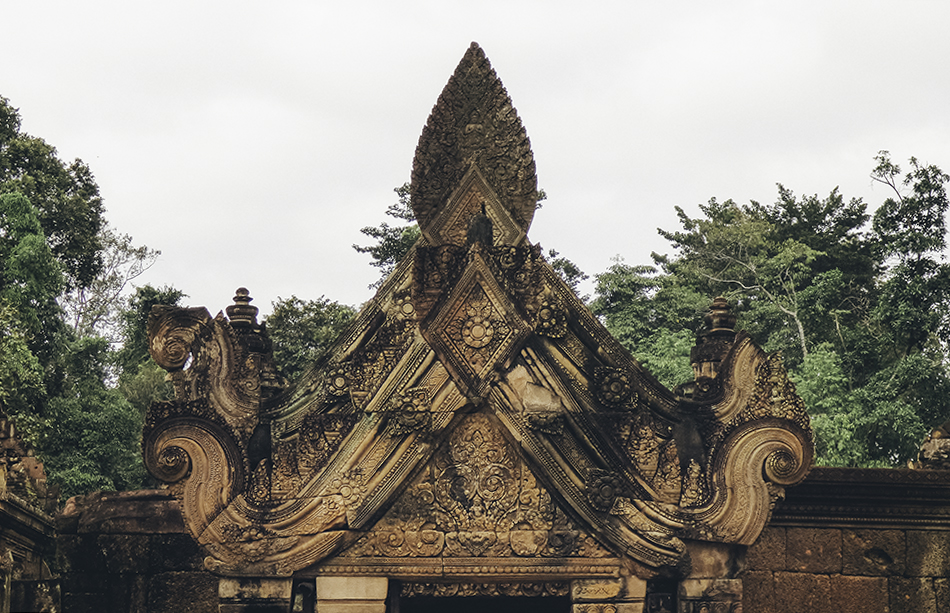 ---
Getting to and around Angkor Wat
Unless you are willing to defy the oppressing Cambodian heat by bike, hiring a tuk-tuk is the easiest way to explore the temples of Angkor Wat. The price for the tuk-tuk will depend on what temples you want to see. There are basically two standard tours to follow: the small circuit or the grand circuit. You can find a map with the temples along each circuit right
here
.
The cost of hiring a tuk-tuk can vary between $15-$25 USD depending on what circuit you're taking and how long you want to go. Add $5 USD if you're heading out to catch the sunrise. A customized tour of the Angkor Wat temple complex is possible but it might cost you a little extra. A tuk-tuk can be shared by up to 4 people, which might be interesting if you're travelling with a restricted budget.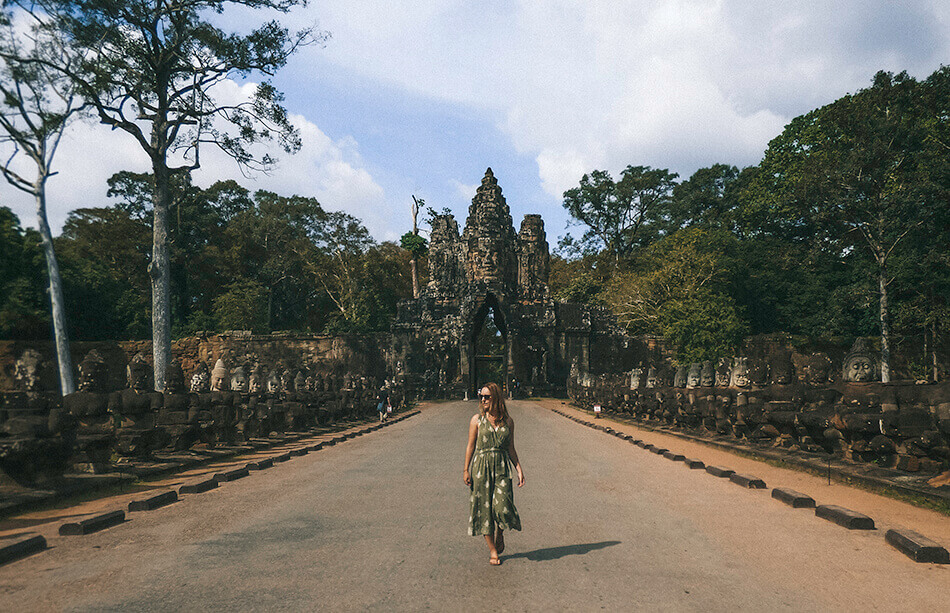 ---
Our 5 favourite temples in Angkor Wat
The entire Angkor Wat temples area is a good 400 km2 in size and is peppered with over 50 large and small temple ruins. Fair to say you won't be able to see them all during your escapades. To get an idea of which are the most interesting and beautiful we have highlighted our 5 favourite temples in Angkor Wat.
Angkor Wat
Obviously. Angkor Wat is the largest, most famous and most spectacular temple of them all. The dreamy image of Angkor Wat is inextricably linked to its brilliant reflection of the temple into its surrounding ponds, accompanied by a purple hued backdrop of the rising sun. It's said to be the largest religious monument in the world and that reflects in the time you need to do this amazing monument justice. The mystical corridors, elaborate carvings portraying mythological tales, dazzling balustrades and galleries and royal-esque courtyards will take a couple of hours to explore. It definitely lives up to its hype!
Bayon
Bayon is an intriguing temple, known for the massive stone faces carved into each side of its numerous towers. A whopping 216 faces (54 towers, each containing 4 faces) will be watching your every move while strolling through the narrow and dark passages. The condensed nature of tis temple makes it quite easy to get lost (or is that just us?). Sometime it felt like we ran in endless circles before finding a staircase to the top. Entering or leaving Bayon happens in style through one of its four astonishingly imposing gates.
Ta Phrom
Amazing. Go for it. Ta Phrom is also one of the temples on the tourist trail, popular for its feature in the Tomb Raider movie. Gigantic trees and plants now flourish in triumph upon the ruins, attributing to its mysterious atmosphere. Unlike many of the other larger temples, Ta Phrom has remained large unrestored, showing the devouring effects of time. There's no climbing involved but it's easy to get lost amongst the trees, piles of rubble and other tourists.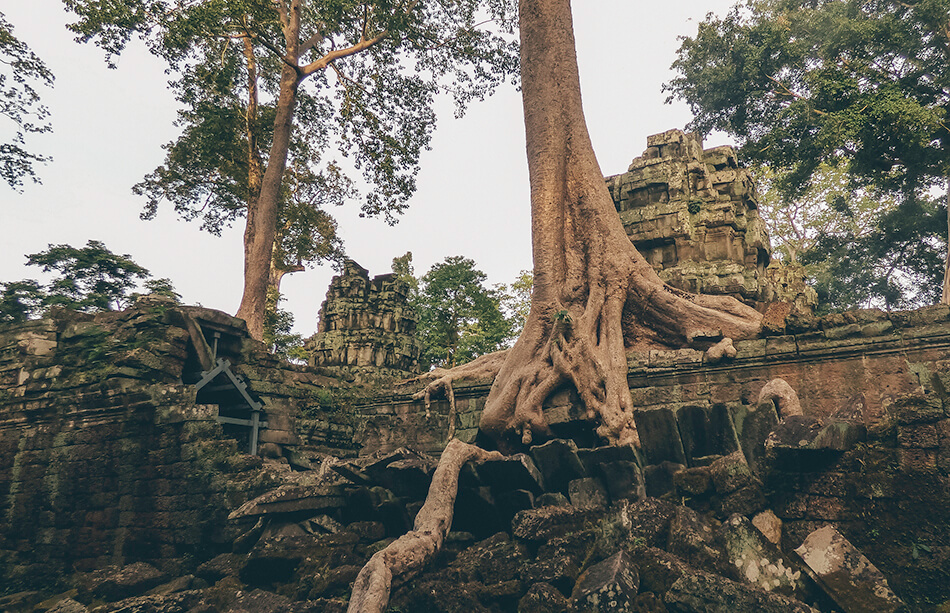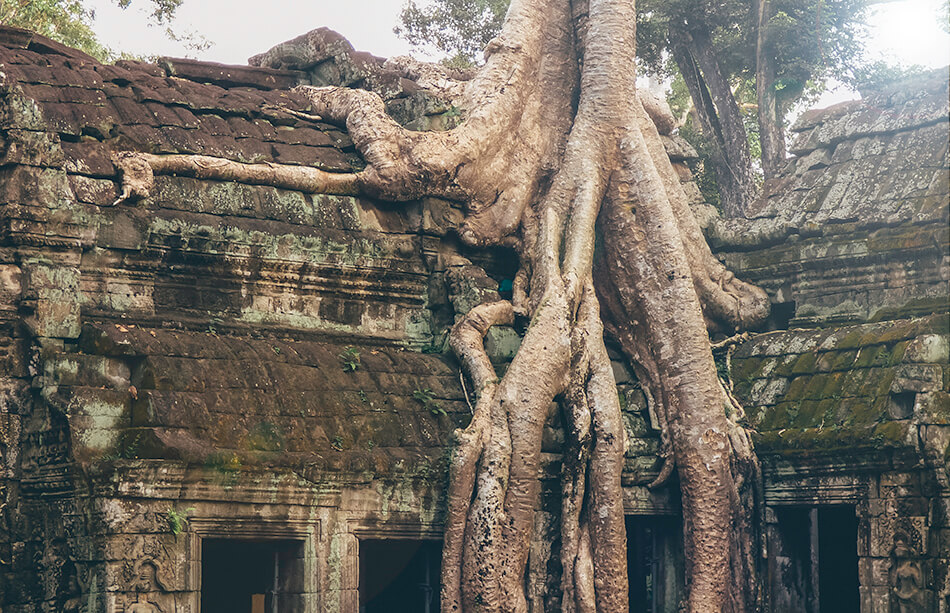 Banteay Srei
Banteay Srei not only stands out because if its location -a bit further from the rest of the Angkor Wat area – but mostly because of its beautiful red colour. In the 'Citadel of Women', you'll only find delicately sculpted details by women's hands. The tones of the red sandstone makes this temple extra special and one of the most beautiful in the Angkor Wat archeological park. Due to its location, expect to pay a little more if you'd like to include it in your tuk-tuk tour.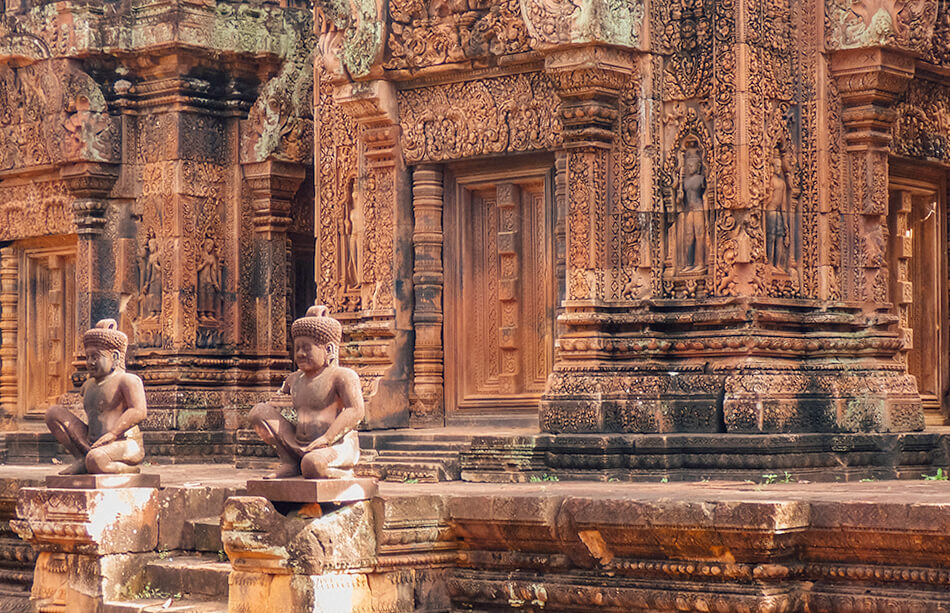 Preah Khan
Sure enough, this temple doesn't receive the same massive tourist crowds as some of the other temples get to endure. Preah Khan was one of the largest sites in the Angkor temple complex and has the same mystique feel as Ta Phrom, minus the dazzling crowds. Largely unrestored, the temples have been heavily overgrown by tropical flora.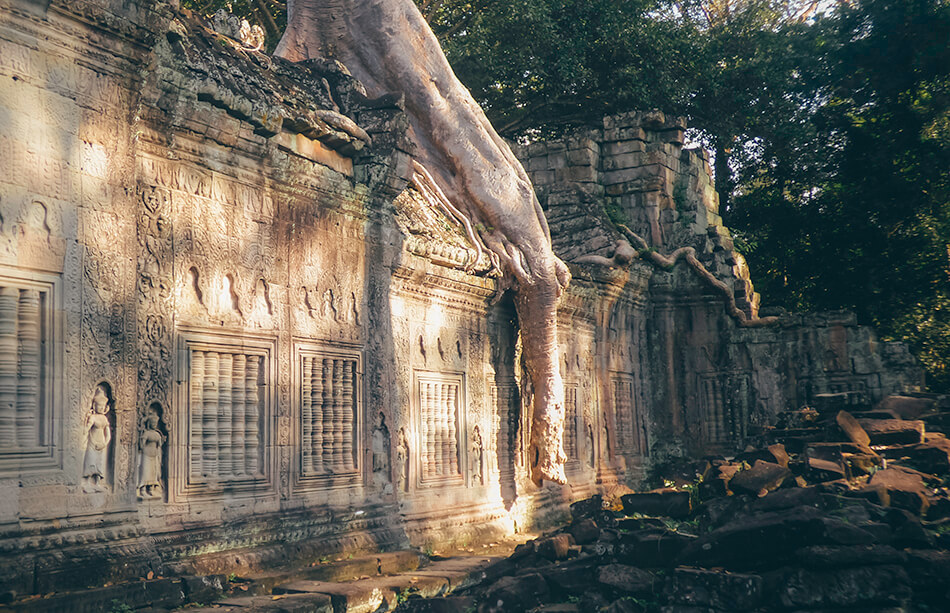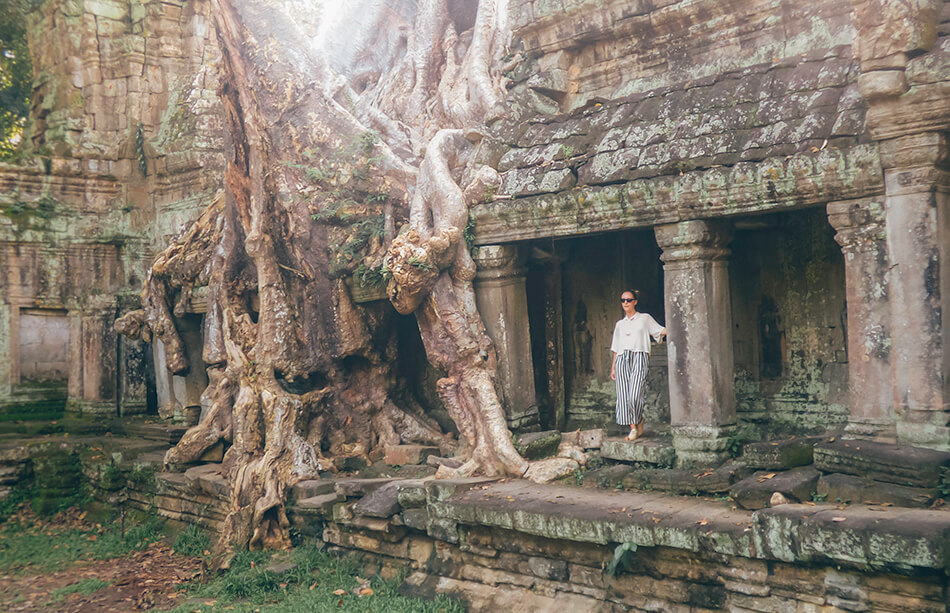 ---
How to escape the crowds at Angkor Wat
With more than two million visitors per year, we don't need to tell you it can get quite busy in Angkor. Though the sheer size, historic richness and mystique make Angkor a very special place, the masses it attracts can make the whole experience a bit less special. Fortunately, we have found a very simple but brilliant solution. During our stay we did the small loop twice; one time clockwise and the other time counter clockwise, tweaking the cookie-cutter itinerary a bit. Turning around the standard tour worked perfectly and allowed us to escape most of the crowds!
Though you'll always find people at the "big three" (aka Angkor Wat, Ta Phrom and Bayon) you can drastically reduce the numbers by following our footsteps. First, catch the sunrise at Angkor Wat like everyone else. Then, when the masses enter Angkor Wat, head to Ta Phrom and try to get there between 06:30-07:00. This is your best window of opportunity to visit without too many people around.
Midday is always quiet as temperatures rise and people start flocking back to their hotels or to the food stands. We found this the best time to visit the inside of Angkor Wat. Inside Angkor Wat are many galleries with beautifully sculptured stories. You can enjoy them in peace and relatively cooler temperatures as the galleries offer plenty of shade.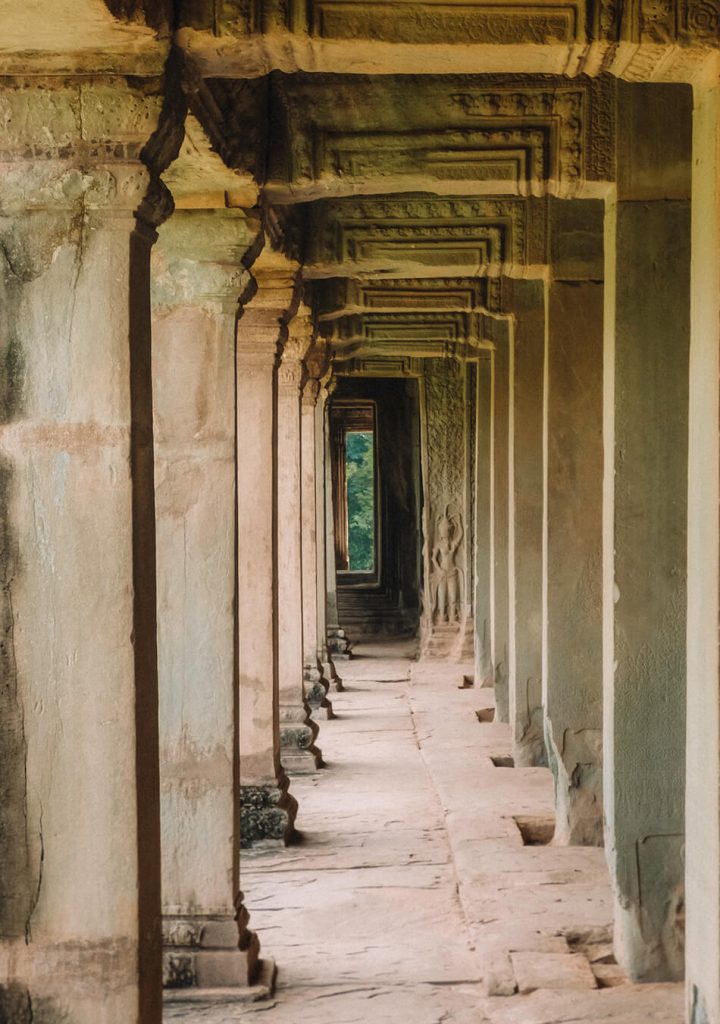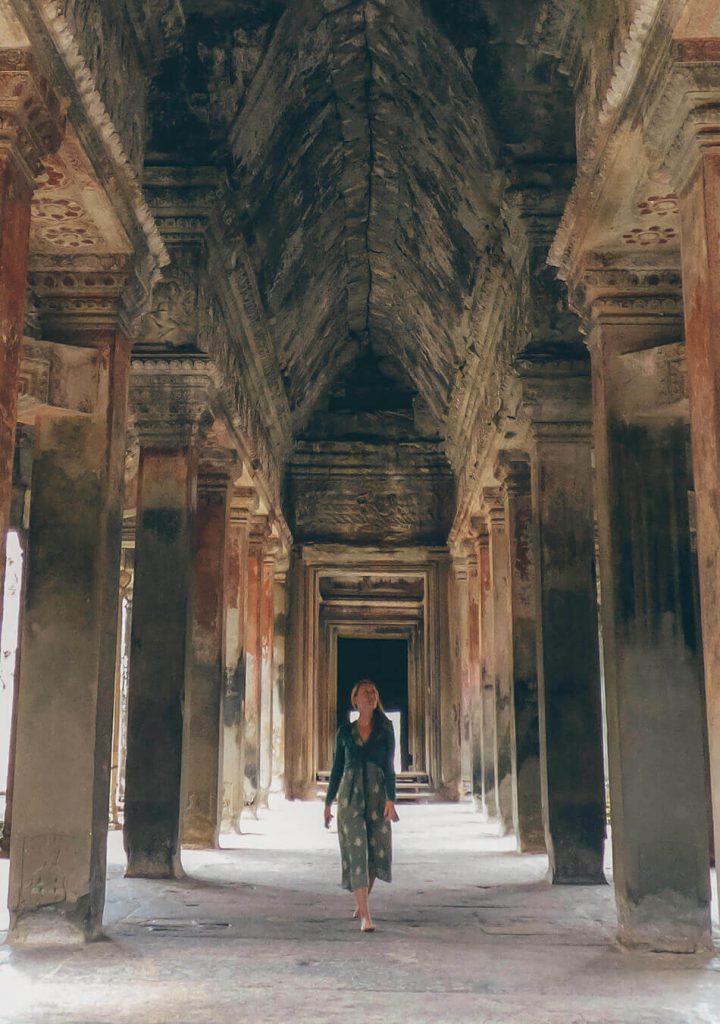 Leave Bayon for a sunset visit. For some reason everyone will be heading towards Phnom Bakheng (seriously, don't bother!) and you'll have a much quieter time. Take advantage of this and enjoy golden hour turning those faces a pinkish color. As this is quite an open temple without much shade, it is also a bonus to explore during the somewhat lower temperatures of dusk.
If you still have time and energy left, be sure to squeeze in some of Angkor's 'minor' sites as they receive noticeably less visitors.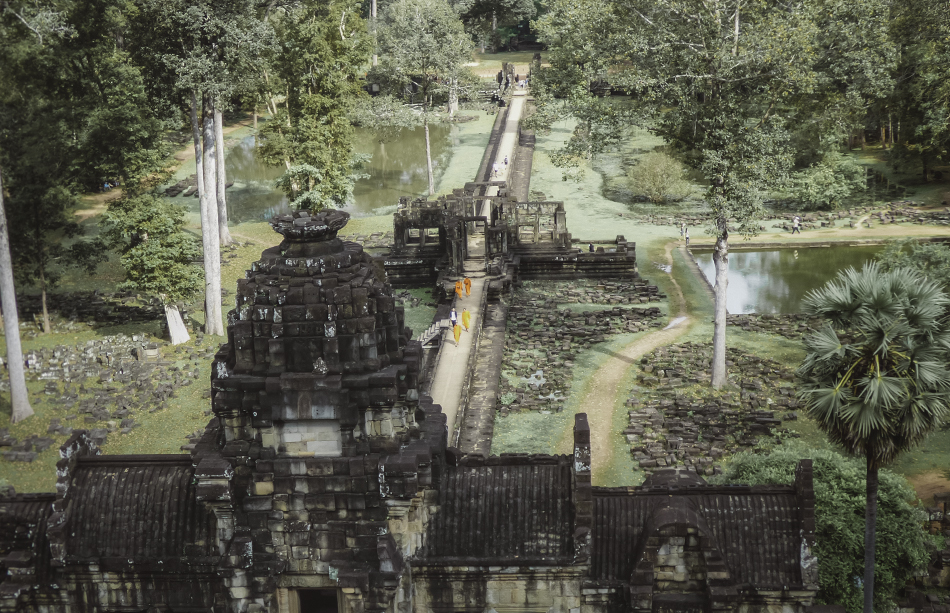 ---
Things to know before your visit to Angkor Wat
Dress Appropriately – Angkor Wat is a religious site and an appriopriate dress code is required. For both guys and gals, shoulders and knees should be covered. Don't be a dick and please be mindful and respectful when entering the temples. A hat might be a good idea against the scorching sun.
Wear comfy shoes – you'll be walking over roots and other vegetation as well as climbing multiple sets of stairs during your visit. It will be a much more agreable visit if you wear some comfy sneakers.
Bring lots of water – you'll be very active in the oppressive Cambodian heat so bring lots of water to remain hydrated.
Don't buy anything from children – you'll encounter lots of children trying to sell you bracelets, shawls or water. Yes, these kids are very cute and it's understandable that you want to help but you're not doing them any favours by doing so. Children belong in school or should play, not be sent to work.
Make clear arrangements with your tuk-tuk driver – A visit to the temples of Angkor looks looks different for everyone. So make sure you're aligned with your tuktuk driver on which temples you want to visit and in what order. Negotiate the price beforehand so everyone knows exactly what is expected. Oh, and be sure you know what your tuk-tuk and driver look like. When you exit a temple and 50 other tuk-tuk drivers are waiting for their customers, it would be a shame to waste precious time because you can't find him.
---
Where to stay in Siem Reap
The best tip we can give you when visiting the temples of Angkor is to book a hotel with a pool. After spending a day in Angkor, absolutely nothing beats jumping into a pool and cool off with a cocktail in your hand. Book in time because Siem Reap is the most popular destination in Cambodia. Try to find a hotel near Pub Street, a lively street with plenty of bars and restaurants.
If you're looking for a luxery experience,
Chateau d'Angkor La Residence
has it all! A luscious pool and only 10min on foot from Pub Street make this the perfect relaxing spot.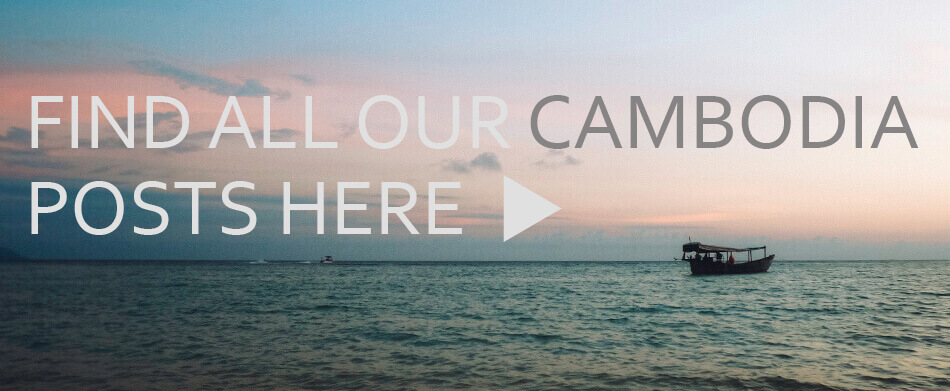 ---
Have you visited the Angkor Wat temples? What were your highlights?
---