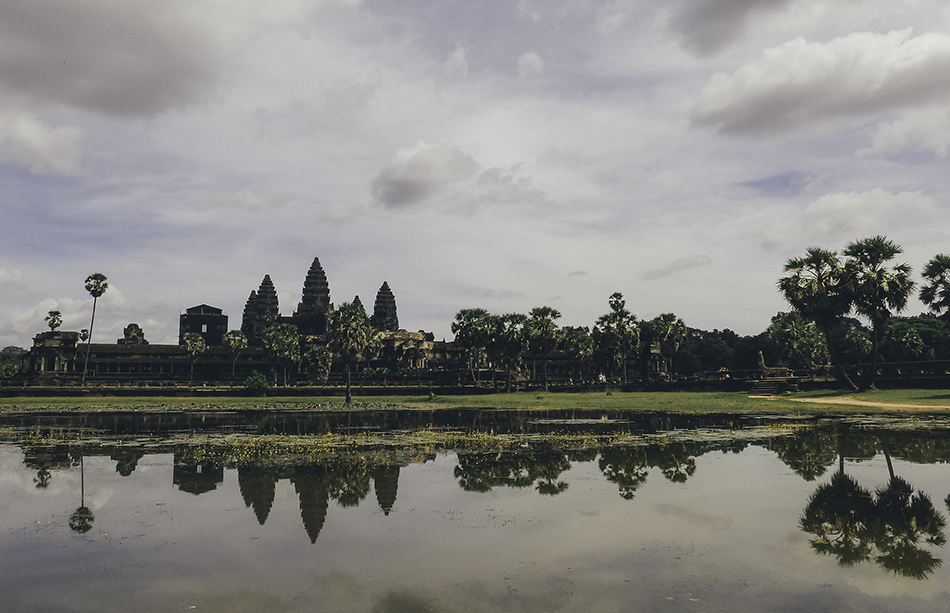 This post contains affiliate links for which we earn a small commission, but come at no extra cost to you. If you're planning a trip to Cambodia, please consider making your booking through these links. You will help keep this site running and keep it add free. Thanks for your support!
---
Thinking of traveling to the beautiful Cambodia? Then your first action is to decide on a great Cambodia itinerary! To help you on your way in putting together a travel route through Cambodia, we give you our 7 day itinerary, most useful tips and mini guides per each destination so you can choose what best suits your travel needs.
You can basically spend up to a month in Cambodia but if you only have a limited available amount of days, you can definitely cover the highlights in 1 week. Don't worry, you'll have plenty of time to visit the otherworldly temples of Angkor Wat, get your necessary dose of culture, experience the countryside and enjoy the sunshine on Cambodia's exotic islands
---
7 day Cambodia Itinerary
---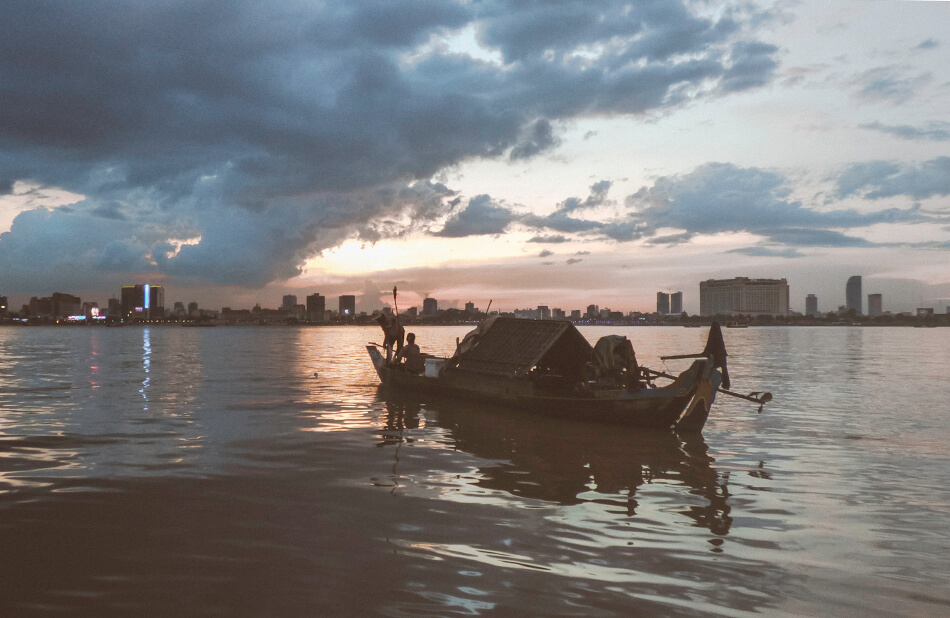 How many days do you need in Cambodia?
You can travel anywhere from 2 days to one month in Cambodia, depending on your interests. In our opinion, a minimum of 2 days is needed to explore the capital Phnom Penh, 3 days is needed to discover the archeological its in Angkor Wat and 2 days is needed to enjoy the wonderful beaches and islands.
With one week in Cambodia, you can enjoy all the above mentioned highlights.
A perfect 7 day Cambodia itinerary

Cambodia
Day 1: arrival Siem Reap
Undoubtedly the sprawling temples of Angkor Wat is what drives most people to visit Cambodia. More than 50 temples pepper the countryside of nearby Siem Reap. Visiting the largest religious monument in the world is like traveling back in time. The beautifully preserved and restored temples tell Cambodia's history and faith of the once powerful Khmer Empire.
You'll have plenty of time to go temple hopping tomorrow. Spend the evening enjoying lively Pub Street, one of the fantastic evening activities or the refreshing swimming pool of your hotel!
Where to stay in Siem Reap: Cambana d'Angkor Suites
Day 2: Temple hopping in Angkor Wat
Get up before dawn and enjoy the magical red sunrise above the Angkor Wat temple itself. The moment the Angkor Wat temple reveals itself is the highlight of any Cambodia itinerary! Incredibly beautiful and the postcard picture of Cambodia. Schedule enough time to explore this vast complex. There are lots of hidden nooks and crannies that are worth exploring.
In the afternoon, enjoy the Angkor Wat temple complex from a different perspective: from a balloon ride, or explore the remaining temples in the area. Ta Phrom (also known as the Tomb raider Temple) and Preah Khan were some of our favorites!
You can explore the many different temples scattered around Angkor Wat from a Tuk Tuk tour, by bicycle or by a private car. Whatever mode of transport you chose, we suggest you read our guide to the temples of Angkor Wat for the best temples to vist, the best time of day to avoid the crowds and in what order you should visit the temples best.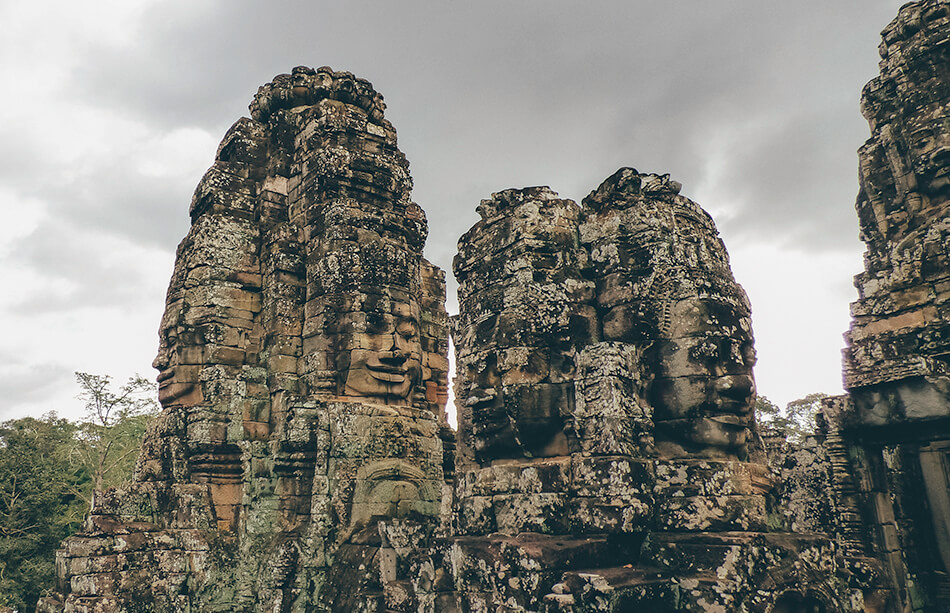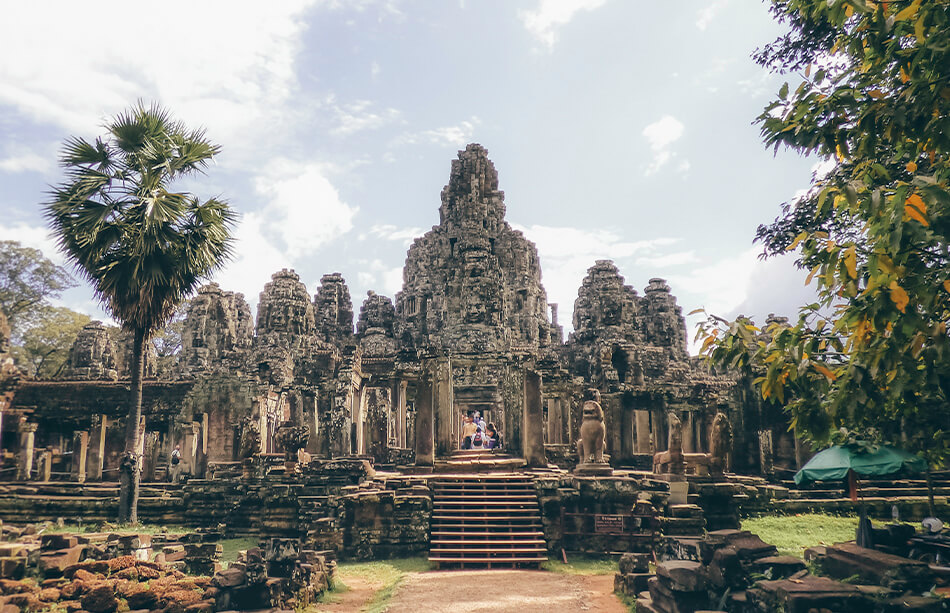 Where to stay in Siem Raep: Cambana d'Angkor Suites
Day 3: Cambodian village experience
Today is dedicated to experiencing Cambodian culture. Join a day tour that gives you insight into the life of a Cambodian village. You'll become part of a Cambodian family for a day and experience how the family spends their day to day life.
Ever wanted to know what it feels like to drive an ox cart or to plant rice? Well you surely get to experience it during your one week Cambodia itinerary on this Cultural Village tour.
Village activities, transport to the village, picknick lunch and an English speaking guide are included into the tour. By participating at this tour you'll contribute to the HUSK Village Fund which aims to support the local village.
Looking for a shorter excursion to the Cambodian countryside? Then dedicate the morning to explore some more temples or revisited your favorite ones from yesterday's trip. We decided to do the exact same temple tour on our second day but in the reversed order. This allowed us to see the temples in a different light but also with different numbers of crowds.
In the afternoon you can browse through the local Cambodian markets, hunting for art, gems and Cambodian silks or join a Cambodian cooking class or a visit to the floating village of Tonlé Sap.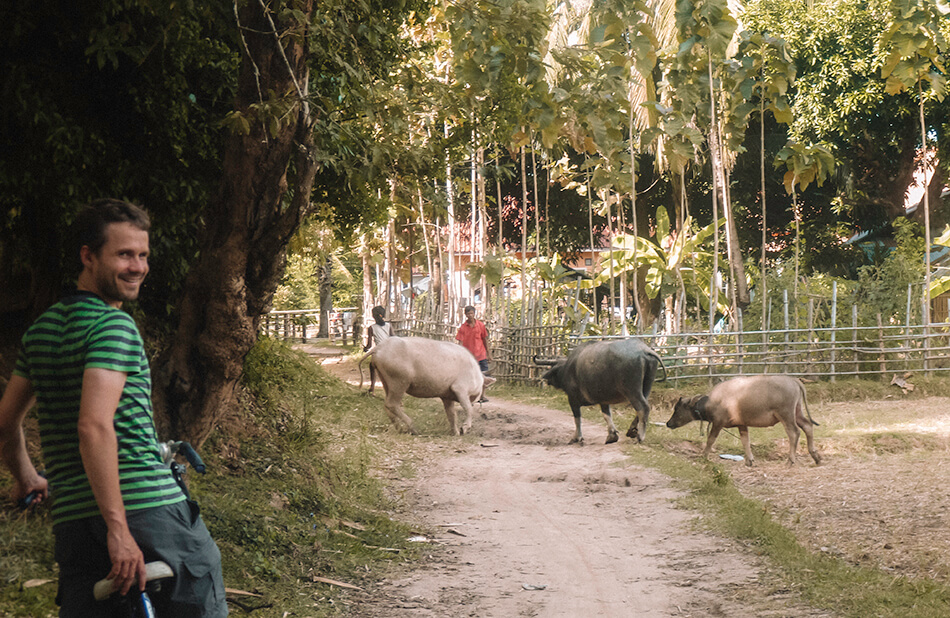 Where to stay in Siem Raep: Cambana d'Angkor Suites
Day 4: Phnom Penh visit Royal Palace and Mekong sunset cruise
In the morning, fly from Siem Reap to Phnom Penh in a bit less than an hour. If you arrive in time for lunch, head to the riverfront for lunch at the Backyard Cafe. Backyard café caters to travelers looking for a healthy lunch and well located to your hotel for the night (10min), The Pavilion, and the Royal Palace (5min).
In the evening, the Mekong river banks come to life with fancy rooftop bars, night markets and river cruises. Enjoy a cocktail on deck while the contrast of old and modern quietly floats you by. A perfect way to end your first evening in Cambodia's capital.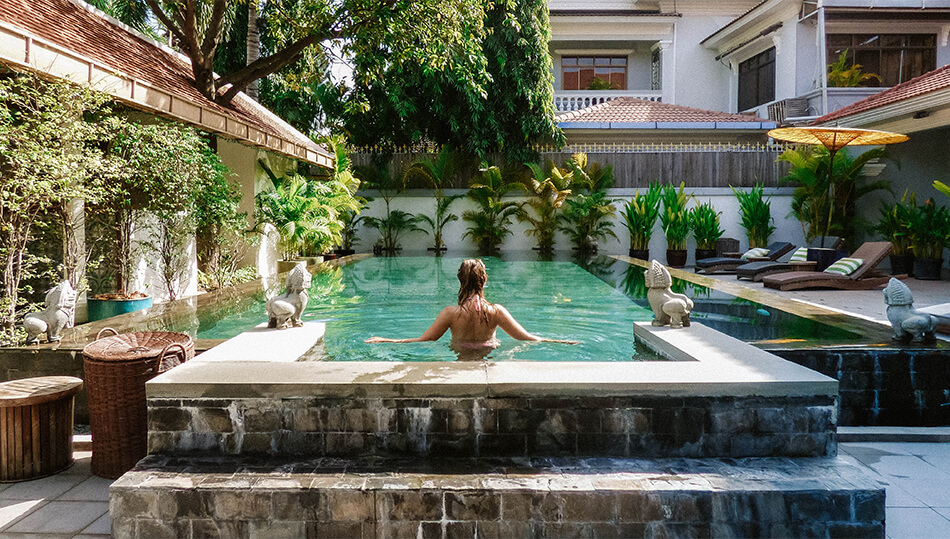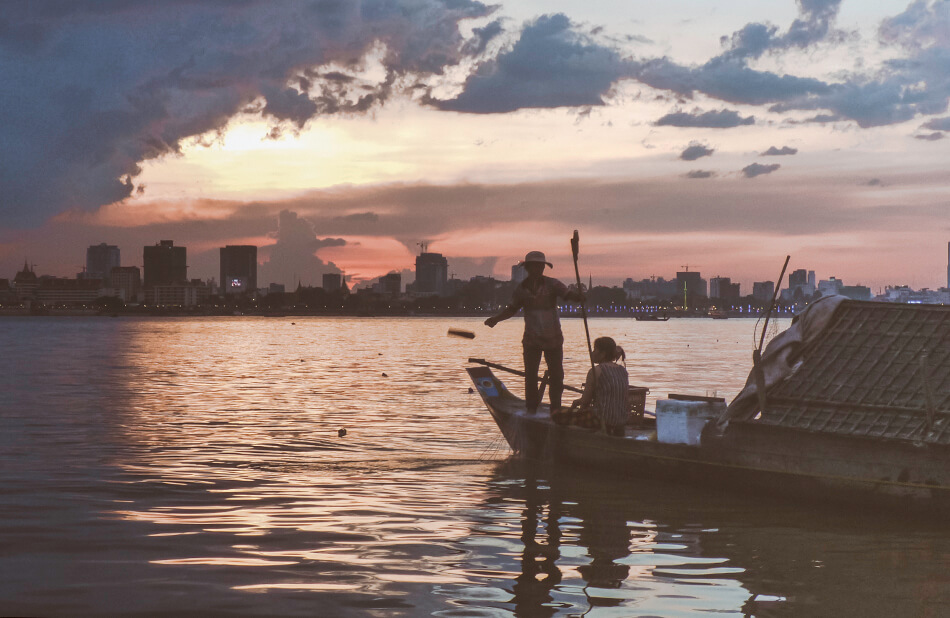 Where to stay in Phnom Penh: The Pavilion
Day 5: visit Killing Fields and S21 Prison
History buffs will definitely enjoy Cambodia as its strong and fascinating history doesn't stop at the boundaries of the Angkor Wat National Park. The capital Phnom Penh offers a peek into Cambodia's recent violent past as well.
Though Phnom Penh isn't the most exciting or beautiful city, top things to do include visiting the numerous temples, museums and Royal Palace. Visiting the S21 Prison and Killing Fields may be one of the most emotional and educational activities to do in Cambodia and we highly recommend!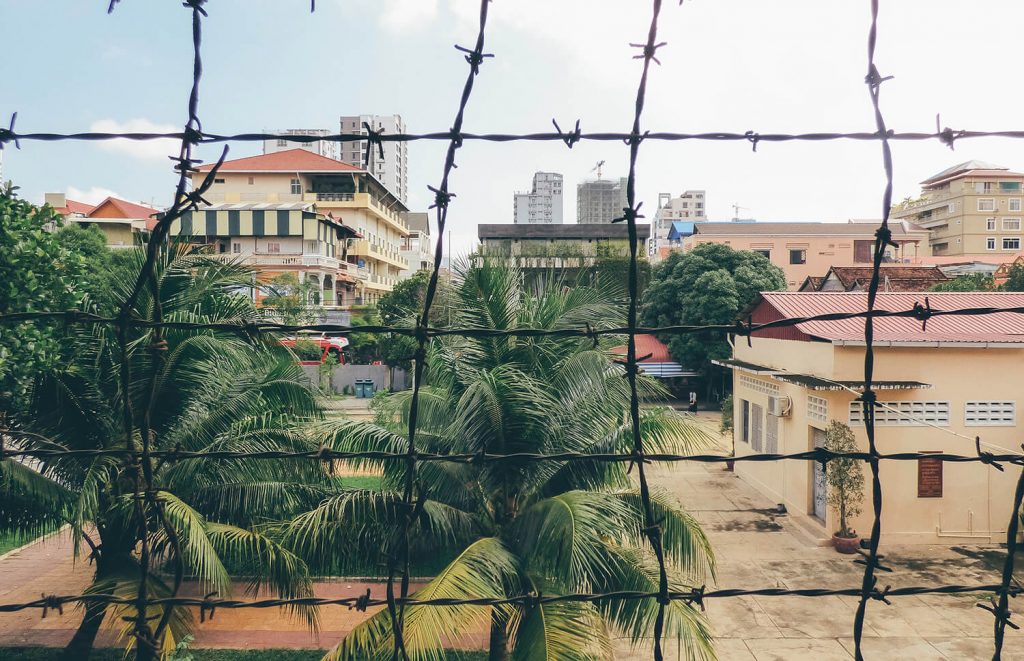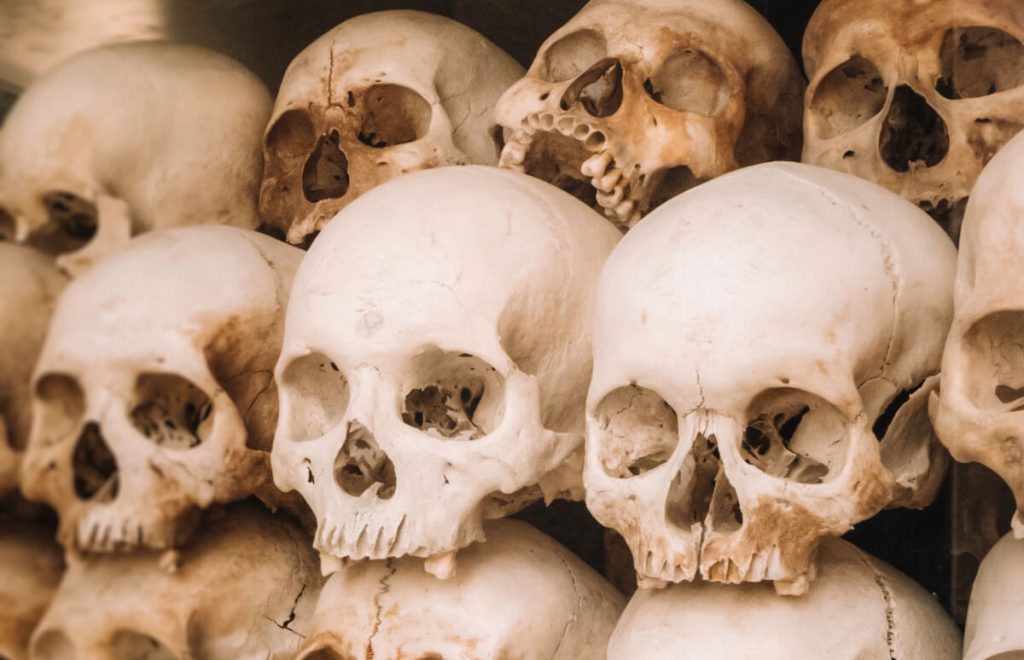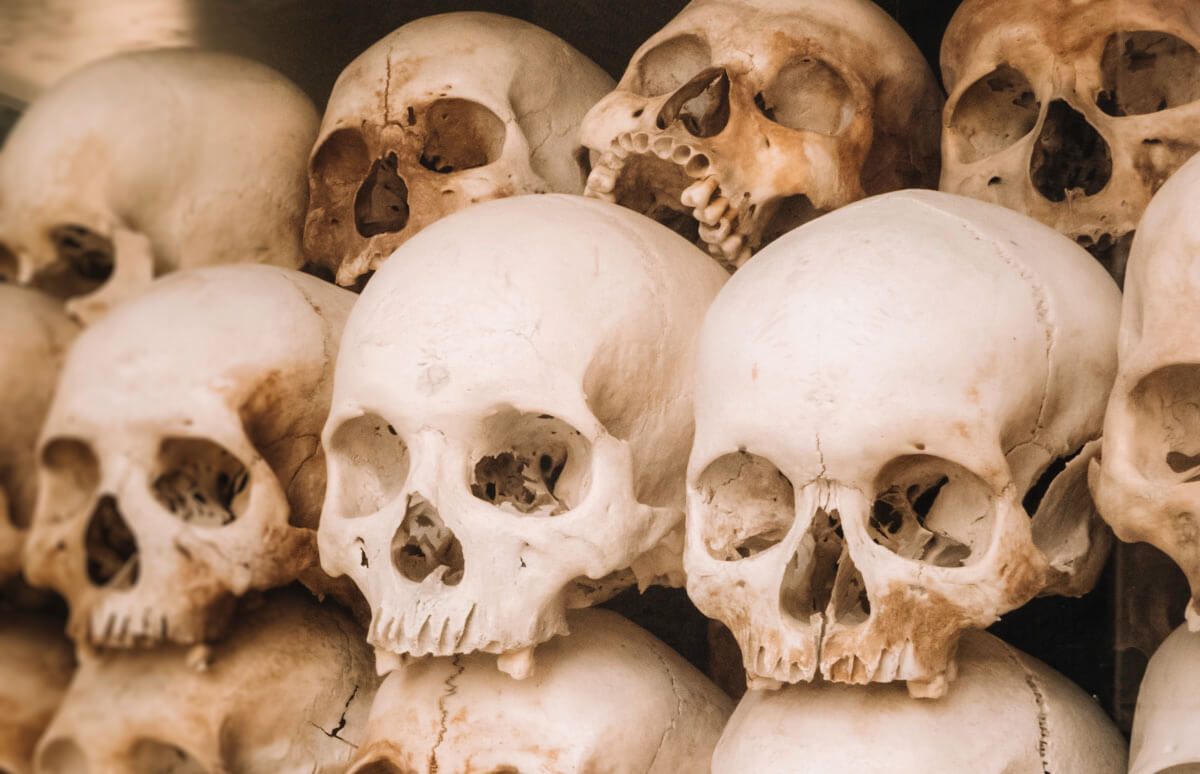 Where to stay in Phnom Penh: The Pavilion
Day 6: Koh Rong
While the tourist masses can be found lazing on Thailand's islands, Cambodia's alternatives are often forgotten (and wrongly so). That makes them unspoilt and uncrowded, a true dream for those seeking an authentic island experience. Koh Rong is the most popular island, mostly catering to the backpacker scene wile nearby Koh Rong Samloem caters more to the family crowd. If it's pristine white sand beaches you're looking for, flanked by a turquoise sea, you've come to the right place!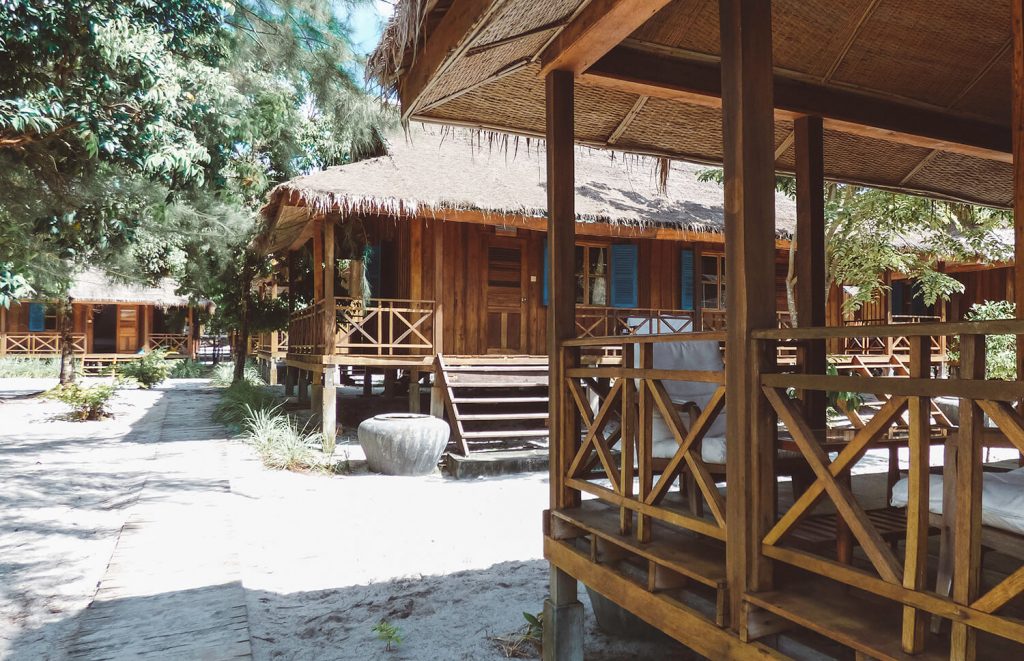 Where to stay on Koh Rong: Sok San Beach Resort
Day 7: more relaxing on Koh Rong
Today your only goal is to relax on the beach. You can walk on the beach to explore the island or join a bioluminescent plankton tour.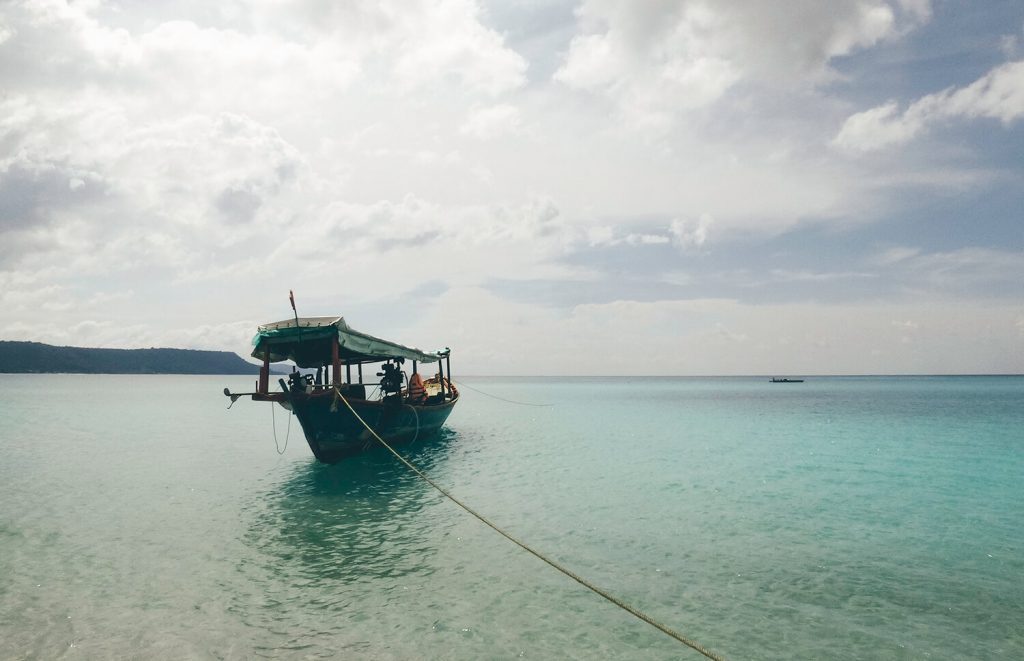 Where to stay on Koh Rong: Sok San Beach Resort
<center><div data-gyg-widget="auto" data-gyg-partner-id="2X7JAZW"></div></center>
<!-- GetYourGuide Analytics -->

<script async defer src="https://widget.getyourguide.com/dist/pa.umd.production.min.js" data-gyg-partner-id="2X7JAZW"></script>
Why go on a journey through Cambodia?
If I need to summarize why we loved Cambodia it would come down to: food, food and food. We absolutely fell in love with the traditional Cambodian cuisine and are still dreaming about Amok! My expanded waistline was the best souvenir I brought back from my travels. No regrets what-so-ever.
Thailand may be known as the 'Land of Smiles' but Cambodia is renowned for its hospitality. You'll be overwhelmed with the abundance of warm welcomes and smiles and it reflects in the abundance of homestays available throughout the country.
Obviously history and architecture buffs will definitely enjoy Cambodia as divine temples in Angkor Wat and Phnom Penh are abundant and among the most beautiful in the world. Beach bumps will also get their fill at the pristine exotic Islands on Cambodia's coast – they will make your jaw drop in awe.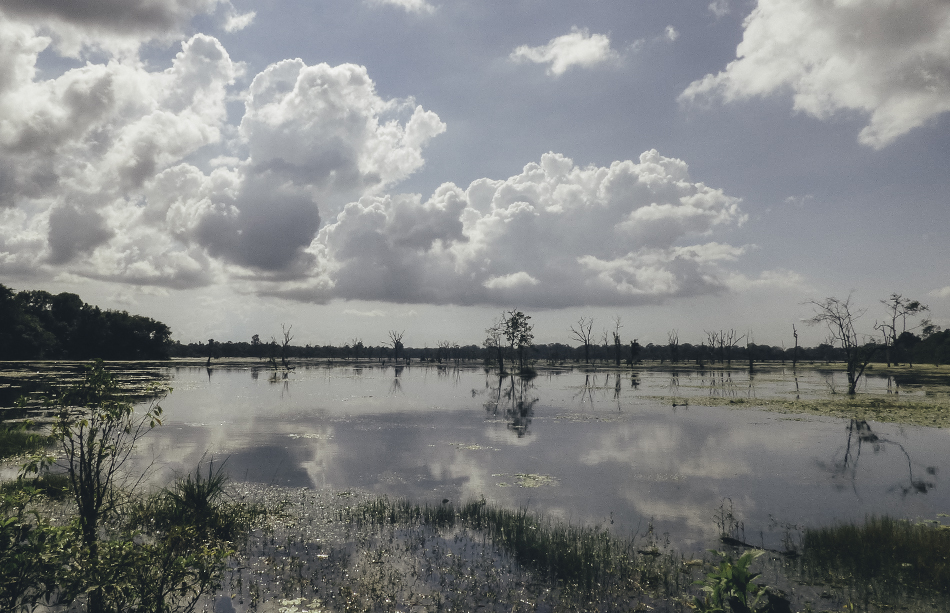 Getting around on this Cambodia itinerary
Do I need to book a tour in Cambodia?
You don't need to book a tour as Cambodia, just like Laos, it is extremely easy to travel. Budget options include overnight busses and minivans but Cambodia also has many internal flights to get around the country. You can easily arrange tickets via your hostel/hotel or through their websites. We arranged and traveled this 7 day Cambodia itinerary completely independent.
Air travel in Cambodia
Cambodia has three international airport, which align perfectly with our one week Cambodia Itinerary. The most common used airports for flights from Europe and Northern America are Phnom Penh International airport and Siem Reap International Airport.
If budget is not an issue, the most comfortable way to travel around Cambodia for this itinerary, would be to travel by internal flights. Cambodia Angkor Air is the longest-running airline offering domestic flights in Cambodia and tickets cost about US$100 one-way.
Their schedule can change a bit but they have several flights operating between Siem Reap and Phnom Penh a day. The journey between Phnom Penh and Siem Reap can be completed in about 50 minutes.
Bus travel in Cambodia
The easiest and cheapest way to travel around in Cambodia is by bus. Roads in Cambodia can be tricky, aka a pain in the ass. During rainy season roads can turn into mud pools, making bus travel difficult (read: slow). Toddler-size potholes are also quite common.
Be aware when traveling by bus, the bus often drops you off at the edge of town, where tuk-tuk drivers are abundant and ready to take you into the town-centre. So calculate some extra time to reach your hotel onto the bus travel time.
We traveled around Cambodia using Giant Ibis, which was absolutely fine. The nightbus held a few bathroom stops, offered AC on board and was comfortable.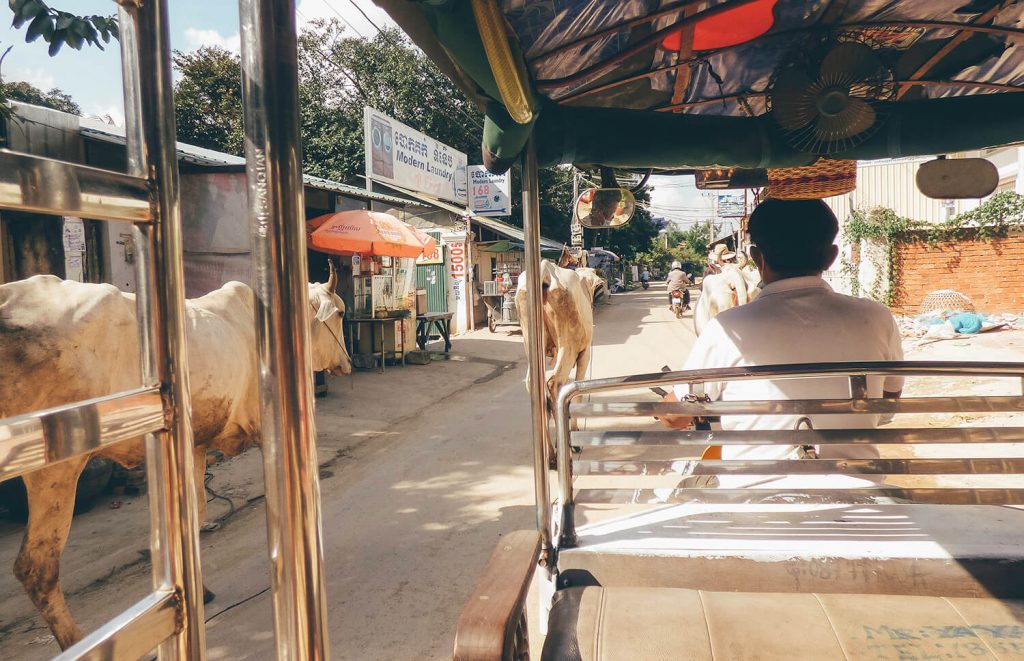 Mini-bus travel in Cambodia
Mini busses can be a great solution for some destinations in Cambodia. We used Asia Van Transfer to get from 4000 Islands (Don Det and Don Khone) in Laos to Siem Reap and Angkor Wat. It was the easiest and fastest way to travel from Laos-Cambodia border to Angkor Wat and were very happy with the service.
We got in touch with them via Skype and through WhatsApp and everything went very smoothly. You can read our complete review of Asia Van Transfer here.
The best travel route through if you have one week in Cambodia
Your Cambodia itinerary will largely depend on where you enter and exit the country. Are you only traveling through Cambodia or are you combining it with one of its neighbouring countries?
Either way, you're likely to pass through Phnom Penh a couple of times, if only for a short stop of the night bus, as it is a major hub between the northern and southern part of the country.
We spent 7 days in Cambodia and travelled from north to south after crossing the border with Laos. Below is a map of Cambodia showing what places we travelled to and highly recommend. You can click on each highlighted site on the map to get a better impression of that destination.
For every destination on this Cambodia itinerary we have a separate mini-guide written with our best tips for things to do, things to see, best places to eat and best places to stay. This will make it much easier for you to decide what places are of interest to you and how many days you want to stay at each location.
Have you been to Cambodia? Would you try this Cambodia itinerary?
---
Love it? Pin it!
---