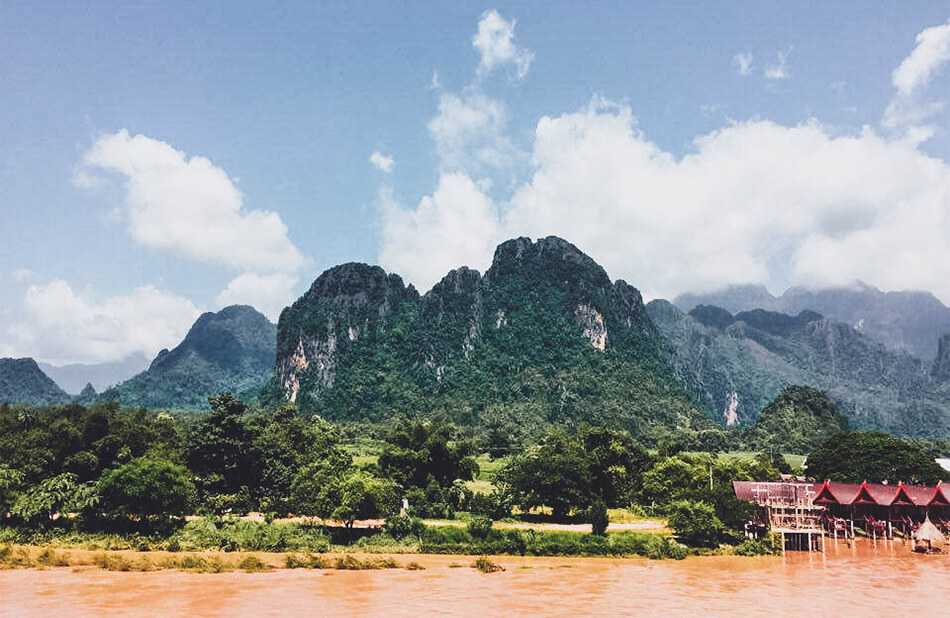 Vang Vieng is a rural village that should not be skipped during your journey through Laos. It's like waking up in Avatar. Everywhere you look, gigantic limestone rock formations surround you, towering high like natural skyscrapers. In between you'll find idyllic rice fields, turquoise lagoons and caves.
Once Vang Vieng was best known for its wild parties while tubing down the Nam Song River. Since the intervention of the government the party scene has dropped significantly. This paradise postponed is now heaven on earth for adventure and nature seekers. We found tranquility, serenity and experienced the real Laotian rural life. Hop on your rented scooter or bike and explore the gravel roads that crisscross through the rice fields and local villages. Nature is spectacular and life is basic.
Welcome to Laos!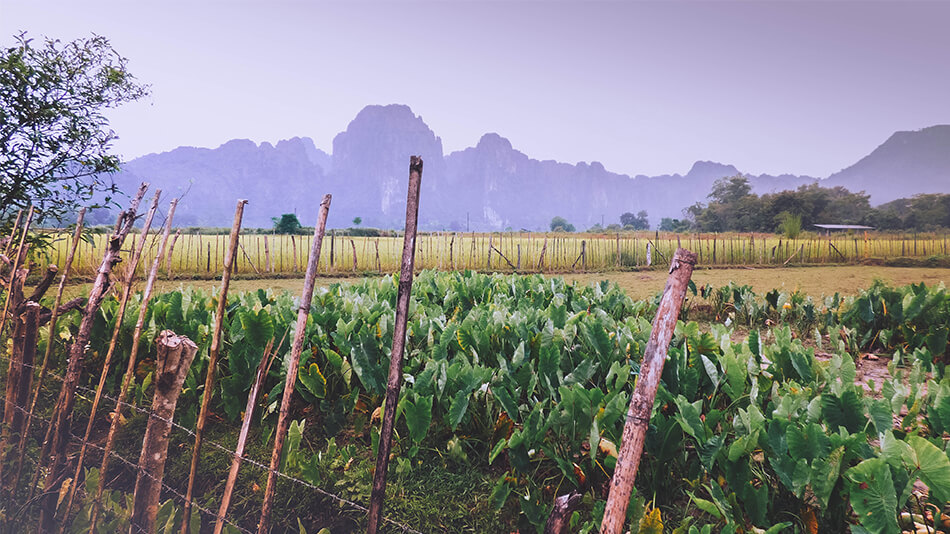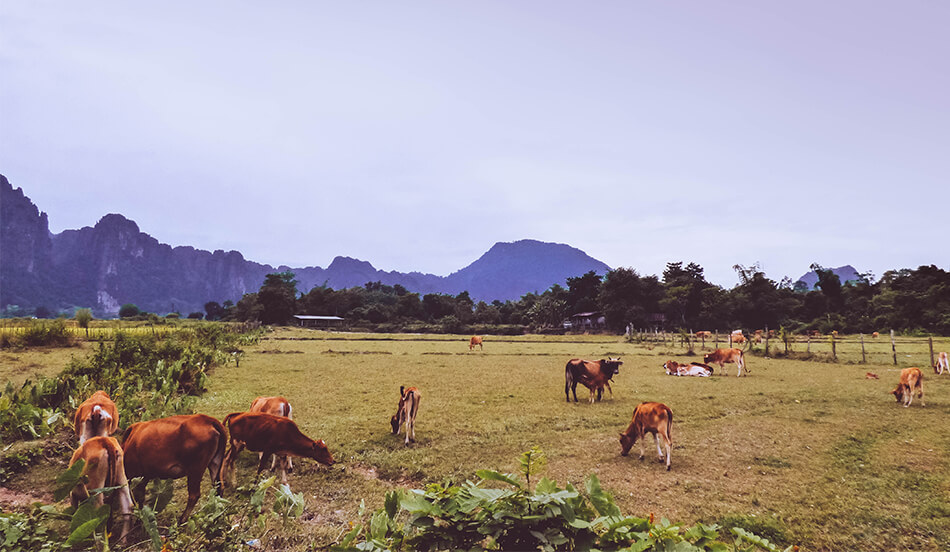 How to get to Vang Vieng?
Vang Vieng is situated in northern Laos, 6h from Luang Prabang and 4h from Vientiane. In both cities, bus or minivan tickets to Vang Vieng can easily be bought from one of the numerous agencies. When coming from
Luang Prabang
, you'll have a twisting mountainous road ahead of you so if you're prone to travel sickness, stock up on some medication before embarking on this journey.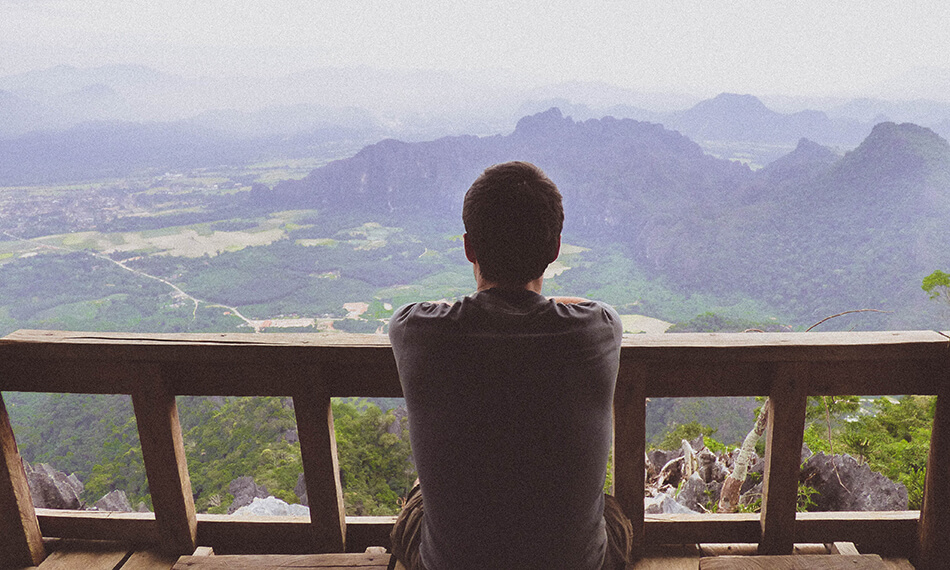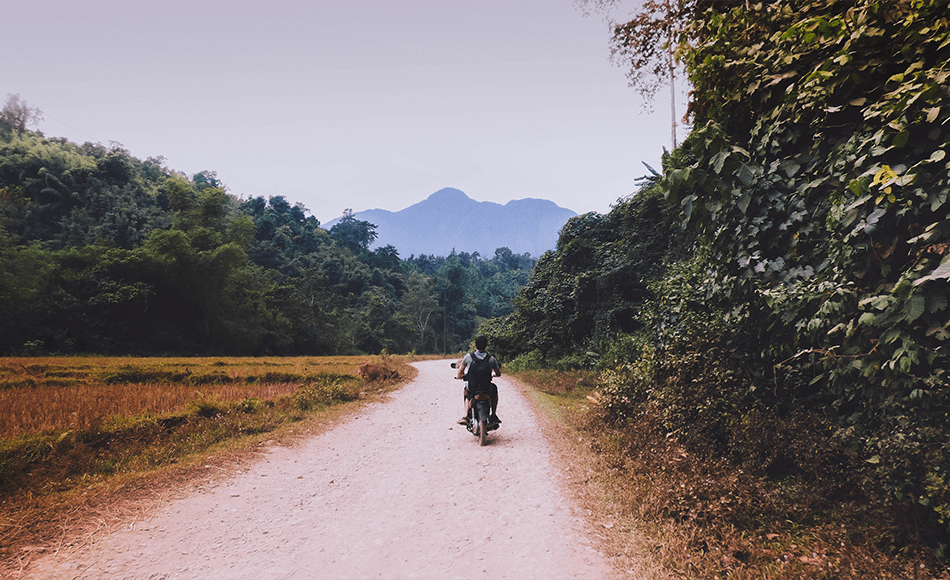 ---
---
Tips Vang Vieng activities?
Vang Vieng has sufficient activities to keep you entertained for at least 2 full days. If you prefer some down time in your hammock though, you better make it 3. Below are our 5 tips of must do things while staying in Vang Vieng.
#1: Explore the countryside by scooter or bike
The streets of Vang Vieng are dotted with small shops and hostels renting bikes or scooters, which will give you all the freedom you need to explore Vang Vieng on your own. Vang Vieng is wonderful for cycling (10.000 kip for aday) or motorbiking (50.000 kip per day for a semi-automatic), you can do the Western loop with several points of interest along the way. Check out Hobo maps to help you on your way.
Get lost on the narrow bumpy roads and go out looking for beautiful hidden places. Our favorite spot was riding through the authentic local town of Ban Naxom in rural Laos!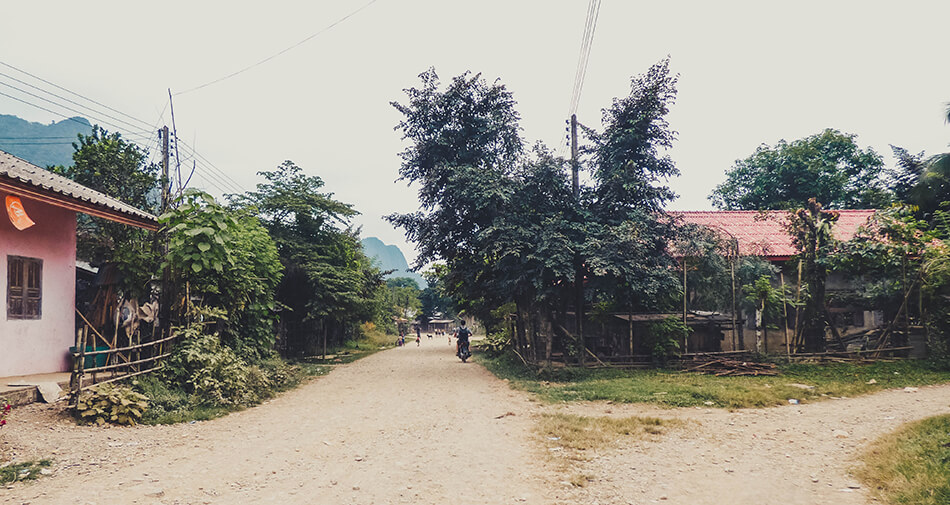 #2: Catch a sunrise over the idyllic rice fields
Sunrises are early in Laos (around 5 am) but it's worth it once you see the first sunbeams kissing the limestone walls and cover the rice fields in a golden glow. There are several walking paths through the rice fields outside Vang Vieng town, on the other side of the bridge that offer spectacular vantage points. Make sure to check out Hobo maps for the trails!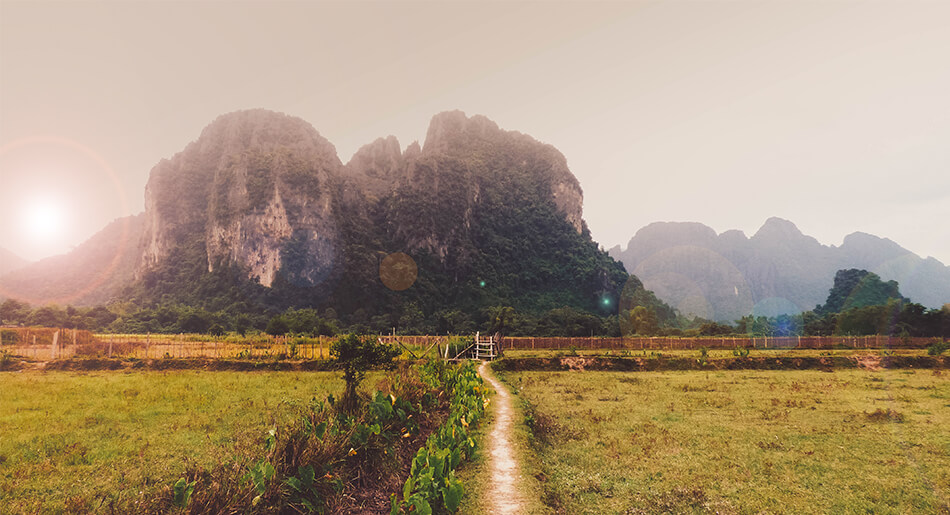 #3: Hike to the Phangern Mountain viewpoint
Vang Vieng is even more beautiful from above because only then you really see how vast and majestic this area is. The hike to Phangern the Mountain viewpoint is a moderately-strenuous climb of about 40 minutes to the first viewpoint and about 30 minutes more to the second. The view is well worth the effort. Especially when you're here on a clear day, you can see rice fields and limestone rock formations as far as the eye can see. Start the climb early at about 7 in the morning to avoid the heat and take plenty of water with you. Entrance is 10.000 kip or $1.25.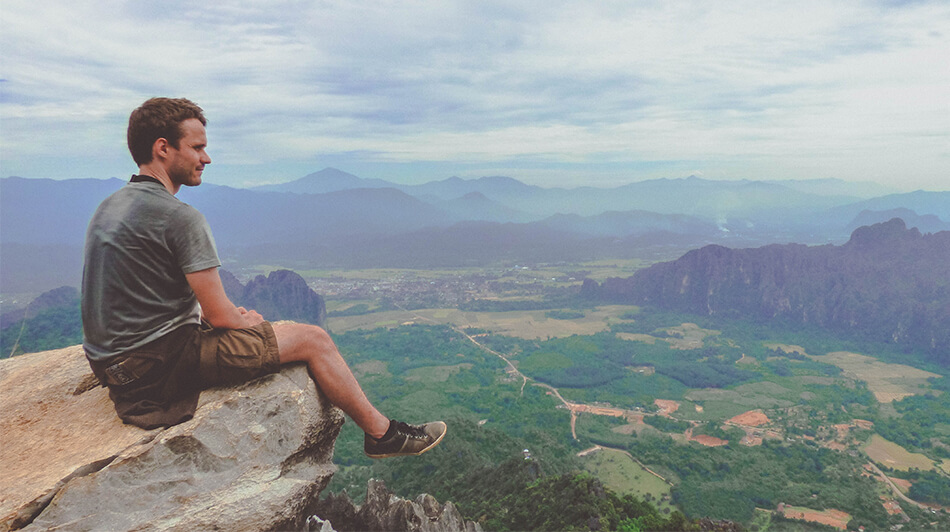 The starting point for Phangern Mountain can be a little difficult to spot. From Vang Vieng town, cross the wooden bridge (you have to pay a toll, prices vary depending on what type of vehicle you have) and head west. After about 4km, you will see a small sign on your right hand side indicating the viewpoint. Turn right down this path and keep driving around 200 meters to get to the starting point of the hike, there is parking for your scooter or bike.
The hike up is not well paved so you will need to wear proper shoes (no flipflops!). Take plenty of water with you as the hike primarily takes place in the humid foliage of the forest with no breeze until you reach the spot. It is hot and sweaty!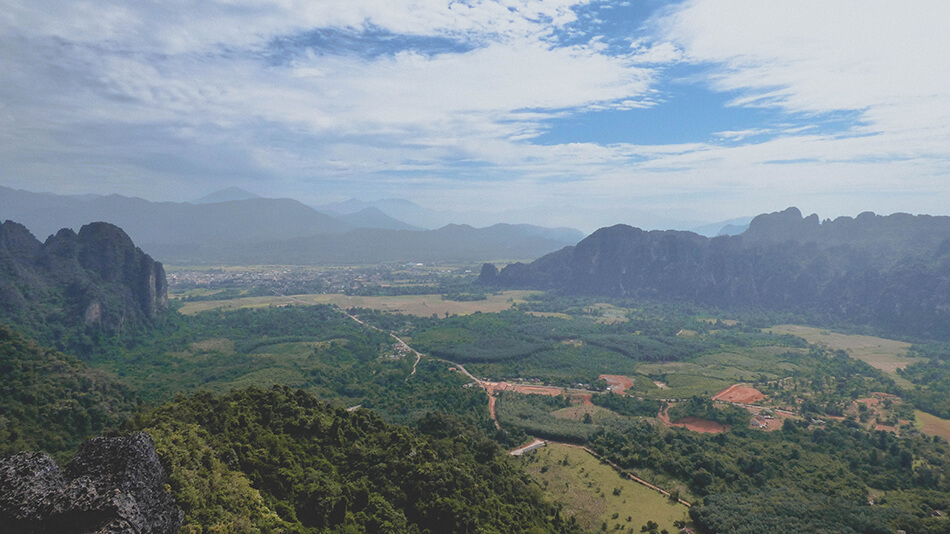 ---
---
#4: Visit the Tham Phu Kham Cave
Vang Vieng is home to dozens of caves – some spectacular, some not so much. If you only visit one cave while you are in Vang Vieng, make it this one. It is well located near the Blue Lagoon, which no doubt will definitely be on your to do list. The grotto is quite dark and can become quite slippery when wet so enter with good shoes! The Blue Lagoon itself actually felt quite underwhelming. Sure its water is beautifully turquoise blue (in dry season) but the location isn't as beautiful as at Kuang Si Falls near Luang Prabang and it is very busy catering to group tours. Entrance is 10.000 kip or $1.25 (includes parking).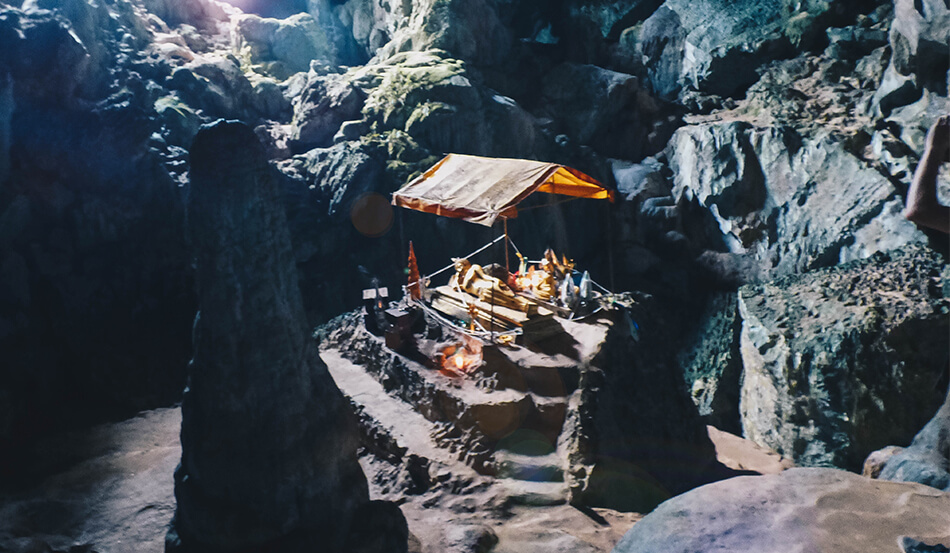 #5: Stay in a bamboo bungalow in the middle of the idyllic rice fields
We stayed 3 nights at Vieng Tara Villa which we can definitely recommend! You'll stay in a beautiful bungalow on stilts in the middle of the rice fields facing the limestone mountains. The standard bungalows have a hammock from which you can enjoy the views on the Nam Song River. Simple and stylish!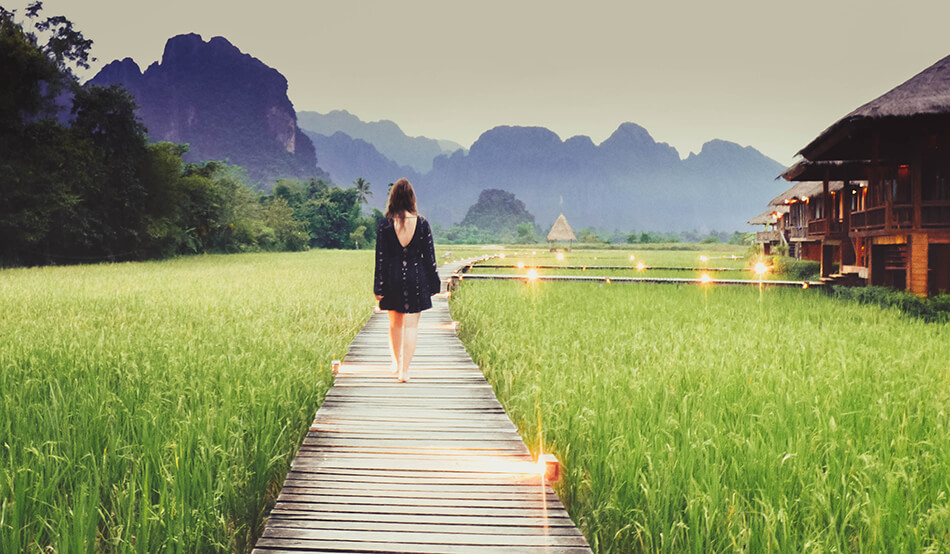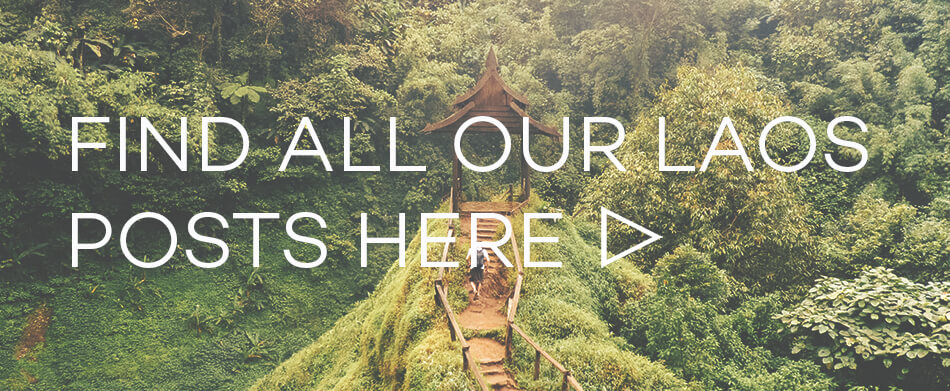 Would you go to Vang Vieng? We'd love to hear about it in the comments below!