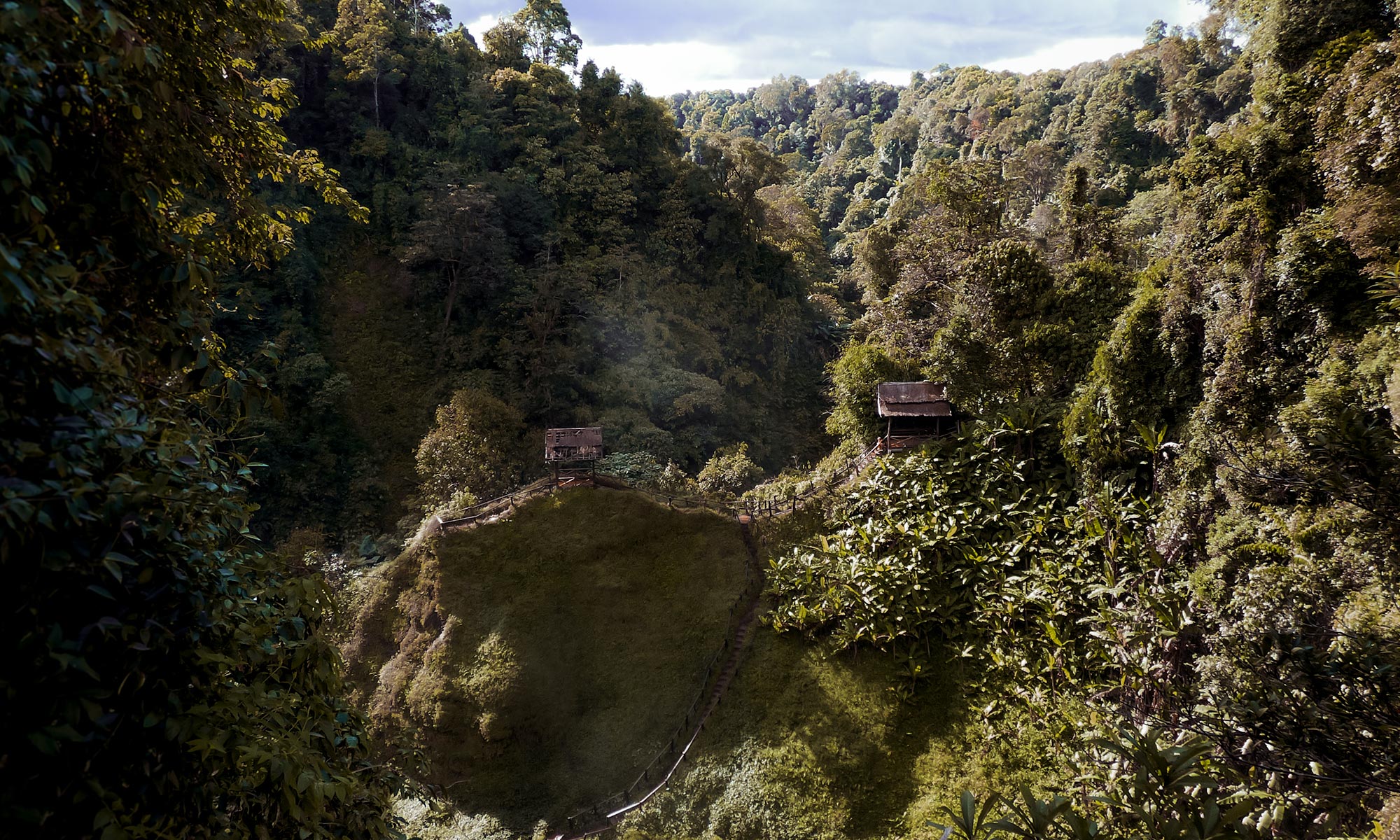 Monsoon Travel Season can be quite appealing to most travelers: there are less tourists around, it's cheaper and the landscapes are lush and green. While it's the most perfect time of year to avoid most other travelers on the tourist trail, it can also bring some logistical challenges when it's time for you to pack your bags. In this thorough monsoon season packing guide, we're laying out all our favorite and field-tested equipment and clothing to bring along on your (possibly) wet travels!
---
Packing for Southeast Asia's Monsoon Season is serious business
When traveling through Southeast Asia, chances are quite large you'll stumble upon a few rain showers during your travels. From April to September, travelers can find themselves in the midst of Southeast Asia's Summer Monsoon, which is characterized by some heavy rain showers. But even adventures between October and April, or during the Winter Monsoon, aren't guaranteed to be completely dry. During our travels through Laos and Cambodia in October and November we've had a total of three rain showers surprising us during a three week trip. This monsoon season packing guide has been a lifesaver for us!
---
Wondering where to take your adventurous soul in Southeast Asia? Here are some of our favorite itineraries.
Hey, need a handy packing checklist to help you pack? We've got a printable version of this post that includes everything you'll need for your trip. Sign up below and we'll deliver it right to your inbox along with some amazing travel tips!
ADD_THIS_TEXT
---
Waterproof travel bags
Let's start with the basics. When traveling to a destination with potential downpour, you'll want to protect your clothes and other travel accessories to stay dry. Even when only encountering two or three rain showers, you'll dread the day your clothes get wet during the damp Monsoon Season. Our tip? Get yourself a decent waterproof bag!
We've had our fair share of backpacks with rain covers, but none of them really seemed to suit our travel needs. While most rain covers can handle a weak rain shower, they can't cope with the short but heavy downpours of the tropics. That's why it's the most important piece of equipment in this monsoon season packing guide.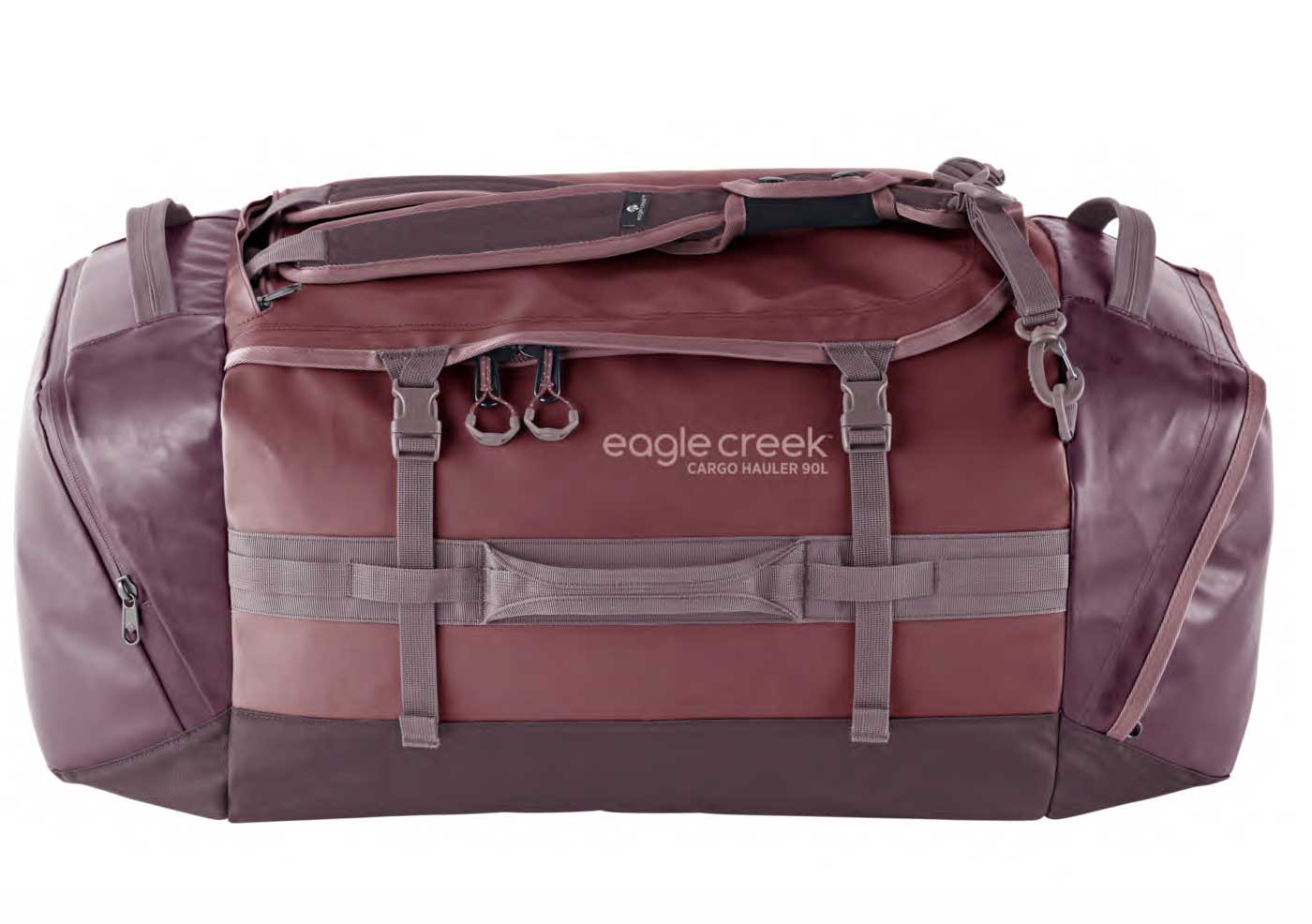 Our go-to travel bags for rainy destinations are the sustainable and waterproof bags from Eagle Creek. Our favorite has been the Cargo Hauler which comes in four different sizes: 60 L, 90 L, 110 L and 130 L.
The bag comes with side handles so you can carry it like a regular duffel bag and is also outfitted with backpack straps that can be neatly tucked away. This will allow you to carry your bag like a backpack whenever it suits you. The two largest sizes (110 L and 130 L) also come as a wheeled duffel. The though but pliable material is perfect to stow your back in small spaces.
The sturdy wheels make this bag perfect for adventurous travel: they can handle dirt roads and stony underground and are especially made for off beat explorations, all while staying stylish. We favor the bag in Earth Red. It suits him and her, is very stylish and dark enough to hide any dirt. The unique color also makes it stand out on the luggage band so your luggage is easy to spot! The Eagle Creek "No Matter What" warranty means you can travel the world without a worry, you'll get a new bag when something malfunctions (no matter the reason).
Keep your wet stuff separated from your dry stuff
Pack a water repellent shoe bag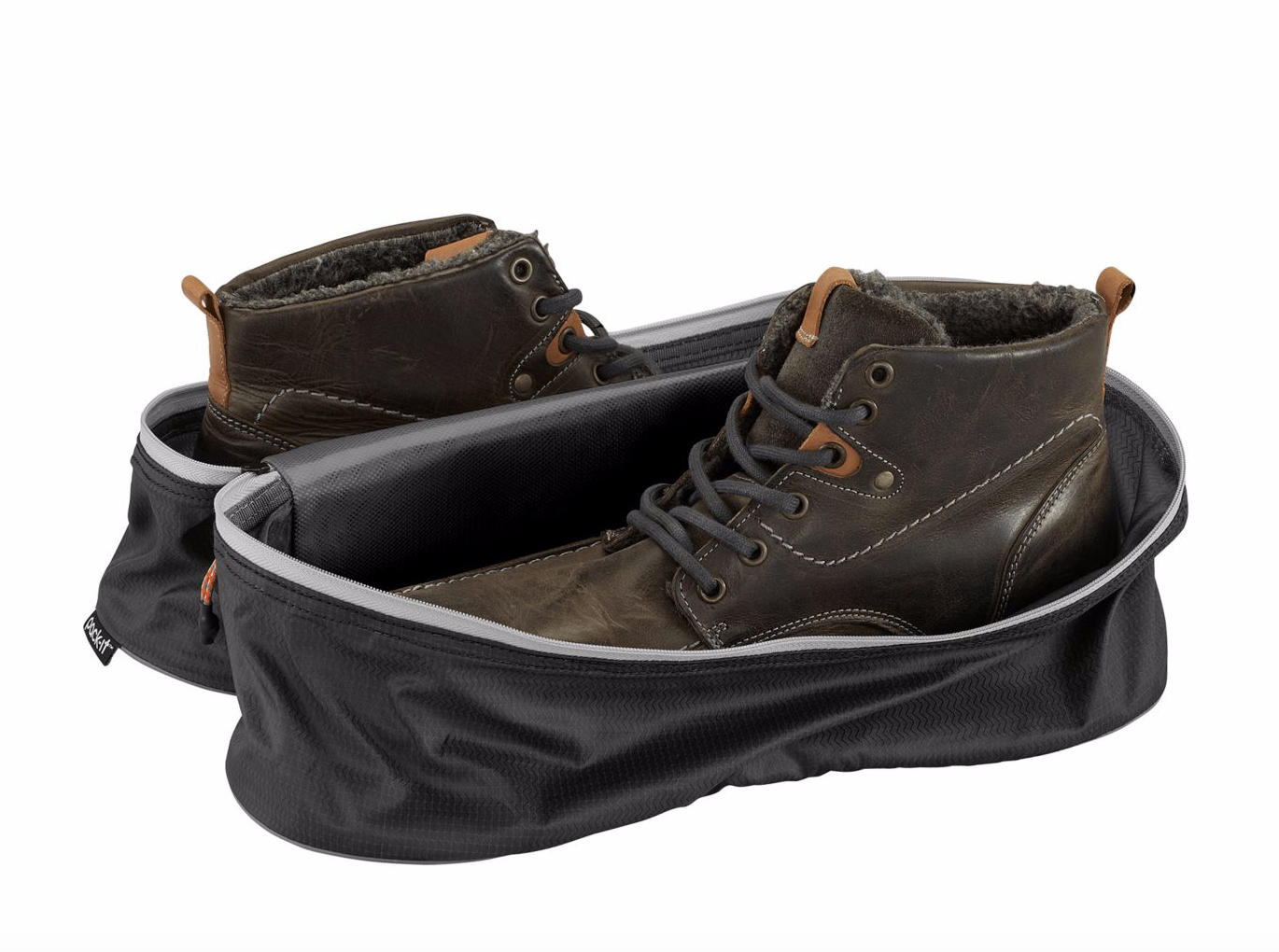 We love the Pack-It Specter Tech Shoe Bag from Easle Creek! We have one each, to keep our muddy or wet tennis shoes or hiking boots separate from the rest of our stuff. The brand claims to fit shoes up to Men's size 13 but then they would fit really tight. I'm only a size 6 so am even able to fit two pairs depending on the type of shoe.
The fact that you can zip open this shoe bag like pictured above, comes in quite handy especially when you're into hiking. We've changed in and out of our hiking boots quite often amid a damp or muddy track and it's so practical to be able to stand in the shoe bag (one foot in each shoe compartment) and to change in and out of your hiking boots without worrying about getting dirty or wet socks!
Pack your clothes in water repellent packing cubes
By now the entire world knows about the practicality of Packing cubes. But water repellent ones are even more amazing as they allow you to separate your wet and dry clothing/shoes in your pack when you travel. Even when you travel outside rainy season, we often use these to store away our soggy bathing suits or towels so they don't wet the rest of our luggage.
But when we go out hiking or on any boat trip for that matter, we use this durable, waterproof bag, which we use to store our wallet, phone and electronics inside for additional protection. When you're out on a hike or outdoors adventure but don't plan to bring any electronics with you, you could opt for this 5L version or the 2L instead, it fits smaller items like your phone and wallet.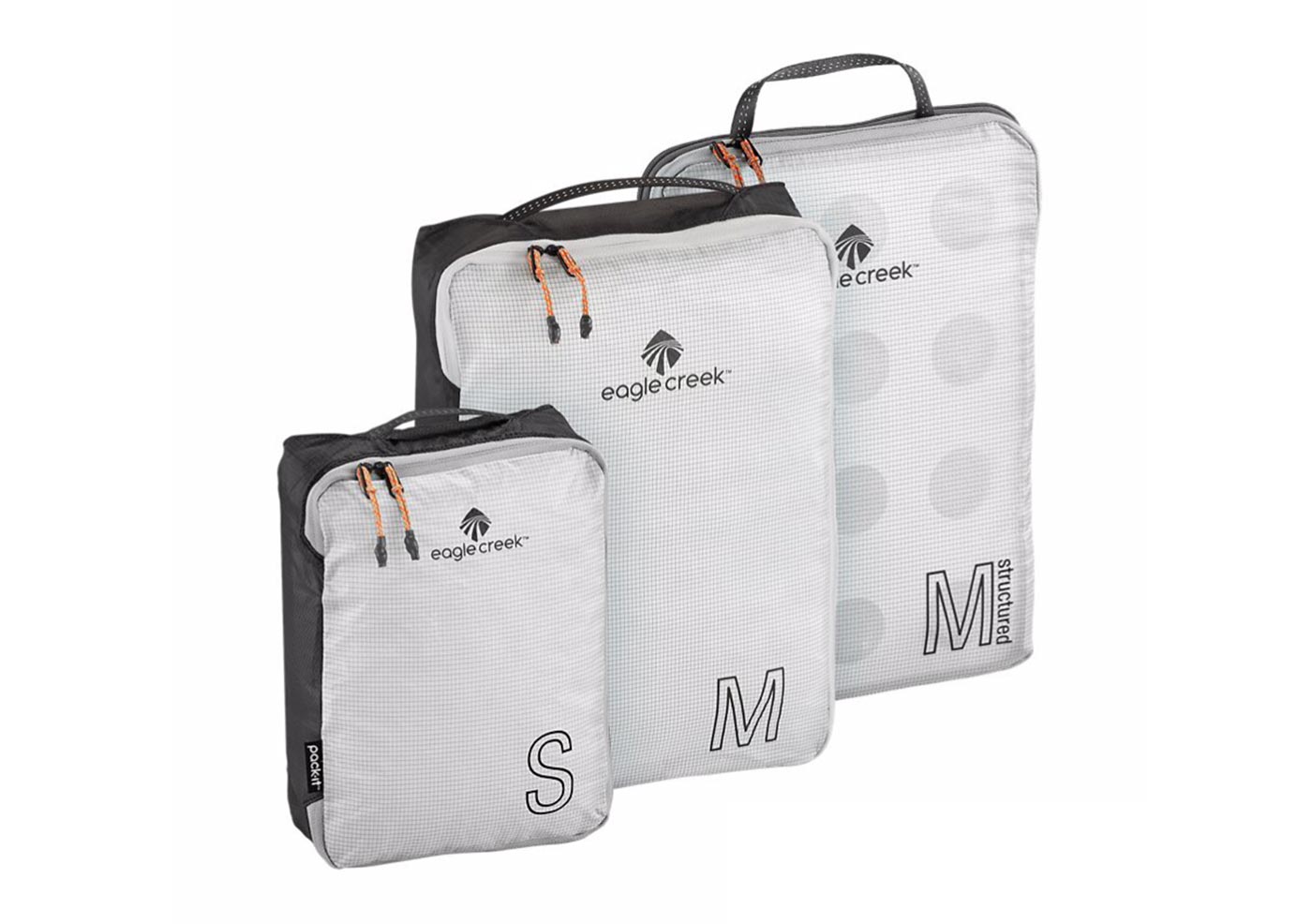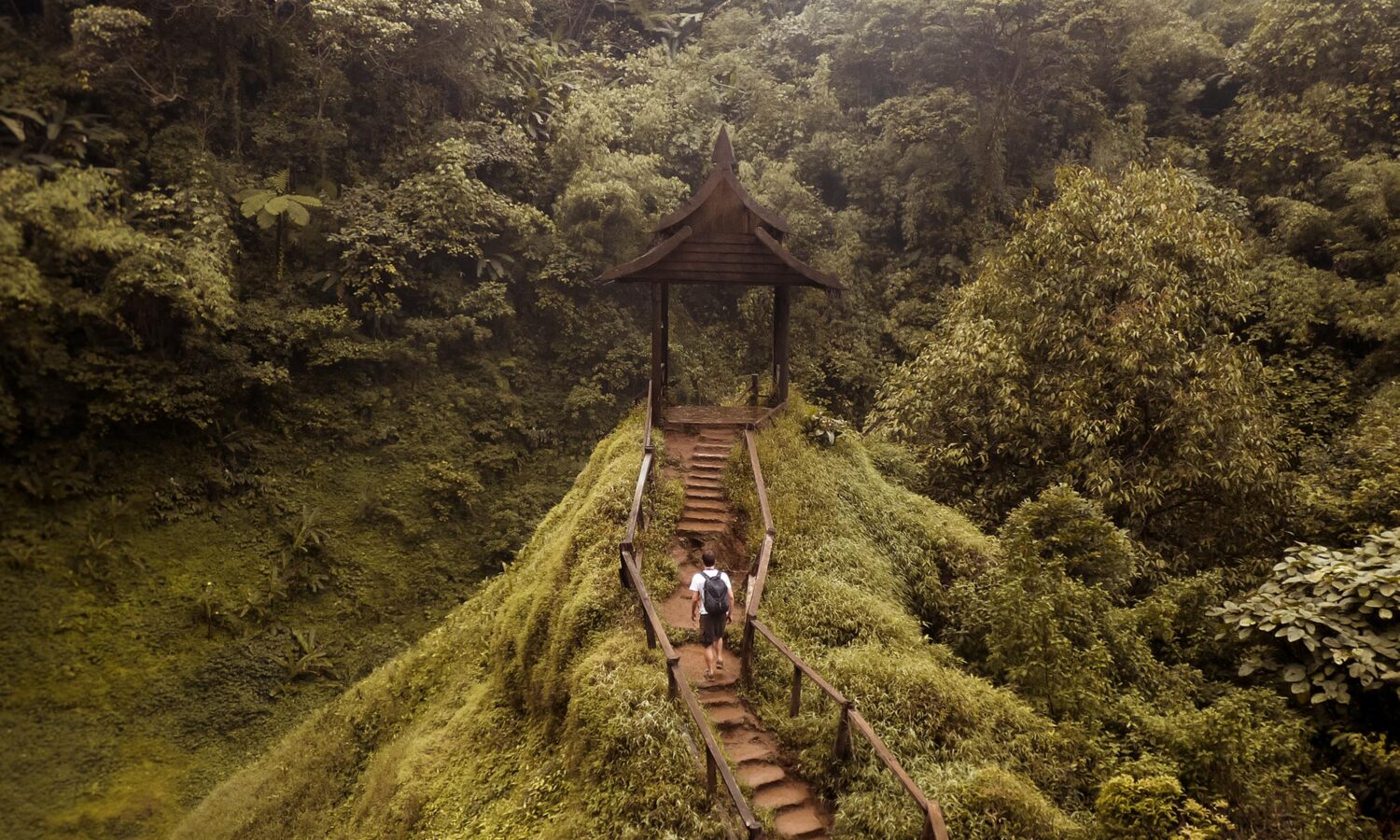 What clothing to pack to a humid climate
Every Monsoon Season packing guide calls for clothes that don't stick to the skin, are light-weight, dry easily and feel cool when worn. Fabrics like cotton become an absolute no-no as it absorbs moisture and takes long to dry.
Instead, browse for loose fitted clothing made from bamboo, organic cotton and merino wool. When traveling to higher altitudes and cooler climates, like the Bolaven Plateau in Laos, merino wool items will keep the warmth when the temperature drops and keep cool when temperatures rise.
From the waist up
From shirts and sweaters to our favorite jackets, here's what we bring to keep us dry and cool (and lookin' amazing) from the waist up.
Underwear: what's so special about underwear? Well, traveling in humid climates can especially be troublesome for ladies. Bras-traps can become painful and cause irritation when friction and sweat are in play. That's why I alway travel with merino wool undergarments. I bring this bra for relaxing days and this one when we're out doing something active. The fabric is soft (not itchy like the wool from bygone times) when it gets wet either due to rain or sweat, you'll stay comfortable while your clothing dries. Merino wool is also naturally resistant to fungus and bacteria, so it never smells bad!
Basic t-shirts for activities: when you're out exploring you'll need comfortable, breathable clothing that won't stick to your skin and will not start to reek after an hour of action. I love this short sleeved shirt and wear it often with a pair of short while out hiking. On extremely hot and humid days I alway prefer to wear a tank top or cami. This one has been my go-to top, it's basic but extremely comfortable and helped me explore many untamed terrain.
Fashionable tops: not every part of our travels are spend in the outback. We often incorporate cities and culture in our itineraries. While many backpackers seem not to be troubled by visiting museums and restaurants in hiking boots, I cringe at the mere thought of it. Besides bringing some fashionable sneakers, we always pack some nice piece of clothes for these occasions. Cute tops, rompers, jumpsuits and linnen dresses often have a place in my suitcase. They come in light fabrics and you're completely dressed with just one piece of clothing, excellent when you wish to avoid packing too much.
Breathable rain jacket: We each bring one jacket on a warm and humid trip - our packable and breathable rain jacket. It's perfect for those days when we're going to spend a lot of time outdoors. It's a fantastic layer for the cooler mornings and evenings but is breathable so it doesn't become its own personal sauna once you start being active. It's ultralight and packs down into nothing so it's easy to carry around just in case. We keep our jackets stuffed in our daypacks in case we need an extra layer of warmth or when the skies start to turn ominously grey. Here's my jacket and Kristof's jacket.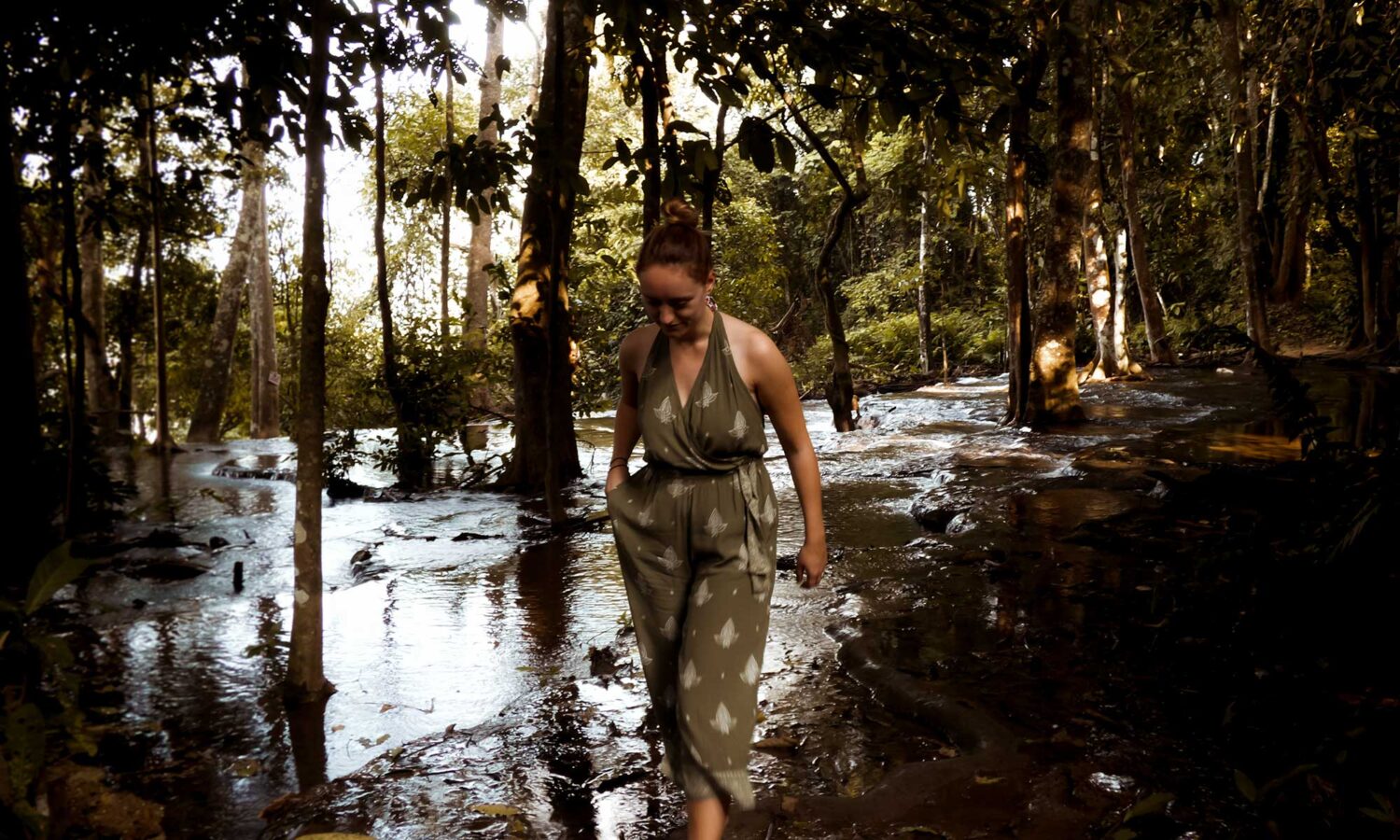 From the waist down
From skirts and shorts to my favorite bikini, here's what we bring to keep us dry and cool from the waist down.
Bathing suits: there are so many amazing sustainable brands out there and I finally swayed and myself a sustainable bathing suit and two piece bikini from recycled materials. They're gorgeous! I pack this ivory bathing suit -it doesn't become transparent and show all your tidbits when whet 😉- and a jungle green two piece (top & bottom). I absolutely fell in love with the animal print version (top & bottom) of it and it's going to be the next one I buy!
Quick drying hiking shorts: Kristof picked up a pair of these shorts to double as both his dry weather clothing item -as simple shorts-, and his damp weather clothing item -as full on pants when we'll be trotting through wet grass or mud. They're a 2-for-1, which is super convenient for travel, and they work great! You zip the bottom part off the pants and they turn into shorts. This is perfect if you're traveling in fickle weather, sun and hot mixed with the occasional rain shower. Bonus: they don't wrinkle easily which makes them travel perfect! Kristof wore them while exploring waterfalls in Laos, temple hopping in Cambodia and even in while venturing in Brazil's remote national parks and Chile's Atacama Desert. He only packed one other pair of shorts, this one, and that's all he brought for our trip 🙈. I have this cute shorts in a bright yellow color with tropical print. It's quick dry so perfect for humid climates. I also use this on the beach to cover up when needed.
Hiking shorts/skirt: no matter how practical, you're not getting me (Marlo) into one of those zipper shorts/pants. That's why I only took hiking shorts and skirts on this trip. In combination with my high hiking boots (I def need ankle protection) that gives me sufficient cover during the rainy periods. I have this exact skort (you get it?...short+skirt) from AS Adventure and I honestly wear it wherever we go. I've worn it while hiking the Drakensberg in South-Africa, while hiking in Brazil and while traveling though Laos and Cambodia.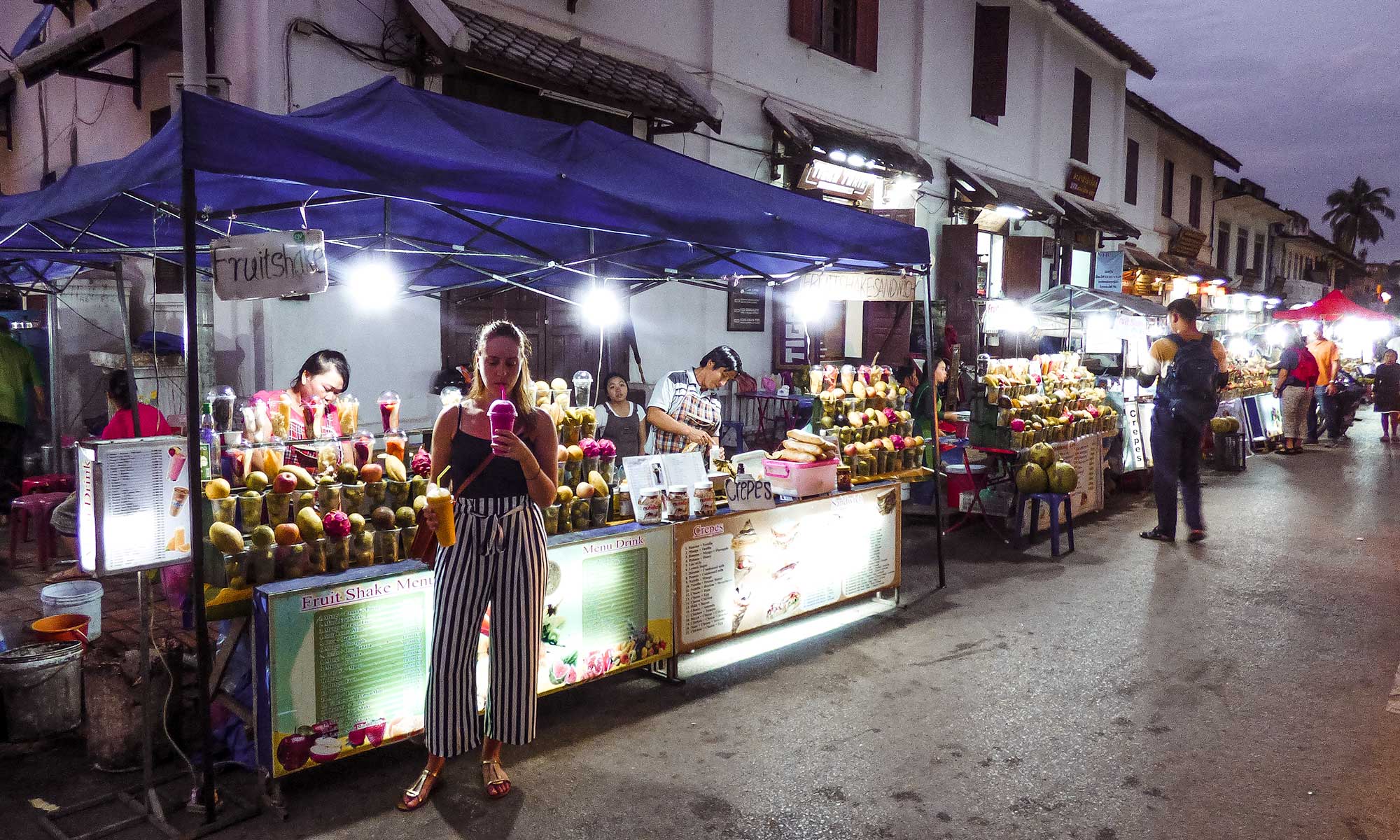 Dresses and skirts: as a woman traveling through Asia, it's imporatant to know that you'll be required to cover your knees and shoulders while visiting religious shrines. It's important to pack sufficient outfits for these occasions, especially if you're planning a few days strolling through the open air museum this is Luang Prabang in Laos or go temple hopping in Angkor Wat, Cambodia. I packed this beautiful shirt style dress that goes just below the knee and has short sleeves. I have it in Delta Green but love the Midnight blue too! The dress is lightweight, breathable and quick too dry. I also love to pack a maxi skirt that I can combine with an appropriate top according to occasion. I have this maxi skirt by Mister Zimi. I have it in a light print from another season but would definitely recommend this dark Posey print. Dark colors are better to again mosquitoes and keeping the heath out but also do better when you're trending on dirt paths. My light colored dress frequently touched the floor as I walked (I'm tiny y'all) and I never managed to get the brown-orange spots out if it 🥺
Loose pants: you'll want to pack something that's a bot more practical than a maxi skirt or dress, like when you need to get in and out of a tuktuk often. For those occasions I always bring some loose pants, preferably 7/8 or 3/4 ones so they don't trail in the mud. I own several pair but date from a few seasons back. These are some great options that I have my eyes set on: this animal print one, these flower high slit pants and these tropical palazzo pants.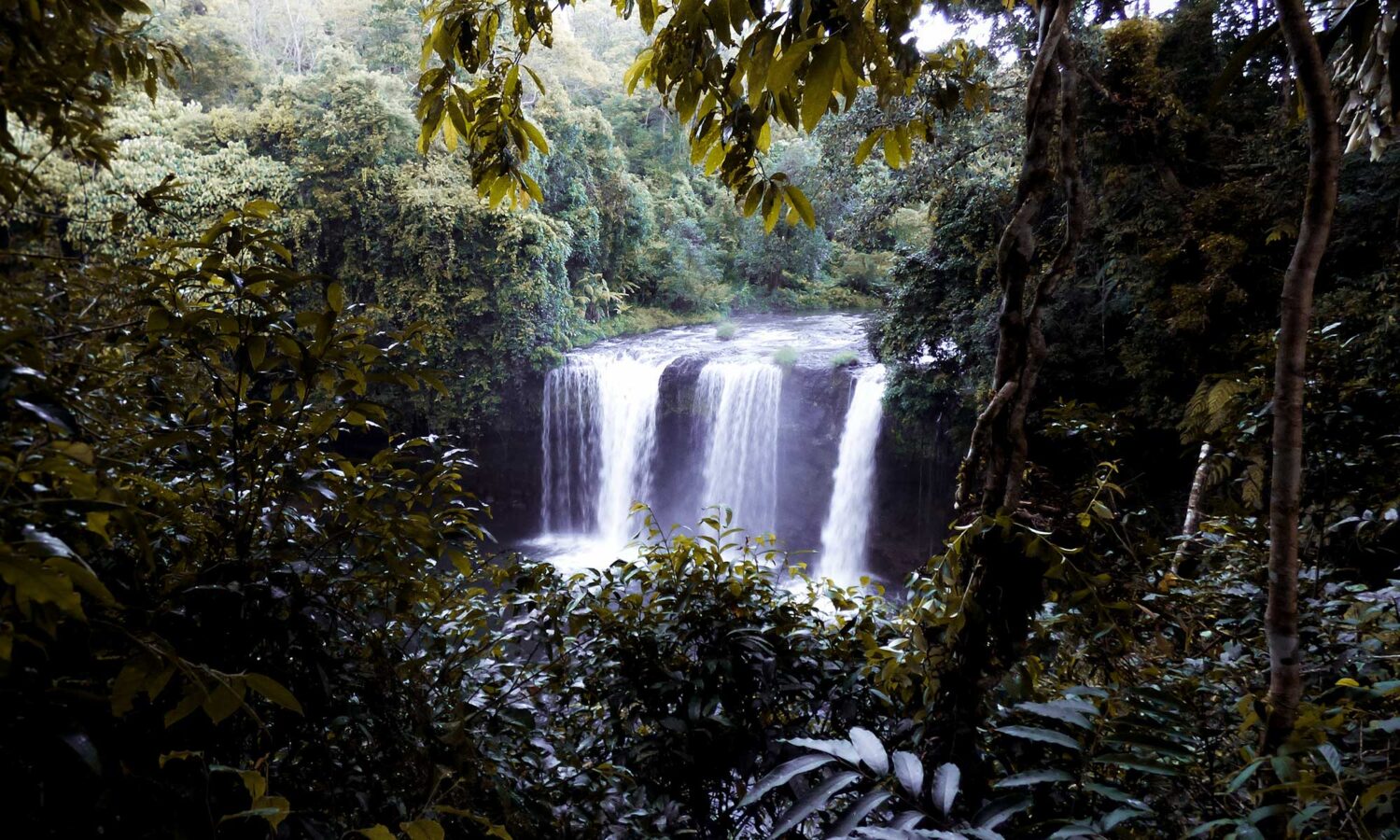 How to keep your feet dry
Waterproof socks: waterproof hiking boots are definitely nit to miss when exploring humid destinations, but sometimes you just don't need sturdy and heavy footwear. And that's why we love these waterproof socks so much! We ware them in our sneakers and don't have to worry about wet feet all day long. Just throw a pair of these super handy waterproof socks and packable raincoats (his and hers) in this hiking day bag and you're good to go!
Fashionable sneakers: I absolutely looove these sneakers. Yes, even on a trip to humid Southeast Asia, I pack at least one pair of shoes that are fashionable but do not lose in comfort. These are not the sneakers I would wear to tackle a strenuous hike but I generally wear them when I want to feel more fashionable when exploring a city or riding a motorcycle. They're my comfortable go-to shoes when I enjoy a less adventurous leg of our trip. Kristof owns a pair of their trail sneakers which he wears during less strenuous hikes, when he's not in need of ankle support.
Hiking shoes (or trail runners): This is one of those travel items we wouldn't recommend in a waterproof version. Why? Because waterproof shoes aren't very breathable on hot days, and they can become very heavy when they get wet and take forever to dry. Non-waterproof hiking shoes are lighter and more breathable, and though they're susceptible to getting wet, they dry fairly quickly. We wear them with waterproof socks to prevent our feet from getting wet. I own pair of these ankle boots and they're the best. They're breathable for activities in hot climates and provide the ankle support I need. These are Kristof's favorite pair of hiking shoes.
Sandals: Noticed that we don't have sandals on this list? Yeah, we're not really the bare-toe kinda people. Nor me, nor Kristof owns a pair of sandals and I doubt we ever will. Not being able to provide a tried and tested brand, we'll opt for the next best thing, these his and hers sandals recommended by all our traveling friend.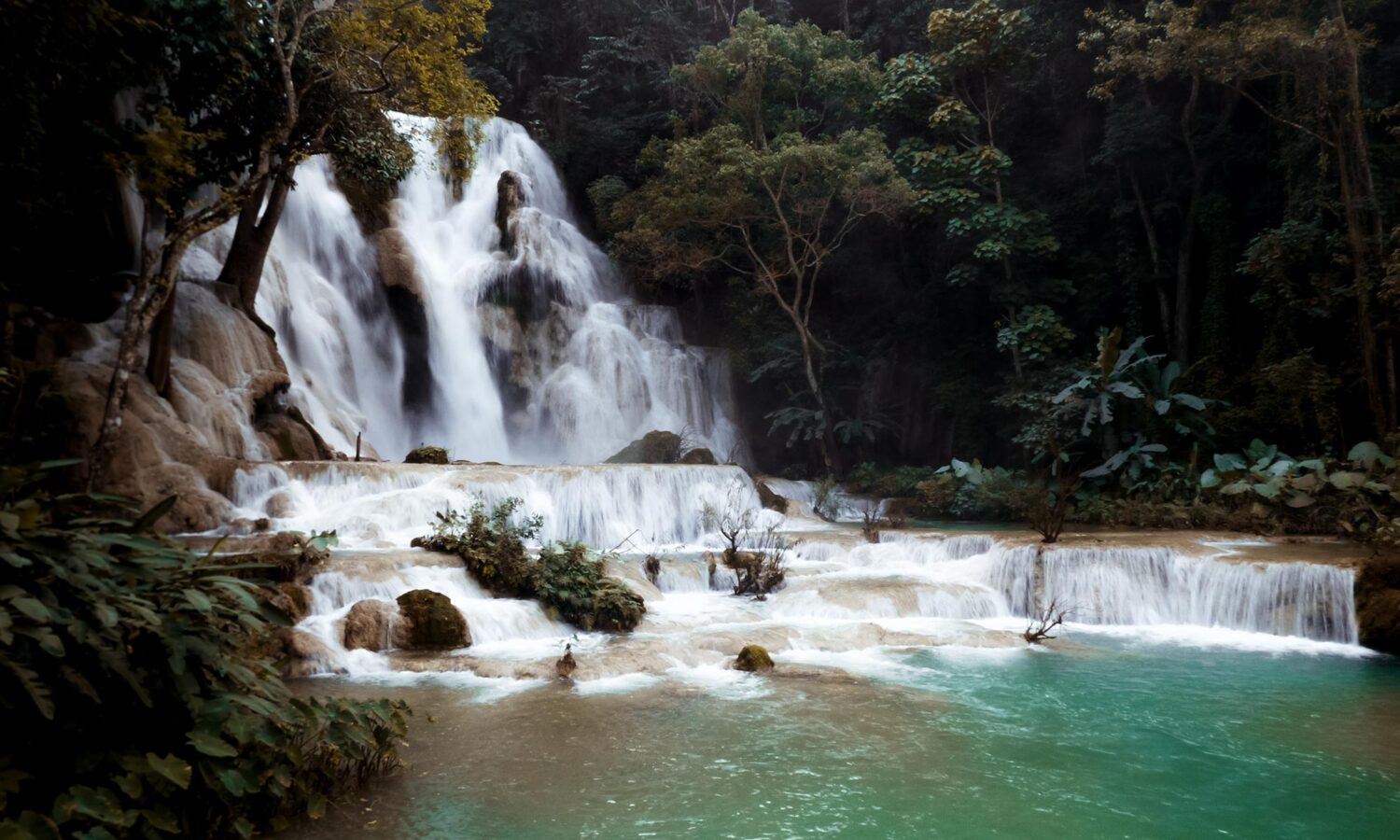 Monsoon Season Packing Guide: the travel essentials
Microfiber towel: an ultra-light and ultra-absorbent towel always comes in handy, whether you're traveling during monsoon season or not. It's an amazing quick relief if you need to dry off in a hurry. This Youphoria Microfiber Travel Towel is a great option.
Mosquito repellent: we've been experimenting with DEET-free bug repellents and have been loving it. For adults and kids older than 3, Repel's plant-based spray is a highly effective natural bug repellent. The spray - which is oil based and derived from the leaves of a lemon eucalyptus plant- protects against mosquitoes, gnats, and ticks for up for 6 hours. When heading towards areas with Malaria or Dengue, please consult your doctor!
Travel clothesline: Most larger hotels offer dry-cleaning services nowadays, but what if you find yourself in a barefoot hideaway? Well, you bring a travel size clothesline so you can hang your clothes in your hotel room or balcony when it's raining outside!
Clothes freshener and moisture absorber: If you happen to get stuck in a rain shower, fresheners are a great way to ensure your clothes and shoes still smell okay afterwards. We own a few fresheners/moister absorbers and toss a few of them in our bag. We put them in our packing cubes if we store wet clothes in the or stick them in our shoes when they got wet during a hike or a day out in the rain.
Waterproof flashlight: you never know when you might be confronted with a power outage or unlit streets. Even in the most unique accommodations we've had power outages and we've needed flashlights on our most exclusive safari trips. This waterproof flashlight has been our travel companion on quite a few trips. It's rechargeable which means you don't have to bring extra batteries on your trip.
---
What questions do you have about packing for travel during monsoon season? Drop us a comment below! Looking for more helpful travel tips? Here are a few of our most useful posts:
Hey, need a super practical checklist to help you pack? We've got a printable version of this monsoon season packing guide that includes everything you'll need for your trip. Sign up in the box below and we'll deliver it right to your inbox!
ADD_THIS_TEXT
---