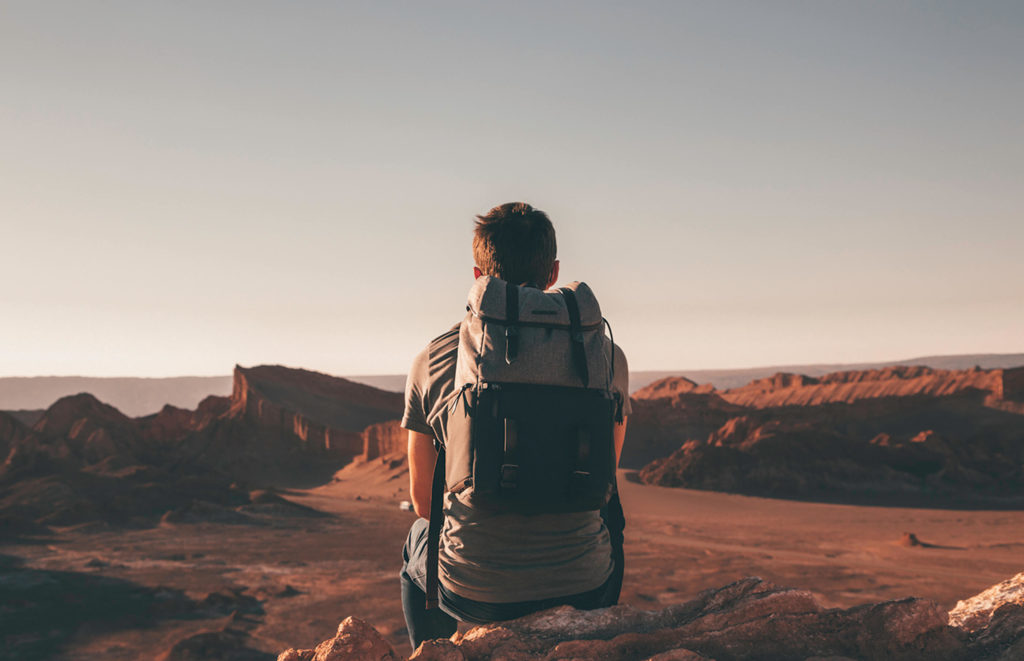 What is the importance of sustainable products while traveling?
We admit that traveling isn't always the most environmentally friendly activity. Traveling is our way to understand the world and experience new places, but honestly our environmental impact isn't all that great. The carbon footprint from flying and multiple one-time use items were enough to make us turn red in shame. We started questioning our ways.
How could we keep traveling and wanting to see nature's treasures while we were actively contributing to its destruction at the same time. How could we ever travel more consciously?
This what a day during our travels looked like: we got up and took a shower while using those cute, little, one-time use, plastic hotel soaps. After breakfast we would head out armed with plastic water bottles and a prepacked lunch we bought at a local grocery store, in a plastic bag. We would spend the afternoon in the sun snorkeling through amazing reefs with our highly chemical sunscreen on. Finally we would end the day at a rooftop bar sipping cocktails in plastic cups with a plastic straw… and we can come up with many more examples likes these.
It's Easier Than Ever To Be Green While Travelling
It wasn't until recently when video's like
this one
and
this one
struck our attention and we realized that we just couldn't continue traveling the way we were. Some research showed us that conscious traveling has never been SO easy though. We've definitely made our mistakes in the past and we still have a lot of work to do, but we do believe in making changes where we can. Even small choices - like using reusable straws instead of plastic ones, or using organic sunscreen to protect the ocean's wildlife and reefs - makes a difference and positively impacts our planet. Imagine what a huge difference we could make if all travelers used more of these eco-friendly products instead?!
To help with this, we've compiled a list of conscious travel essentials that ensure convenience and comfort all while being sustainable and loving our planet. When making these changes is this affordable (all items are under $40) and easy, why wouldn't you make the change and reduce your travel footprint?
Psssst, this post contains affiliate links, which means I earn a commission (at no extra cost to you) if you purchase from them.
---
11 zero waste travel essentials for under $40
---
1. SOLID SHAMPOO BAR | THE YELLOW BIRD
Ethics | Cruelty-Free and Vegan, Non-GMO, free from parabens, silicon, sulfates & synthetic perfumes & dyes


We love vegan products! The solid shampoo bar is a life changer when it comes to environmentally friendly bathroom accessories. They use natural and organic ingredients end even the packaging on their products are 100% vegan and biodegradable. We find that solid shampoo lasts much longer than traditional shampoo and it uses none of the harmful production processes. Bonus, they're small so don't take up much space and cause no hassle when taking them in your carry-on luggage.


---
2. ORGANIC SUNSCREEN | SUN BUM

Ethics | Vegan, Cruelty free, PABA free, Oil free, Gluten free, Paraben free, Oxybenzone free and Octinaxate free


We were horrified to find out that while we were happily snorkling earth's most beautfiful reefs, we were actually destroying them at the same time. Regular sunscreens containing chemicals oxybenzone and octinoxate, are actually very harmful for our planet. The chemicals kill developing coral, increase coral bleaching and cause "genetic damage to coral and other marine organisms". Sun Bum's sunscreen is oxybenzone and octinoxate as well as 100% vegan and cruelty free!


---
3. BAMBOO TOOTHBRUSH & TRAVEL CASE | BRUSH WITH BAMBOO
Ethics | Vegan, organic, BPA-free, natural and non-toxic, compostable packaging, USDA Certified Biobased


I kinda feel mad we didn't think about this one sooner. These bamboo toothbrushes are recyclable along with all their packaging! The bamboo ensures they are just as strong as plastic toothbrushes and even the bristles are BPA free so you won't have to stick all those toxins in your mouth. So why not buy these and help the environment?


---
4. THE ANTI-BOTTLE | VAPUR
Ethics | BPA-free, packaging printed with soy ink on wind-powered presses

We are so, so, so guilty of using plastic water bottles. We never really thought about buying a hydro flask as it seemed to take up a lot of place when traveling. We're working on it though, and a great solution for us would be to buy this anit-bottle which is designed to roll, flatten and fold so it can fit any luggage!


---
5. REUSABLE BAMBOO STRAWS | ELEMENTAL HOME

Ethics | Vegan, organic, sustainably sourced bamboo


Elemental Home's bamboo drinking straws come in packs of twelve and are approximately eight inches long and contain no BPAs or harsh chemicals. They can be used with hot or cold beverages, unlike steel straws that can get really hot when drinking a hot coffee. We also love this brand because the straws have a relatively wide diameter, making them perfect for smoothies and milkshakes!


Made from organic bamboo, these straws are washable, which makes them a reusable option. The straws come with two Nylon cleaning brushes that can reach down into the middle of the straws. And when, after a lot of use, your bamboo straw starts to fray - which it will! - you can just compost it (unlike the solicone or steel ones).


---
6. ORGANIC DEODORANT STICK | LOVEFRESH

Ethics | Paraben-Free, Sulfate-Free, Cruelty-Free, Aluminium-Free and 100% natural ingredients


Finding a good deodorant can be a daunting experience for me. For a woman I'm quite the sweat-monster and finding an effective, all-natural deodorant that is up to the task has been quite the queste. Luckily I found the deodorant sticks of Lovefresh to keep me smelling fresh all trip long (yes, even in tropical climates)!


Most deodorants contain aluminum in some form – it's the active ingredient to help reduce sweating. But aluminum isn't good for you and neither for the environment. Aluminum has been demonstrated to cause DNA mutation, which is a precursor required for cancer (although whether it can directly cause cancer is hotly debated). The cream deodorants of Lovefresh do not contain Aluminum and neither do they contain hydrocarbons and/or compressed gases notorious for their contribution to global warming.


So before your next trip, shop one of the nine heavenly-scented deodorants made with essential oils! I'm a huge fan of the Lemon Verbena scent.


---
7. REUSABLE TRAVEL BOTTLES | HUMANGEAR
Ethics | BPA-Free and FDA food-safe silicone, TSA-approved


Yes, those little free soaps in hotels are cute but they also cause a lot of waste. They're primarily created for one-time use and hnce aren't really sustainable. On the other hand, lugging around a full sized body wash container is equally painful. So why not put your liquids in little travel bottles instead?! GoToob bottles are made with durable silicon that are food safe and airplane carry-on approved. They are also 100% BPA free. It's simple switches like this that can make a big impact on your enviromental footprint.


---
8. BAMBOO TRAVEL CUTLERY | TO-GO WEAR

Ethics | BPA-Free, reusable, bio-degradable, use of recycled materials


Did you know that 40 billion plastic utensils per year are used in the USA alone? And did you know that only 6% of all plastic can be recycled in the US? Those are horrible numbers. On top of that, most plastic cutlery is made with BPA, a chemical that is absolutely terrible for your health. The first step towards more sustainable lifestyles and travel is with reusable utensils. That's why we were so excited when we found this bamboo cutlery set from To-Go Wear!


This utensil set is heat resistant, small, BPA free and the holder made from recycled plastic bottles making it the perfect environmentally friendly travel accessory! There are always moments when we desperately need a spoon or fork to eat and these have saved us every time!


---
9. ORGANIC MOISTURIZING FACE STICK | EARTH TU FACE

Ethics | 100% plant-based products, cruelty-free, recyclable, non-GMO and compostable containers


When traveling through dryer climates, nothing feels better than refreshing and moisturizing your skin. The moisturizing stick from Earth Tu Face can be used on your face, lips and body. An ideal, sustainable and compact travel accessory! This skin care product has become essential in my travel kit.


Founded by two herbalists in Northern California, Earth Tu Face grows its skin care brand from the ground up - literally. Focused on creating a purely plant-based 100% natural skin care line, free of toxins or synthetic compounds, every product contains plants that heal, restore, and rejuvenate skin cells.


---
10. NATURAL BUG REPELLENT | CALIFORNIA BABY
Ethics | Cruelty-free, plant based, free of DEET, harsh chemicals and synthetic fragrances, gluten-free, oat, soy, dairy & nut free (except coconut)


Go ahead, spray away! The natural bug repellent from California Baby is a non-toxic alternative to most commercial products that contain DEET. The repellent is made with pure essential oils of citronella and lemongrass, which smell refreshing to humans but are disliked by bugs and mosquitoes.


DEET is highly effective at repelling mosquitoes, but is also an eye irritant and can cause blisters and rashes on some users. DEET is also a persistent environmental contaminant that breaks down slowly in soil. A recent U.S. Geological Survey report on water contaminants listed DEET as one of the compounds most frequently found in the nation's streams. This should give us one big pause. The California Baby natural bug repellent is such an easy way to make a hughe positive impact on our plant.


---
11. REUSABLE MENSTRUAL CUP | SAALT
Ethics | 100% medical-grade silicone, FDA registered, chemical free, naturally hypoallergenic, non-toxic and BPA and latex free.


The last one on my list and also the one I've been meaning to switch to. My switch to using a menstrual cup is not complete yet but the positive environmental impact is what is pushing me closer and closer to finally making that change. While I can't vouch for menstrual cups personally, I know several travelers who swear by them.


Tampons and pads are one-time items that cause A LOT of waste. Did you know that by using menstrual pads you produce around 90kg of wast and about 60kg when using tampons? That's massive! Ad all that can be avoided by using 1 reusable menstrual cup that lasts for 10 years. Let's make that change!


---
So tell me, did I miss any of your favourite products? Let me know in the comments!

LIKE IT? PIN IT!