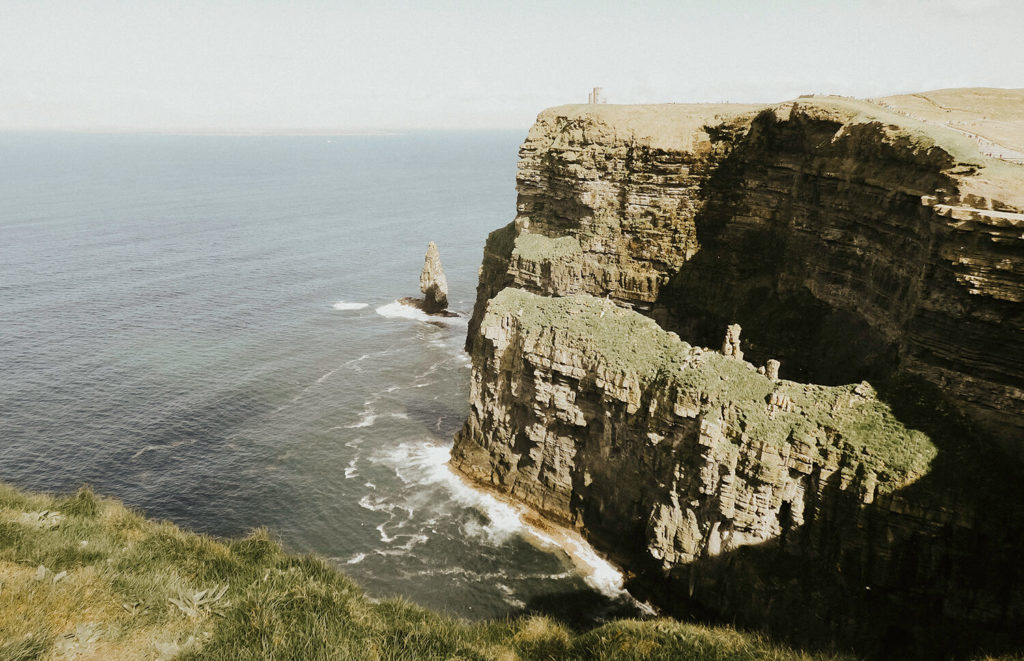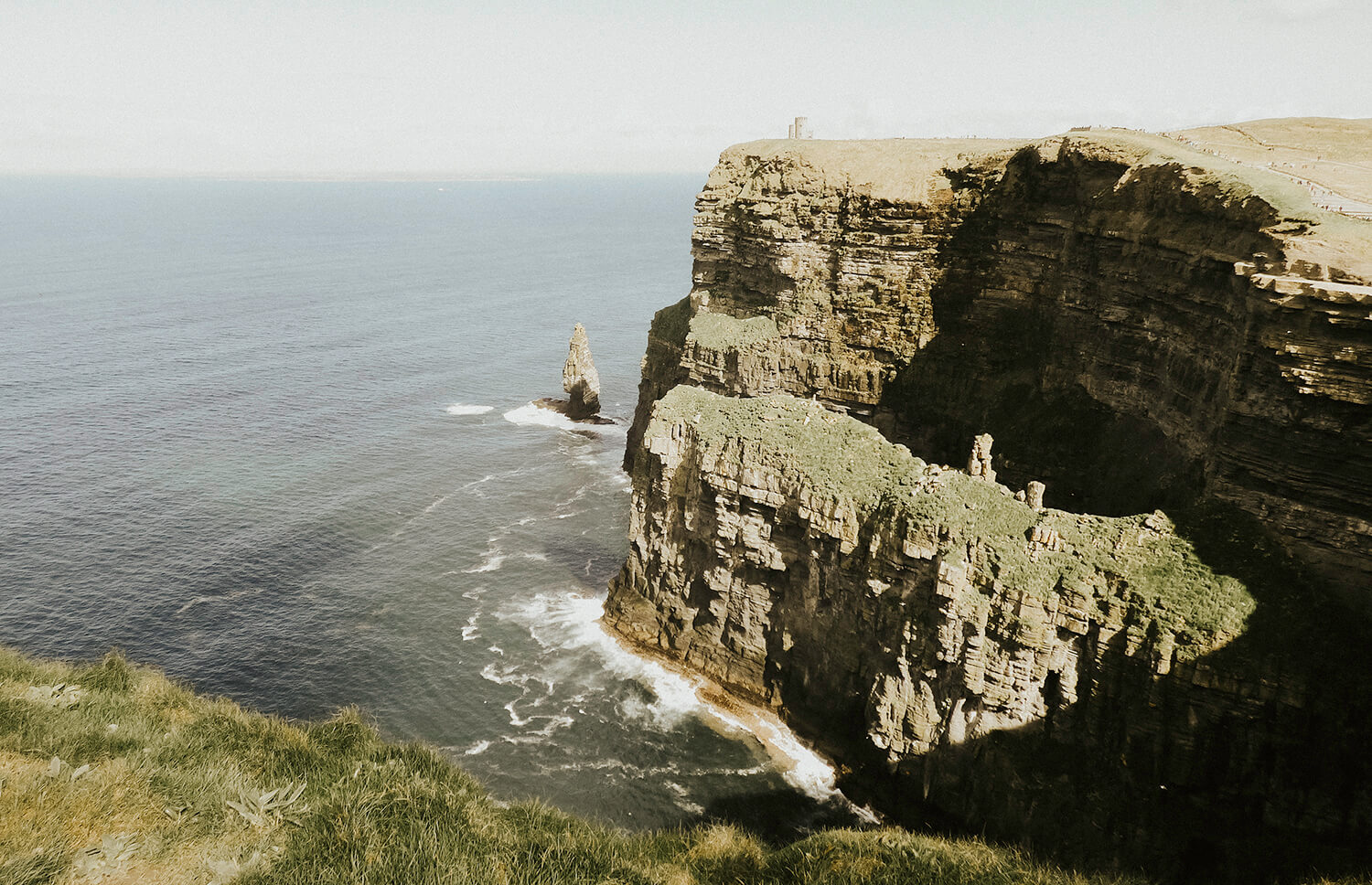 Somewhere halfway our road trip along the Wild Atlantic Way, passing by the most wild, rugged and awesome pieces of Irish coasts, we found ourselves in the picturesque village of Doolin.
Wait.
Can we even call it a village?
I mean, Doolin is what I would call a collation of houses with an overproportionate amount of pubs… but without an ATM, without a supermarket and without any noteworthy tourist attractions. Yet Doolin's pubs are bursting with locals and wayfaring strangers alike. "Curiouser and curiouser!" cried my inner Alice. Doolin looked like an intriguing puzzle to solve. This called for some exploration time!
What does this little jewel of the countryside has to offer?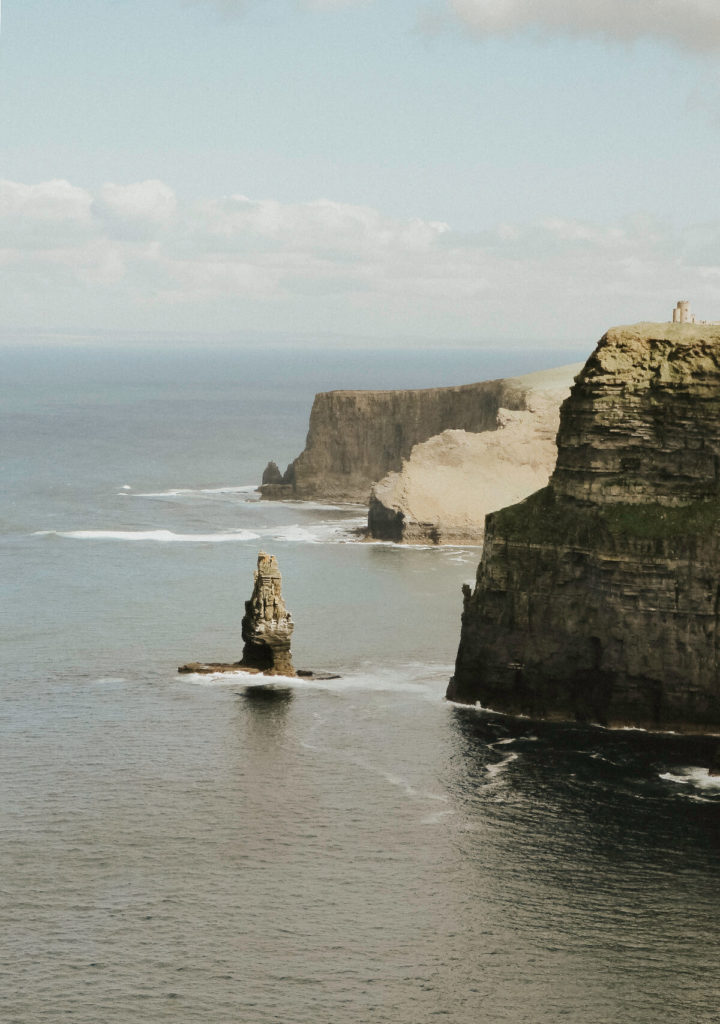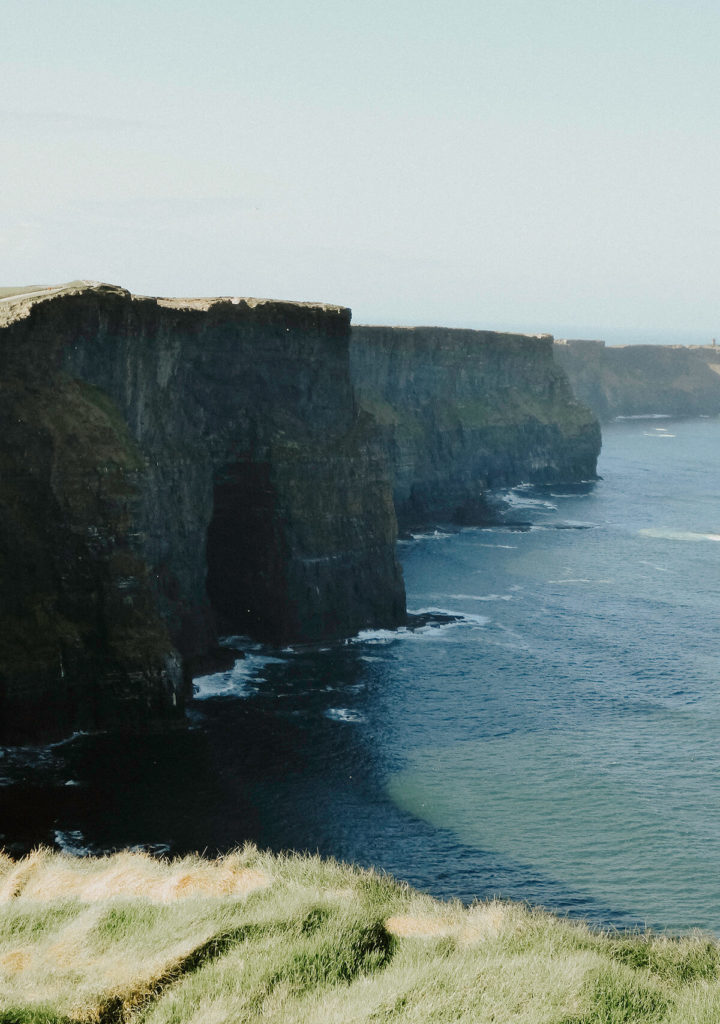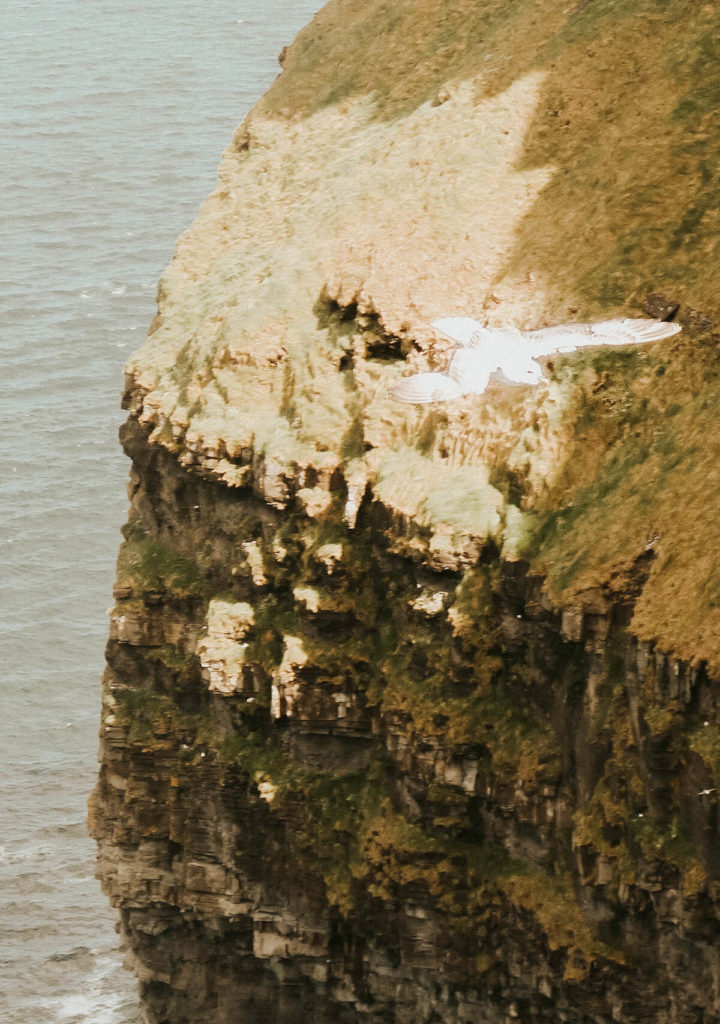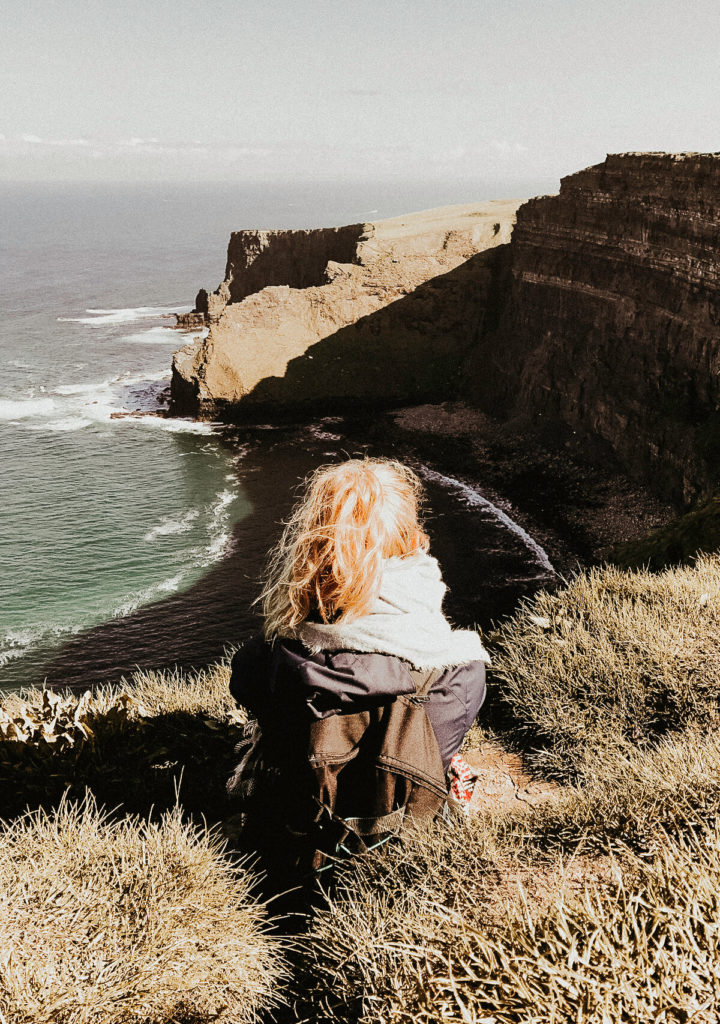 ---
Hey, visiting Ireland soon? We have loads more posts to help you plan your trip! Check these out:
---
How to see the Cliffs of Moher
---
McGann's Pub
Not long after we started our quest of figuring out the unbelievable appeal of Doolin, we suddenly found ourselves inside one of Doolin's cozy pubs, lured in by the rhythmic sounds of a fiddle. I found myself in a trans like state, completely bedazzled by the musical extravaganza that was playing out before me. Never in my life had I ever seen or heard of a Bodhrán or a Dulcimer before. Have you? Apparently the Bodhrán is an Irish drum and a Hammered Dulcimer is a type of percussion-stringed instrument. Mind. Blown.
Nope, I did not insult the Irish by trying to portray an -what can only be described as 'disconcerting'- attempt of the River Dance. We wouldn't dare! Or would we…? Haha no, I felt bad enough for basically being a musical-illiterate so I contented myself with a Guinness in my hand and a fish and chips in my stomach. The perfect combo to drift away on a musical cloud of traditional Irish tunes and cheers.
McGanns Pub is regularly frequented by Irish bands playing their melodies. Their website announces when what particular band will be playing so you can plan your trip accordingly.
– GOOD TO KNOW –
Where To Find It | Main Street, Roadford, Doolin, Co. Clare, Ireland
Why We Love It | McGann's Pub prides itself in serving local Irish dishes and being a cultural hub for local Irish bands. It's not a touristy place, frequently visited by locals and it's a place where you can simply have fun and enjoy some great tunes without too much fuss. They also have a vegetarian dish of the day!
Cost | Main courses as from €11.95
At around sunset time we were eagerly encouraged by some of the locals to go outside to admire what we simply have to call the most breathtaking sunset we've admired until now. The colour spectacle delivered us a true piece of art, close to perfection: the sun seeking to hide itself beneath the horizon with the rural environment soaking up the different colours to ensure the whole rainbow spectrum could be admired by just looking at the farms, creek and grasslands between us and the horizon.
After such a great evening in Doolin, we slept like roses only to awake with the scent of fresh coffee presented by the Bed & Breakfast where we were staying. We feared our spectacular sunset my have been the result of one too many Guinness but we were thrilled to find our living proof still there on camera.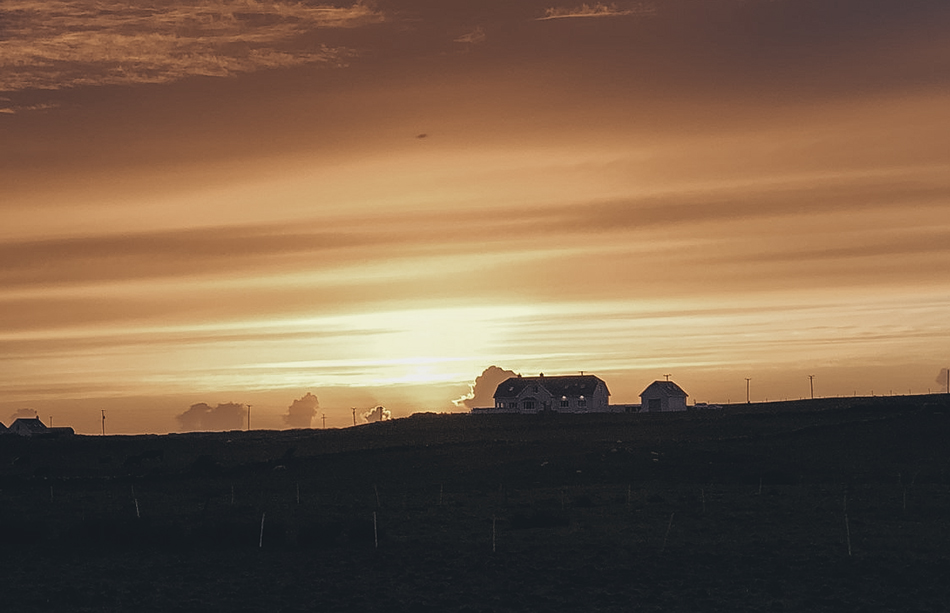 Walking the Cliffs of Moher
The following day our exploring feet led us to the one thing we were most looking forward to on our trip to Ireland: The Cliffs of Moher.
Oh man. We couldn't wait to see these views!
To hike along the cliffy tops and enjoying one of Ireland's most famous landmarks was definitely a no-brainer when putting together our 7 day Ireland itinerary. This is probably one of my favorite parts about traveling: getting to see new places for the first time and sharing those moments with Marlo!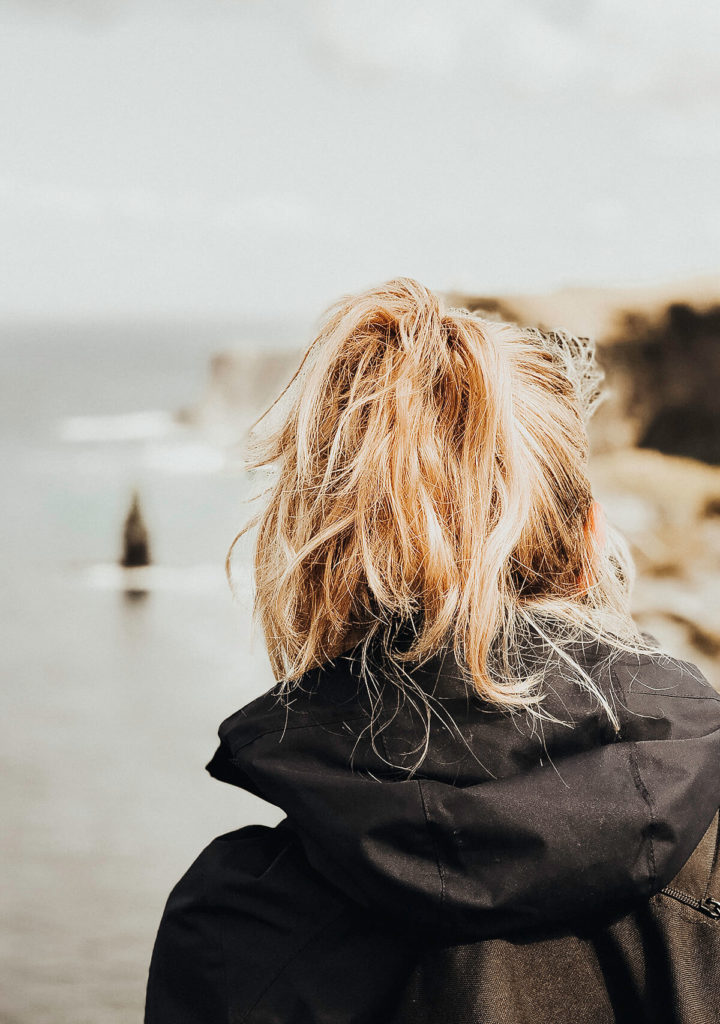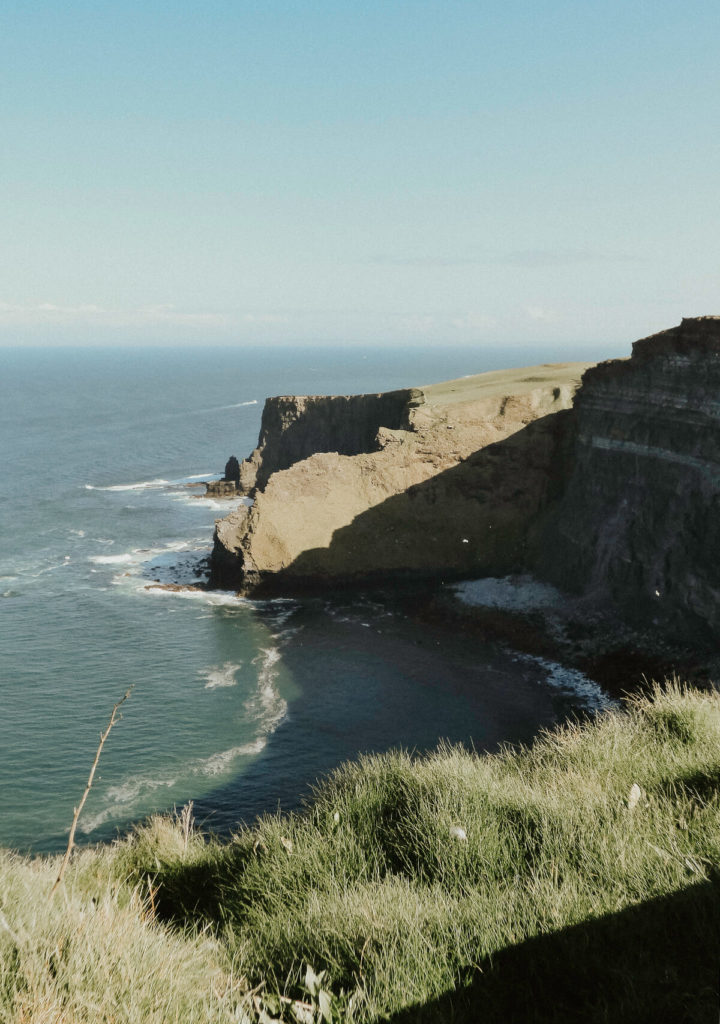 The Cliffs of Moher are limestone sea cliffs located in County Clare, running for about 14 kilometers along the coastline. If we would immediately have to give away some words to describe them, the words 'gigantic', 'impressive', 'overwhelming' come to mind. But as the saying goes: a picture says more than a thousand words. So just take a look at some of our pics and you'll already understand better why we're raving so much about this exquisite piece of nature. You can easily let your imagination get to work when walking around: from a fantasy world where dragons fly over you to battleships in the 19th Century preparing their canons for battle.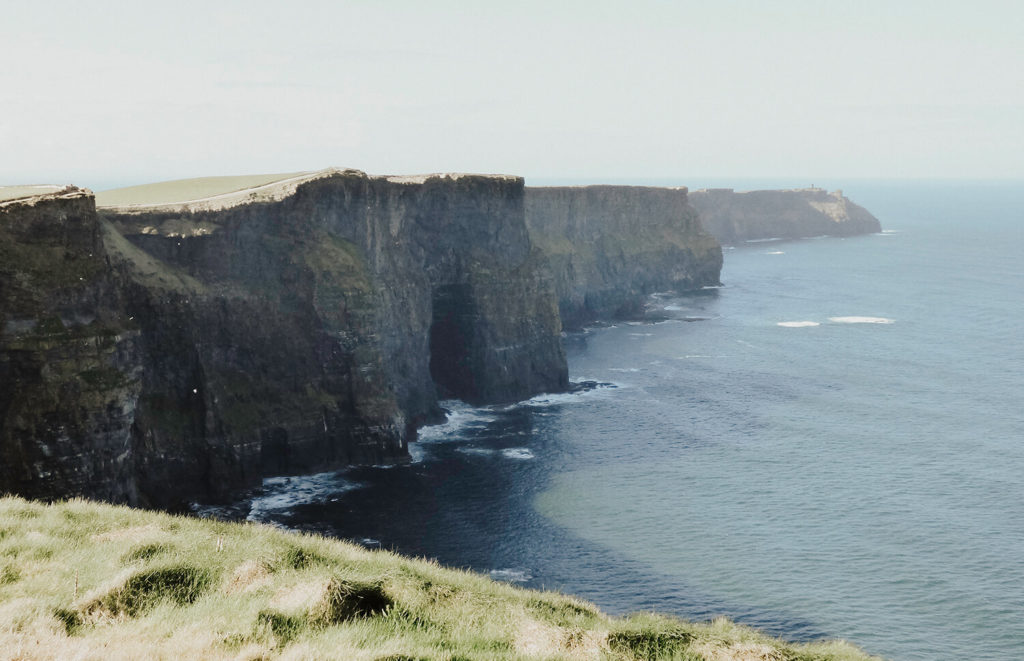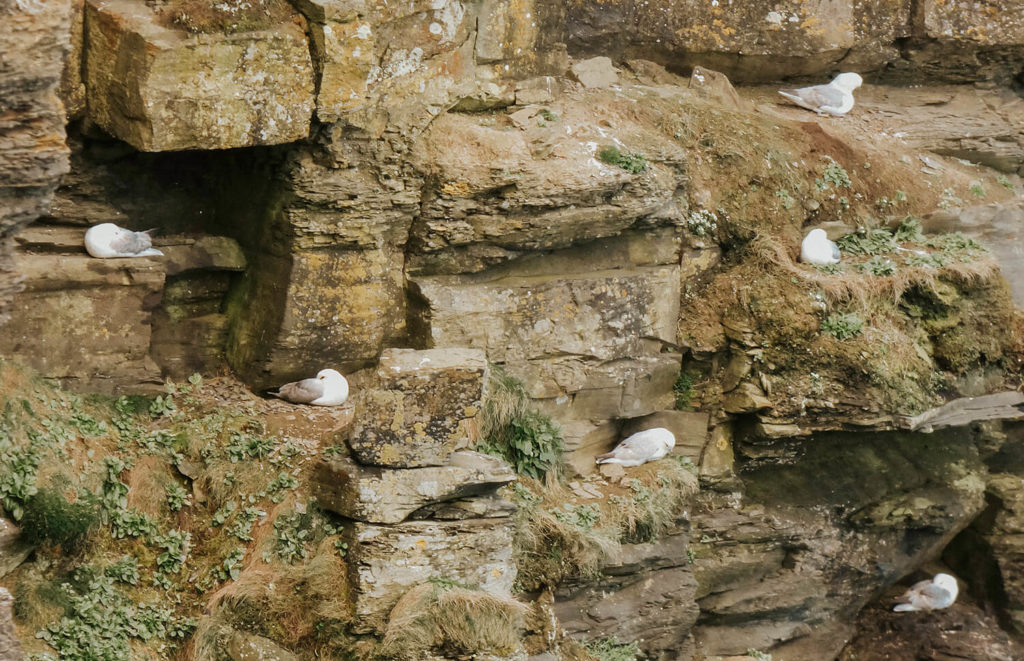 How to get to the Cliffs of Moher
By public transport: from Galway you can take bus Eireann route 423 to the Cliffs of Moher and route 337 takes you there from Limerick.
By shuttle bus: the Cliffs of Moher shuttle service is perfect if you wish to do a point-to-point walk along the cliffs. No need to worry about parking and no need to walk the cliffs twice in order to get back to your car!
By car: Car rental is available at Shannon Airport (Dublin) and you can get easily to the Cliffs by road. Upon arriving at the Cliffs of Moher, you can park in the main car park on the opposite side of the visitor center. You can buy your entry ticket (which includes unlimited parking) at the cabins.
On foot: when you're staying in Doolin, you might as well walk to the Cliffs of Moher. Start from Fisher Street in Doolin, walk the 8 km to the Visitor Center, and then take the shuttle back to Doolin from there. If you're keen on making a long hike, you can take the path from the Visitor Center that runs the full length of the Cliffs down to Hags Head (round trip 12 km).
When to visit the Cliffs of Moher
The Cliffs of Moher can be appreciated all year around but you best choose a clear day to admire the vertical cliffs. The peak visiting times are between 11am and 4pm so try to avoid them. We went right at opening time and stayed about 3hours to walk almost the entire length of the cliffs. If you're physically up to it, do it!
We walked about 10 km along the shores, soaking up the sun, enjoying the sound of the seagulls and getting mesmerized by nature's wonders. One of the most unique parts of the Cliffs of Moher is how much the view changes throughout the hike. Although you're basically just walking along the edge of the cliff, every few steps give away more of its secrets and wonderful vantage points.
If you're looking for a great photo op, pick sunset. The cliffs have a due-west exposure which makes it a superb time to visit.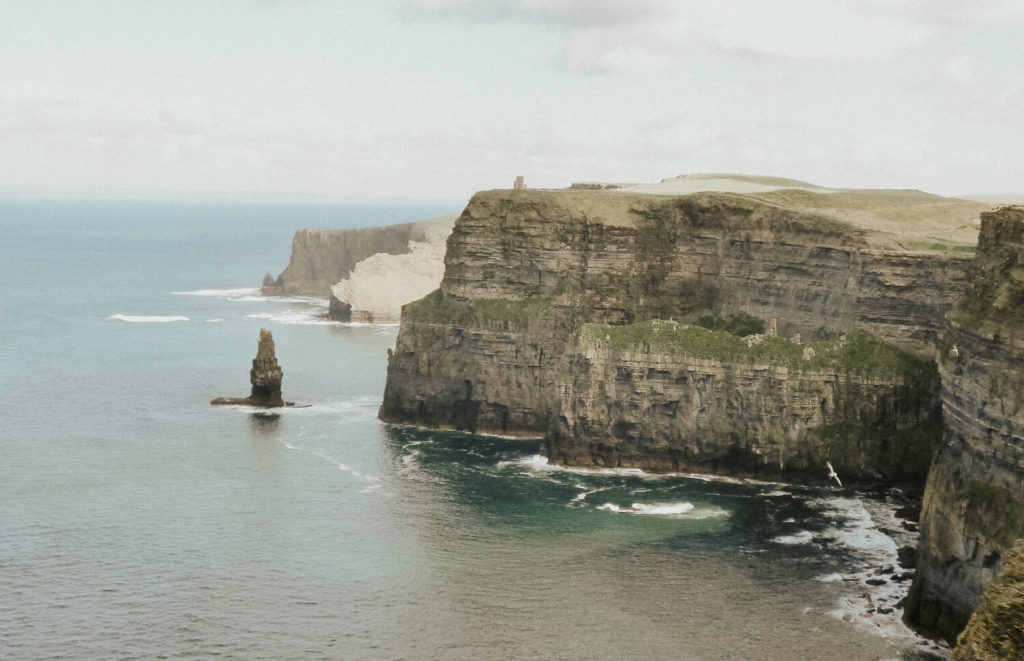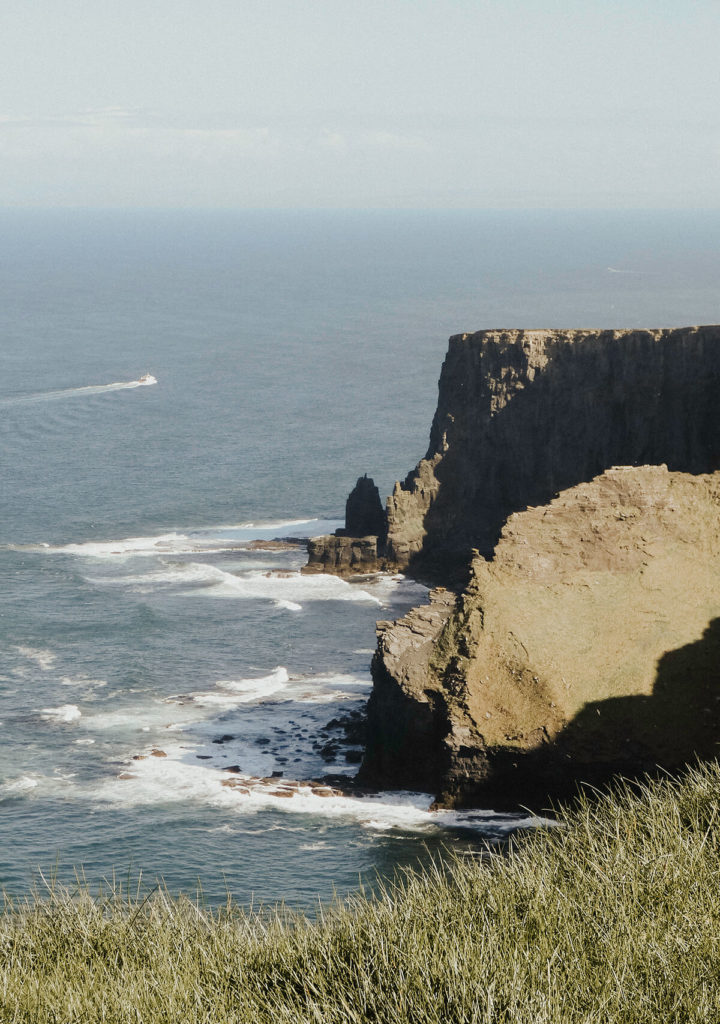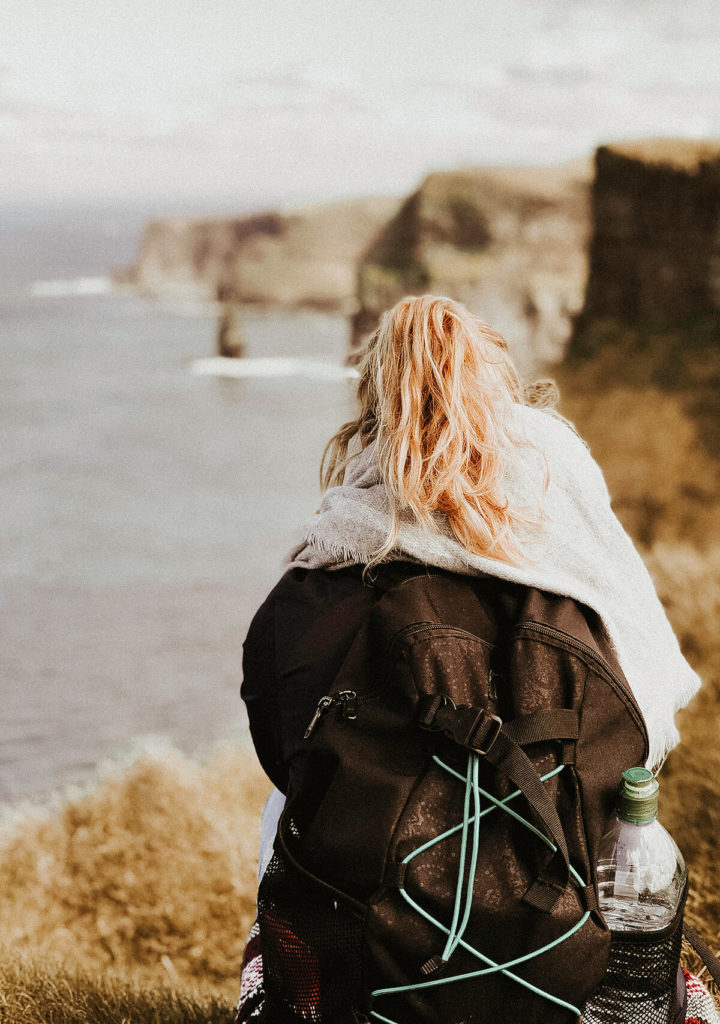 Point-to-point walk at the Cliffs of Moher
Do not skip this hiking trail along the entire stretch of coastline! If you're physically fit, walk the entire 14km stretch, the path is flat and you can take a break halfway at the visitor center.
There are several options for enjoying the cliff walk but the most practical way is to take the Cliffs of Moher shuttle bus and get off at Kilconny Car Park to start the cliff walk at Hag's Head. When you're only up to half of the hike, make it this portion. The cliff views are more dramatic on this part of the trail than the section between the visitor center and Doolin.
Not a lot of people make it all the way to Hags Head so you'll have a large portion of this part of the trail to yourself, or share it with a handful of other hikers at most. Once you're approaching the visitor center you'll be sharing the fabulous views with a lot more people. Try to start the hike early, peak visiting hours are between 11am and 4pm, to avoid most of the crowds.
We were so thankful for our good fortune, the weather in Ireland has been amazing during the entirety of our trip! We never would've guessed to be so lucky!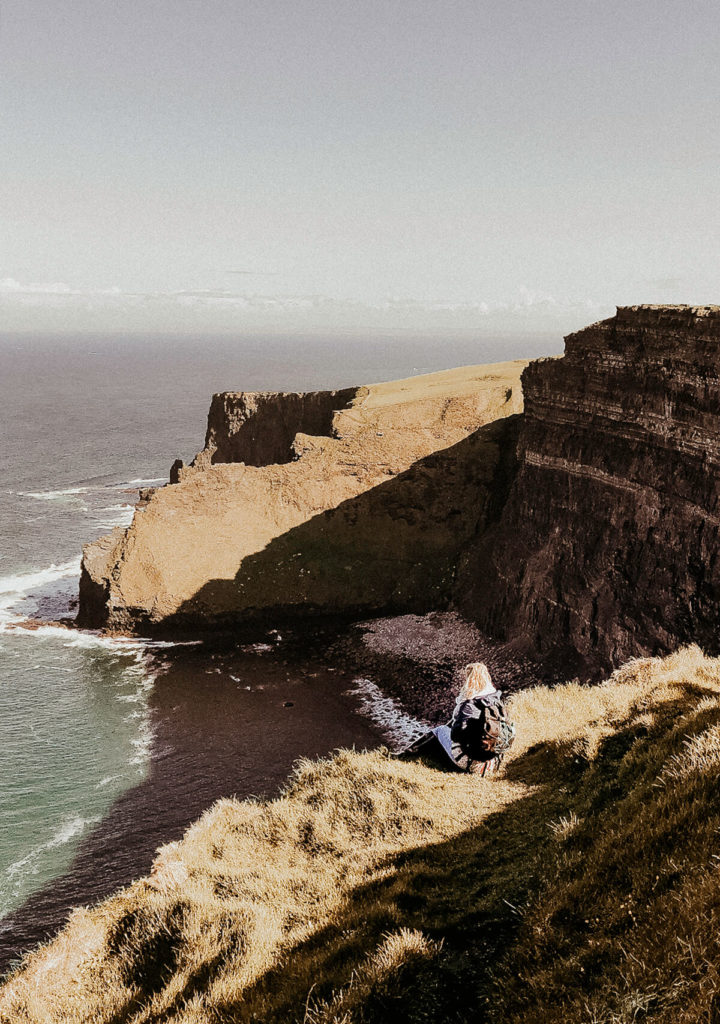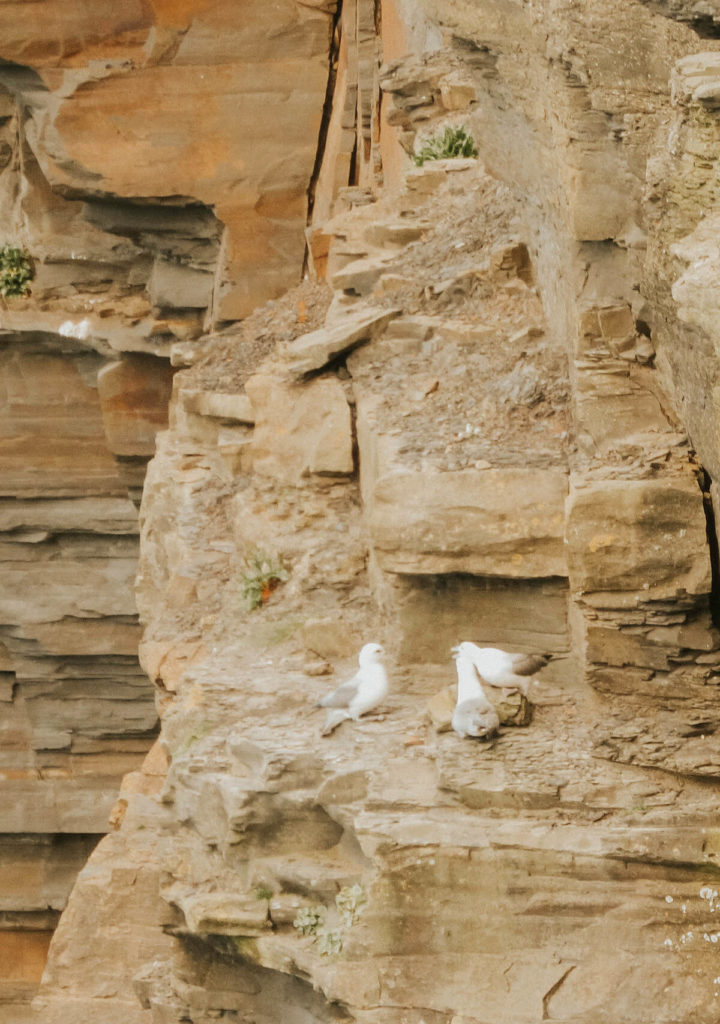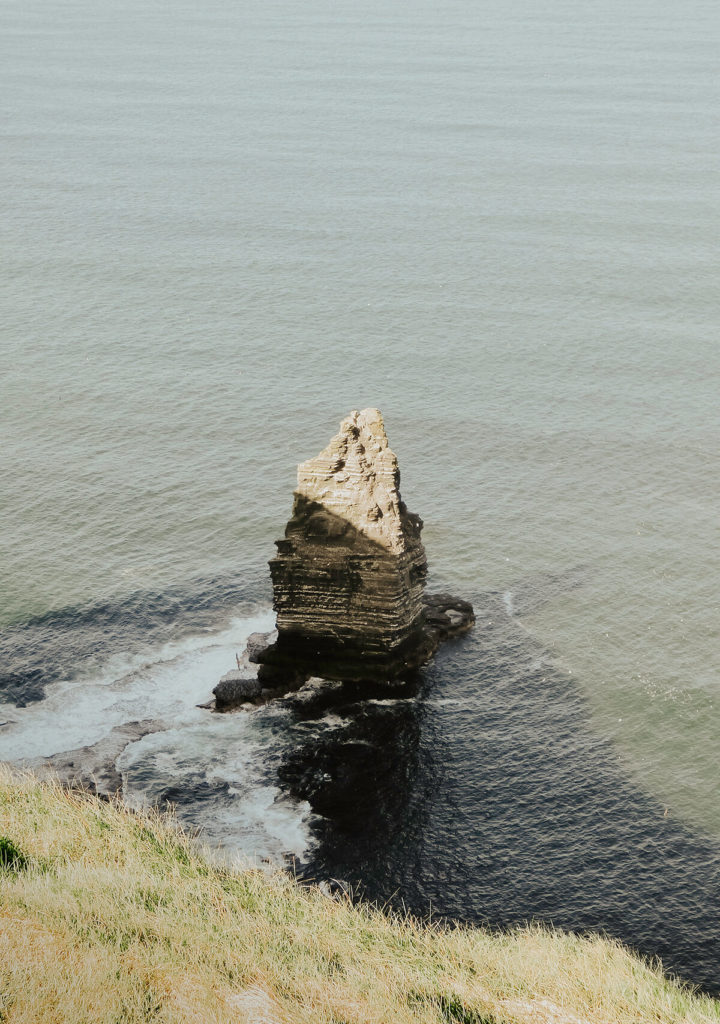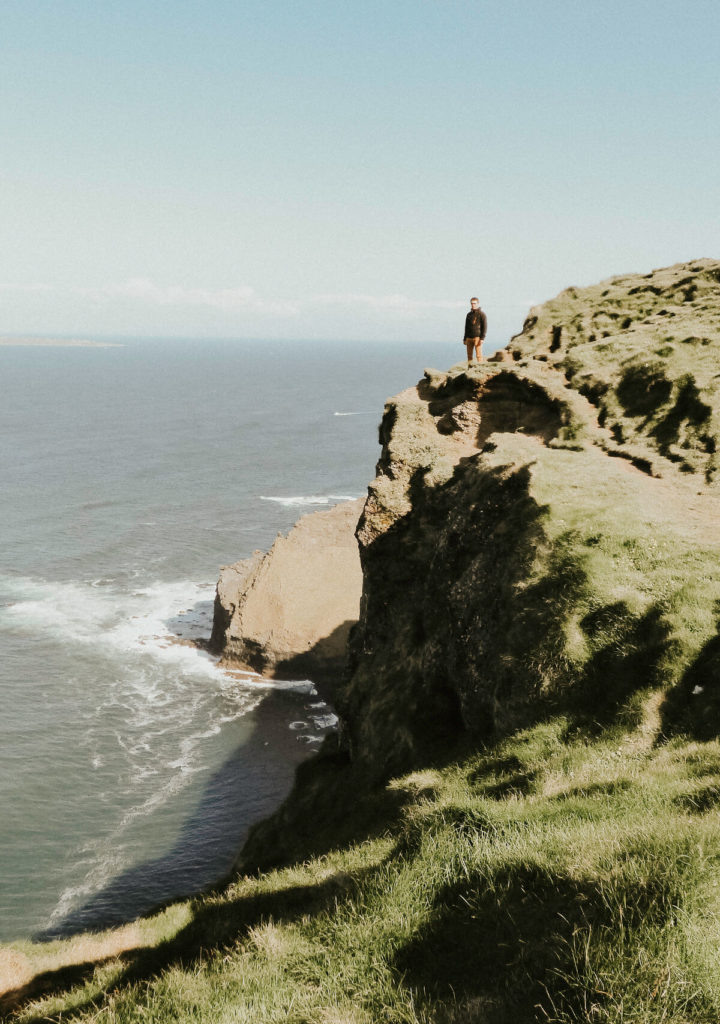 The second part of the walk was less dramatic but equally beautiful. A portion of the path is paved which is sublime for people with restricted mobility. You can get pretty close to the edge here so watch your step, it is a long way down!
Don't fret when the walk suddenly brings you to the village of Pullboy, this is not the end! Just follow the walking path right next to the R478 and you'll be back at the cliffs in no-time. Some more amazing views await you, all the way to Doolin. Once you reached Fisher Street, you've reached the end of the trail and can hop on the shuttle bus back to Doolin, just walk to your hotel if you're staying at the
Doolin Inn
.
Tours to the Cliffs of Moher
Even if you don't have time for a full-on Ireland road trip, the Cliffs of Moher can easily be visited on a day trip from Dublin, Limerick or Galway.
– GOOD TO KNOW –
Where To Find It | Lislorkan North, Liscannor, Co. Clare, Ireland
Why We Love It | One of Ireland's most iconic natural landmarks! Visut early in the morning for a tranquil experience without too much other people.
Cost | €6.00 per person when entering the Cliffs from the road. You do not need a ticket if you do not wish to use the facilities at the Clifs of Moher (the visitor centre building, Cliffs Exhibition and vehicle parking)
The Burren
A short drive from Doolin, the most beautiful and unique landscapes of Ireland can be found in the Burren National Park. While Ireland is mostly famous for its 50 shades of green, the Burren's landscapes are particularly grey. Long, flat and extensive chunks of karst (250 square kilometers in size!) characterize this particular area of Ireland. You'll probably drive through a part of the Burren on your way to Doolin, but if you have more time to spare, 7 well-marked trails (ranging from 30min to 3hours) offer and excellent opportunity to discover more of this lunar-like landscape.
Where to stay in Doolin
We stayed at the
Doolin Inn
in Doolin. We loved this place so much! It is one of the best hostels we stayed in, ever. The Doolin Inn is located within walking distance of the Cliff Trail and McGann's Pub. The Doolin Inn is about 1.6 km from the ferry Pier for trips to the Aran Islands.
Recommended tours to Co. Clare
---
Pssst, this post contains affiliate links. When you make a purchase using one of these affiliate links, we receive a small commission at no extra cost to you.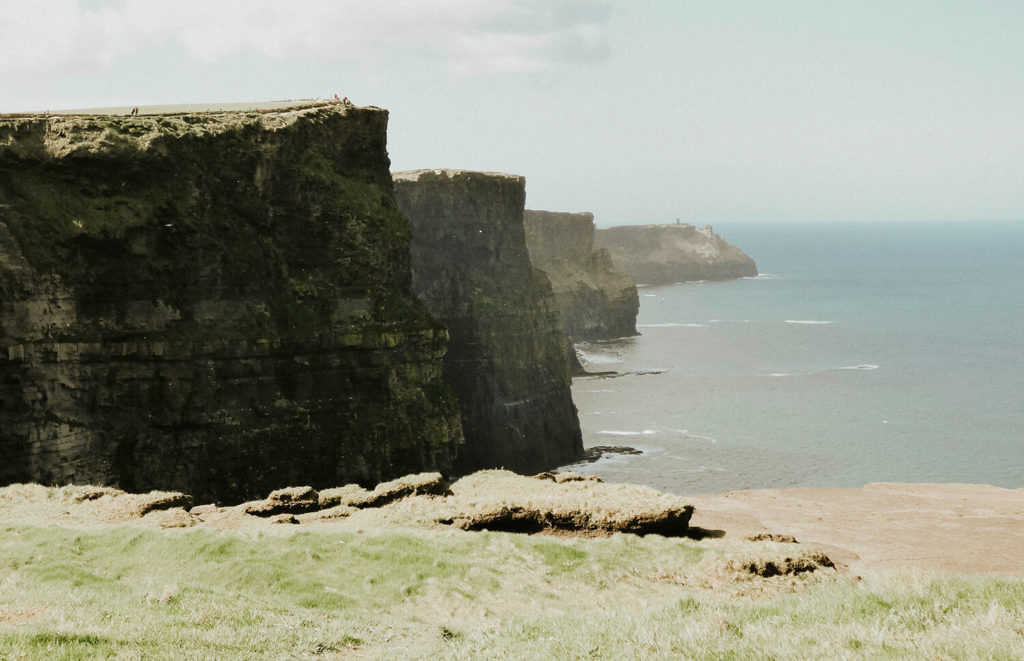 ---
Hey, visiting Ireland soon? We have loads more posts to help you plan your trip! Check these out:
---

Love it? Pin it!