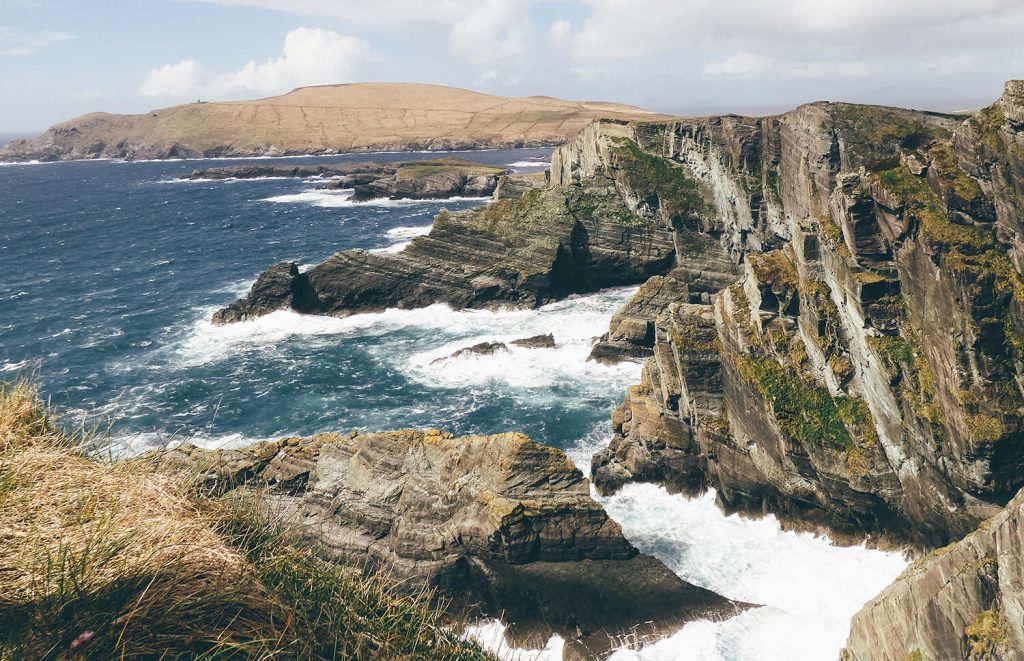 A trip to Ireland may evoke the sea, rugged coastlines and some spectacular mountain passes, but if you are also looking for ancient ruins and secluded beaches (yes, beaches!), the Ring of Kerry is a breath-taking oasis where you can enjoy just that! The Ring of Kerry is one of the most popular circuits in Ireland and starts in the spectacular surroundings of Killarney.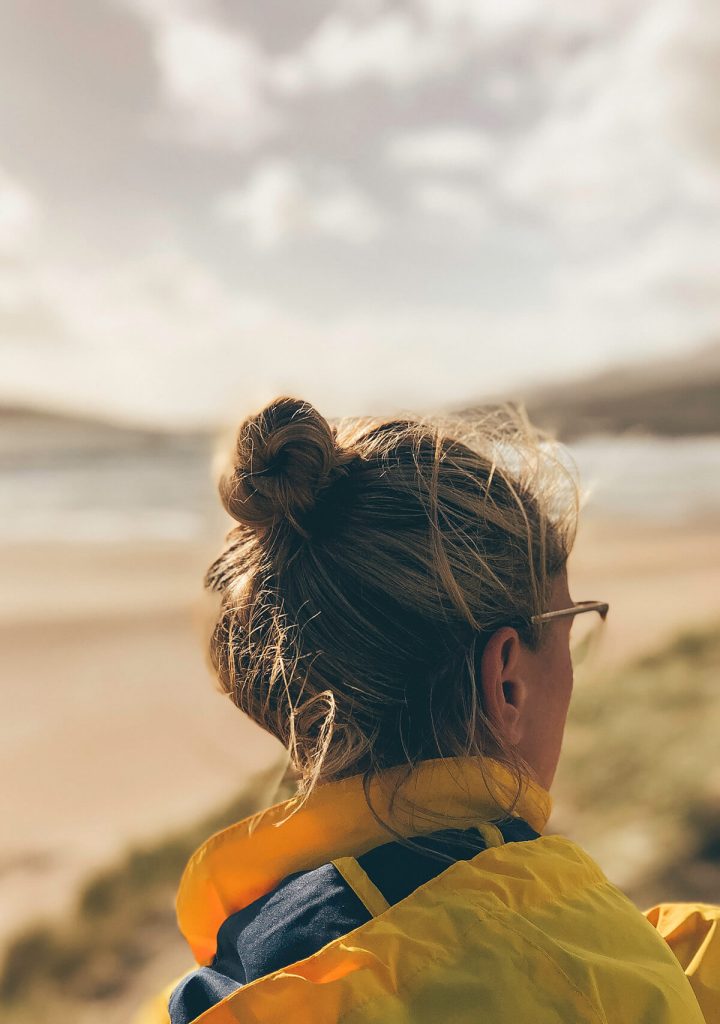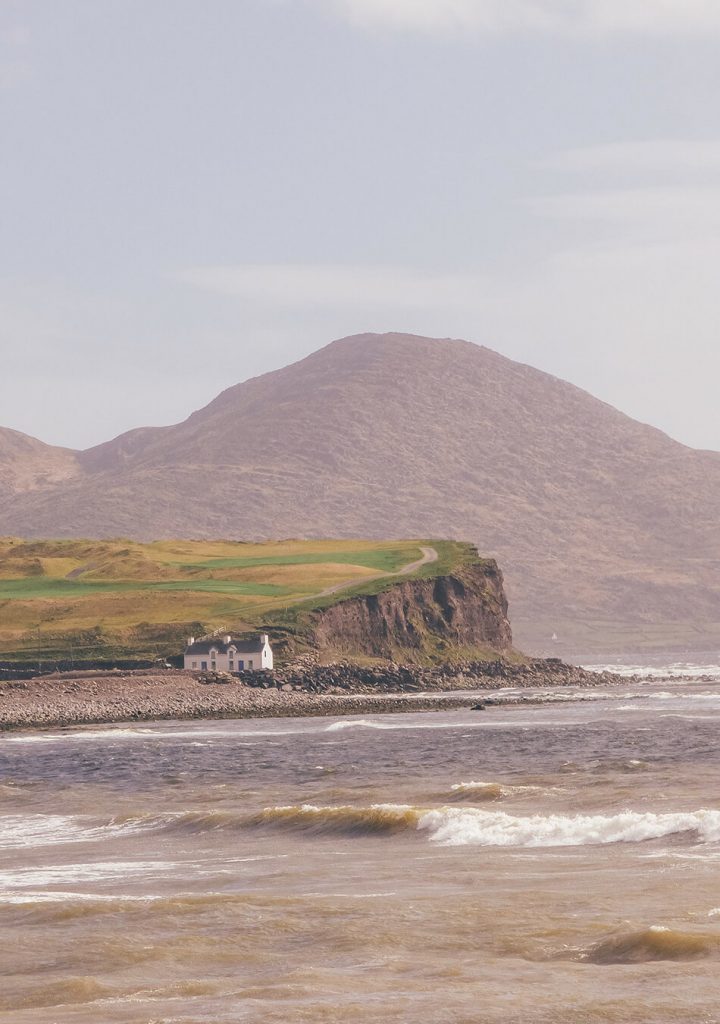 We drove the Ring of Kerry on a day-trip from Kenmare, but you will be tempted to stay a few nights to enjoy all the spectacular things along this ring road. If you have time to spare, go for it! The Ring of Kerry was one of my favourite places I visited during our road trip through Ireland. The breath-taking views, charming towns and spray-painted sheep will have you wanting more. The Ring of Kerry is truly captivating!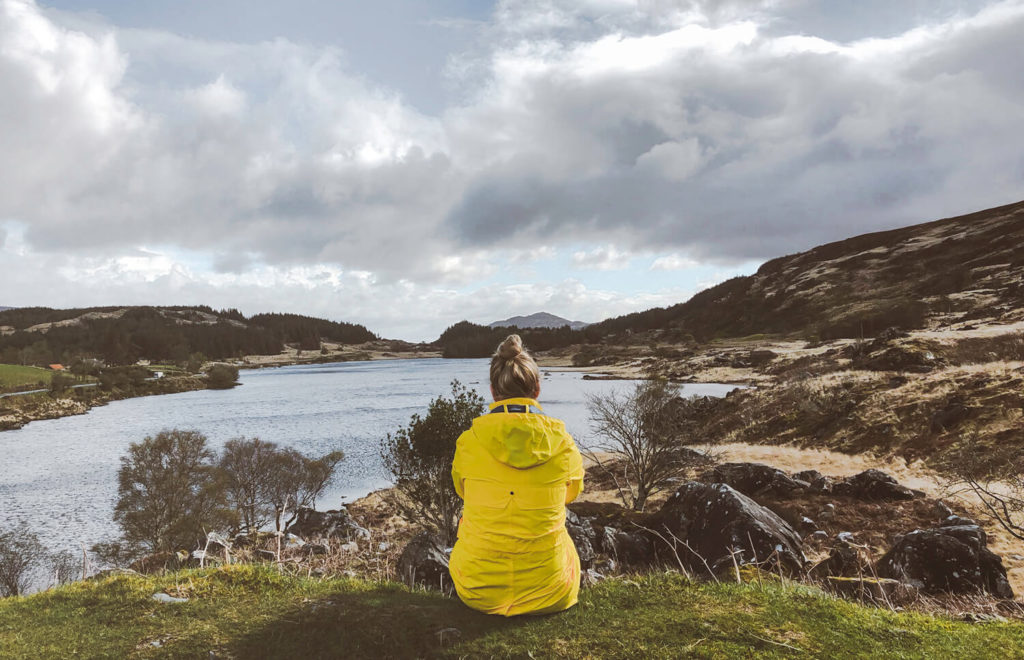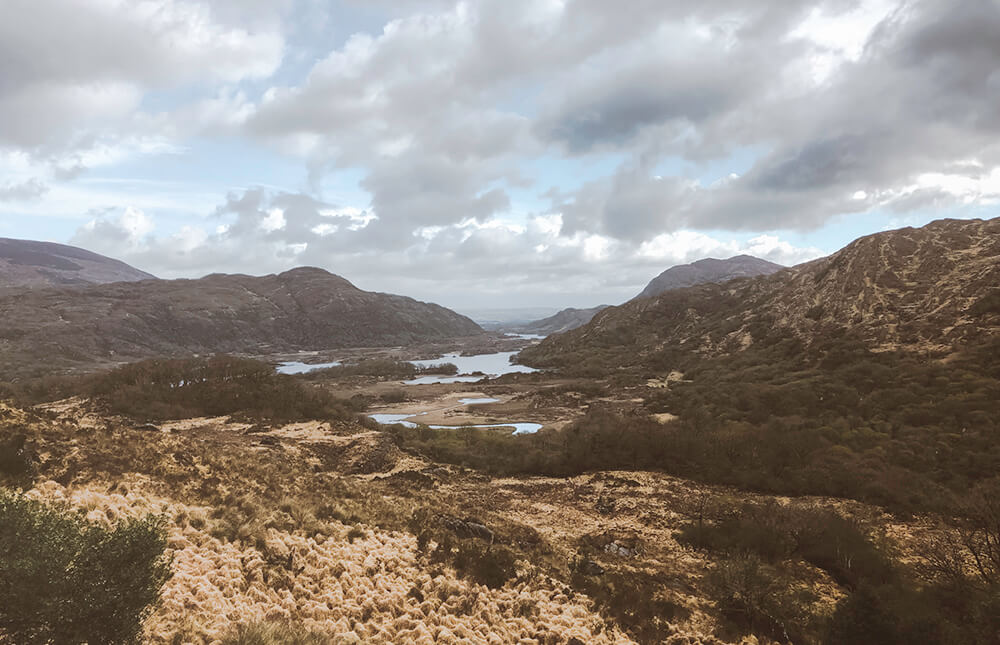 By the way, this post contains affiliate links. If you click on one and make a purchase, we will earn a small commission at no extra cost to you.
Which way to drive around the Ring of Kerry
From Kenmare it makes more sense to start your day clockwise, but strong-minded as we are, we undertook the action in an anti-clockwise direction. See, most of the guidebooks advise to go clockwise so you're going the opposite direction of the tour buses, which go counter-clockwise. In all honesty, this would definitely have been a test of my mental sanity. 120 miles of risking coming across those big ass buses on a teeny tiny road was not on my agenda.
In high-season, going counter-clockwise and starting a bit later than the tour buses that depart from Killarney (so you aren't stuck behind them), means you won't have to navigate traffic going against tour buses coming toward you on narrow roads. We went in April and didn't have to worry about busses at all, in fact there was not much traffic out and about.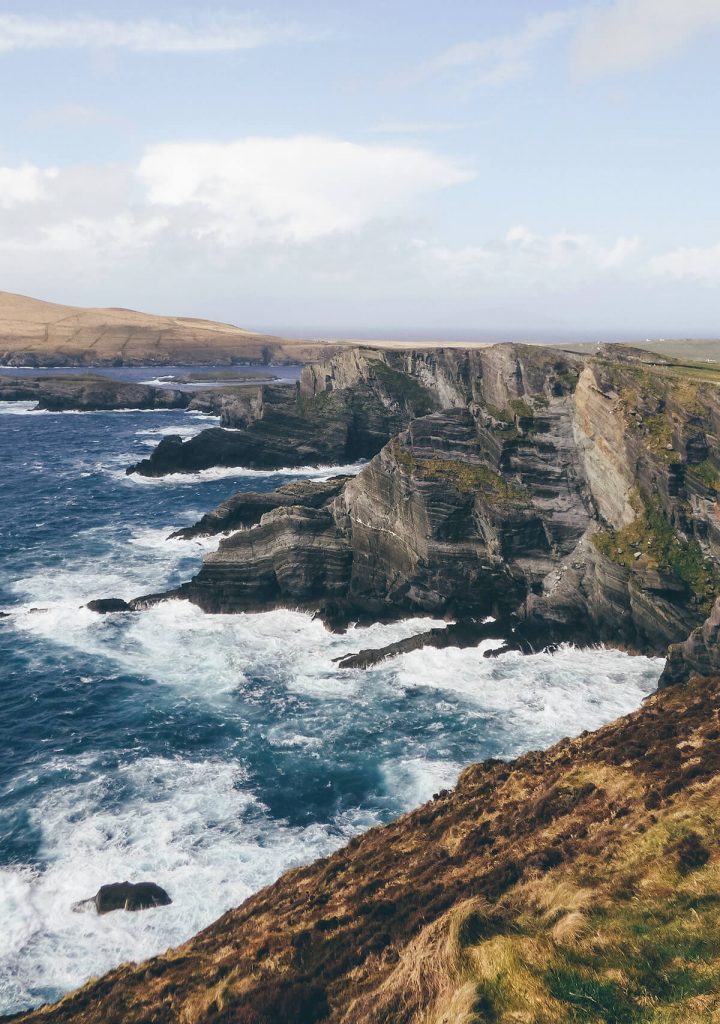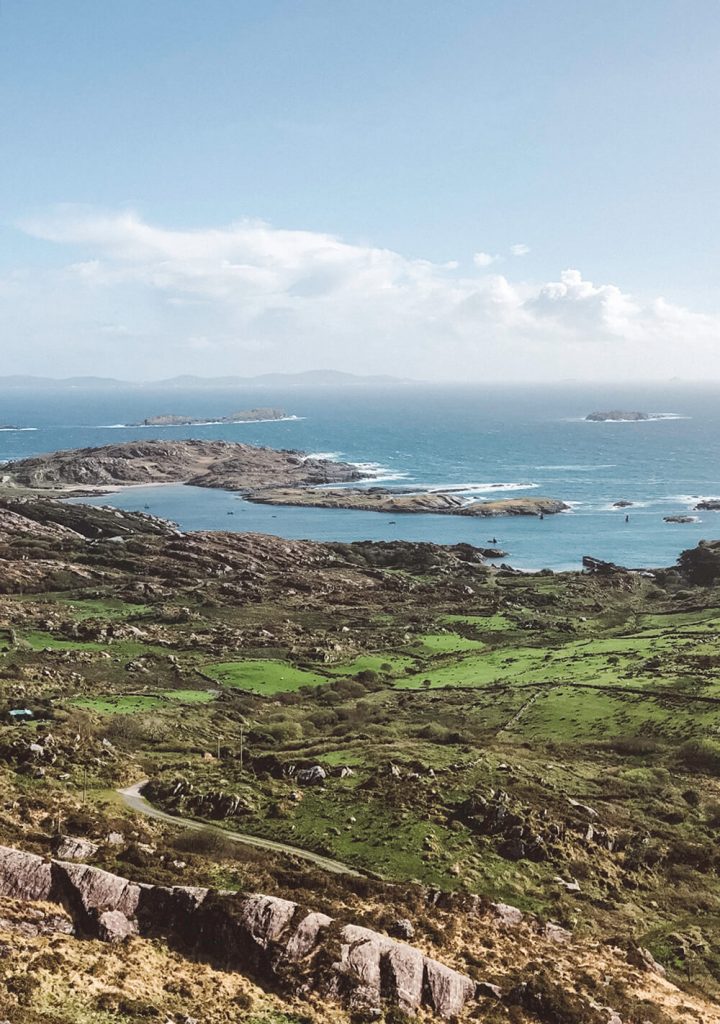 This drive takes an entire day, especially if you stop at many of the sights along the way, so start your day early! Our loop starts in Kenmare, one of the most popular cities (and so adorably colourful) to stay if you are visiting the Ring of Kerry.
What to do along the Ring of Kerry
The Ring of Kerry is one of the top spots for visitors to travel to in Ireland and for good reason: the scenery is gorgeous thanks to being right next to the coast and there are historic sites, pretty towns, and panoramic lookout points all along the circuit.
Chasing waterfalls in Killarney National Park
The first part of the day starts with the highest section of the Ring of Kerry,
Killarney National Park
(no entry fee). It's basically a very beautiful stretch of road which leads over mountain passes and offers sweeping views of lakes embedded in the most perfect piece of nature. We spent a large part of the morning exploring viewpoints in Killarney National Park.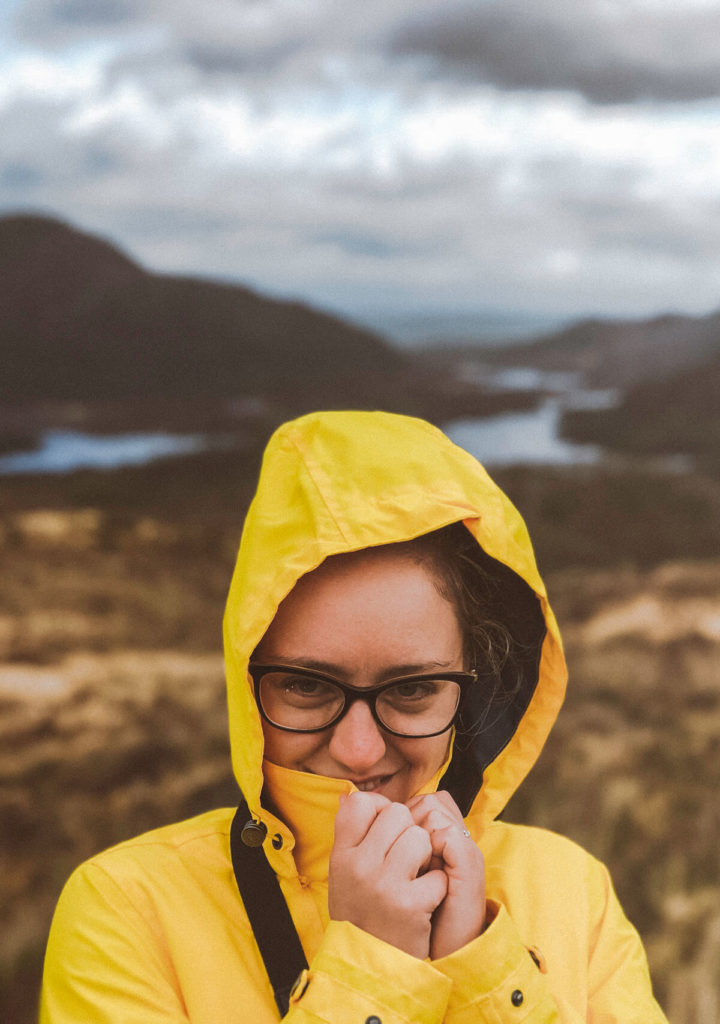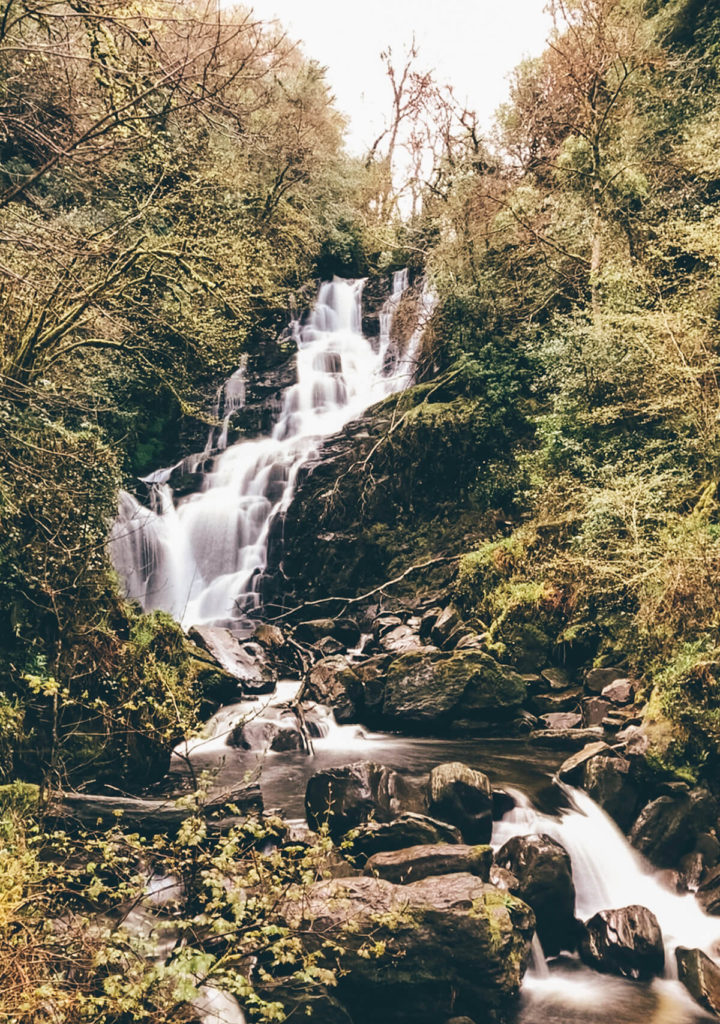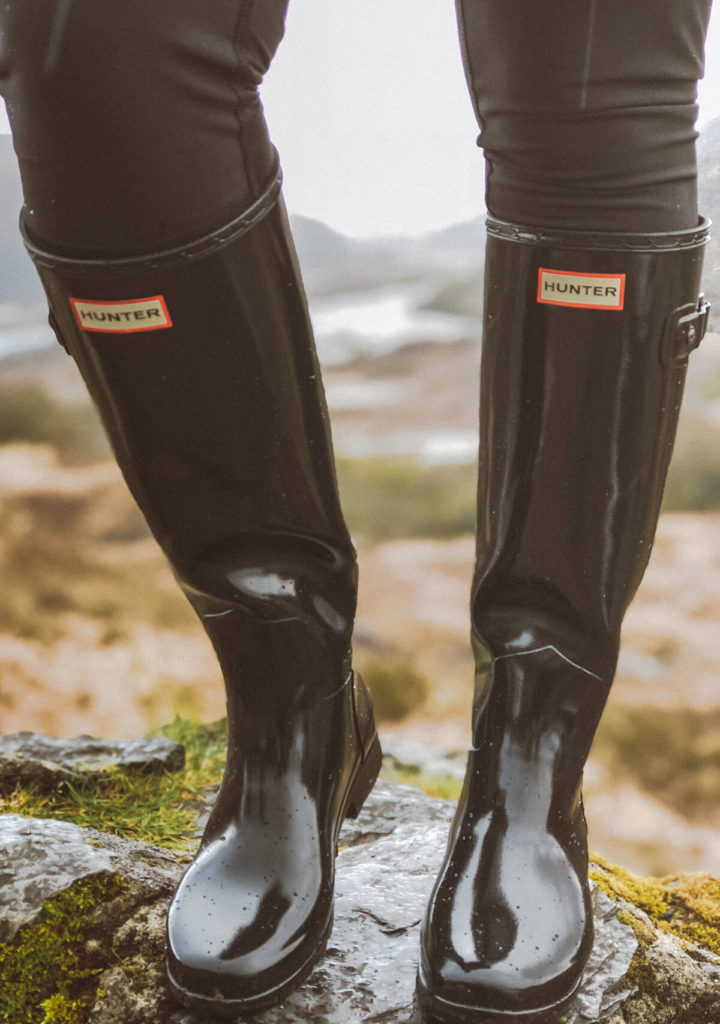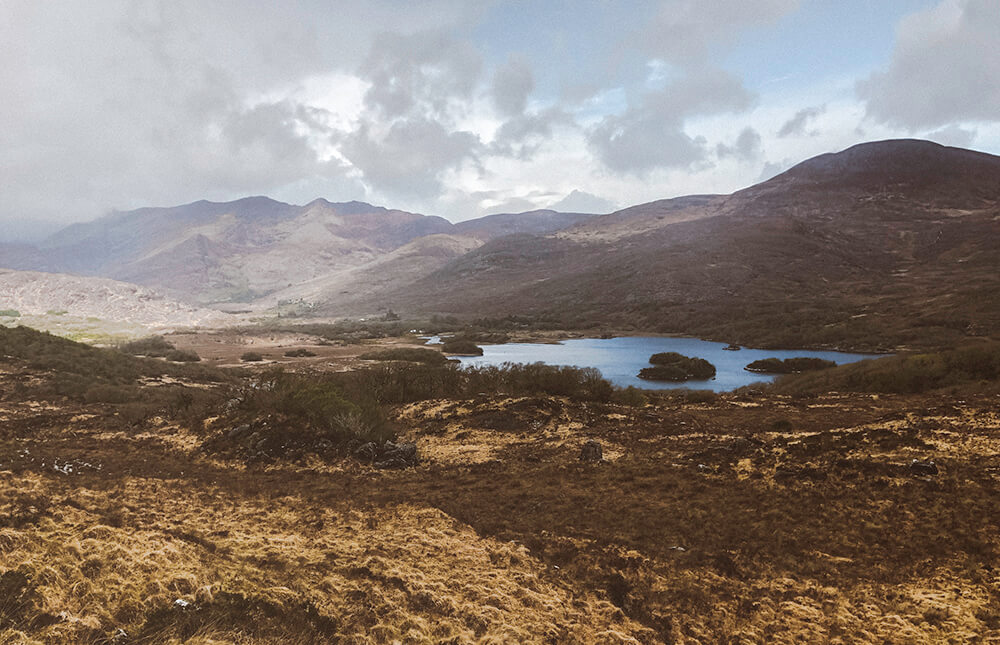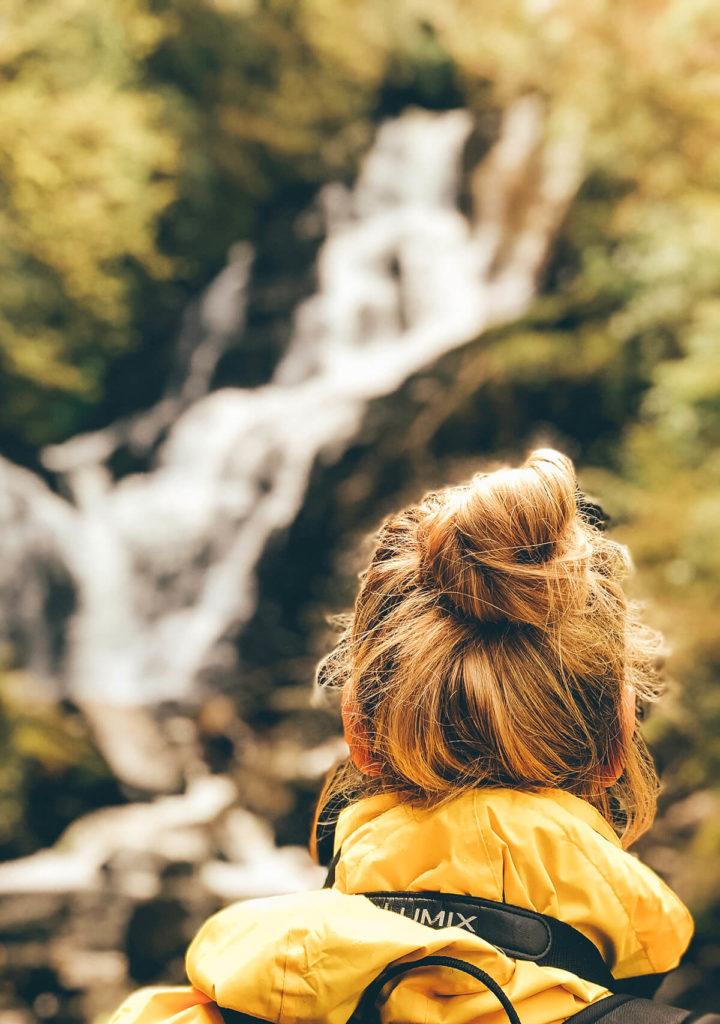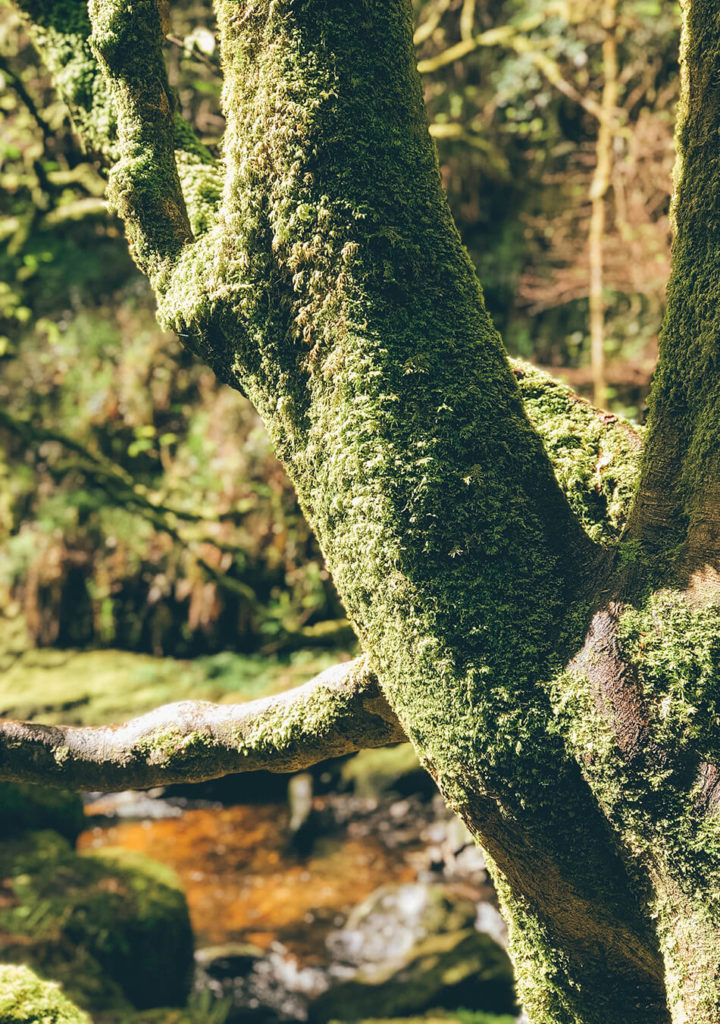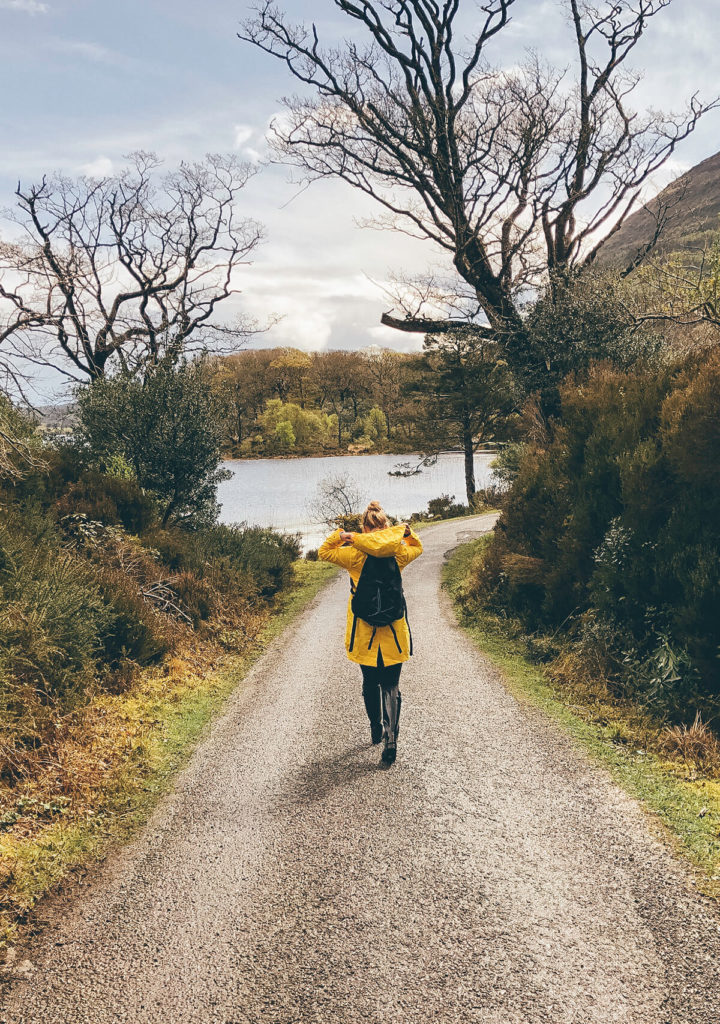 Outfit Details:
If I'm going to suggest one item to bring to Ireland, it would be
Hunter boots
! I love my Hunter boots and wore them all the time in Ireland. They were especially practical for short muddy walks in Killarney National Park and later in the day to explore Derrynane Beach. I have the Orginal Refined ones as they are a bit lighter than the Original and are easier to pack. they come in
matte
or gloss, I got them in
Black Gloss
as they still look pretty smart to wear to dinner in the evening.
Hike to the 5 lakes of the Gap of Dunloe
Irish landscapes are just strikingly gorgeous. Whether we had blue skies and sunshine or the sky was overcast and dreary, we always wanted to jump out of our car every 5 minutes. We really wanted to tack on
the Gap of Dunloe
onto our Ring of Kerry daytrip and therefore had to forego the opportunity to hike but drive the very, very, very (did I say very?) narrow and windy roads instead. When you're not used to these road conditions, it might be wise to not drive this section and schedule enough time to hike a part of the Gap of Dunloe instead.
Needless to say, the drive to the top was insanely beautiful!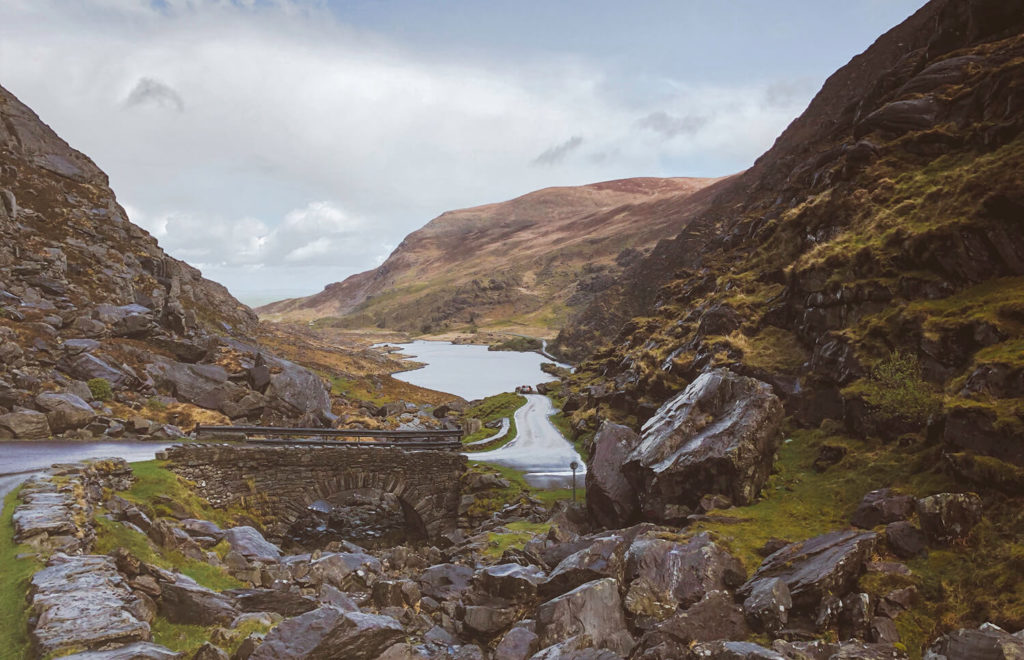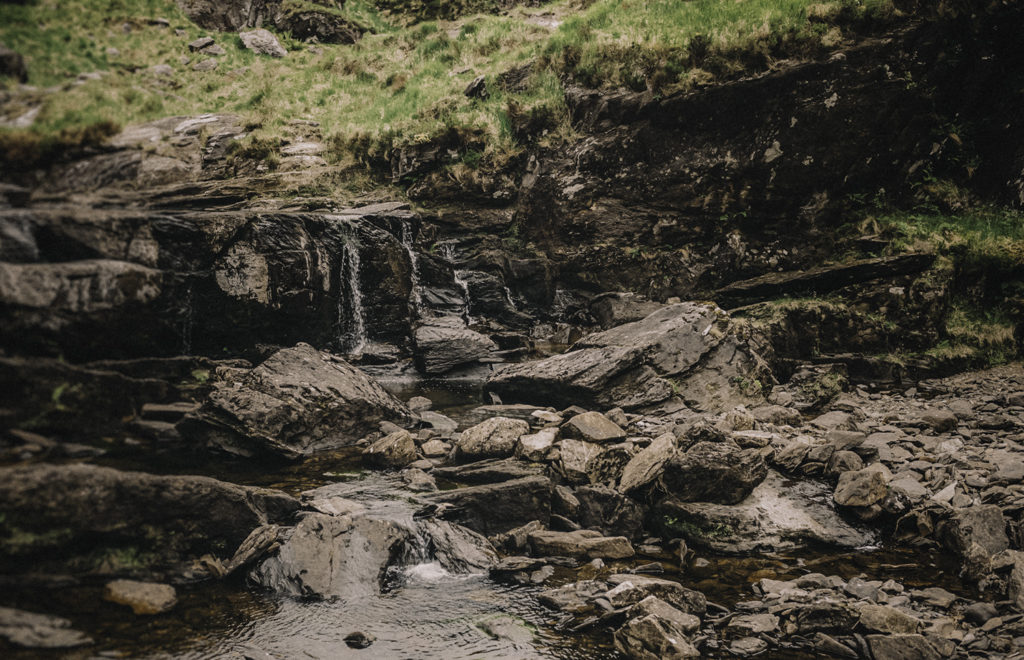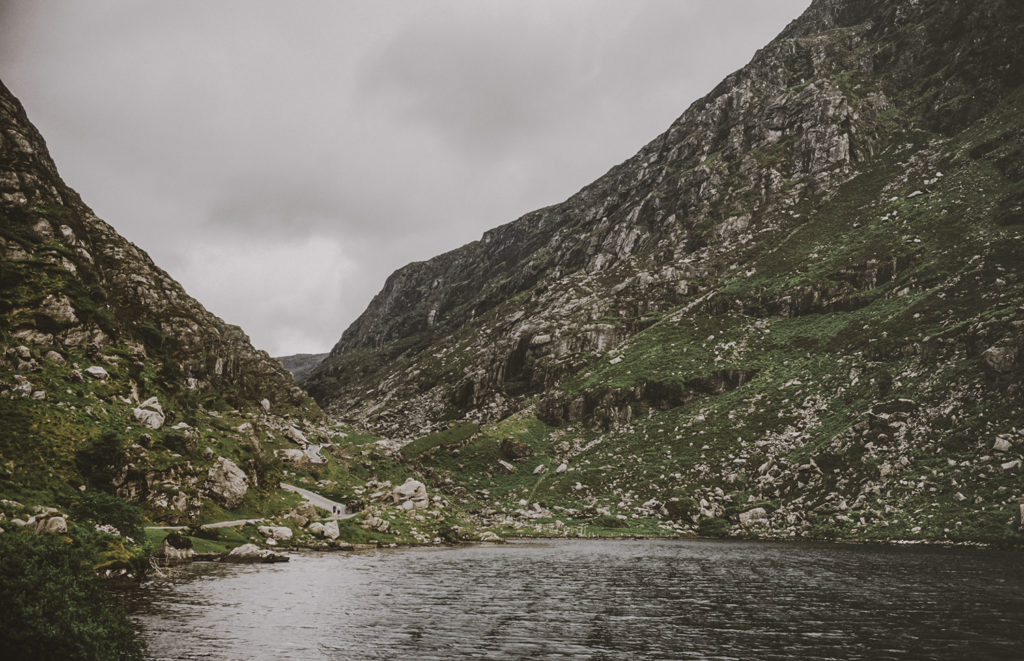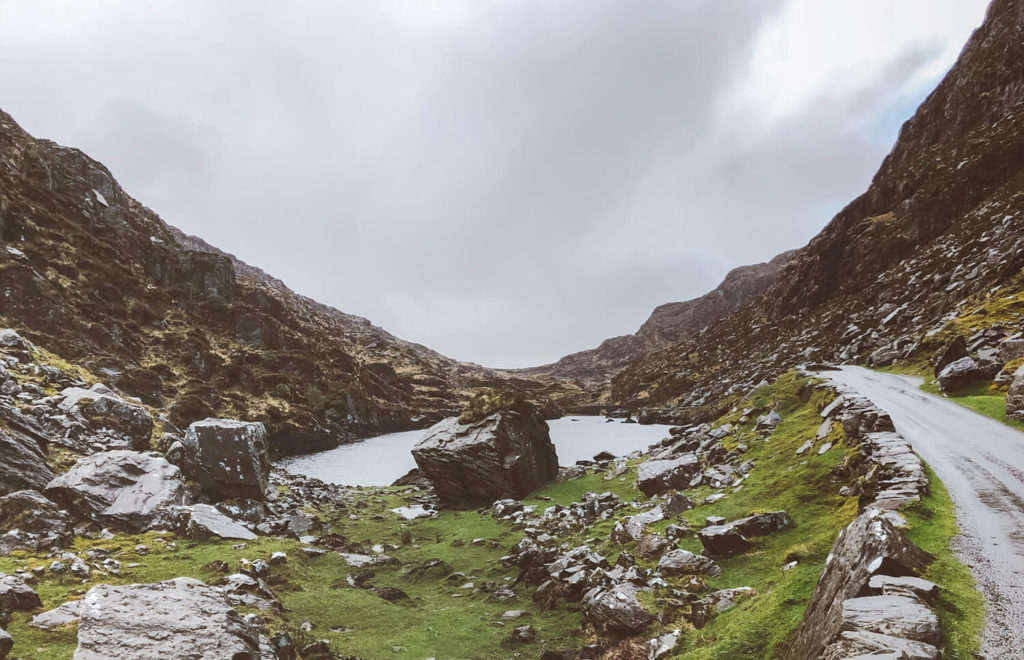 Relive clan life at Ballycarbery Castle
Our next stop was Ballycarbery Castle, close to the town of Cahersiveen. This small ruined castle looks straight out of a fairytale or saga. You need to do some tresspassing to get to this castle though as it is closed to the public for danger of collapsing. The ruins are filled with hidden passages and staircases but I would warn you not to enter and just admire the ruins from the outside. Since it was closed and you need to drive a super narrow road to get there, it wasn't packed with tourists, always a bonus!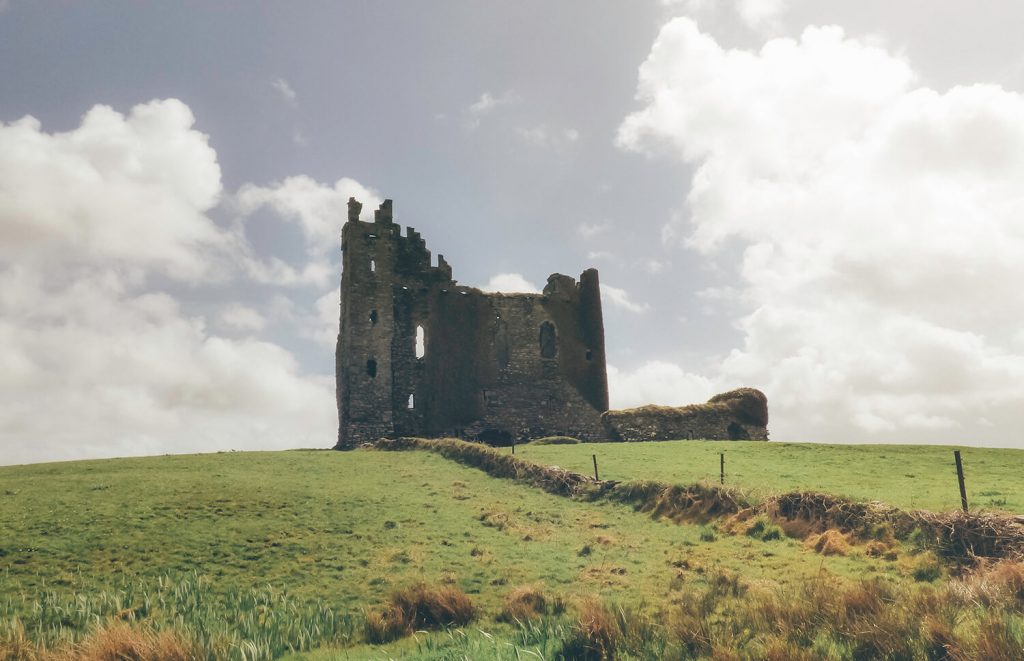 Get blown away by Kerry's Most Spectacular Cliffs
When looking for the most stunning view on the Ring of Kerry, Kerry's Most Spectacular Cliffs is your place to be. Most of the Ring of Kerry's stops require an entrance fee as most sights are located on private property. Our itinerary manages to avoid most of them but to get to Kerry's Most Spectacular Cliffs' lookout it's about 4€p.p. It's the only entrance fee you'll have to pay and it is worth it.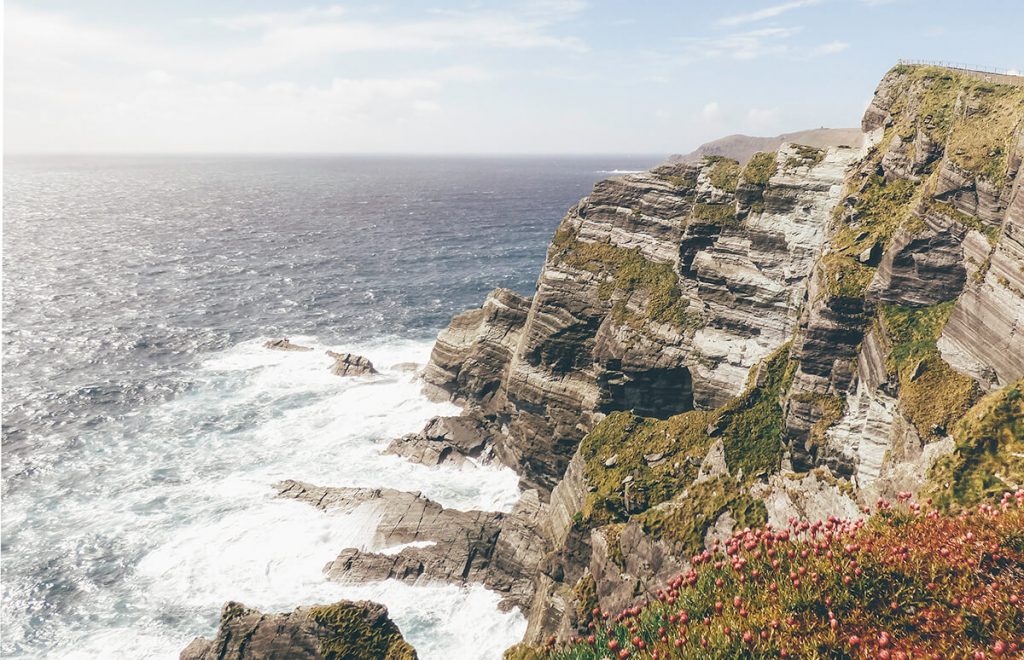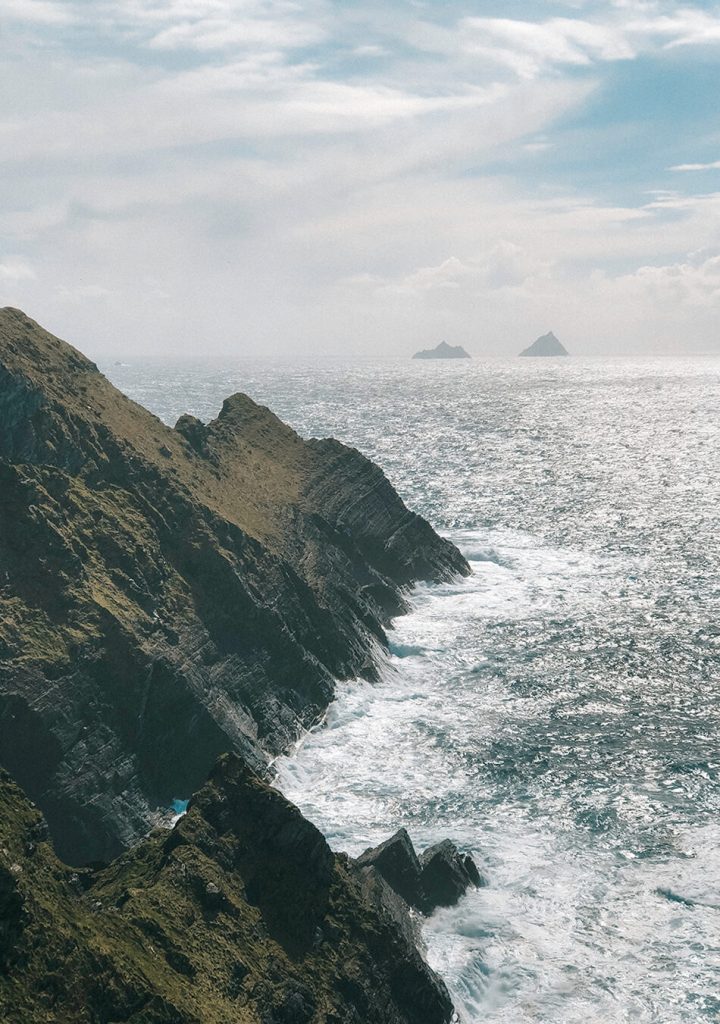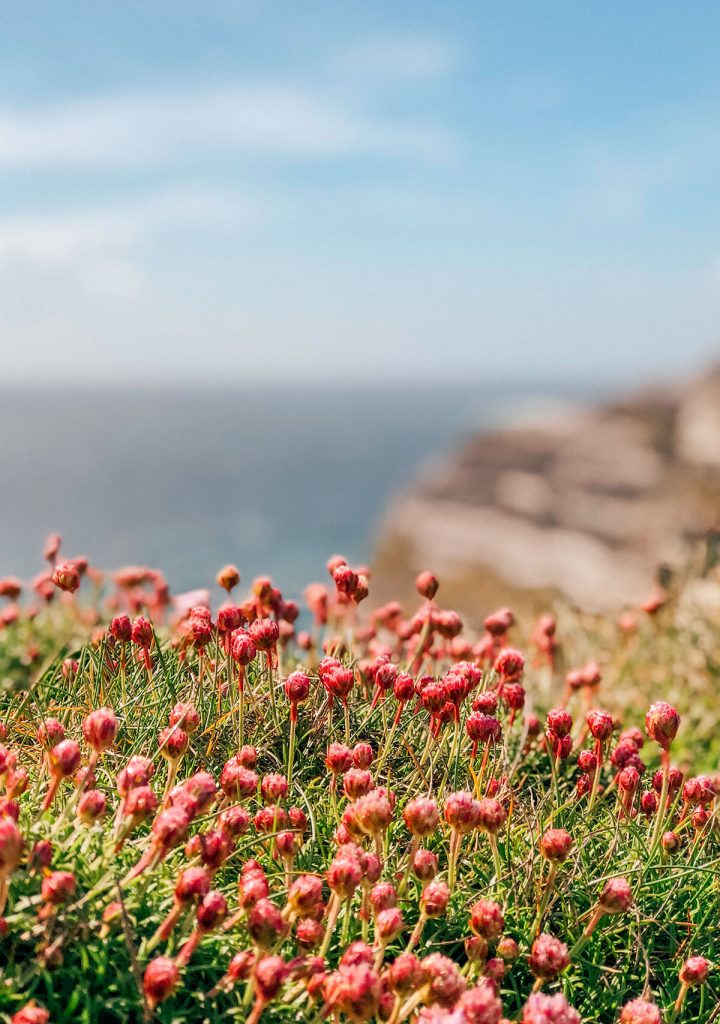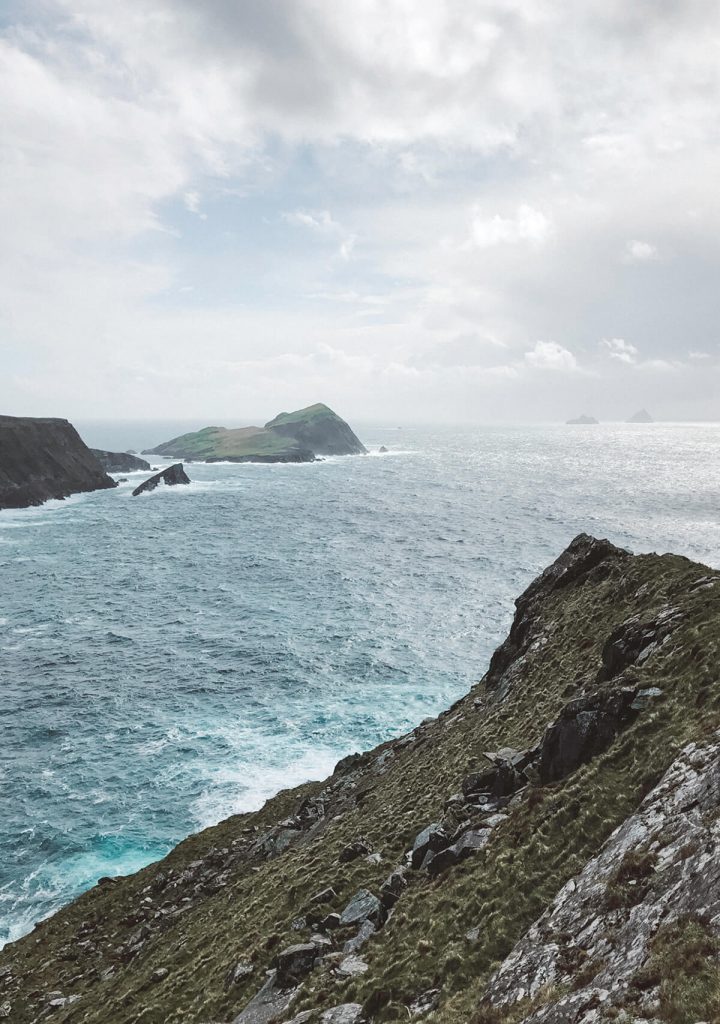 The wind was strong when we visited, causing hats to get caught by the wind and blown away. Walking uphill towards the viewpoint was a constant battle against nature.
For a more unique experience, consider
booking a daytrip to Skellig Michael
. Skellig Michael is a remote island knows for its sublime landscape and used as filming location for one of the latest Star Wars movies. Ferries to the island only operate in high season though, so we had to skip it. If you're driving the Ring of Kerry in high season, give it a try!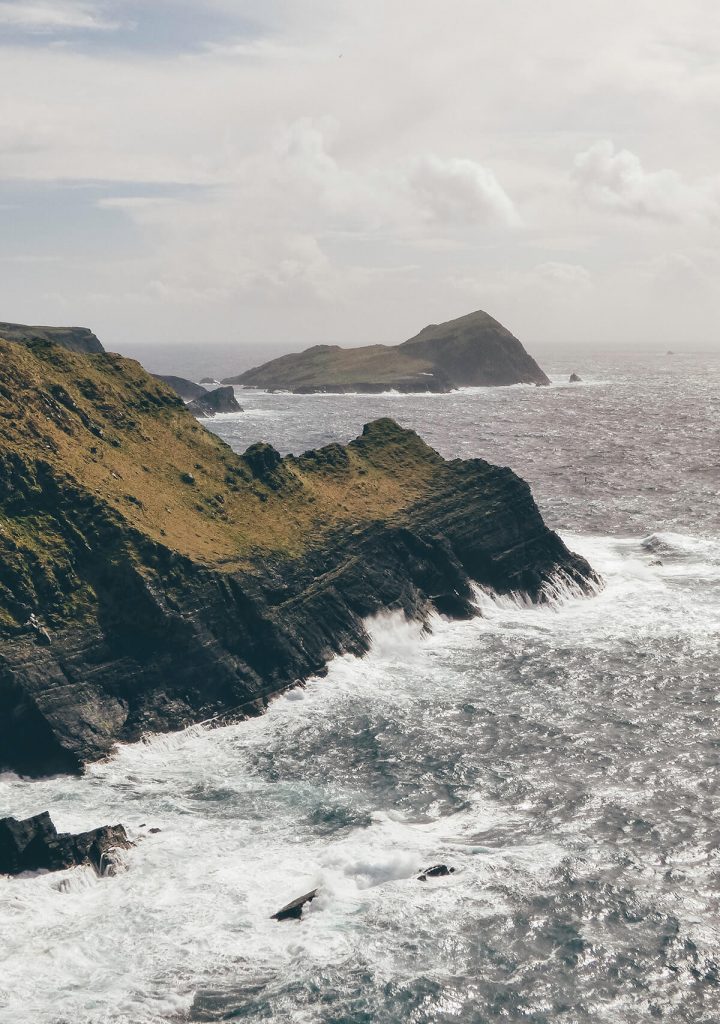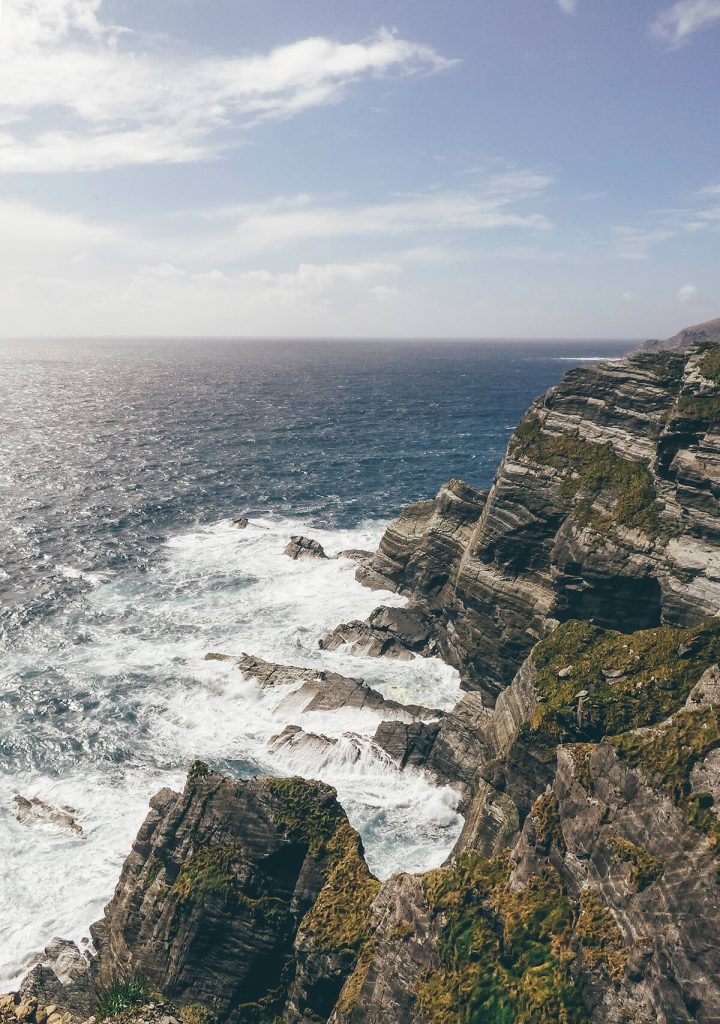 Enjoy sweeping views of the Atlantic Ocean
From now on, it's all about the scenic coastal views. After the Gap of Dunloe it cleared up for most of the day and we could even see across to the Dingle Peninsula. The stretch between Kerry's Most Spectacular Cliffs and Derrynane Beach is simply breathtaking, especially near the town of Waterville. Waterville also makes an excellent stop for a quick afternoon snack or coffee break.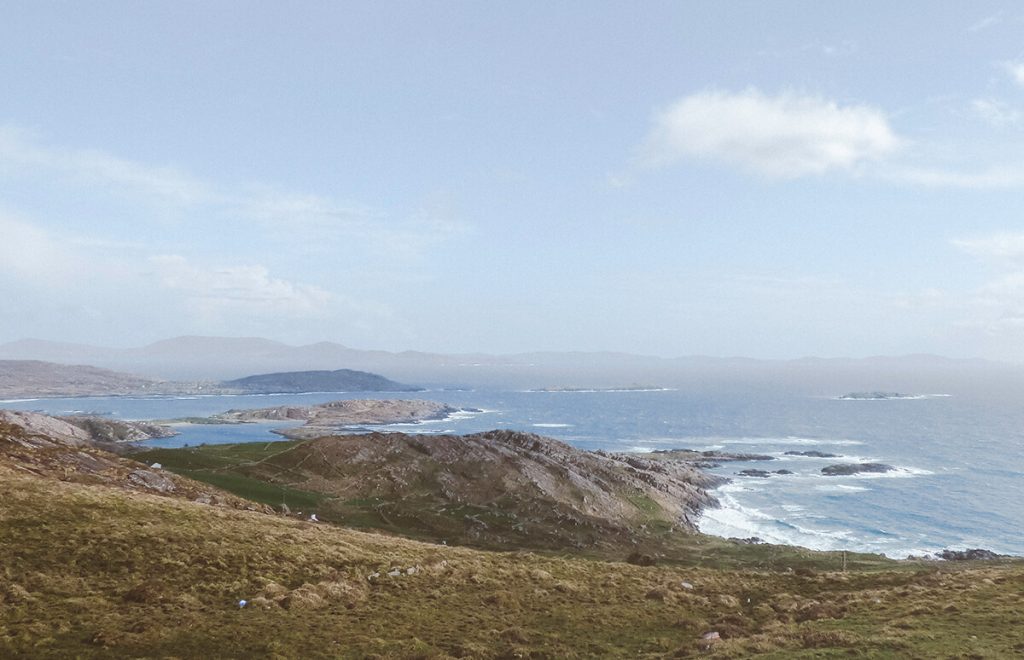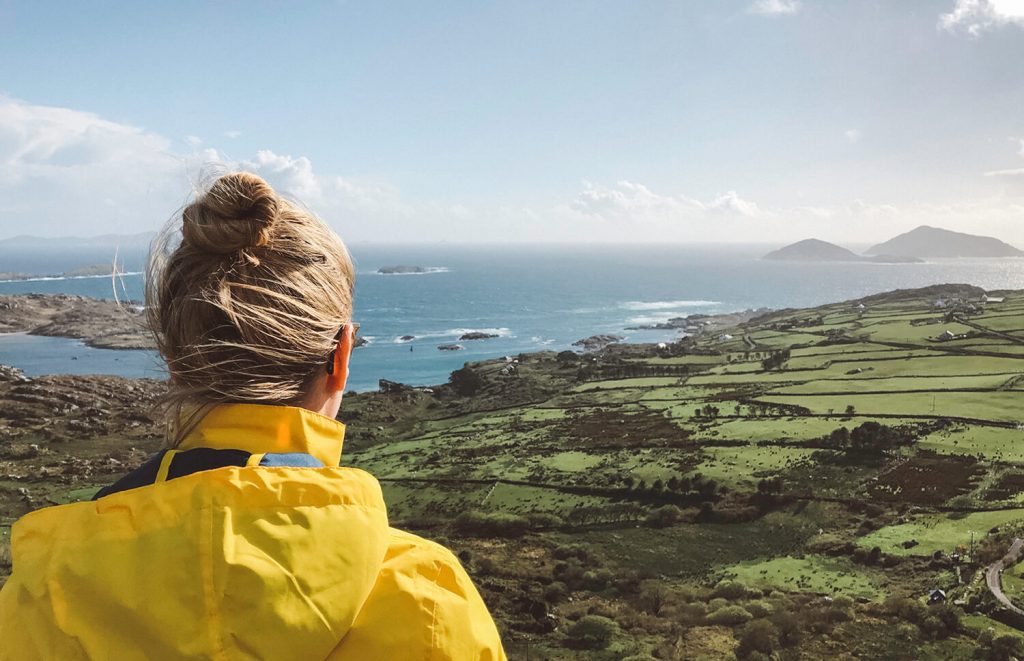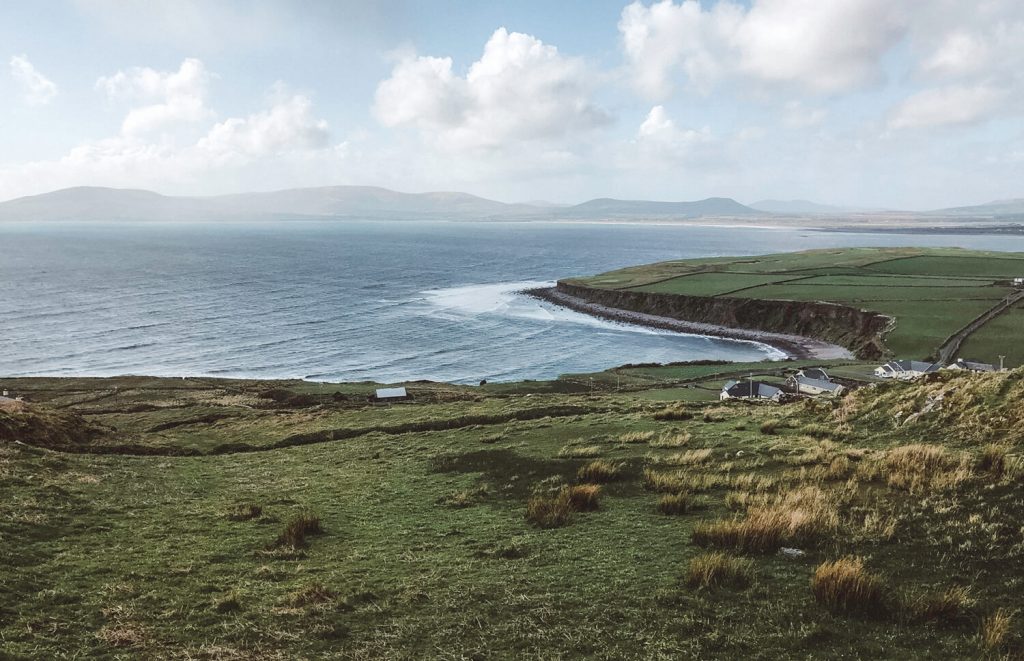 Watch the sunset from Derrynane Beach
Our last major stop of the day was at Derrynane Beach. The wind was strong, and we got a good sandscrub out of it :-), but the sun was shining and it was just so overwhelmingly beautiful. Another perk of driving the Ring of Kerry in counter-clockwise direction was ending up at at Derrynane Beach around golden hour. We couldn't have planned it any better! A perfect way to end our Ring of Kerry day trip.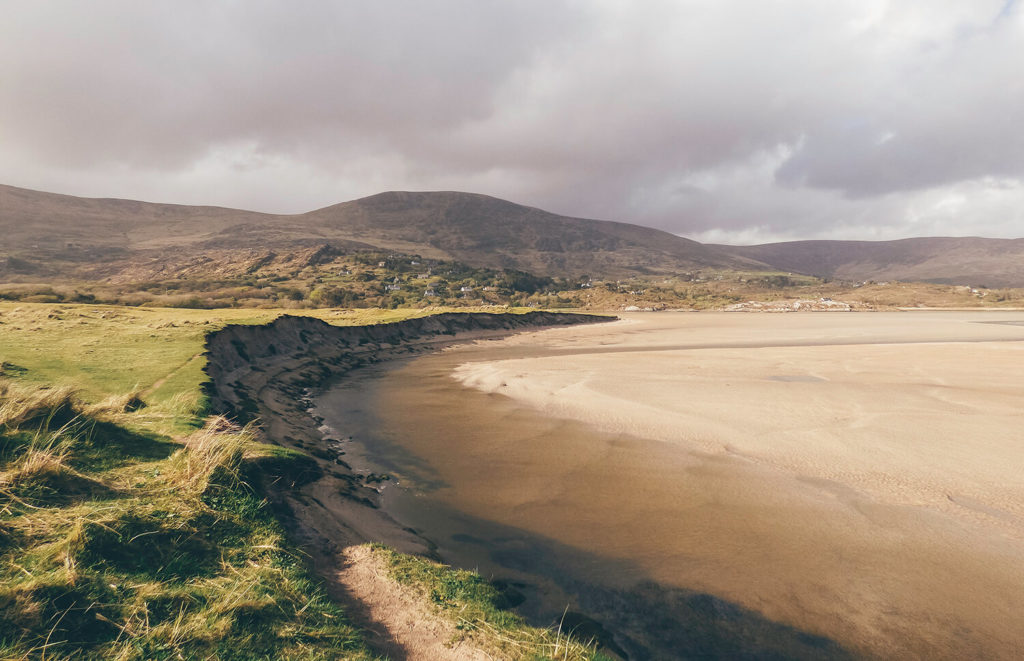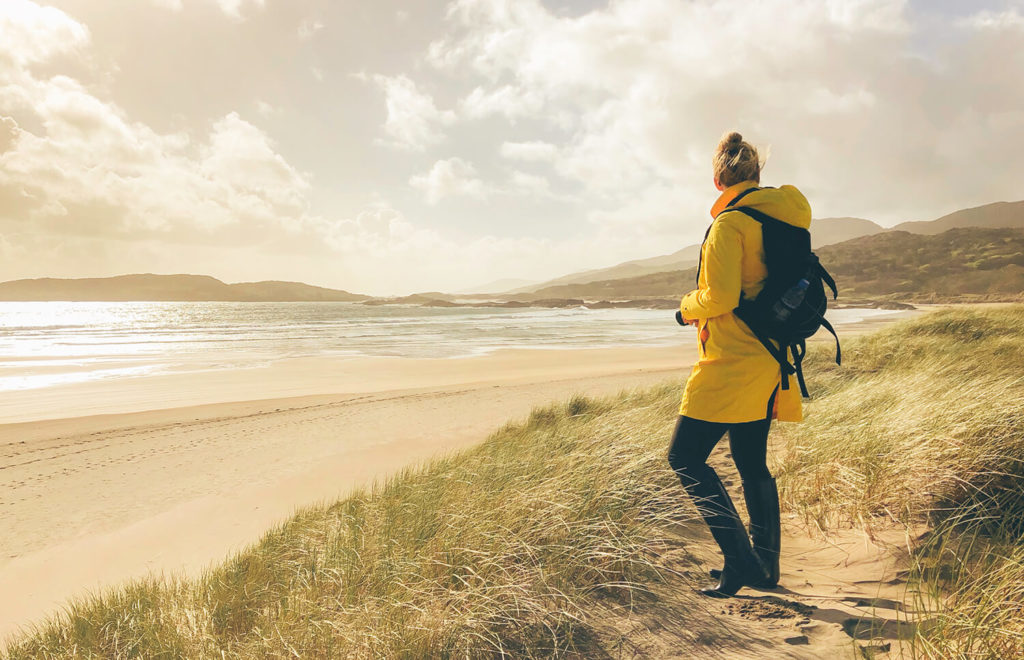 I was so happy I wore my Hunter boots that day to just go frolicking in the water. Also, the tides come in pretty fast so I was well prepared in case we got caught by the rising water :-).
Where to stay along the Ring of Kerry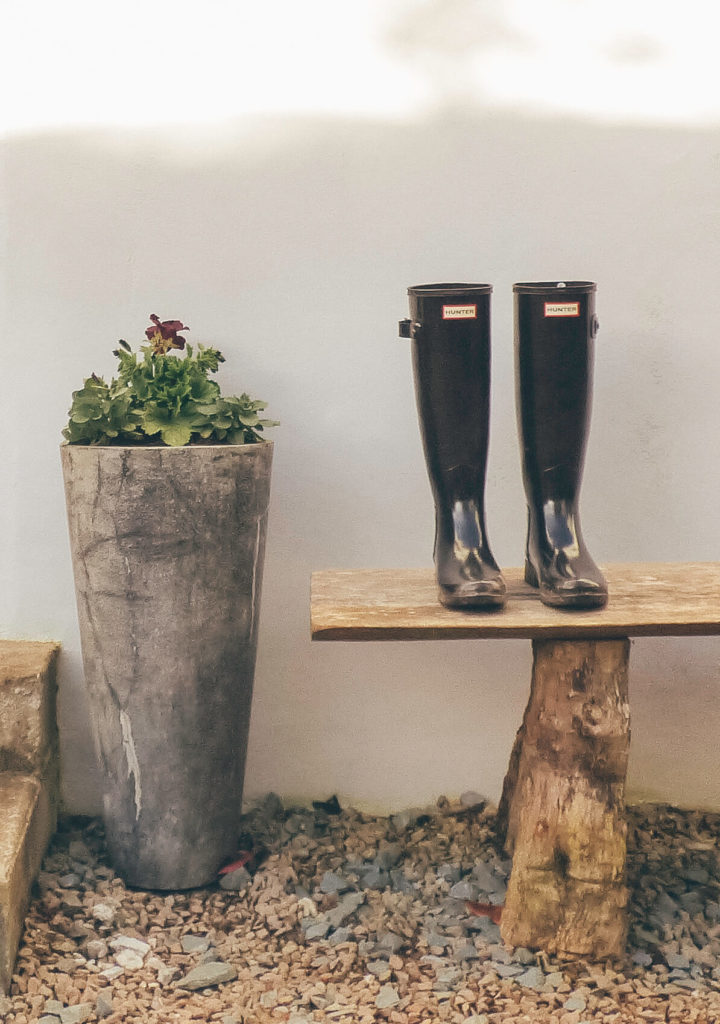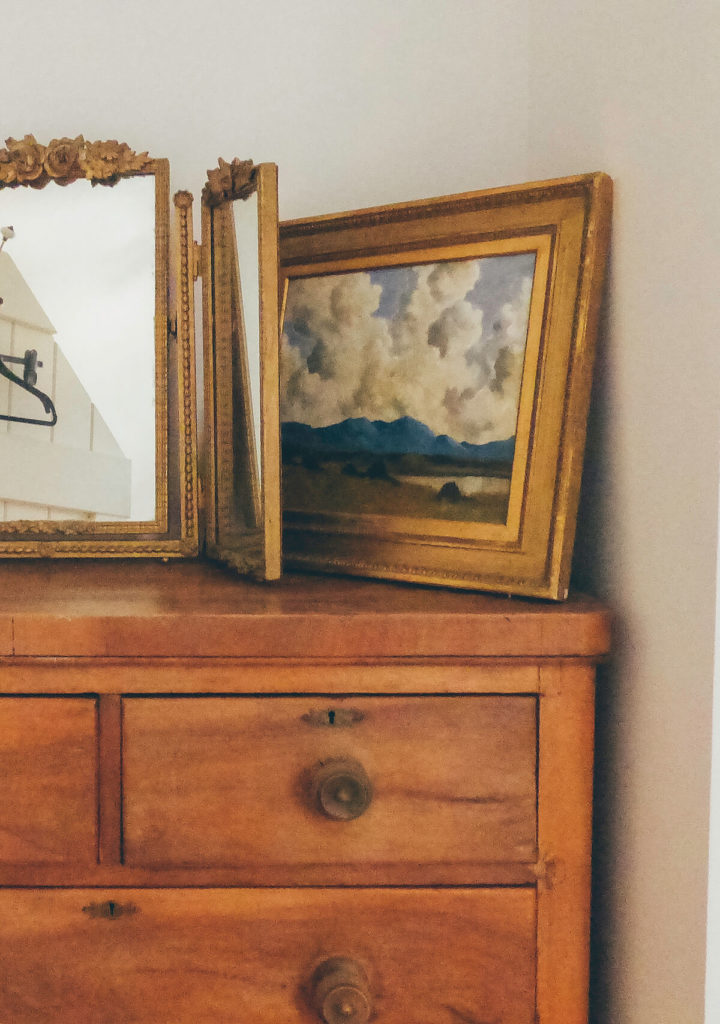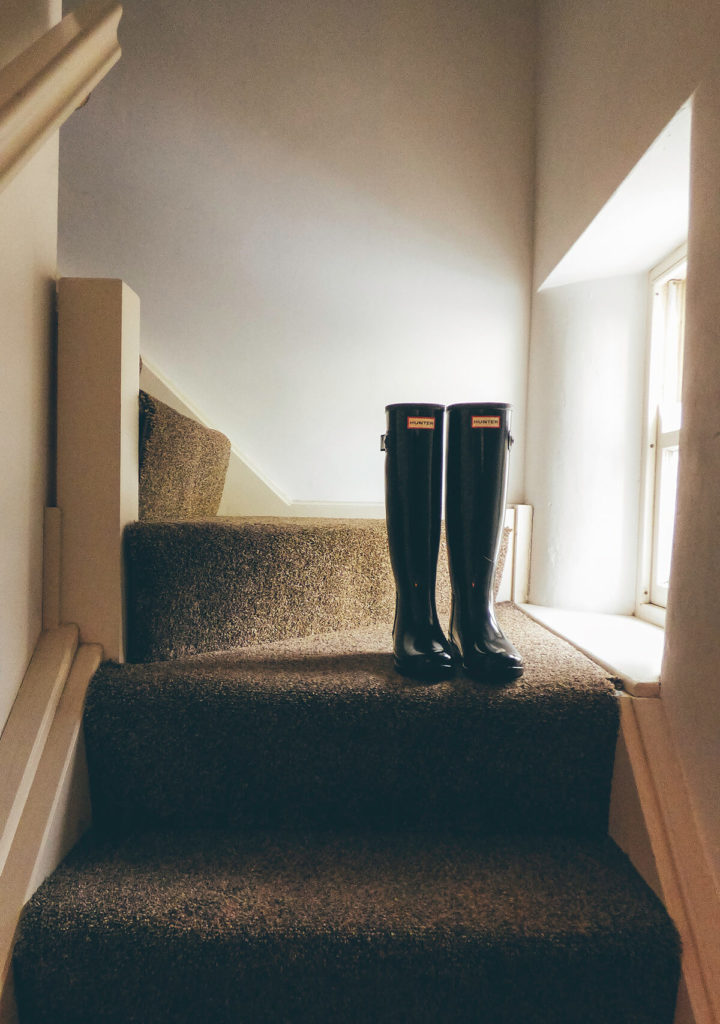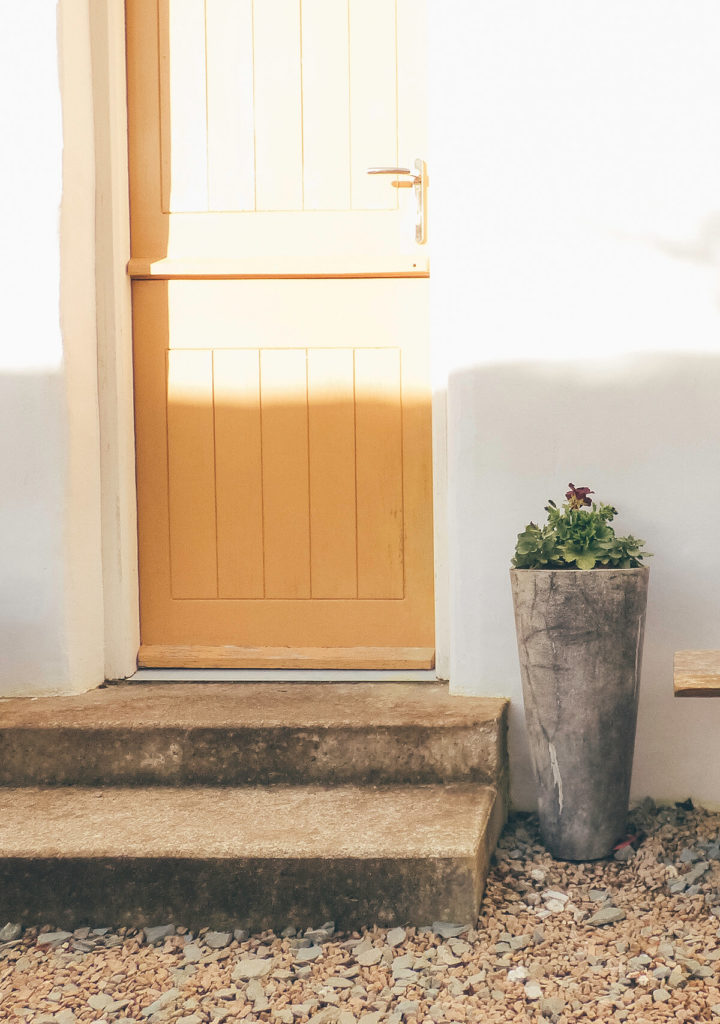 If you're looking for a hotel experience we can highly recommend the
Sheen Falls Lodge
! Though it is a bit further from the town of Kenmare and the start of the Ring of Kerry drive, it is wonderfully secluded and has that true Irish country feel.
Driving the Ring of Kerry or the Dingle Peninsula?
If you only have time for one scenic drive during your stay in Ireland, we would pick the Dingle Peninsula over the Ring of Kerry. Both drives are gorgeous but there are much more coastal lookout points on the Slea Head Drive on the Dingle Pensinsula, which are free while several require an entrance fee on the Ring of Kerry.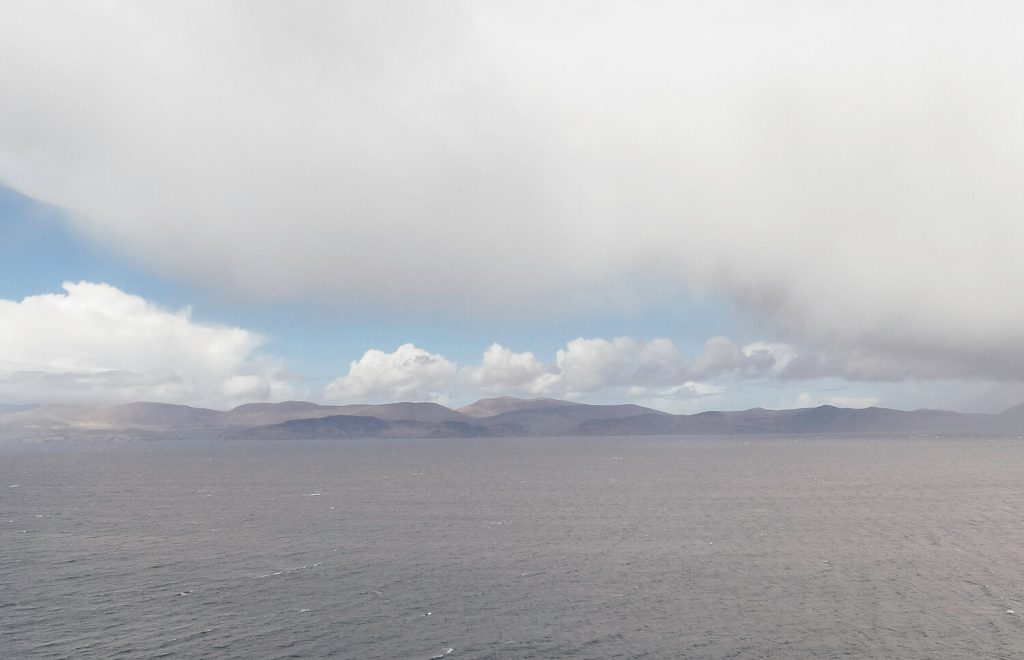 About driving the Ring of Kerry
Fair warning, the roads on the Ring of Kerry are very narrow. In many places, the roads are basically just one lane but with two-way traffic. Every now and then you'll find passing points but the roads are very windy so it'll be hard to spot oncoming traffic. Oh and remember, they drive on the left in Ireland!

Love it? Pin it!