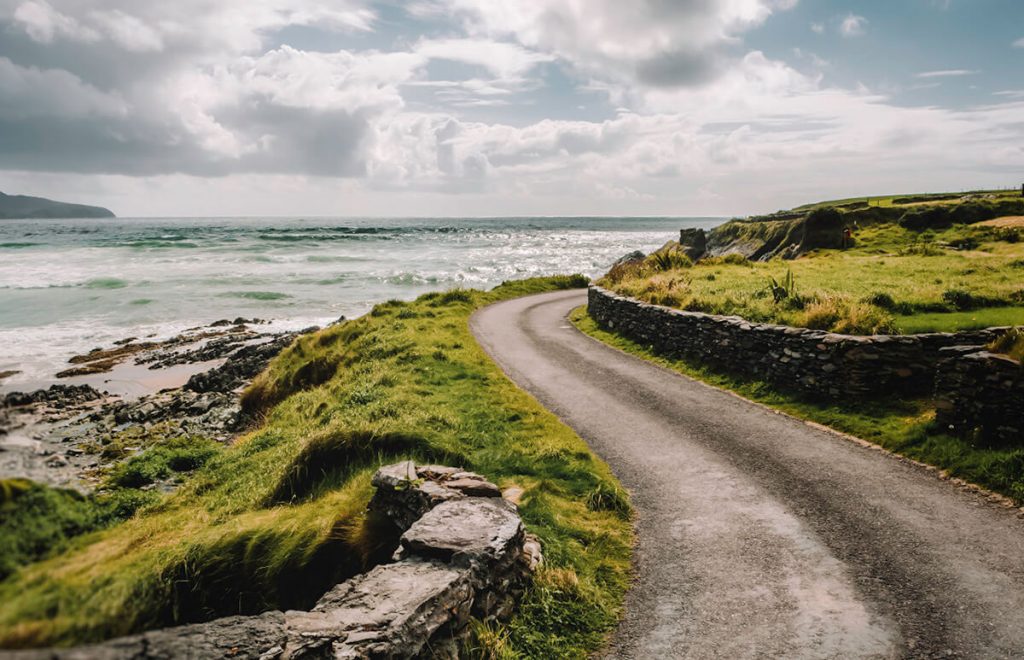 Is there anything better than the open road while listening to your favourite tunes? (well yes, a Ben & Jerry's would actually be pretty awesome right now! But I digress…)
The freedom to be where you want, when you want and to see what you want without following a cookie-cutter itinerary is an outright bliss. The absolute joy of beating the crowds and handling your time on location more efficiently and according to your own wishes is simply priceless to us.
It's basic math really. A car + the open road + my husband = happiness (okay, enough of the corny stuff).
---
Our 10 useful road trip tips for driving in Ireland
---
Driving in Ireland is the best way to create your own Irish memories on your own timescale. While it's mostly a breeze, driving in Ireland has some things you should watch out for. So, to help you plan your own epic Ireland road trip, follow these commandments for a successful adventure, including how to deal with those teeny tiny Irish roads. You'll be cruisin' around Ireland like a local in no-time! 😉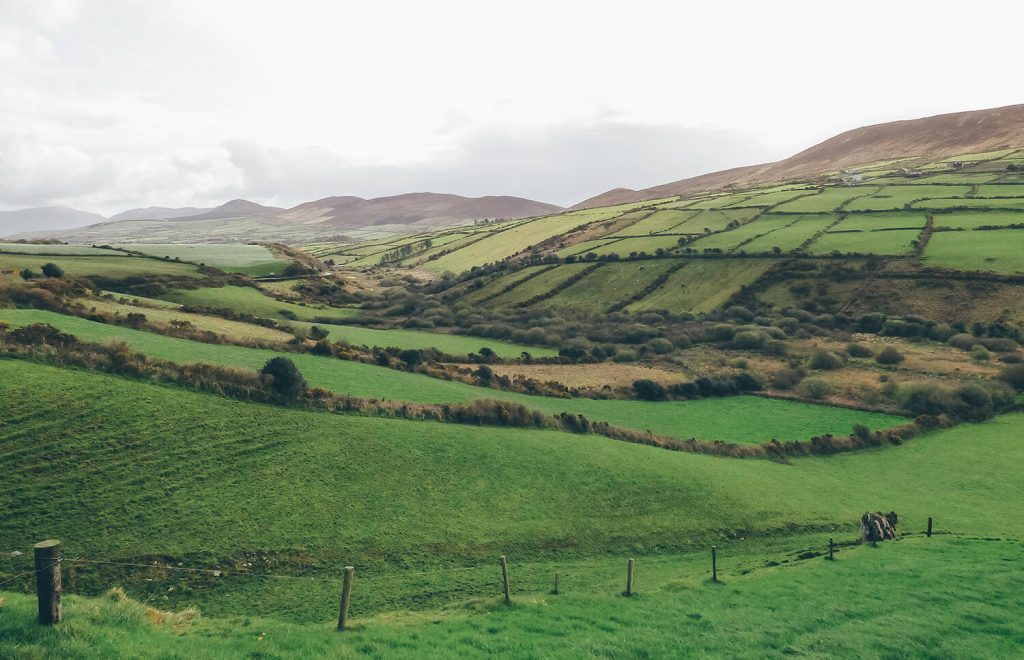 #1 | Thou shallt befriend the Irish roundabouts
We've encountered LOTS of roundabouts while driving in Ireland so you better start loving them. The first few roundabouts can be daunting, especially if driving on the left is new to you, but it is the best way in getting the hang of the local traffic situations. Kristof sang his mantra at every (seemingly interminable) roundabout and intersection "cars come from the right, cars come from the right, cars come from the right".
#2 | Embrace thy speed limits
Ireland continued to baffle us with their speed limits. The ordinary speed limits are as follows: 120 km/h (75 mph) for motorways (M), 100 km/h (62 mph) for National Routes (N) and 80 km/h (50 mph) for local and regional roads. These local and regional roads however are ridiculously narrow two-way (often walled) country roads that wind themselves through the rolling Irish rural landscape and villages. That is when the road is not blocked by wayward spray-painted sheep. Often the road has a lot of 'dips' making oncoming traffic difficult to see and often required some co-piloting (aka shouting) from my part. STOOOOP! Oncoming traffic! Wrong lane! AAH SHEEEEP!
After I stopped hyperventilating all was good, though we never again exceeded 50km/h on those local roads. Honestly, it's insane not more Irish people are professional rally drivers. Even Ireland's most intrepid seniors flashed by us at top speed and managed handling the daring country circuits. It's not entirely impossible that my hand-prints are still seared in the door handle of our rental car.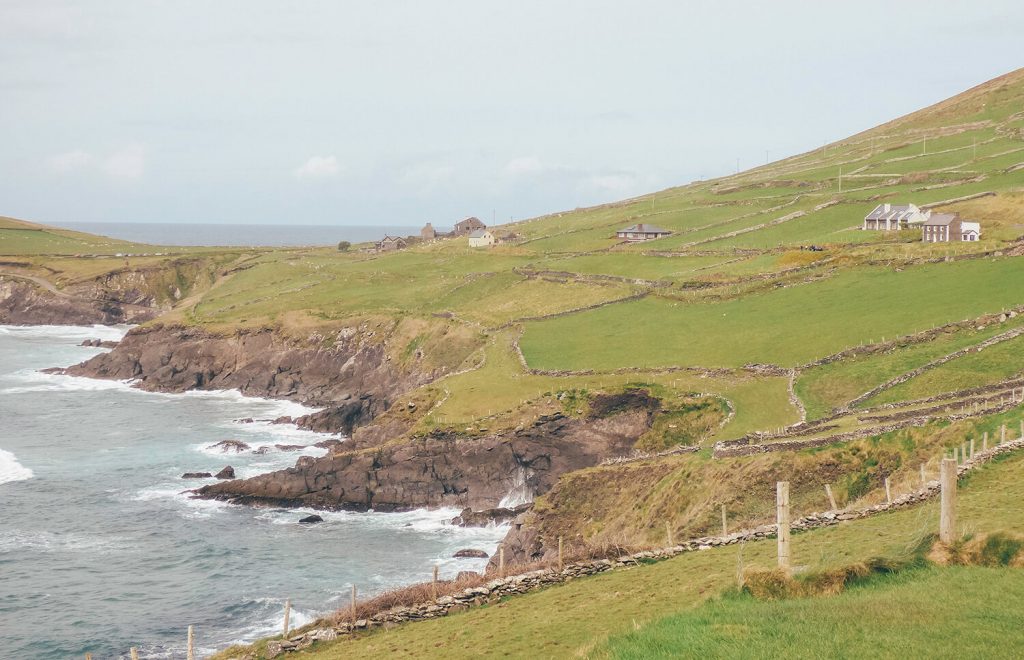 #3 | Thou shallt not neglect car insurance
Besides the fact that we nearly crashed our rental every time an overly zealous local passed us by (okay, I might be slightly exaggerating here), our car was also at risk to some heavy scratching. We've already established that Irish local roads are teeny tiny and über narrow but most information resources failed to mention they're also mostly walled or lined with heavy bushes with very pointy branches. This meant that every time we wanted to dodge upcoming cars as much as possible, we had to drive very close to the bushes or walls.
We generally don't take additional insurance when we hire a car, it was steep at 40€ per day, but we thought it was well worth getting. In the end we remained crash-free but alas not completely scratch free. Our car insurance covered the small damage so we were happy to have signed up for it.
#4 | Thou shallt put thy faith in Google Maps (but not completely)
Navigating around Ireland is surprisingly easy. There's good signage, especially if you are heading to a major attraction via the main roads. And that's the tricky part. We mostly used Google Maps for our navigation needs which generally did an outstanding job. Sometimes, however, Google Maps tried to take us on the most efficient route, even if this meant going off the main road and taking much smaller local roads. Once on local roads, even signage to major attractions can become quite scarce. Our advice is to follow Google Maps, but if it starts directing you off Motorways or National Routes when there is signage pointing to your destination in the other direction, do yourself a favour and follow the road signs instead.
#5 | Rent thy car at a local rental company
Ireland offers many possible rental car companies which can be booked on site at the airport or in advance through their website. Online is where we found the best deals. Supporting the local industry is one of those things we hold highly when travling and this applies to our choice in car rental companies as well. We almost always choose a local dealer as they are often also the cheapest! In Ireland we opted for
Dooley Car Rentals
, which offered the best price-quality.
Driving in Ireland does not come cheap. Some mandatory insurances are required and if the driver is aged between 21-24y a surcharge may be applied. Some rental car companies might warranty a hefty amount on your credit card, but this was not the case at Dooley Car Rentals.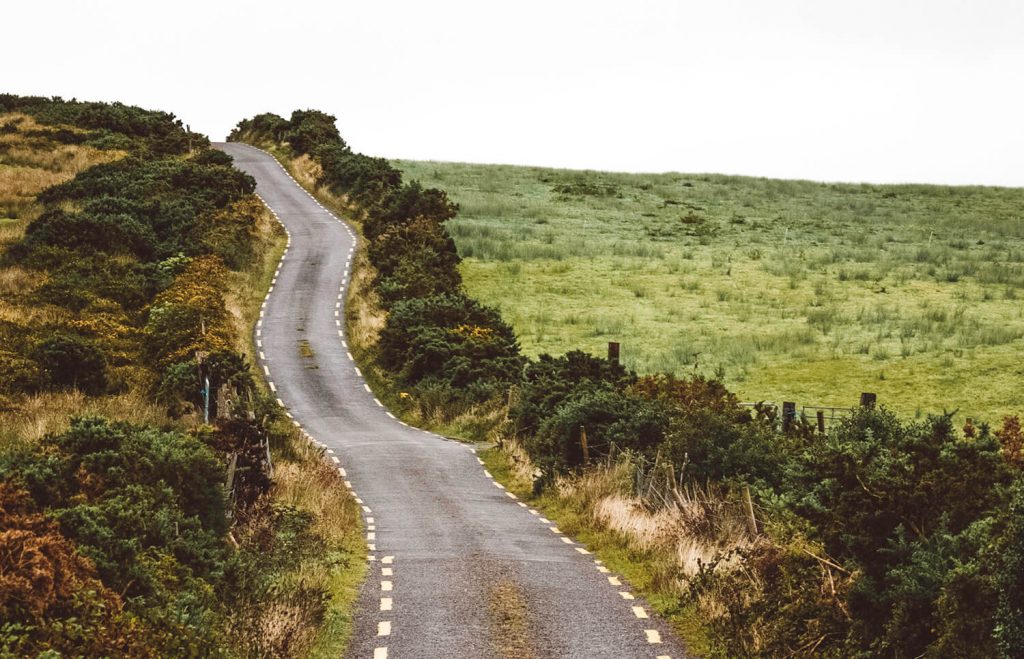 #6 | Bigger is not better
When in the United States, the rule of thumb is often "the bigger, the better". This is not the case in Ireland. In fact, you actually want to look for a small car. Why? Because the roads are narrow.
Really narrow. (I feel like I'm playing on repeat)
Especially the smaller local roads, which you'll probably want to explore: like
driving the Ring of Kerry
or the dingle Peninsula. You'll apreciate your smaller car when passing oncoming traffic. Do thouroughly read the description of your rental car though. Tiny cars in Ireland are really tiny! It would be a shame to find out you booked a toy-like car that doesn't even fit your luggage.
#7 | Tou shallt follow the local rules of the road
When in posession of a driver's license you'll be happy to know that you don't need an international driver's license to drive in Ireland. However, there might be some differences with driving in your own country or state. For one, in Ireland you drive on the left like in the UK, South-Africa and Japan for instance. Secondly, it is mandatory for you to wear a seatbelt in all seats (not only in the front seats of the car!) and finally it is not allowed to turn right at red lights.
#8 | Thou shalt use offline maps
When traveling we never bother getting a SIM card in a new country. Seen that most hotels, even the basic ones, have WiFi avilable, we've never been in need of one. Even restaurants and shops nowadays offer WiFi and mobile operators worldwide offer more interesting roaming packages than they used to. The only time it could have been an issue was when we were off the grid and out on the road. During
our trip through Scotland
, Wifi wasn't always available and 4G coverage was almost non-existing. So, we covered our backsides by bringing along a good ol' fashioned map and we always downloaded Google Maps for the entire distance we were travelling the next day. We used
this post
to help us get the offline version of our trip in Google Maps.
#9 | Thou shallt drive stick shift
The Irish mainly drive stick shift. If you're looking for a budget rental, your best bet is to do as the Irish do and drive manual. While you can rent an automatic, it is more costly and the offer of rental cars is limited. If driving an automatic is important to you, book ahead online to guarantee you'll have an automatic available on arrival.
#10 | Thou shallt embrace Ireland's eFlow toll system
Ireland has a modern motorway system which has a barrier-free tolling system on Dublin's M50, operated by eFlow since 2007. Whether your Ireland itinerary takes you North or Southbound, when Dublin is one of your stops along the way, you'll most likely be taking this toll route. Just drive through the toll booths, your toll will be automatically linked to the car's license plate.
As most rental cars aren't registered eFlow users, the use of the M50 toll road requires you, the rentee, to make your toll payment before 8pm the following day. There are 3 ways for you to do that:
1. Pay online at
eFlow.ie
. However, doing an online payment required for us to have a card reader which off course we didn't bring with us on our holidays.
2. In person with cash or card at any Payzone retail outlet nationwide. You can find a map with the different Payzone outlets
here
. Just select 'M50' as the product and the county you're in while doing the payment in the "where to pay" section.
3. Download the M50 Quick Pay App. This was our preferred method. We just downloaded the app, filled in the car's licence plate number and paid with our finger print. Don't you just love the ease of smartphones nowadays?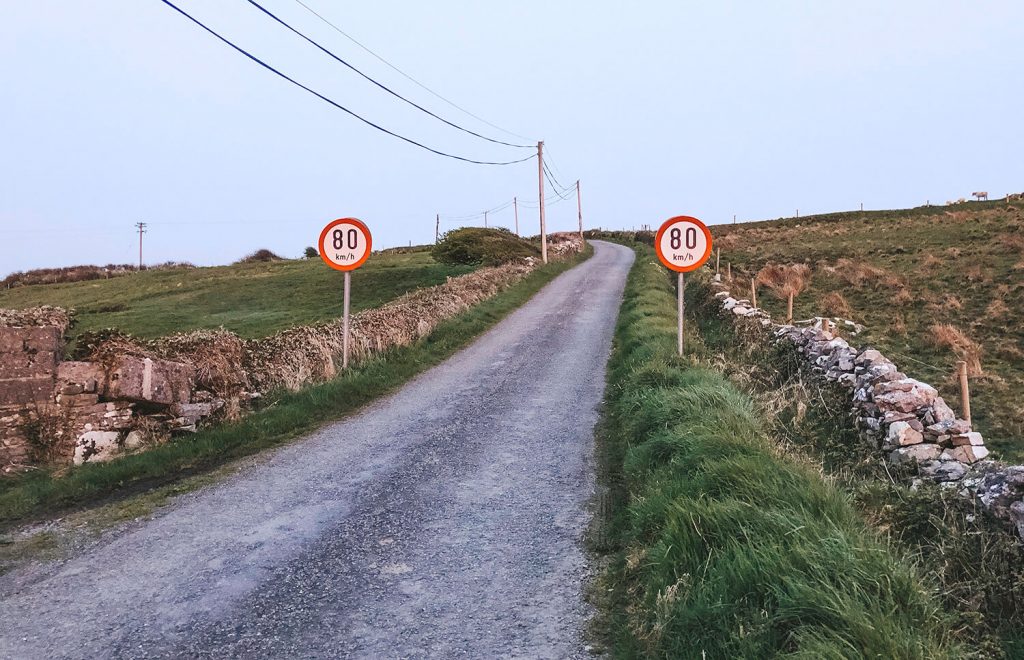 ---
So there you have it; our 10 commandments for driving in Ireland :-). If you're not so keen on discovering the narrow Irish roads yourself, here are a few nice tours you can take:
Psssst,- this post contains affiliate links, which means we earn a commission (at no extra cost to you) if you purchase from them.
---
Got another rule to add to our collection? Hit us up in the comments below!

Love it? Pin it!