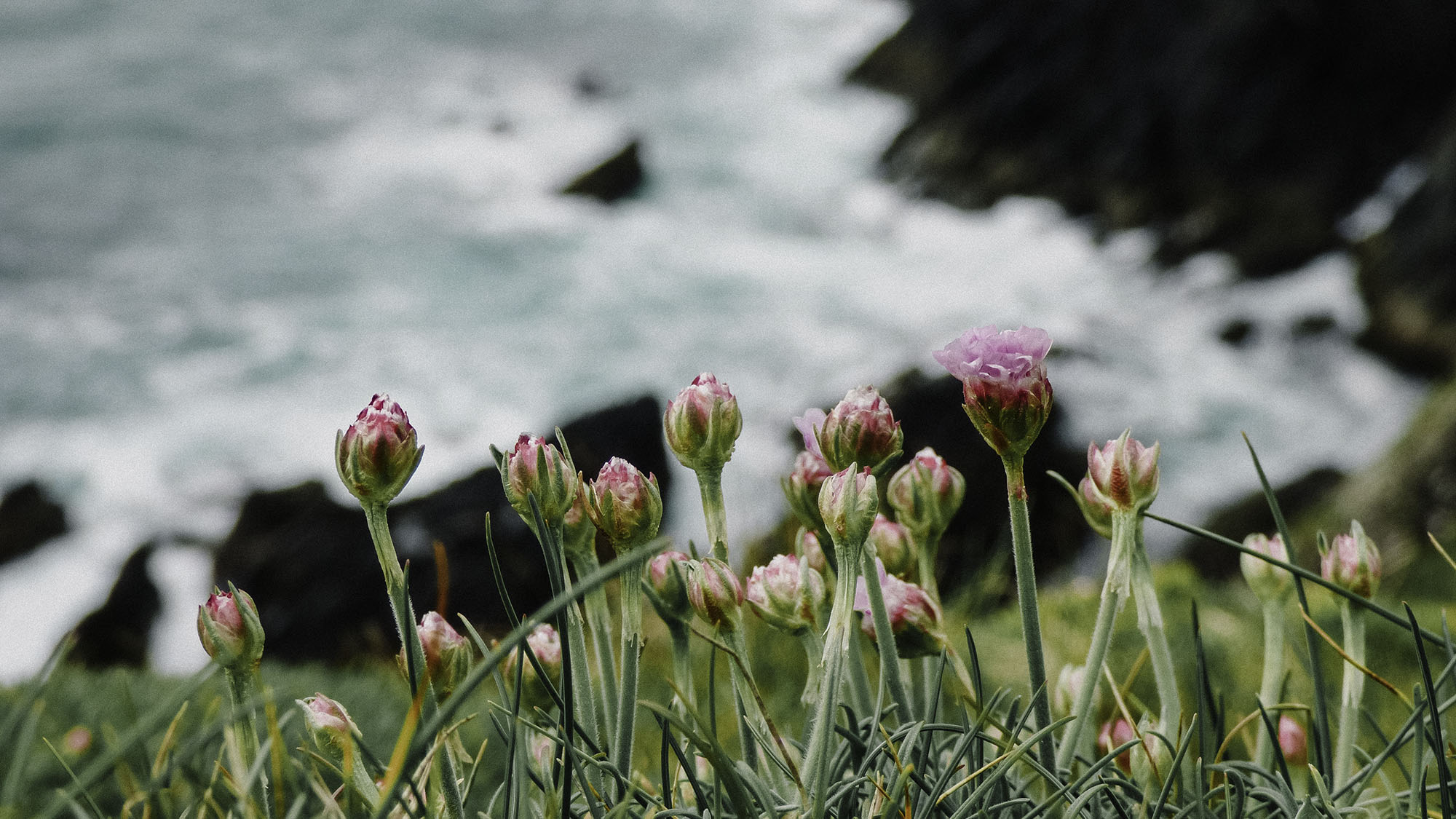 This post has been updated in May 2021.
The bar was set pretty high for this road trip around Ireland. First of all, we just visited Scotland the year before and this turned out to be an epic road trip. How were we to top this? Secondly, we set ourselves the ambitious goal of discovering Ireland's highlights in only 7 days. Crazy? I guess so. But it turned out to be another smashing European road trip, just the way we like it!
Hold on for our 7 day Ireland itinerary, so we can take you through the best of Ireland and how to see it in one week!
---
There is a really good chance that this post contains affiliate links. If you click one of them, we may receive a small commission at no extra cost to you.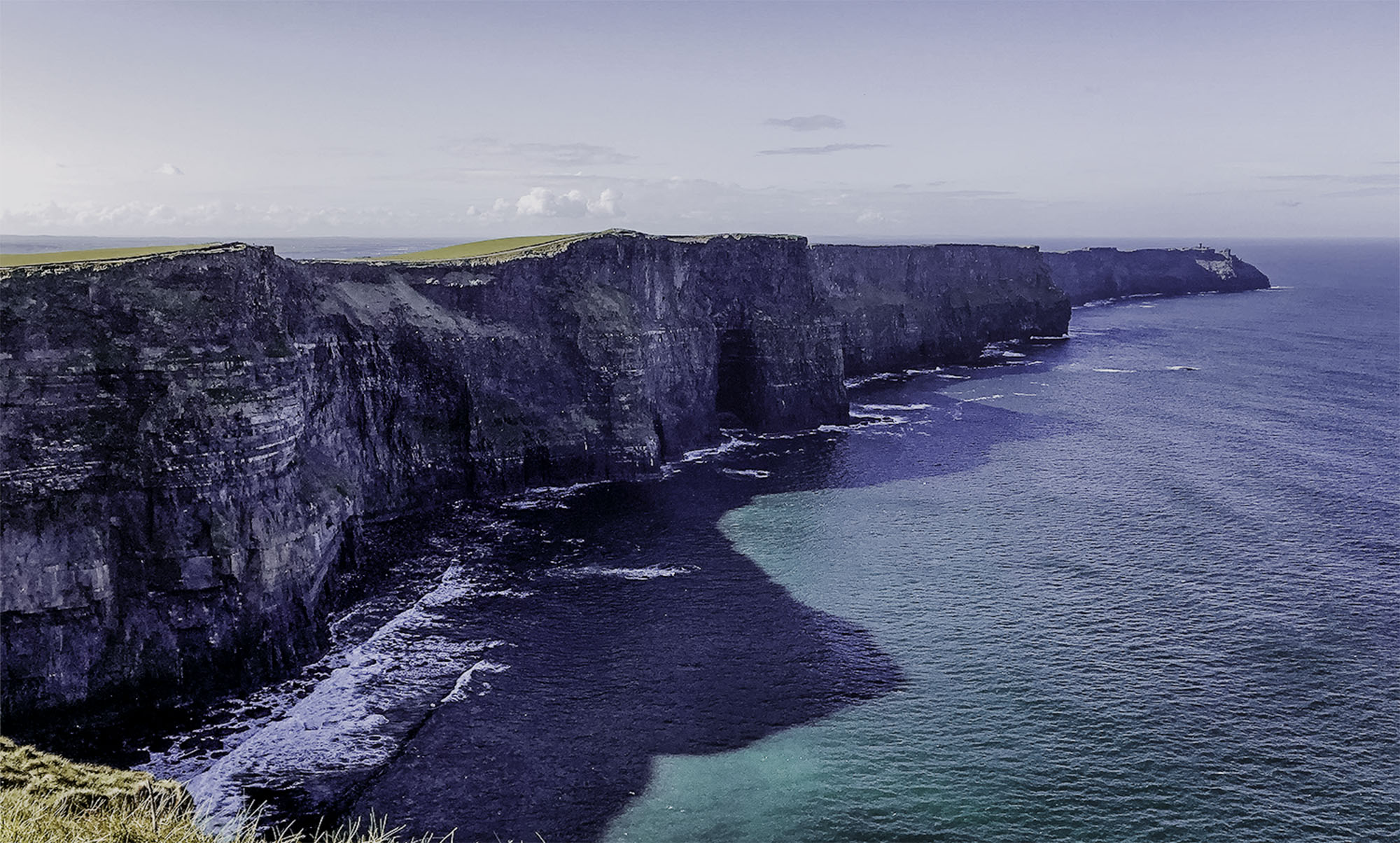 ---
Why go on a road trip through Ireland in 7 days?
#1: Immerse yourself in Ireland's lush green hills
Think of Ireland and imagine fifty shades of green, rugged cliffs and golden pints. Due to the extremely changeable and wet Irish weather, Ireland caters more to travelers with a flexible mindset, but you know what, that rainfall makes Ireland darn gorgeous! Many of Ireland's natural wonders thus bathe in unspoilt surroundings, making it paradise for nature lovers.
#2: Get acquainted with Ireland's traditional music at local pubs
Ireland also has a music tradition that's still alive and kicking! Anywhere you go, traditional music will be played in pubs. And we're not talking about staged "riverdances", we're talking about the real, hand-made stuff!
#3: Experience two countries and cultures in one
When following our 7 day Ireland road trip itinerary you get to visit two countries in one! Up till a few years ago, Northern-Ireland might not have ranked high as a holiday destionation but nowadays Northern-Ireland's coast has become famous by showcasing its incredible scenery on Game Of Thrones.
#4: Tap into your family ancestry
If you're from the USA, Canada or Australia, chances are you have some Irish ancestors. In that case, explore your roots and definitely try our Ireland 7 day itinerary to the "Auld Country"! The charming coastal town of Cobh in Southern Ireland might be last the place your ancestors set foot on Irish soil before embarking to other parts of the world. Did you know Cobh was the last port of call of the Titanic before it started its fatal journey?
#5: Getting to and around Ireland is a breeze
Ireland is super easy to get to and go around! Both major and budget airlines cater to Dublin and Belfast Airport and a plethora of reasonably priced car rental options are at your disposal. When following our 10 commandments, driving in Ireland will become a breeze!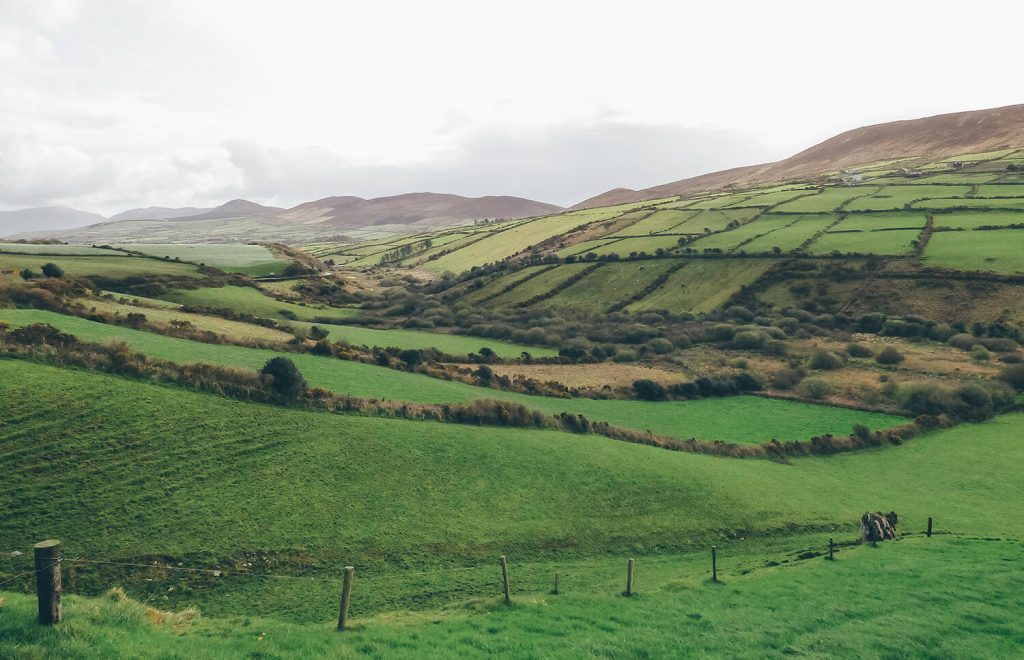 ---
7 day Ireland itinerary: our road trip route
Just like always, a limited time frame means making choices. The first choice we made was to skip Dublin altogether and only focus on what Ireland is famous for: it's green rolling hills and spectacular cliffs. From Europe we could easy do Dublin on a shorter city break in the future if we wish to. Meaning this Ireland road trip itinerary is purely focussed on its incredible nature!
Our 7 days in Ireland itinerary focusses on the Island's West Coast and North Coast; giving specific attention to scenic coastal drives and highlights such as the Cliffs of Moher and the Giant Causeway. You can check out our full one week Ireland itinerary through the map below!

Ireland
Day 1: Cobh and Blarney Castle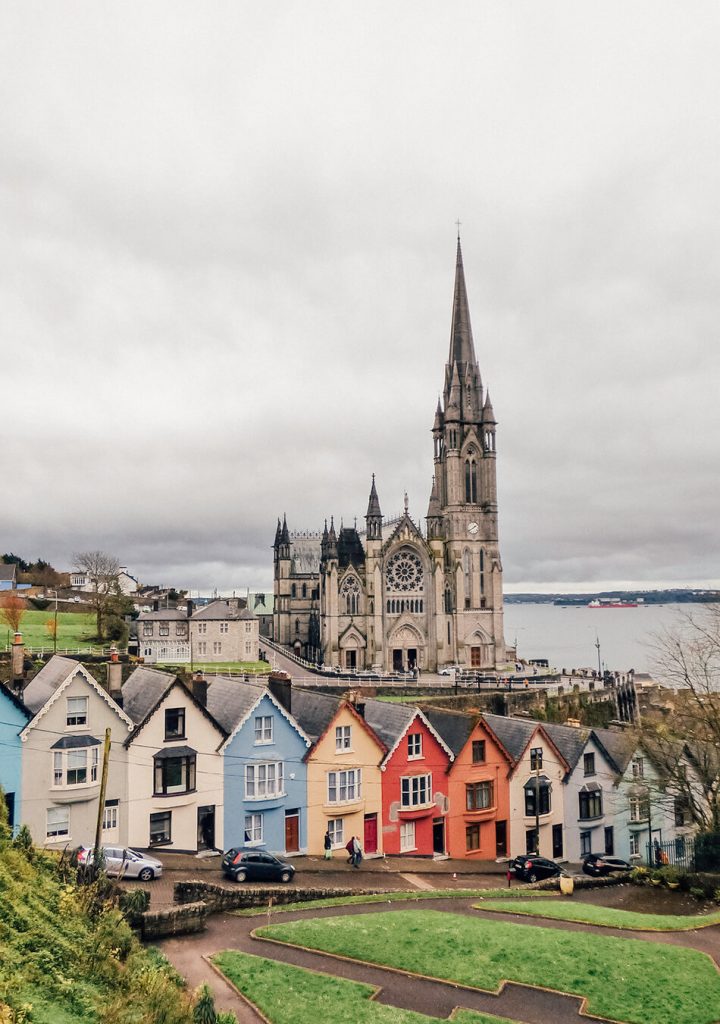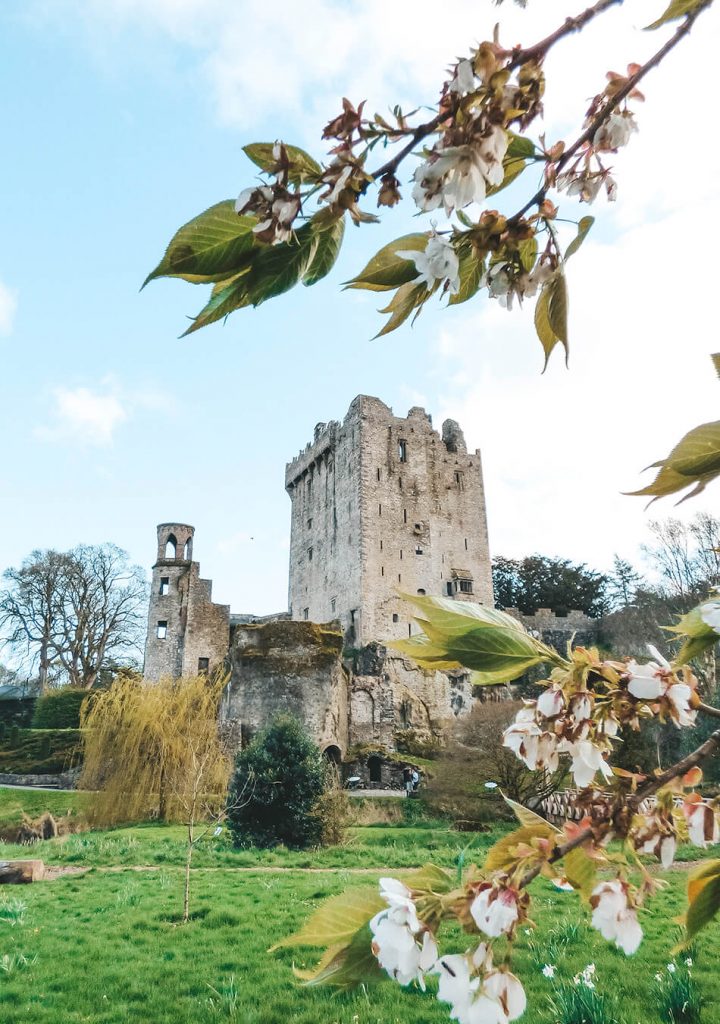 Welcome to the land of green patchwork hills, castles and rugged cliffs! In true Irish fashion we drove all the way from Dublin to the fishing town Cobh in the pouring rain, our first stop along our 7 day Ireland itinerary.
Cobh is an absolutely charming colourful seaport town. While it is most commonly known for its history with the Titanic, we fell in love with it because of its beautiful coloured houses. For some reason it felt like being in San Francisco, though a tad colder 😉
KEEP READING: A DAY TRIP TO COBH AND BLARNEY CASTLE
You probably thought you were going to kickstart this Ireland itinerary Dublin right? Well, we've debated this option for quite some time but decided we wanted to focus on Ireland's beautiful tiny towns and nature, in order to reconnect with the hectic city pace on our travels. We arrived late the previous day at Dublin Airport and spend the night at an airport hotel, close to the rental car pickup and ready to start our day early today!
We absolutely fell in love with Cobh. Its charm, quaint streets and history make it a very appealing stop in Southern Ireland. After lunch we continued to Blarney Castle, famous for the Blarney Stone which will bestow you with eloquence when kissing it. The castle itself and the garden are beautiful but I wouldn't recommend you standing in line to kiss the stone ;-).
From/to: Dublin - Cork

Driving time: 4h / 320 km (incl. stops in Cobh and Blarney Castle)

Public transportation:
- Take bus 702 destination Charlesland from Dublin Airport to Dublin city center and get off at 3Arena
- Take the Red Line destination Tallaght at The Point and get off at Heuston
- Take the Cork/Mallow train at Heuston and get off at Cork Kent

Recommended accommodation in Cork: Montenotte Hotel or Vienna Woods Hotel
Day 2: Ring of Kerry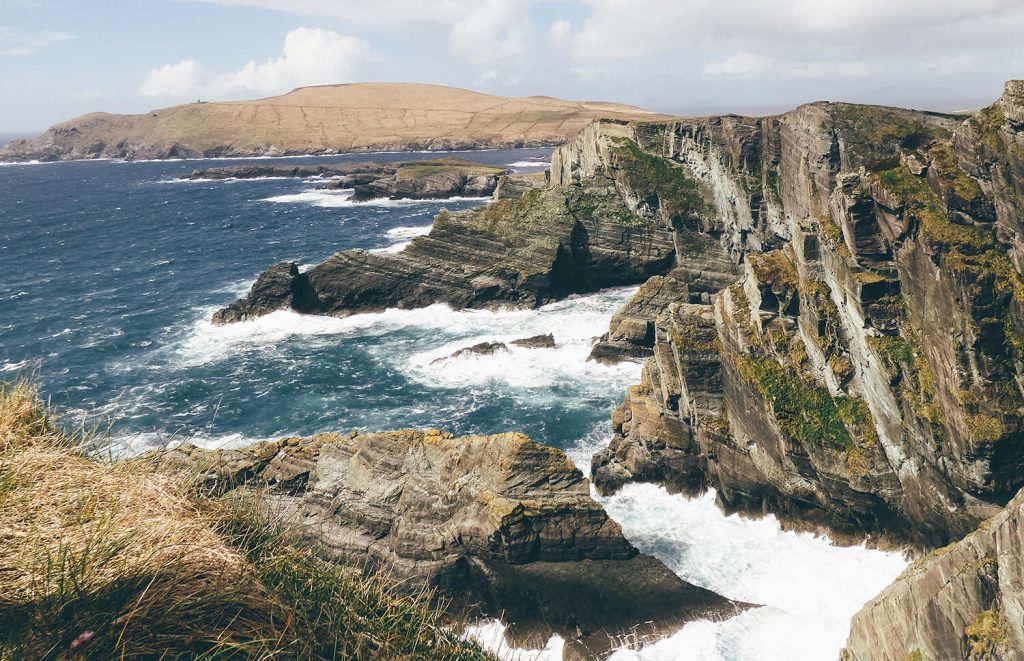 We'd seen pictures of the Ring of Kerry before and people sang its praise throughout the internet but sometimes you only realize what precious thing you've stumbled upon once you're actualy there! The Ring of Kerry is one of these places. We saw spectacular cliffs, romantic beaches and the most adorable houses we've ever seen. It was an excellent day trip and we were dedicated to see the most beautiful spots along the coast!
The drive packs green fields, panoramic lookouts, coastal cliffs, villages, and tons of ancient history. That's one amazing introduction to Ireland's landscapes on this 179km scenic drive. You can check out our Ring of Kerry loop and favorite stops along the way right here!
We dedicated our entire day driving this loop, taking time to take a romantic stroll on the golden beaches and take in Killarney National Park. Even if you're not planning on renting a car for your entire Ireland 7 day itinerary and are doing this Ireland road trip by public transport, this is a tour you cannot miss out on!
From/to: Cork - Kenmare

Driving time: 5h / 300 km (incl. de Ring of Kerry drive)

Public transportation:
- When traveling by public transport, it's more efficient to travel from Cork to Killarney instead of Kenmare
- Take bus 40 towards Tralee and get off in Killarney
- You can either rent a car in Killarney or join a Ring of Kerry tour from Killarney or Cork

Recommended accommodation in Kenmare: Sheen Falls Lodge

Recommended accommodation in Killarney: The Victoria Hotel
Day 3: Dingle Peninsula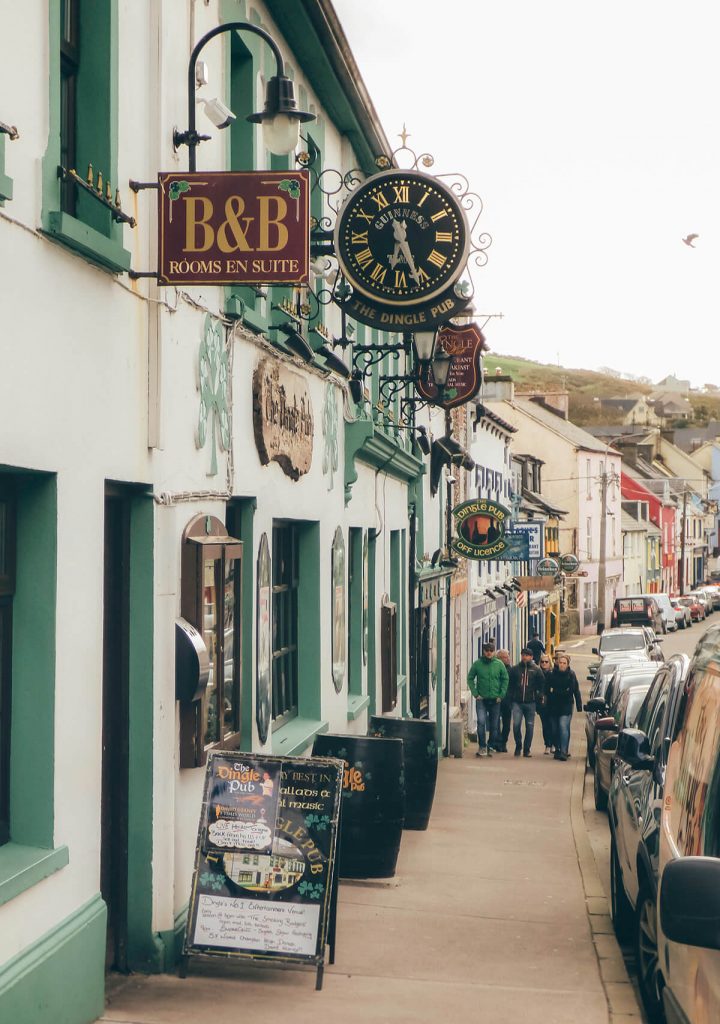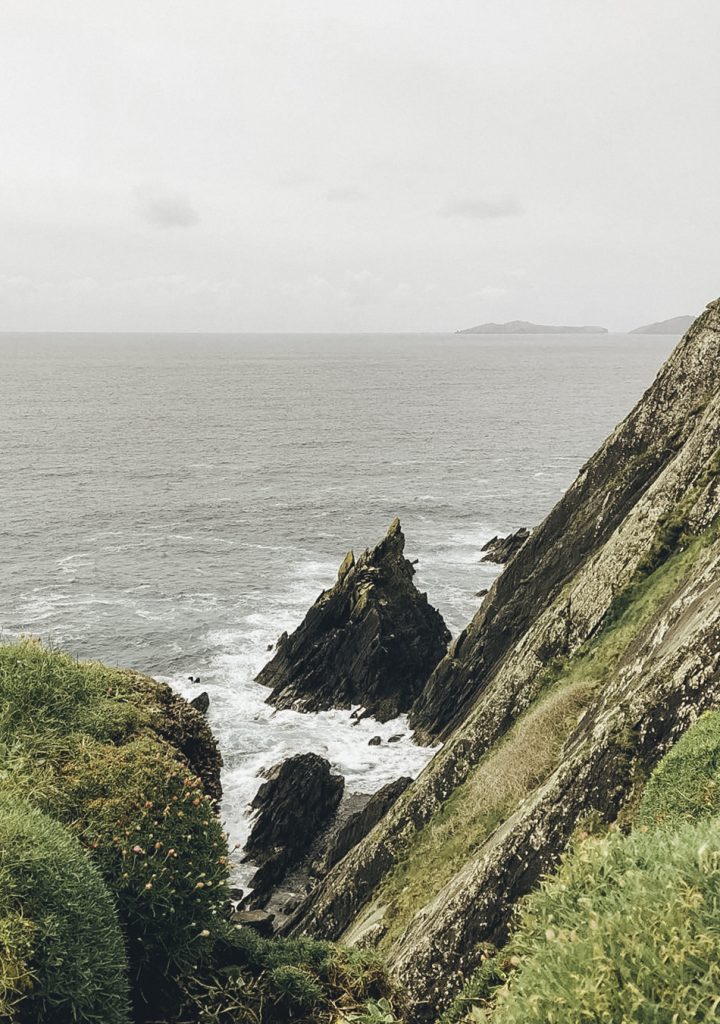 After yesterday's splendour, we never imagined that the Dingle Peninsula could surpass what we've seen on the Ring of Kerry… but we were wrong. On your third day in Ireland, we went to its most Western part - complete with ragged cliffs, patchwork fields and quaint villages.

I have one word for the Dingle Peninsula Drive: WOW! Yes the landscapes were gorgeous but as was its history and quaint villages along the way. We considered the Dingle Peninsula as one of the most stunning spots along the famous Wild Atlantic Way. I think it was the lack of other tourists that made this trip extra unique and memorable. It almost felt like this drive included all of Ireland's beauty into one.
KEEP READING: 7 AMAZING STOPS ALONG THE DINGLE PENINSULA DRIVE
It started with those quintessential green patchwork fields, rolled out before us like a massive quilt made of fifty shades of green. We fell from one color explosion into the next, being treated by the most amazing tones of blue once we drive along the coastline.
The Dingle Peninsula drive took us takes about 3h30 from Kenmare and we took a lunchbreak in the town Dingle before starting a 3hour leg toward Doolin. Yes, it's a long day in the car but the Dingle Peninsula drive is definitely worth it. If you prefer to travel at a slower pace, I would recommend to add a night in beautiful Dingle so you have more time to take it all in and you're refreshed for your drive towards Doolin the next day. I would recommend the Greenmount House in Dingle, absolutely gorgeous!
From/to: Kenmare - Doolin

Driving time: 6h30 / 400 km

Public transportation:
- When traveling by public transport, your best option is to continue from Killarney to Galway
- Take bus 300 destination Dublin Road in Killarney and get off at Arthur's Quay in Limerick
- Take bus 251 destination Galway at Henry St (Hibernian Insurance) in Limerick and get off at Dublin Rd (Dawn Dairies) in Galway

Recommended accommodation in Doolin: Doolin Inn or Fiddle + Bow Hotel

Recommended accommodation in Galway: The Huntsman Inn or Glenlo Abbey Hotel for a unique experience!
Dag 4: Cliffs of Moher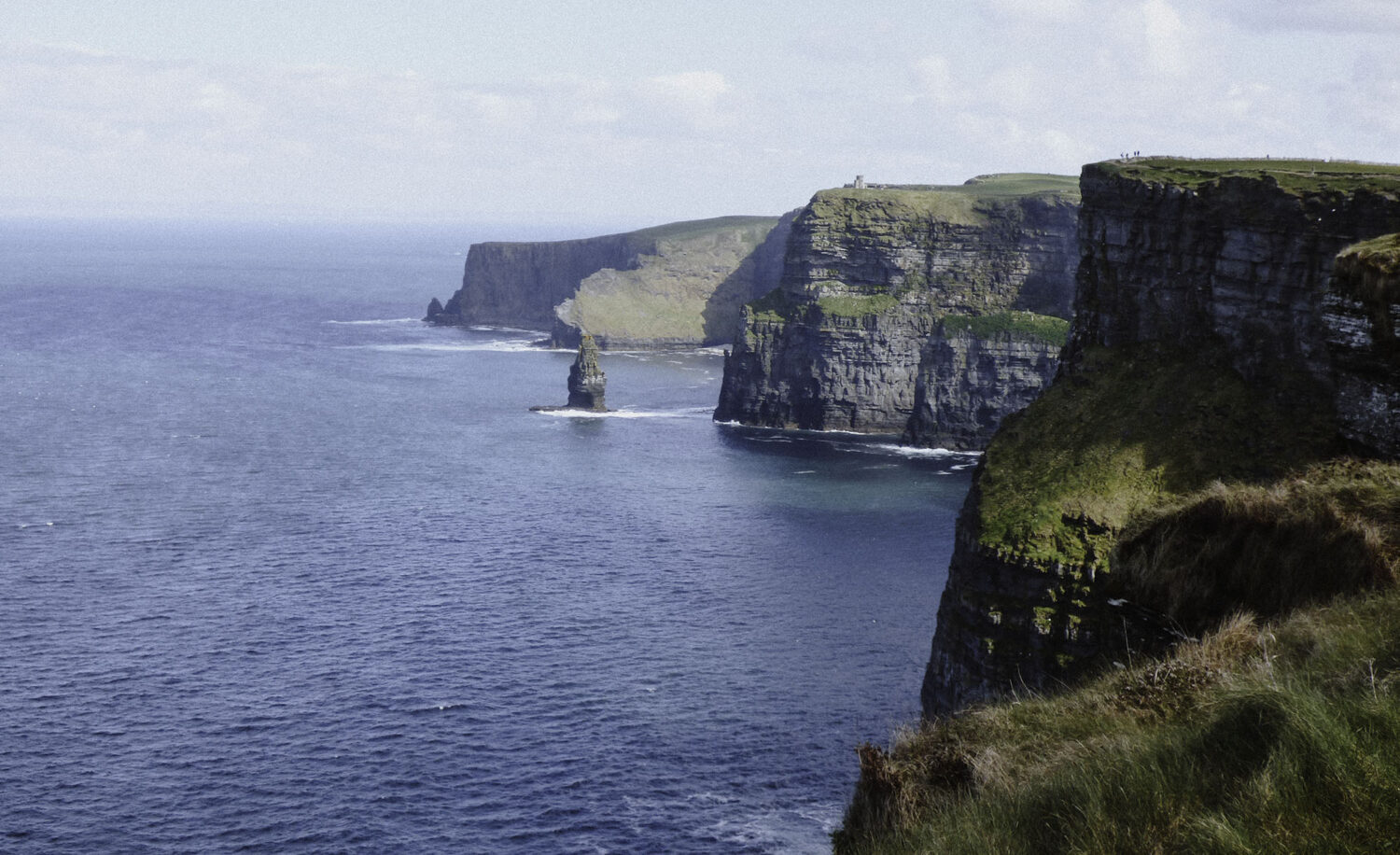 Okay, it's time to visit what's probably the most romantic stop on this 7 day Ireland road trip: the Cliffs of Moher! These enormous cliffs are Ireland's most popular tourist attraction and have won over my heart since I first saw them appear in The Princess Bride. And, despite the growing crowds, they are truly incredible.
We found that we enjoyed the cliffs the most during sunset. You can just pick a beautiful spot and watch the sun go down into the ocean before you. Early morning hikes are also incredibly enjoyable, especially if you prefer to experience the cliffs with as few other visitors as possible. Needless to say we explored the cliffs very early in the morning when almost no one else was around and it was just one of the most romantic moments of our trip! It's also a spectacular day out in nature, you can walk the entire length of the cliffs!
We enjoyed lunch in Doolin at one of the local pubs before we set out for a 2 hour drive towards Ashford Castle. I always wanted to spend the night in a real castle, since we actually didn't visit any castles on our Scotland road trip last year. We spend the rest of the afternoon exploring the castle and exploring its ground and gardens by bike.
From/to: Doolin - Ashford Castle

Driving time: 2h / 140 km

Public transportation:
- When traveling by public transport, I'd recommend to spend another night in Galway and take a day trip from there
- Visiting Ashford Castle by public transport is not an easy feat as it would take 3 busses to get there
- Instead I would recommend to take a tour to Connemara National Park or a trip to the Aran Islands!

Recommended accommodation: The Lodge at Ashford Castle

Recommended accommodation in Galway: The Huntsman Inn or Glenlo Abbey Hotel for a unique experience!
Day 5: Ashford Castle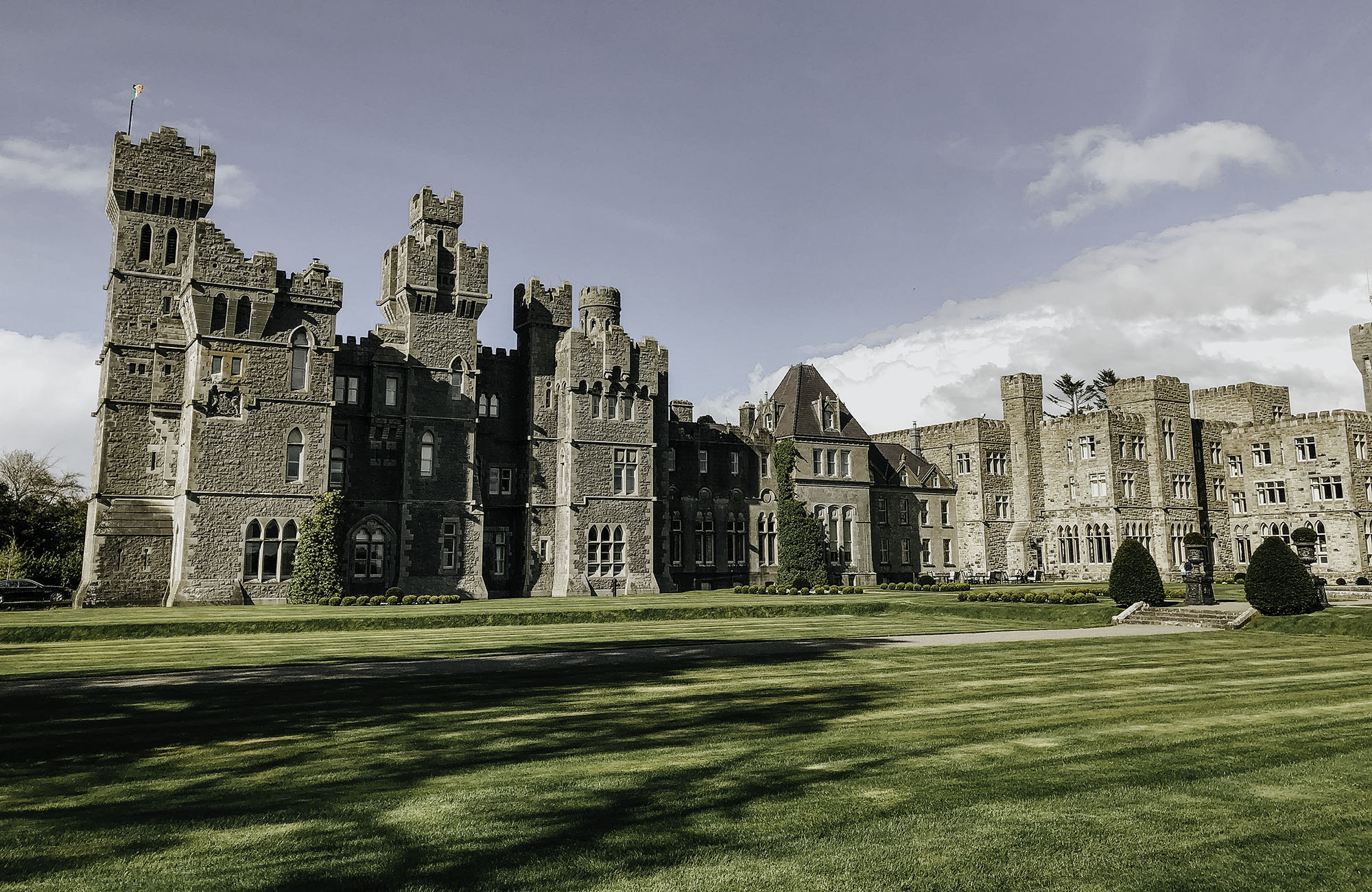 We couldn't go to Ireland and not visit one if its sumptuous castles now could we? After our romantic stop at the Cliffs of Moher we were longing for a romantic stay and chose to explore the dazzling grounds of Ashford Castle. If you got your fill from exploring the castle grounds yesterday, you could take this opportunity to visit gorgeous Connemara National Park.
Our wish to do this Ireland road trip in 7 days made our schedule pretty tight but if I'd do it again, I would definitely add an extra day dedicated to Connemara. Hiking Diamond Hill to take in the amazing views, visit some of the Connemara beaches for a romantic stroll or oyster tasting, take a boat trip to Inishbofin Island to have a taste of Irish island life and enjoy the beautiful scenery on foot, take in Inagh Valley and soak up some culture at Kylemore Abbey or Clifden Castle. Plenty of things to do in the Connemara area! When traveling by public transport, you can arrange transportation to the park, including lunch, for some self-guided hiking right here.
From/to: Ashford Castle - Bushmills

Driving time: 4h30 / 320 km

Public transportation:
- Getting to Northern Ireland from Galway will almost always need a stopover in Dublin
- Your best option is to close the circle and travel from Galway to Dublin
- You could take this moment to add a few days in Dublin in your itinerary
- Take a trip from Dublin to Belfast (2h) and take tours from there

Recommended accommodation Bushmills: Bushmills Inn

Recommended accommodation Belfast: The Warren Belfast
Day 6: Giant's Causeway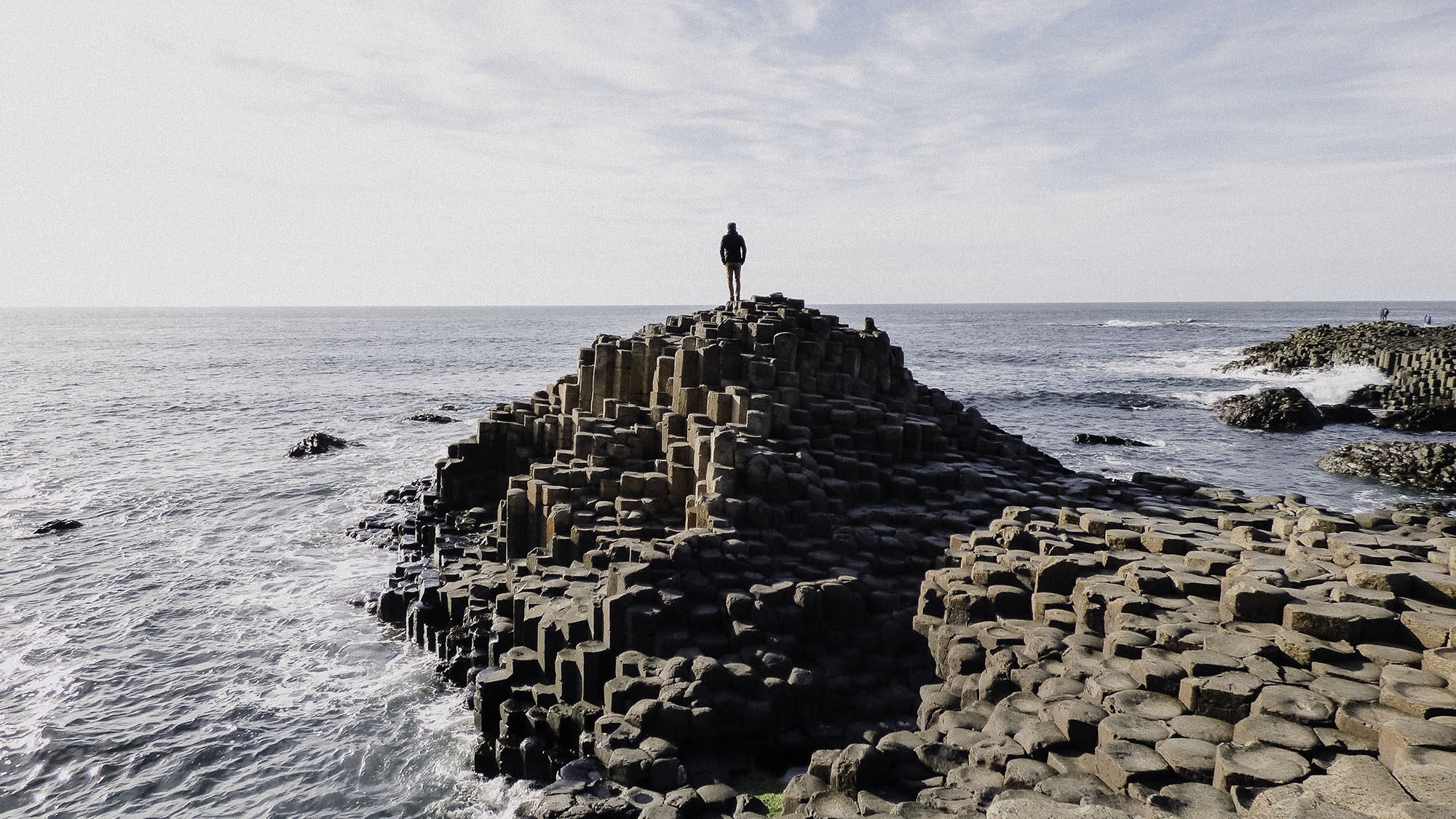 Seeing Ireland in 7 days could simply not happen without adding one of the major attractions: the Giant's Causeway. But when planning our trip, we slightly lost track of the fact that the Giant's Causeway was actually located in another country. Part of Northern Ireland, it's actually located in the United Kingdom.
Crossing the border is easy peasy. Besides crossing a white painted line on the tarmac and roadsigns switching from kilometers per hours to miles per hour, there really isn't much to it. We decided to spend the last three days of this Ireland road trip in Northern-Ireland to explore its fantastic coastline. A long drive from Ashford Castle brought us all the way to the Giant's Causeway yesterday, in the far north of the Emerald Isle.
We already took a quick sunset look at the Giant's Causeway yesterday eve but dedicated the entire morning to hiking and exploring this part of the Irish coastline. Did you know you can enter the Giant's Cause for free by entering from the tunnel entrance on your right hand side? If you follow the main entrance you're actually paying for the visitor's center. Since we weren focussed on the outdoors we decided to skip it and were able to see the Giant's Causeway for free!
The afternoon was dedicated to driving to and visiting the Carrick-a-Rede Rope Bridge. There are some beautiful opportunities for hiking nearby so definitely take advantage of this if you love scenery and the wind in your hair!
Driving time: 2h30 / 100 km

Recommended accommodation: Bushmills Inn

Recommended accommodation Belfast: The Warren Belfast
KEEP READING: OUR 3 DAY NORTHERN IRELAND ITINERARY
Day 7: Game of Thrones filming locations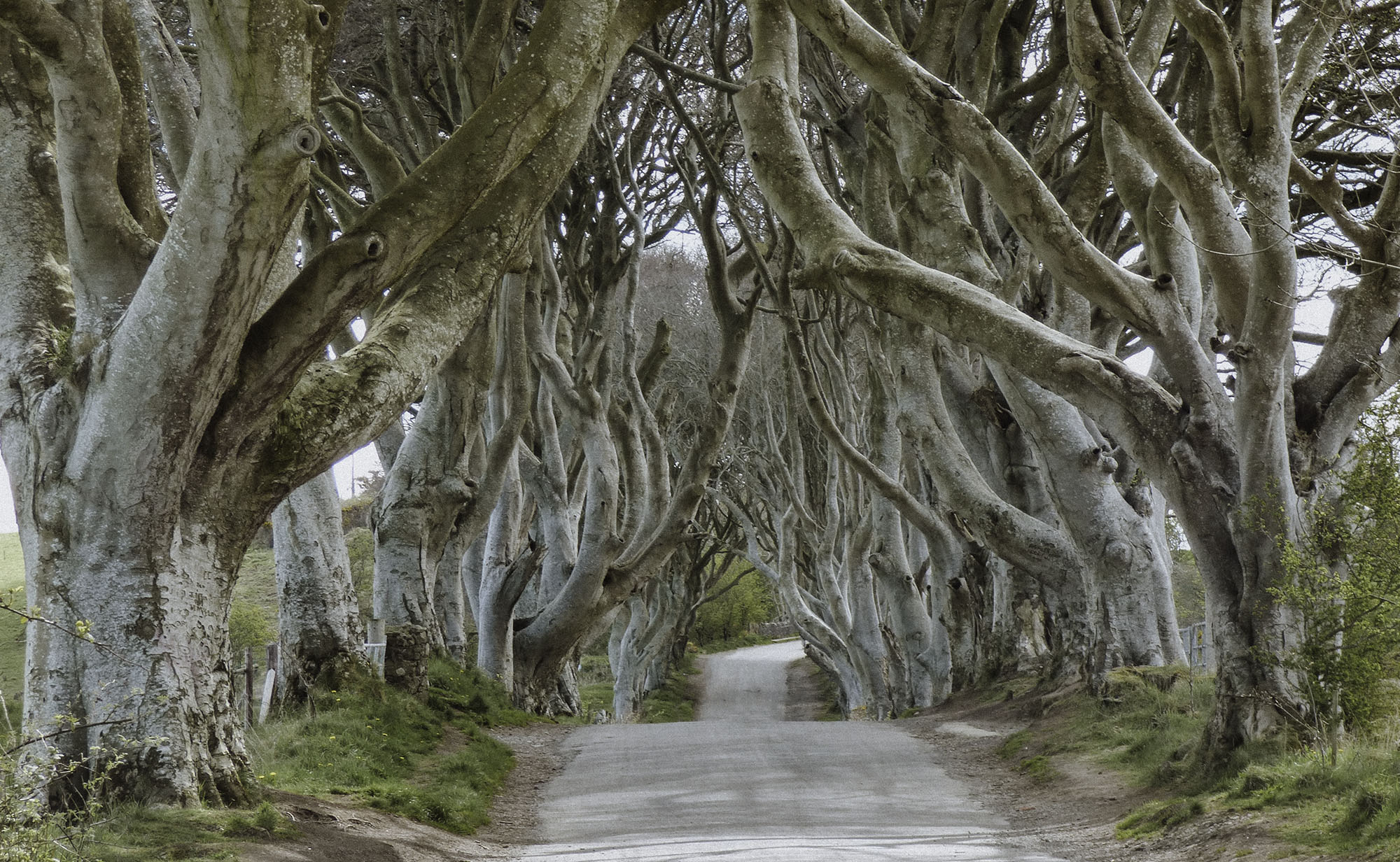 Okay, Northern Ireland is a cornucopia of Game of Thrones filming locations! It's incredible how many interesting film sites are located mere minutes from each other. If you're a massive GoT fan, you'll want to bring props for the ultimate photo ops 😉 Not a fan? Don't worry, the scenery in itself is sublime! You don't need to follow the series in order to appreciate the beauty of Northern Ireland.
When creating our itinerary, we could not see Ireland in 7 days without including the Northern Ireland main attractions. So in the end we spended 3 days exploring most of the Northern Ireland coastline. You can check out our Northern Ireland route right here if you're interested.
In a way, our itinerary included plenty of highlights but the ending of our 7 days in Ireland was among the best. Even though it doesn't have the incredible cliffs as you can find on Ireland's West Atlantic Way, it proved to be very diverse and since most of them don't have massive distances between them, it made for a relaxed scenic drive to end our Ireland itinerary in 7 days.
As you might have read at the beginning of this post, we chose to make this a road trip focussed on nature and small villages so we intend to skip Dublin altogether. We ended our trip in a hotel close to Dublin Airport so we could hop on our very early flight home the next day. If you want to include Dublin in your Ireland itinerary, I would suggest you do it at the end. You drop off your car at Dublin Airport and take a transfer to your hotel in the city center. That way you're not stuck with your car in the city, paying for it while you're not actually using it.
From/to: Bushmills - Dublin

Driving time: 4h / 400 km

Public transportation:
- Take the bus back from Belfast to Dublin (2h)

Recommended accommodation Dublin airport: Maldron Hotel Dublin Airport or Radisson BLU Hotel Dublin Airport
---
Ireland road trip itinerary map
When creating this itinerary for Ireland in 7 days, we were challenged with the difficulty to pack a lot of highlights in a limited timeframe. You can find our complete route in this Ireland road trip itinerary map below.
---
Ireland itinerary by public transport
The above detailed itinerary provides suggestions if you're traveling by public transport. The major hubs in Ireland are easily accessible by train or bus the more remote locations can prove to be difficult. If you've ever looked up information about driving in Ireland, you might have figured out that the some roads can be very narrow one-way streets and not as frequently serviced by public transport. When this is the case, I offered some proposals of organized tours that cater to the major sights.
Since you'll be dependent on the public transport schedules, it's probably best to extend it to a 10 day Ireland itinerary instead so you'll have sufficient time on location to enjoy the sight. Your Ireland by public transport itinerary might look something like this:
Day 1: travel from Dublin to Cork
Day 2: day trip to Cobh and Blarney Castle from Cork
Day 3: travel from Cork to Killarney and explore Killarney National Park in the afternoon
Day 4: join a tour to the Ring of Kerry
Day 5: travel from Killarney to Galway and explore Galway in the afternoon
Day 6: join a tour from Galway to the Cliffs of Moher
Day 7: travel from Galway to Dublin and spend the afternoon exploring Dublin
Day 8: spend the morning exploring Dublin, travel from Dublin to Belfast in the afternoon
Day 9: join a tour from Belfast to the Giant's Causeway and Game of Throne filming locations
Day 10: explore Belfast in the morning, travel back to Dublin in the afternoon
---
PIN ME FOR LATER!