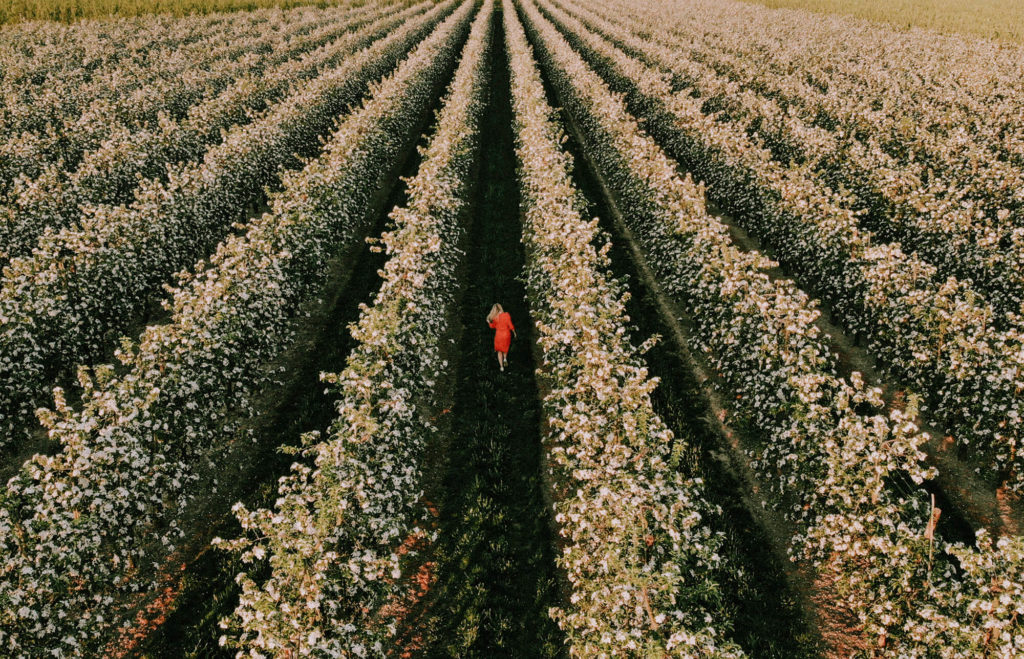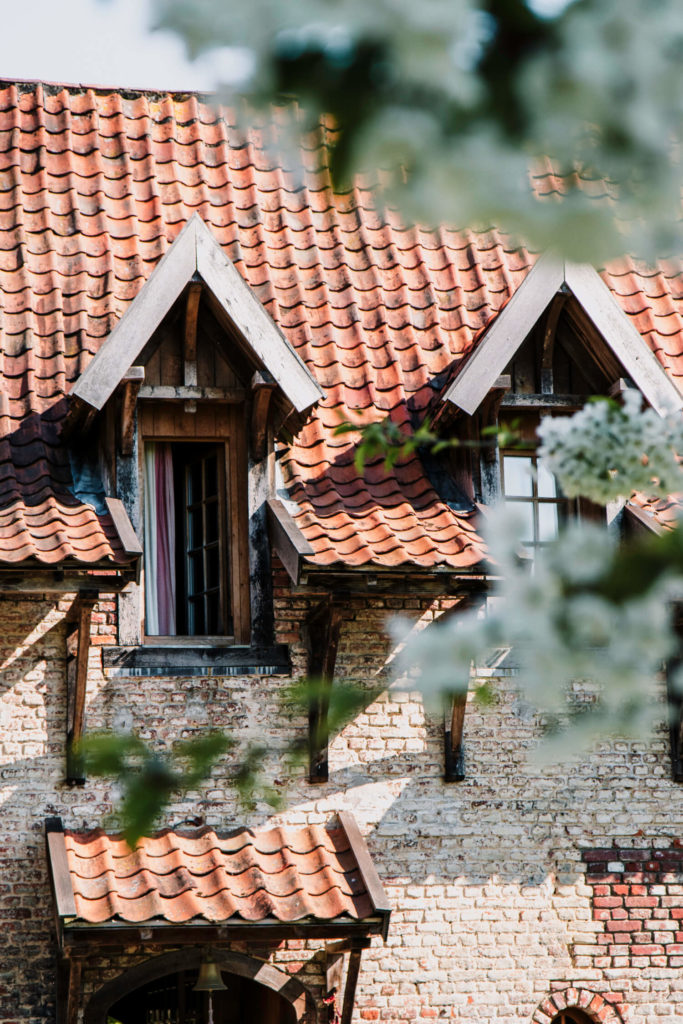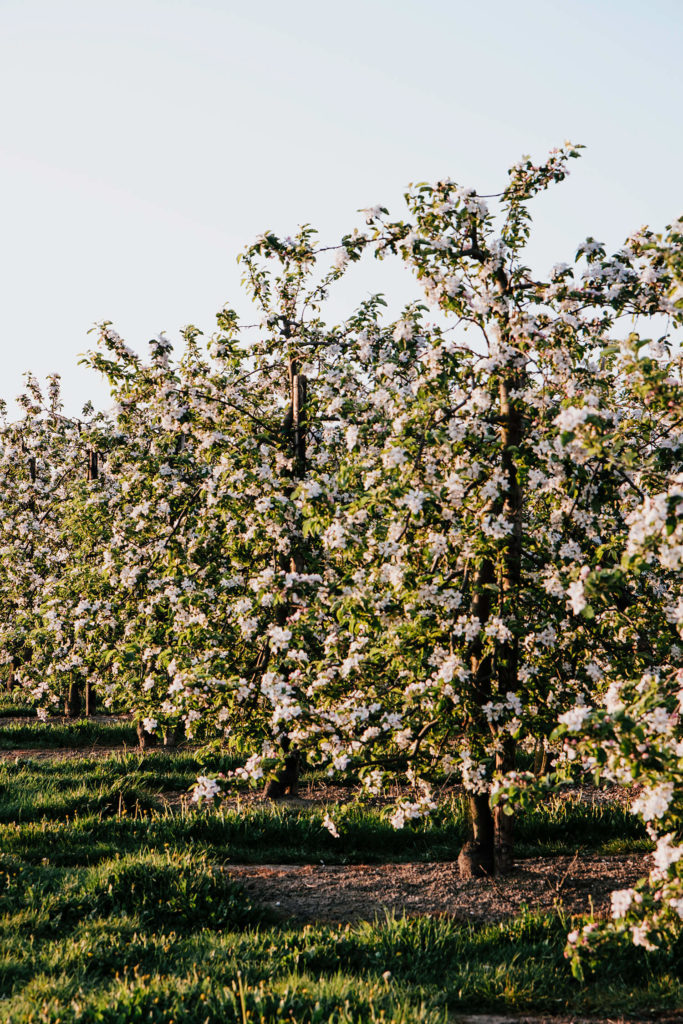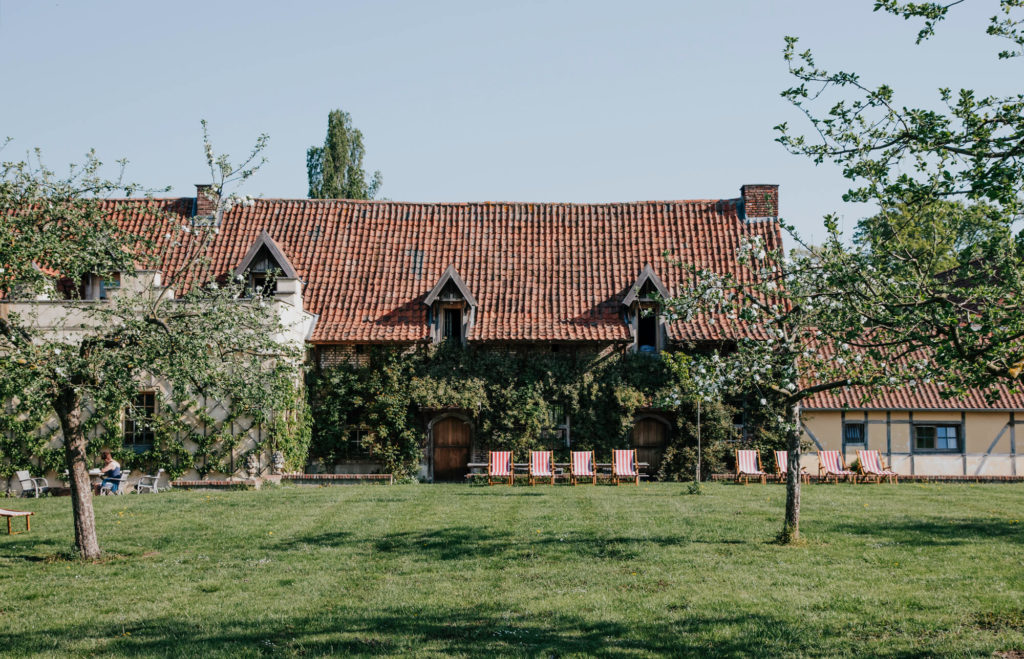 Psssst, this post contains affiliate links. If you click one of them, we may receive a small commission at no extra cost to you.
---
The perfect weekend apple blossom spotting along the Haspengouw Bloesemroute
---
When you ask anyone that's been to
Belgium
, the fruity region of Haspengouw -tucked away in the Limburg province– will hardly make it as a conversation starter. While popular among us Belgians, it's been a well-kept secret for anyone outside our little kingdom. So maybe it's time to let you in on the fun?
---
- How we spend a weekend chasing apple blossoms in Haspengouw -
Brussels, fries, diamonds, chocolate, beer: for such a small country, Belgium sure does pack a punch. But blossoms? Not something Belgium is internationally acclaimed for. Yet Haspengouw, Belgium is considered the largest fruit region of Western Europe, exporting over 300.000 tons of pears each year. Meaning lots of fruit trees and blossoms! Making it one of the most beautiful places in Belgium, actually.
Haspengouw beckoned us, its promise of fragrant walks among those blossoming fruit trees inviting us to discover its beauty. Our curiosity was majorly piqued!
Belgium travel tips
First and foremost, let's talk about traveling in Belgium. Belgium has the densest trail network in the world. So thank you Belgium for making it easy to travel around by local transport.
Haspengouw is easily reached through gateway cities like Sint-Truiden or Tongeren, both among the best cities in Belgium to visit by the way. But to appreciate Haspengouw at its best, you best
get yourself a rental car
and some bikes to explore the countryside and its quaint villages at your leisure. The entire Limburg province isn't just gobsmacking gorgeous, it also has an exquisite cycling network connected by numeric knots that allows you to customize your own cycling route! This definitely makes Haspengouw one of the best places to visit in Belgium if you're into cycling. Go and bike the blossoms along our Haspengouw Bloesemroute.
Travel Tip:
for those who like an active weekend trip, Haspengouw and by extension Limburg is a true paradise on earth. Bonus:
electric bikes
are easily rentable which makes cycling a breeze! E-bikes are available as from 25€ per day per bike.
Cycling in blooming Haspengouw
This trip reminded us of why we love getting an early start of the day. After checking into our
castle farmhouse B&B
the night before, the fresh morning dew and mooing cows lured us outside and into nature. The cycling paths and orchards were empty and quiet, making room for us to witness the beginning of juicy cherries, pears and apples.
The scarce few birds our only companions at that time of day, happily chirping away while the first sunbeams touch their feathers. The first light announces the start of the day and dips the blossoming apple orchard into its golden glow. For a moment, we found ourselves in our own garden of Eden!
Long walks under a canopy of flowers are great, but long bike rides might be even better. That morning bike ride felt so refreshing, like hitting a refresh button for our bodies and minds. There's nothing quite like the feeling Kristof and I get reconnecting with the outdoors. We were fully energized for a full day of discovering Haspengouw!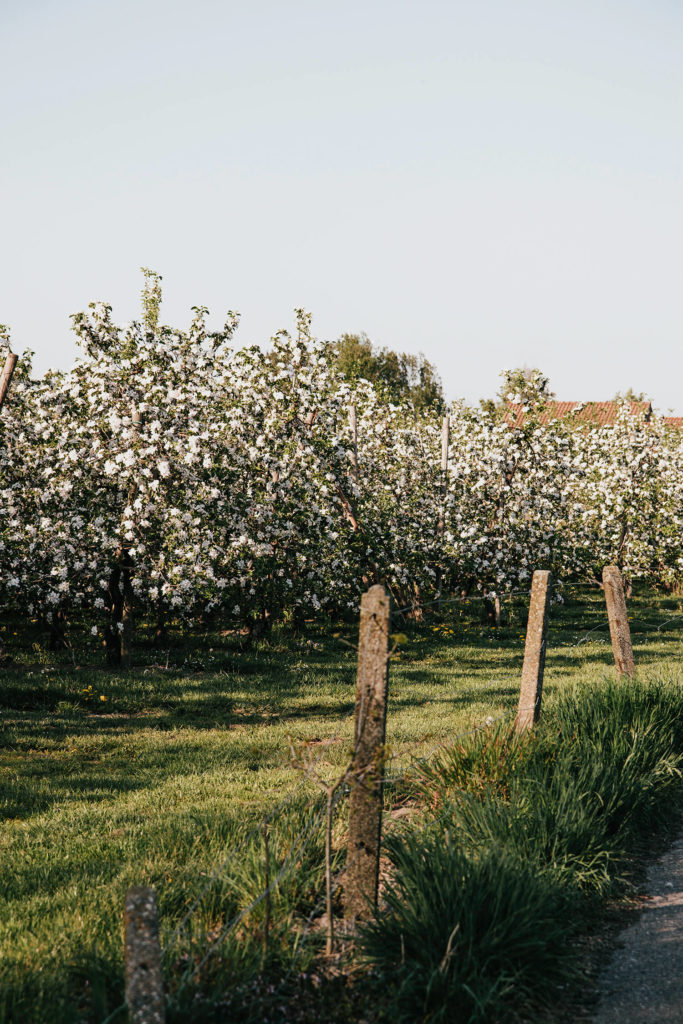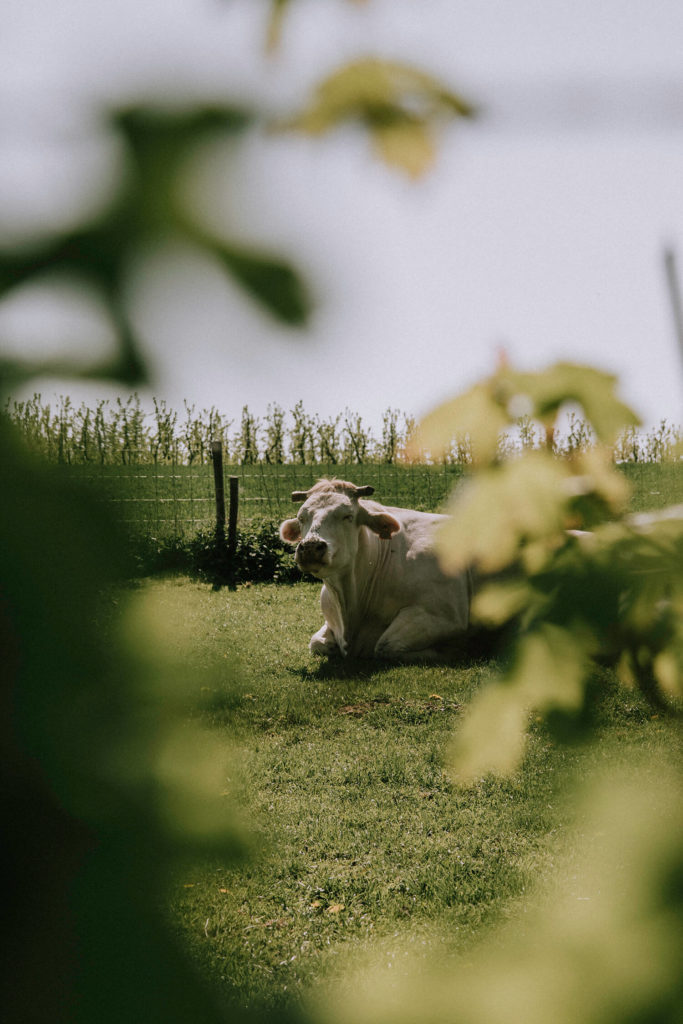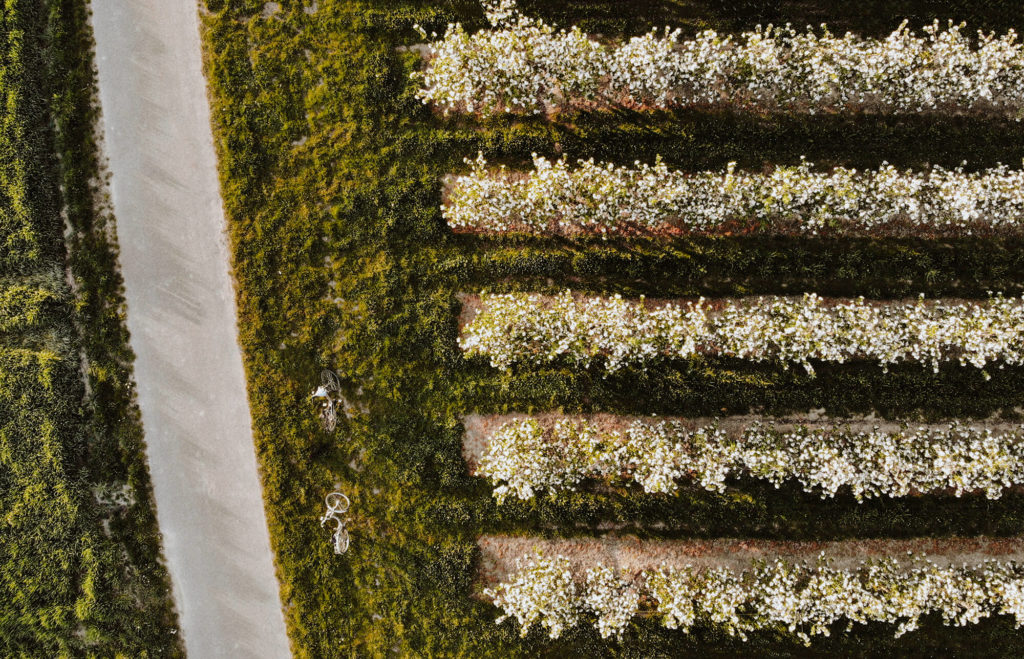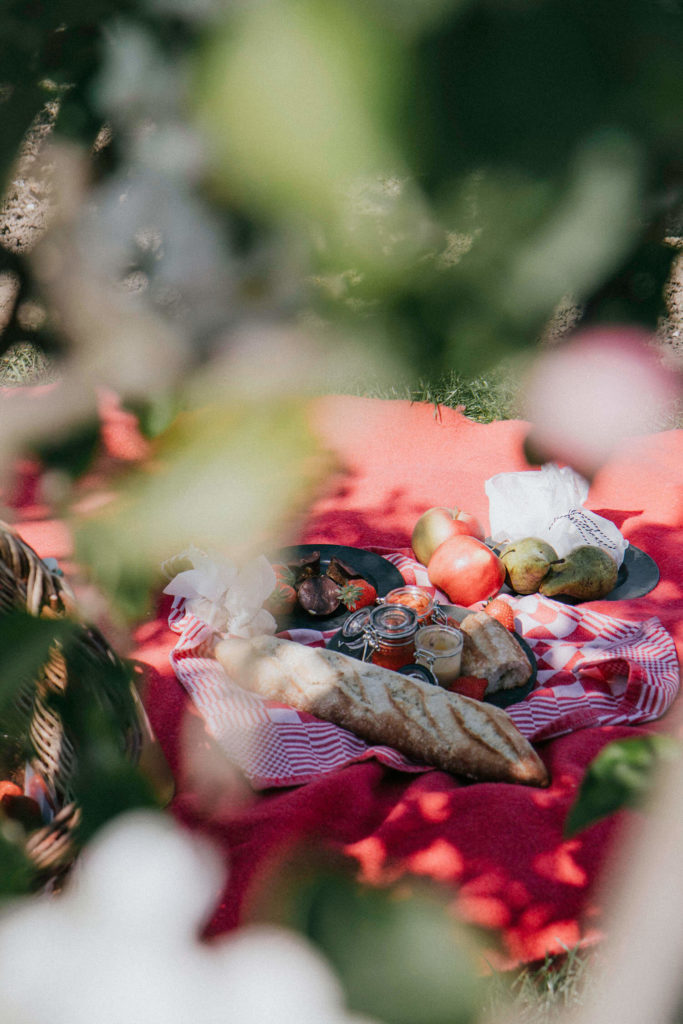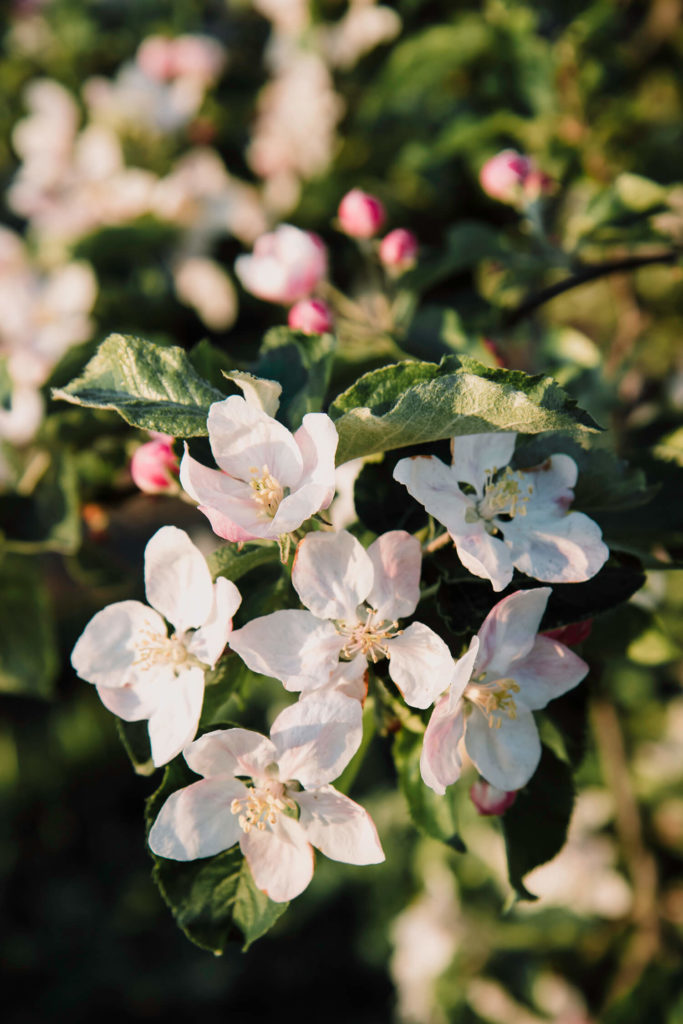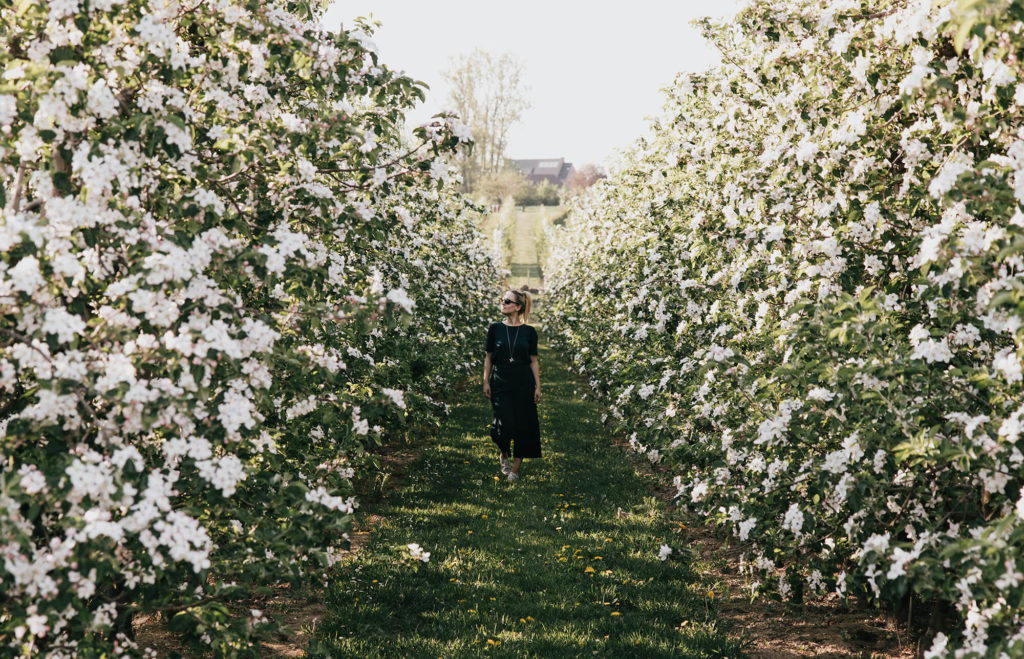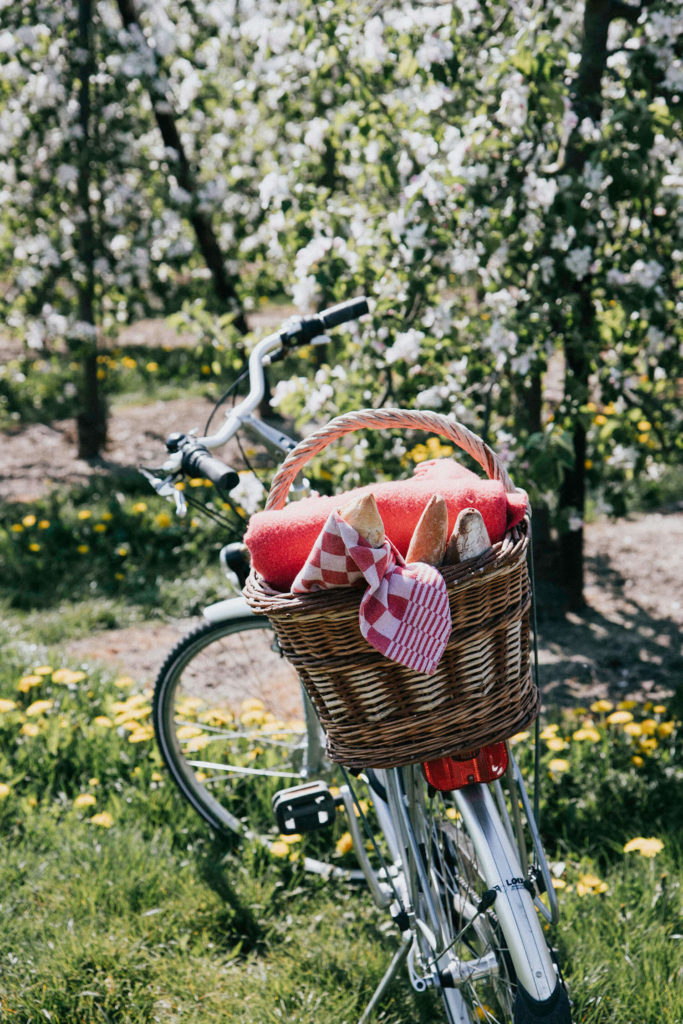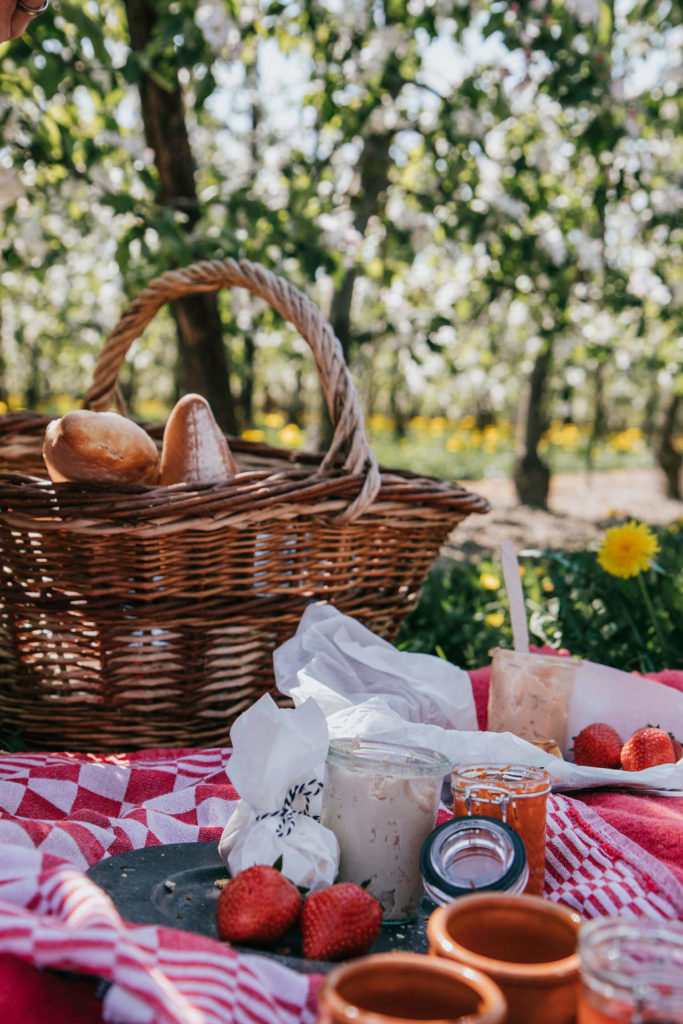 Picnicking under a canopy of apple blossoms
You may have already guessed this, but the epitome of romance must be enjoying a gluttonous picnic in a sea of flowers, right? Blossom dating anyone? (or is that just me?) The sunrays kept playing a shadowgame between the leaves, blossoms and branches of the apple trees and it seemed increasingly tempting to take a rest and replenish our energy levels.
While unpacking our opulent
picnic basket
-provided by
our lovely hosts
of the weekend-, we were only getting more excited about being here. How amazing is it to just unpack a picnic while sheltering from the sun under a canopy of white and pink flowers, in the rural Belgian countryside?! The scent of the blossoms and all the freshly made yummie goods made my tastebuds dance of excitement! Haspengouw blossoms, definitely the best blossoms in the world when they support you in getting an appetite.
After we've dived into our metaphorical pool of chocolate covered strawberries and champaign, we dusted off our crumbs and continued our route. Flower paradise is waiting!
Travel Tip:
Pssssst...
Want to arrange your own picnic? While staying at
Kasteelhoeve De Kerckhem
you can ask the lady of the house to prepare a packed lunch and tuck it into your picnic basket or ask
(we fell in love with this one!)
the Borgloon Tourism Office to prepare you one. You can contact them on toerisme@borgloon.be. You need to make reservations 3 days beforehand and it costs 9,00€ per person.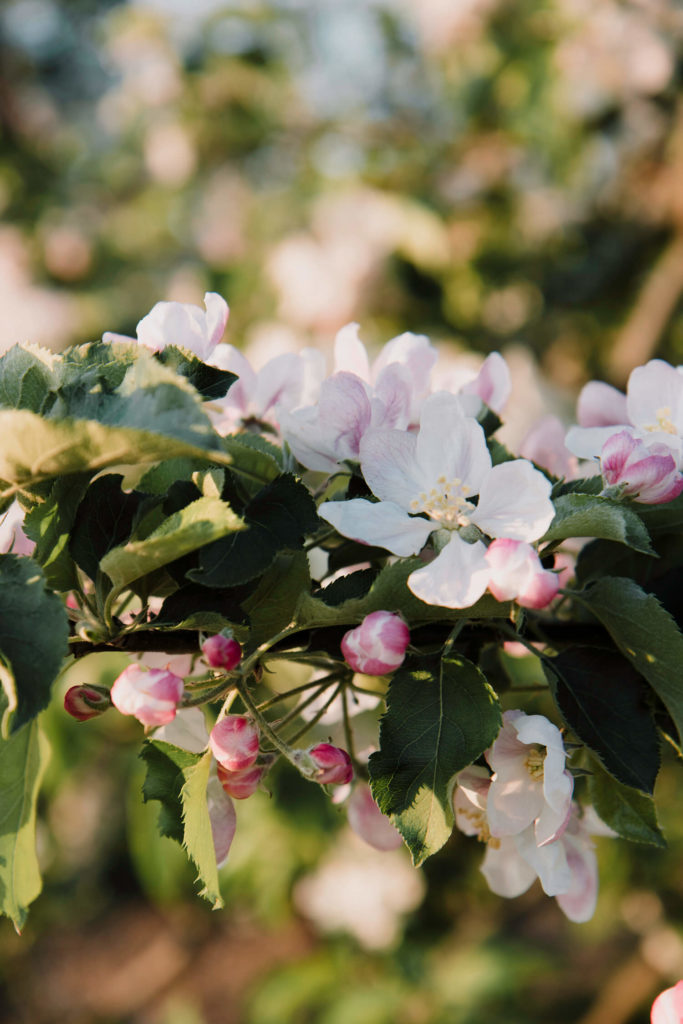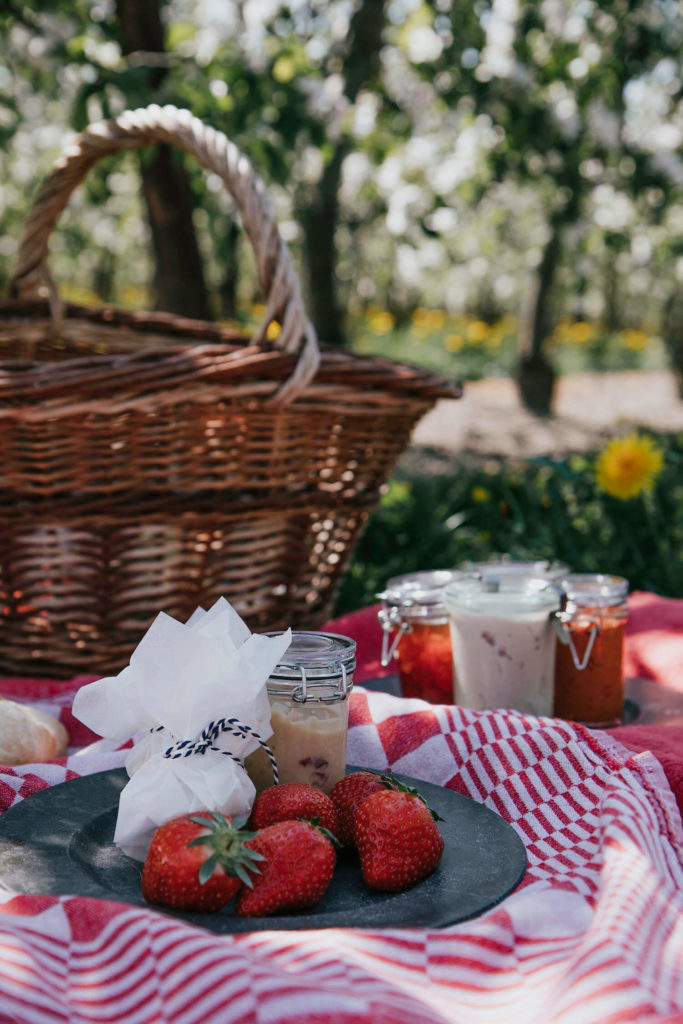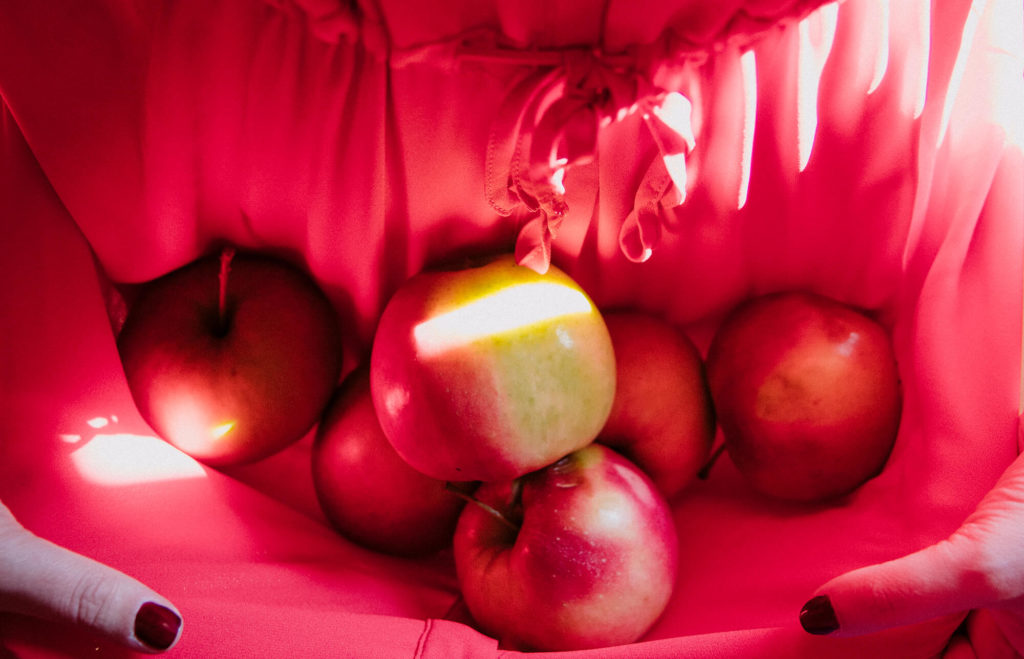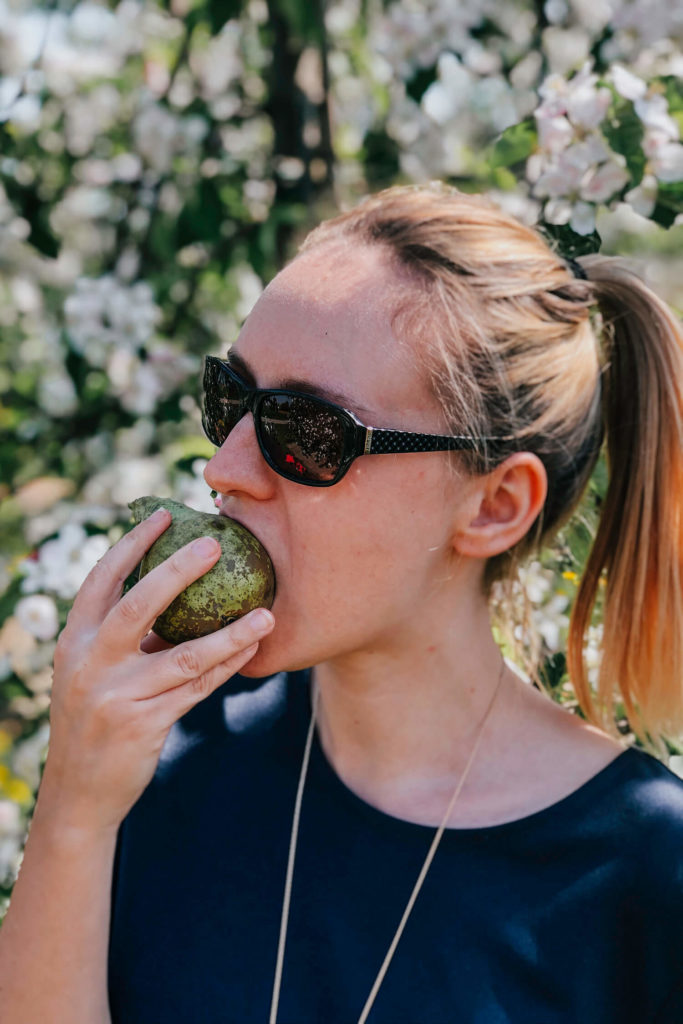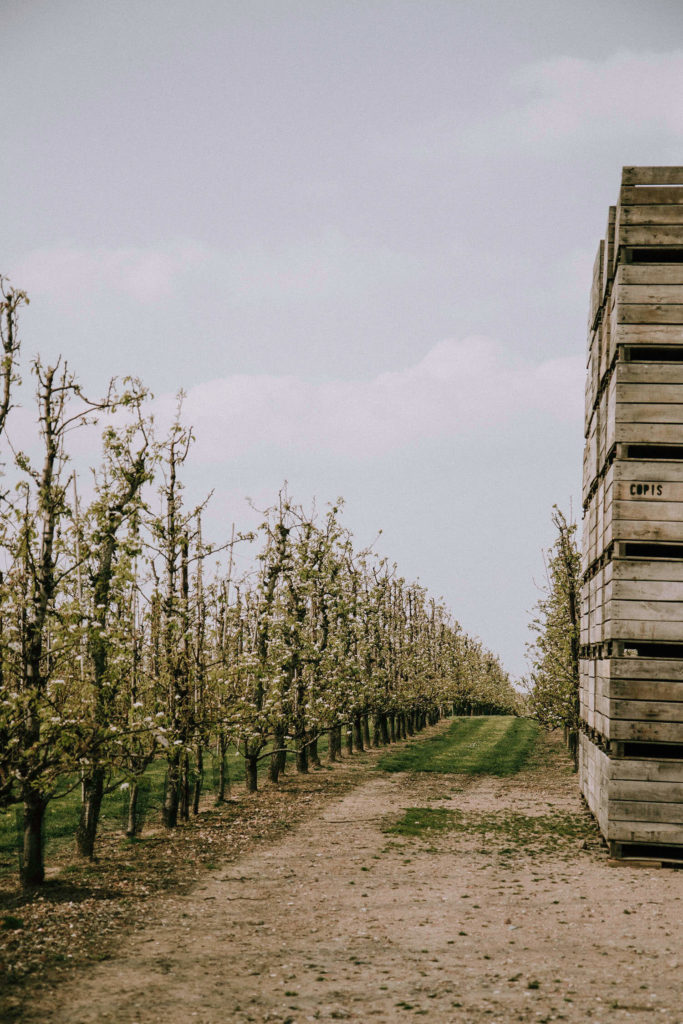 Learning about the local produce at a local fruit grower
There's no better way to recover after an opulent picnic than with a little sightseeing. We bumped into plenty of local fruit growers along our cycling Bloesemroute -
we were in te largest fruit growing region in Western Europe after all
- and chose to visit one of the biofarmers:
Jacobs Fruit
.
Jacobs Fruit open their doors for the general public two times a day in April. We definitely enjoyed learning how those beautiful blossoms will turn into juicy fruit. At the end of the tour, you get to taste all the regional products they produce! Entry tickets are 4,00€ per person (to pay by cash on site).
Spotting art and castles
Hidden between the thick blanket of fragrant petals, Haspengouw offers numerous castles and art installations peppered across the rolling landscape. At this point we didn't have much much energy left for a thorough visit and decided to dedicate a few hours of sight-seeing and hiking for our second day. Walking in Belgium, always a delight.
Majestic castles like Castle Klee and Castle Bommershoven are open for visitors and art installations like Reading Between The Lines (a peekaboo church) and Untitled #158 (a round construction with beautiful 360° views) are just a short walk along the cycling route, ideal to stretch your legs! And they're both quite famous landmarks in Belgium.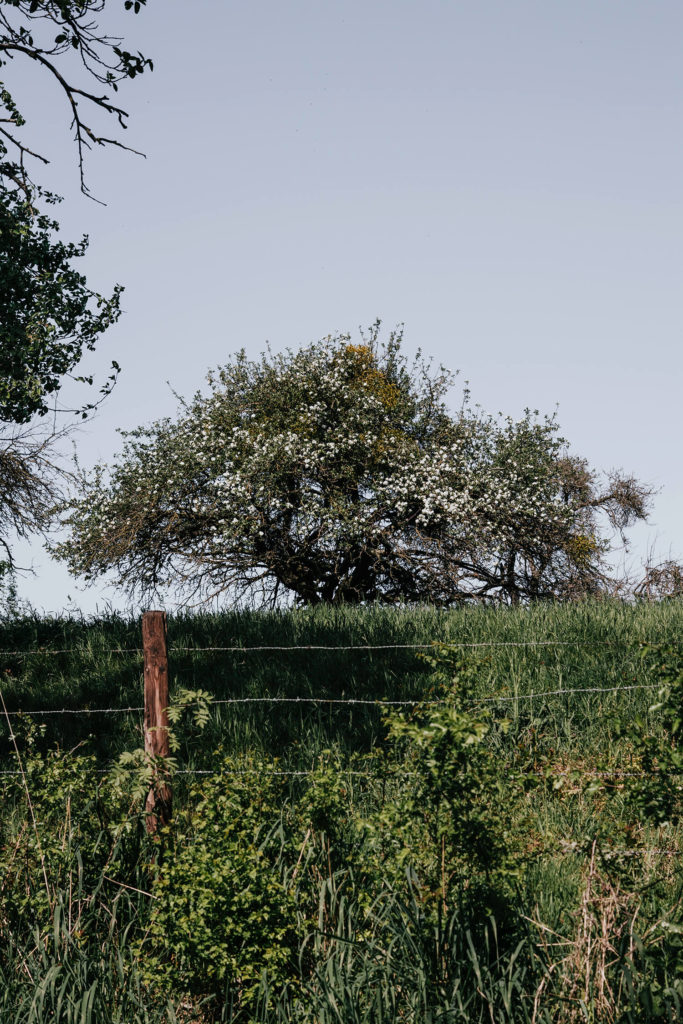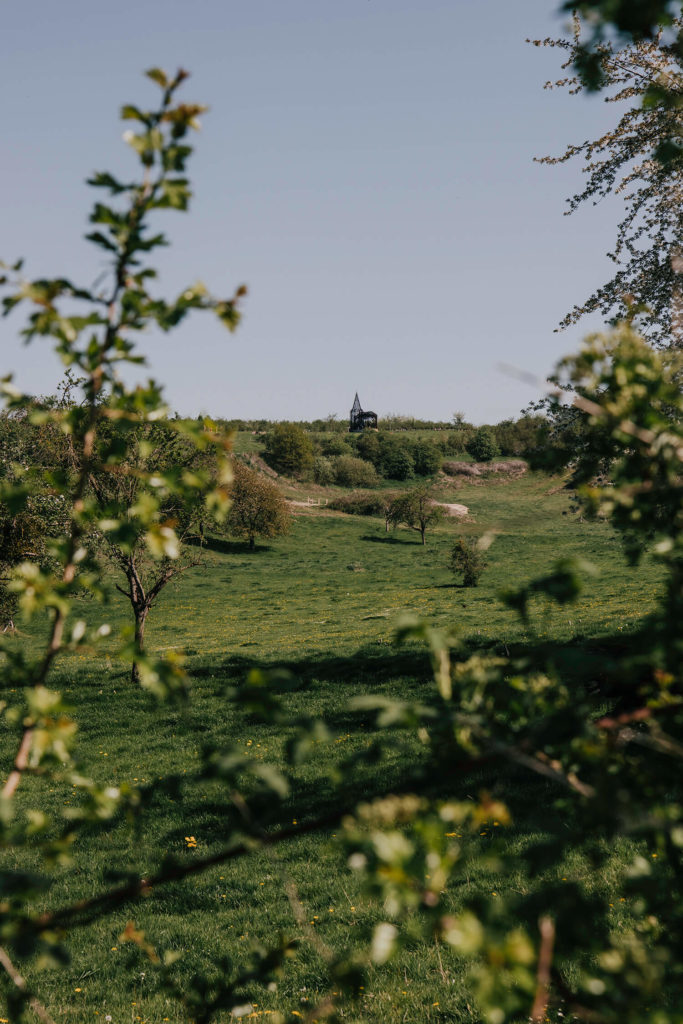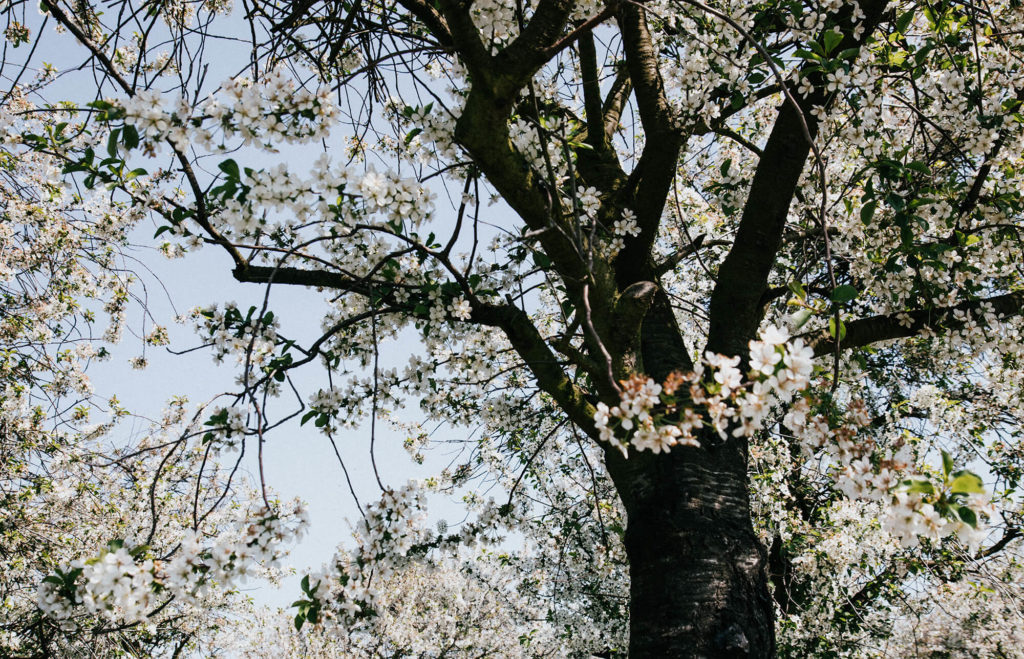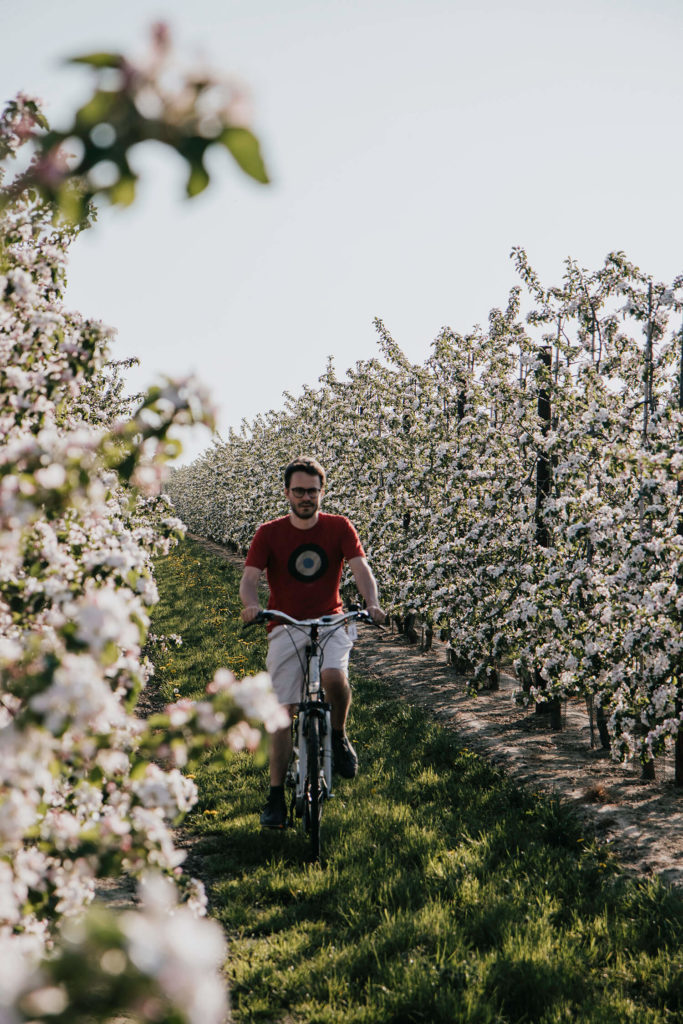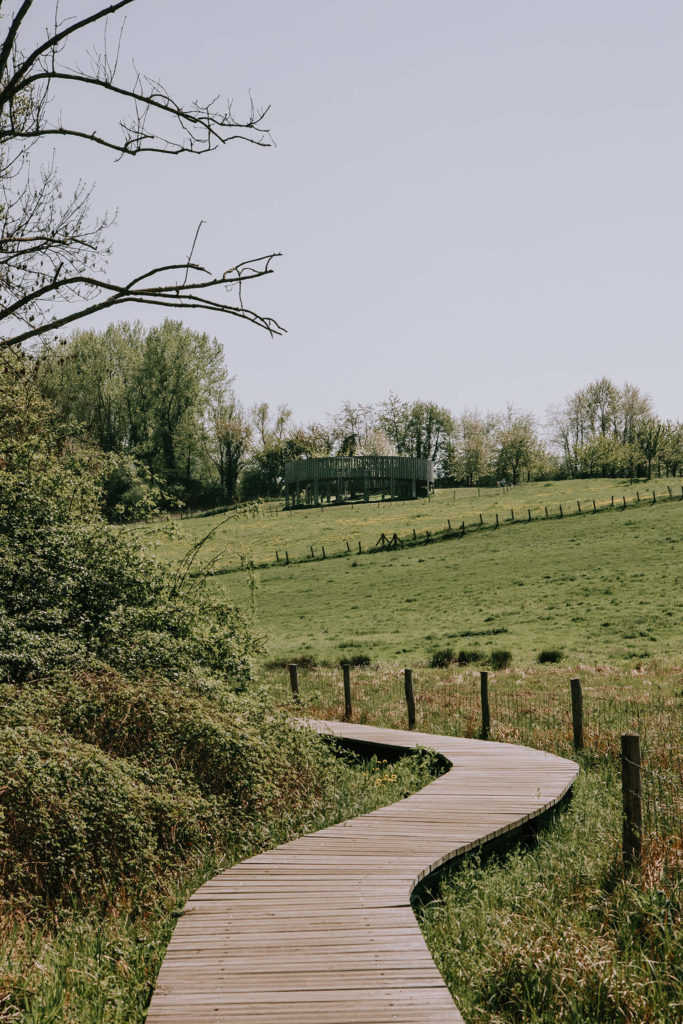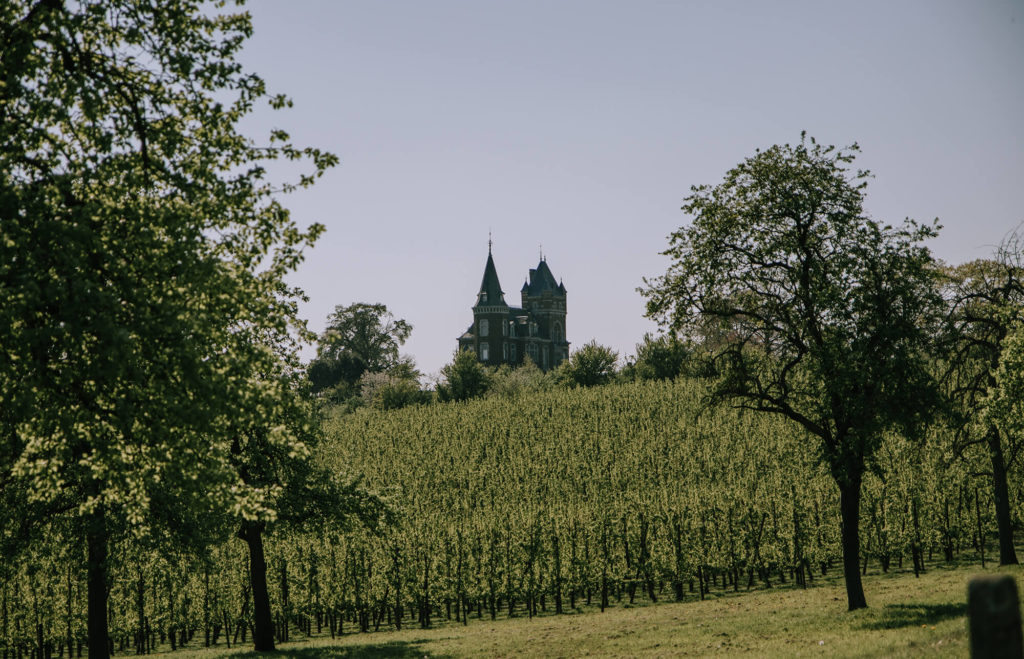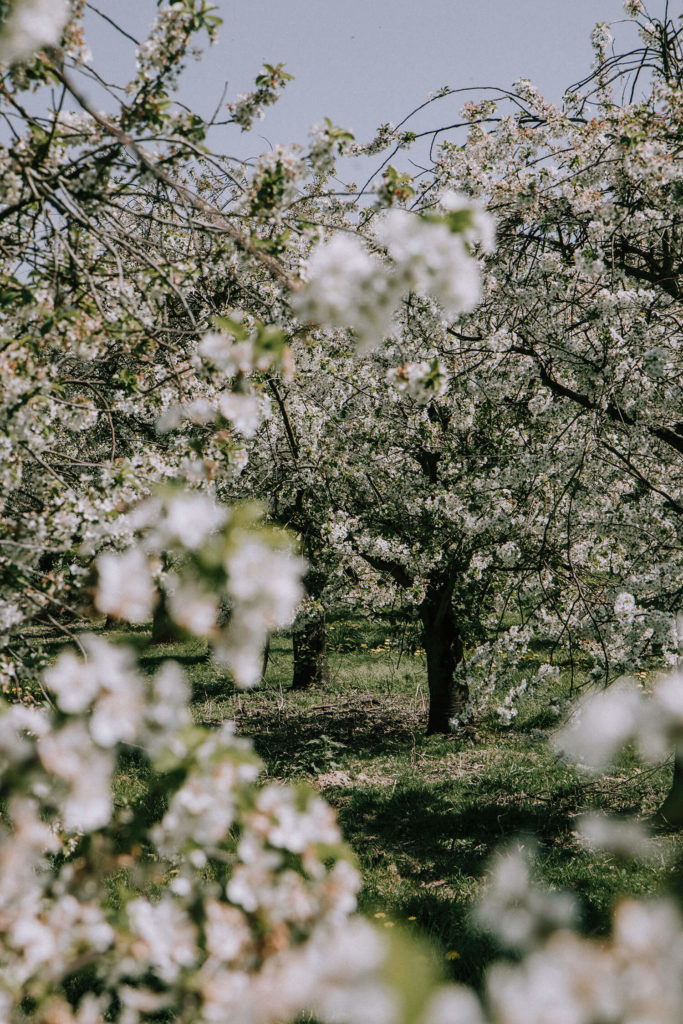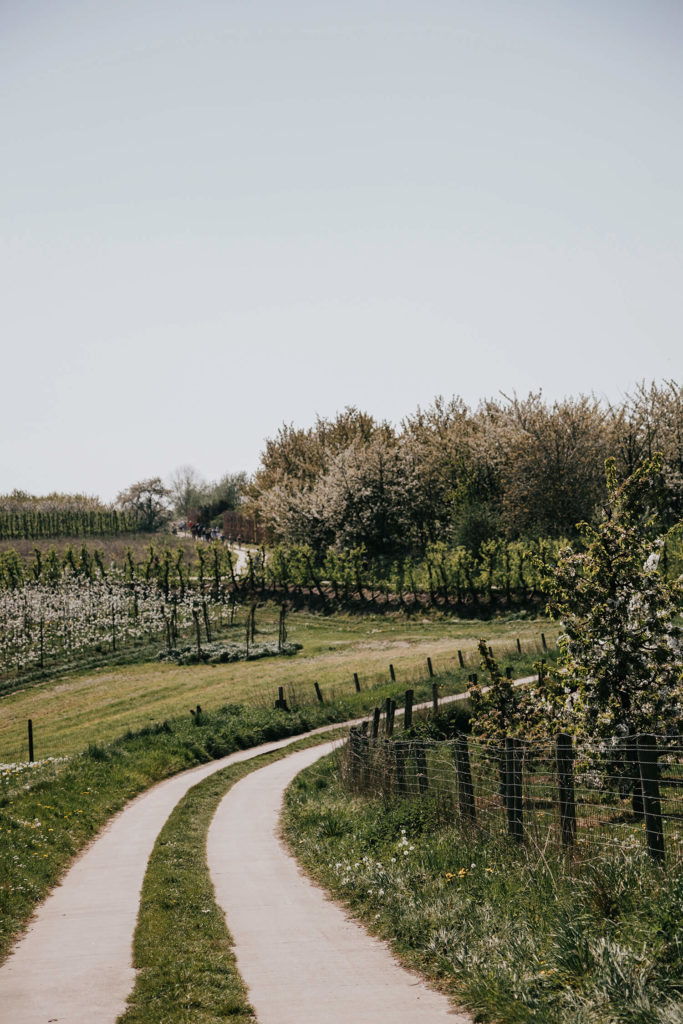 Salving your thirst at one of the pop-up blossom bars!
During awesome blossom season (Spring in Belgium) pop-up blossom bars can be found around the entire Borgloon area. Our favorite? Blossom bar
Le Bon Vivant
! They offer local produced beers and wines as well as appetizers and burgers with a dash of regional delicacies. It's also conveniently located along our cycling route at numeric knot 171 ;-).
- When is the best time to admire the apple tree blossoms? -
Every year in the month of April, the Haspengouw region is covered by a blanket of delicate white and pink blossoms and makes it one of the best places to visit in April in Europe. How long the cherry, pear and apple trees wear their white or pink gown is very depending on the weather - on average, count on a 10 day flower extravaganza. Luckily you can check the status of Haspengouw's 'bloominess' by checking the
Blossom Barometer
or the local blossom app
Bloesem & Oogst app
and plan your trip accordingly!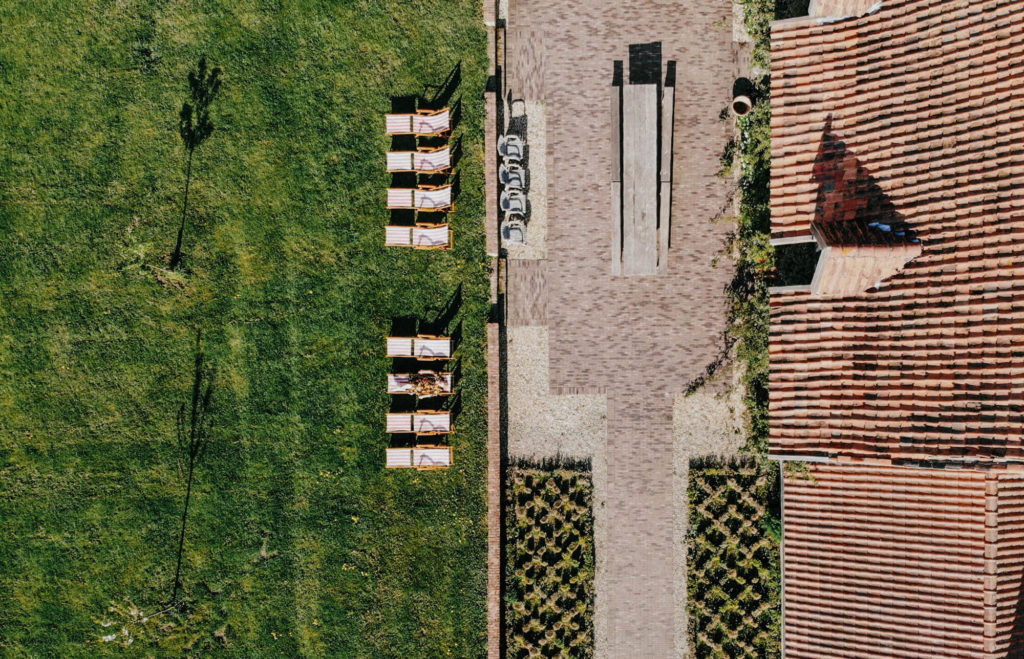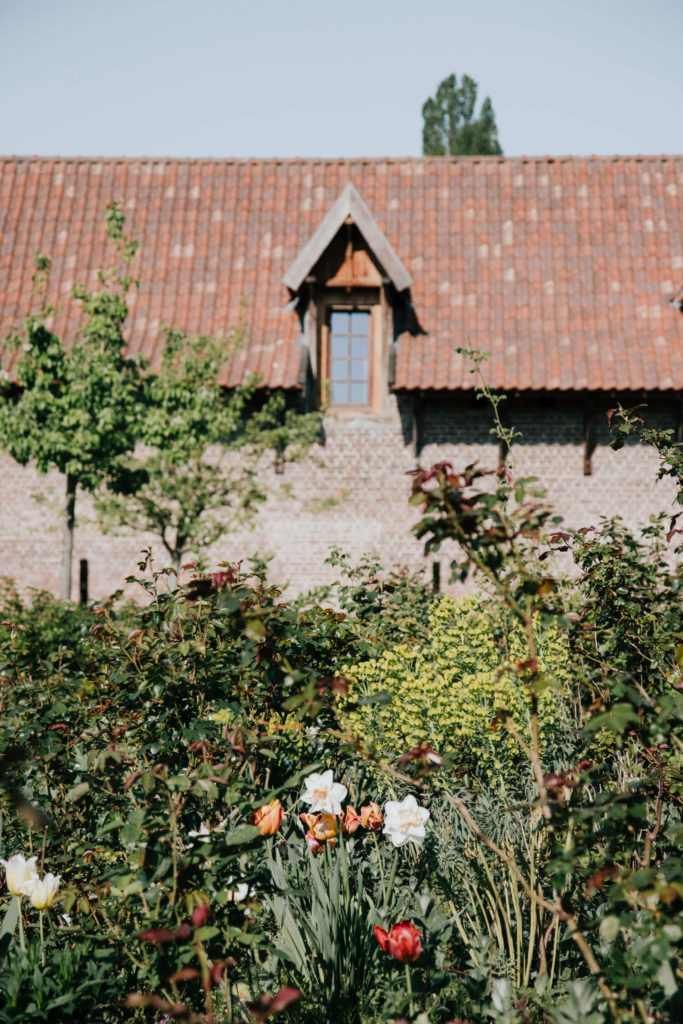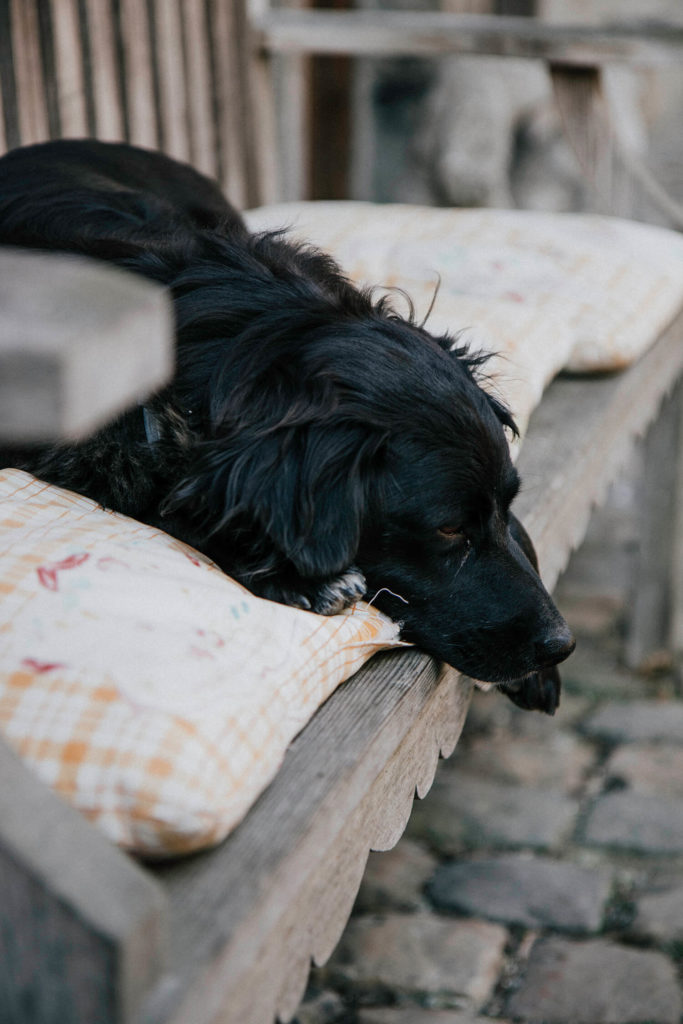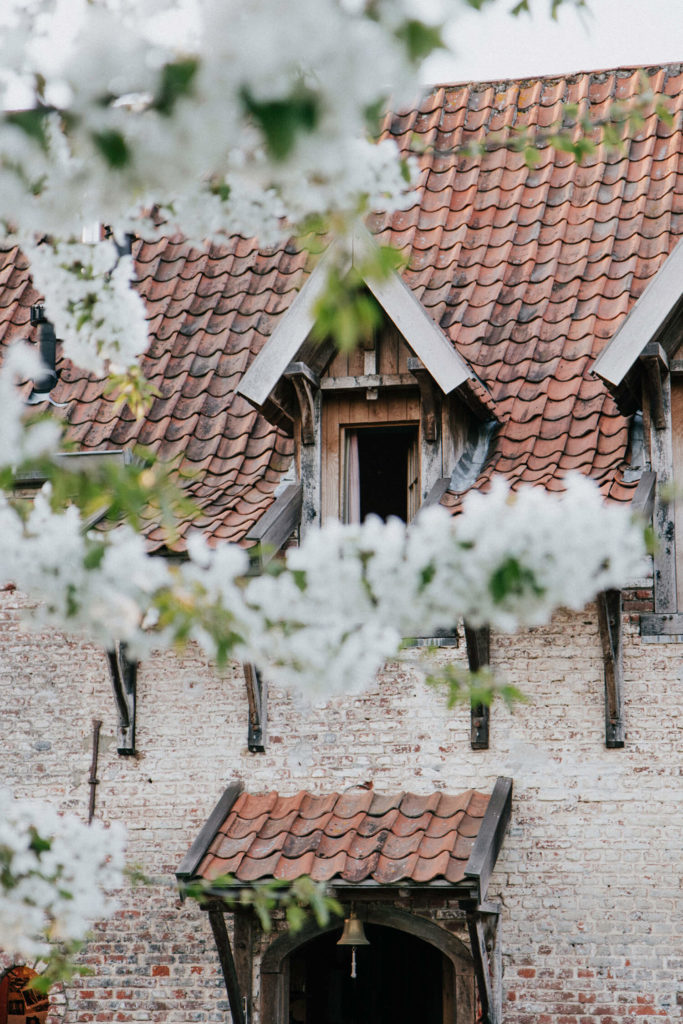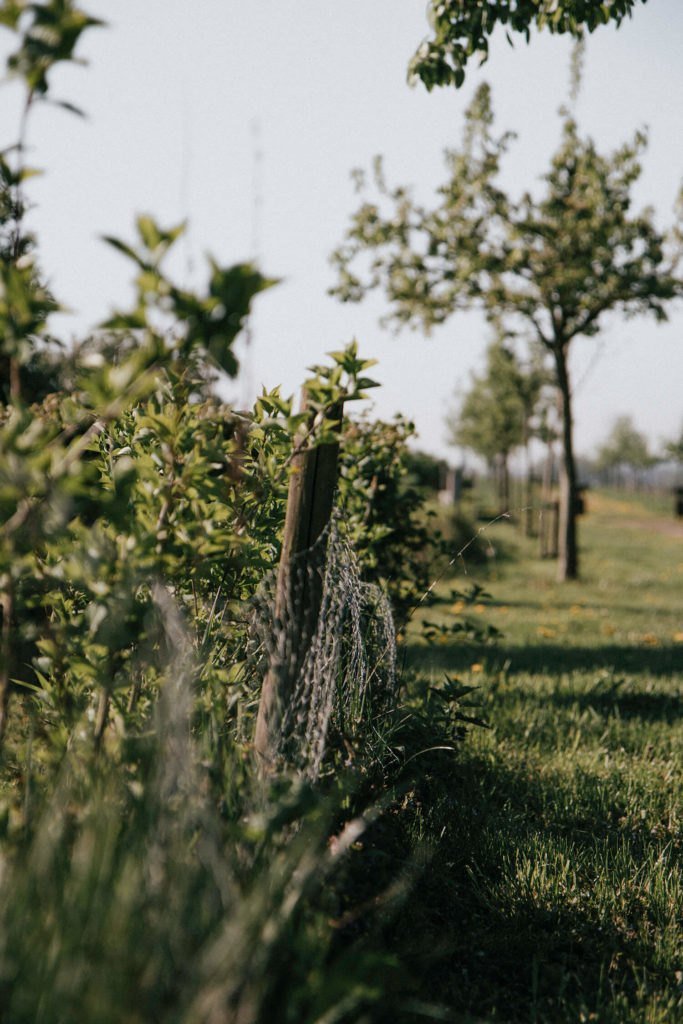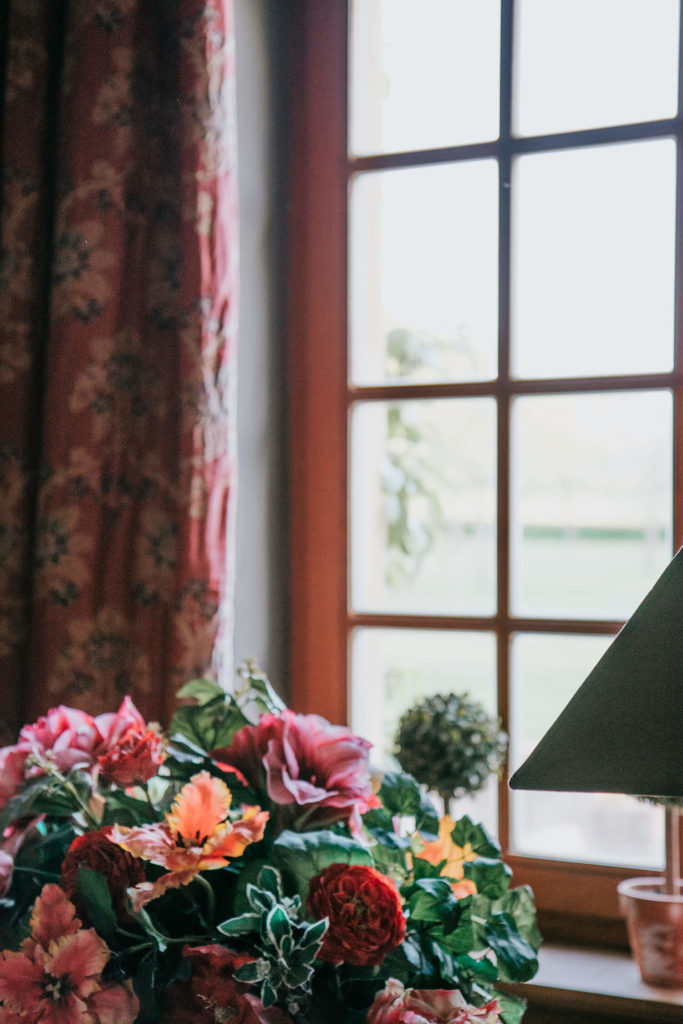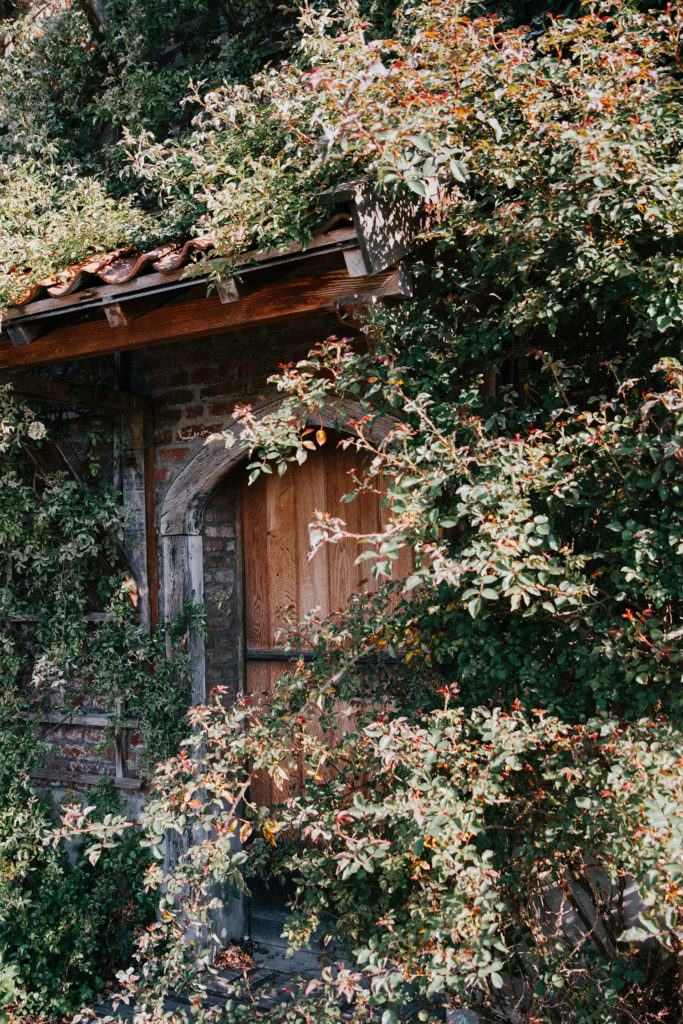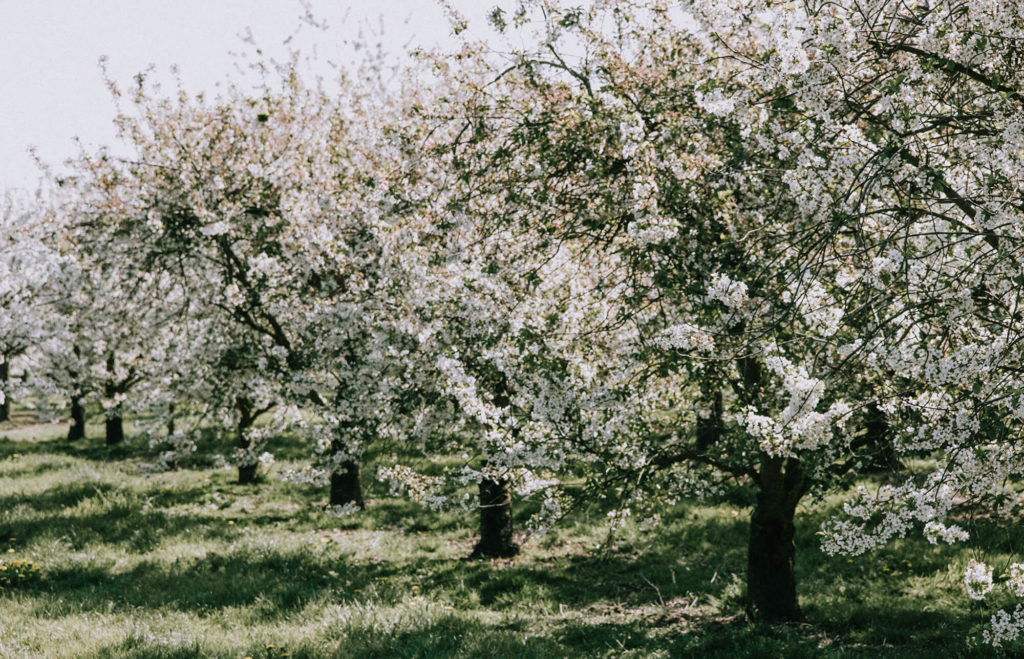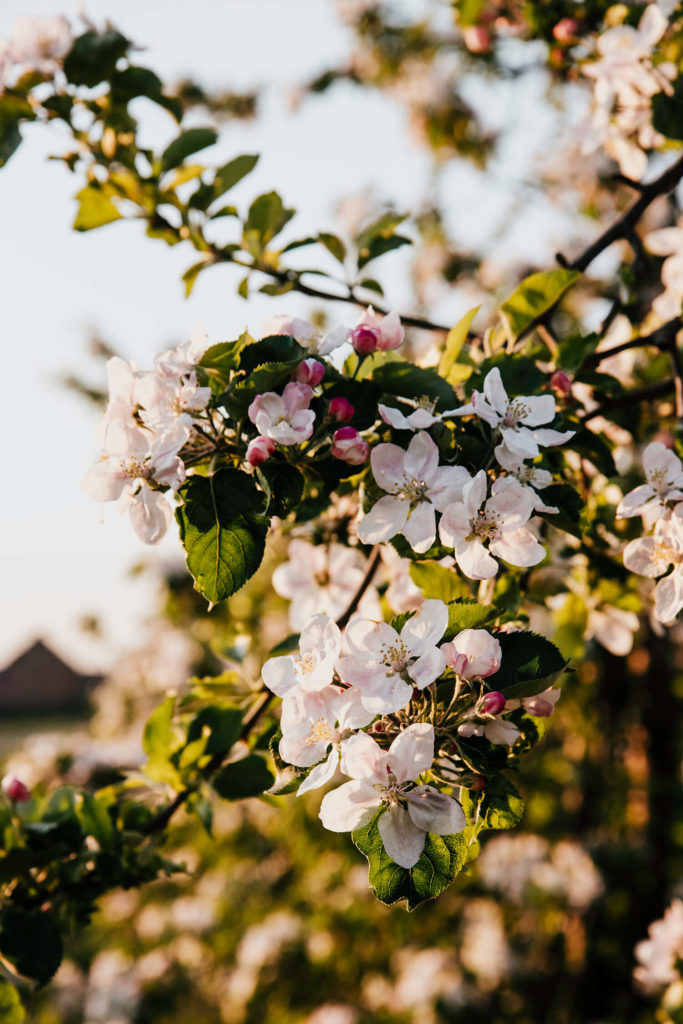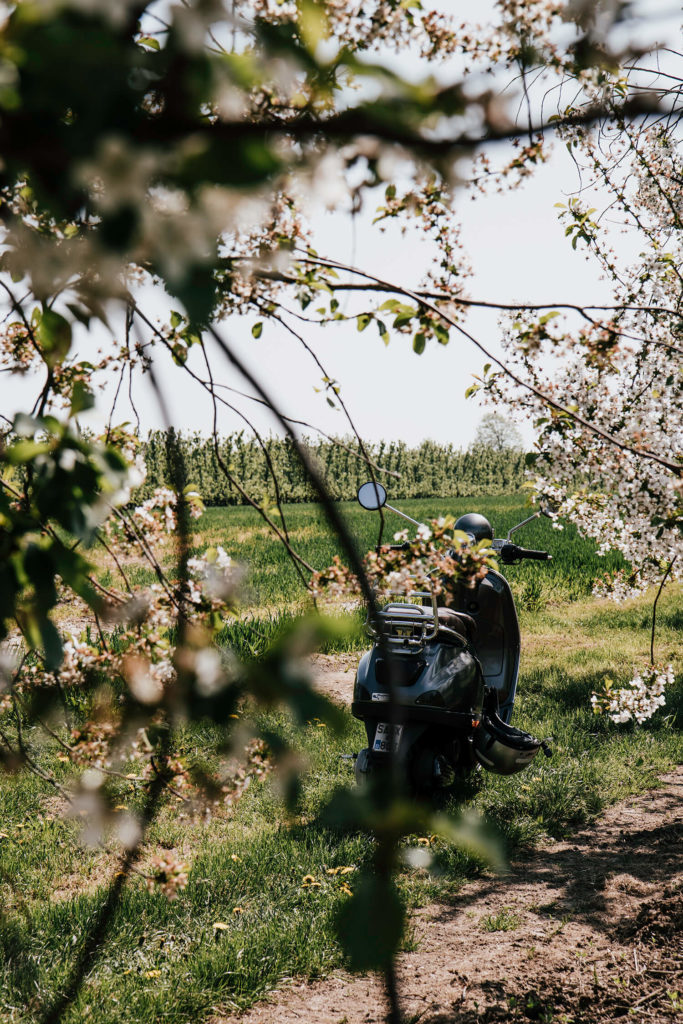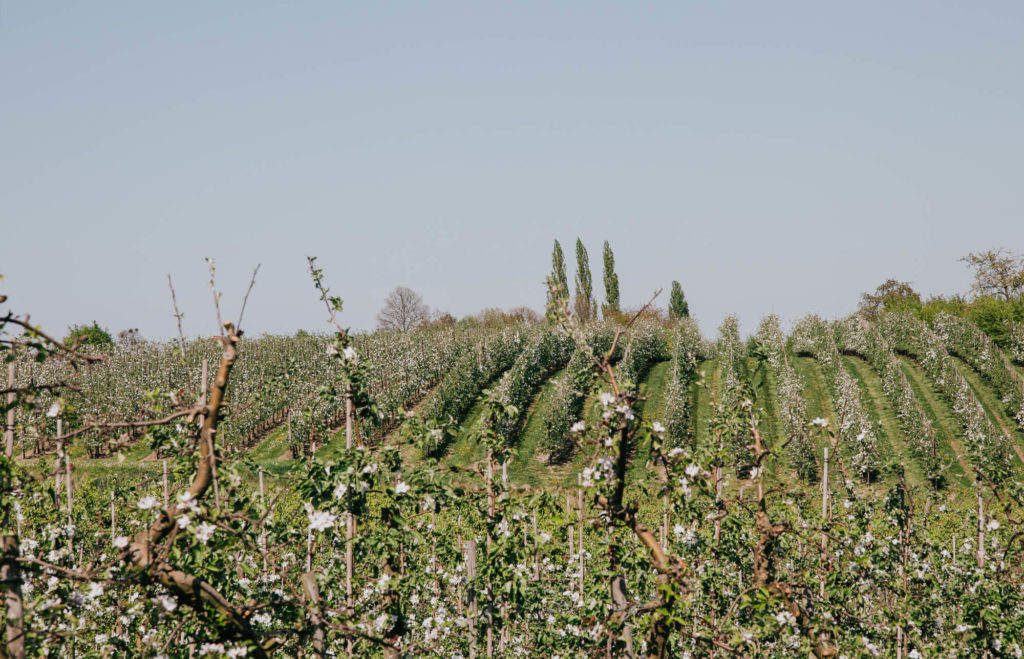 - Where to stay in Haspengouw -
Our home away from home for the weekend was
Kasteelhoeve De Kerckhem
; a sanctuary for peace and quiet. A touch of luxury and authenticity on the Belgian countryside! We fell in love with this place and now truly consider it as one of the most beautiful places in Belgium.
The personalities of owners Tessa and Erik are reflected throughout your entire B&B experience: from the crooked wooden fences and crafted flower bouquets to a home cooked four-course dinner. We stayed in the
Deluxe Room
and it just exhumed relaxation vibes! A good night's rest guaranteed after a long day of activities!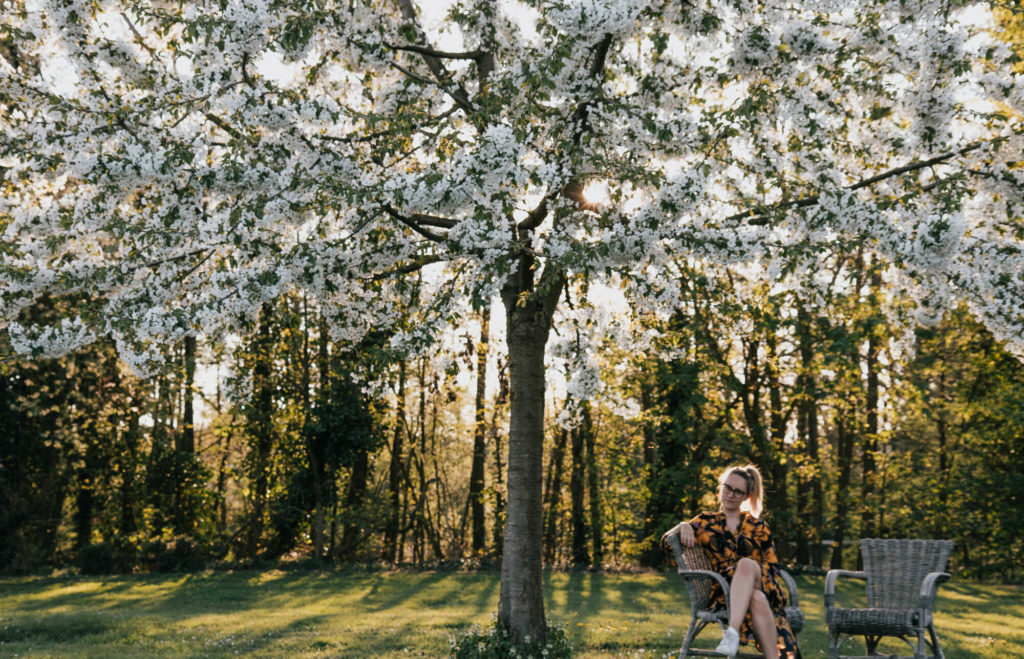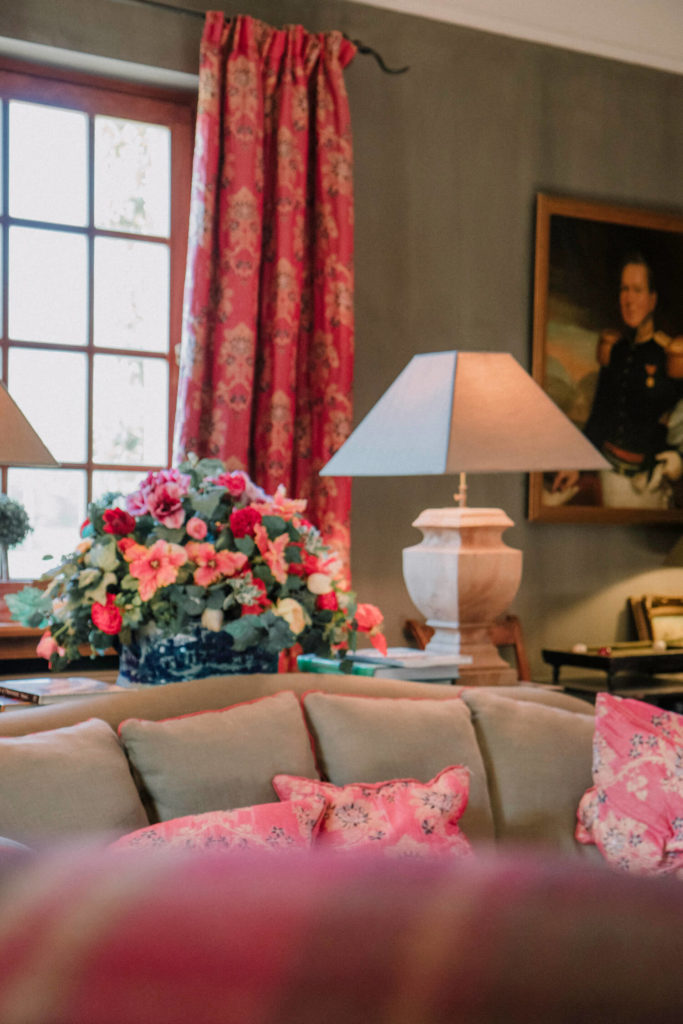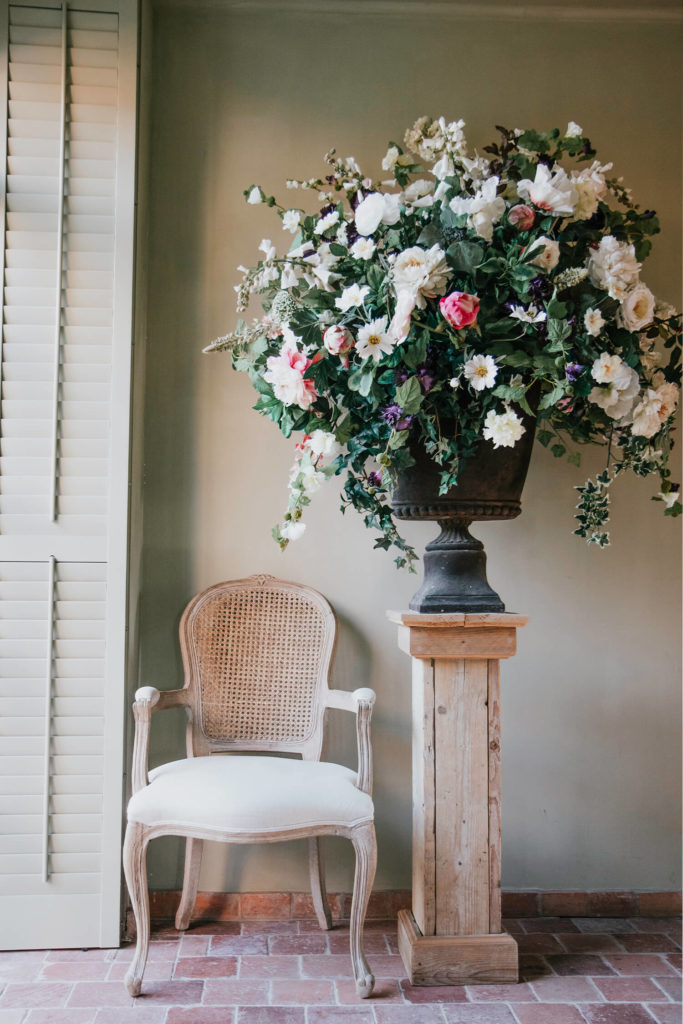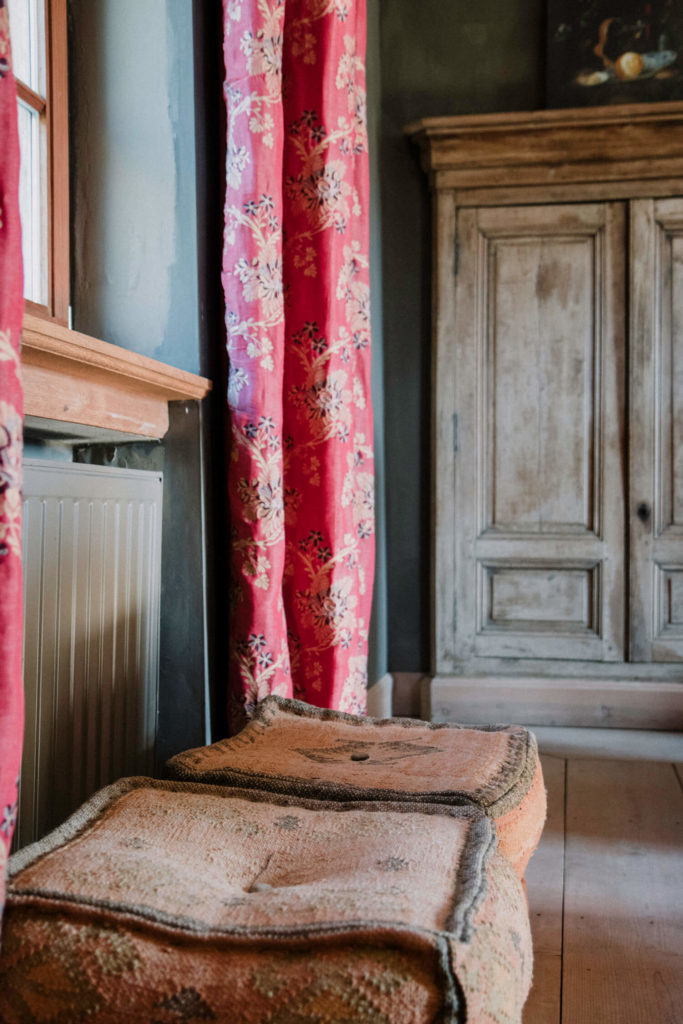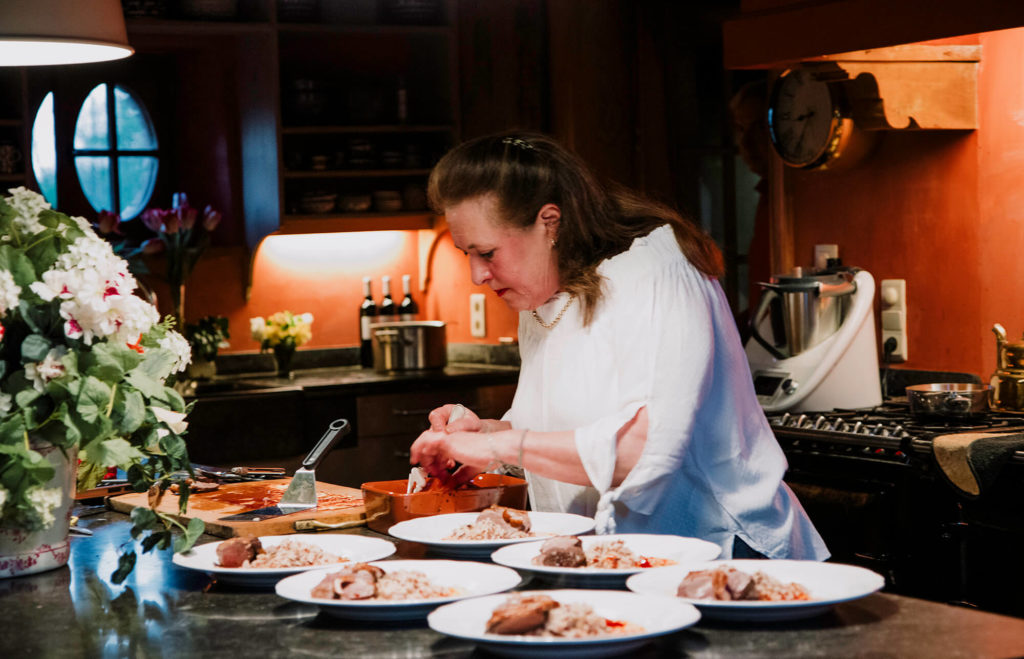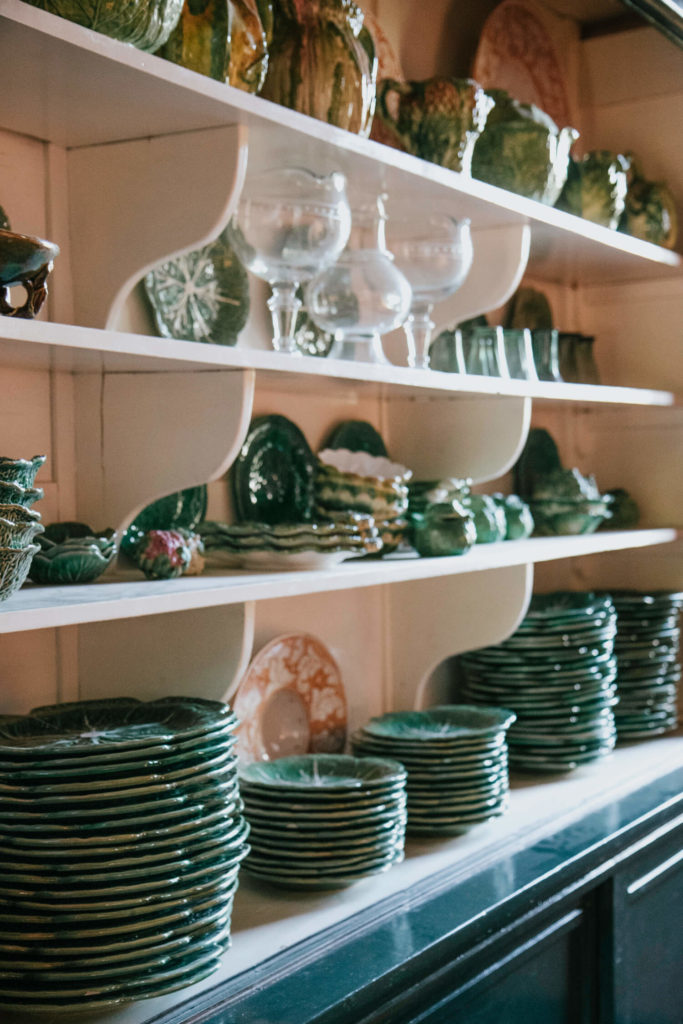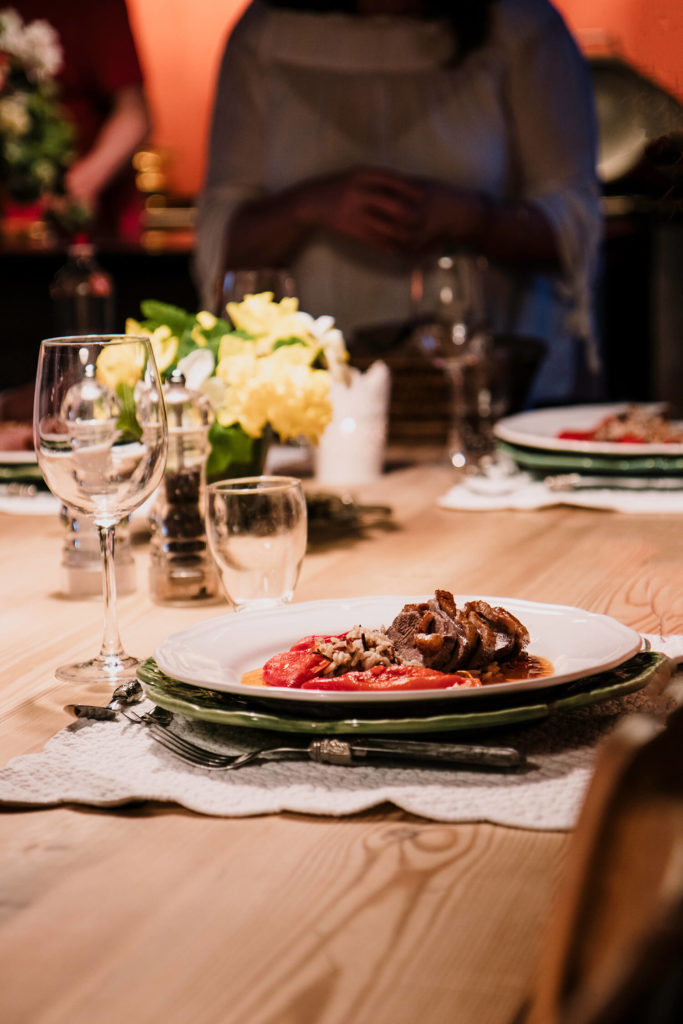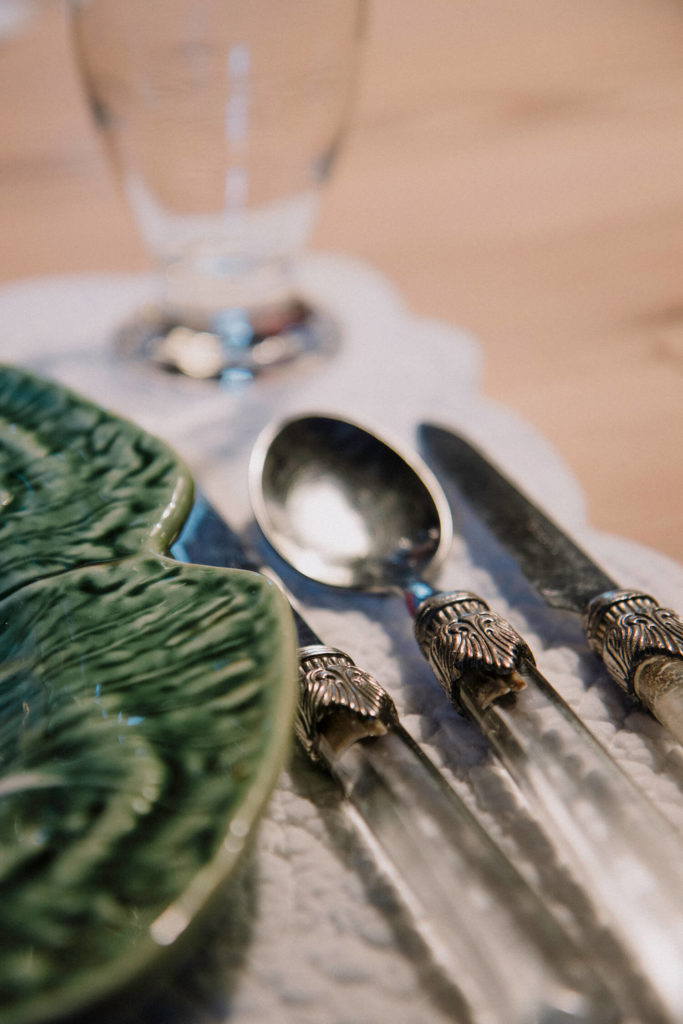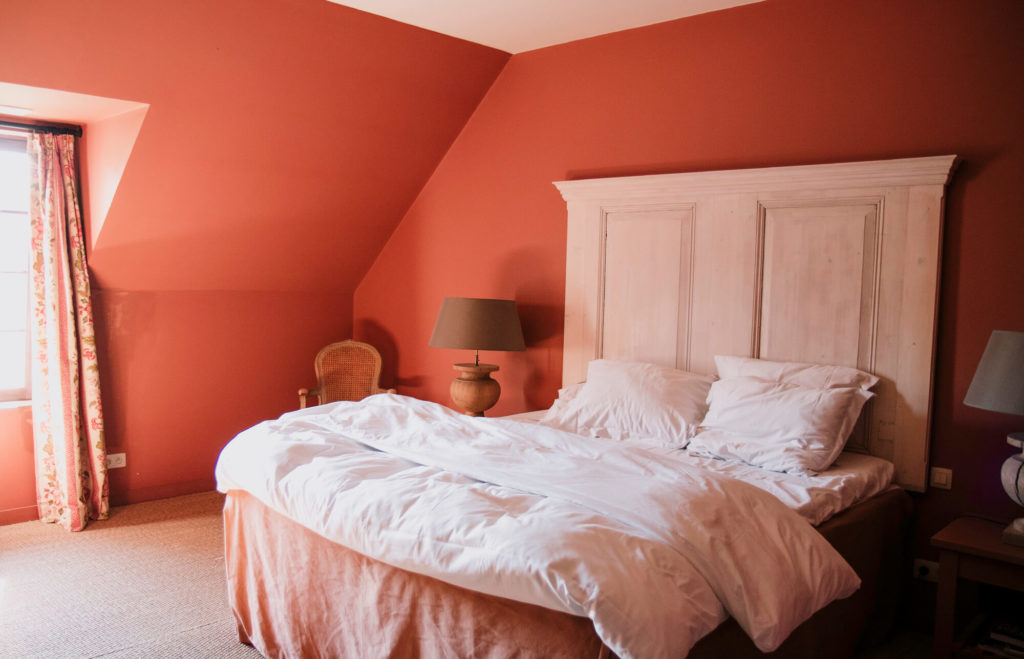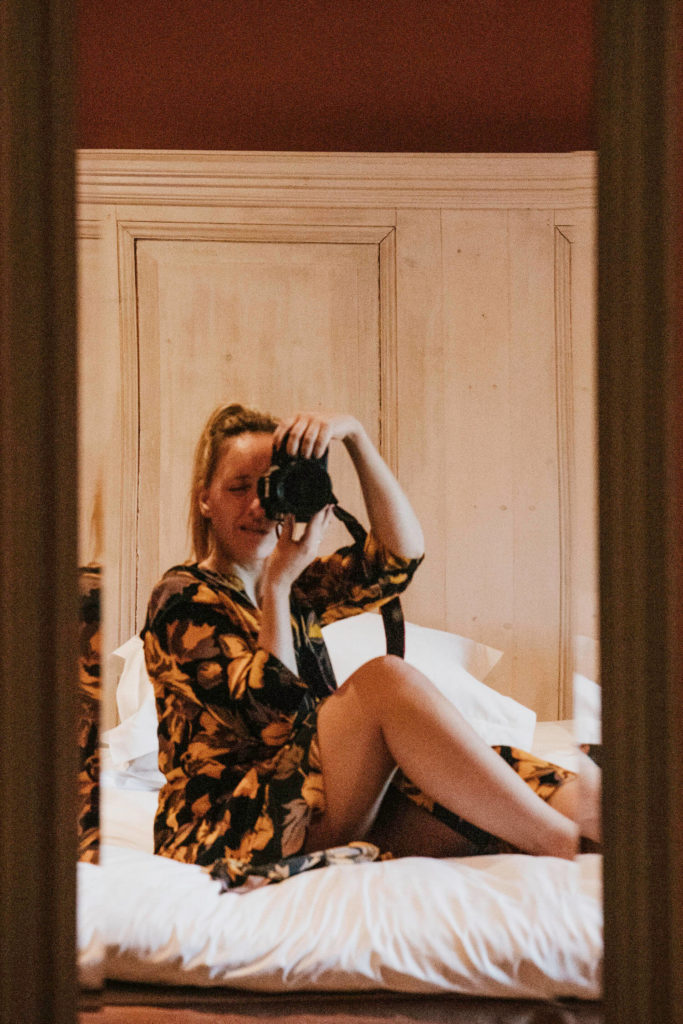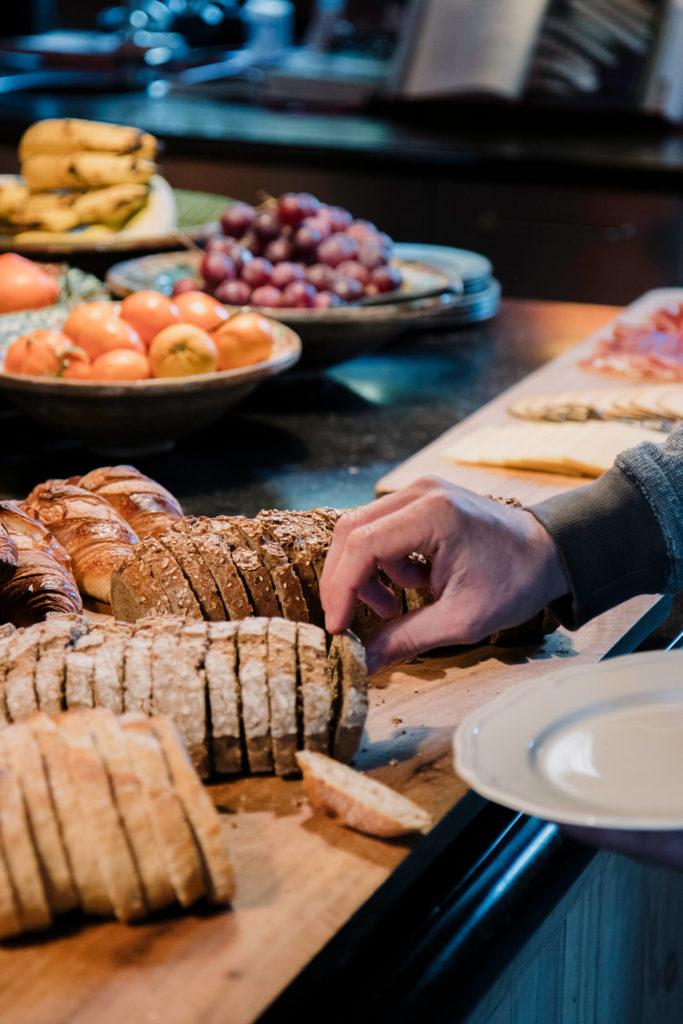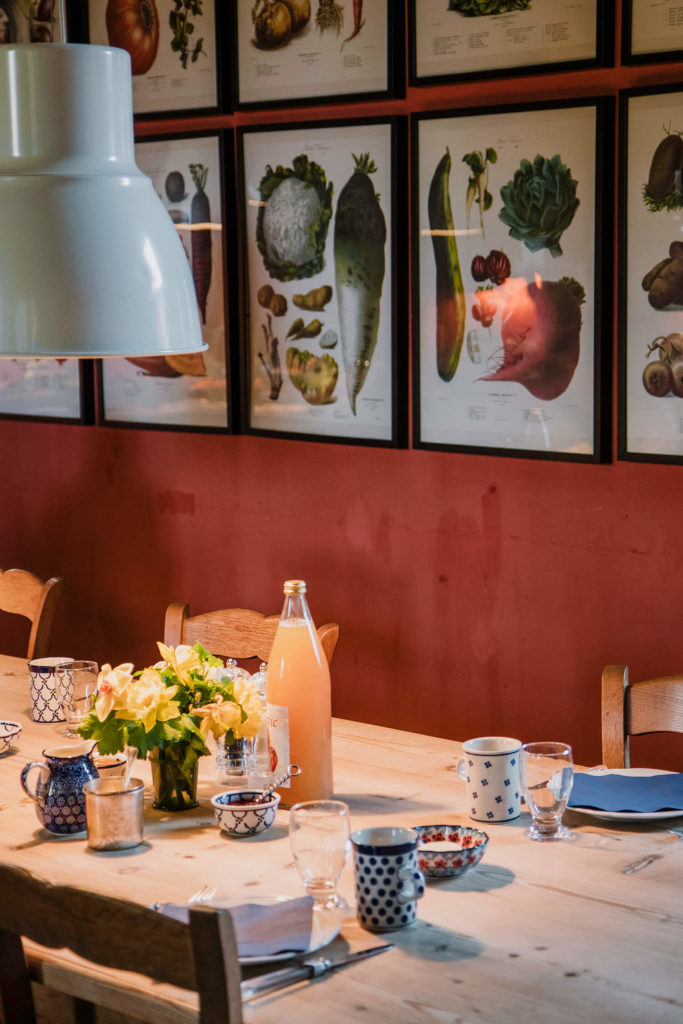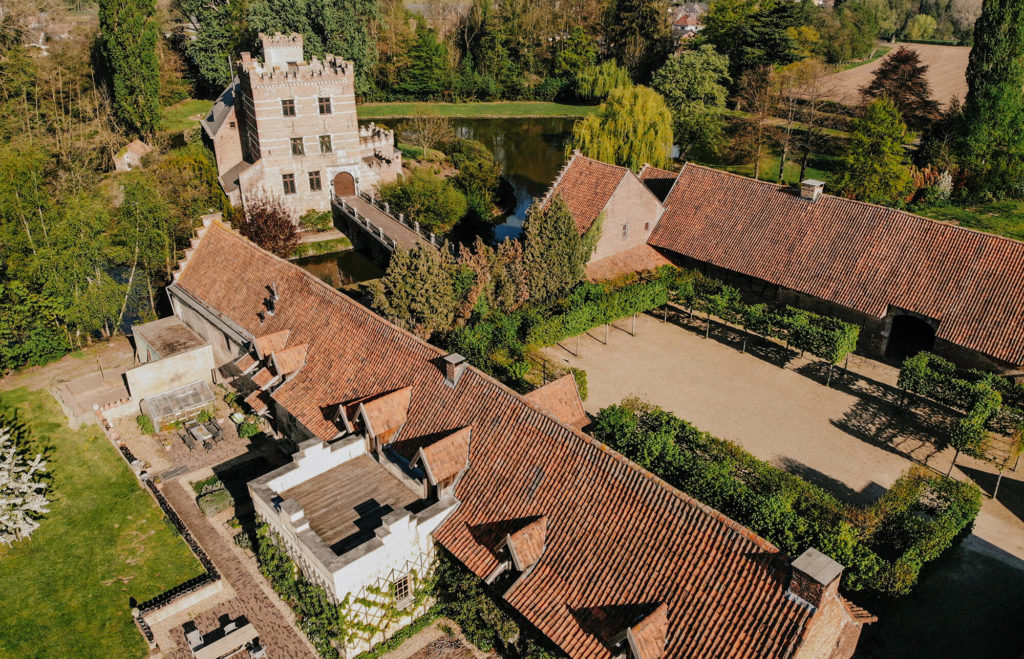 We've had the most wonderful time exploring Haspengouw. Limburg, we love you and we'll definitely be back to pick the sumptuous fruits you'll produce! So if you're looking for places to visit in Belgium? Get yourself to Haspengouw and book yourself a guided blossoms tour or go walking a beautiful blossom trail. Bloom and blossom y'all!

---
Disclaimer: This post was created in partnership with Visit Limburg. Huge thanks to Visit Limburg for hosting us and making our trip to Haspengouw absolutely unforgettable! All words, opinions and repetitive uses of captions like "gobsmacking" are 100% our own.