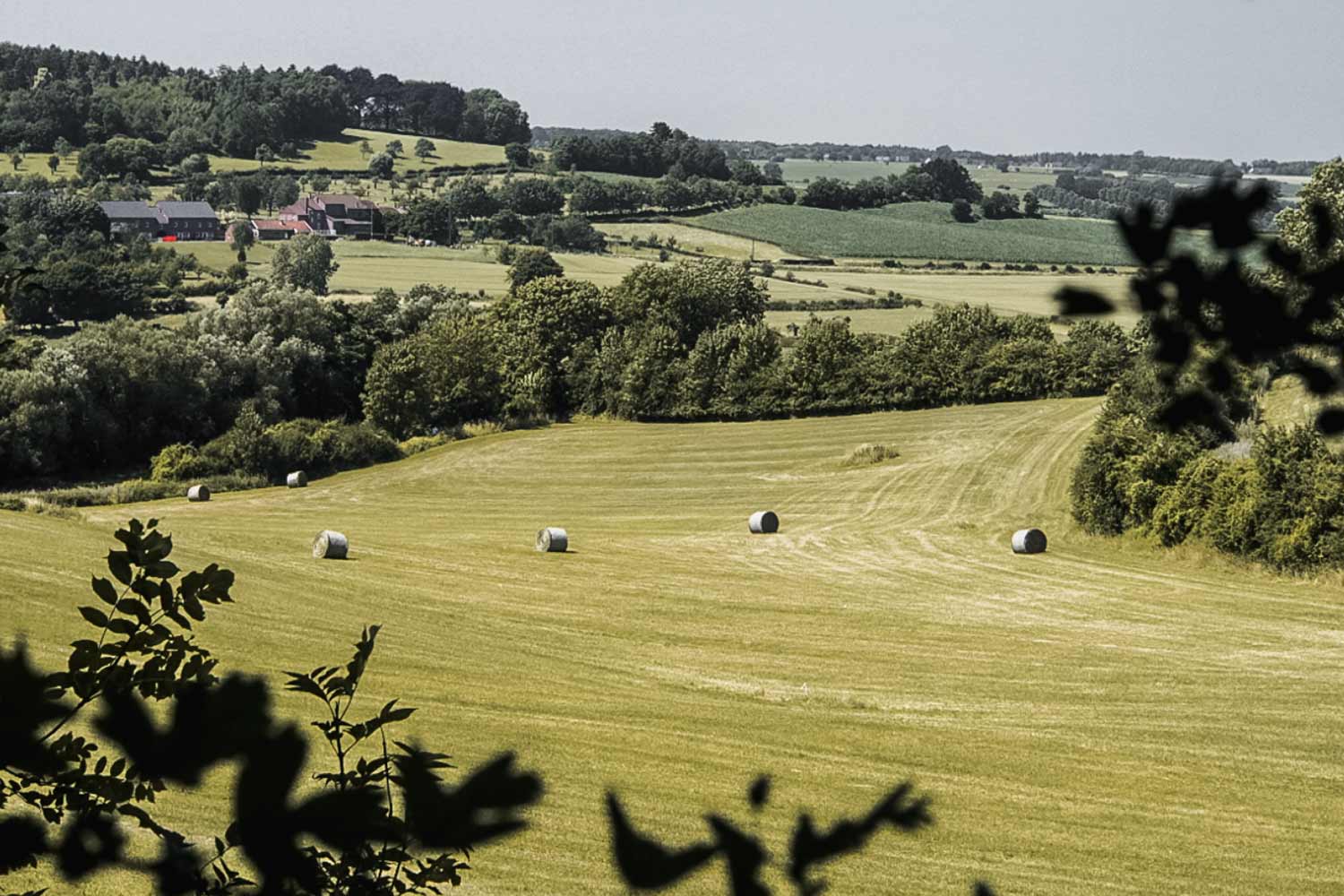 Did you know the little country of Belgium secretly hosts an even smaller country in the Eastern part near the borders with Germany and The Netherlands? It's well-known by its French name, the 'Pays De Herve'. Or in English: the Land of Herve. Tucked away between the Vesdre and Meuse rivers, it offers its guests a grassgreen hilly landscape where the countryside roads lead you to the cutest Walloon villages like Clermont-sur-Berwinne and Aubel. In the centre of this region in the Walloon part of Belgium, the small city of Herve serves as the unofficial capital.
---
Pays De Herve: Belgium's secret foodie hotspot!
---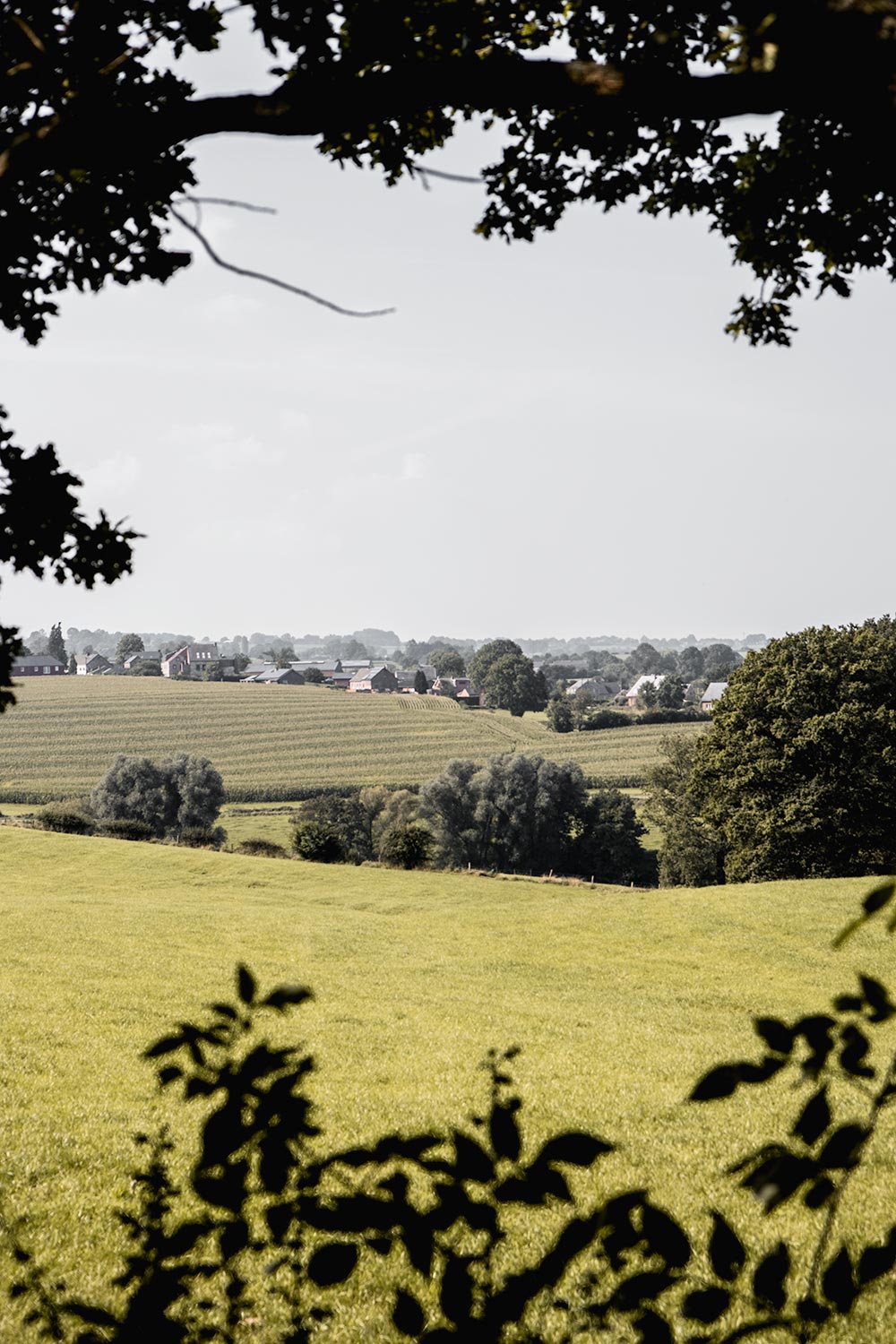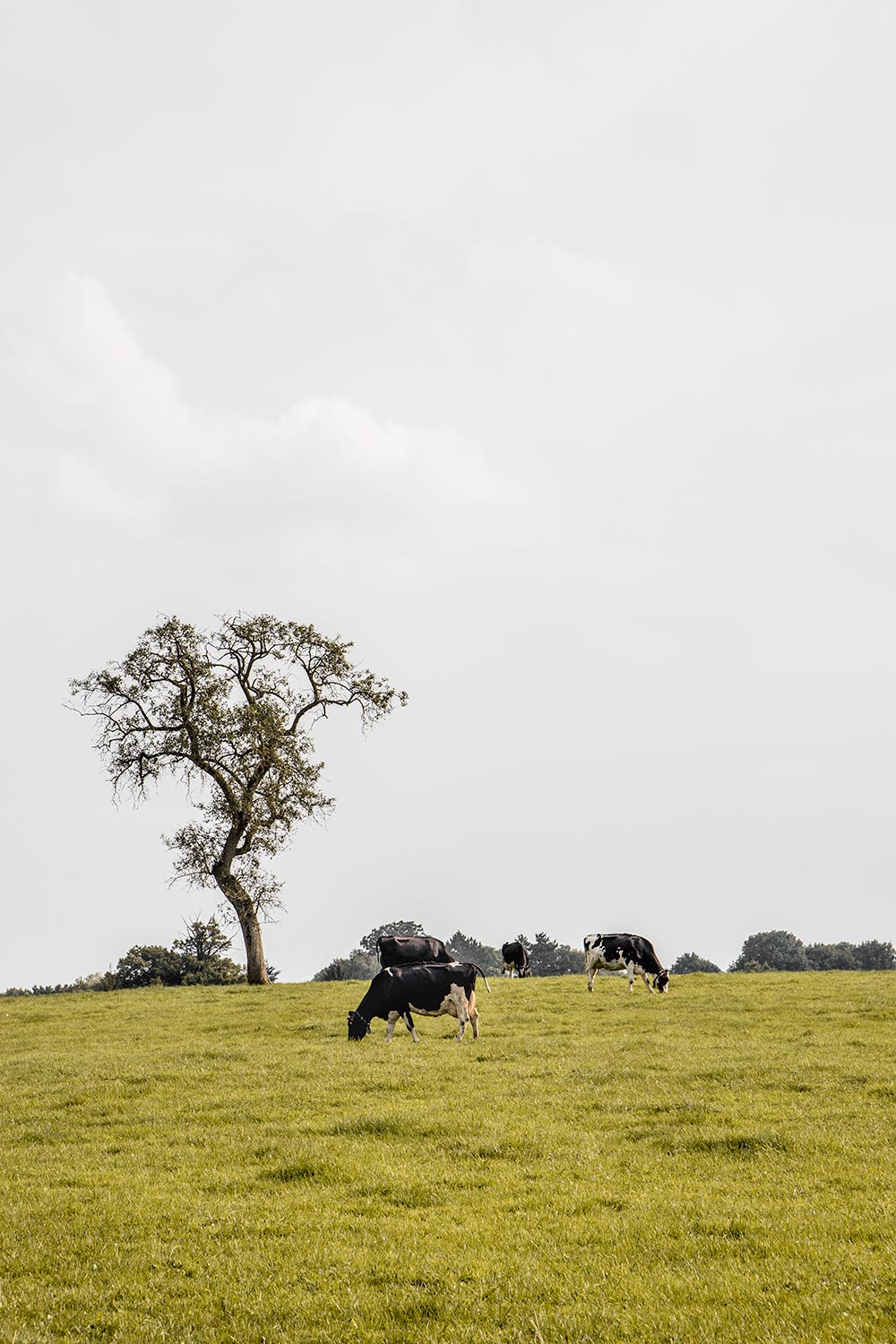 What to do in Pays de Herve?
Taste the famous Herve Cheese
The adventurous among us can choose the hiking trails to discover the region. The sportive ones jump on their bike. Either way, the rustic countryside will charm you in any way it can. The mooing cows evoking daydreams of a more simpeler and tranquil life.
There's one thing the Land of Herve seduces each and every visitor with: its mouthwatering regional products. The local cows contributing to one of it's most famous local produce: Herve Cheese!
Renowned for its taste and - most of all - it's unique smell. Yet don't let its characteristic odor fool you (or make you say: 'thanks, but no thanks' before tasting it), as it's a very tasty, slight salty cheese. One of the most popular ones amongst Belgians by the way. Made from raw cow milk, this rind washed soft chees ripens in the cellars of the Herve countryside. After 3 months of aging the cheese gets its typical smell and flavour. Ready for consumption.
When in Herve be sure to check out La Fromagerie Du View Moulin and learn more about the infamous Herve cheese! In 1,5 hour you'll know anything there is to know about making this typical cheese. No tour can finish without a tasting of course. Savor the produce of those lovely mooing cows you've encountered on your exploration of Pays de Herve and experience this hidden corner in Belgium with all your senses!
Not a cheese fan? No worries, Fromagerie Du Vieux Moulin recently opened an ice cream parlor on site produced with the same fresh milk that is used for their Herve cheese!
Where | Fromagerie Du Vieux Moulin, Sur la Commune 14, 4651 Herve
When | Sat: 14h30 , no appointment required (February-November) other days appointment required
Entrance fee | 3€ per adult (+/- 1h30 guided tour)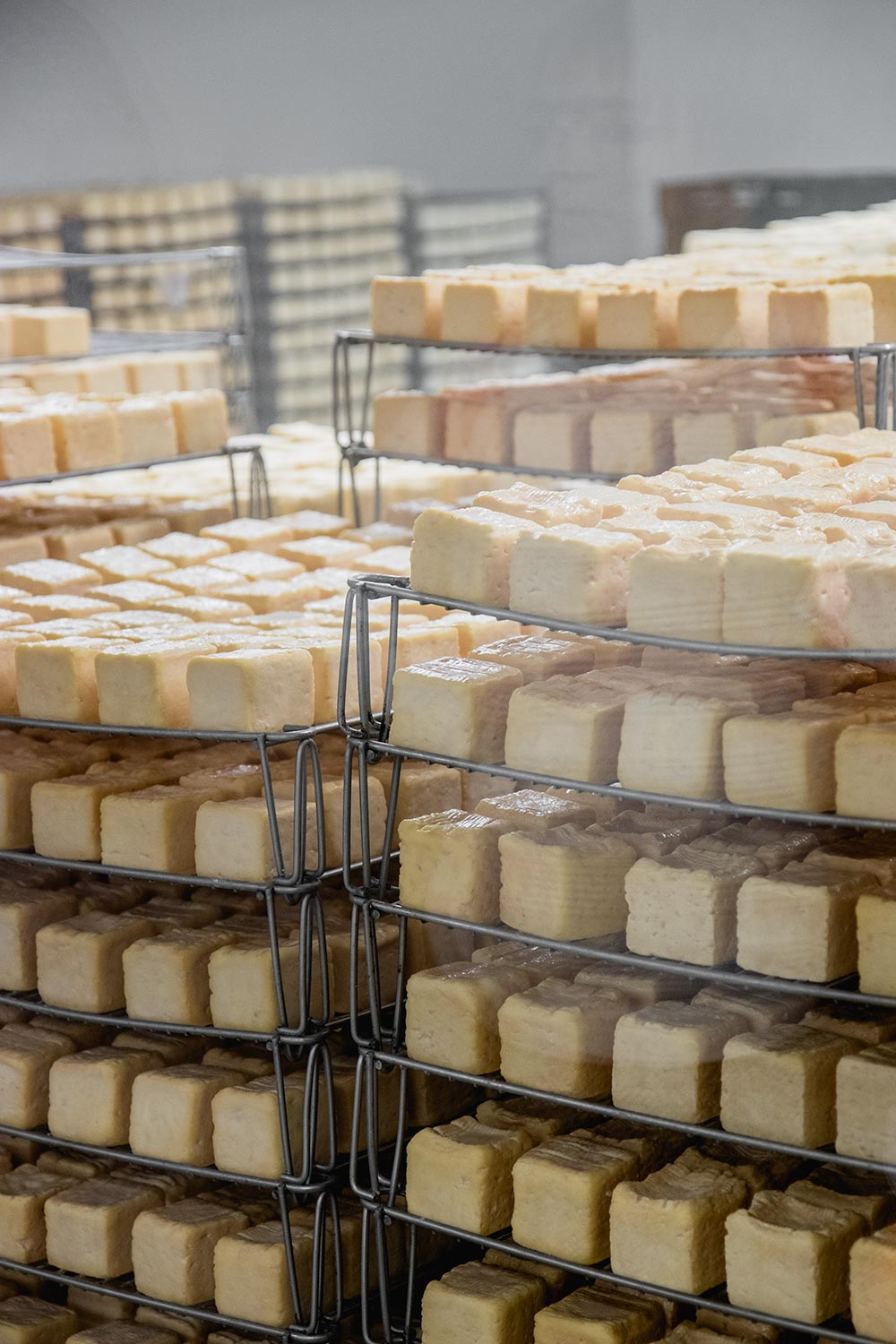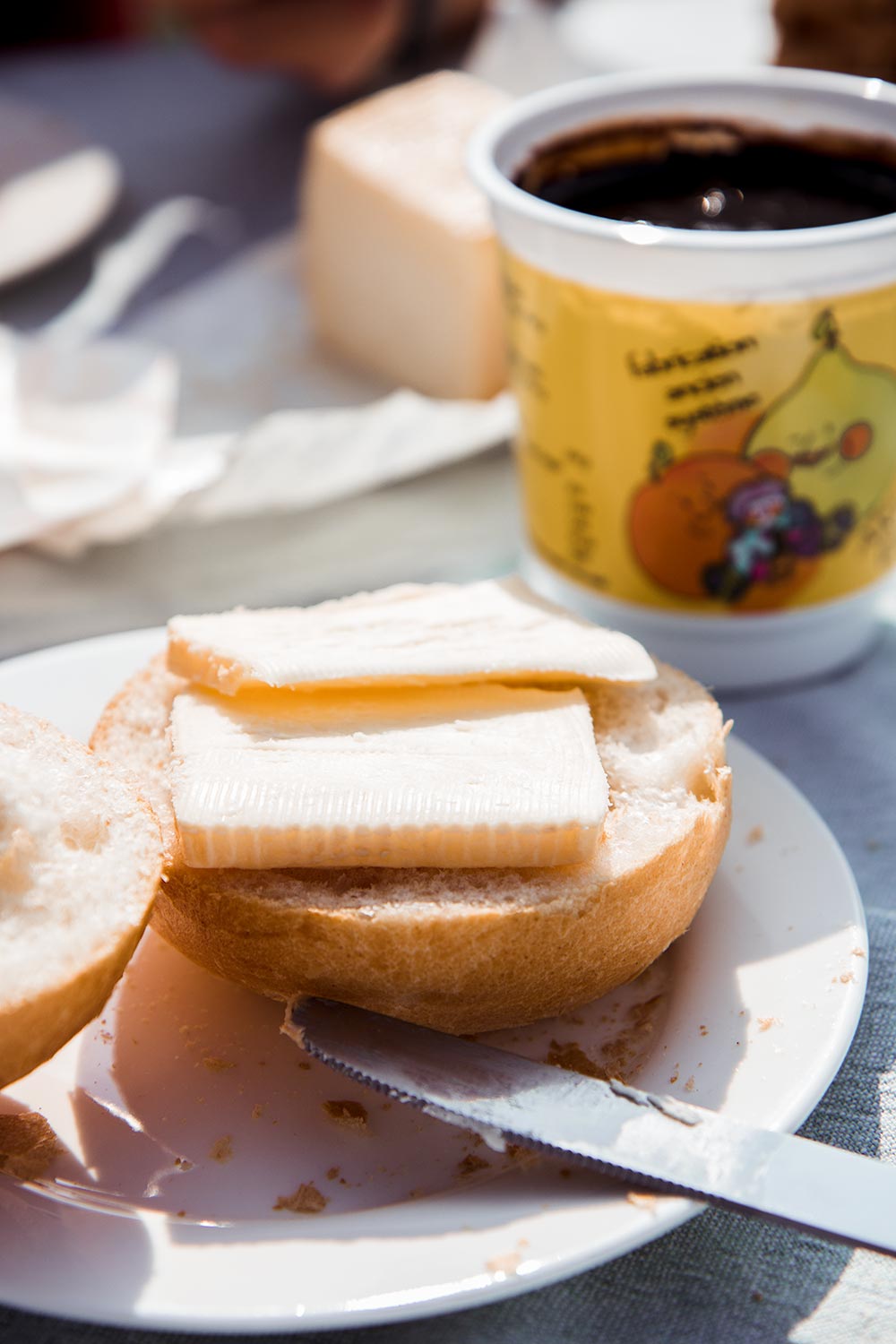 Visit Clermont-sur-Berwinne, one of the most beautiful villages of Wallonia
Looking for an immersive experience in which you your tastebuds can rejoice in the delicacies from Pays De Herve while finding yourself surrounded by the rolling hilly landscape, so typical for this part of Belgium?
Search no more. We'll let you in on a little secret of ours.
Only half an hour from the centre of tourism in Herve, you'll find yourself in one of the most beautiful villages in the Walloon region. One of our absolute favourites, Clermont-sur-Berwinne. Cobbled streets and characterful renovated houses in the village centre provide you with hints of how 19th century life has looked like. The 17th-century St. James de Meerder church, the town hall and the old architecture can be seen from everywhere in the village. Be sure to take the time to visit one of the many castle farms that surround the village.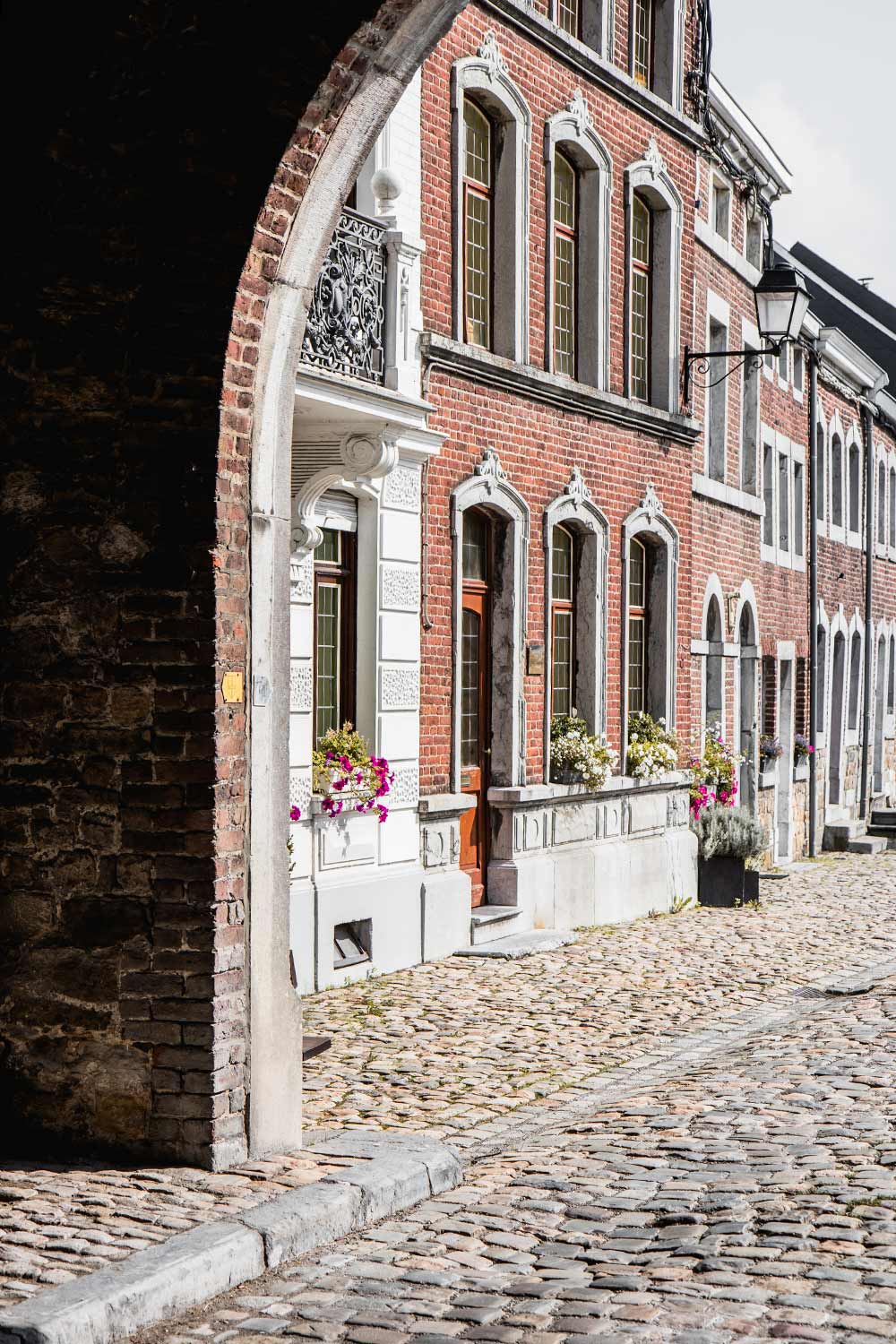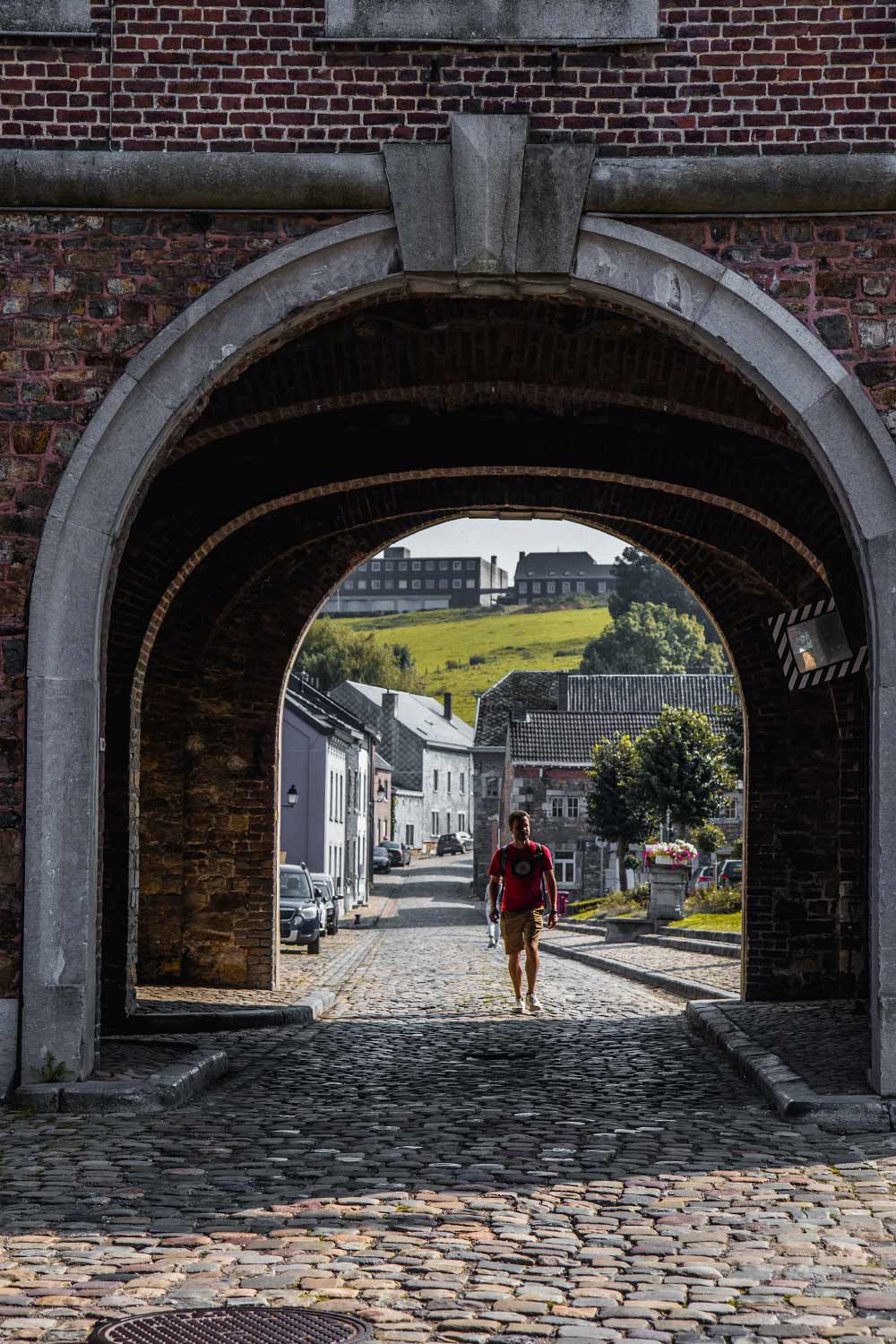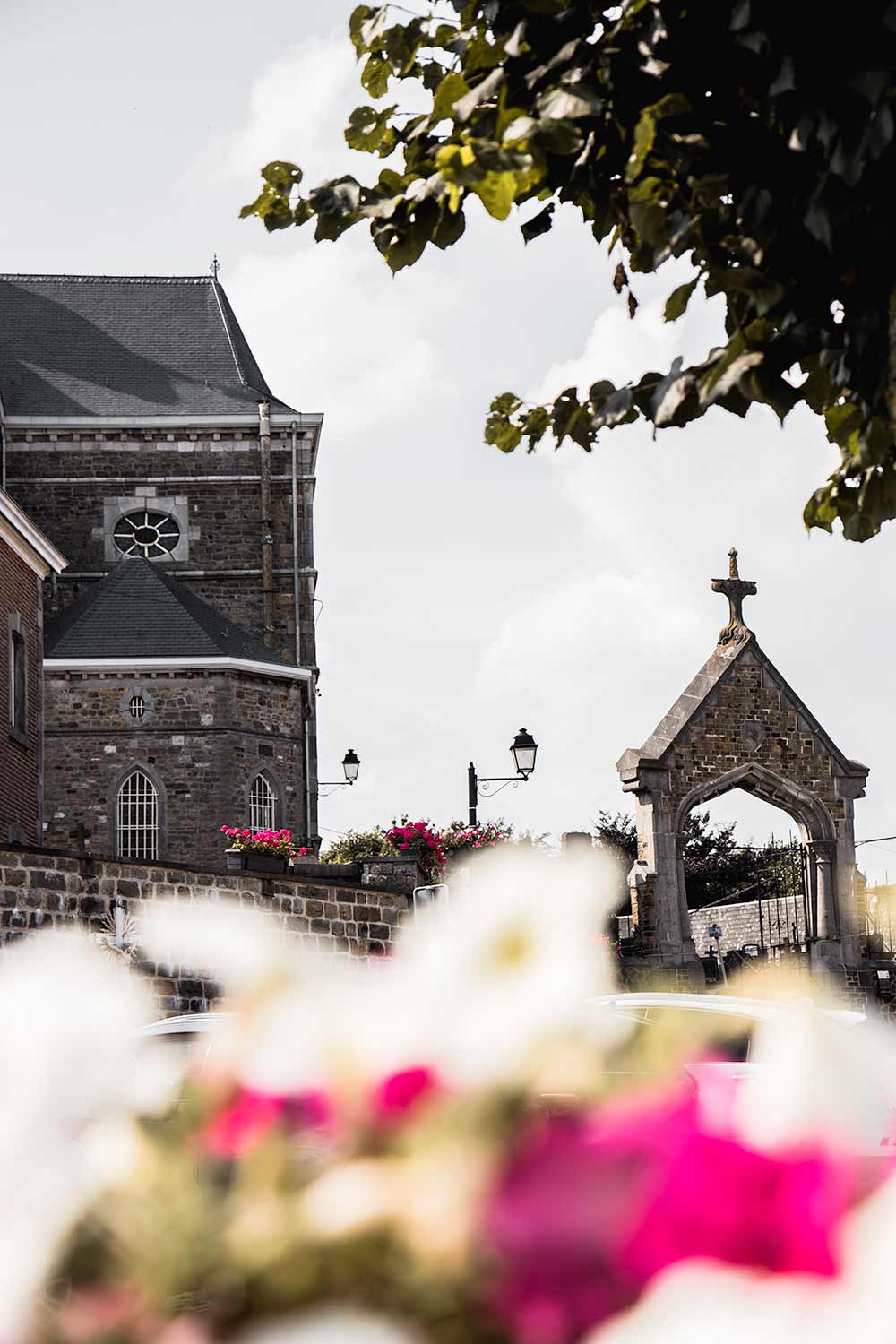 Clermont-sur-Berwinne deserves some time to explore. Take a peak inside the Saint-Jacques-le-Majeur (17de eeuw) church and adjoining cemetery. The lovely Halle square, old townhall and small donjon make this little town picturesque and picture perfect.

Take a short stroll around town before heading south, just outside of village centre, where you'll find the perfect spot for a well-deserved picnic. And while you're at it, why not make that picnic one with local produce!
Which food and drinks should be on the picnic blanket, you're asking? Local treats of course!
We suggest to start with a nice glass of the local cider. It's produced with apples grown on the trees all around the region. Sparkling and refreshing, it'll help you grow your appetite.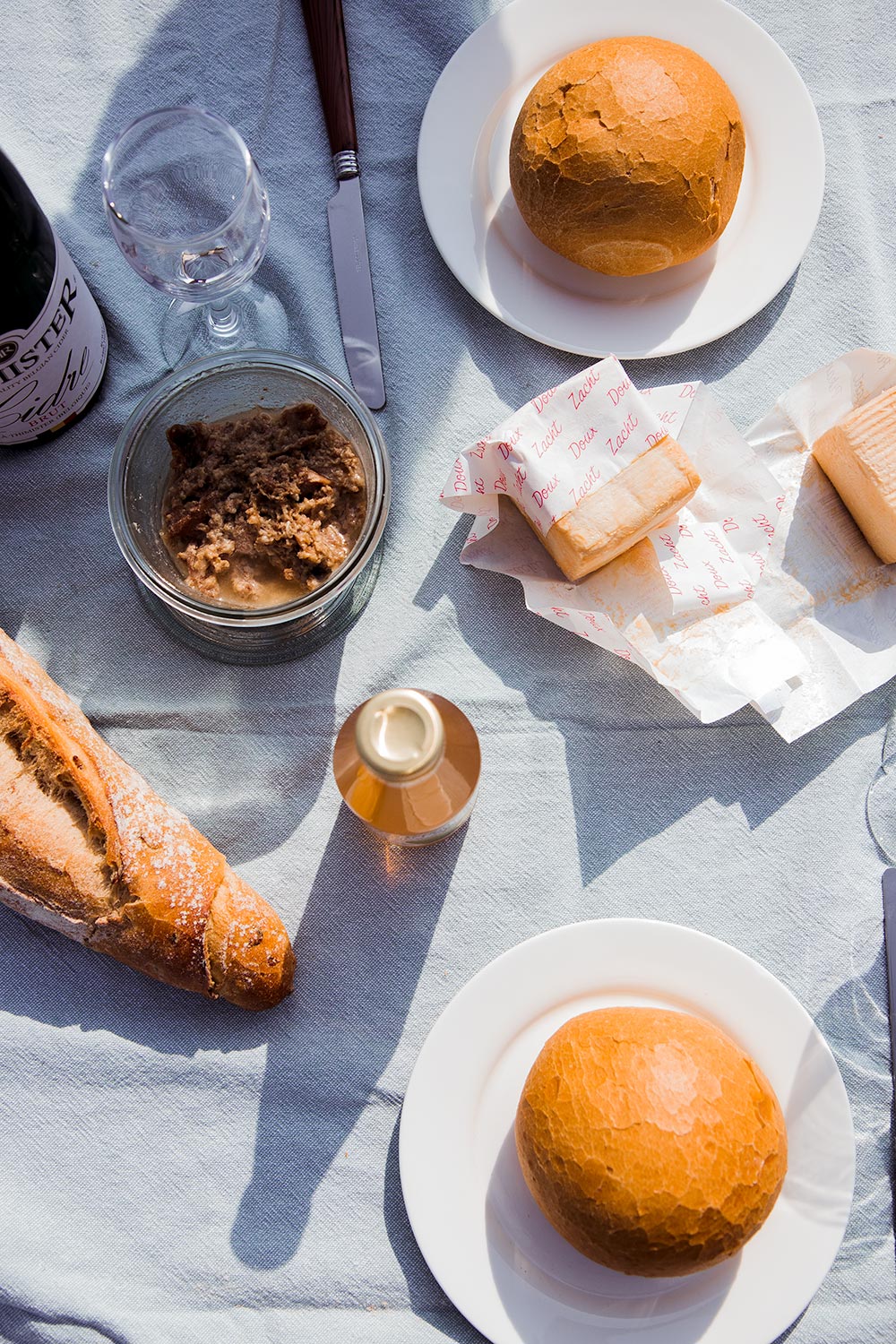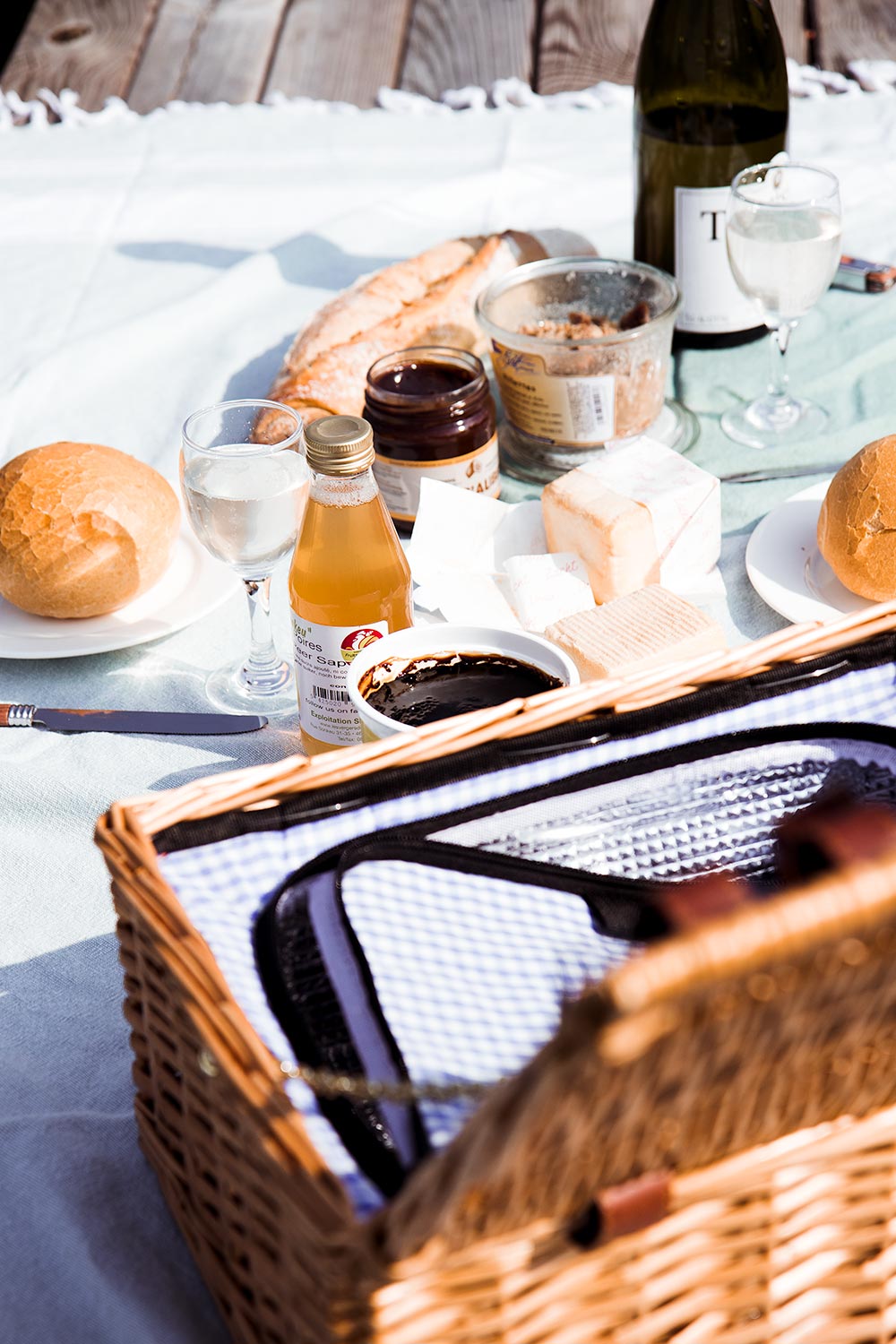 Where |
When | open all days of the year
Entrance fee | free
Learn to make cider in nearby Thimister
In 1898, Joseph Ruwet, a young audacious inhabitant of Thimister returned from his travels in Normandy where he had started making the local beverage, cider. Throughout the 20th Century and now the 21st, the small factory has kept on producing the fizzy drink found on tables across Belgium and abroad. Using only apples sourced from the trees in the Pays de Herve region, this little factory produces the epitome of local goodness. Luckily they welcome tourists wishing to discover the long history of the "CIDRES RUWET".
Where | Maison Ruwet Cidrerie, Rue de la Station 57, 4890 Thimister
Guided tour | check with the Tourism office in Herve for guided tour options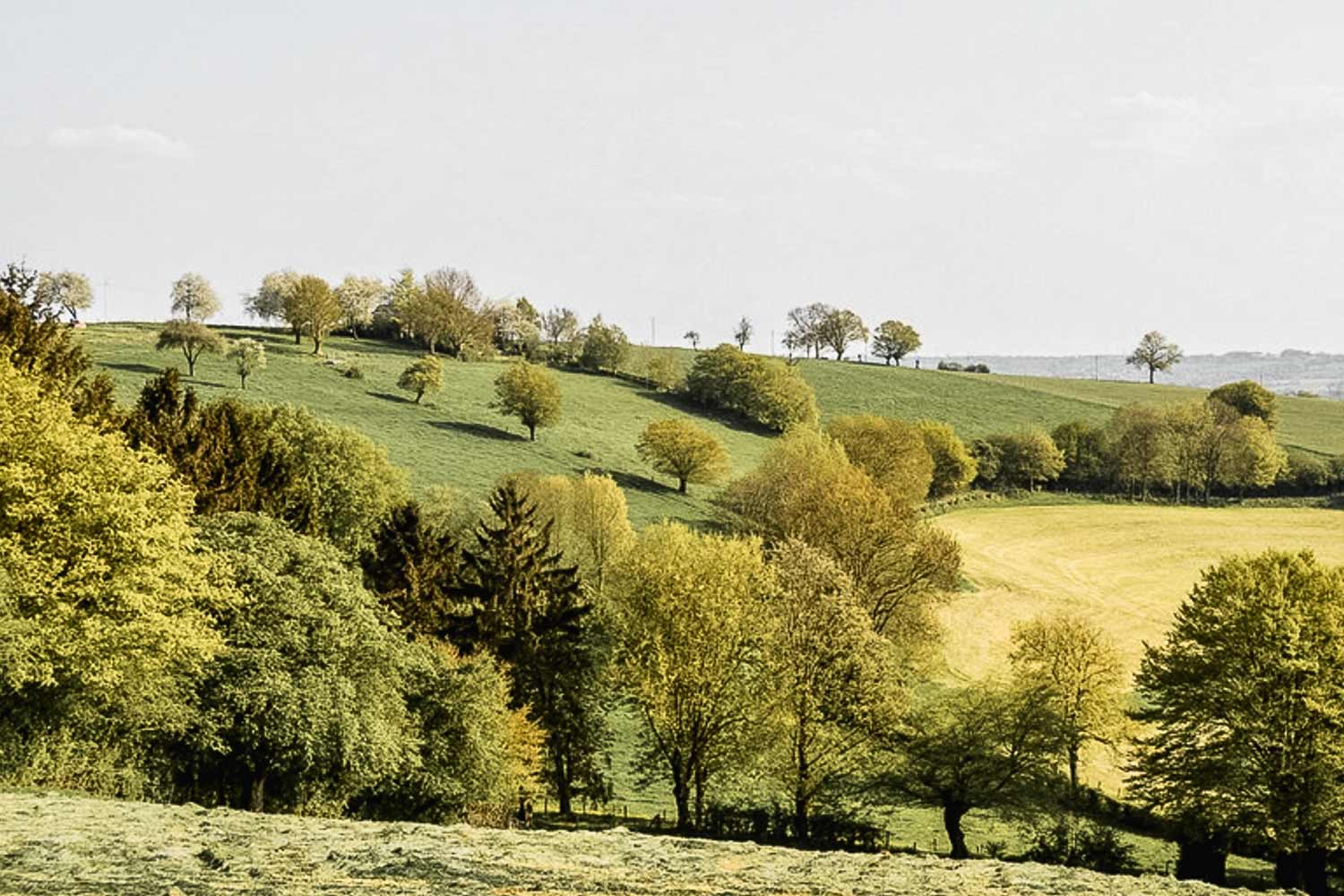 Lick your delicious sticky fingers at the syrup factory of Aubel

Walking or cycling through the hilly landscape of Pays de Herve guarantees views over some incredible orchards. High-stemmed fruit trees reign supreme here instead of the low trees you often find in Haspengouw.
If you love the sweet product of fruit trees, you'll definitely need to try the local syrup made from local pears and apples grown in the region. This Herve syrup tastes incredible together with the local Herve cheese and some bread. Your senses will thank you, rest assure.
In Pays De Herve syrup is called the black gold. Don't forget to pay a visit to the artisan syrup maker of Aubel. For many generations, the Siroperie Artisanale d'Aubel has been continuing the tradition of syrup making according to the ancestral recipe of the farms of the Pays de Herve. It's being made in copper vats, heated over a fire. Without any added sugar, the artisanal syrup is a concentrated juice of apples and pears picked from tall fruittrees in the region.
Where | Siroperie Artisanale d'Aubel, Rue Saint-Antoine 16, 4880 Aubel
When | every Saturday at 11 a.m.
Entrance fee | free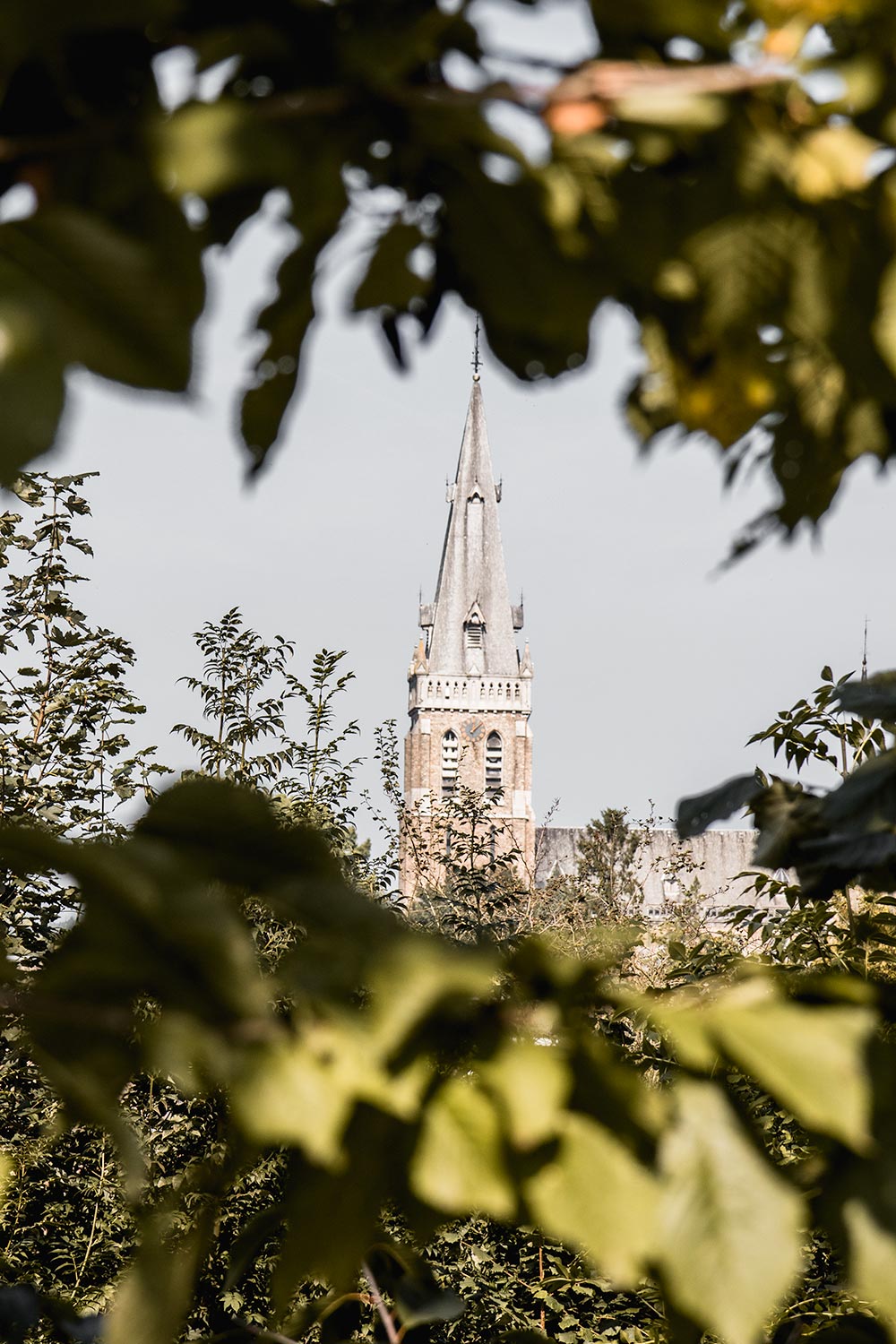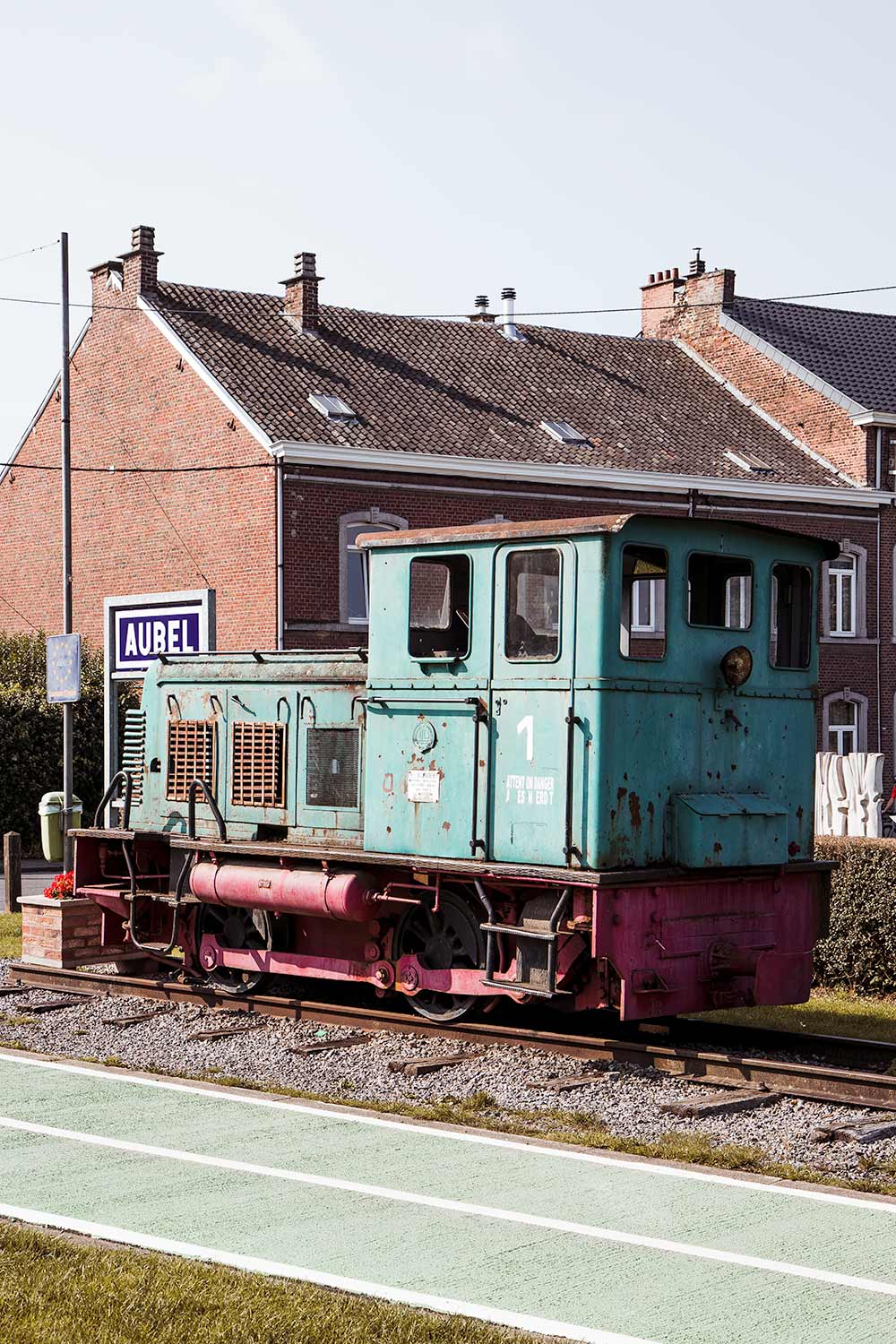 Enjoy a heavenly brew at Val Dieu abbey
If you're into a Belgian beer, Pays de Herve offers a regional specialty: the Val Dieu beer. It's a genuine craft beer of which production lasts between 6 and 8 weeks. Brewed in the Abbey of Val Dieu near Aubel, you can combine a tasting with a cultural visit.
There are five different types of Val Dieu abbey beer, 100% brewed in a living abbey and according to the same proaction process as the famous Belgian Trappist beers. Our personal favourite? The Val Dieu Blond, whereas the Val Dieu Triple is a good runner-up.
Where | Abbey of Val Dieu, Val Dieu 227, 4880 Aubel
When | every Saturday at 10h, 14h30 and 15h
Entrance fee | Guided tour of the brewery with tasting of two beers and cheese (2h) 12€ p.p. - The yard, the Basilica and the park are accessible all year for free.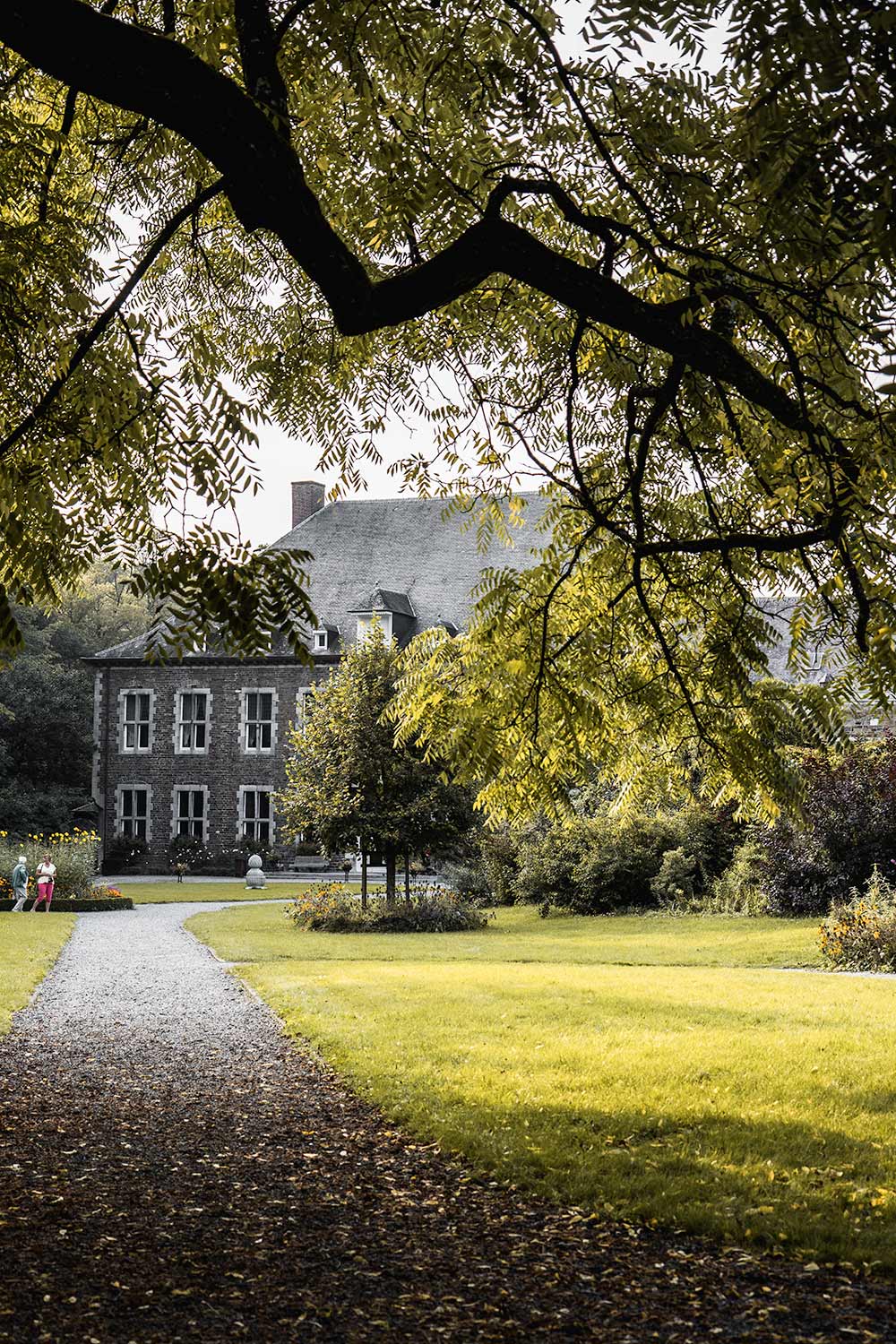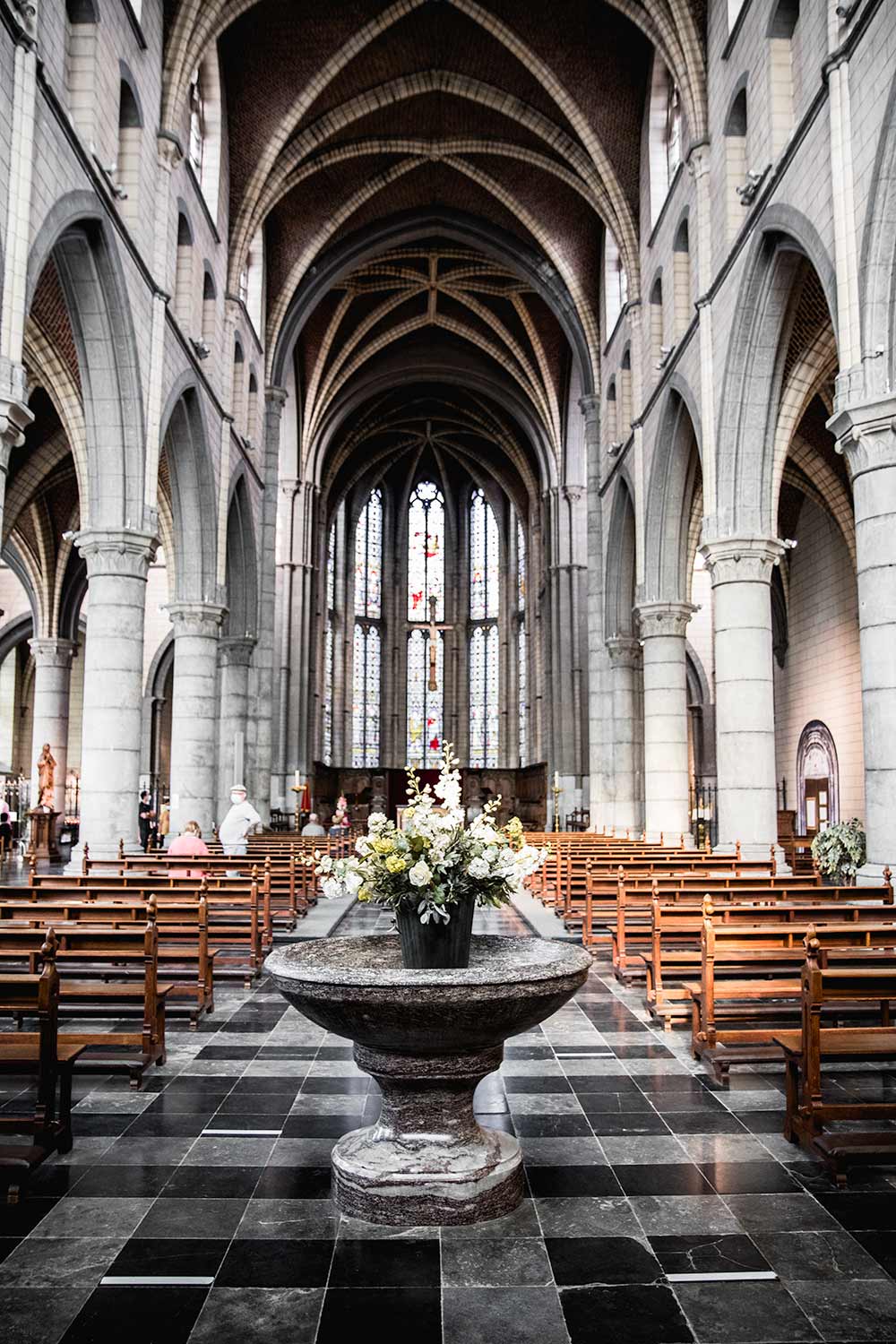 An active culinary escape in Pays de Herve
The perfect Pays de Herve cycling route
The Pays De Herve, definitely a unique region. Its peaceful scenery with a blend of grassgreen meadows with grazing cows and the picturesque villages in between. Perfect for a weekend getaway and for a culinary feast. So many local delicacies await you to be enjoyed while enjoying the environment. In a way, Pays de Herve is a secret Belgian hotspot for foodies. So many local delicacies can be enjoyed on such a small patch of land, it's practically impossible not stumble upon one of the many tasty goods.
We've enjoyed the Land of Herve by bicycle, enjoying the freedom it gave us to explore its natural surroundings and flexibility to stop anywhere we wanted. You can find our route right here:
We cycled this route clockwise, starting at the Maison de Tourisme in Herve. We rented 2 bikes there for the day and opted for one with a basket in the front to bring our picnic along. Our first stop was a visit to the Abbey of Val Dieu where you can purchase some Val Dieu beers if you haven't done so at the Tourism House. We then continued on to Aubel where we enjoyed the free guided tour at 11a.m. If you haven't purchased any goods at the Maison de Tourisme you'll get the chance to buy their syrups, marmelades or chocolate pastes after the tour. We also found a great bakery in the town centre which we purchased for our picnic.
Back on our bikes we continued to Clermont-sur-Berwinne. In the park behind the church you find a great picnic spot and benches. There's also a water fountain which you can use to rinse off your stuff (which can get sticky). You can buy the Herve cheese, fruit juices, rilettes and chocolates at the Maison de Tourisme.
Make a stop at Thimister if you want to learn more about the cider production but make sure to arrive at 14h30 at the Fromagerie Du Vieux Moulin for a guided tour. You can enjoy some cheese samples after and get your fill on desert at their ice cream parlor! Head back to Maison de Tourisme in Herve to drop off your bikes and head to Olne to check into Aux Quatre Bonniers for the night. A perfect day in Pays de Herve!
Where | Maison de Tourism Herve, Place de la Gare 1, 4650 Herve
Opening hours |
01/04 - 30/09 - Tuesday-Friday: 9h-18h
01/04 - 30/09 - Weekend: 10h-18h
01/10 - 31/03 - Tuesday-Friday: 9h-17h
01/10 - 31/03 - Weekend: 10h-17h
Renting fee | 10€ per bike for half a day, 14€ per bike for a full day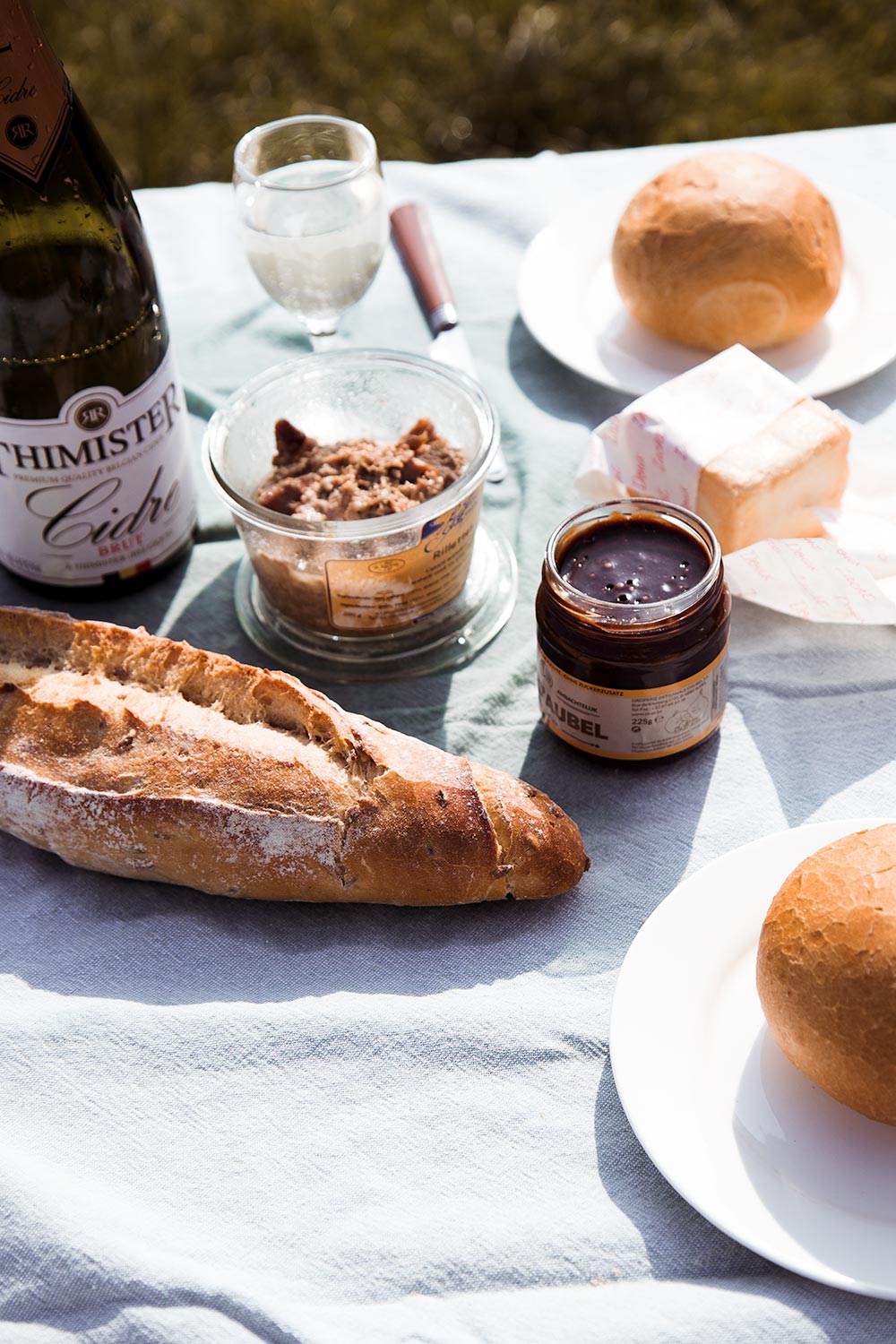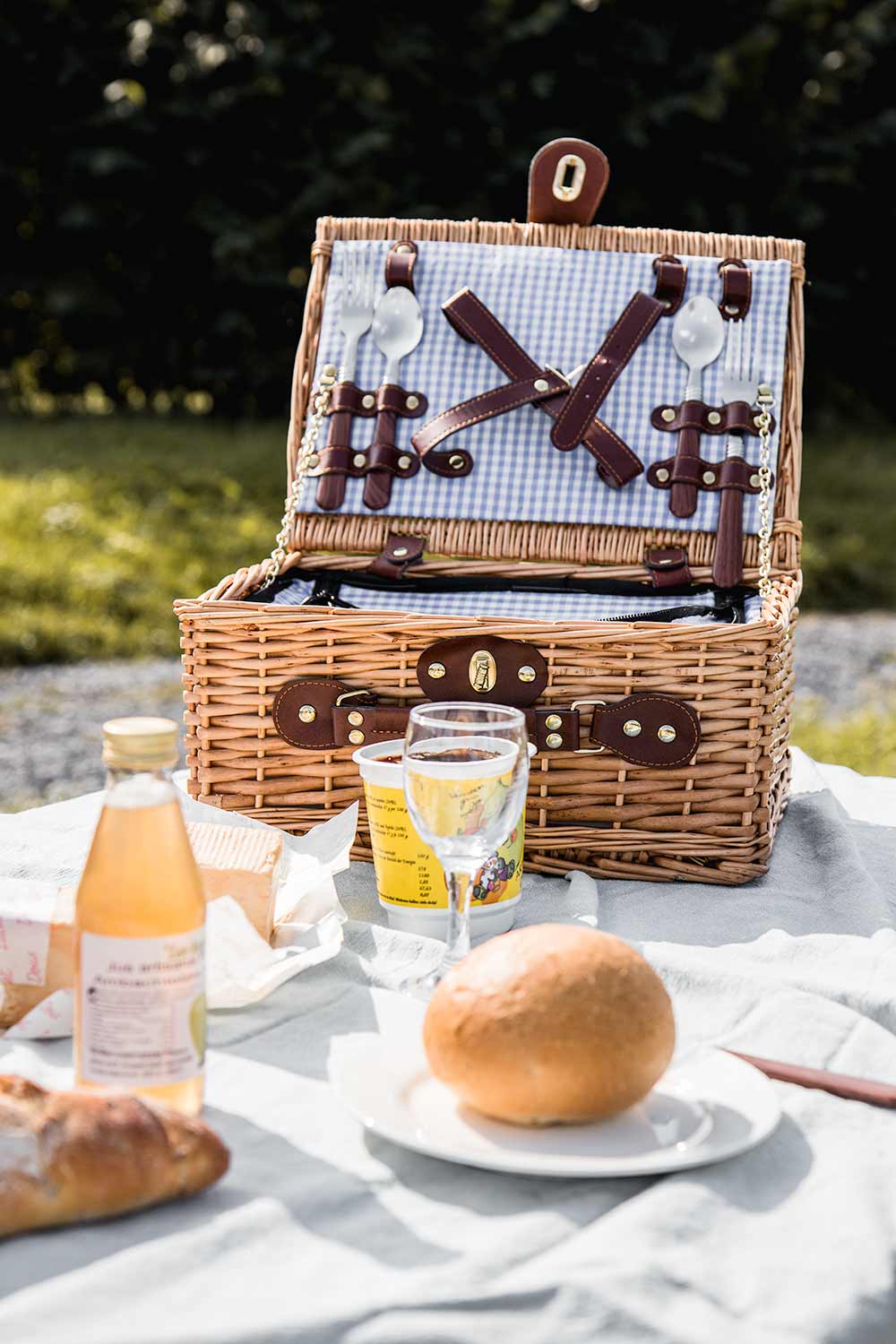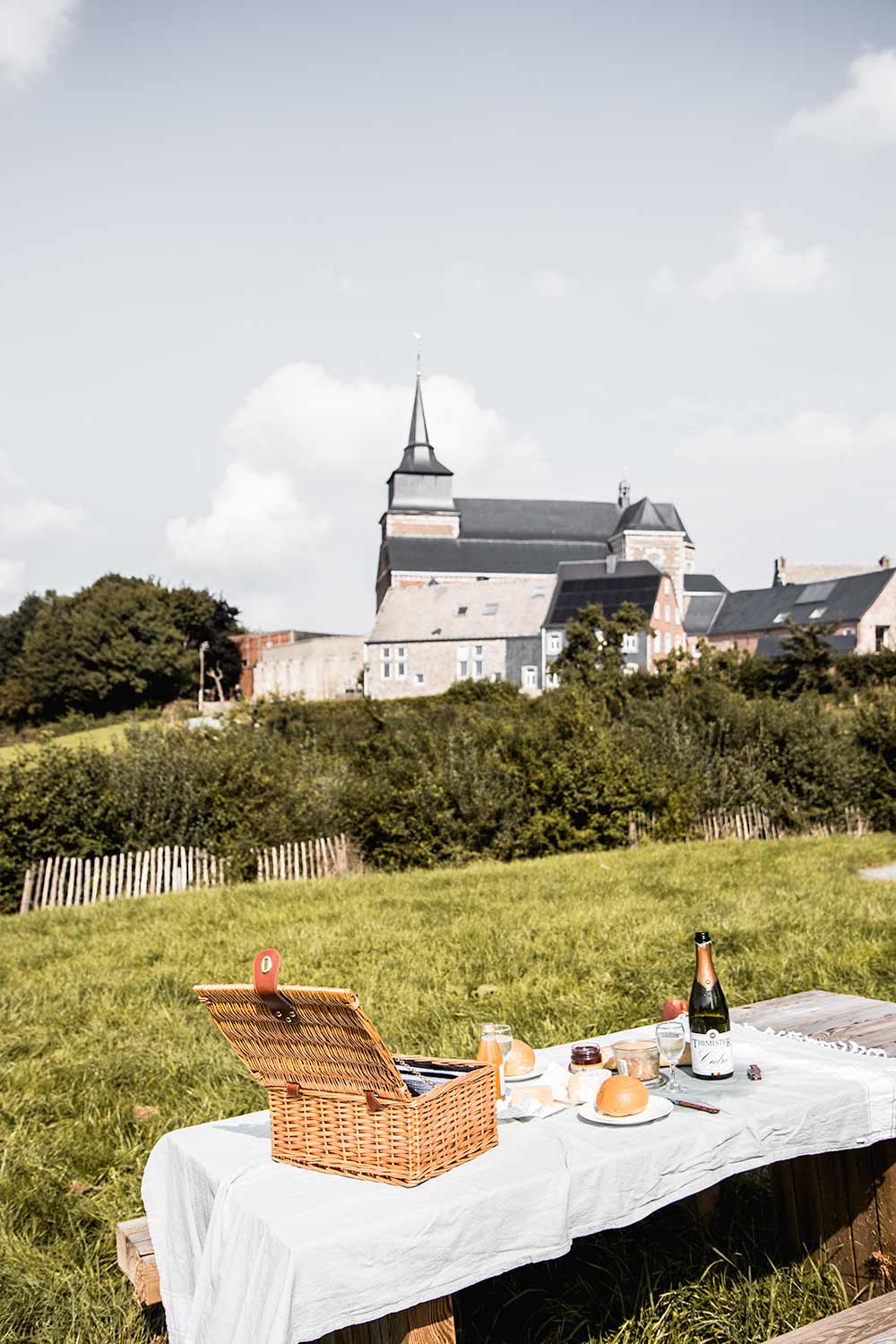 Get yourself a picnic
The best way to enjoy the region is to taste it! We not only learned about the production processes but actually got to taste them too! You can stock your picnic basket with delicious goodies at the Herve Tourism Center. Their shop has all the local produce of the region in store.
Make sure you have some fresh bread or a baguette with you. You can't really miss out on it, given the many local bakeries. It's ideal to pair with some Herve cheese, syrup and other local delicacies like duck rilettes. What to drink during your picnic? You can't go wrong with a Val Dieu beer, a delicious glass of apple cider or one of the locally produced juices!
Where | Pré Desonay, behind the church in Clermont-sur-Berwinne
When | open all year long
Entrance fee | free
Where to stay in Pays de Herve: Aux Quatre Bonniers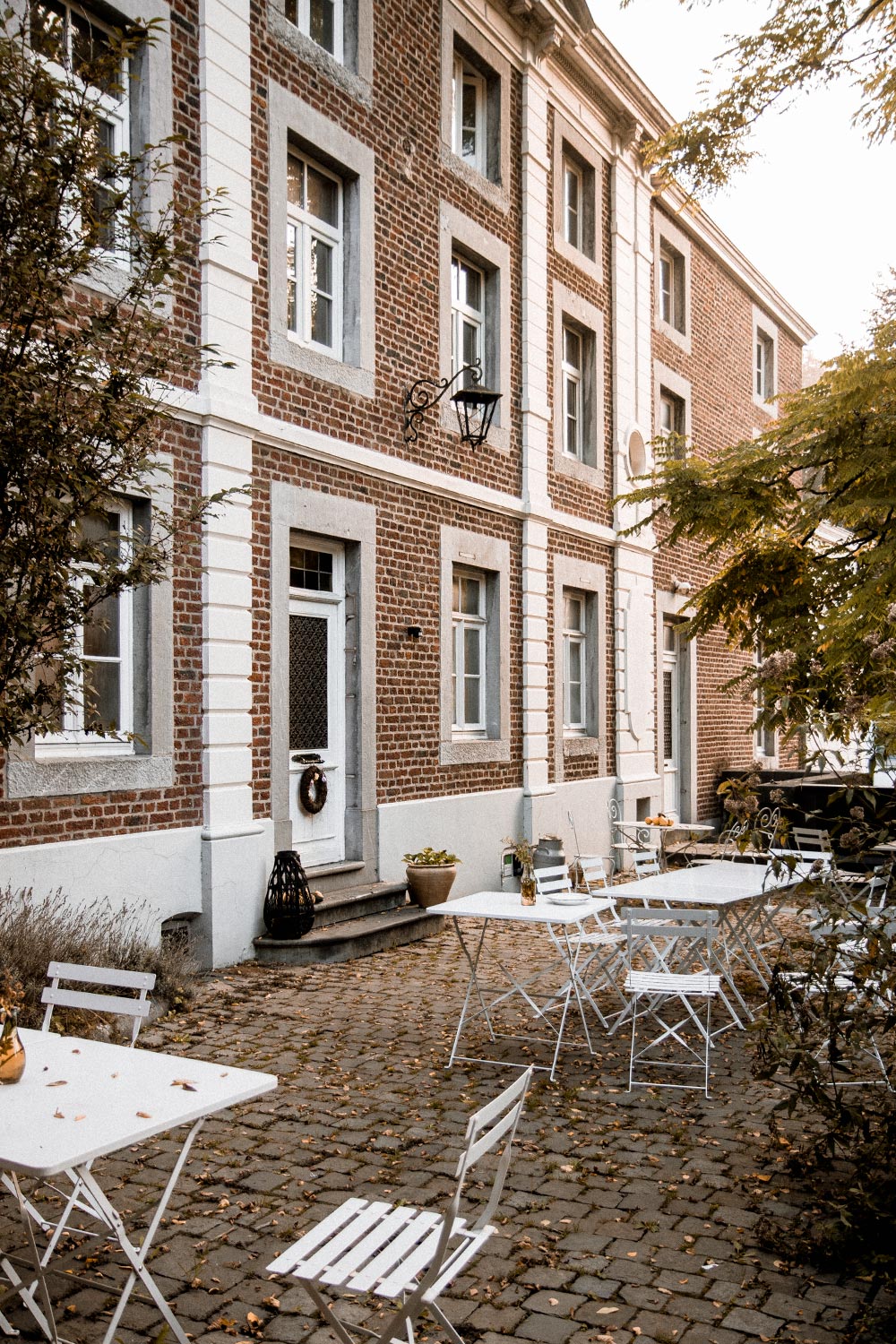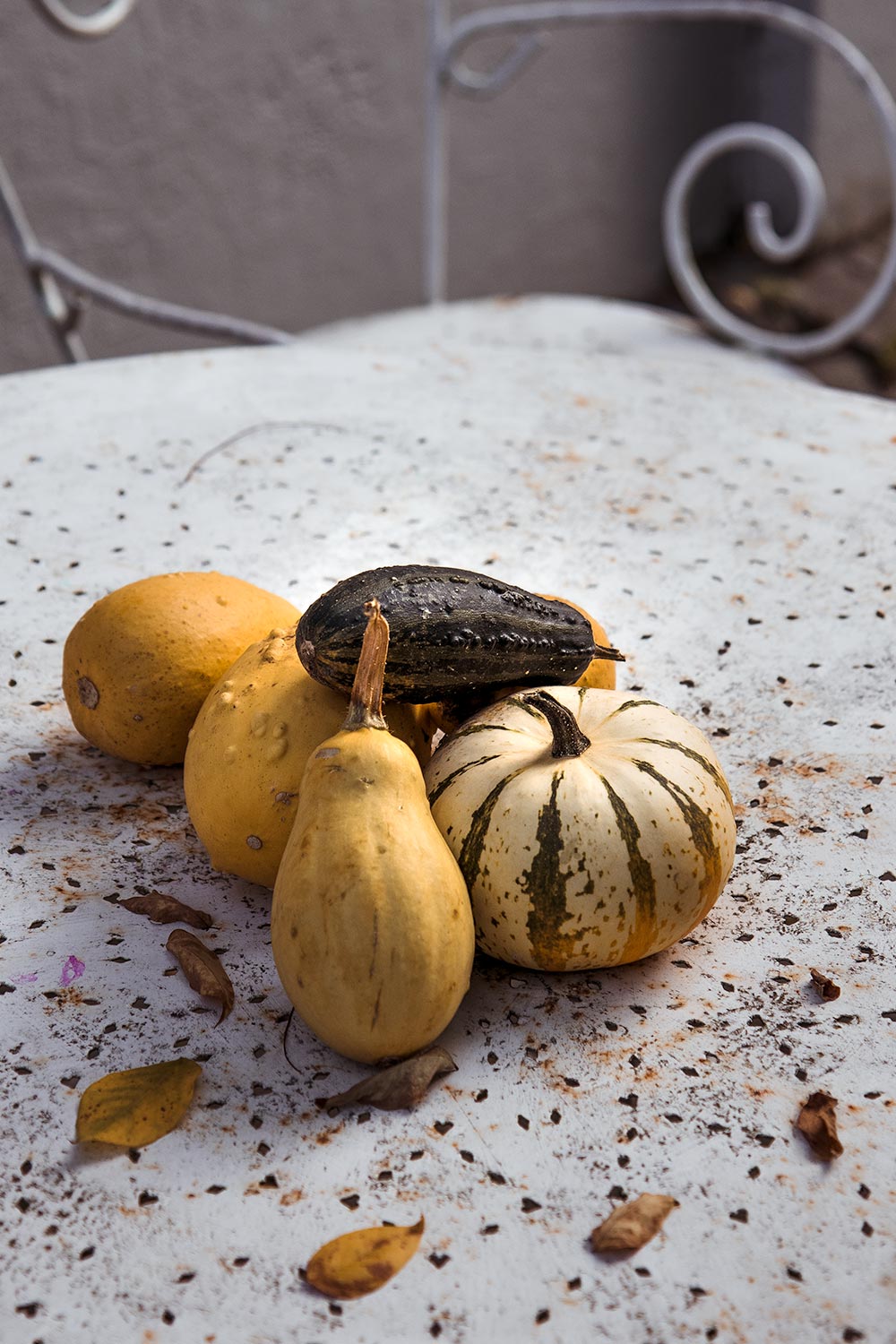 We cannot rave enough about our stay at Aux Quatre Bonniers in Olne. A unique setting, where the lovely, charming host Kathleen offers an exquisite breakfast, again with local specialties. The B&B is set in an ancient building, belonging to a gunsmith that used to make the guns and bayonets for Napoleon's troops! Needless to say, this place has history.
Enjoy the outside and the garden of the Bed&Breakfast at dawn. The first sunlight capturing nature around you and the church of the village nearby will definitely make you feel great. The best way to kickstart your day in Pays De Herve!
CLICK HERE TO BOOK YOUR STAY AT AUX QUATRE BONNIERS
Finish the day in local flair at Le Vieux Soiron
Just like Clermont-sur-Berwinne and Olne, Soiron is considered as one of the most beautiful villages in Wallonia. And rightly so! Tiny but incredibly charming and surrounded by the most pastoral landscapes, Soiron is the perfect place to end your explorations by feasting on some great food.
Le Vieux Soiron perfectly blends into the rustic flair as it occupies one of the traditional buildings in the town center. We immediately fell in love with it. We opted for the tasting menu, which starts at 38€ per person. Delicately prepared and with local ingredients!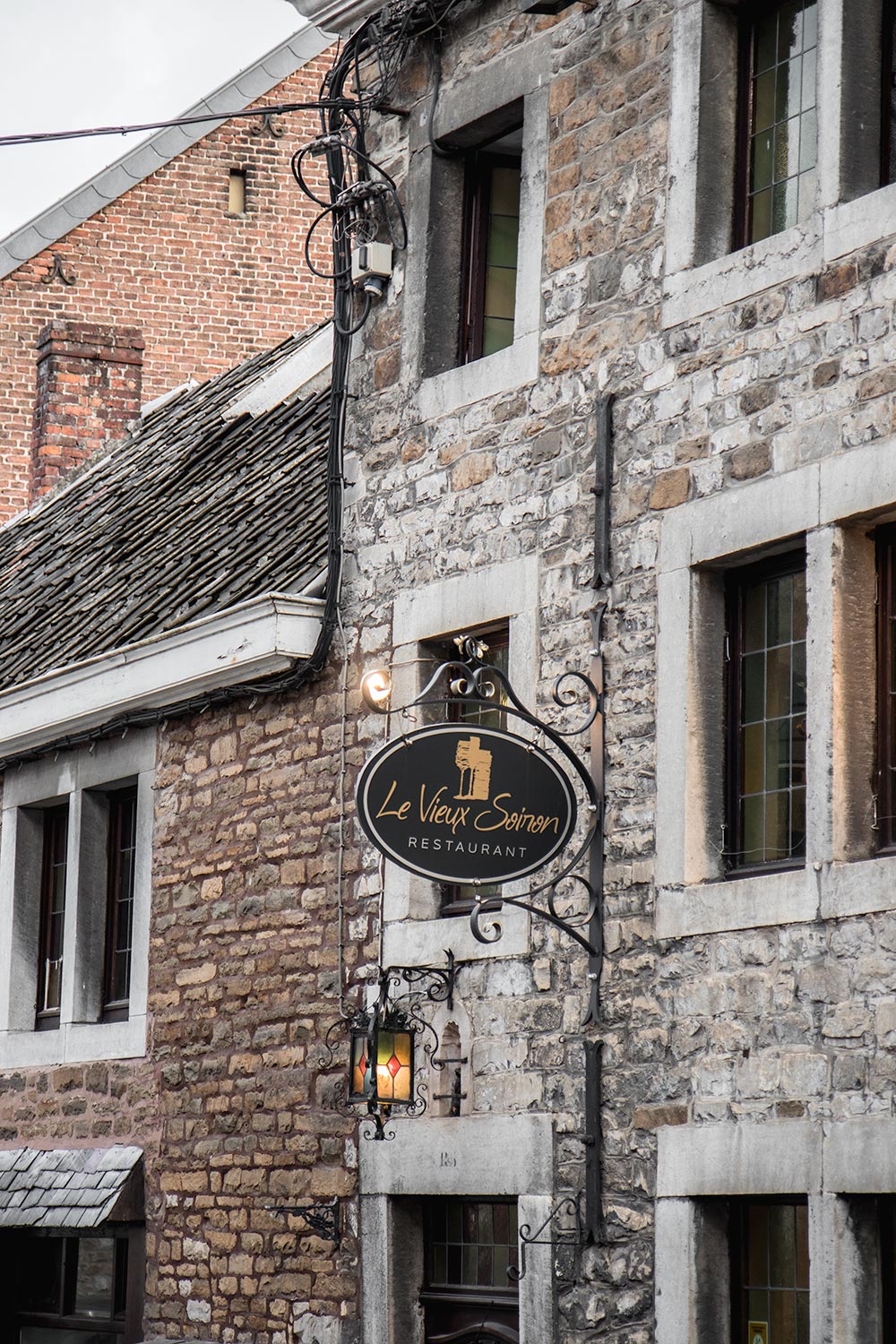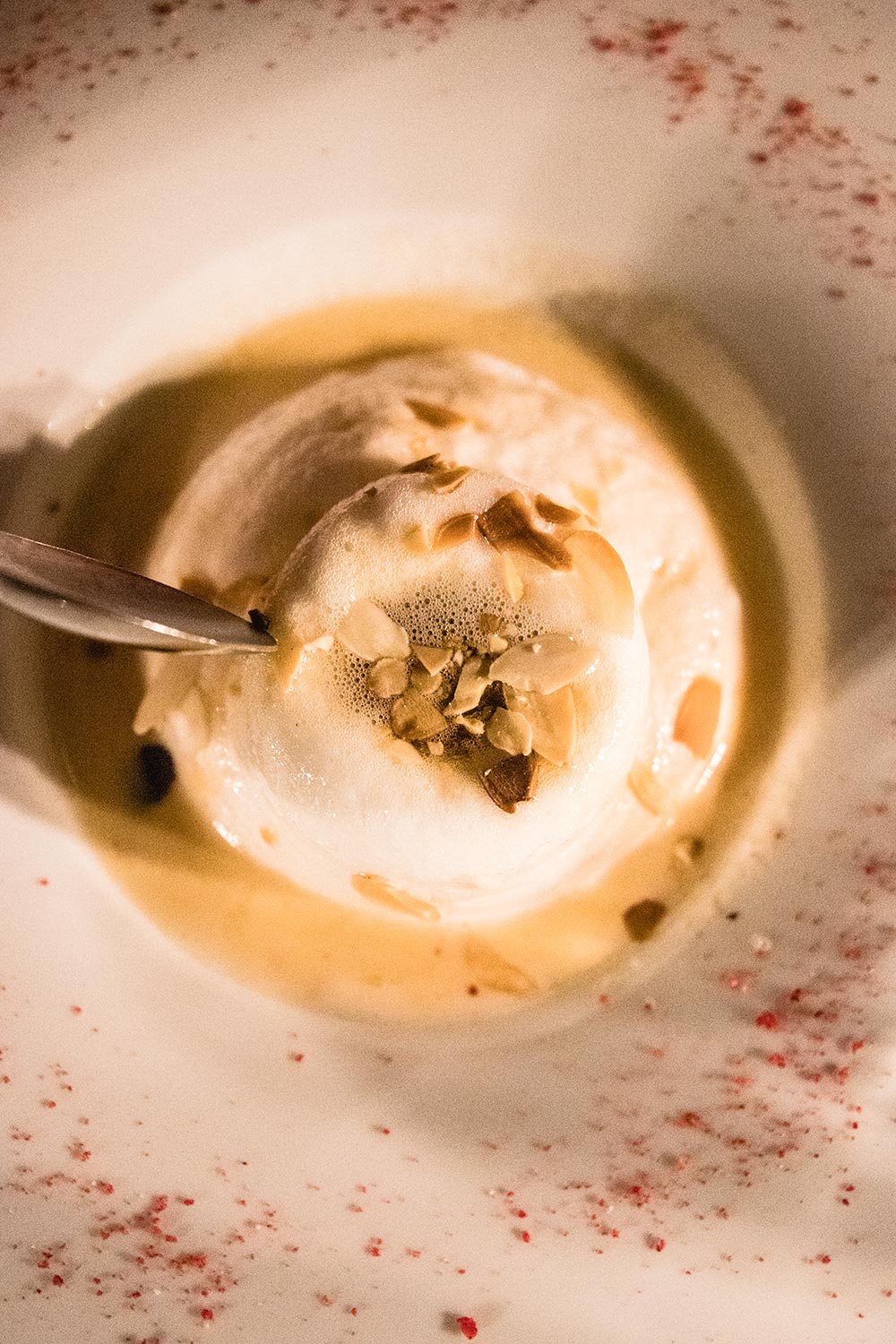 Where | Le Vieux Soiron, Soiron-Centre 51, 4861 Pepinster
When | Lunch from 12:00 to 14:00 - Dinner from 6.30 pm to 9 pm - Closed Monday, Tuesday and Wednesday for lunch
Price | degustation menu (3 courses) as from 38€ p.p.
---
A big thank you to Wallonië België Tourisme and each individual operator who hosted us during our stay. As always, all words and opinions are our own. This post contains affiliation links. We receive a small commission whenever you purchase something through these links at no extra cost to you.