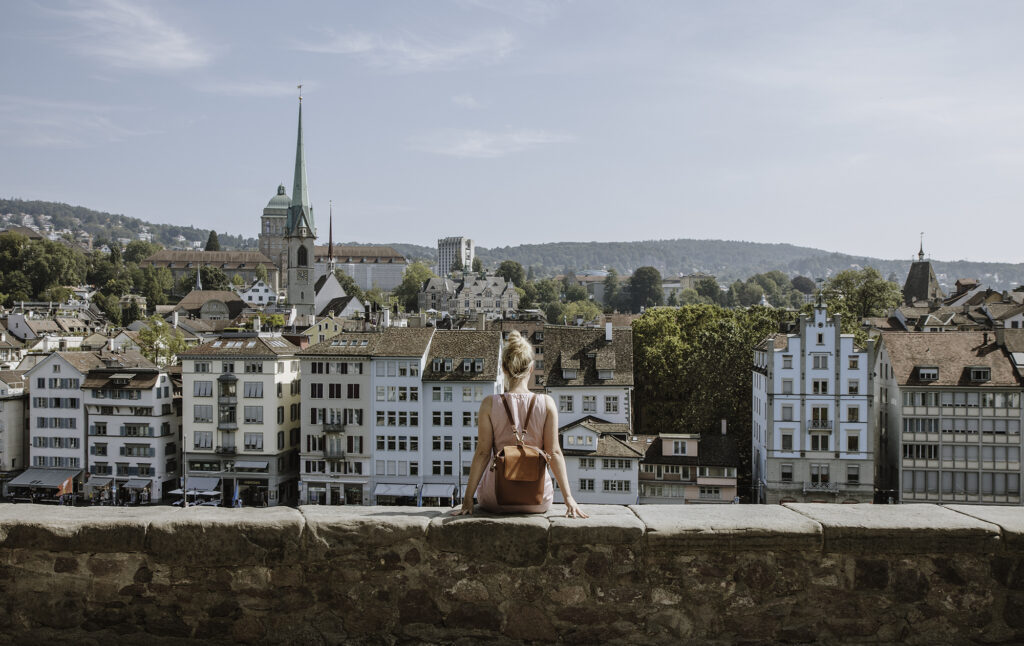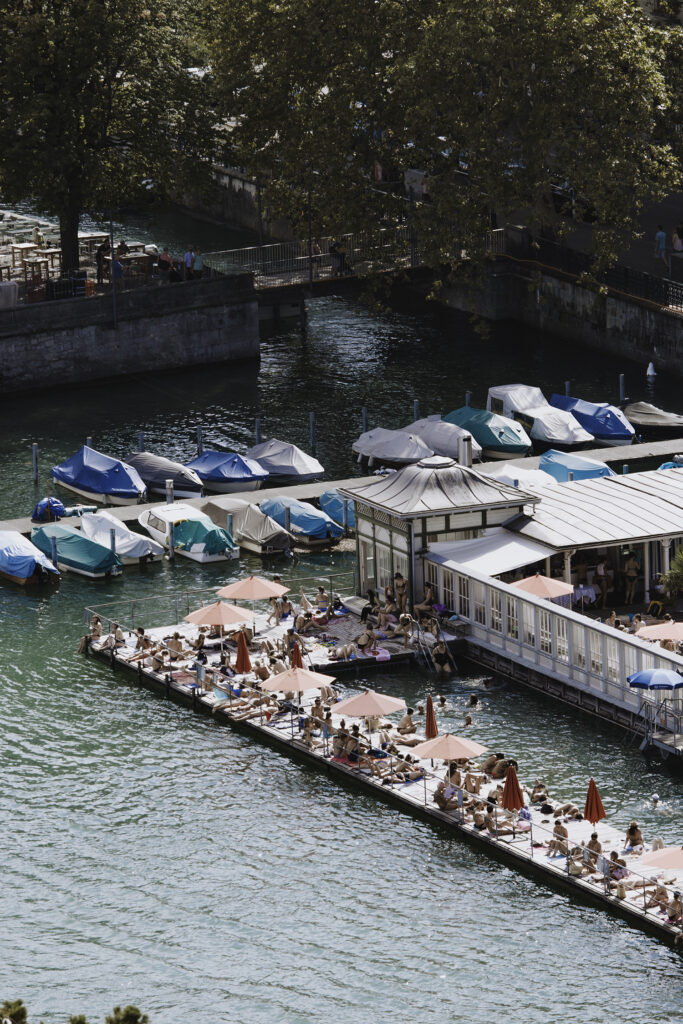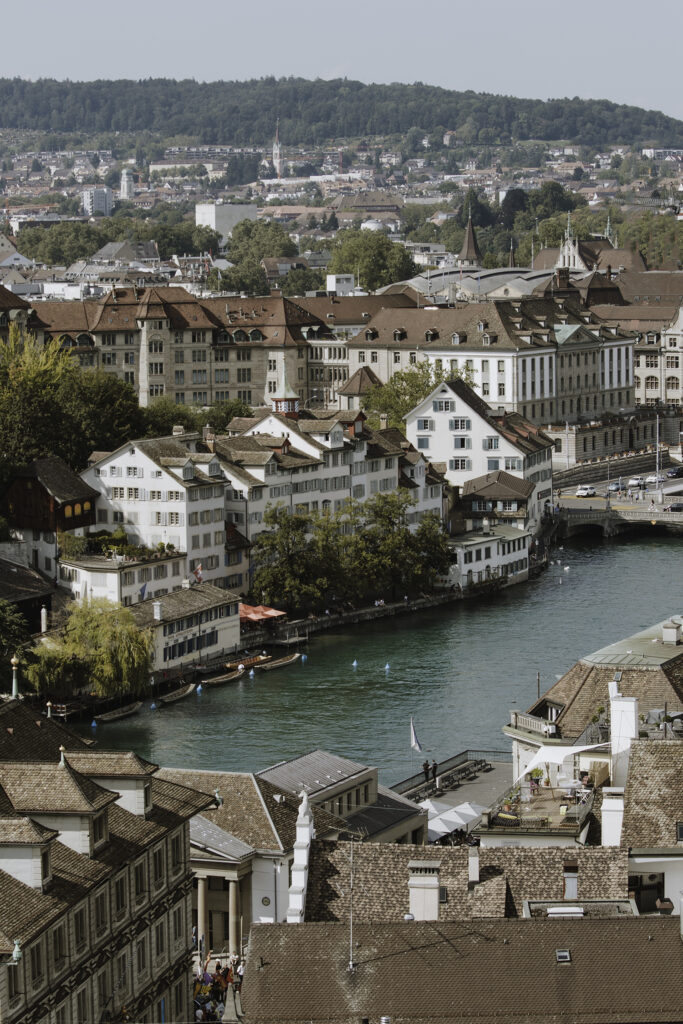 For a city that is widely known as the global hub for Finance and Banking, Zurich also appears to be visually stunning. It may not be as exciting as New York City,
Tel Aviv
or Paris, but Zurich still has a lot to offer: cosy cafés, interesting museums with new exhibitions almost every month, plenty of concerts, a vibrant nightlife, amazing outdoors, and quite an international population.
While famous for luxurious lifestyles, high-end shopping, and fancy chocolates, we decided to explore another part of Zurich. Far from the clichés foreigners tend to have in mind -dull grey buildings, luxury shops and banks-, Zurich shelters in incredible old city center and hipster neighborhood.
---
Planning a trip to Zürich or Switzerland? Here are some other posts that you might find helpful:
---
Zurich city break: how to spend one day in Zürich
9:00AM — kick-off the day with a mouthwatering breakfast in Zürich
There are endless cafés and breakfast bars to explore in Zürich. If you're a sucker for interiors, start your day off at
Babu's
. Known for it's mouthwatering brunches, Babu's can get quite busy. We recommend making a reservation so you're sure to enjoy the delicious etagères with scones, croissants and fruits!
If you're into healthy, wholesome breakfasts, try out
Juicery 21
instead. Their cold pressed juices are simply perfection. Lush breakfast bowls and decadent bagels also cater to travelers on a plant-based diet! You can't go wring with either two breakfast spots in Zürich.
THE ESSENTIALS
Price range | 9CHF for cold press juice, 12CHF for breakfast bowl, 15CHF for homemade pancakes
Opening hours | Babu's: Mon-Sat:7am-8pm, Sun: 9am-5pm
Juicery 21: Mon-Fri: 7am-7pm, Sat: 9am-5pm, Sun: 10am-5pm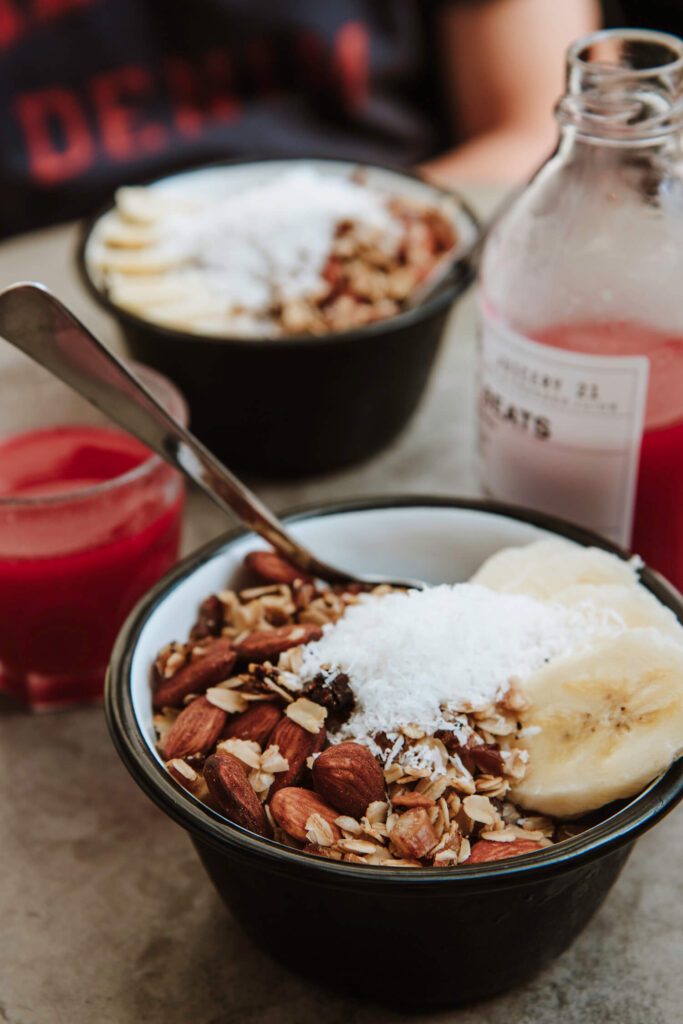 10:00AM — take in the views at Park Lindenhof
A short 10 min walk brings you to the Lindenhof Park. Built on the ruins of a Roman fort, this beautiful park is the perfect place to take in your first views of Zürich. From here you'll enjoy a glorious view of Zürich Old Town, the Limmat river, the Grossmünster Church and City Hall.
THE ESSENTIALS
Admission | free
Opening hours | 24/7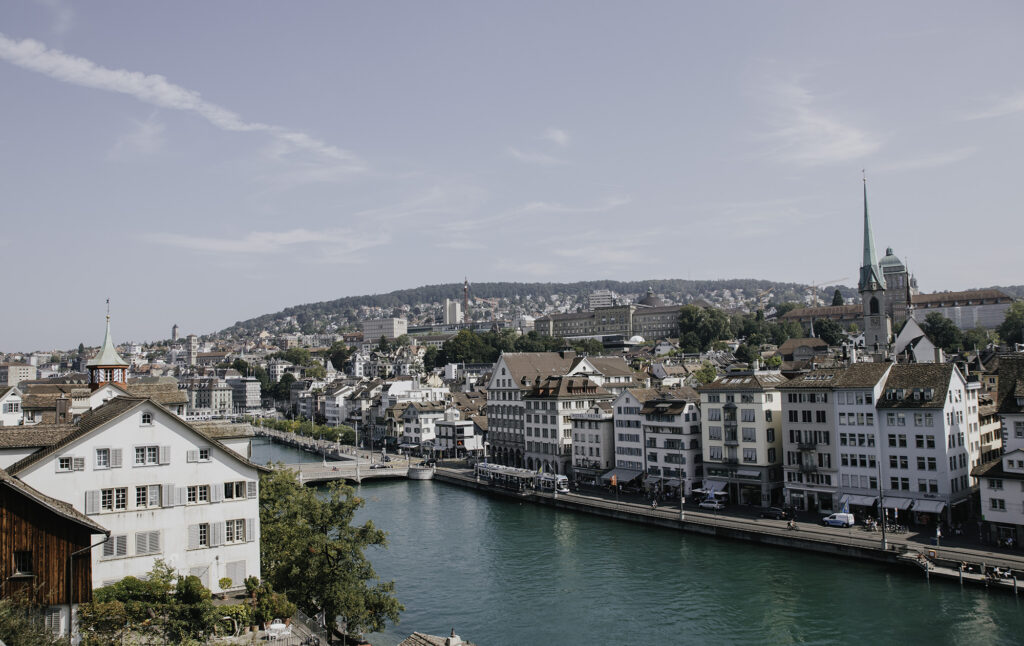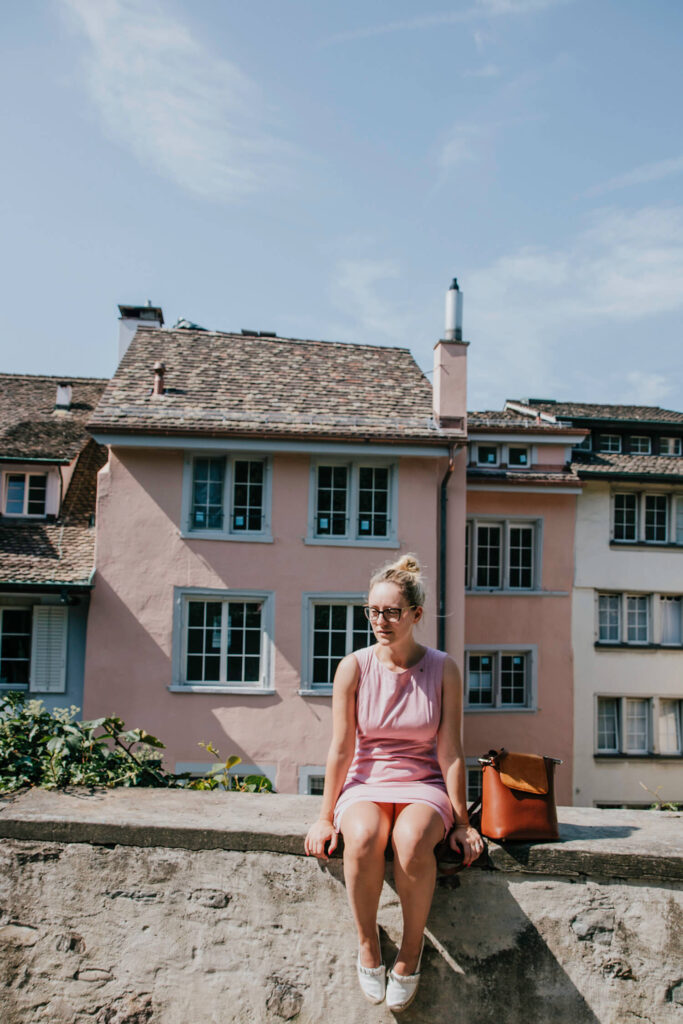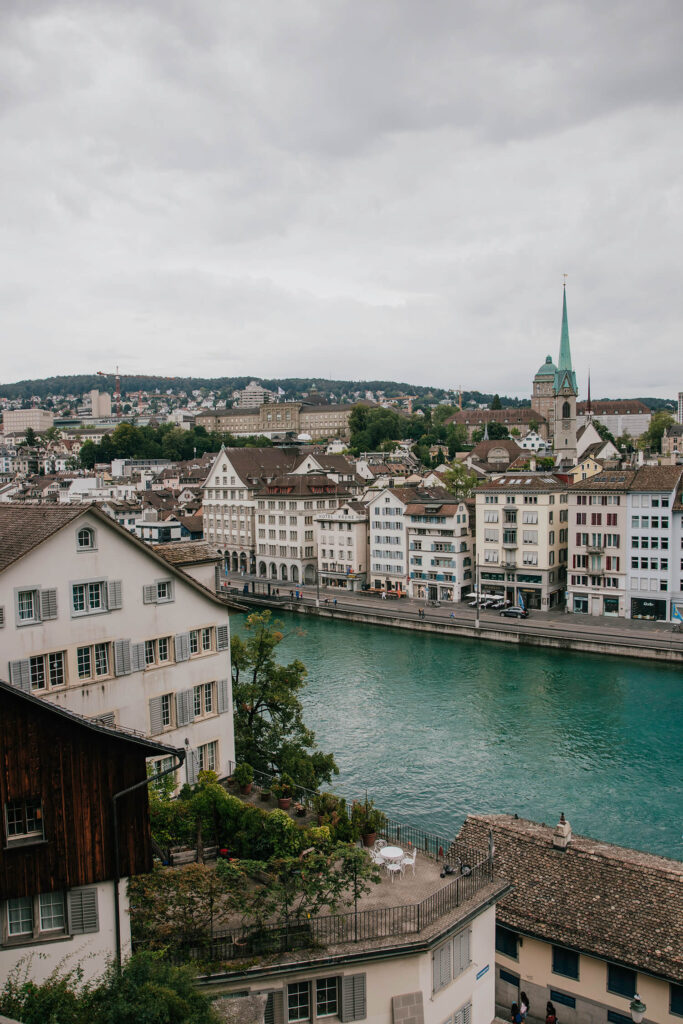 10:30AM — stroll along the Limmat waterfront
Fancy another view of the city? Limmat's waterfront is one of our favorite walks in Zürich. Along the Limmat's shores you'll find cafés, beautiful façades, observation decks and public swimming pools in the Limmat river. Walk all the way from Park Lindenhof to the docks at Bürkliplatz.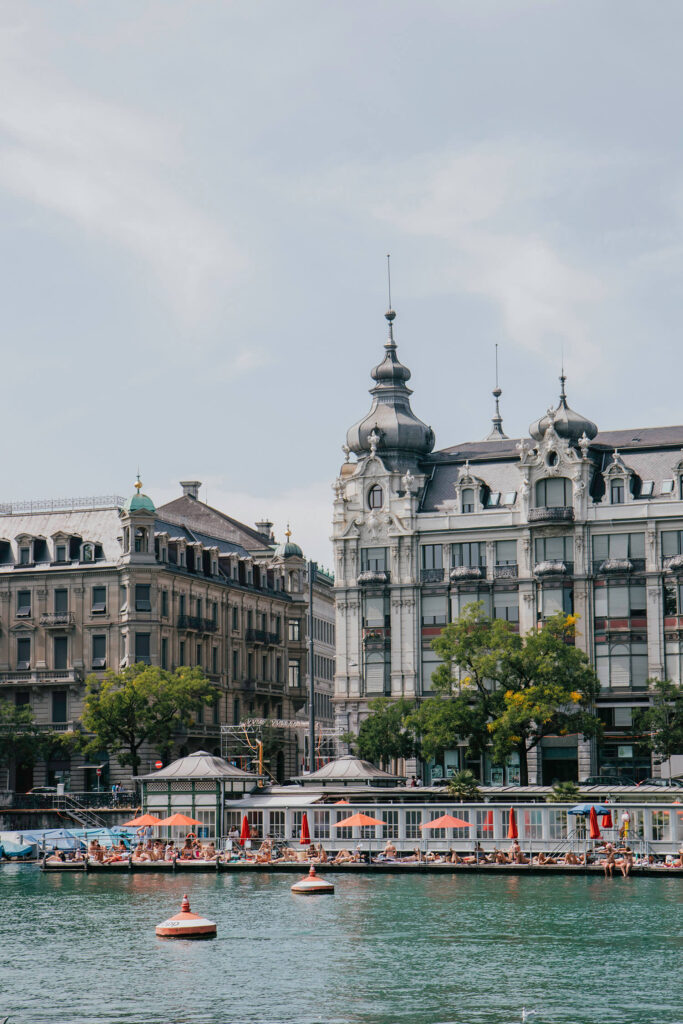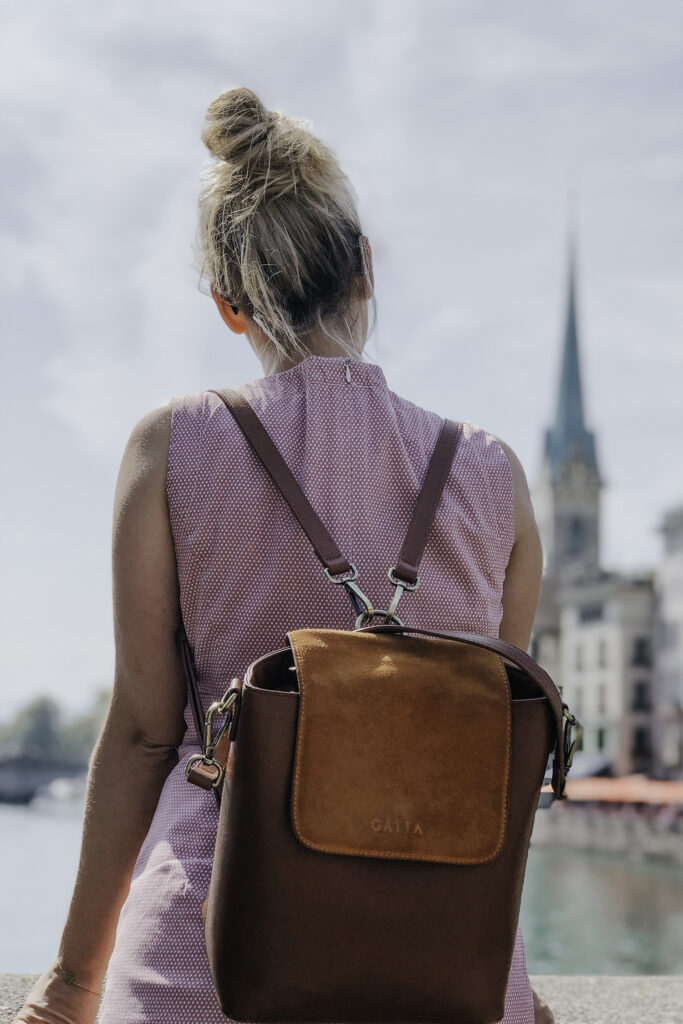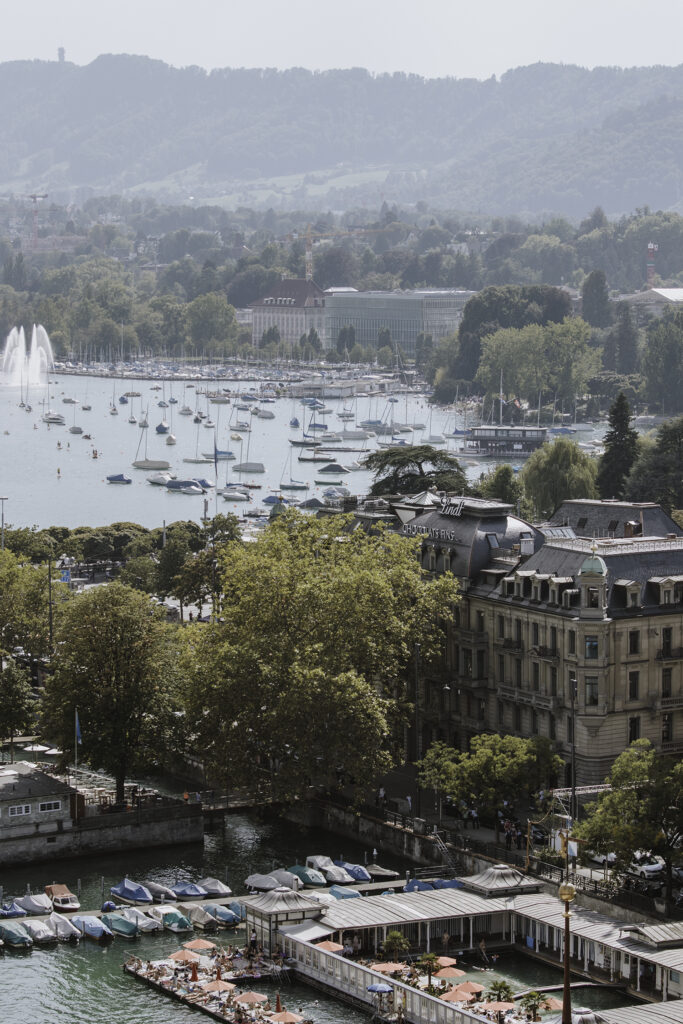 11:00AM — enjoy the majestic views over Lake Zurich
Lake Zürich is absolutely beautiful! Its turquoise color and numerous sailing boats gave this metropolis an instant Mediterranean feel. Watch the sun reflect on the water surface from the docks at Bürkliplatz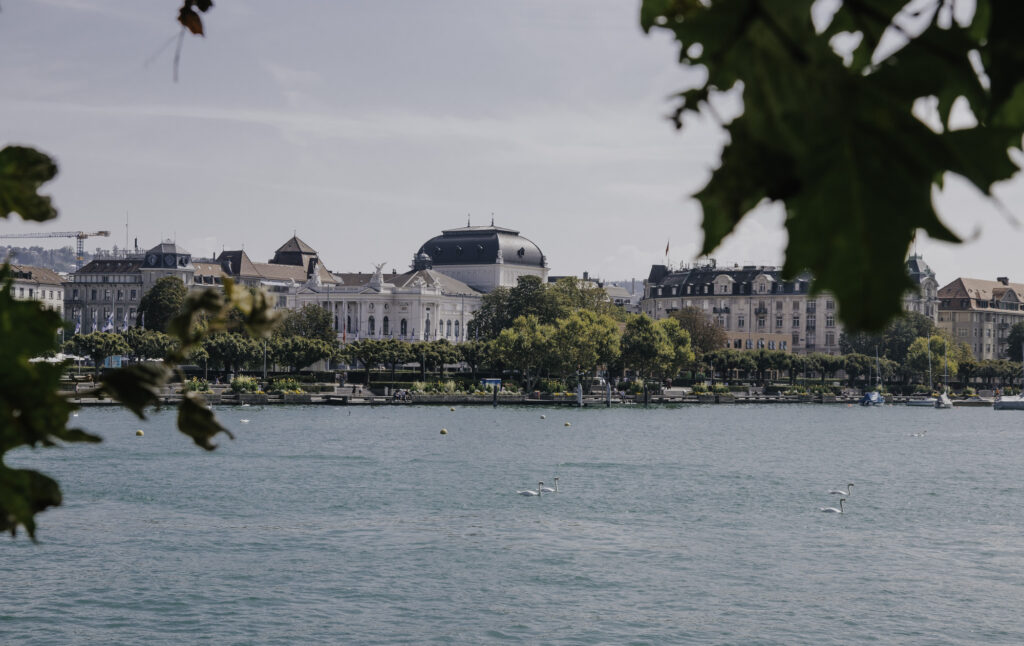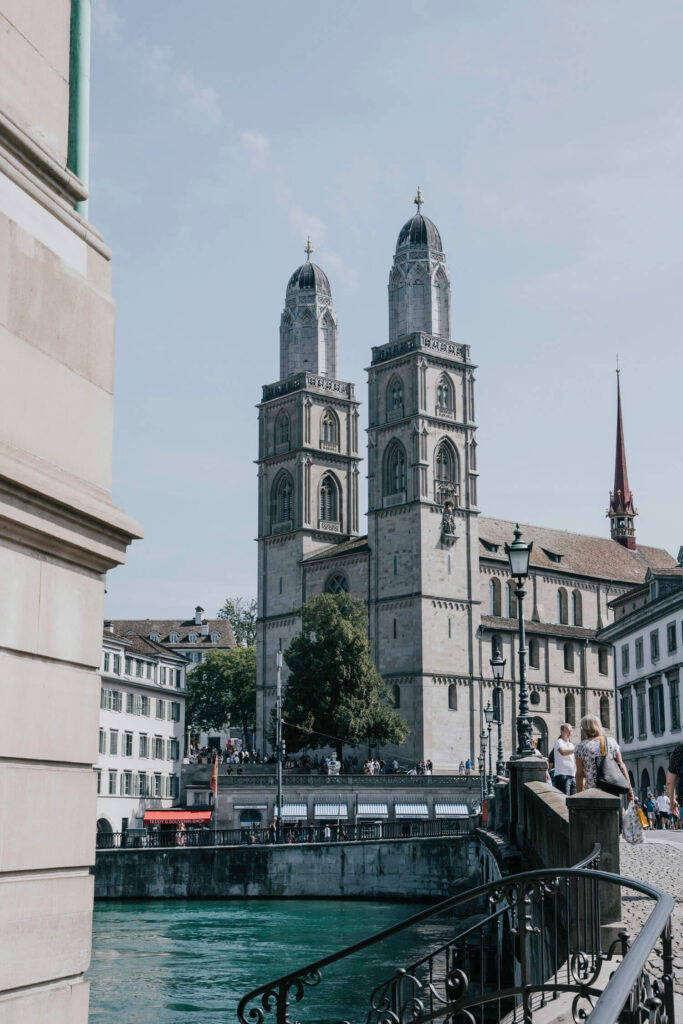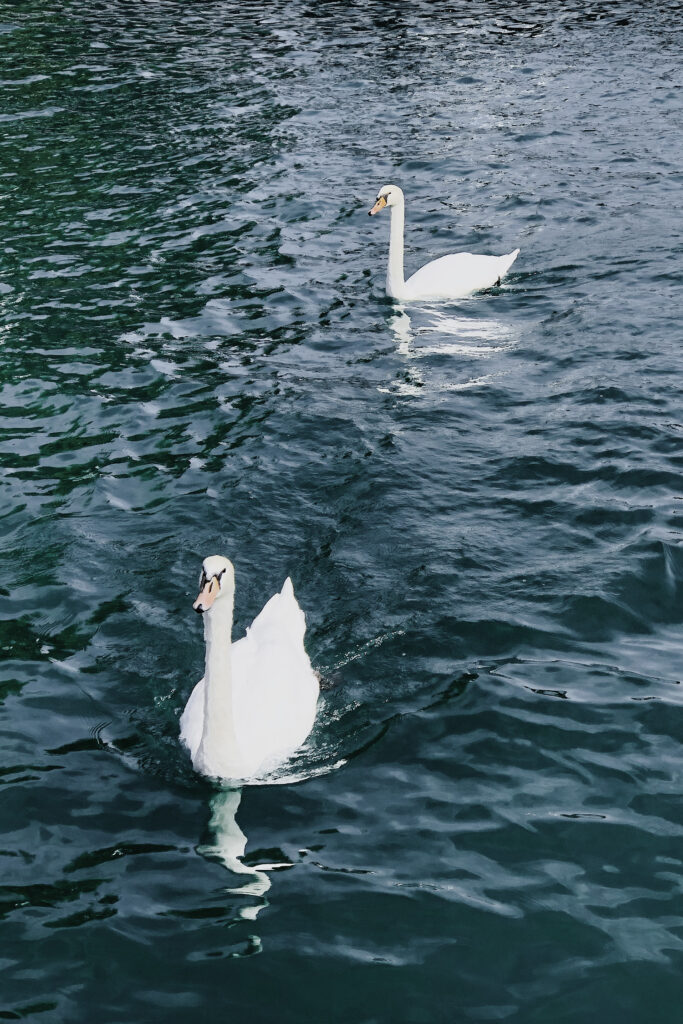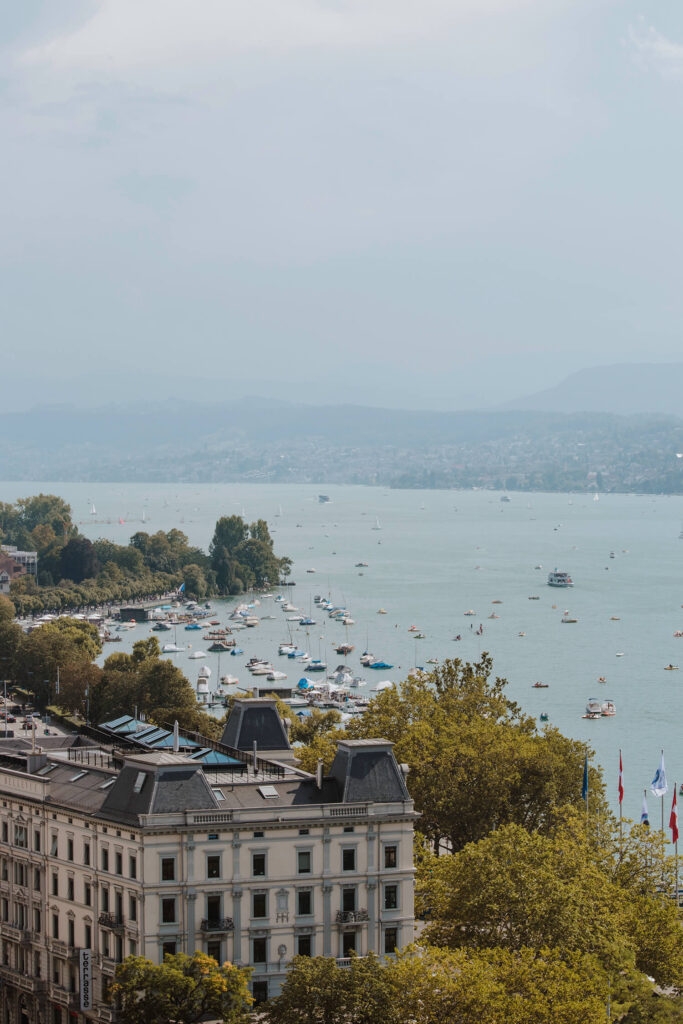 11:30PM — lunch at Romantik Seehotel Sonne
One of our favorite meals of the trip and we're sure you're going to love it too! When at the Zürich docks, take a romantic boat ride to the charming lakeside town of Kusnatch for lunch at
Romantik Seehotel Sonne
. This 350 year old restaurant (and hotel) has several restaurants but we really wanted to experience the
Sonnengalerie
which also allowed for an
al fresco
lunch during the summer time (do make reservations if your keen on lunching outside!). Zurich has a very international food scene but the Sonnengalerie also serves local Swiss delicacies. If we ver return to Zurich we're very keen on staying at this hotel as most of the guest rooms have lake views!
THE ESSENTIALS
Get there by boat |
catch one of the
Lake Zurich Navigation Company's
boats departing from "Zürich Bürkliplatz" and disembark at Küsnacht, right next to the Romantik Seehotel Sonne. The trip takes 30min.
2:30PM — taking in the views from Grossmünster Church
After lunch, visit one of Zurich's famous landmarks: Grossmünster Church. If you make it up the 187 narrow steps, you'll enjoy another great view of Zurich. From high above you'll have great views over nearby Lake Zürich, the Limmat river and Zürich Old Town.
According to legend, Felix and Regula, Zurich's patron saints, were beheaded at the site of the Wasserkirche and then walked up to where the Grossmünster stands today. In doing so, they took their heads with them. Centuries later the emperor Charlemagne, passing through Zurich, decided to found a church in honor of the martyrs.
THE ESSENTIALS
Admission | 5 CHFp.p. admission for climbing the tower
Opening hours | Mon-Sat: 10am - 5:30pm (4:30pm in winter), Sun: 12:30pm - 15:30pm (4:30pm in winter)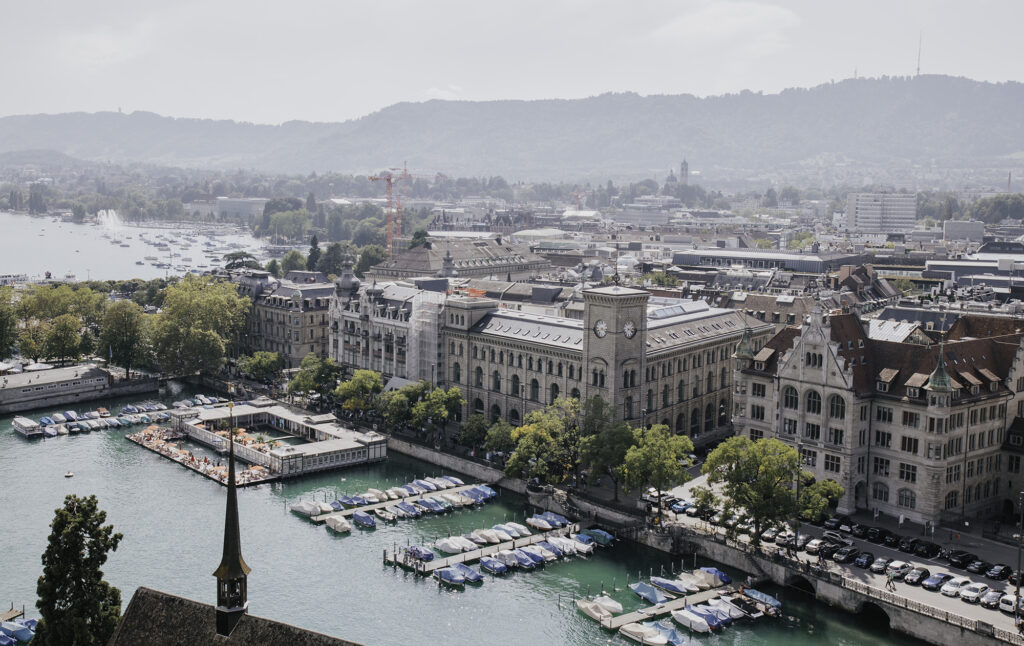 3:00PM — twirl through the romantic streets of Zürich Old Town
Why not twirl through the streets of Zürich's most photogenic neighborhoods: Altstadt and Niederdorf? Zürich Old Town is filled with colorful rows of houses and restaurants. Stroll through the Münstergasse and Niederdorfstrasse and admire the lovely façades, little squares and quaint shops.
For great coffee in Zürich, try
Schwarzenbach Teecafe
in Münstergasse where you can watch them roast the coffee beans and create your special cup of coffee.
THE ESSENTIALS
Opening hours | Mon-Fri: 8am - 6:30pm ,Sat: 8am - 5:30pm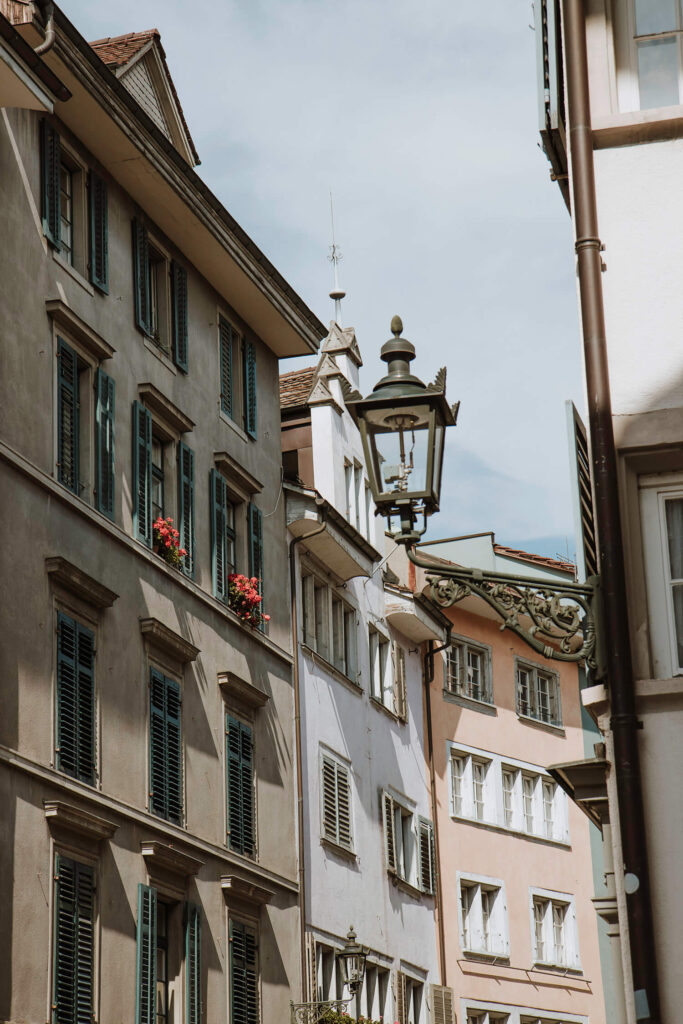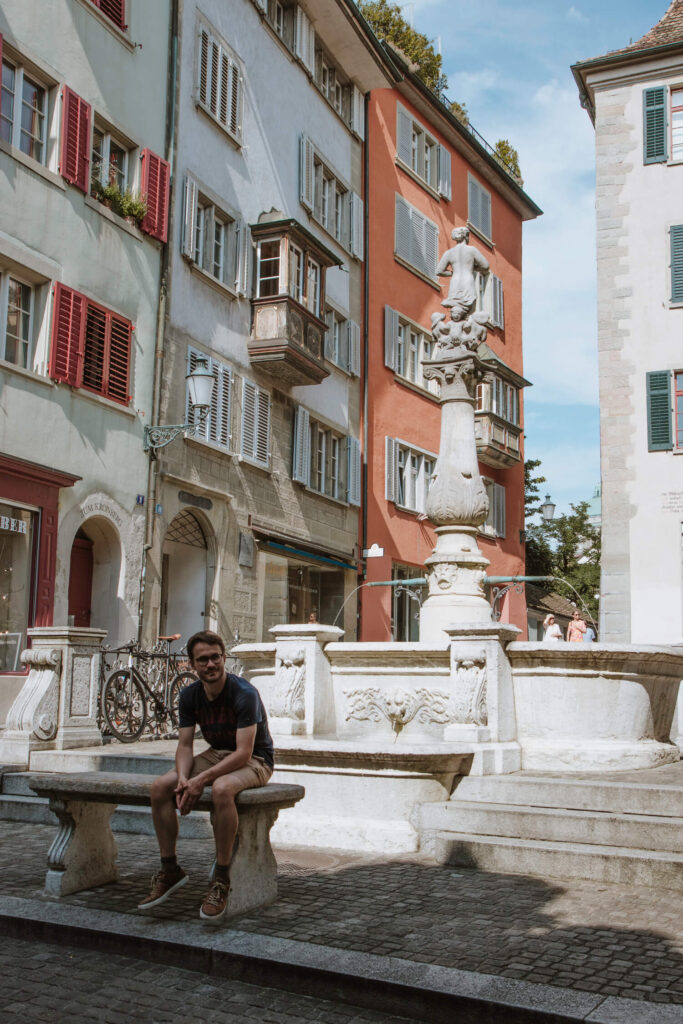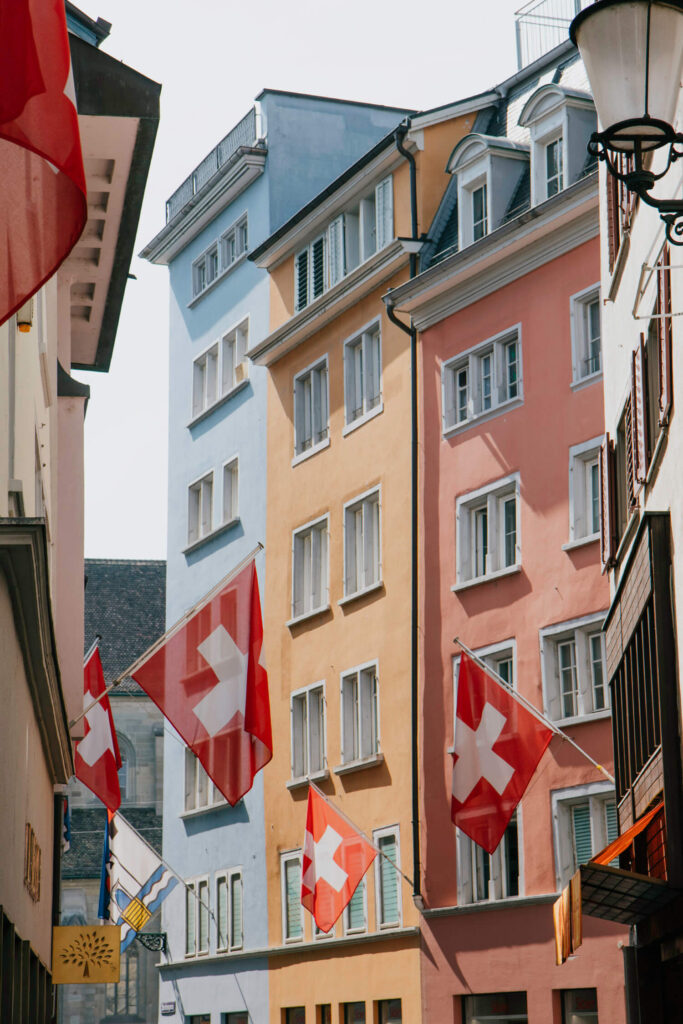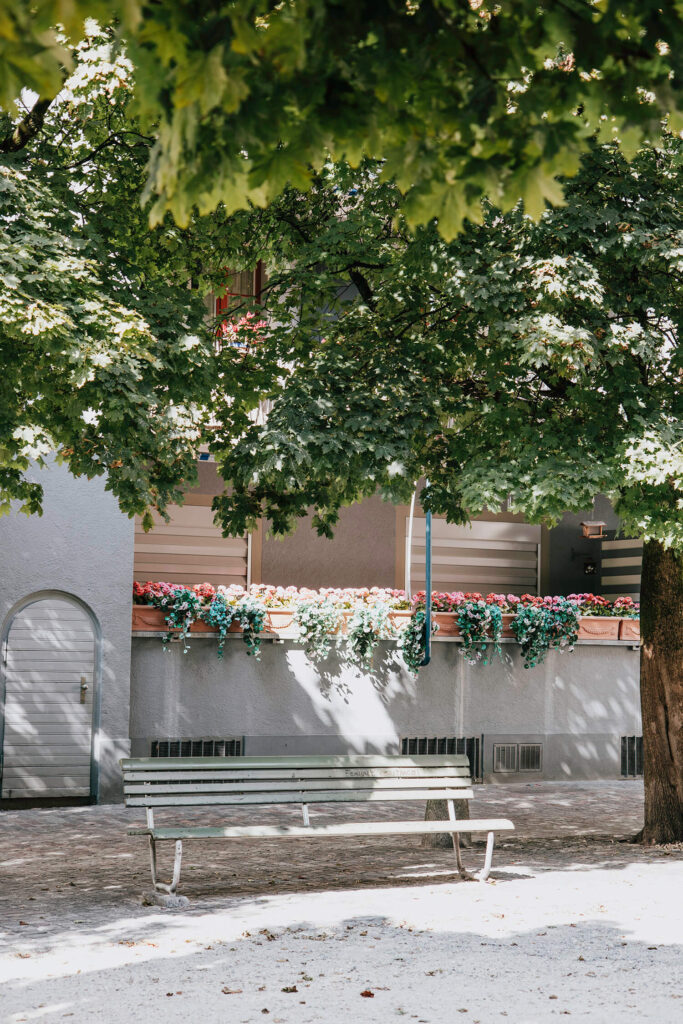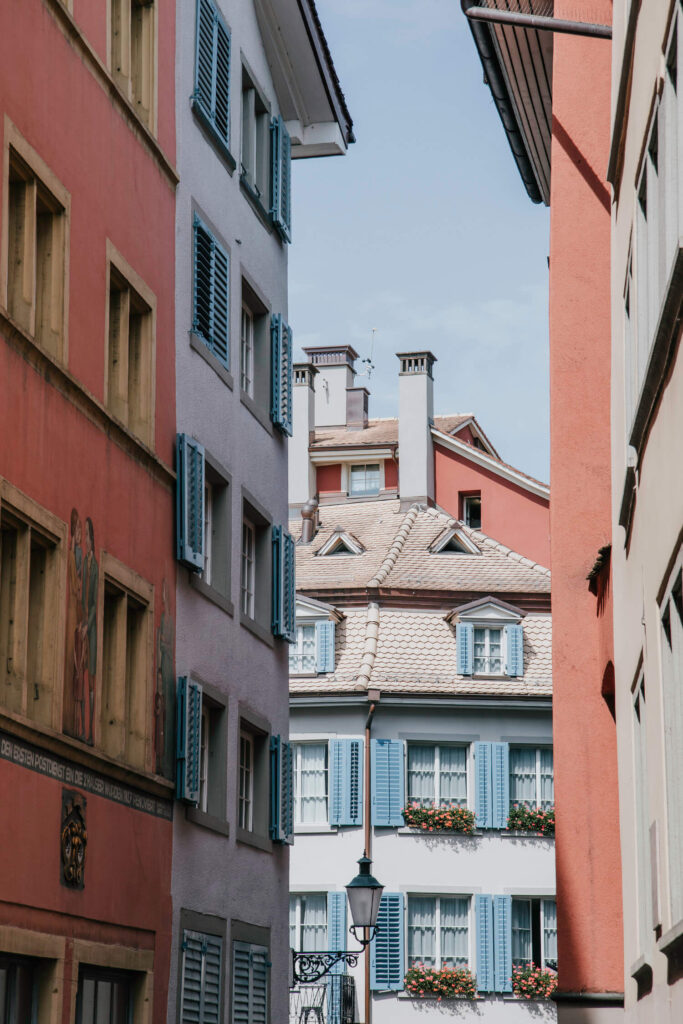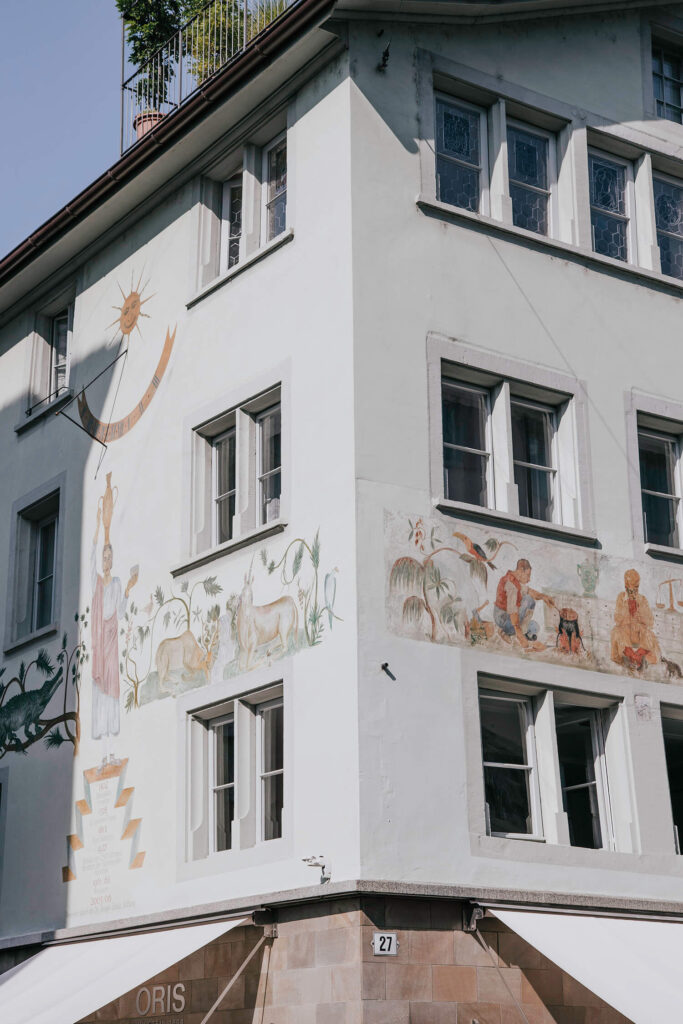 5:00PM — shop at Im Viadukt at Zürich West
After you've had your fill of charming Swiss architecture for the day, head over to Zurich's hipster neighborhood: Zürich West. In about 30min you'll walk from the Niederdorfstrasse to
Im Viadukt
. Im Viadukt is exactly what it says, a viaduct but converted into shops, bars and restaurants. A great place to stroll around and breathe in a completely different side of Zürich, a far cry from the dusty banker image it used to have!
THE ESSENTIALS
Opening hours shops| Mon-Fri: 11am – 7pm, Sat: 10am – 6pm, Sun: closed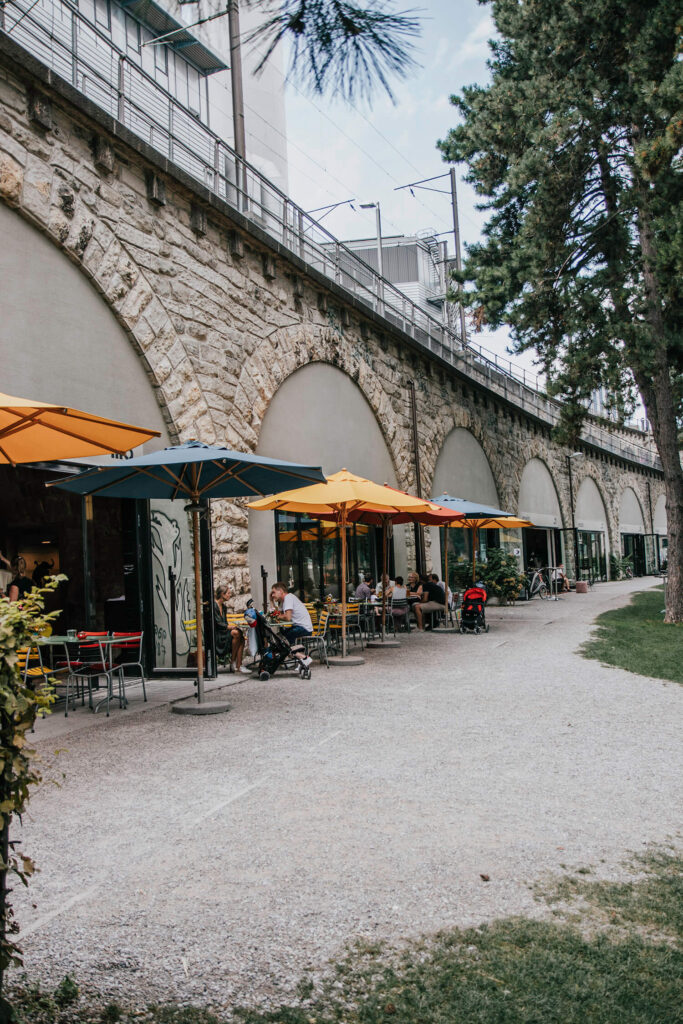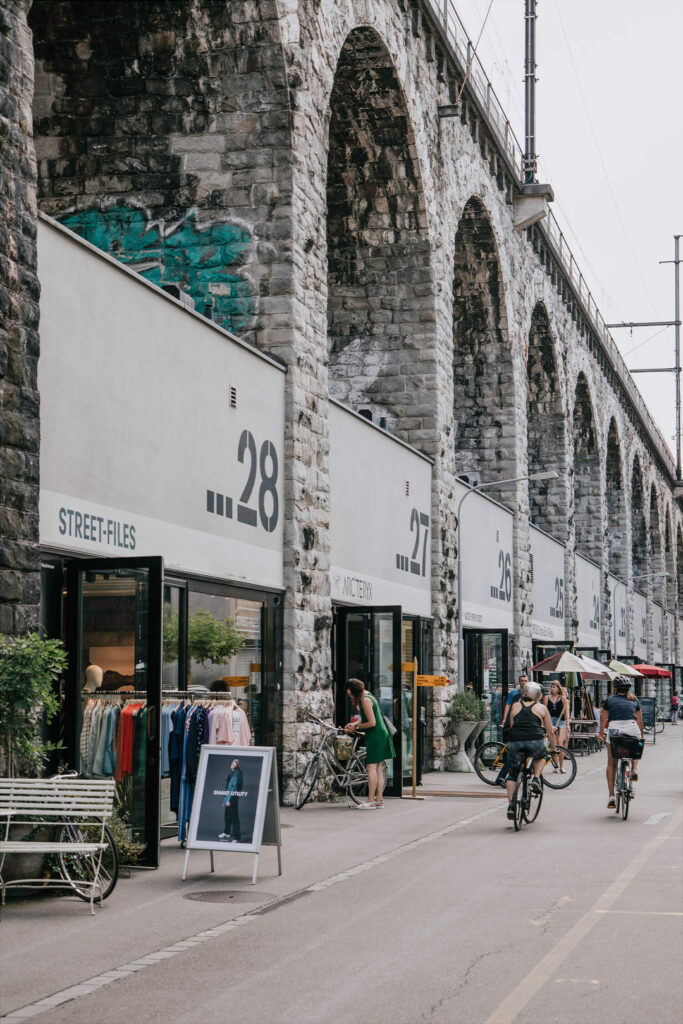 6:00PM — drinks at Frau Gerolds Garten
For a casual drink or dinner,
Frau Gerolds Garten
is the perfect spot. An "urban garden" is created in the center of Zürich, using old containers and wooden garden sets. Located near Hardbrücke, Frau Gerolds Garden houses a vegetable garden, fresh cuisine, small shops, art and colorful events in order to create an interesting cultural meeting place.
It's the perfect place to enjoy a pre-dinner drink with appetizers or a full blown meal. The menu contains seasonal fresh local dishes (including bbq) with vegetables and spices straight from the garden. Grab a drink, peruse your options, and snag a table on the summer terrace early because it fills up quick!
THE ESSENTIALS
Opening hours| Mon-Sat: 11am – 12am (6pm-12am in winter), Sun: 12pm – 8pm (closed in winter)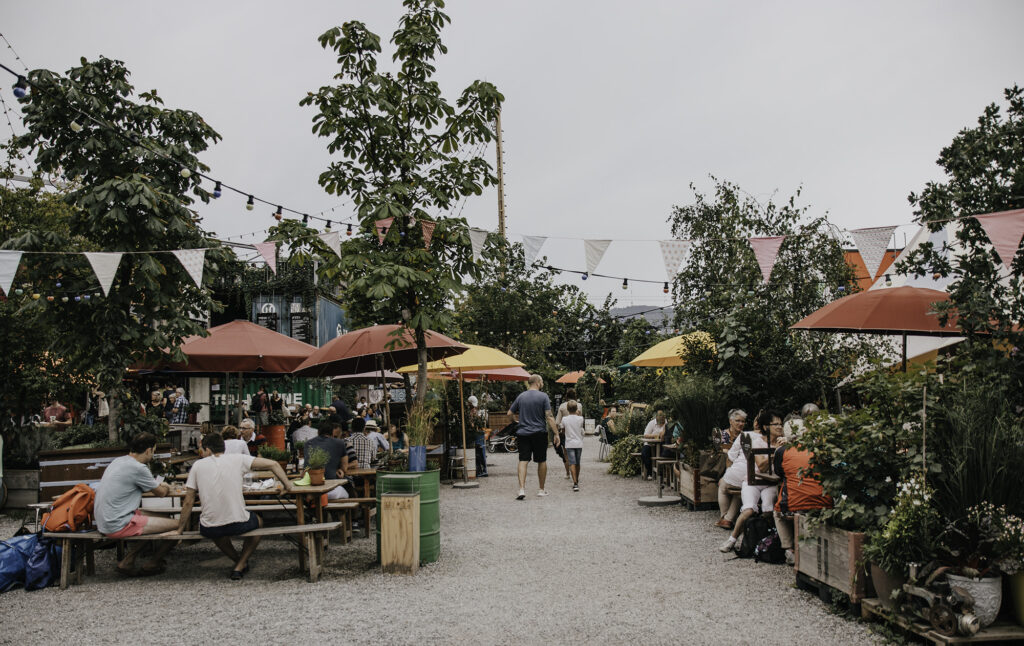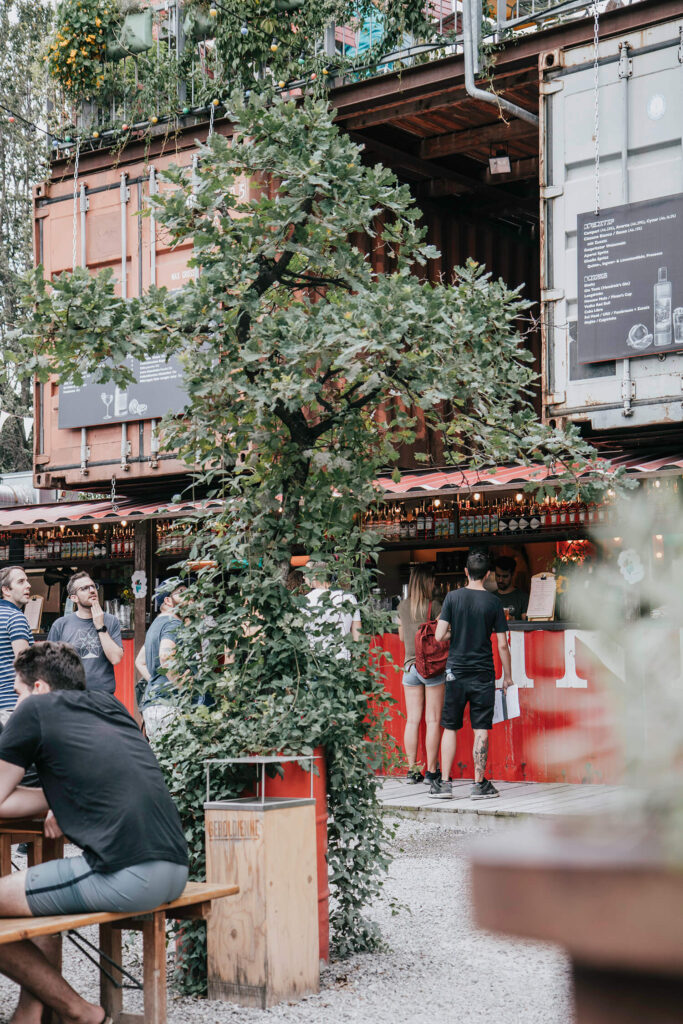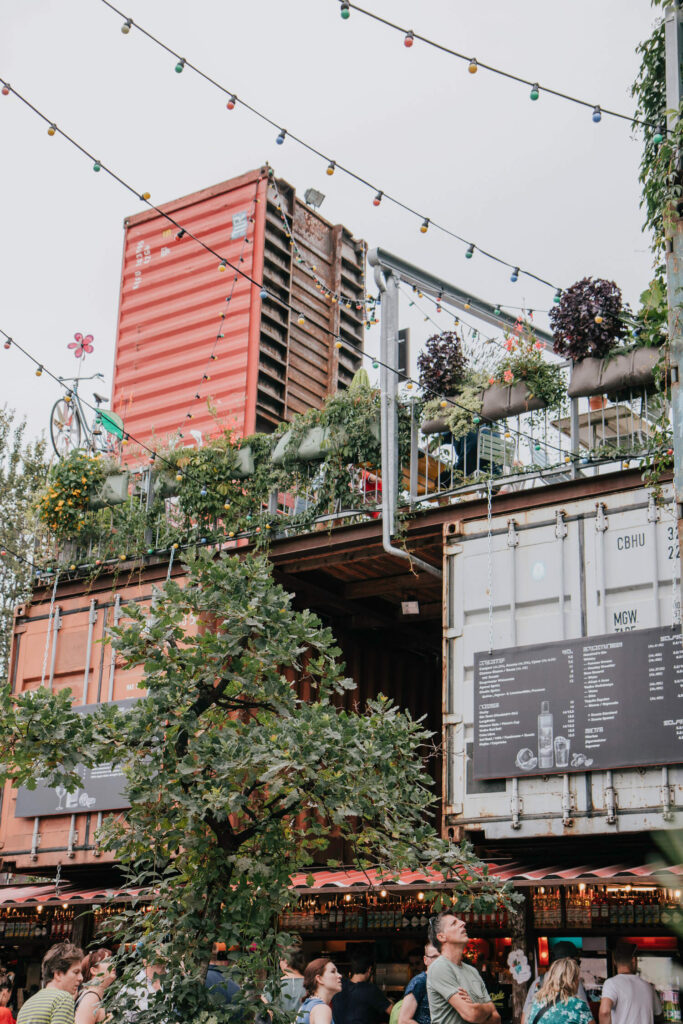 7:30PM — Enjoy Zürich's Asian restaurant scene
Zürich has quite an impressive international restaurant offer. Asian and Italian cuisine can be found almost everywhere. After having enjoyed a local meal for lunch, you'll certainly enjoy diner in one of our favorite Asian restaurant:
Co Chin Chin
. Definitely try the Bo Bun (rice noodle salad with spring rolls)!
THE ESSENTIALS
Opening hours| Tue-Fri: 11am–2pm 6pm-11pm, Sat: 10am-12am, Sun: 10am – 9pm
---
There you have it, our ideal Zürich one day itinerary. An excellent introduction to Zürich's most exciting metropolis. If you're limited in time, our itinerary covers the must-see attractions in order to explore Zürich in one day.
---
Zurich city break: get your bearings
Where is Zurich?
Despite not being Switzerland's capital, Zürich is Switzerland's largest city and home to the largest airport in the country. Centrally located in northern Switzerland, Zürich is an excellent hub to explore entire Switzerland.
How to go to Zurich?
By air: Zürich houses Switzerland's largest airport and chances are you'll fly into Zürich when taking an international flight. The airport is also one of the best connected airports in Europe, offering around 350 rail connections and over 700 bus and 400 tram departures a day from the Zürich Airport Station.
By train: Swiss punctuality is famous and that makes traveling by train an excellent choice. Trains run daily from Zürich Airport to Zurich Main Station every 5–10 minutes or so between 5.00am and 0.30am. The S-Bahn lines S2 and S16 will take you to Zürich Main Station (city center) in just 10 minutes.
Where to stay in Zurich?
We adored staying at the
Marktgasse Hotel
right in Zurich's old Town center. In our opinion it is one of the best places to stay in Zurich! The hotel has a beautiful modern look which works excellent with it's more traditional facade. It's located close to restaurants and bar for an excellent dinner or night out! Book early though, the
Marktgasse Hotel
tends to fill up quickly. The
Opera Hotel Zürich
is a perfect alternative though. Also located near Zurich Old Town, the
Opera Hotel Zürich
is located in the luxurious Seefeld district right in front of the Opera. Only a 10-minute walk from restaurants and bars, this intimate boutique hotel is a perfect second option.
For more places to stay in Zurich, use the interactive Zurich map below:
There is a really good chance that this post contains affiliate links. If you click one of them, we may receive a small commission (for which we are deeply grateful) at no extra cost to you.
---
Anything we skipped on this Zürich one day itinerary? Let us know in the comments below!
Planning a trip to Zürich or Switzerland? Here are some other posts that you might find helpful: