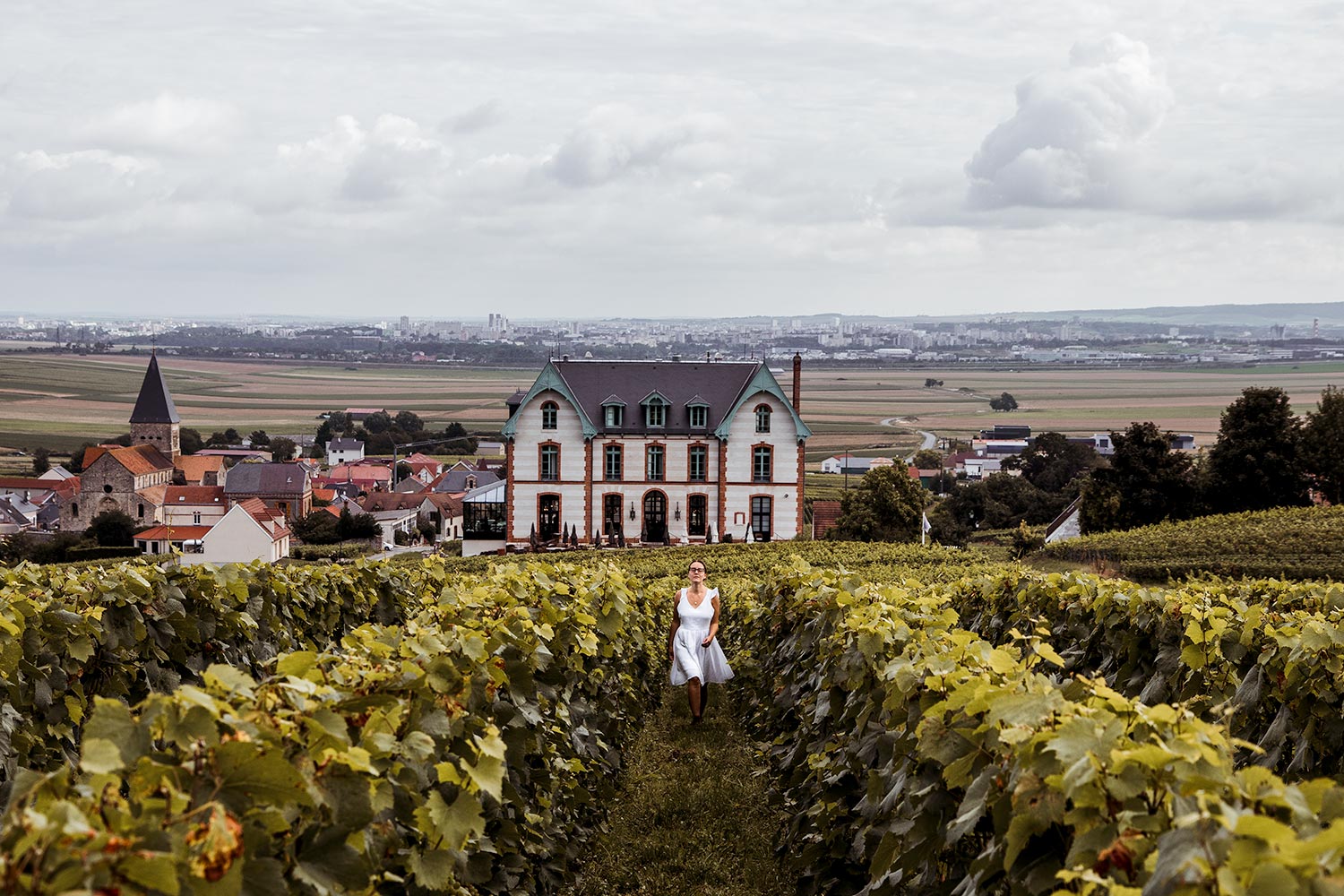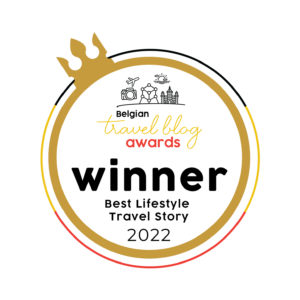 Both invigorating and familiar. Away from home but not too far. Our neighbor to the south has always had an everlasting appeal, even more so now as we begin traveling internationally again. France's ornate hotels, immaculately kept vineyards and rich culinary scene are calling our name. In France's emerald northeast, cultural majesty coexists with the bucolic lifestyle of the French countryside, producing a pale honey colored bubbling nectar, interlacing the then and now. The Champagne region has never had more sparkle!
---
A romantic weekend in the Champagne at Château de Sacy
---
A rustic weekend getaway in Champagne, France
It was a balmy 23 degrees in the wine-making town of Sacy, France, in mid-August, and I was overlooking the wee town below from one of the surrounding vineyard-clad slopes. In the mid 18th century, Sacy, just outside of France's monarchical city of Reims, was a tiny farmer's community. And to some extent, it still is today. When the cows left, fruit farmers took over, focussing on the production of grapes to create a local wine which was on prominent display at the coronation banquets of the kings of France of yore.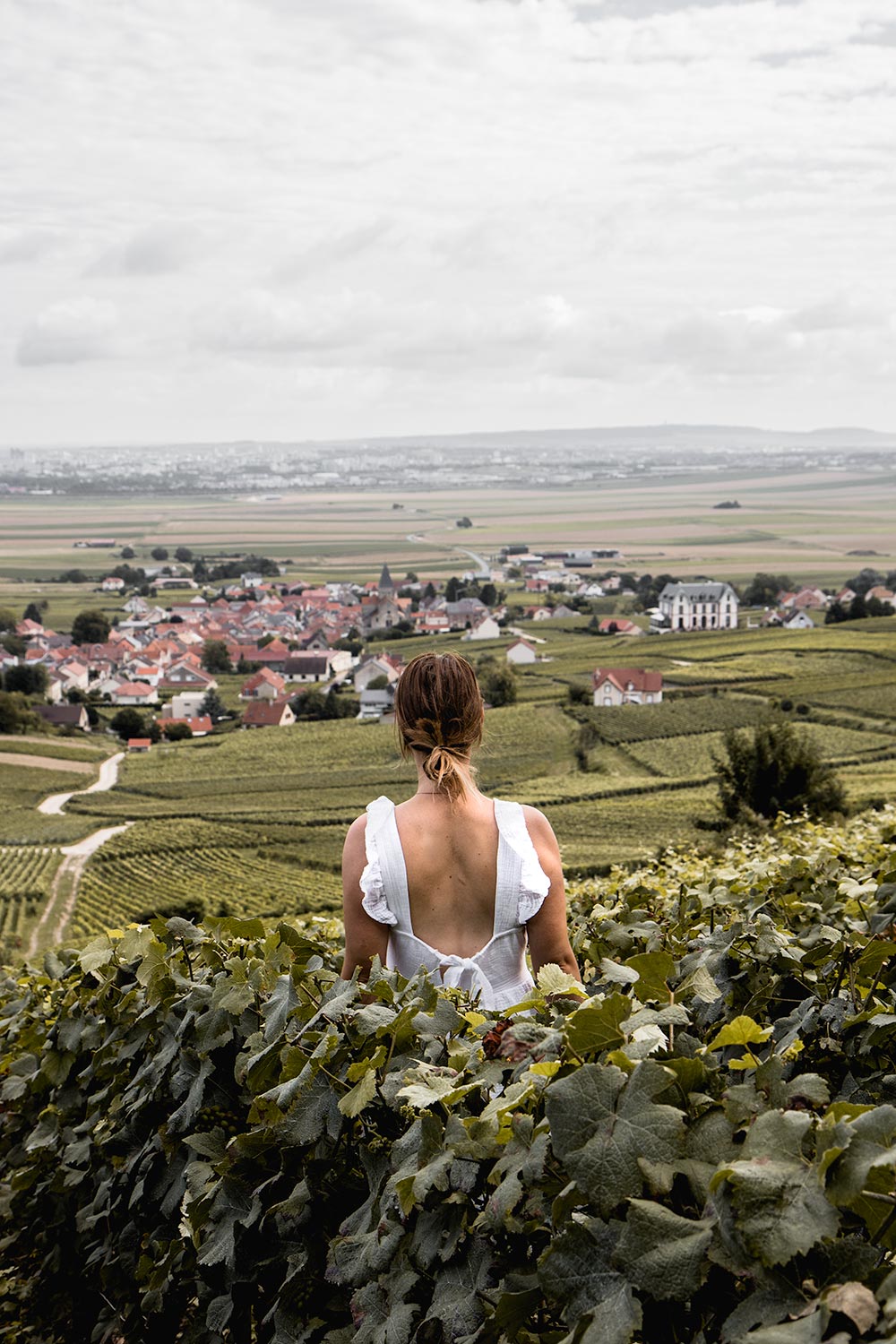 We had come to spend our romantic weekend stumble among the most expansive Champagne slopes, at the base of the Montagne de Reims, chasing the pastoral spirit of the Champenois countryside. Le Montagne de Reims has long been central to its appeal among tranquility seekers and lovers of the outdoors. The empty landscapes, surrounding Sacy, that I was peering down upon, a major selling point. An antidote to the kind of travel where stellar views or famous sights always seem to have been overhyped.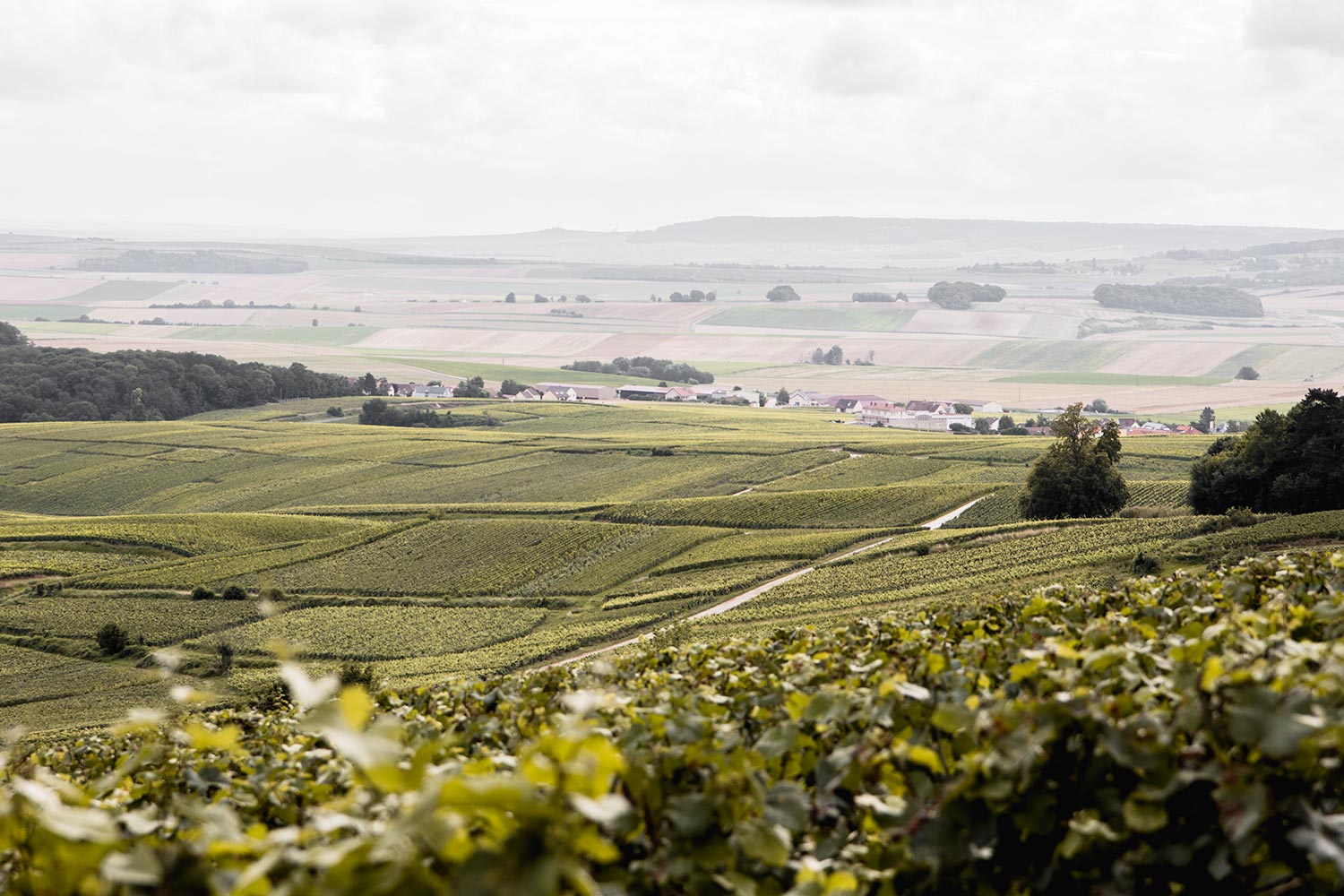 This is not Epernay, which can feel like a Disney-esque playground with its mansion-lined Avenue De Champgane and panoramic hot air balloon ride. Instead we eased our way further along the secluded ridges of the Champagnoise hills down to the sleepy town of Sacy, home to the up-and-coming Chateau de Sacy.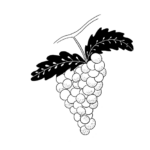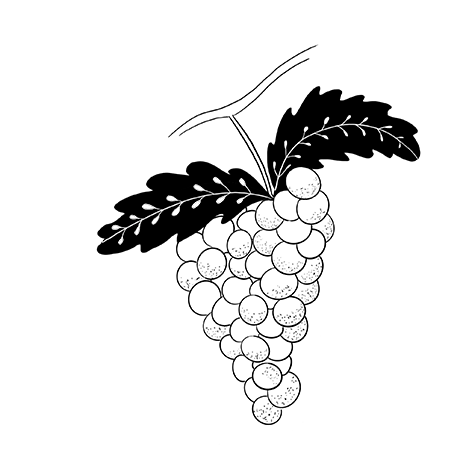 A journey through history at Chateau de Sacy
After more than a year being stuck in our pod, we were dying to burst out of our bubble and lay our heads to rest somewhere new. Sleeping amidst the vines was our top priority, and Chateau de Sacy made it as accessible as any woozily boozy cruise around Burgundy, Chianti or the Rhône. It's all about the outdoors here in the Champagne. I could hardly contain my shrieks of excitement whenever I discovered a new dazzling lookout, spotted another vineyard belonging to a major Champagne house or shops displaying the most yummy looking pink biscuits.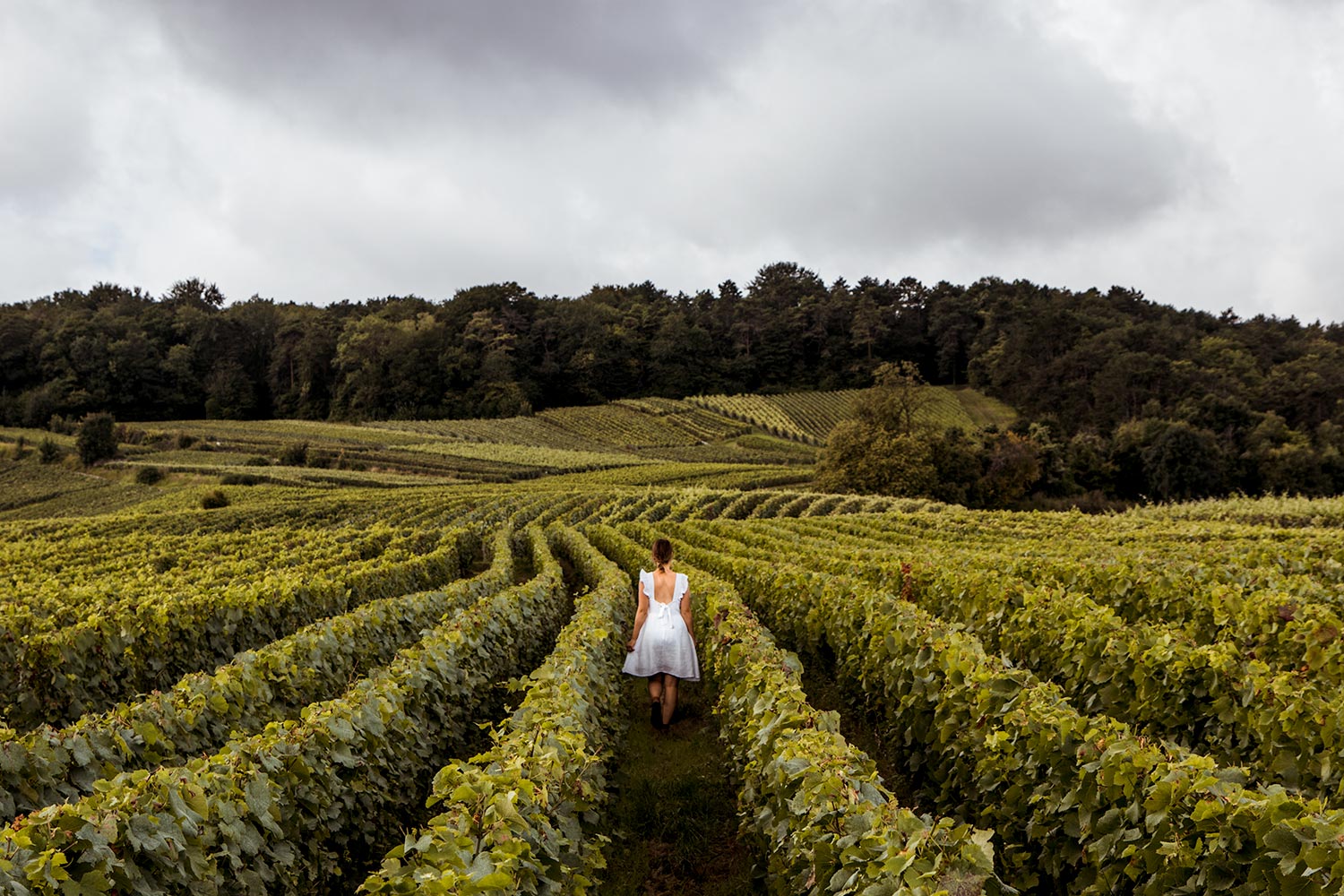 Time here drifts with sunrise walks among the vines, evening drinks on the wooden deck listening to chirping crickets announcing the black veil of night and hot tub soaks after supper. The same sense of enchantment pervades throughout the interior of the chateau. Built by architect Pierre-Louis Gosset in 1850, "Villa Maria" once upon a time served as the private residence to the Monnesson family, wealthy cloth merchants from Reims.
After the building's brief stint as a hospital and British military post during WWII, it was sold to the Mobillon family that currently still owns most of the vineyards upon which the 54 windows of Chateau de Sacy look out. Unfortunately the family was not able to maintain it and the chateau was finally saved from years of disrepair by the Milésime Group in 2015, straight from Bordeaux. Now "Villa Maria" is proudly known as Chateau de Sacy, even though it lacks the tourettes, golden winged angels and marble staircases one would expect from a French chateau.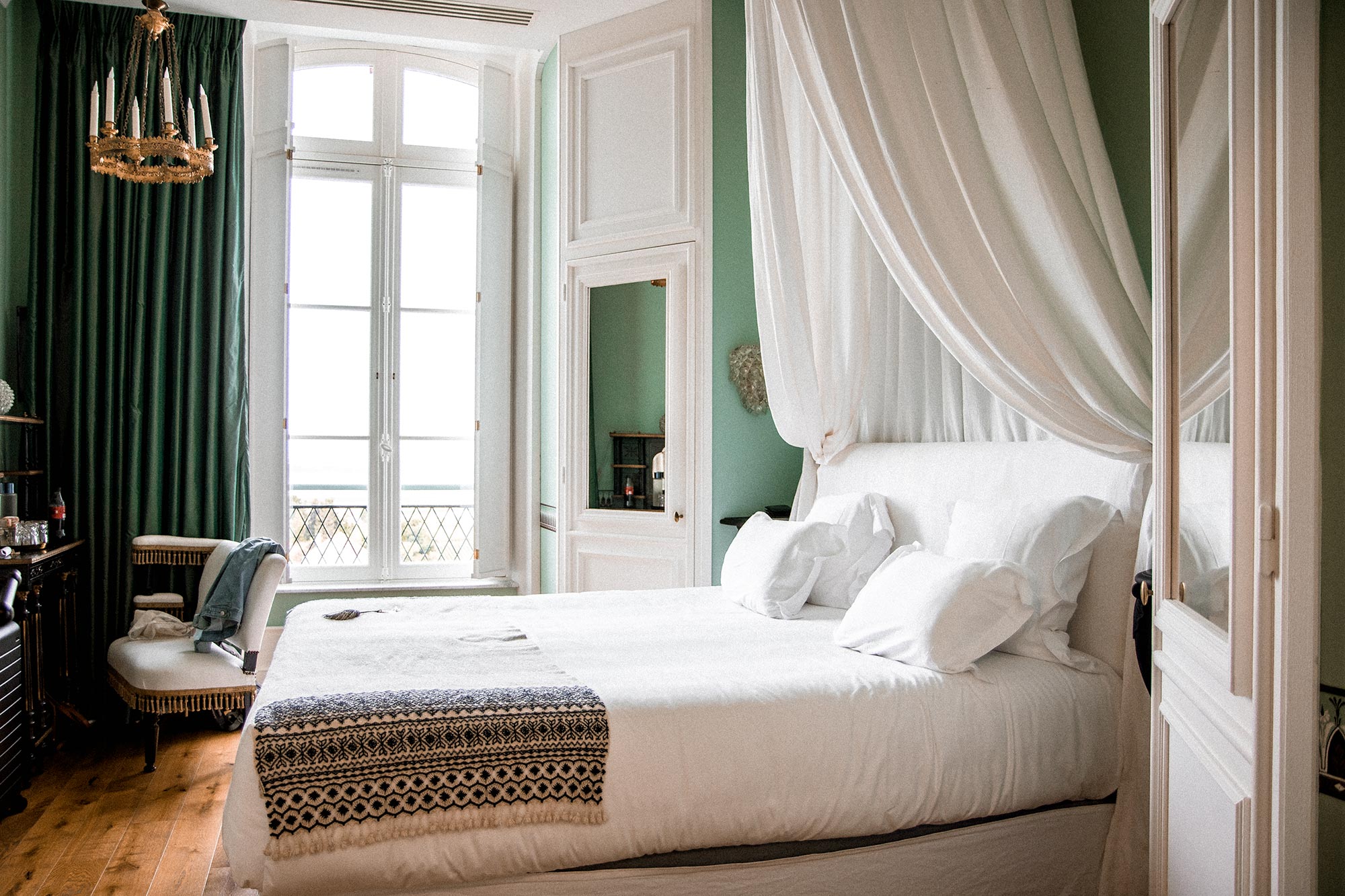 One year and 3.6 million euros later, "Villa Maria" was given back its original spirit. Decorated with premium fabrics - wool curtains lined with silk - and warm earthy tones, creating the story of both the origin and splendour of champagne.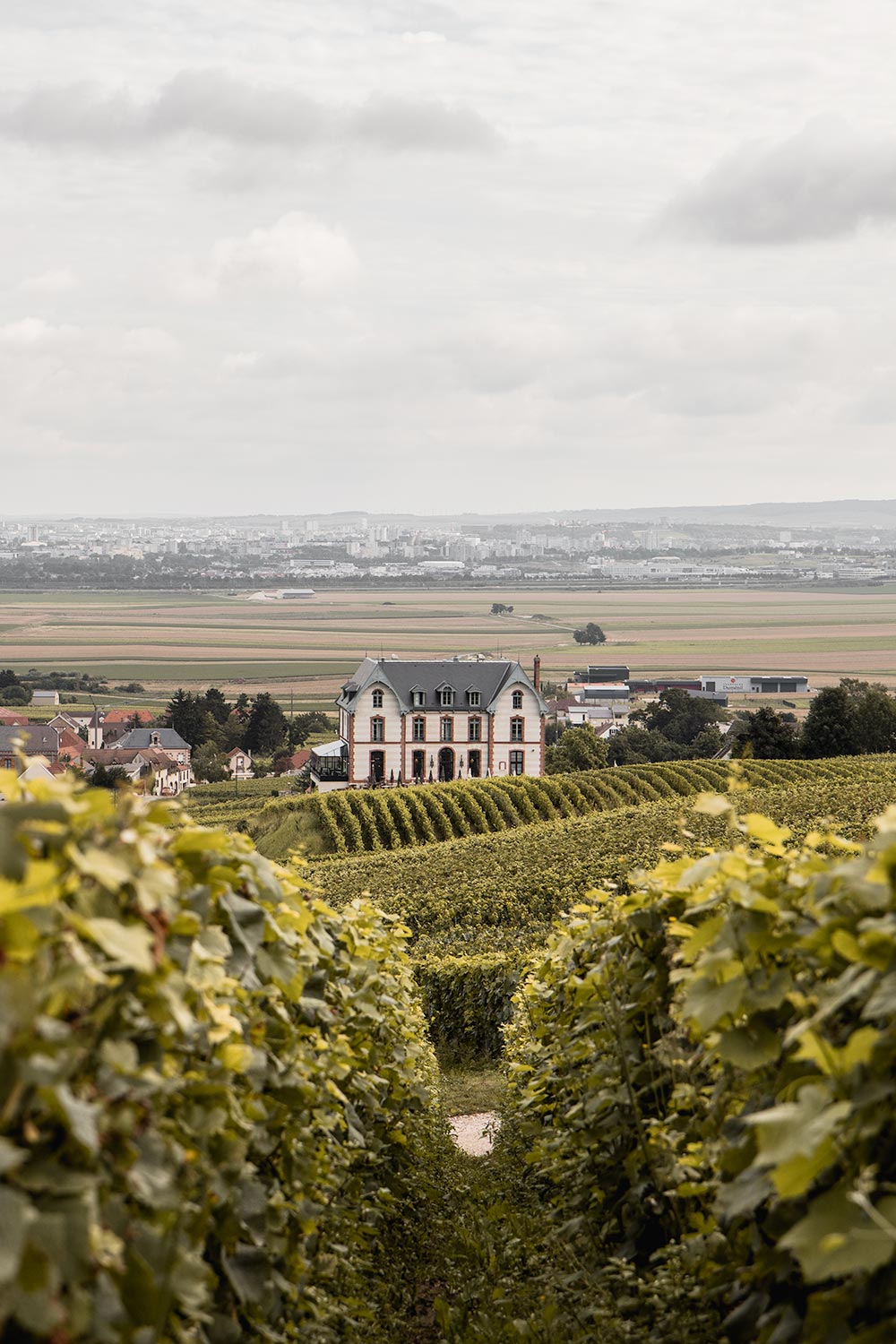 "It's all about the outdoors here with vine-facing hot tubs and terraced vineyards descending in impossibly well-kept rows. As the seasons change, the rising vines tint from lime green to emerald to olive-brown — come any time of year and you will be smitten."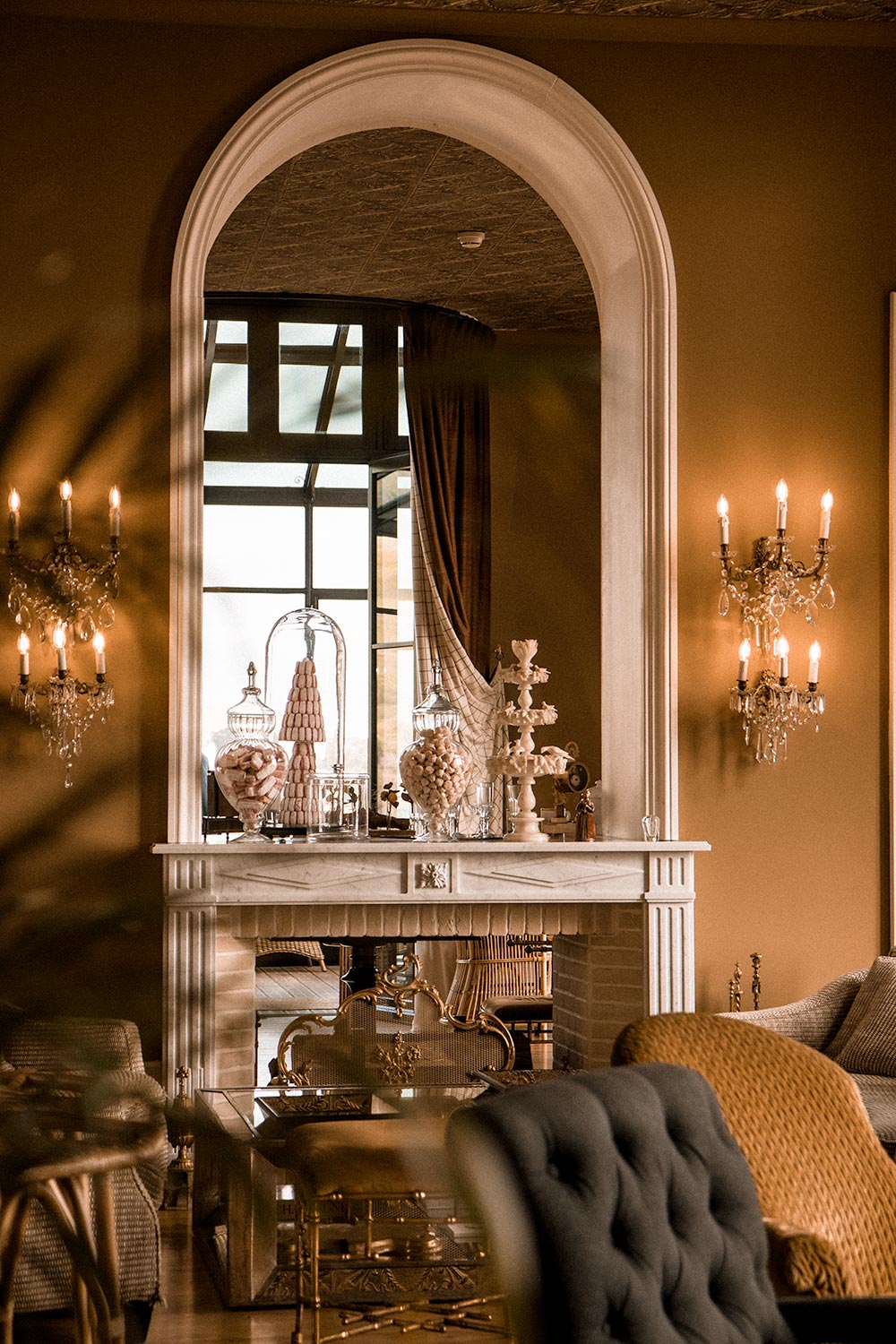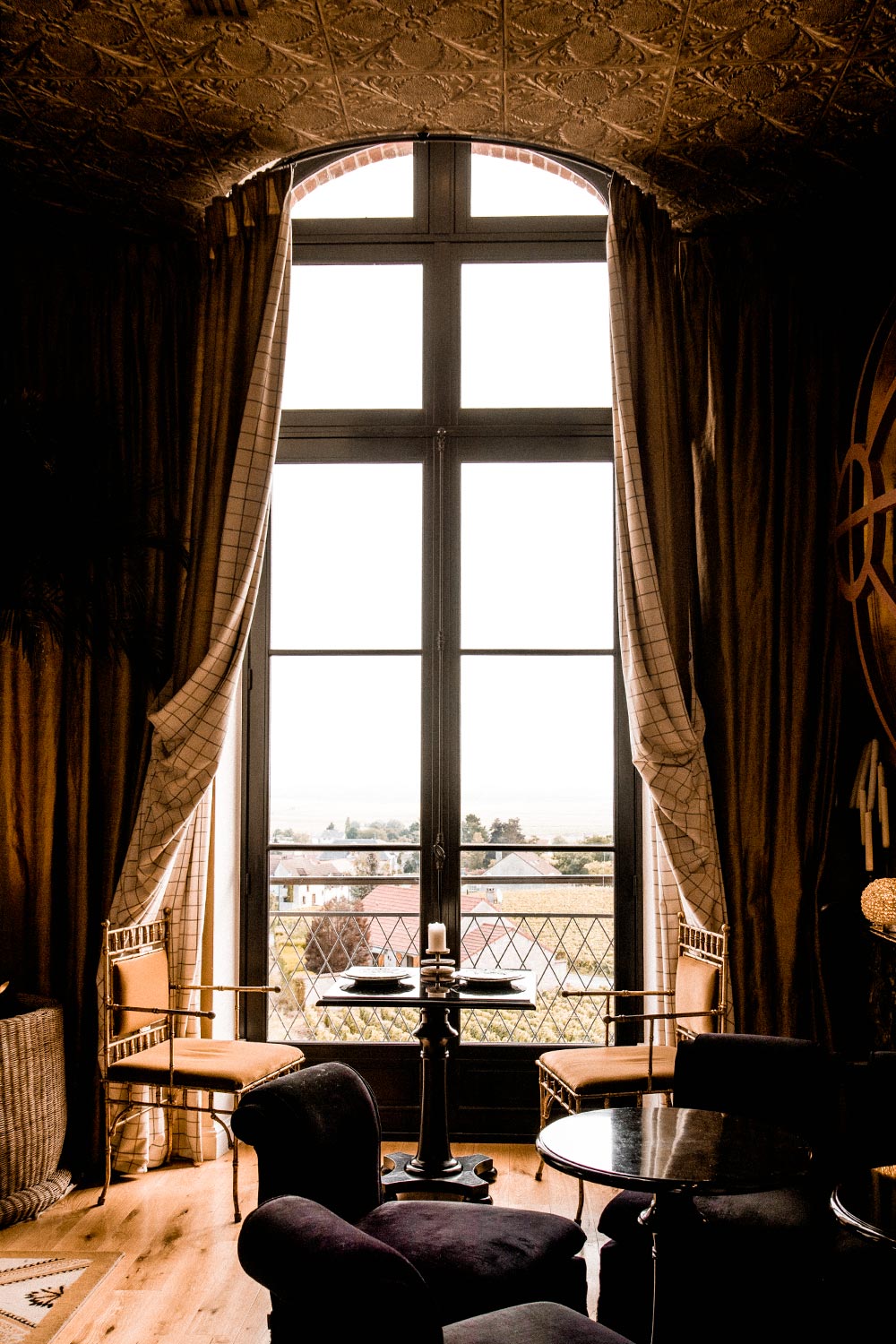 Bathing in powder blue
As the saying goes: 'Once you pop, you just can't stop.' The transformation of this historic building, set amongst the seemingly endless terraced vineyards descending in impossibly well-kept rows, into the Champagne's most romantic retreat proves its point. Every bed, mirror or velvet chair seems to be more grand than the next. Though recently restored, every furniture item seems like it has always belonged here. The whole set-up of Chateau de Sacy meticulously curated to make it sparkle like a glass of bubbly.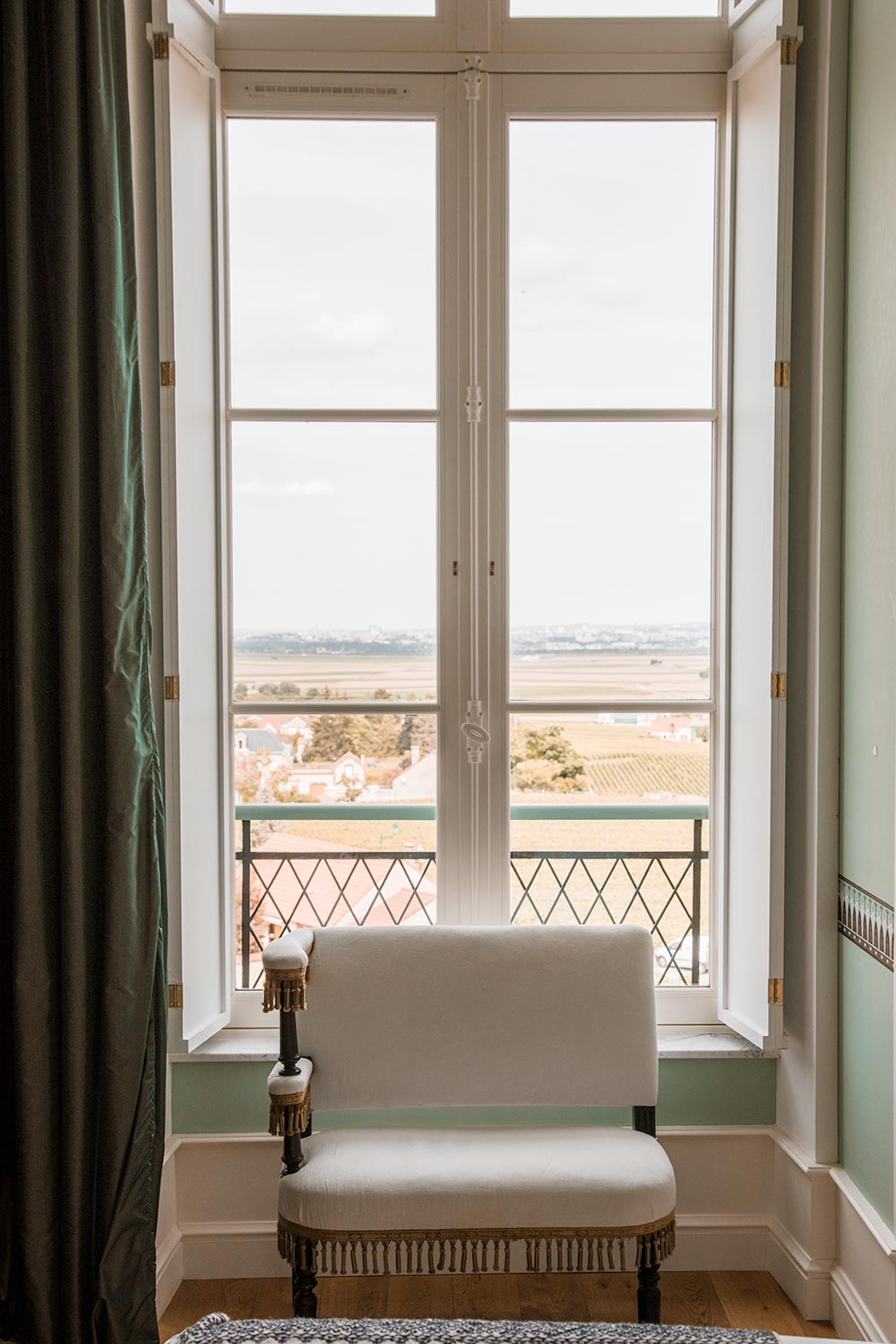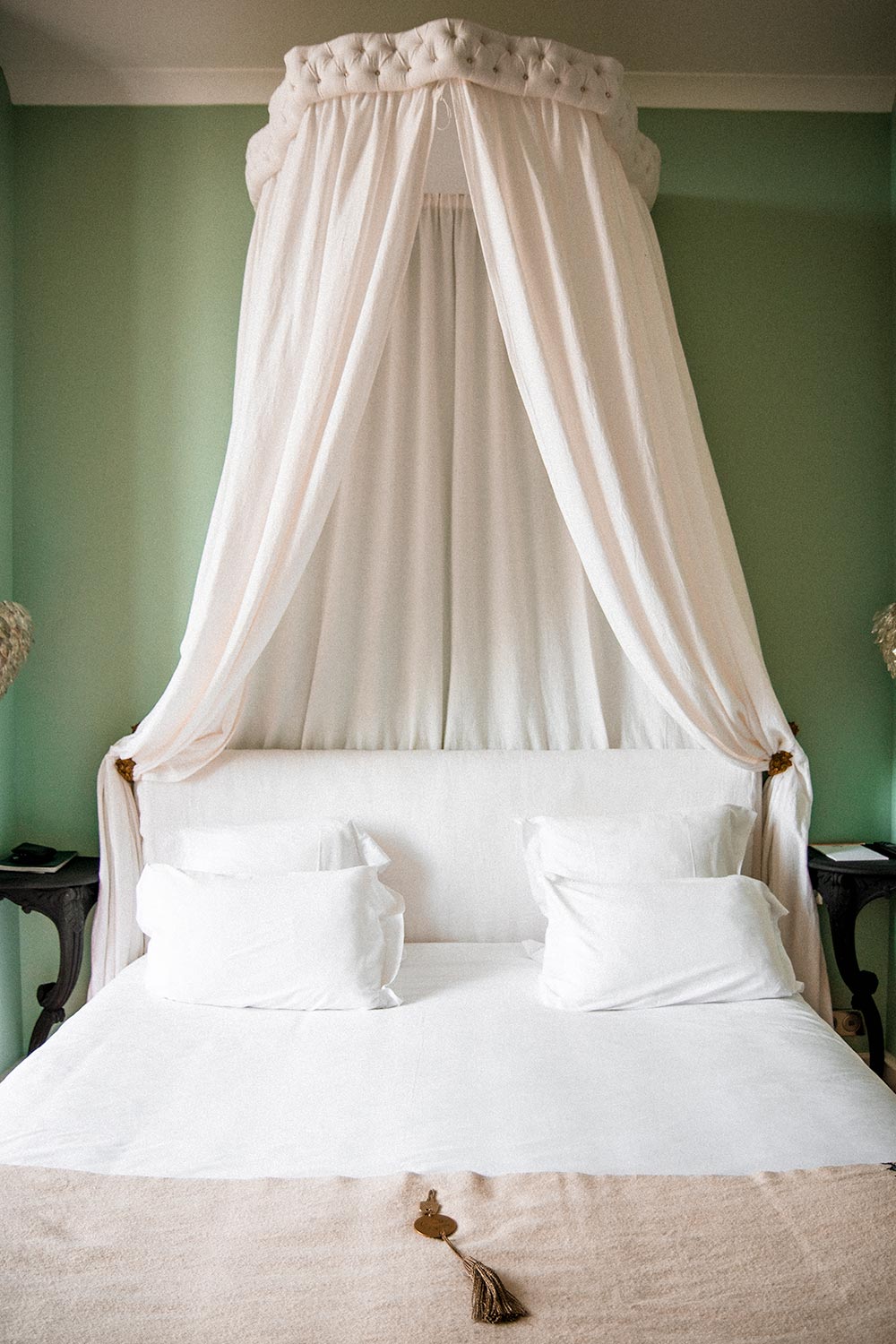 At Chateau de Sacy, women are honored by lending their names to some of the most refined suites. I have never felt more sophisticated than having the choice to spend the night in the Divine Josephine, Madame de Pompadour, Le Salon d'Eugénie or taking a sumptuous bath in the Marie-Antoinette suite in tones of powder blue.
As for the rooms, they each have a unique decor. When opening the doors to Salon d'Eugénie, I was instantly transported to the 19th century, as it were. I felt like Claire Fraser in Outlander, completely out of place in my pair of jeans and sneakers but too impressed and intrigued not to admire all the beauty and explore every corner of our little palace. The satin-finished bed canopy wholeheartedly setting the scene for what feels like entering a 19th century fairy tale.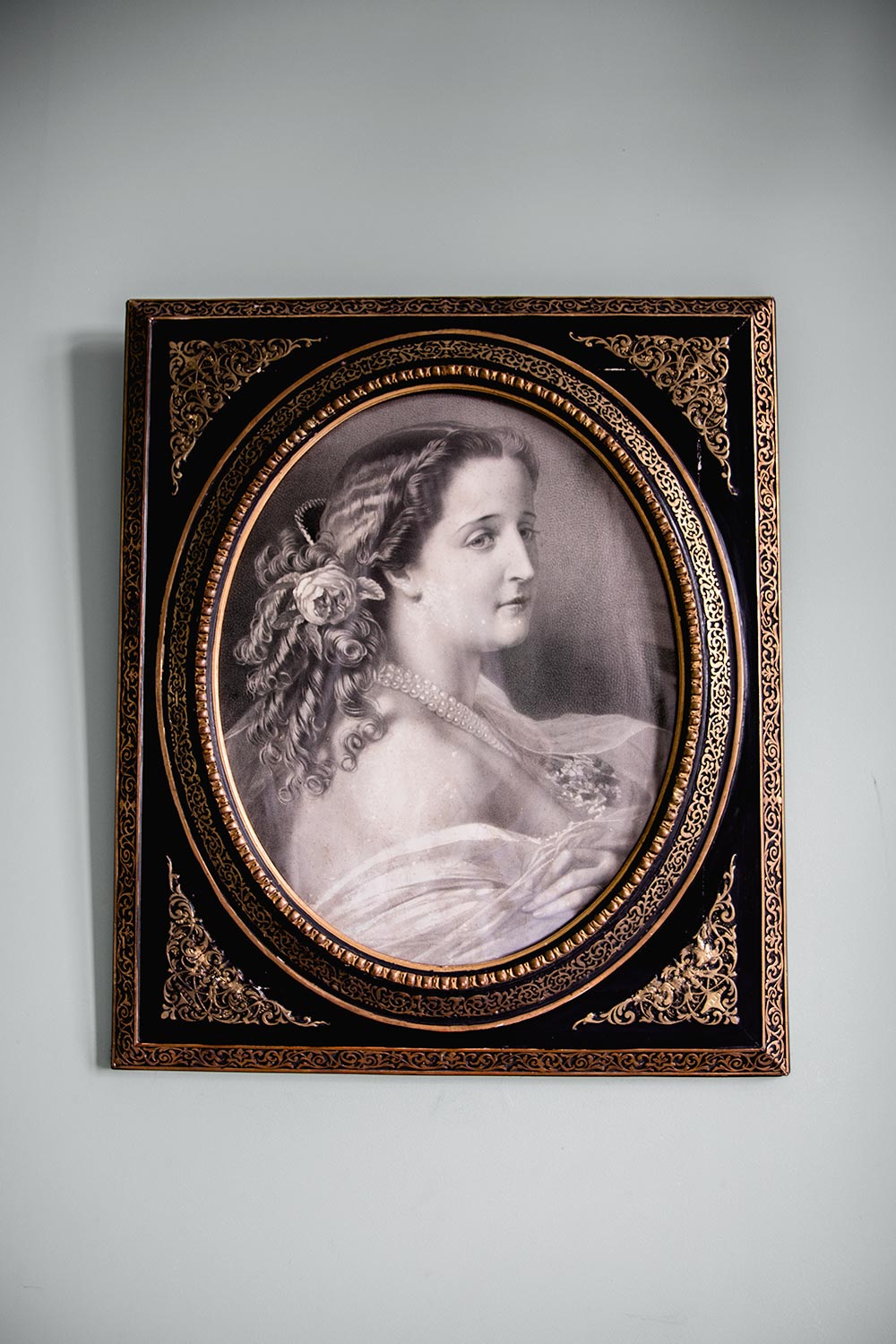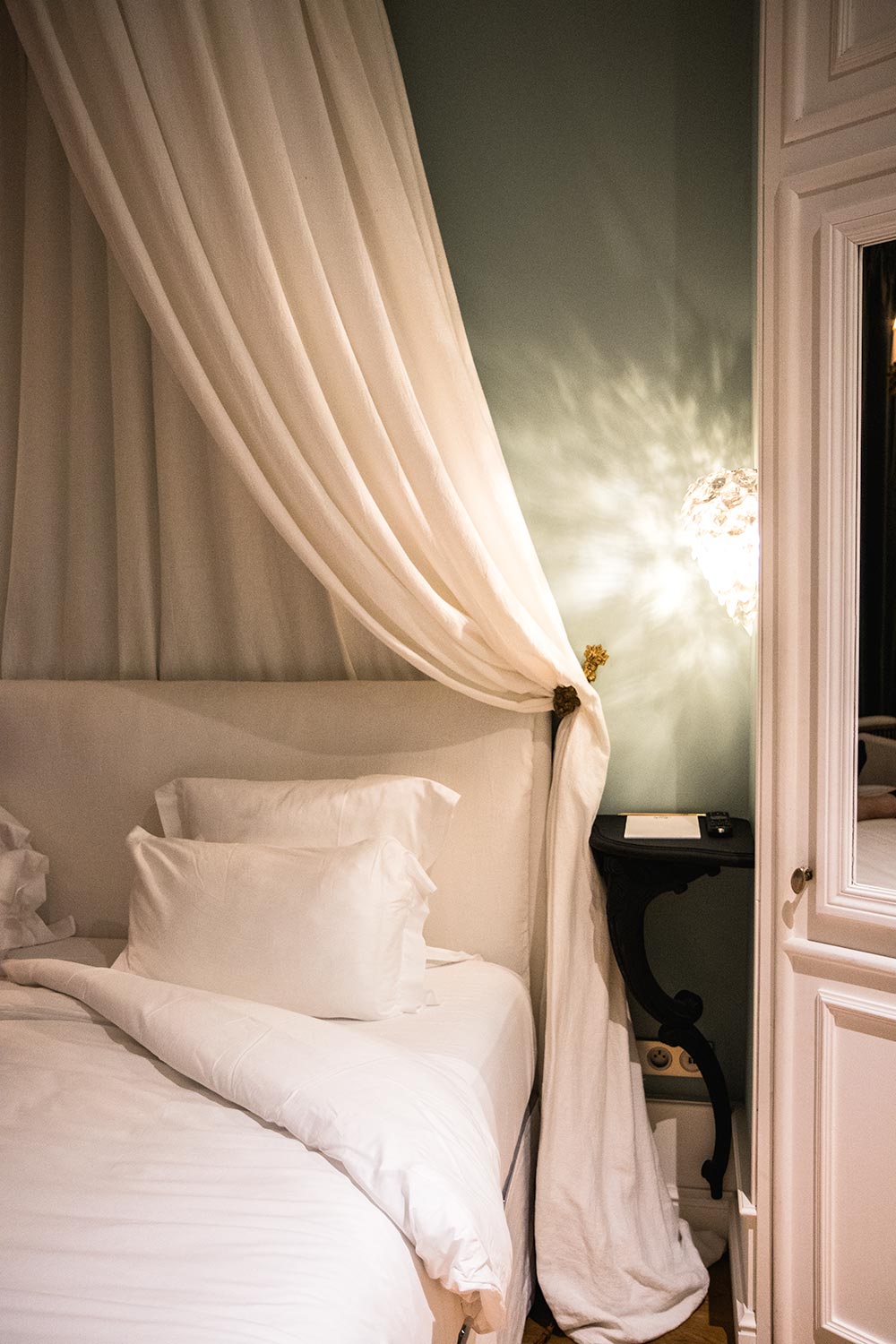 Things to do at Chateau de Sacy and the Champagne countryside
Walking through green valleys
The Champagnoise landscape is just as colorful and fairytale-esque as the chateau. Right beyond the manor, invincible rows of dark, velvety Pinot Noir fanned out like a violet ray of sunshine, kissing the flanks of the adjacent hilltops. We walked around, passing fields of deep ruby Pinot Meunier, shielded by seaweed-green forests, tiny villages with terracotta-tinted roofs and a pair of tawny Basset Hounds admiring the view.
For 5km we were immersed into the most varied shades of green, ranging from lime-green valleys of Chardonnay to to the deep green of the tall pine trees, hemming the rolling terrain. Birds called out warnings upon entering the small village of Ville-Dommange, light blue shutters and flowerpots with Marne roses gracing the window tables and creating a warm and fragrant welcome. Snow White would feel right at home.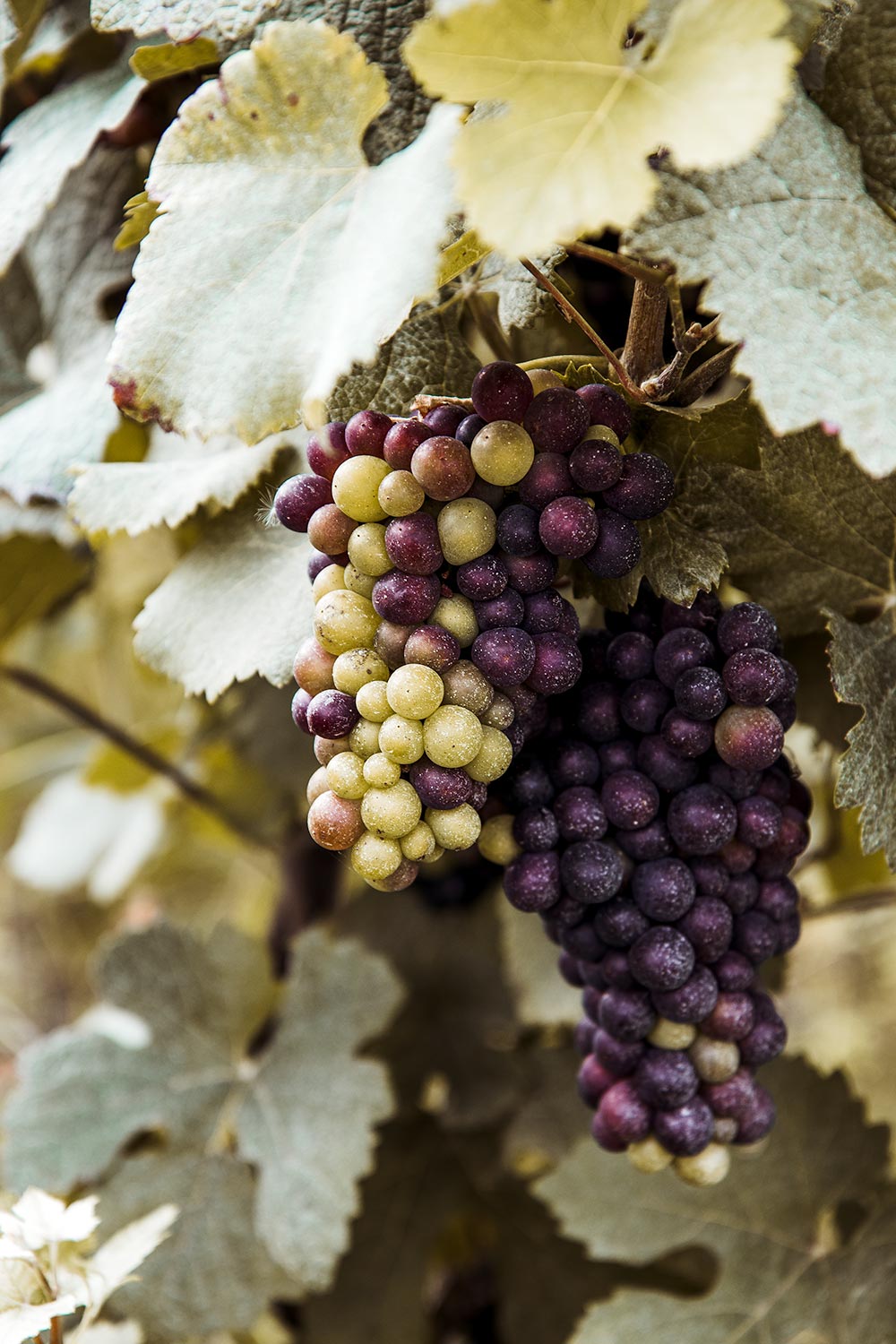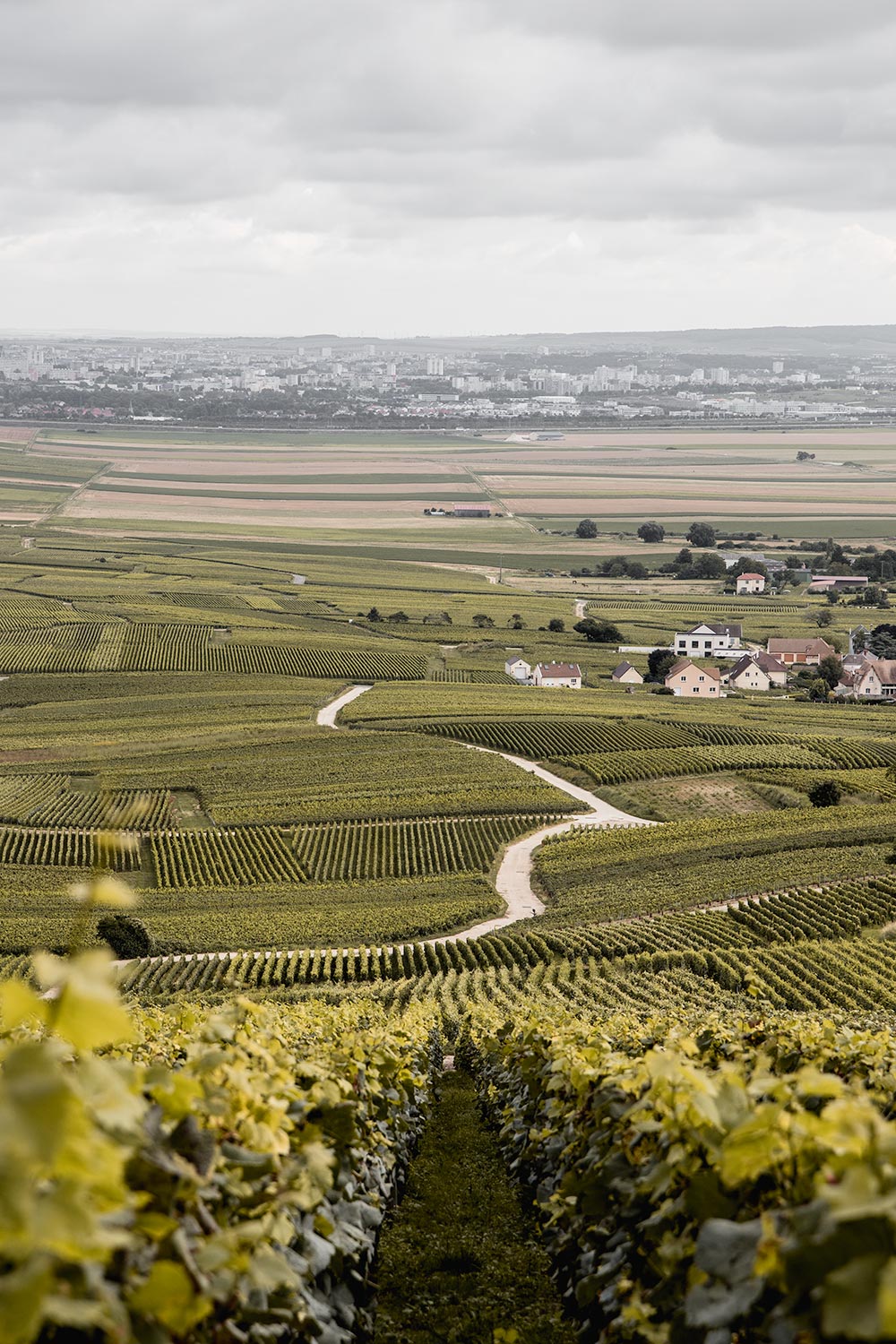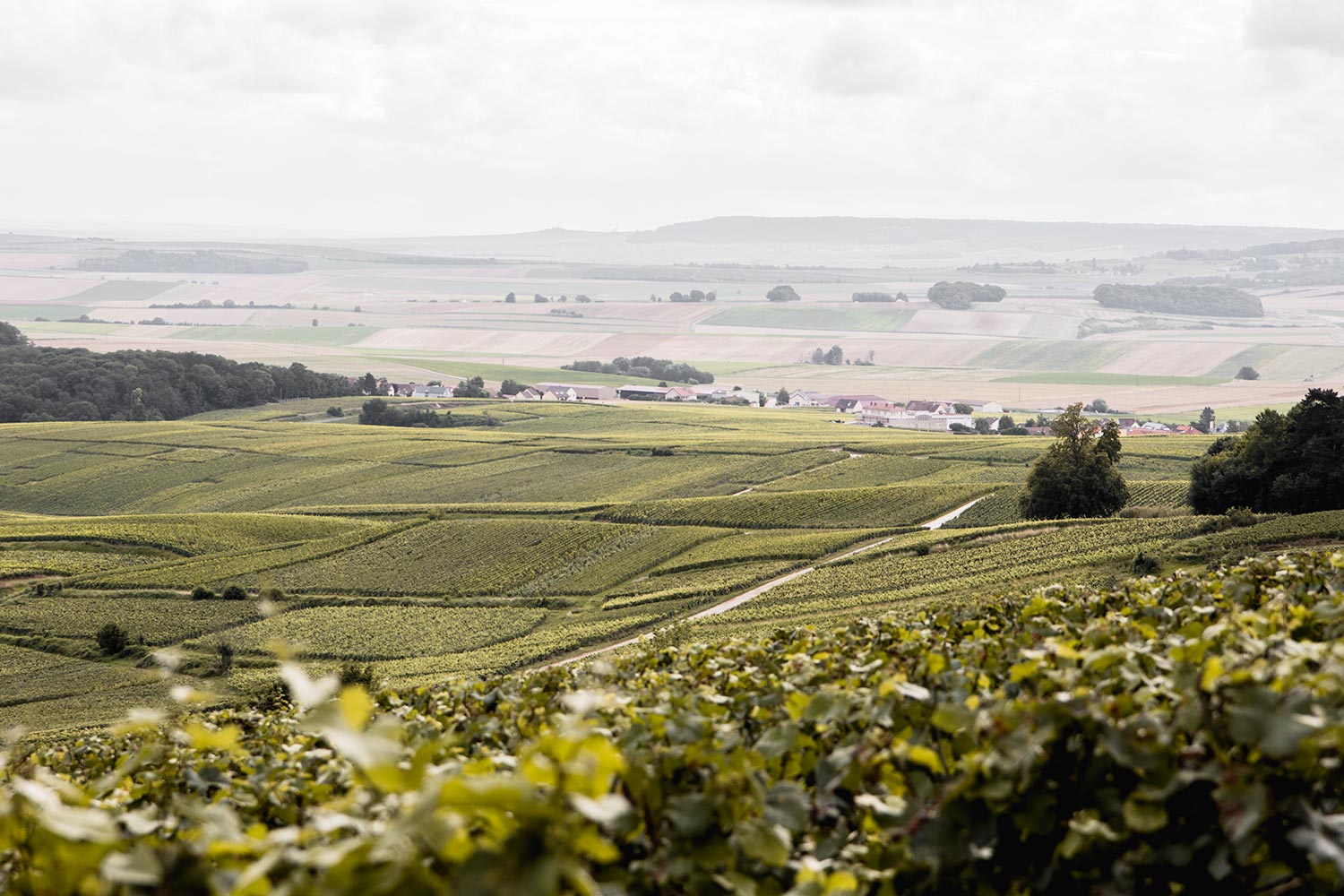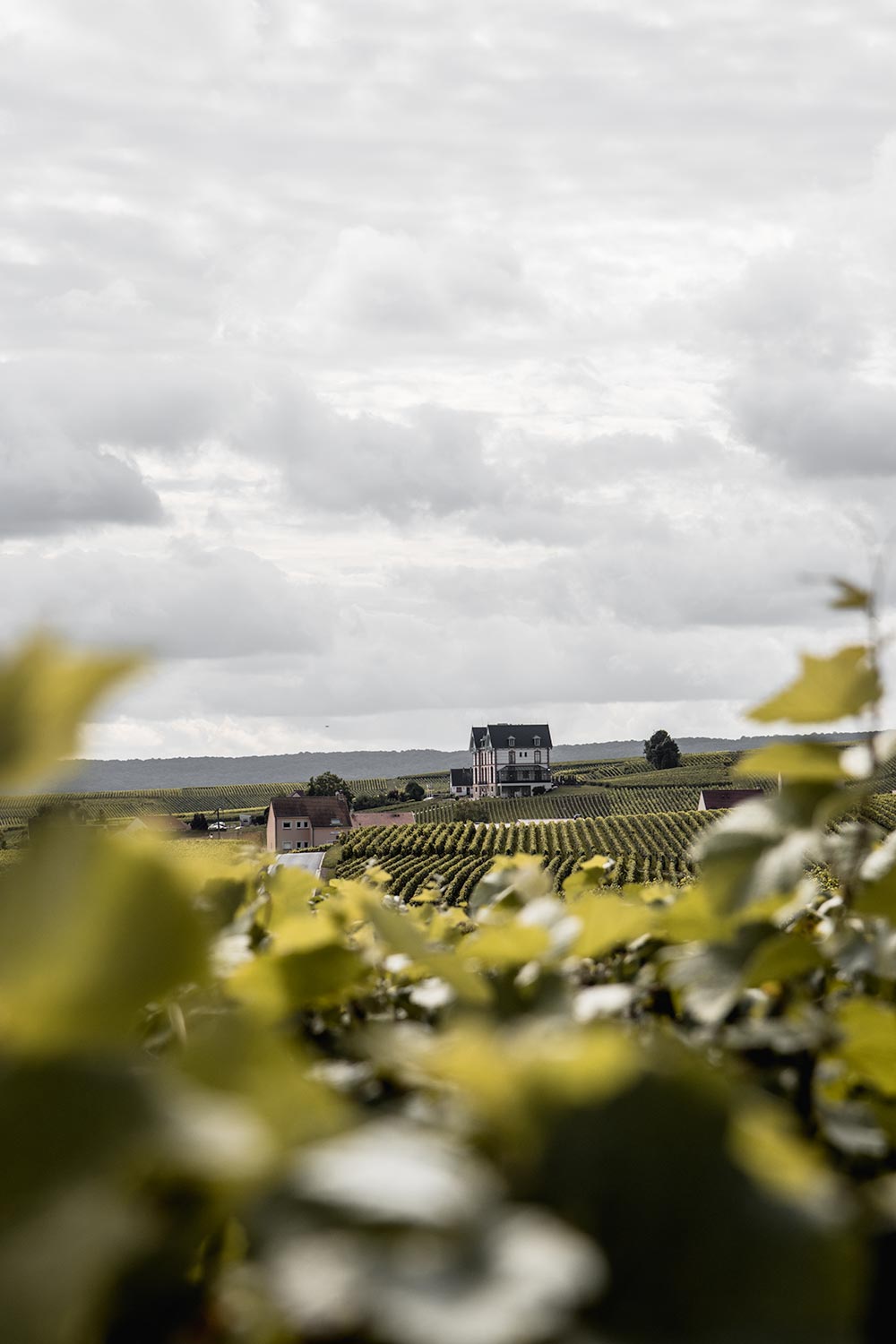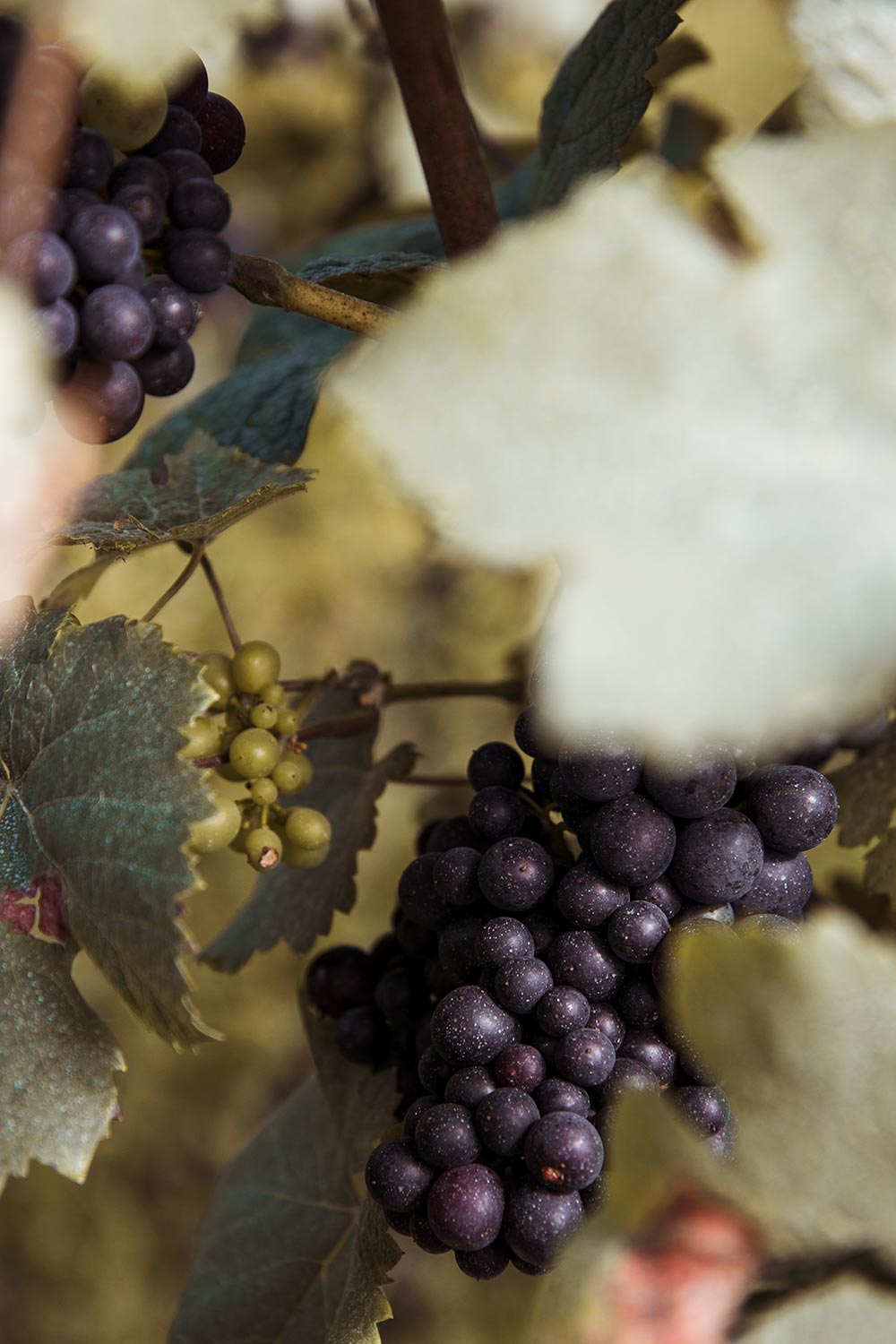 We all know this landscape. It is the landscape we all see when we close our eyes and dream of Champagne. No neatly lined cypress trees contrasting against a clear blue sky as in Tuscany, but endless tight rows like imposing green caterpillars crawling fluffily across the hillsides.
Romantic earthy roads running down those hills to the small villages in the Champagne valleys. It feels familiar and strange at the same time. It is like looking at a painting while standing in the middle of it. An area ideal for cyclists and walkers.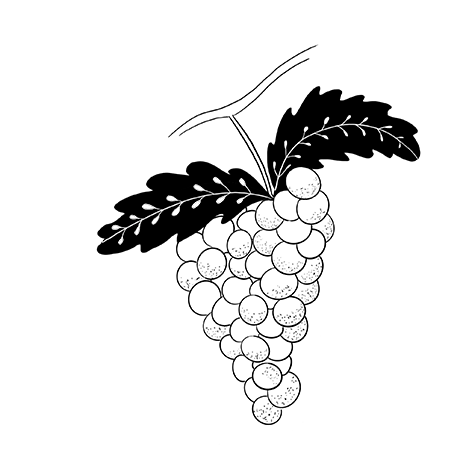 Tasting bubbles right at the source
For every famous Champagne house in the region, there are many smaller producers, eking their living out of their own vineyards, and competing for a piece of that champagne fame. While major champagne houses in Epernay and Reims are pleasingly fantastic in savoriness and cultural enlightenment- the cellars of Moët and Chandon and Taittinger are considered one of the best- it's a visit to the smaller Champagne houses that would stick with me forever. One major advantage to visiting smaller produces is that the entire process takes place onsite, so you can see the entire journey from grape to bottle. Larger brands, by contrast, tend to welcome visitors solely to their cellars, where the bottles are stored.
Sleepy Sacy, a town with only 369 inhabitants, holds over 10 local champagne houses, each one trying to seduce us with their unique blends and top-drawer fizz. Sacy and many of the surrounding small villages are entirely devoted to the production of champagne. It seemed completely nonsensical to drive to bigger cities like Epernay and Reims for champagne tasting when we had such an overabundance only 5minutes on foot from the chateau.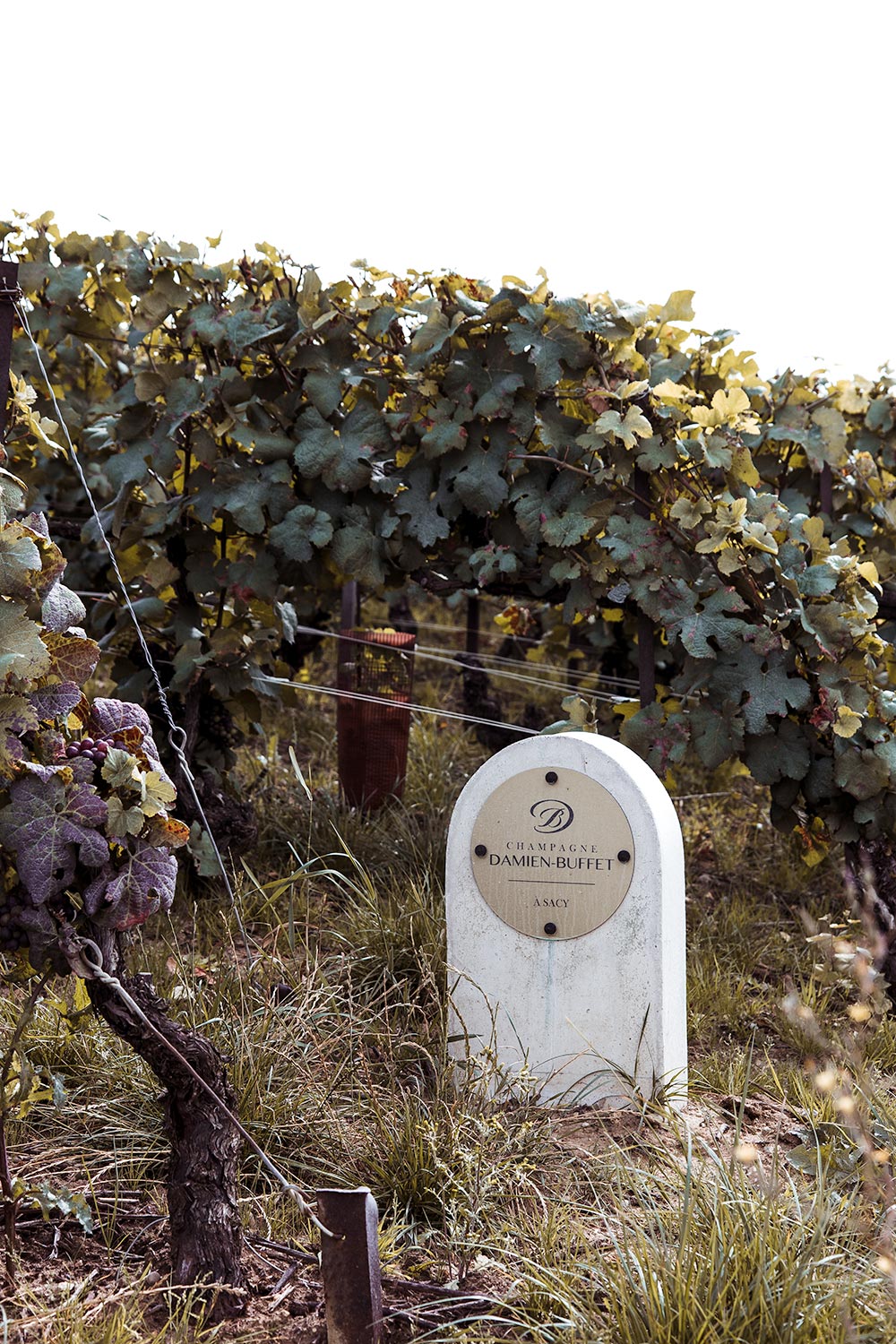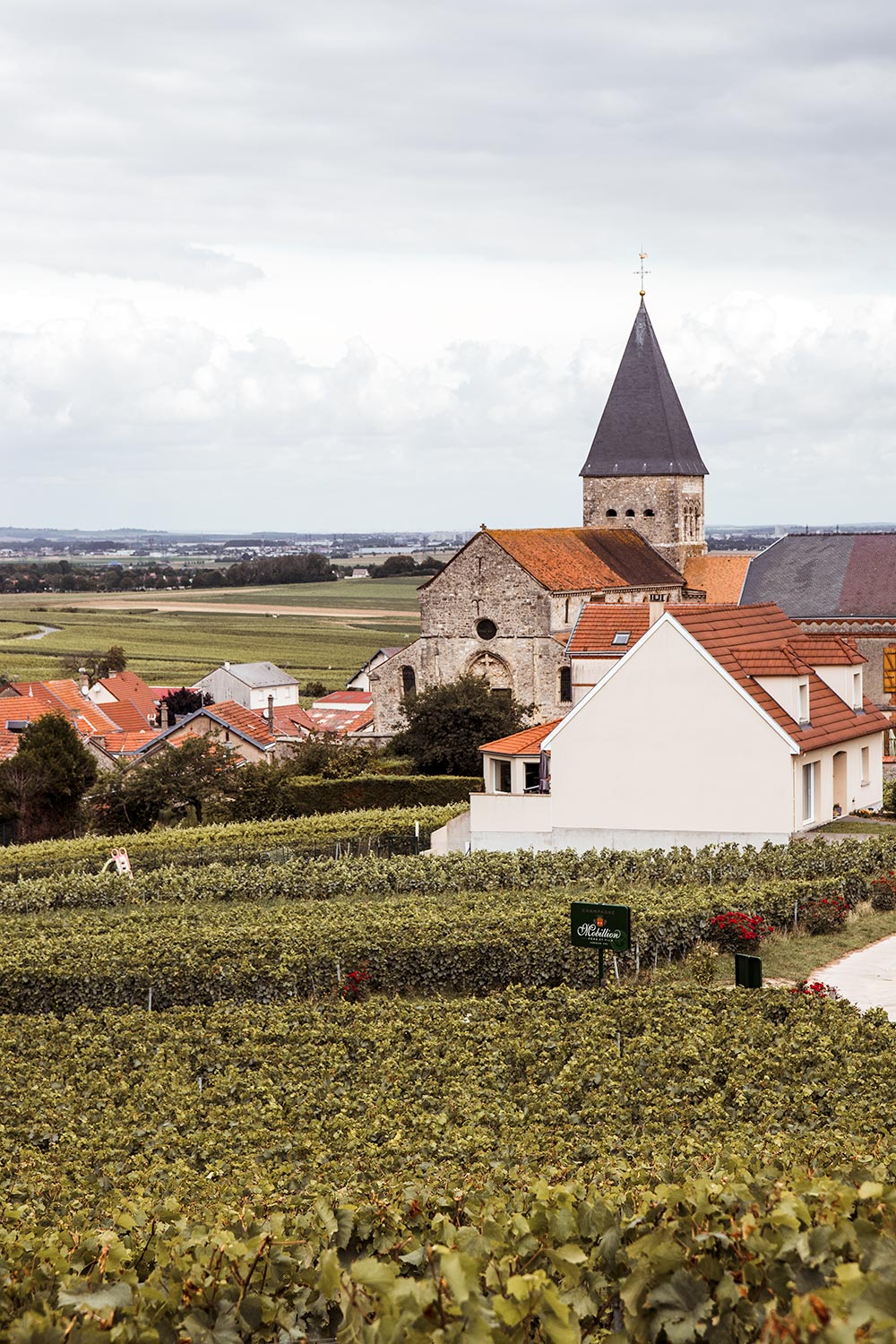 There's something quintessentially pastoral about being able to walk up to one of the champagne houses, ring the bell and be invited for a glass of champagne. For a second I felt transported back to the nillies, when my party days led me go barhopping. Only this time the experience comes with a touch of luxury, pubs making place for ancient family farms and grimy bar nuts are swapped by chic pink biscuits for luscious champagne dipping.
"Après bon vin, bon coussin"
It only took a three minute walk from our room at Chateau de Sacy to the town square, where Champagne Mobillion Père et Fils is located. It seemed faith, since we gazed upon their vineyards from our magnificent Salon d'Eugénie. The three cuvées we sampled included the Brut Premier Cru of mostly Pinot Noir and Pinot Meunier, the Brut Millésime and a 100 per cent Chardonnay Blanc de Blancs. As from the first sip, I got hooked. Swept off my feet as they say, by the light and tiny bubbles, whizzing through the golden liquid and amounting to a crescendo of shooting stars. An explosion of delicately balanced flavors and texture, closing on a note of harmony and completeness when I swallow it down. Local champagne masters becoming the conductors of their own symphonic orchestra, hitting us with their high notes of brioche, almonds or citrus. A masterpiece that would even make Hans Zimmer himself burst with pride.
There's a French saying "après bon vin, bon coussin", which means as much as "after good wine, you need a good pillow". If that saying is good enough for wine, it might as well apply for champagne. I have to agree, the pillows in Salon d'Eugénie never felt softer than that night.
Our 3 favorite Champagne houses in Sacy:

1. Mobillion Père et Fils
14 Pl. Saint-Avertin, 51500 Sacy
mon-fri 09:00–12:00, 14:00–18:00
sat-sun 09:00–12:00, 14:00–17:30

2. Champagne Damien-Buffet
12 Rue de Châtillon, 51500 Sacy
mon-sat 10:00–12:00, 14:30–18:00
sun 10:00–12:00

3. Champagne Goulin-Roualet
2 rue Saint-Vincent, 51500 Sacy
No fixed opening hours, you can request a visit and tasting by sending an email to contact@goulin-roualet.fr



Cultural immersion in nearby Reims
Reims has its own attractions beyond the famous fizz. The Gothic cathedral rises from the city skyline and offers visitors the possibility to get tipsy on culture instead of booze. playing a very prominent ceremonial role in French monarchial history, this was the place where kings of France used to get coronated. Earning Reims the title of Coronation City or 'La Cité des Sacres'.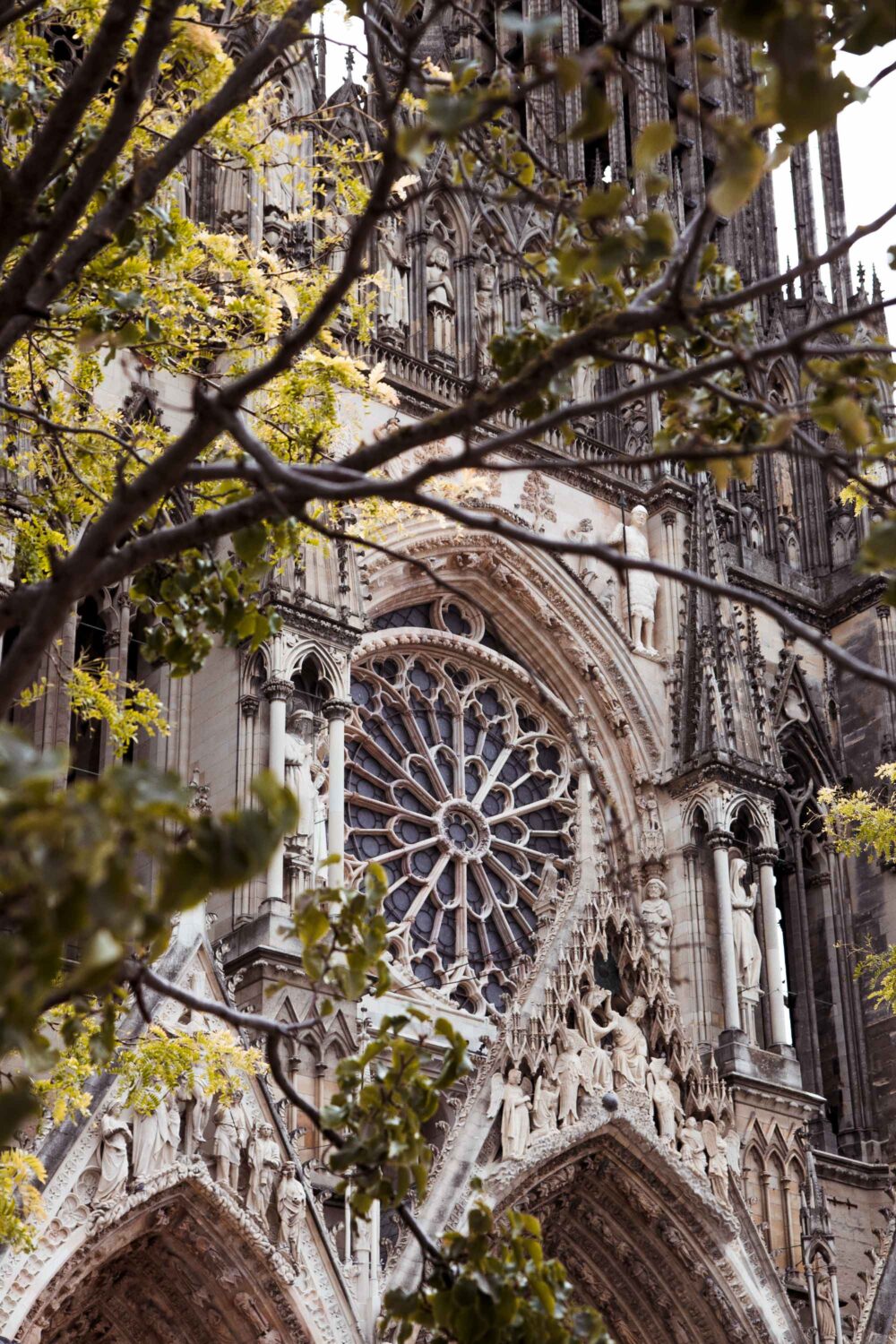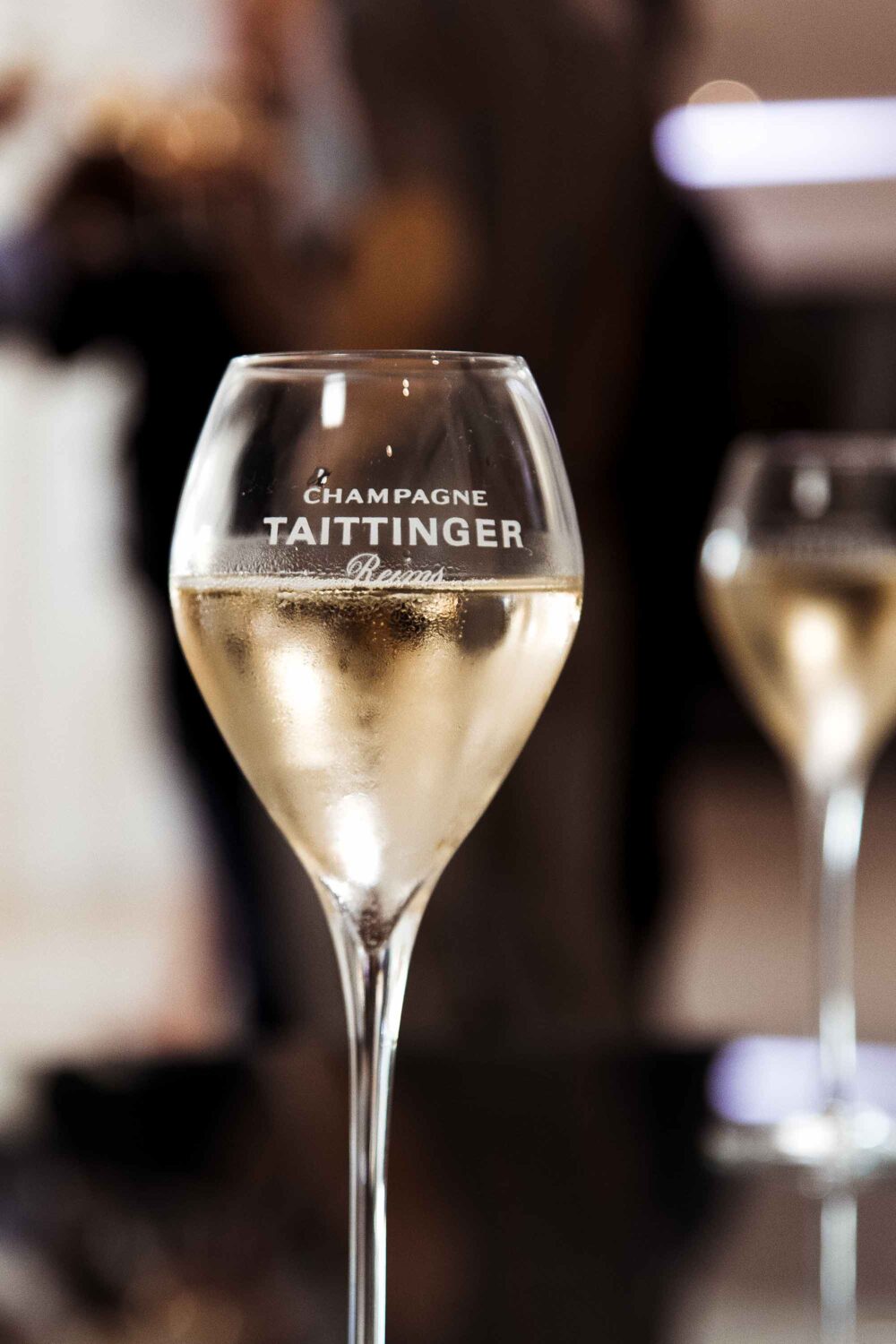 Besides its important role in the history of France, Reims is conveniently located at the northern edge of what is one of the world's most famous regions. All lands surrounding Reims, dedicated to producing The drink of the Gods, part of the grand coronation ceremony and rival to the wine producing regions of the East and West.
Multiple large champagne-producing houses, including les grandes marques like Taittinger and Veuve Clicquot, have their headquarters in Reims. Their divine sparkling honey colored nectar aging in the many caves and tunnels beneath the Art Deco streets of Reims. Dating back to the Roman times, these labyrinthine cellars now age a dozen cuvées of the most acclaimed Champagne brands. Visiting the cellars is like going on a trip into history. Among the major brands, don't miss Taittinger, which most insiders agree is the best organized and most insightful of the visitor experiences. Ruinart, too, is a standout.
Since the 17th century, kings were welcomed in Reims with biscuits roses, which they dipped in their beloved glass of champagne. Since 1756, these delicate pink biscuits have been baked by Maison Fossier in Reims, making it the oldest biscuit factory in France. As a sugar-addict, I couldn't keep my sticky finger from them, returning from Reims with a bunch of delicate pink sugary baked goods in the car.
Our favorite spots in Reims:

Reims Cathedral
2, place du Cardinal Luçon
Mon-Sun: 07:30-19:30

Taittinger Champagne Cellars
9 Place Saint-Nicaise
Tue-Sun: 09:00-17:30 (guided visit of 1h)

Maison Fossier
25 Cr Jean-Baptiste Langlet
Mon: 14:00-19:00
Tue-Sun: 10:00-19:00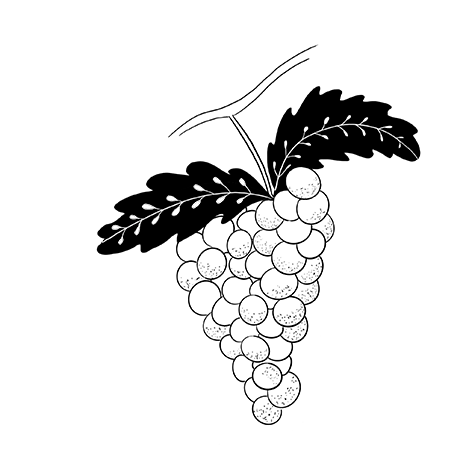 Eating your way through the Champagnoise countryside
Long the protector of French traditions, the Champagne region is now attracting travelers seduced by its slower approach to life, even though the region is only a two-hour ride northeast from bustling Paris on the high-speed train. The region boasts rich and fine food that fits perfectly with its wide range of bubbly Champagnes. The traditional French Northern cooking is based on the products of the soil - known as Cuisine du Terroir - and emphasizes the French Art de la Table.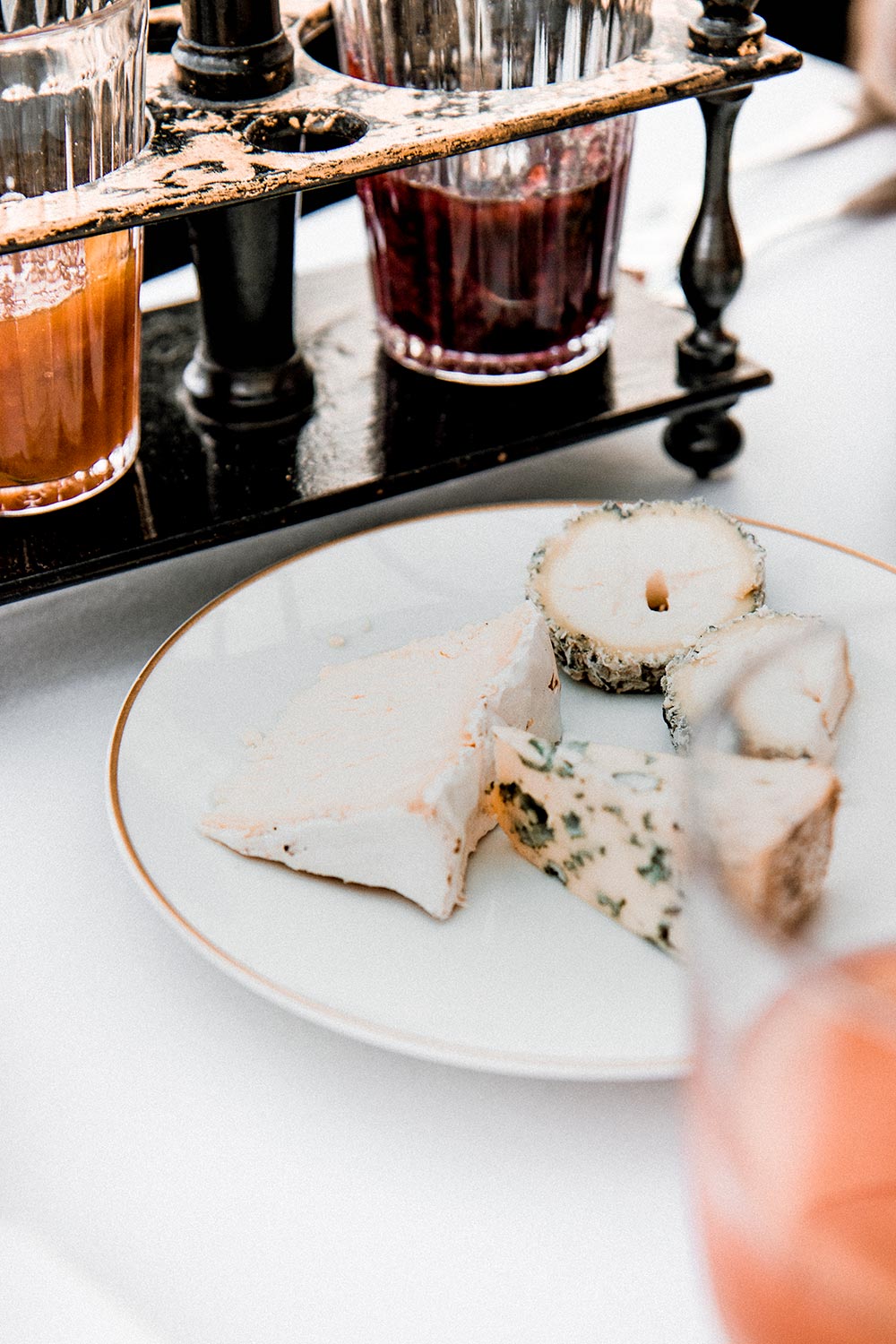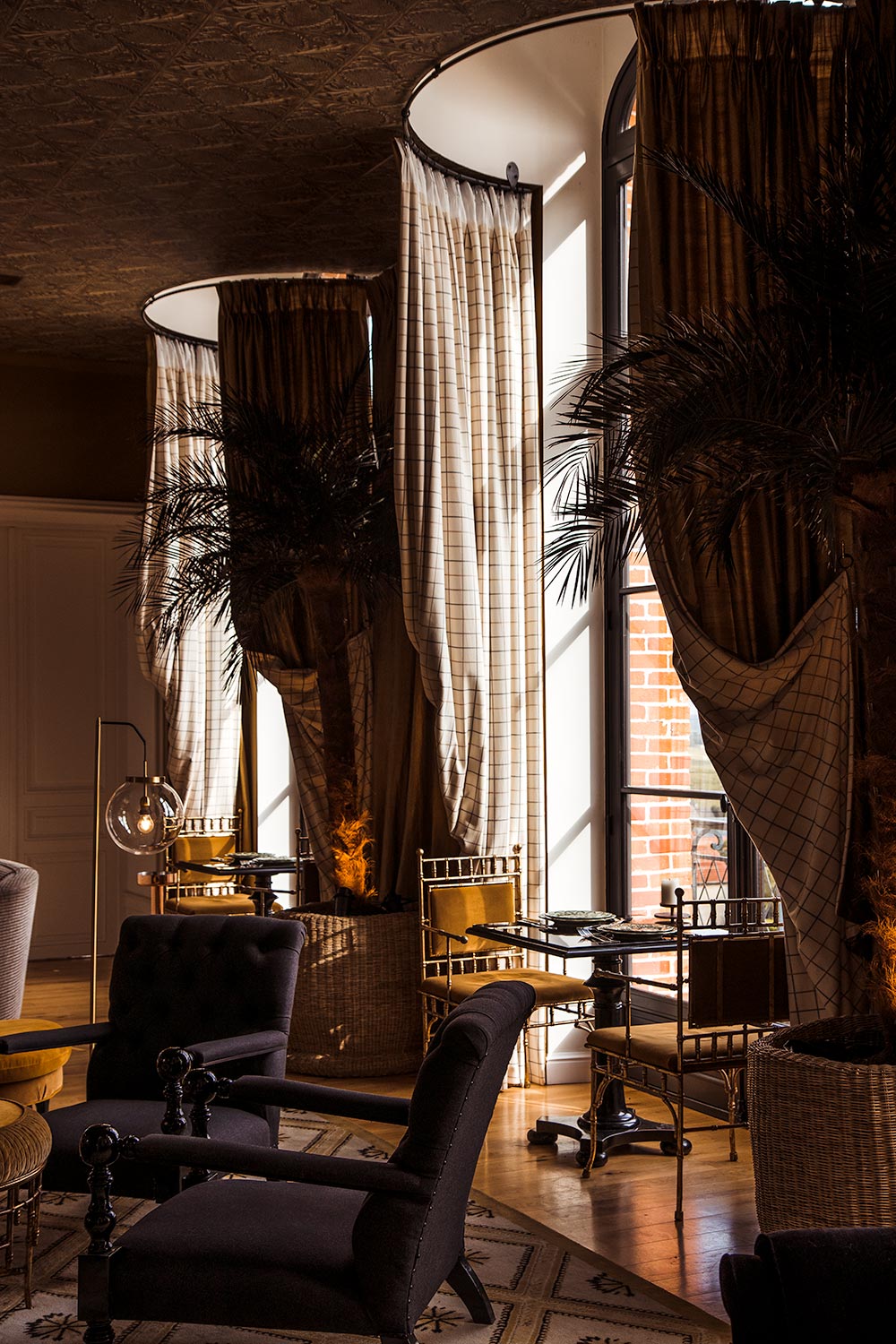 "Few things are better in life than eating your way through France"
The river Marne oozes west from the town of Aÿ past weeping willows and heaving vines. Before the railway was built parallel to the river in 1849, cases of wine were floated via Epernay to Paris, then sailed north across the Channel towards London. Now river cruises ply the same route in 7 days.
The main dish of Champagne is trout, fished in the rivers leading to the Champagne valley, and is therefore a key ingredient in any menu served by Chateau de Sacy. A delicate piece of trout fillet can always sweep me off my feet, especially on a balmy day when I'm craving something light and fresh. The area is also known for its poultry: Champagne geese, ducks, chickens and turkey red of Ardennes.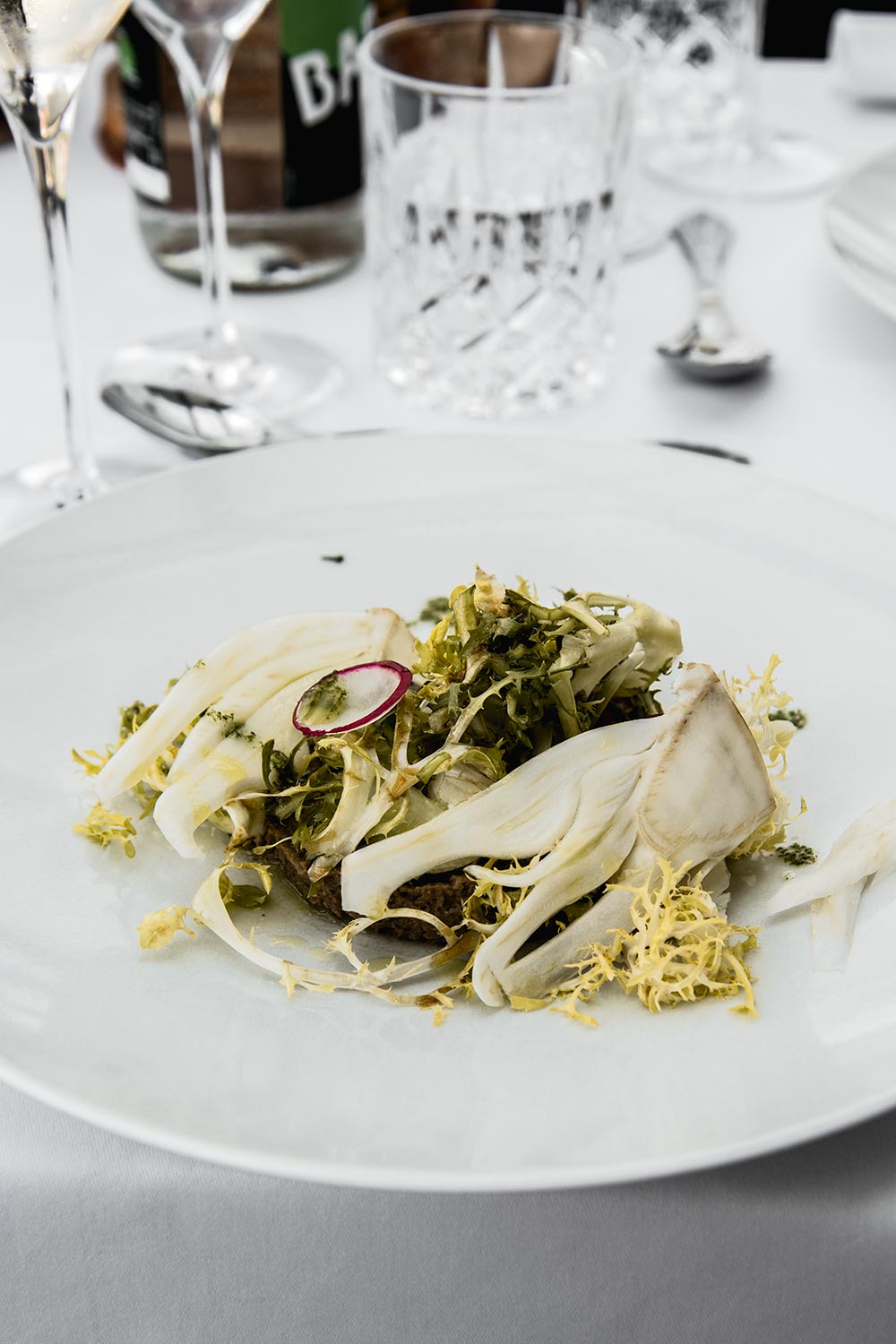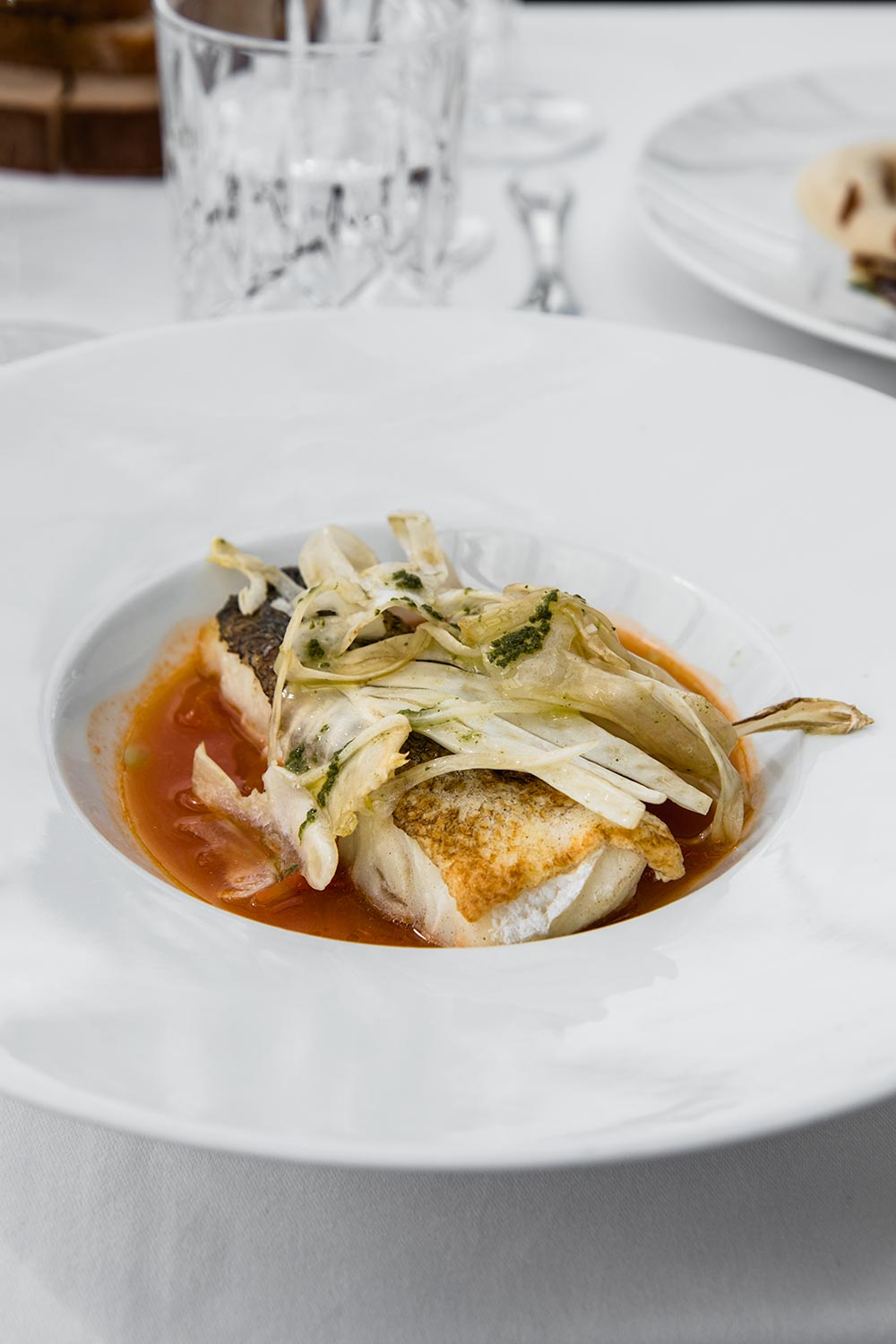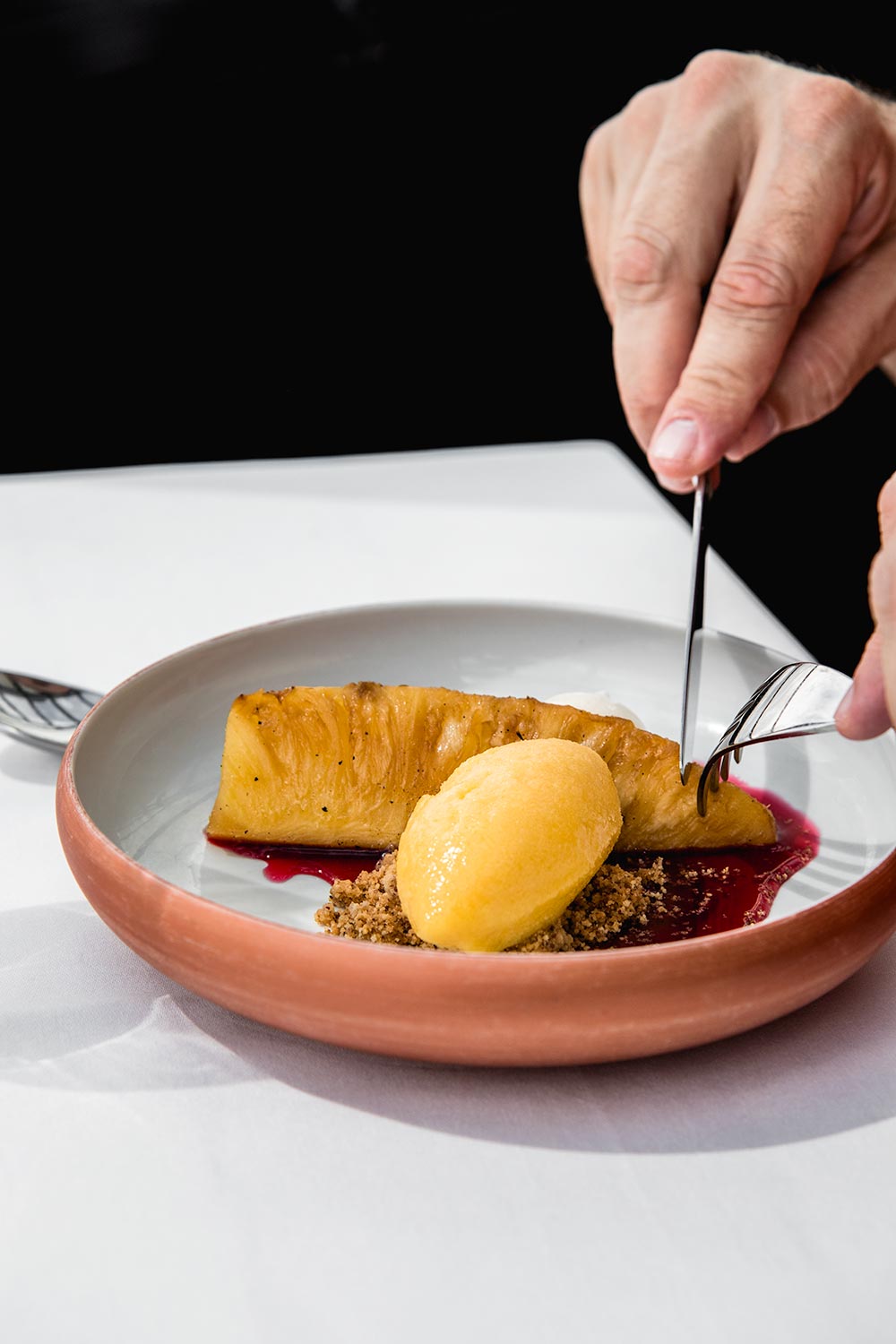 The Champagne food is very rich and varied. So to end off your rich French meal, the Brie cheese or the authentic Biscuits de Reims are perfect options to accompany one of the outstanding Champagne wines. There really are few things better in life than eating your way through France.
Summer Menu:

3-course summer menu at Chateau de Sacy
Needs to be reserved in advance
39€ per person, excluding Champagne and accompanying wines

Cheese platter:
Staying at Chateau de Sacy means you'll be enjoying a traditional French breakfast, including sweets like homemade jams and an array of local cheeses!
Breakfast in included in your hotel stay.


A bit of rest & relaxation among the vines
Our short visit to the Champagne region was regrettably nearing its end. Thankfully we've found time for one final tasting — a liquid Last Supper sorta speak— before we continued our journey homeward. Sparkles in our glass and bubbles in our private hot tub, this was some R&R in the most satisfying and serene way possible.
After an amazing weekend, we've especially come to revel in Chateau de Sacy's mastery of combining glamour with a homely atmosphere. And no one will be surprised if you walk through the lobby in your bathrobe, armed with a bottle of champagne under your arm, to enjoy a moment in one of the two hot tubs in the garden. And of course with an accompanying view of the vineyards.
What better countryside escape could we have wished for?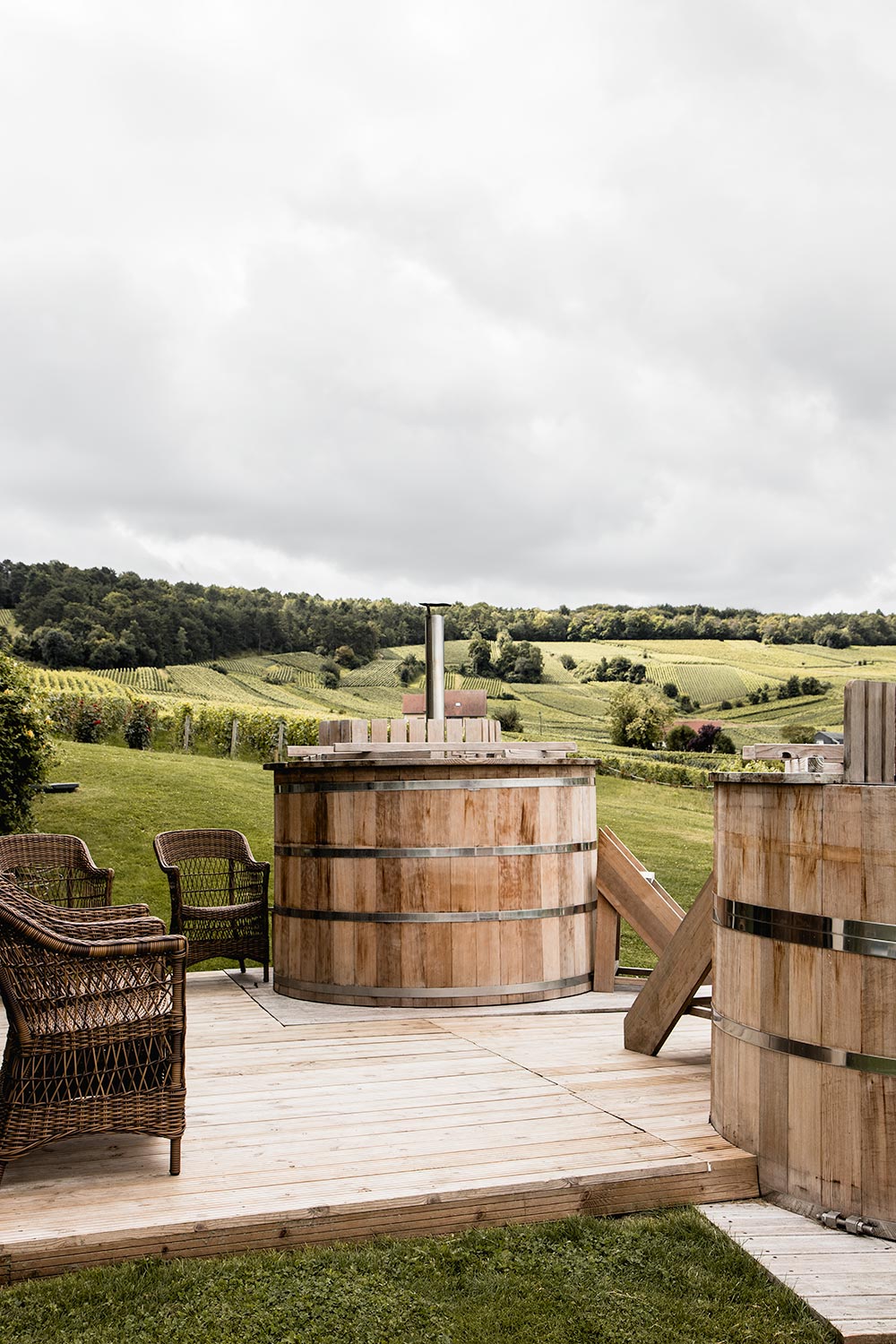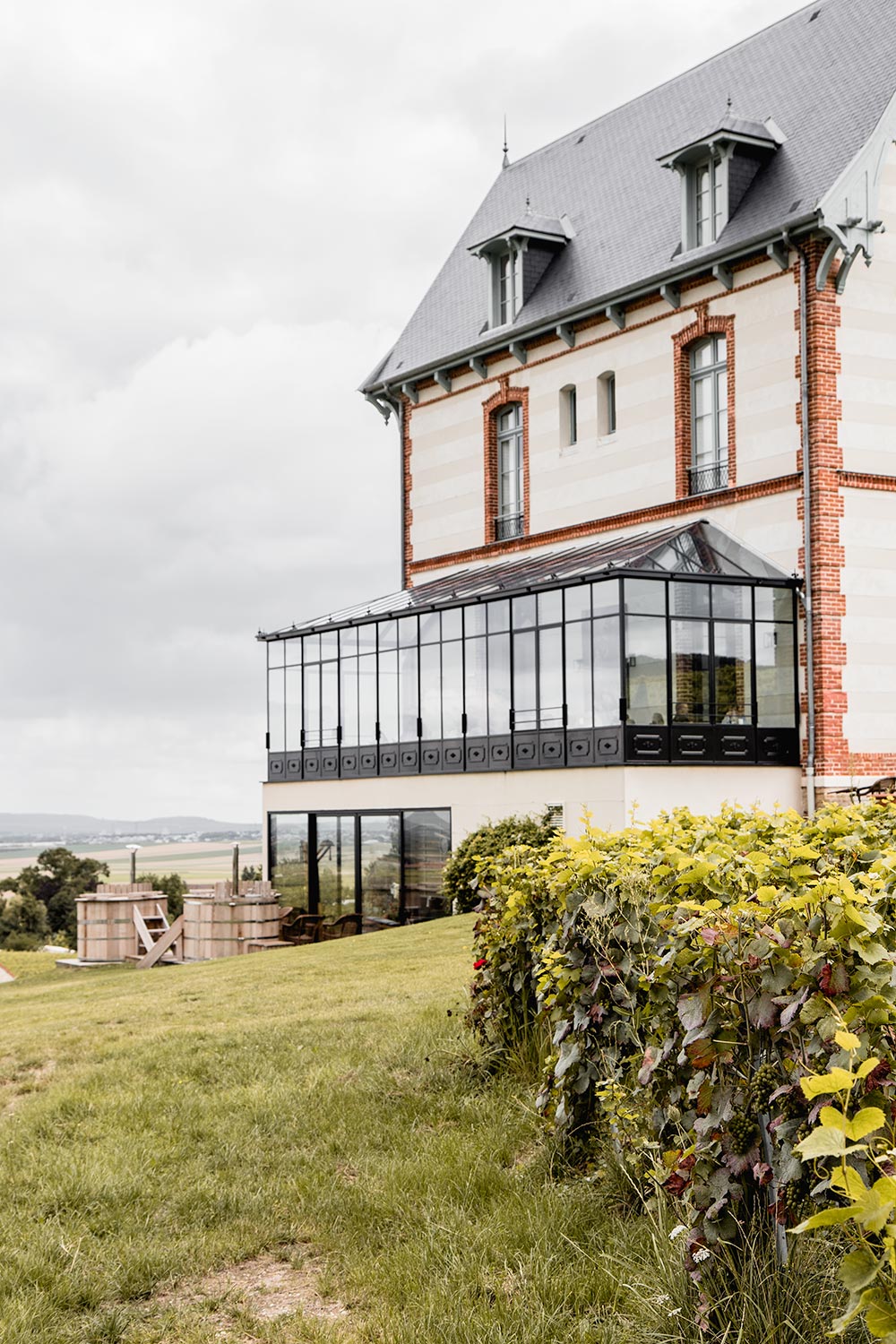 What to expect from a stay at Chateau de Sacy?
The rooms
The rooms at Chateau de Sacy are all fairytale escapes to different times. While expressing their love for strong females, more masculine rooms like the Winston Churchill, l'Officier or le Roi Soleil might appeal to the gallant folks amongst us. The en-suite bathrooms are spacious, complete with a marble shower or bathtub.
The 11 rooms range from 23m² to a generous 50m² in the two suites. Rooms at the front of the mansion look out over the Reims skyline, delightfully sparkling at night, just like a glass of bubbly. Rooms at the back of the mansion overlook the vineyards and champagne valley.
For a princess like room, complete with canopy bed, we higgle recommend Le Salon d'Eugenie, La Madame de Pompadour, La Marie-Antoinett or La Divine Josephine. All four rooms come in dreamy colors like powder blue or minty green.
Essentials
While I could easily spend daydreaming underneath my canopy bed, it's the whimsical landscape of neatly trimmed vines that left a lasting impression. At the back of the mansion, an impressive deck is nuzzled between the impressive restaurant French doors and the endless rows of vines.
Other amenities include two outdoor hot tubs overlooking the vineyards and the town of Sacy, a wooden gym, sauna and spa services. Daily housekeeping, valet and private parking, A/C and WiFi is permanently available.
Need to know
This place is a weekendable wonder and especially suited to spend 1 to 3 nights. For good reason the valley was declared a Unesco world heritage site in 2015 and it lures especially nature lovers. In order to explore the natural surroundings, one needs to be able to walk on uneven terrain. Though the hotel and restaurant are accessible for people with limited mobility, the nearby walking trails are not.
Champagne tasting is also accessible for travelers with reduced mobility though visiting the caves can be a challenges, since they are often ancient and underground. I would highly recommend to contact the Champagne House you'd like to visit, to inquire after accessibility before your visit.
How to get there
This place is a weekendable wonder and a perfectly tranquil escape to otherwise humming France, overflowing with tourists. Only 15 min by car from cultural Reims, you'll find yourself in the peaceful countryside surrounded by nothing but nature and the delicious brew that it produces.
If you're heading to Champagne by car, either as part of a larger roundtrip or a short weekend escape, you'll make it to the small town of Sacy without any issues. Take into account the ever increasing 'payage' you'll have to pay in order to use France's highways.
When staying at Chateau de Sacy, you're not in dire need of a car at all. 10 champagne houses are within a 10min walk from the manor, perfect for a night of tasting without having to worry about who will be the BOB that night. A perfect getaway if you're planning on using public transportation.
How to get to Sacy from London
Highspeed trains run from London to Reims in less than four hours. You could also opt to take a low-cost flight from London to Paris from where a TGV INOUI now whizzes to Bubbly Central in 39 minutes flat. All trains to Reims depart from Paris Gare de l'Est station and arrive into either Reims Ville or Champagne-Ardenne TGV stations. Arrange a shuttle or taxi with Chateau de Sacy to pick you up in Reims for your boozy weekend escape.
How to get to Sacy from Brussels
Highspeed trains run from Brussels to Reims in two and a half hours. The short distance, only 180km, makes this an ideal short escape destination.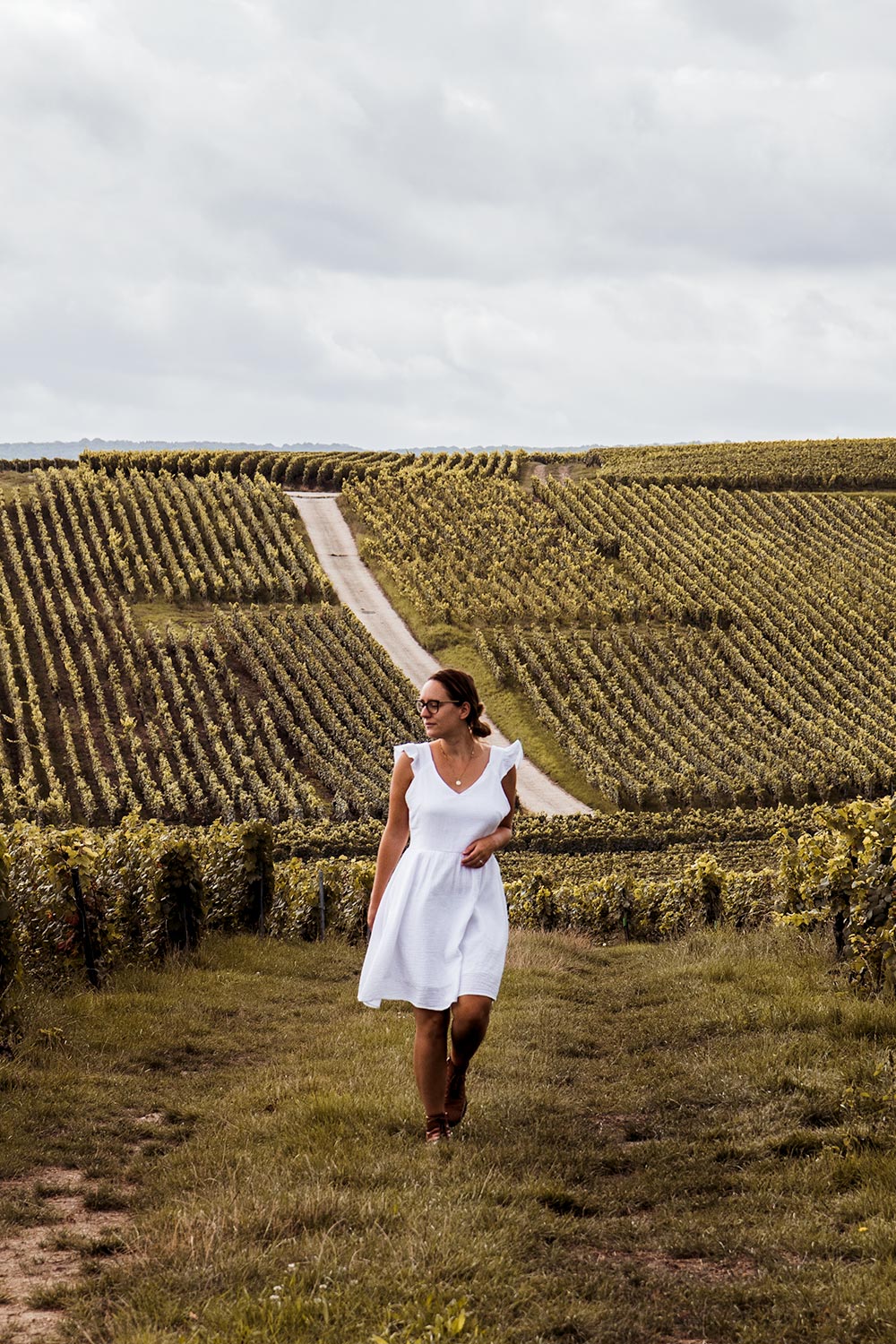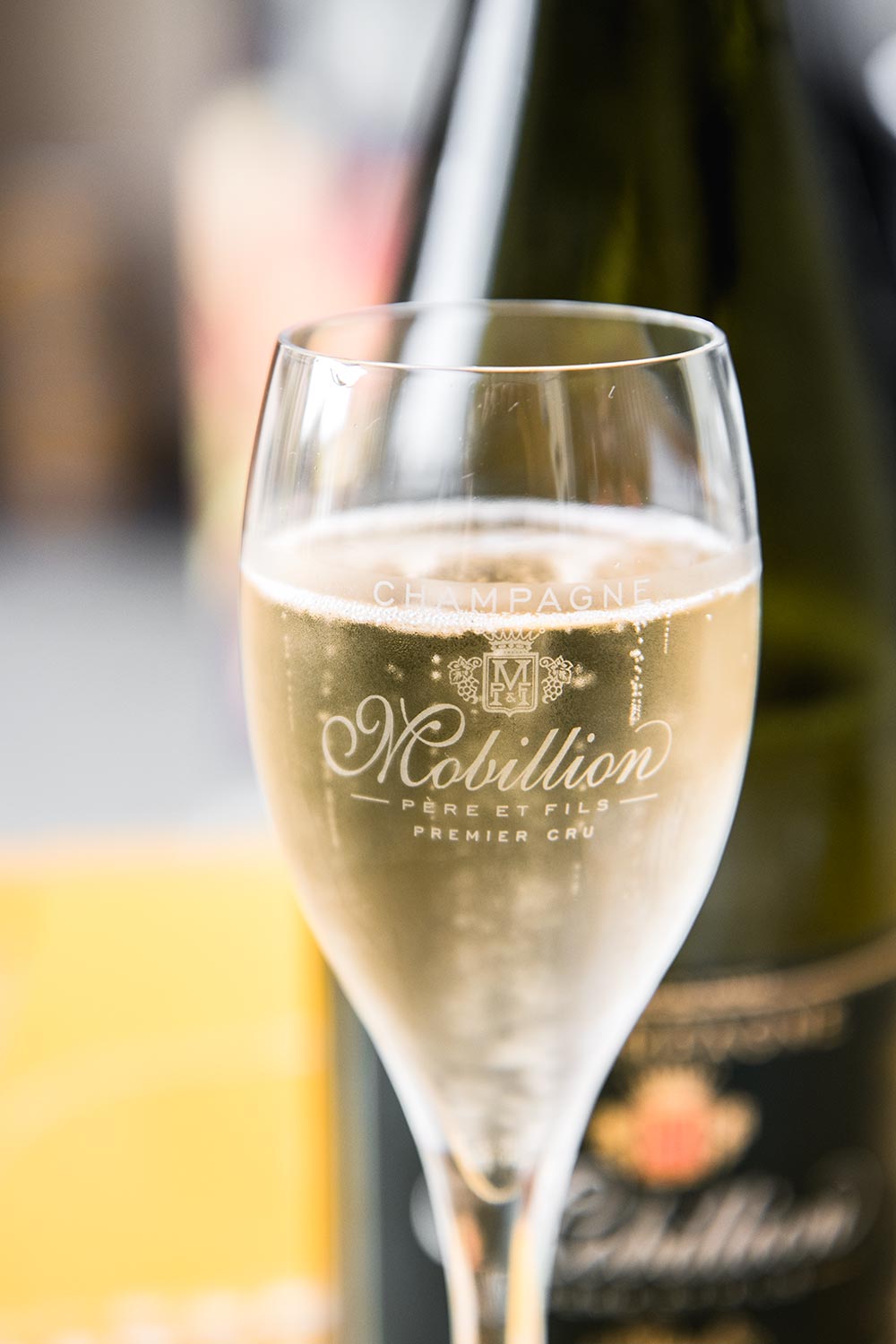 Surveying the vines and quaint little villages in every direction, I couldn't help feeling that, no matter what the future holds, in this part of France at least, it is certain to be delicious. As I reached into the pocket of my jacket, I noticed something small rattling around. It was the small champagne-fragrant ceramic plaque from Chateau de Sacy, a gift to every guest at the end of their stay. The perfume accompanying us on our drive back home, a new sensory memory engraved forever on the memory stick of my brain.
We have decided to experience our travels differently from now on, never to rush or try to see the most, but to slow down and be our best. Enjoying the simple things in life, taking time to stand still and..breathe.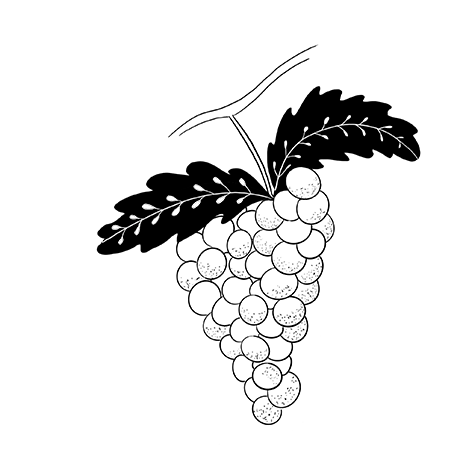 ---
This post may contain affiliate links which allows us to a earn a small commission when you make purchases through those links. This will come at no extra cost to you. For more information, please check our Privacy Policy & Disclosure.
---