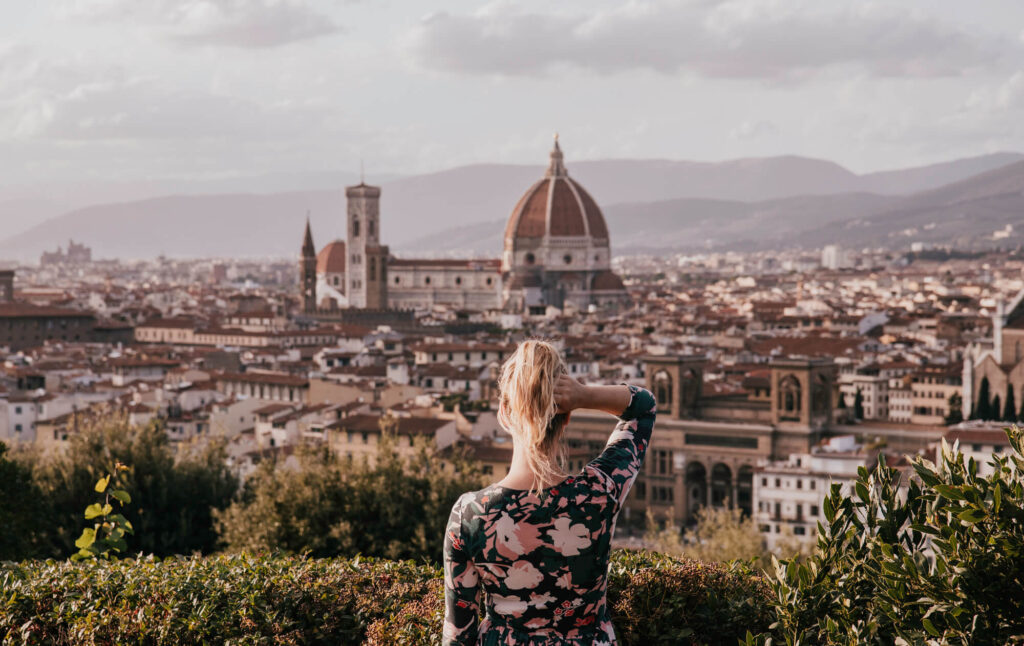 Italy as a country can be called magnificent, but Florence (Firenze) being one of Italy's most beautiful cities, must be its queen. It's a true masterpiece, confirmed by the fact that its historical center is labeled a UNESCO World Heritage Site.
"This is the fairest picture on our planet, the most enchanting to look upon, the most satisfying to the eye and the spirit." - Mark Twain
And after witnessing the beauty of Florence for the first time, it's easy to understand what Mark was on about.

Florence is a place where history was made from art. A Renaissance birth place and the home of masterpieces of Leonardo da Vinci and Michelangelo and many more. In our book, Florence is one of the most charming cities in Italy. Filled to the brim with history, art and beautiful architecture, all with a small town feel. Although Florence may not be the first city that comes to mind when you think of Italy, it will definitely be one of your favourites after you've visited and win you over with its laid back lifestyle. Discover our definitive list of what to do in Florence, Italy. Uncover this ancient city's historical sites, sunset spots, best restaurants and all the essential travel information you need.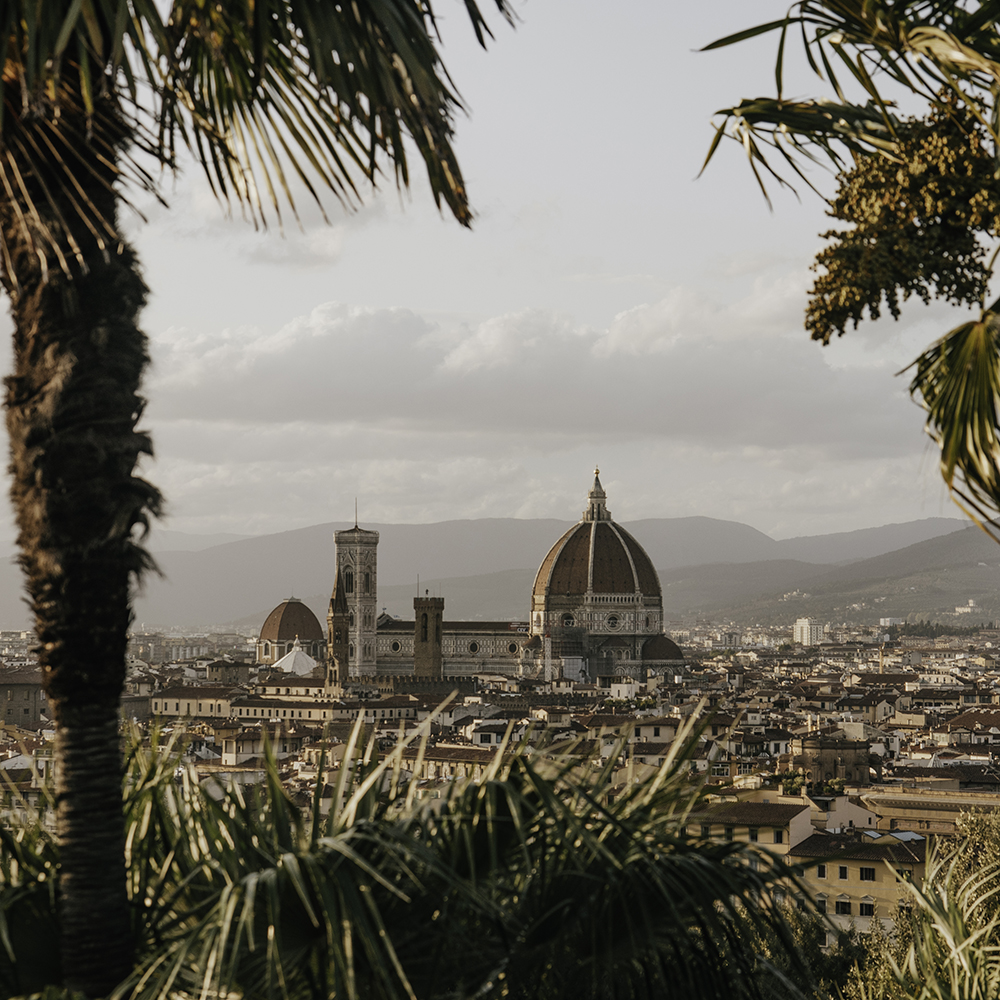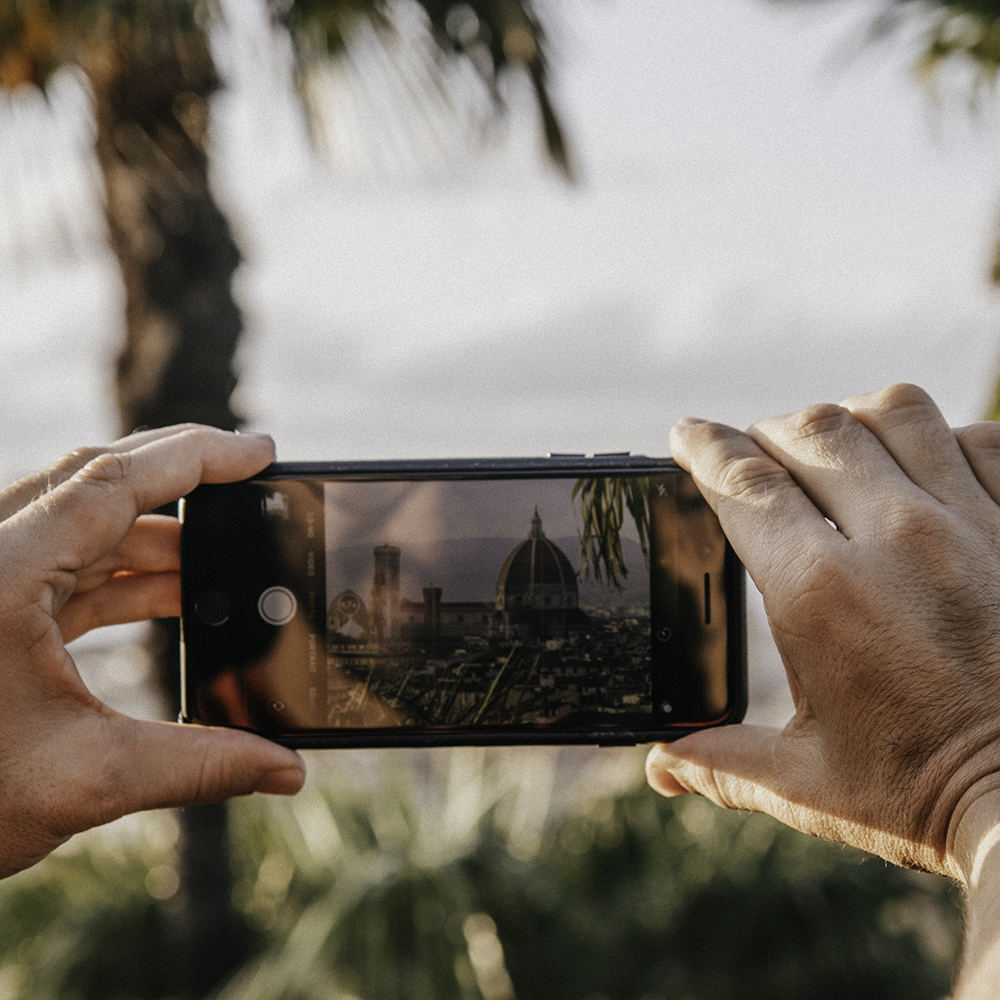 Psssst, this post contains affiliate links. If you click one of them, we may receive a small commission at no extra cost to you.
---
What to do in Florence: 10 wonderful sights, tours and day trips
---
1 | ADMIRE THE RENAISSANCE BEAUTY OF THE DUOMO CATHEDRAL
Start your explorations at Piazza San Giovanni, also known as Piazza del Duomo. It is the historical center and beating heart of Florence. The piazza is dominated by the incredible façade of the Cattedrale of Santa Maria del Fiore (aka The Duomo), the Baptistery of San Giovanni, Giotto's Bell Tower and The Opera del Duomo Museum.
Entrance to the cathedral is
free
(if you're not looking for a guided tour) and although the long waiting lines might put you off, the inside offers plenty of space. If you wish to avoid having to stand in line to enter (which can take hours!), you best
buy your tickets online
.
The Duomo is one of the largest cathedrals in the world and has the world's largest dome (copula)! Visitors are allowed on the top of the dome to have an incredible city view but you'll need to climb 460+ steps to get there. Tickets to climb the Duomo sell out weeks in advance so if you're wanting to do it definitely plan ahead and book.
THE DETAILS
Cost | a simple entry to the duomo is free
Tickets |
For a guided visit of the Duomo, combi ticket to the Duomo, the Baptistery of San Giovanni, Giotto's Bell Tower and The Opera del Duomo Museum or Copula climb, book your tickets
here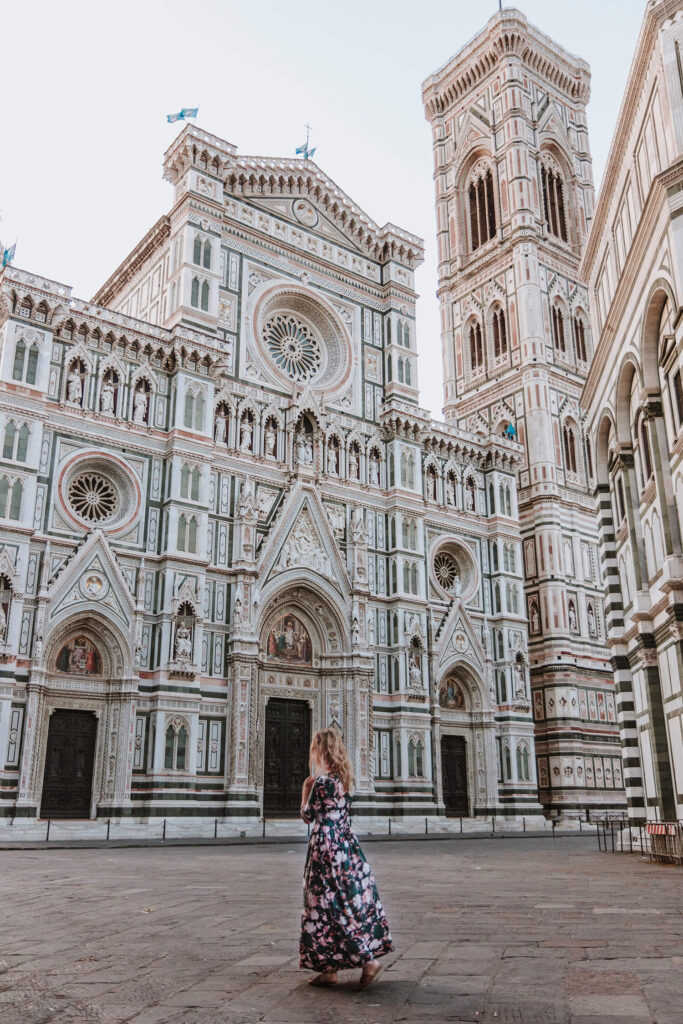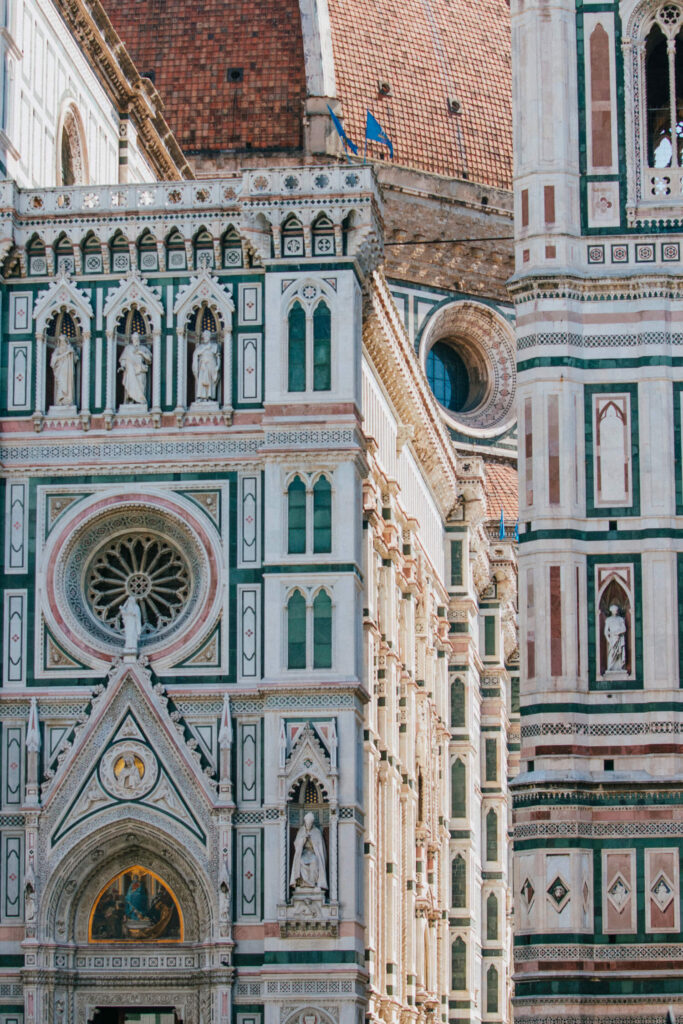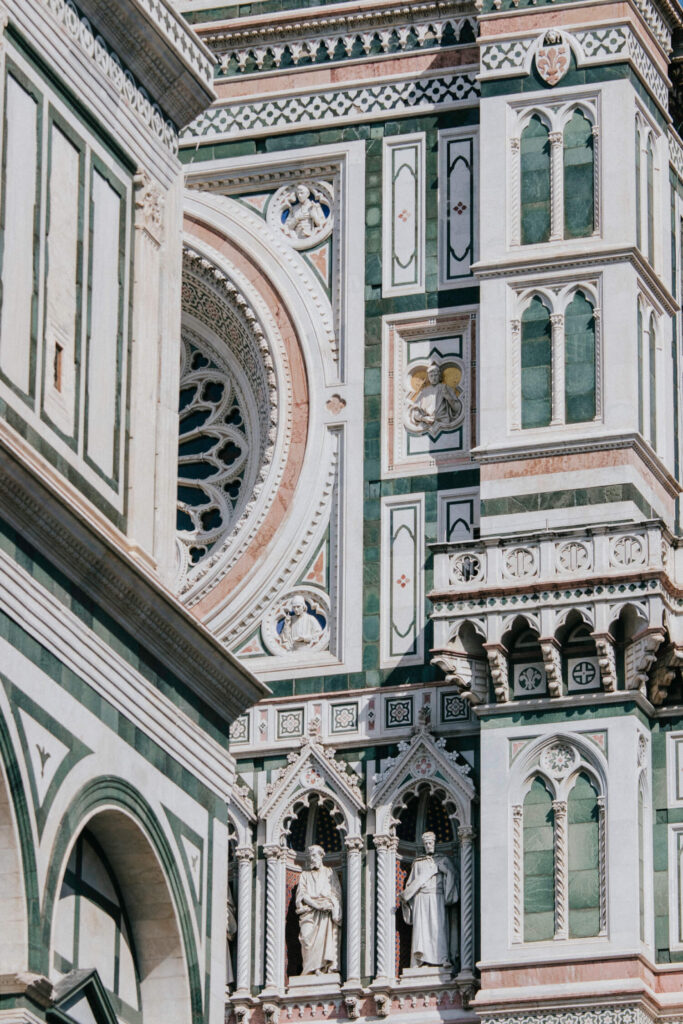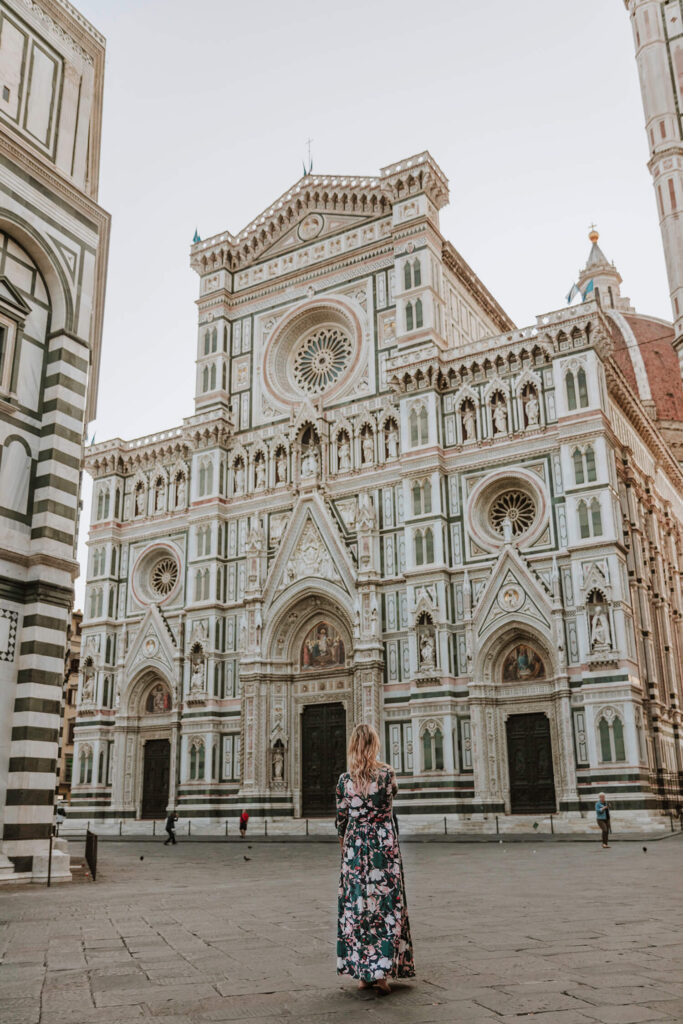 #2 | EXPLORE THE OPEN AIR MUSEUM OF PIAZZA DELLA SIGNORIA
Piazza della Signoria is the grand market square located in front of Palazzo Vecchio, the current town hall of Florence. This area is buzzing with people; art-lovers enjoying the open air museum display, history buffs hoping to visit the inside of Palazzo Vecchio and locals gathering with friends.
Beside admiring the David of Michelangelo in copy (you will find the original in the Accademia Gallery) and other masterpieces of Donatello, Michelangelo and many more, people sit and socialize while enjoy an Italian ice-cream or a take-away pizza.
THE DETAILS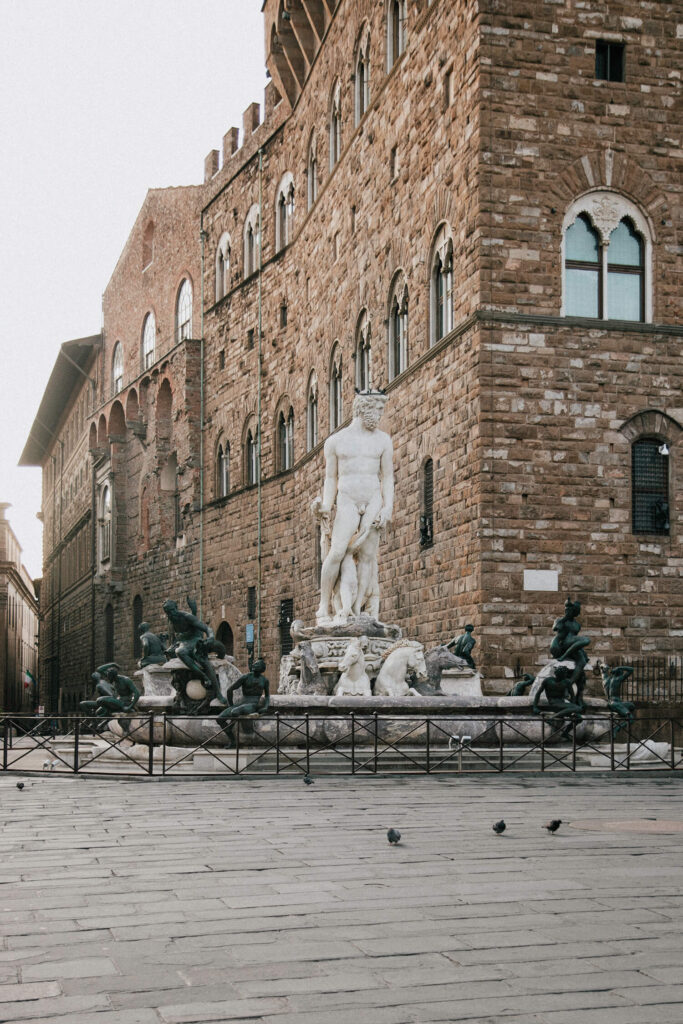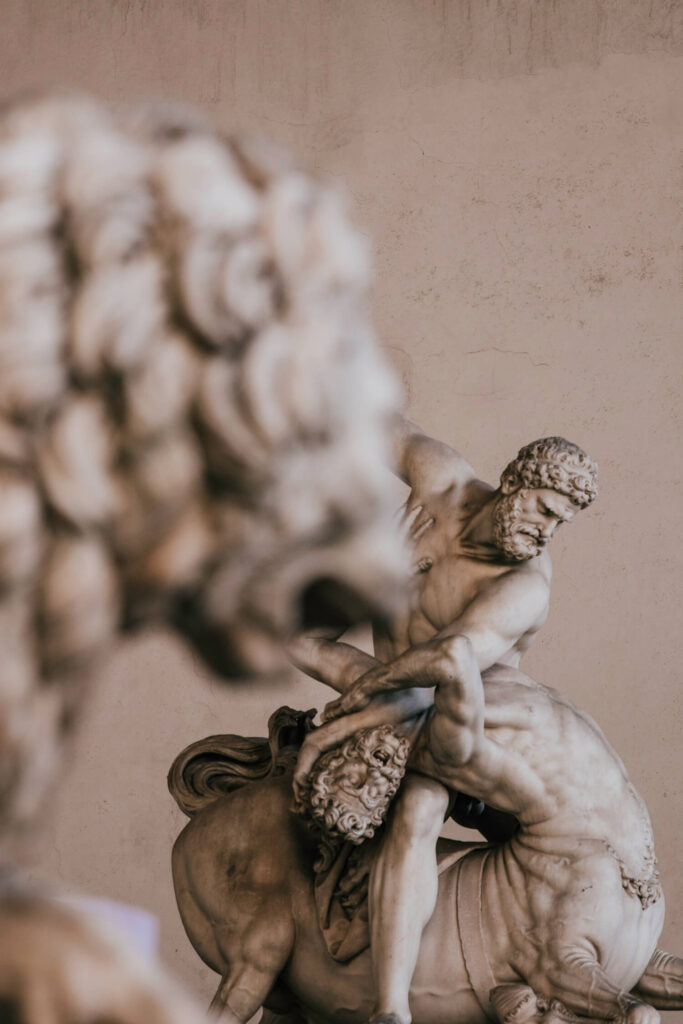 #3 | APPRECIATE MASTERPIECES OF DA VINCI AND MICHELANGELO AT THE UFFIZI GALLERY
It is no secret Italy houses some of the most famous masters in art, and Florence is where you can admire them. In the heart of Florence lies Galleria degli Uffizi, also known as the Uffizi Gallery, one of the world's finest and oldest art galleries. The majority of the works to be admired are Italian Renaissance masterpieces, but the gallery also houses a collection of classical sculptures. Originally started as a collection of treasures assembled by the Medicci family, the Uffizi Gallery is now, alongside the Louvre in Paris and The MET in New York amongst the top ranking museums in the world.
For a detailed tour of the Uffizi, schedule about 3 hours. We started from the second floor and worked our way down. This will allow you to take occasional breaks and grab a bite in between masterpieces.
Do note that photographing inside the Uffizi Gallery is strictly forbidden. Keep this in mind as your camera might need to be checked in into the cloakroom (as might any large backpacks).
THE DETAILS
Cost | Entry to the Uffizi Gallery is free on every first Sunday of the month.
(but is also the most crowded day)
Opening hours | Tuesday to Sunday (8:15 AM - 6:50 PM)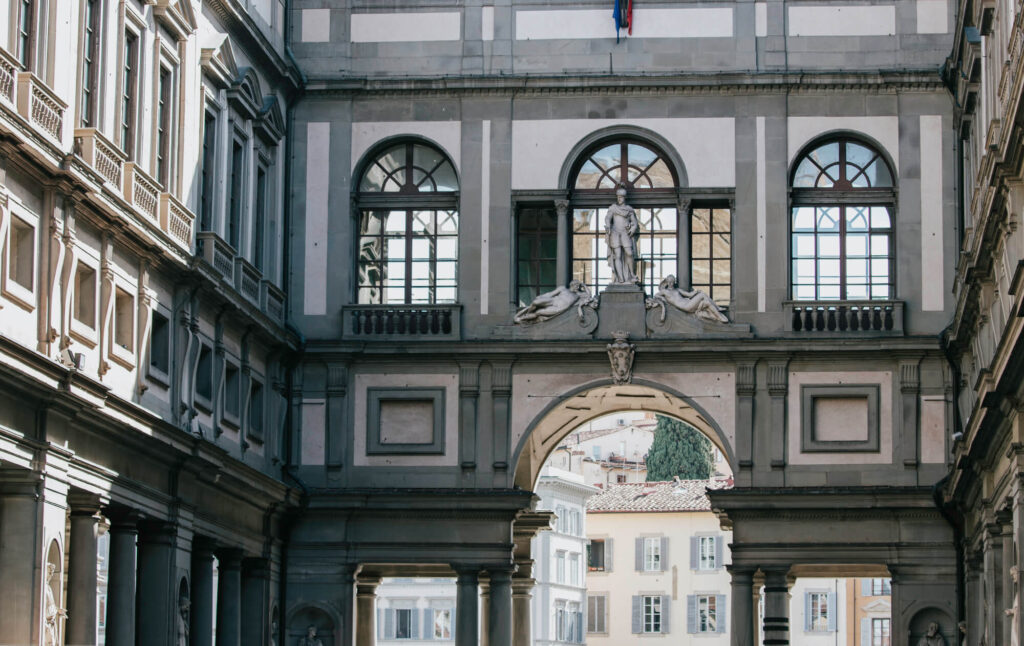 #4 | WALK ACCROSS THE PONTE VECCHIO
Make your way towards the Arno river where you'll spot the famous Ponte Vecchio. Even if it is a busy and crowded place, it is a must visit place and adds a touch of romance to your Florence visit.
The Ponte Vecchio was built in 1345 and was Florence's first bridge over the river. It used to have colorful houses on both sides of the bridge but nowadays they are turned into shops. Because of the buildings on both sides, you might not immediately have the feeling you're crossing a bridge. It is also unique because it is the only bridge in Florence that wasn't destroyed during the WW II.
Go there for sunset or sunrise, the views are truly spectacular!
THE DETAILS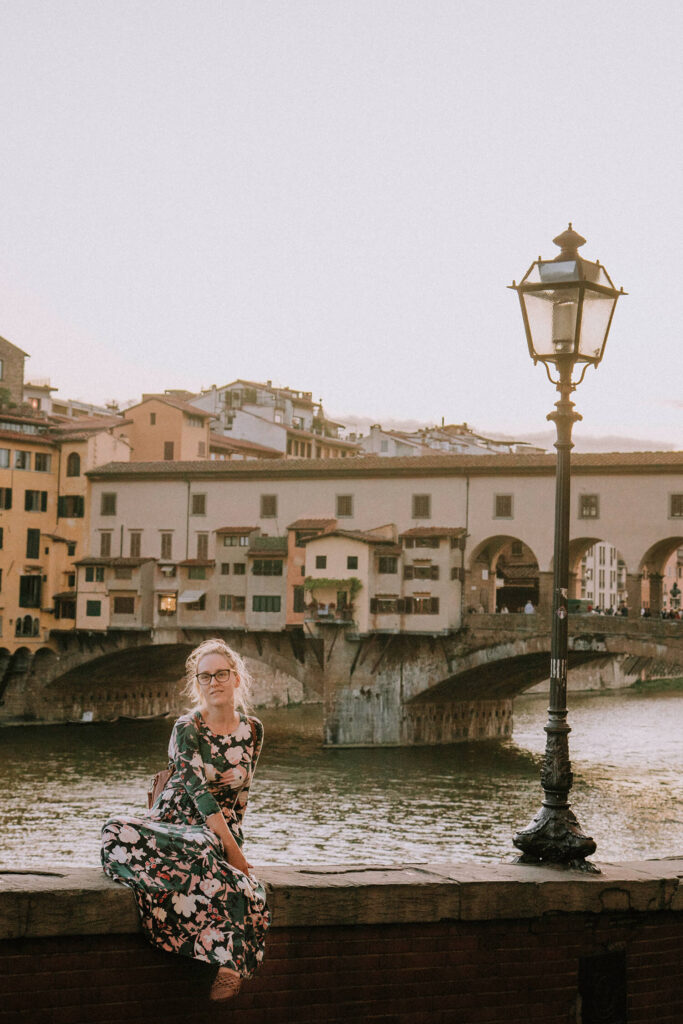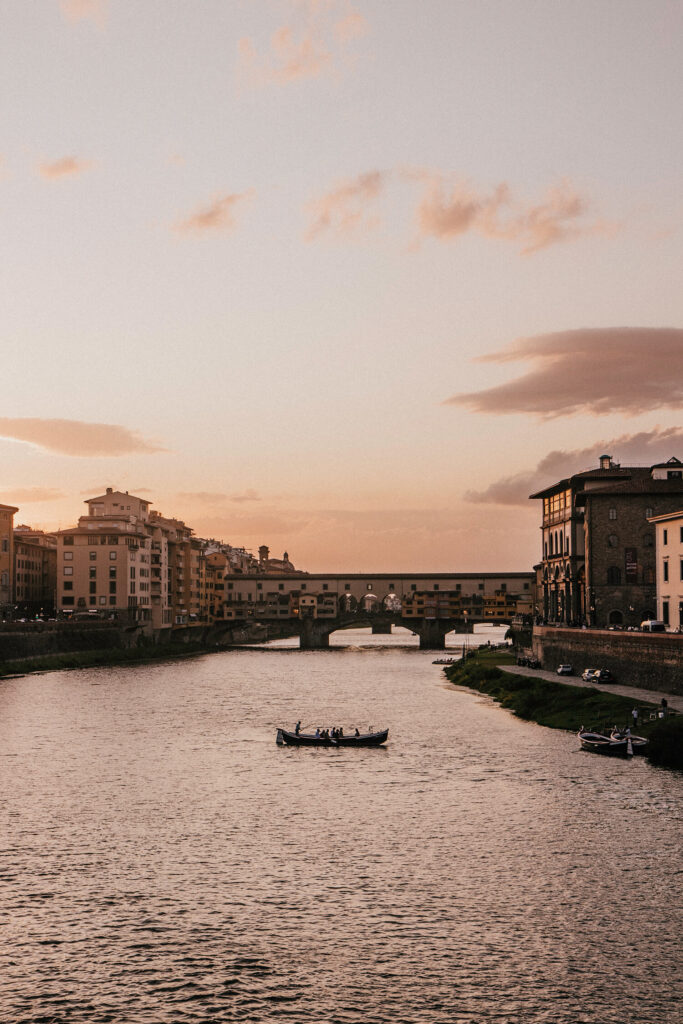 #5 | WATCH THE SUNSET FROM PIAZZALE MICHELANGELO FOR AN AMAZING VIEW
Piazzale Michelangelo was one of our favorite places to watch the sunrise in Florence. It takes about 30 minutes' walk from the historical center to Piazzale Michelangelo, but the panoramic view over the city is truly breathtaking. The hilltop square from where you will enjoy the beauty of Florence is packed for sunset though, so try to make it for sunrise to enjoy the scenery in peace and quiet.
THE DETAILS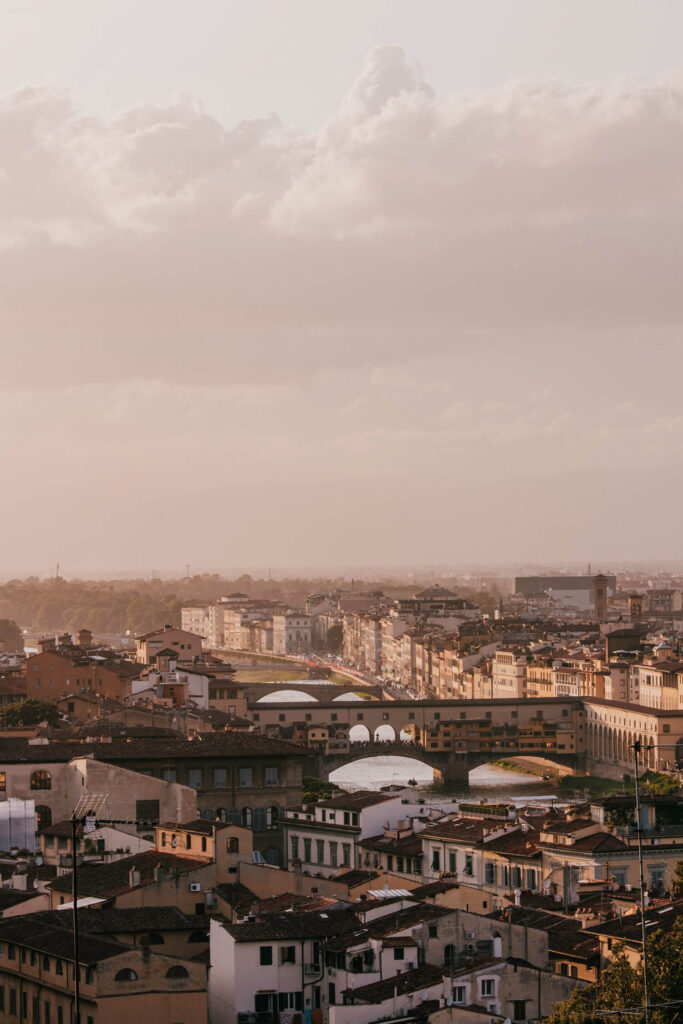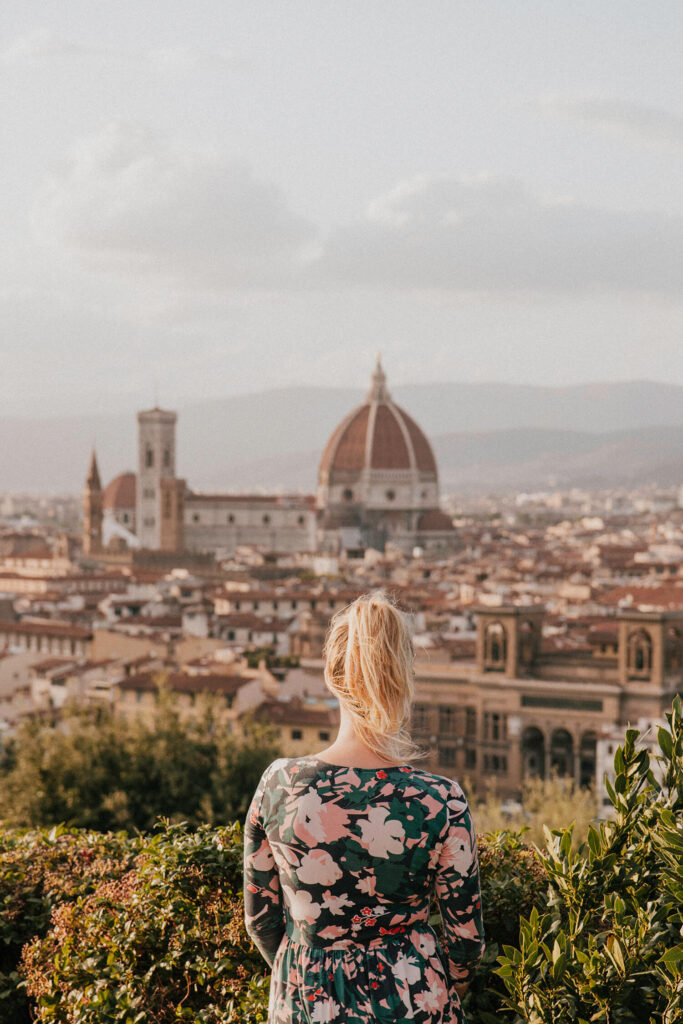 #6 | TAKE A BREAK AT BASILICA SANTA CROCE
The Basilica of Santa Croce is not as popular like Duomo Square, but it doesn't mean the facade of the basilica is less beautiful. Santa Croce hosts dates from the 13th century and is the main Franciscan church in Florence. It houses the tombs of many prestigious men such as Galileo, and also masterpieces of Donatello and many more. Being less popular it is a pleasant place to sit on a bench and admire the beautiful facade while enjoying the Italian sunshine and perhaps a gelato.
THE DETAILS
Cost | € 8,00 per person
Opening hours | Monday - Saturday 9:30 am - 5:30 pm (last admission is at 5:00 pm: the ticket office closes half an hour before closing time).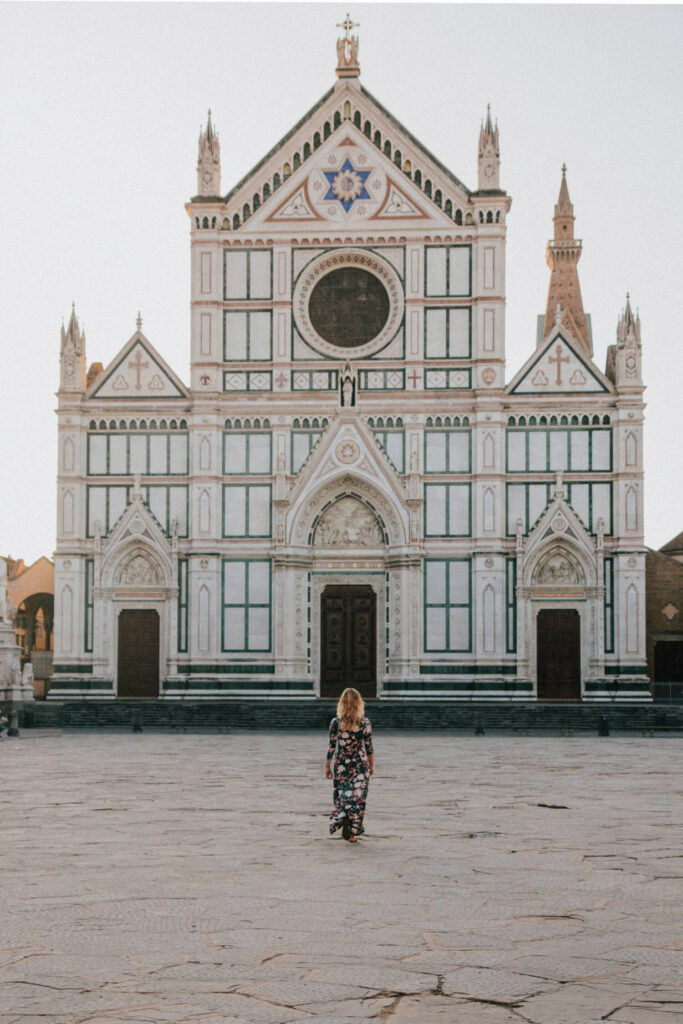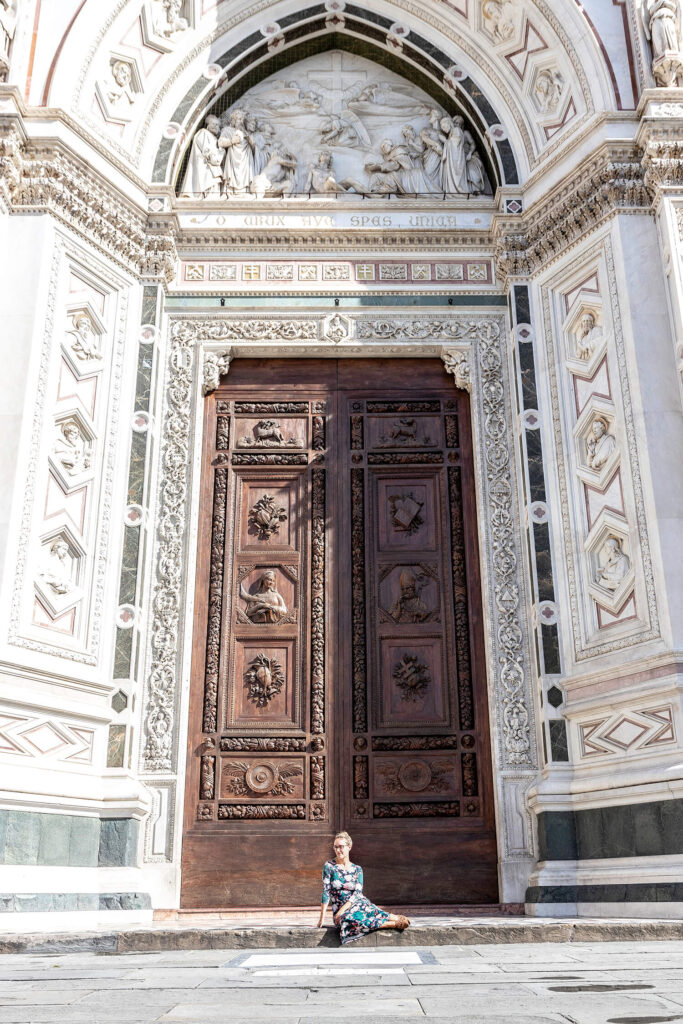 #7 | HAVE A TRADITIONAL ITALIAN BREAKFAST AT HISTORIC CAFFE PASZKOWSKI
The
Caffè Concerto Paszkowski
is one of the most famous historic coffee houses in the center of Florence. It started life as a Polish brewery in the nineteenth century Jewish ghetto, but when the area was redeveloped, Paszkowski kept the same site and now has a star location on the Piazza della Repubblica.
Come here for a typical Italian breakfast -coffee and a pastry- and enjoy the theatre of the smartly dressed bar tenders as they prepare cocktails.
The service, outside terrace and concerto diners can add to the price tag though. You can have a less expensive experience by ordering your coffee and pastry at the bar (far end from the cash desk), pay at the cash desk and take a seat at the tables outside that are reserved for a self service simple breakfast or lunch. Voilà, breakfast in an historic venue at a fraction of the waiter-served price.
THE DETAILS
Opening hours | every day 7:00am - 12:00am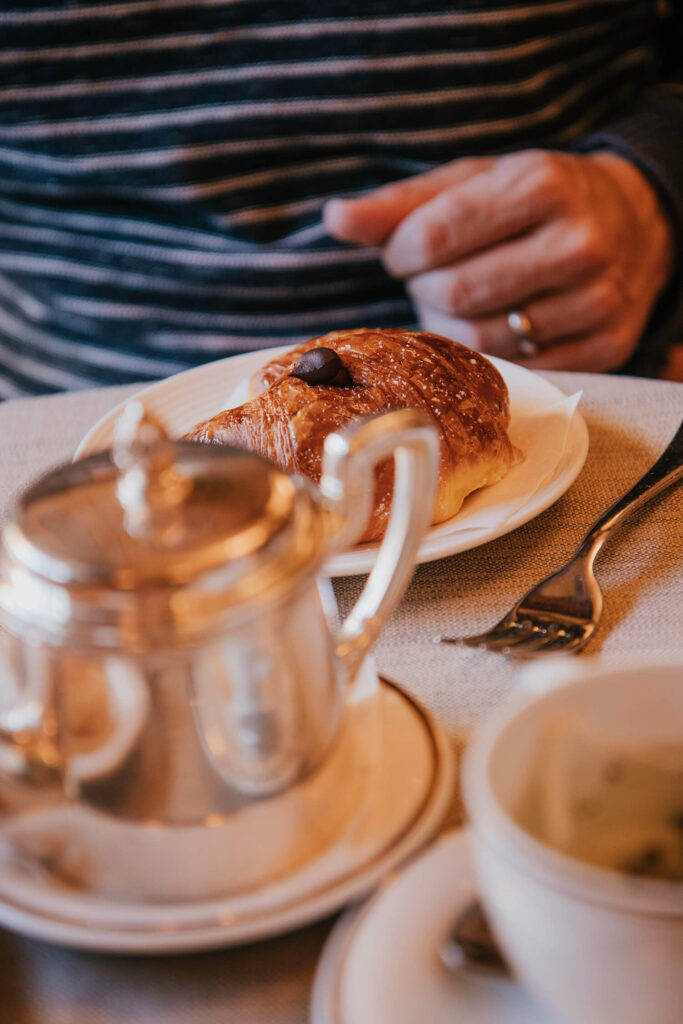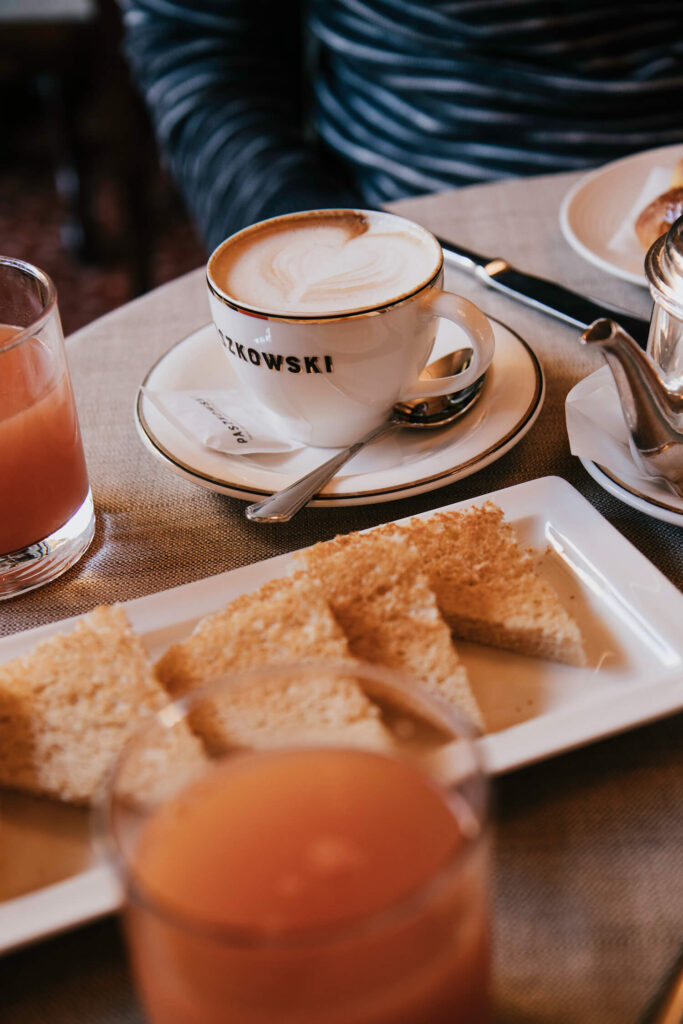 #8 | EAT, EAT, AND EAT AT THE MERCATO DI SAN LORENZO
Gorgeous Italy not only draws travelers keen on exploring her stunning scenery , art and unique culture. She also lures us with her gastronomical delights. The San Lorenzo food market is the perfect place to taste some of Italy's most famous dishes or Florentine local cuisine. The dining area spans the first floor while you'll find the local market and shops on the ground floor.
Some must-try dishes are:
Affettati Misti: a tray of cold sliced meats like finocchiona, sbriciolona, prosciutto crudo, lardo.
Pappardelle alla lepre: hare ragu with pappardelle pasta
Mozzarella di bufala: mozzarella made from the milk of Italian Mediterranean buffalo with salad
Antipasto cheese board: a tray of sliced cheeses like Grana Padano, Gorgonzola, Pecorino, Bra, Piave,...
THE DETAILS
Opening hours | every day 8:00am - 12:00am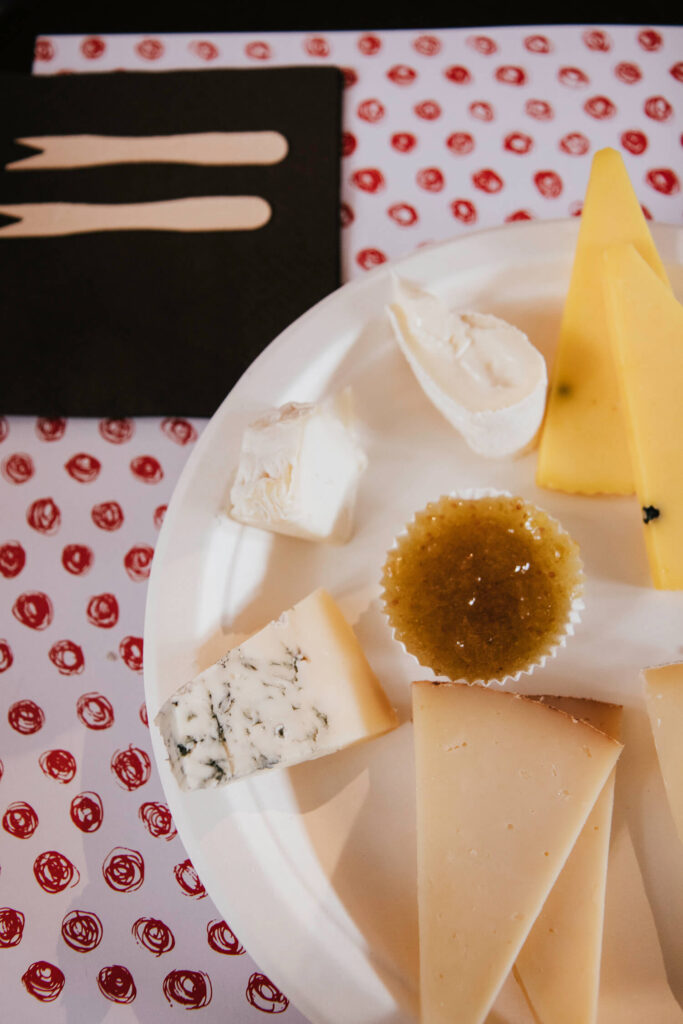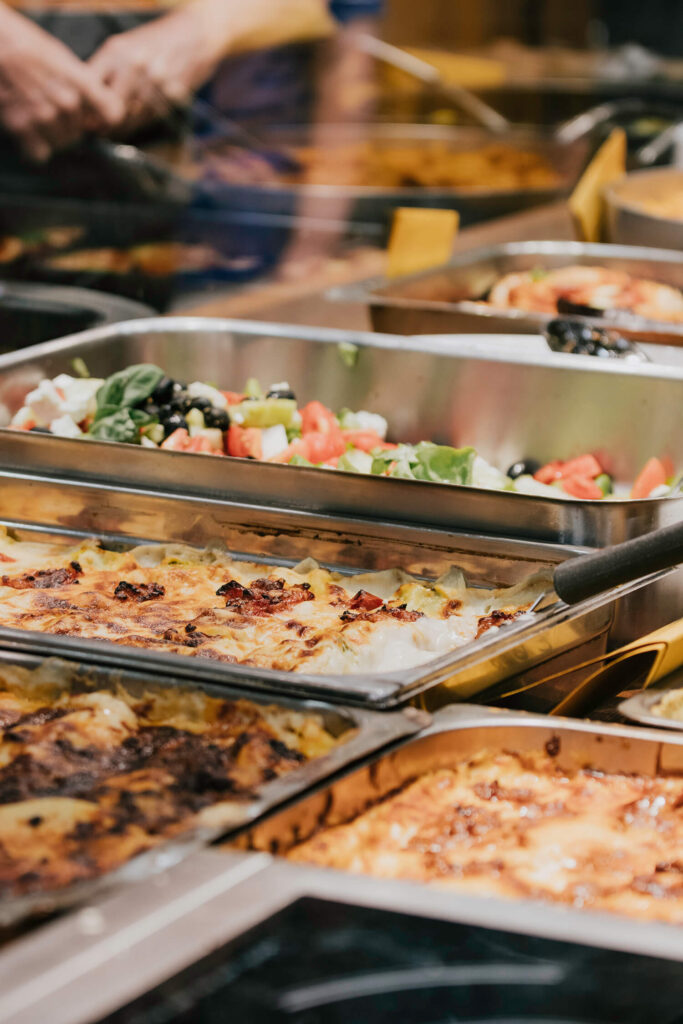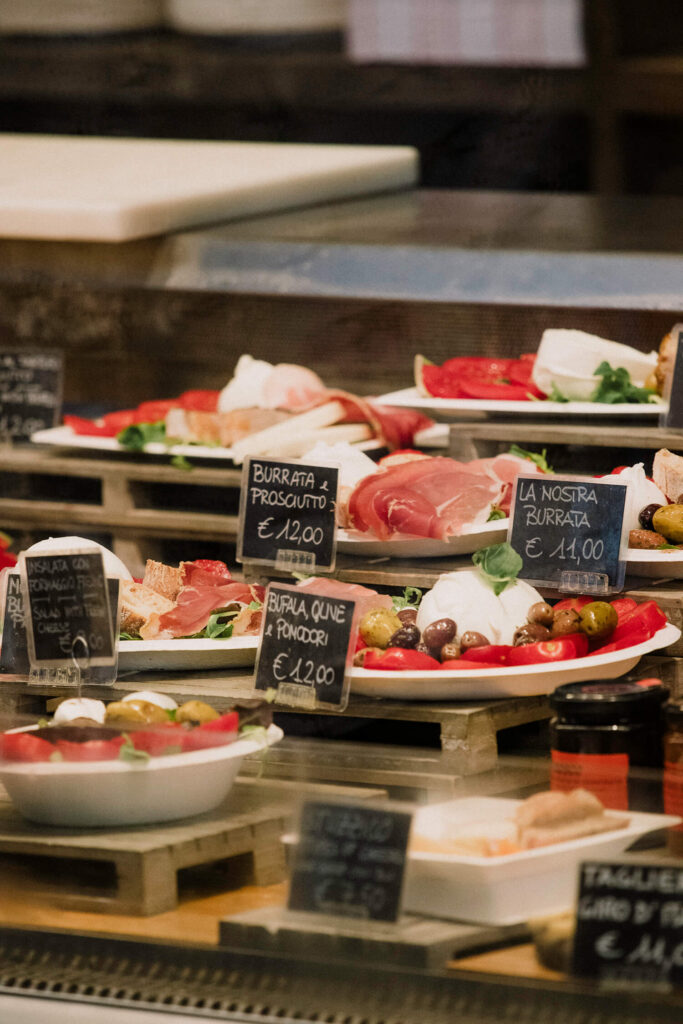 #9 | A DAY TRIP TO SIENA
Ever since I've seen Letters To Juliet, I've wanted to set foot in Siena. The movie painted such a romantic picture of this incredible city and reality did not disappoint. Siena is a true ancient city still breathing its formidable history.
Siena's old city center has a great ambiance and is car free! Besides the occasional motorbike, it makes it incredibly enjoyable to walk around in. Make sure to visit the shell shaped Piazza Del Campo and the cathedral Duomo di Siena.
Siena is reached in about 100 minutes by train from Florence's main train station, so an excellent option for a day trip! Try to avoid visiting Siena by car, the 'zona traffico limitato' (or ZTL) makes it hard to park your car and you risk high fines.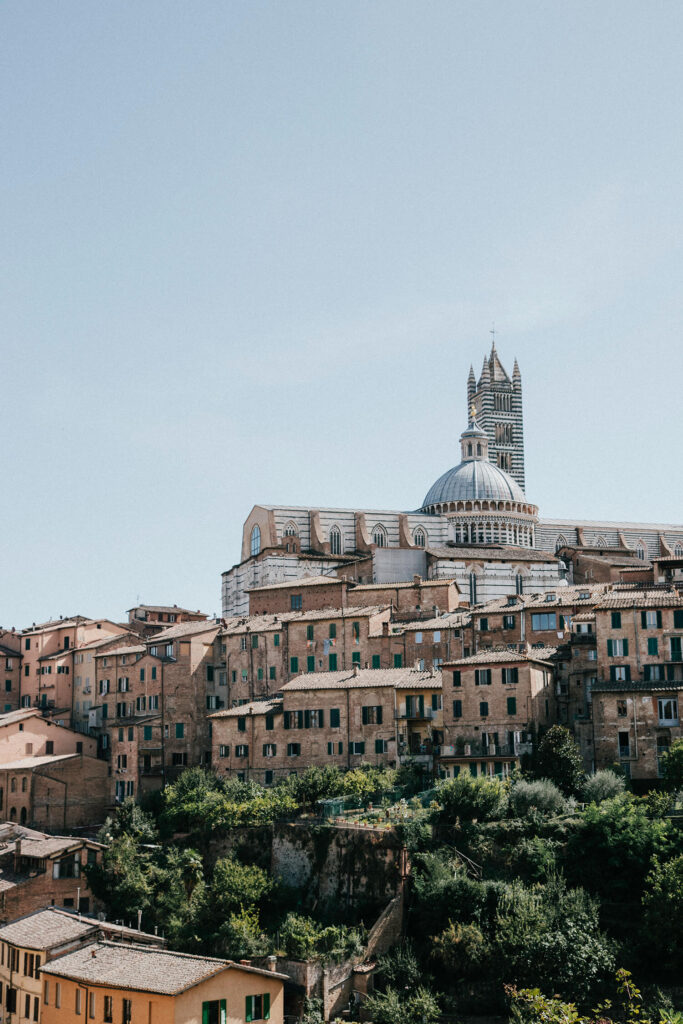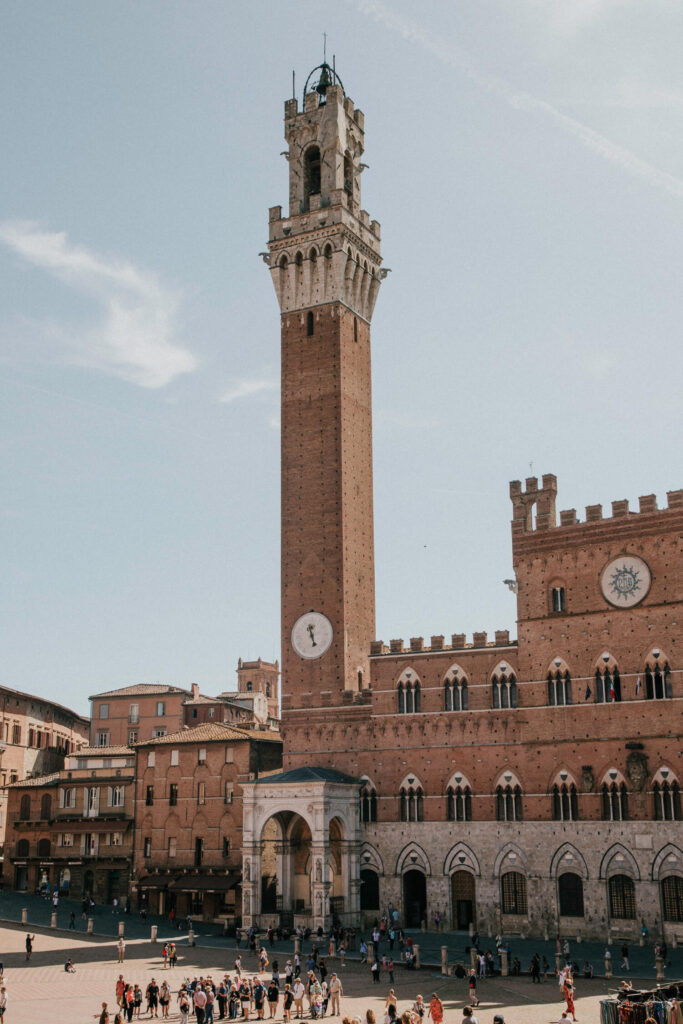 #10 | TAKE A MINI ROADTRIP THROUGH THE TUSCAN COUNTRYSIDE
Forget the beaten tourist trail of Florence, Siena and Pisa. Tuscany has lots more in store for you than leaning towers and Duomo's. Florence is by any means the absolute gateway into Tuscany. It's central location is the perfect jumping point for a mini road trip through the Tuscan countryside.
Laden with rustic villages of slanting red-tiled roofs, Tuscany is one of the most beautiful areas in all of Italy. Ancient cities like San Gimignano, Montepulciano and Pitigliano are not to miss!
Pick up a rental car at Florence airport, which is easily reached from the city center with the new tramway. A one way ticket from the city center to the airport costs 1,50€ p.p.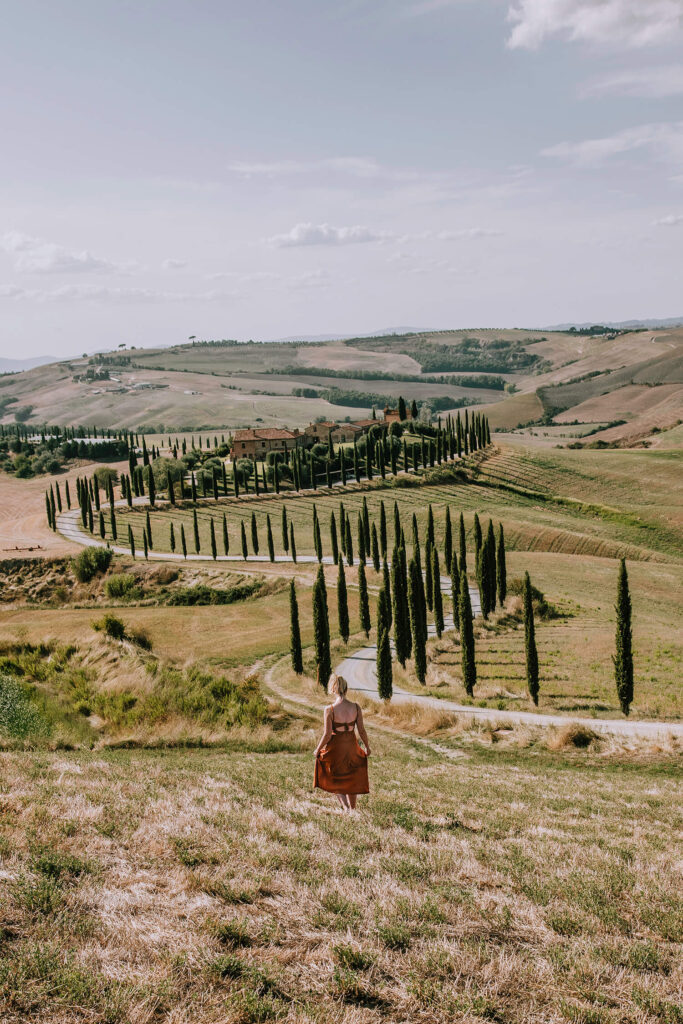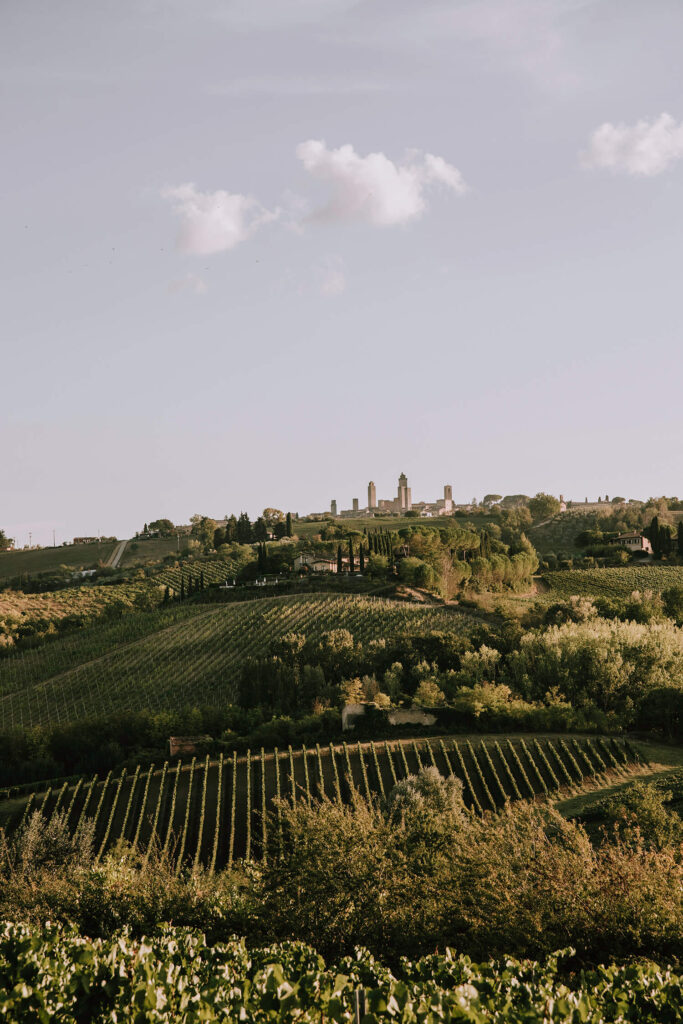 ---
What is the best time of year to visit Florence?
In a time when many of Italy's most popular destinations are calling for help as they struggle with record-breaking tourist numbers, it seems best to avoid peak travel months like July and August. Instead, travel to Florence in May, June, September or October to avoid the massive crowds and enjoy agreeable temperatures.
---
How to get to Florence?
By plane | Florence is easily reached from most European airports and is a popular gateway to discover the rest of Tuscany. From the airport you can easily take the new tramway that connects the airport with the city center. A ticket is only 1,50€ per person, one way.
By train |
Florence is also easily reached by train as the city is well-connected to all major stations in Italy: from Rome to Florence takes 80 minutes, from
Verona
to Florence takes 90 minutes and from Milan to Florence takes 120 minutes.
---
Where to stay in Florence?
We stayed at
Corte Calzaiuoli Elegant Suites
which we can't recommend enough! We've never given a 10 star rating on
booking.com
for any hotel but we did for this one. It offers a limited number of luxury suites, is only a two minute walk from the famous Duomo of Florence and the staff is absolutely incredible. Definitely one of the best affordable boutique hotels in Florence!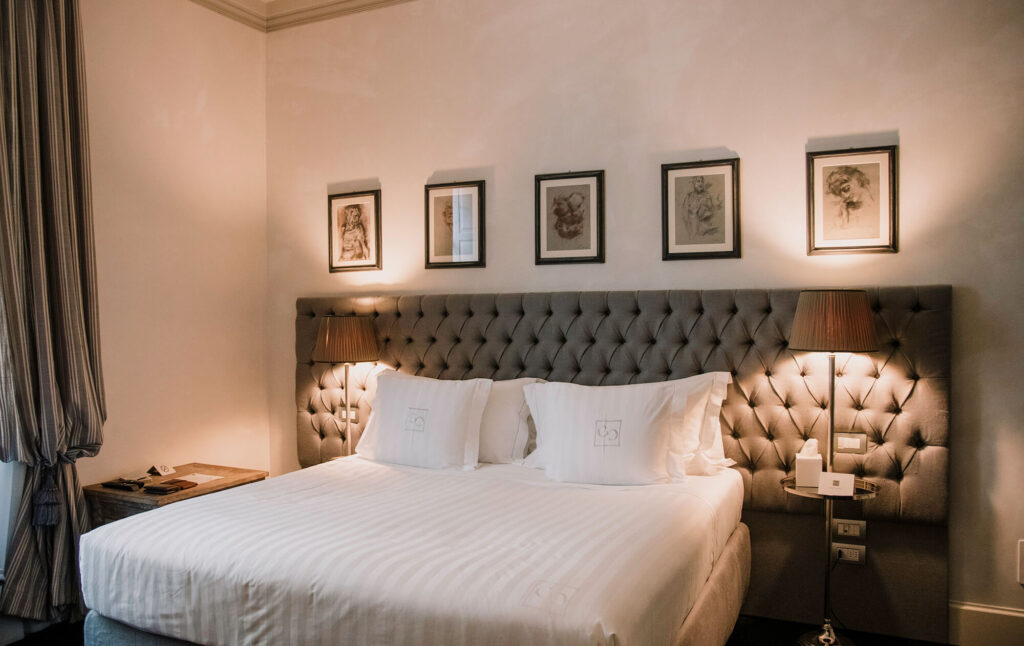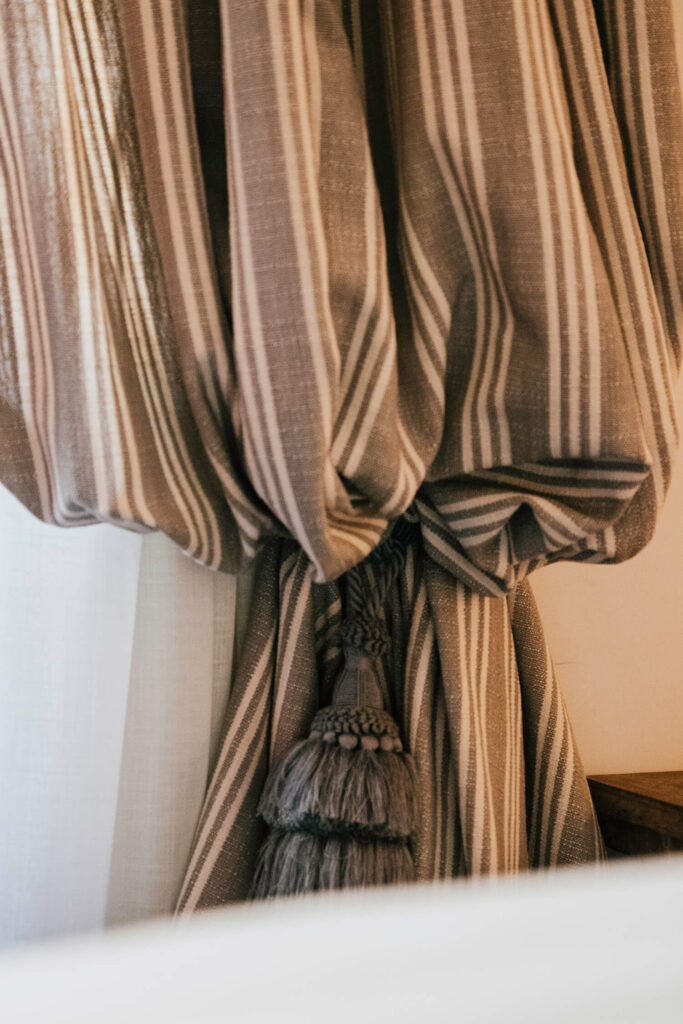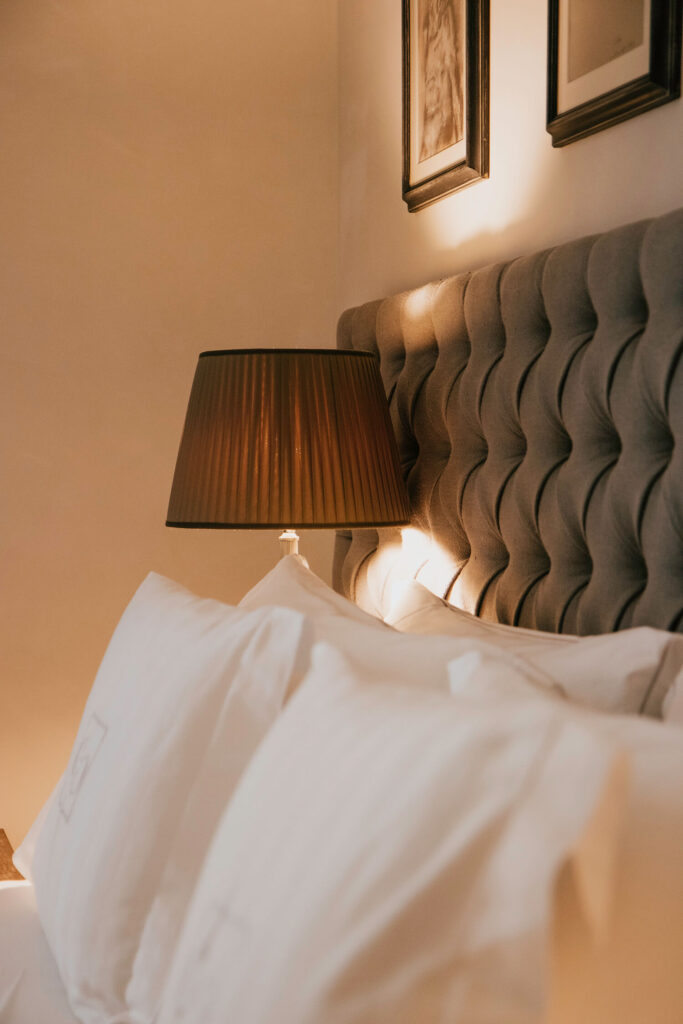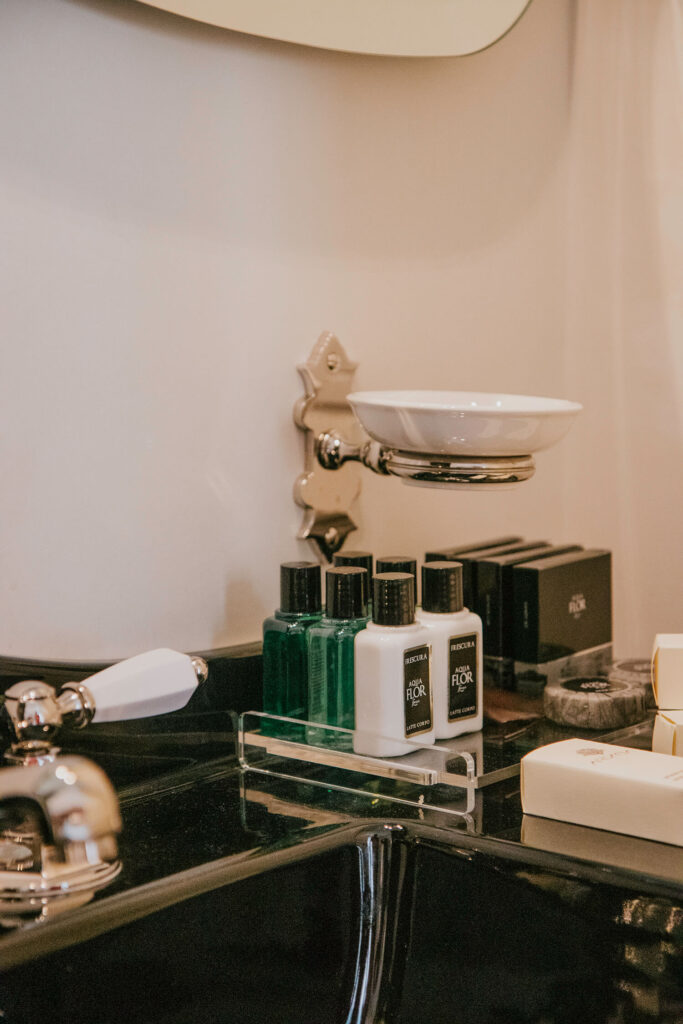 Florence is an extremely easy city to navigate on foot and a lot of its magic is found in exploring the hidden corners and grand piazzas. The city center is traffic free which makes it a joy to stroll through it's magnificent streets, enjoying the beautiful facades and historic sites. Florence has definitely won our hearts and I'm sure she'll be a part of your eternal travel memories as well!
In order to fully be prepared for your upcoming trip, here's 10 things you should know before traveling to Italy!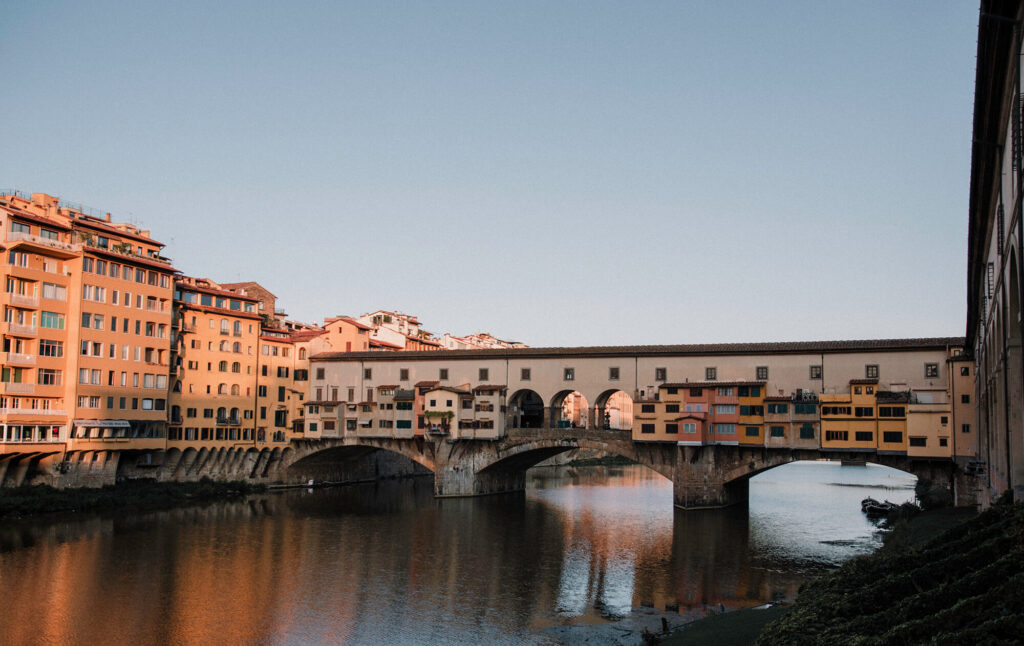 ---
Have you been to Florence yourself? Help your fellow travellers our by sharing your favourite things to do in Florence in the comments below!

LOVE IT? PIN IT!