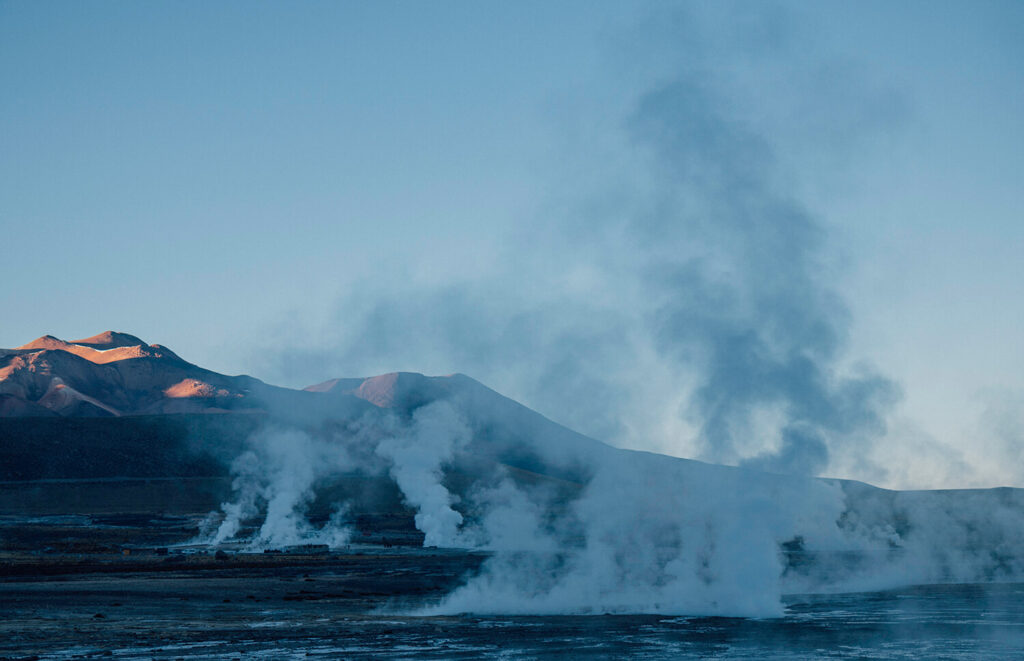 Seeing natural geysers in real life is quite a breathtaking experience. And for many of us it's a once-in-a-lifetime event as natural geysers are not that widespread amongst our globe. Better make the best of it once you get the opportunity to admire one of Mother Nature's finest spectacles.
Does that pretty picture at the top got you hooked?
Great! Now let's show you how you can self drive to geyser del Tatio, one of the best day trips from San Pedro de Atacama!
Where to stay in the Atacama Desert, Chile?
The village of San Pedro De Atacama is the main hub for all Atacama Desert expeditions. Almost all spectacular natural wonders are located in a 100 miles radius.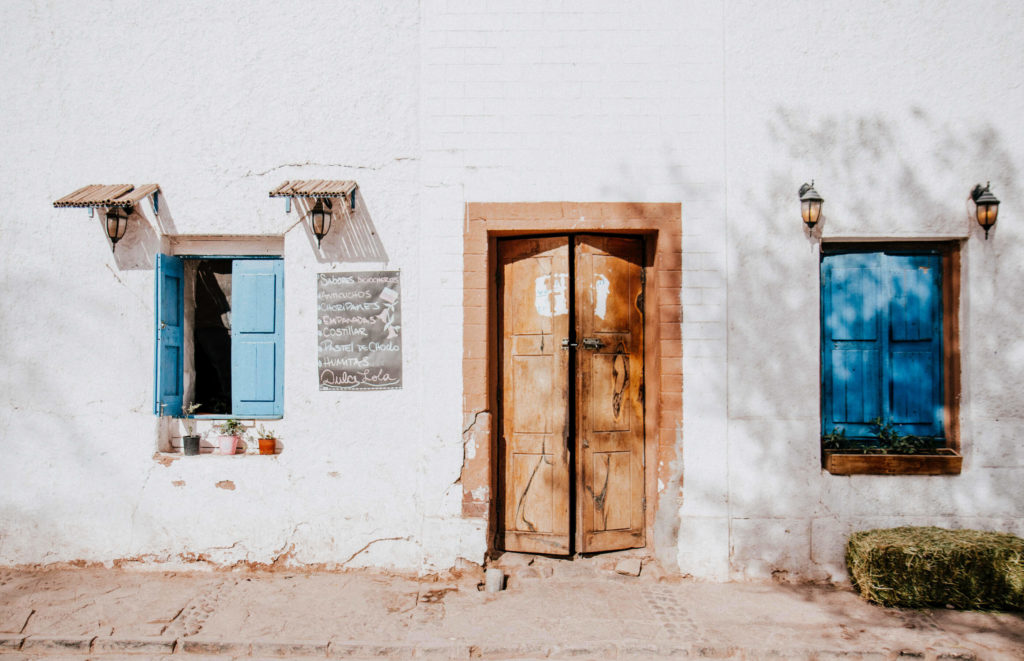 How to get to the Atacama Desert
You'll either fly into Calama airport from
Santiago de Chile
or travel into the Atacama Desert overland from Peru, Bolivia (Salar de Uyuni tour) or Argentina.
As we were planning on doing a road trip through the Atacama Desert, we picked up a rental car at Calama Airport and drove from Calama to San Pedro de Atacama.
You can check prices for car rental San Pedro de Atacama here:
Where to stay in San Pedro de Atacama
It is no secret around here that we love
staying in nice hotels
. We also happen to love staying at accommodations that support the local community. So our eye quickly fell on one the affordable Atacama Desert luxury hotels with a sustainable spirit:
the Terrantai Lodge
.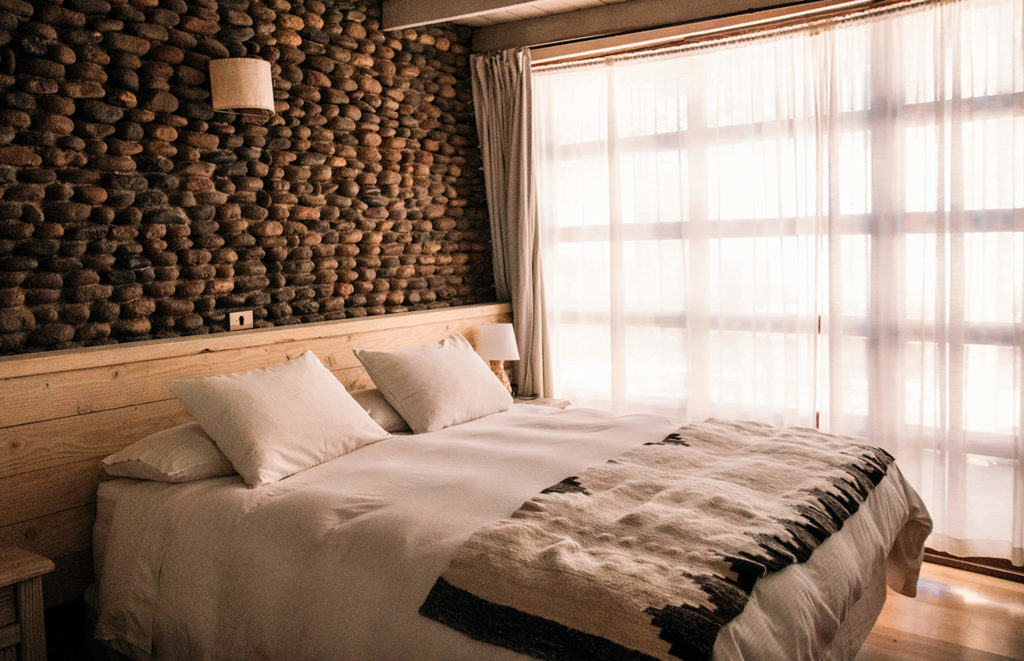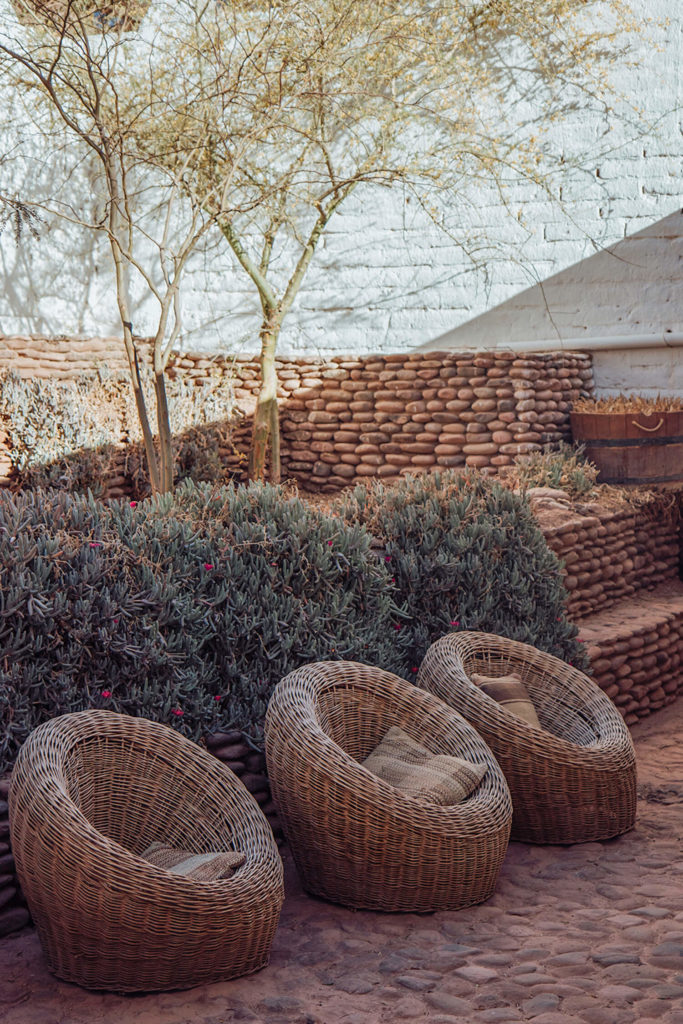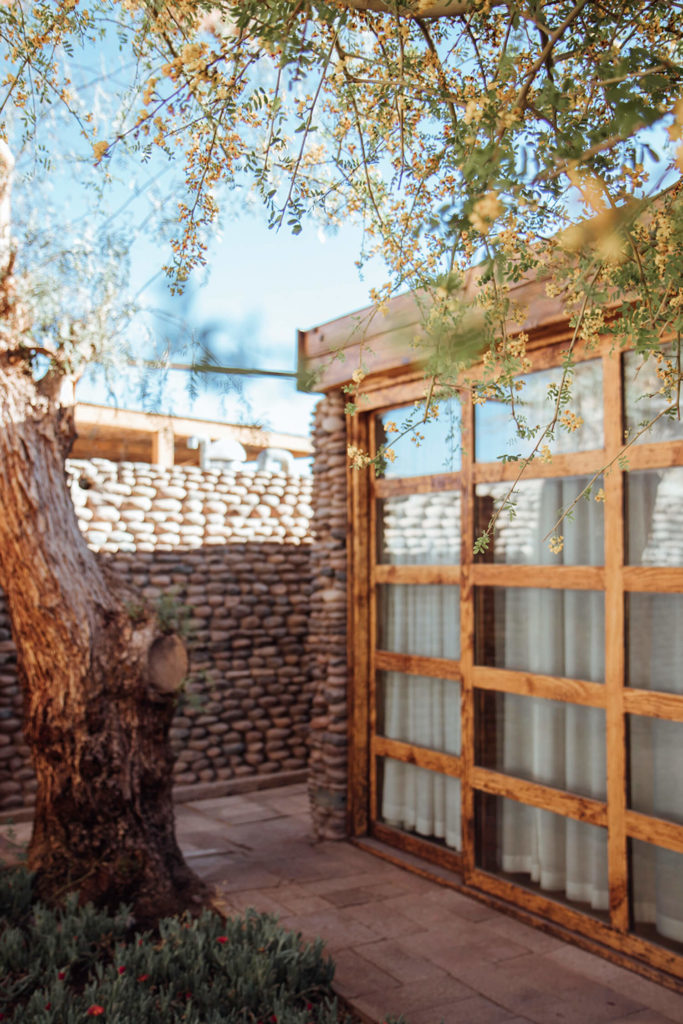 Where are the Tatio Geysers located?
The El Tatio geysers are located in the far north of Chile, in a place called the Atacama Desert, aka the driest place place on earth. The geysers near San Pedro De Atacama are one of the largest and most famous in the world. So when planning our Atacama Desert itinerary we knew our moment had arrived: we were gonna go admire us some geysers!
Geyser del Tatio altitude
The Atacama Desert altitude ranges between 2.400 meters (7.874 ft) and 4.000 meters (13.000 ft) forming the Atacama plateau. The lowest point being the San Pedro de Atacama altitude.
The altitude of the Geysers del Tatio even exceeding the plateau at 4.320 metres or 14.170 ft. While there is no need for altitude sickness precautions in San Pedro de Atacama, all San Pedro de Atacama tours will take you to higher elevations where altitude sickness becomes a risk. While we haven't had any bad symptoms, we were prone to dizziness and drank lots of coca tea to counter any other symptoms that may arise!
Travel Tip: Give yourself at least 2-3 days to acclimatize to the altitude before you head to El Tatio. To avoid altitude sickness, best to arrange your tours from San Pedro de Atacama from lowest altitude to highest!
Best time to visit the Atacama Desert?
The months from September-November and March-May are considered shoulder season for visiting the Atacama Desert, Chile. We visited in September and experienced pleasant temperatures and lower numbers of tourists. Shoulder season in our opinion is always the best time to visit the Atacama Desert.
June-August is considered winter time in Northern Chile and December-February is considered summer. January is the most popular time of the year, temperatures are quite high and the number of tourists flocking to these regions increases.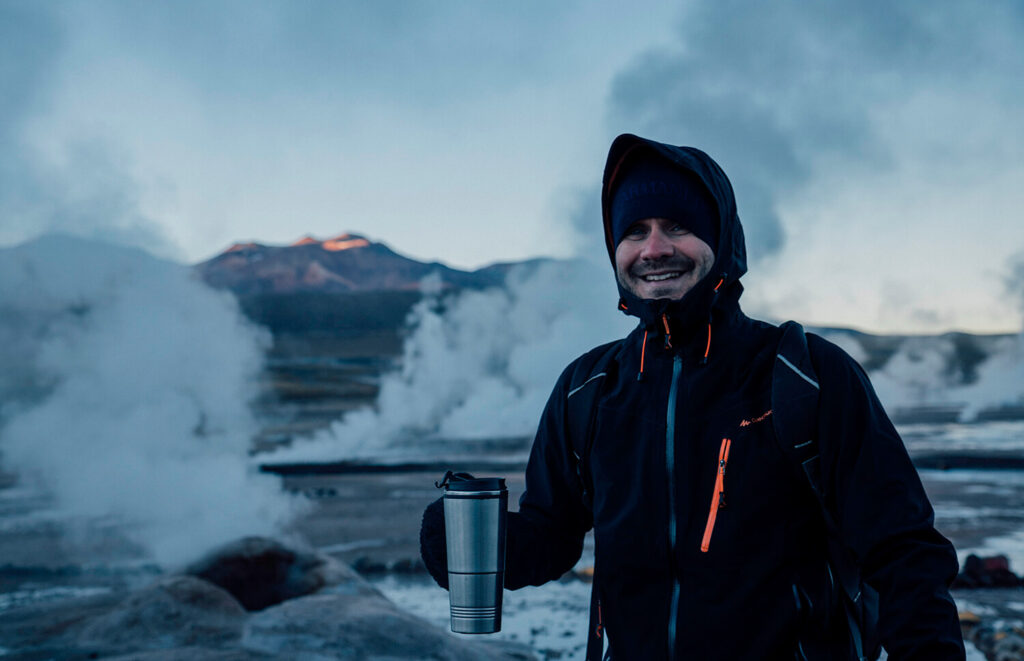 How to get to the Tatio Geysers?
Something we needed to clear out was how to get to the El Tatio Geysers. Were we going to drive by ourselves (we had a rental car at our disposition as we cruised the other parts of Atacama desert by ourselves) or were we going to book us a tour and let experienced Chilean drivers lead us to this wonder of nature?
Tour Geyser del Tatio with a tour company or self drive El Tatio?
Several San Pedro De Atacama tour companies offer a round trip towards the geysers (next to a plethora of other Atacama desert tours). While there are plenty of
El Tatio Geysers tours
available in San Pedro de Atacama, they're often pricy and very touristy. However, they still remain an excellent alternative if a self drive through the Atacama Desert is not on your schedule or you do not fancy driving a snake winding road in the dark 🤷‍♂️.
Some upfront research provided us with mixed signals. While the World Wide Web mostly claimed driving to El Tatio by yourself is not doable, plenty of locals in the village of San Pedro De Atacama claimed otherwise. Even the staff of the lovely lodge where we stayed said it's perfectly safe to drive by on your own as long as you don't start driving like a madman on the unpaved desert and mountain roads.
And no, apparently you don't need a 4x4 to get to this incredible destination. A normal car could easily do the trick as long as there wasn't too much melting water partially flooding parts of the road (which wasn't case at the moment we were going but make sure to check with the locals in San Pedro De Atacama should you consider venturing on a self-drive to El Tatio yourself).
Staff of
the Terrantai Lodge
nevertheless convinced us to take the shot on our own. The self-drive in itself would be an experience of a lifetime he pointed out. So that's what we did: we were going to self drive to El Tatio!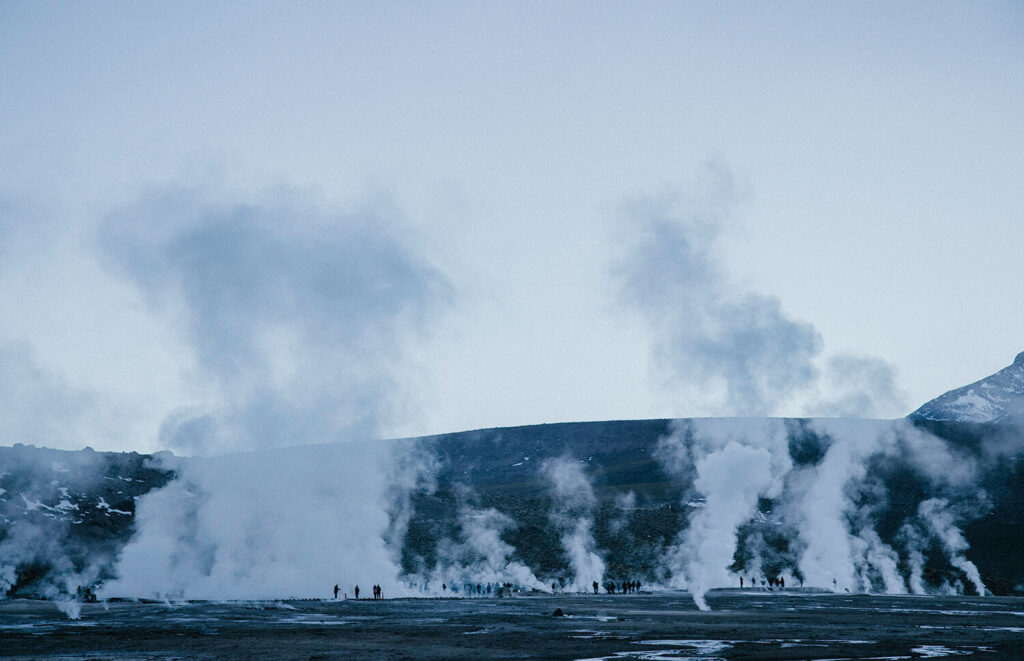 How to self drive to Geyser del Tatio
Ok, now we decided to venture to the El Tatio Geysers on our own, let's take a look at how we did it.
Some things to take into account:
The El Tatio Geysers are only to be reached via unpaved mountain and desert roads (Geyser Del Tatio altitude: 4320 metres or 14.170 ft) . The trip From San Pedro De Atacama takes about one hour and a half in optimal conditions (see Google Maps screenshot included). We did a self drive in the Atacama desert so we had a rental car at our disposal.
The early bird catches the worm: though geysers are amazing as they are, the whole experience only gets more amazing when you can admire them at dawn. The moment the sun starts kissing the mountain ridges surrounding the geysers is the most magical moment of the day.
Up in the Andes mountains (aka Altiplano Andino) it gets pretty cold. Though we were going to visit the geysers during Spring, average temperatures in the early morning are normally not much higher than -10° Celsius. Dressing appropriately was and is key!
We created a map via Google Maps which we strongly encourage you to save as an offline map when you venture to El Tatio. We also advise you to bookmark this page so you can come back to it later!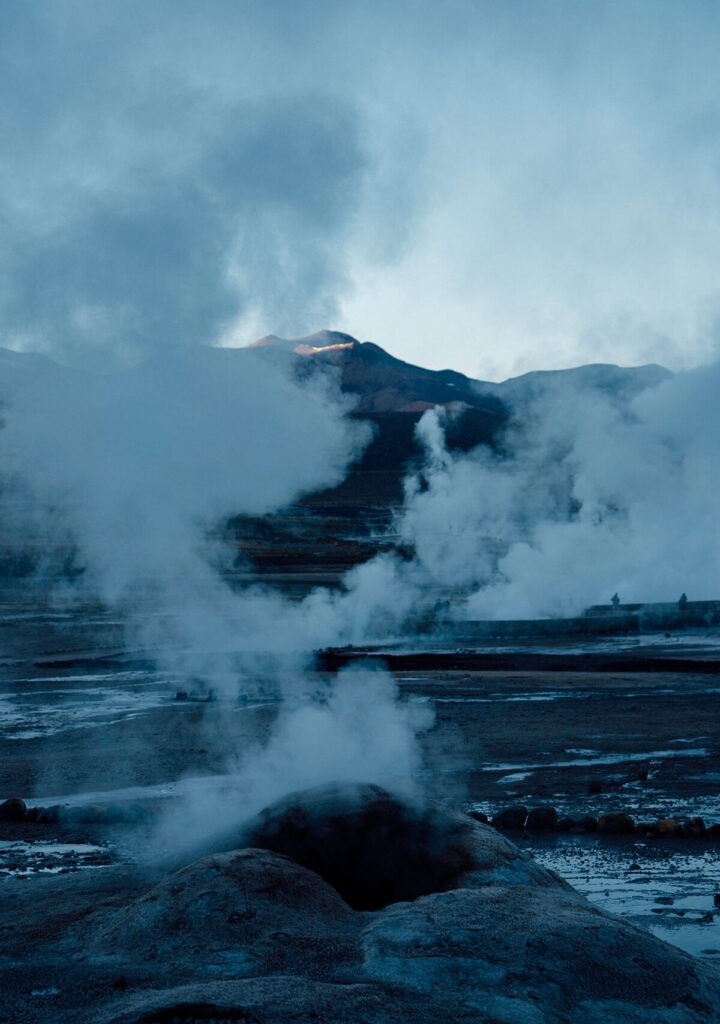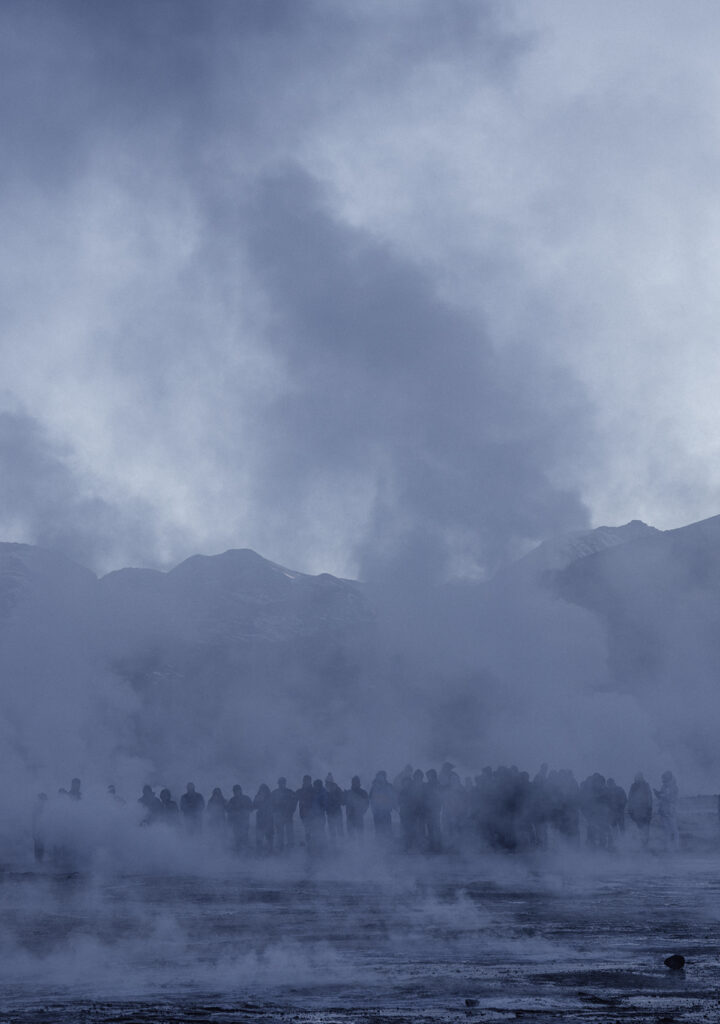 Driving up to the El Tatio geysers: an early start
Our alarm clocks started buzzing at 4:30 am. Time for our adventure to start!
We checked the hour of dawn (7:26 at that time of the year) the day before, counted back two and a half hour in order to foresee some additional time so we wouldn't need to rush ourselves. Safety first.
This early rise, according to my biological clock still in the middle of the night 😴, would be necessary if we wanted to admire the geysers on their finest moment: in the gorgeous morning glow while the steam plumes are at their loveliest. It also helped with visibility on the road: we simply followed the large number of tour vans up to road to El Tatio. They headlights illuminating the road and offering a useful focal point in the distance to detect turns up the road ahead.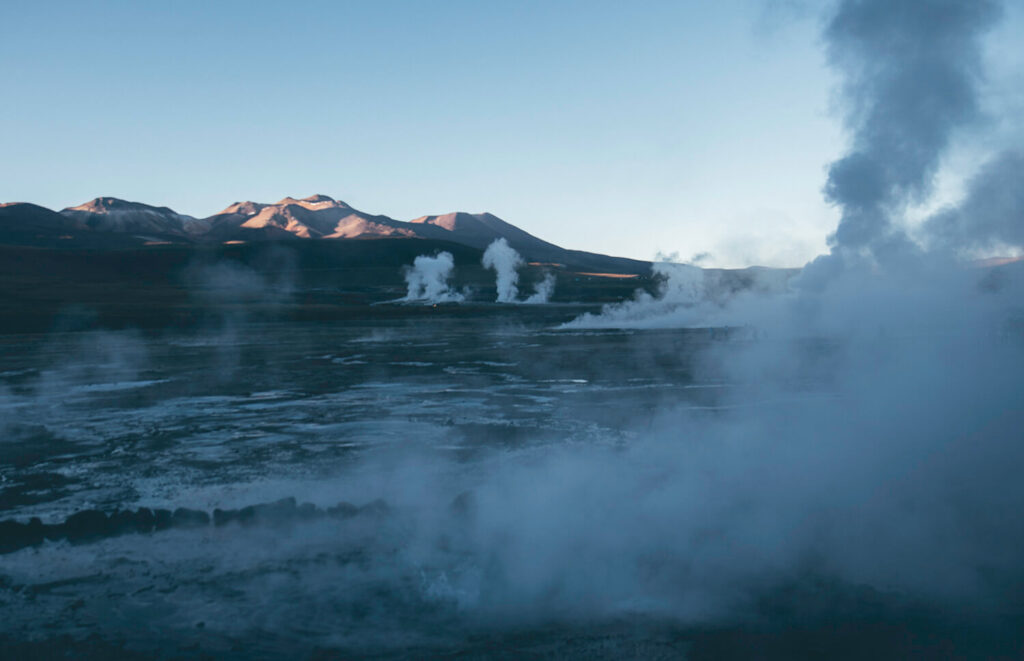 Driving up to the El Tatio geysers: driving in the dark
We made sure to wear warm clothing and to have some food and drinks for along the road. We were NOT planning on skipping breakfast 🥞 🤤. Even at that ungodly hour, San Pedro village was bustling: the local San Pedro de Atacama tour companies were also prepping themselves to take tourists towards the geysers.
The first 25 km (of about 80km in total) were quite easy if you have some experience driving on unpaved roads. Given it's pitch dark outside with only the stars (and if you're lucky the moon) to provide some light, you'll of course have to be extra vigilant. Luckily there's practically only one road leading towards El Tatio, so as long as you keep your eye on the road you're going to be A-OK.
Travel Tip: Download an off-line map in Google Maps: they work perfectly and are very convenient in an area where good mobile signals are almost non-existing! Hint: make sure you search for Geyser El Tatio and not Geyser Del Tatio in Google Maps.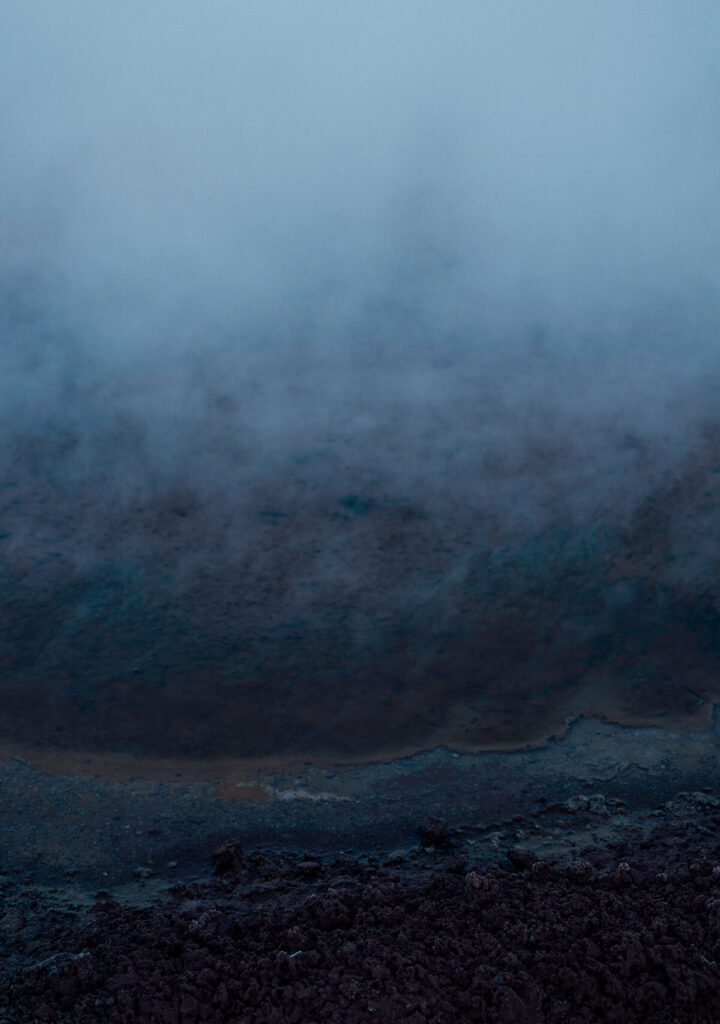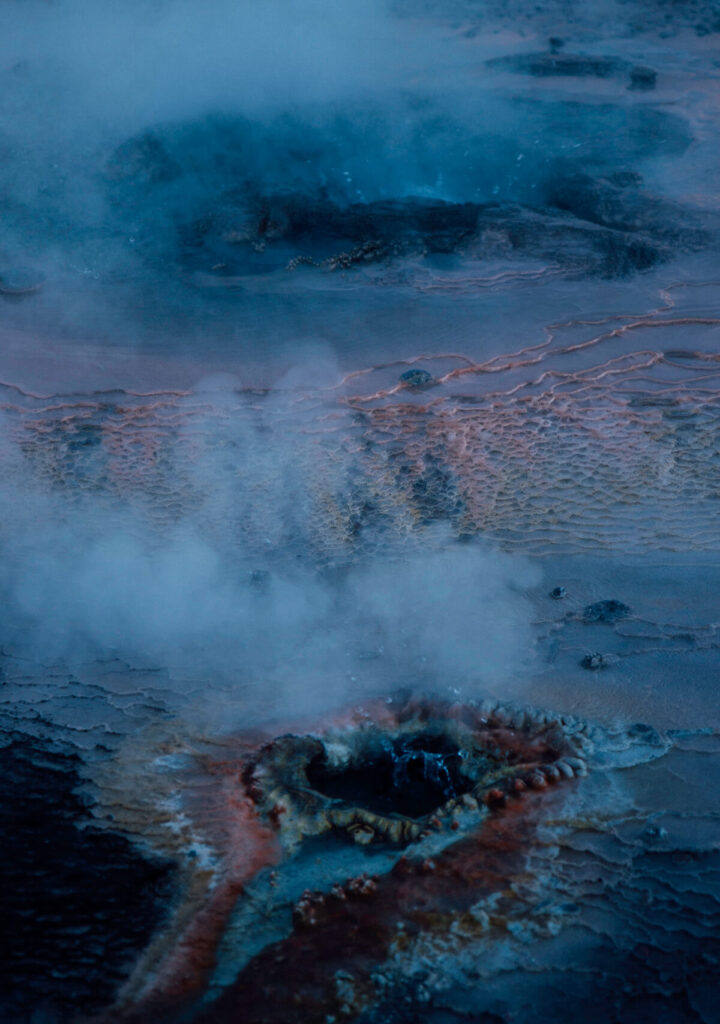 After about one-third of the journey, you'll notice the road starts to swing a little bit more, it gets a bit more bumpy and the elevation starts to increase. Nothing really worrysome at this stage though. Remaining careful is key.
Be aware of the fast-driving locals who start to surpass you as they try to reach the geysers first (FYI, they don't really hold back when they pass self-drivers like ourselves, so do drive safely).
The hardest part of the trip is when you're actually almost at the geysers: you still need to go like 10-15 km, the road is bumpy (washboards), yet still easily drivable. It's the continuous bumping around combined with the increased attention to drive carefully which started to fatigue us a bit though.
Travel Tip: Eat a light breakfast and drink plenty of water or coca tea to counter altitude sickness. While driving we didn't really feel it but when the adrenaline of driving the dirt road washes off, that's when the dizziness started to kick in.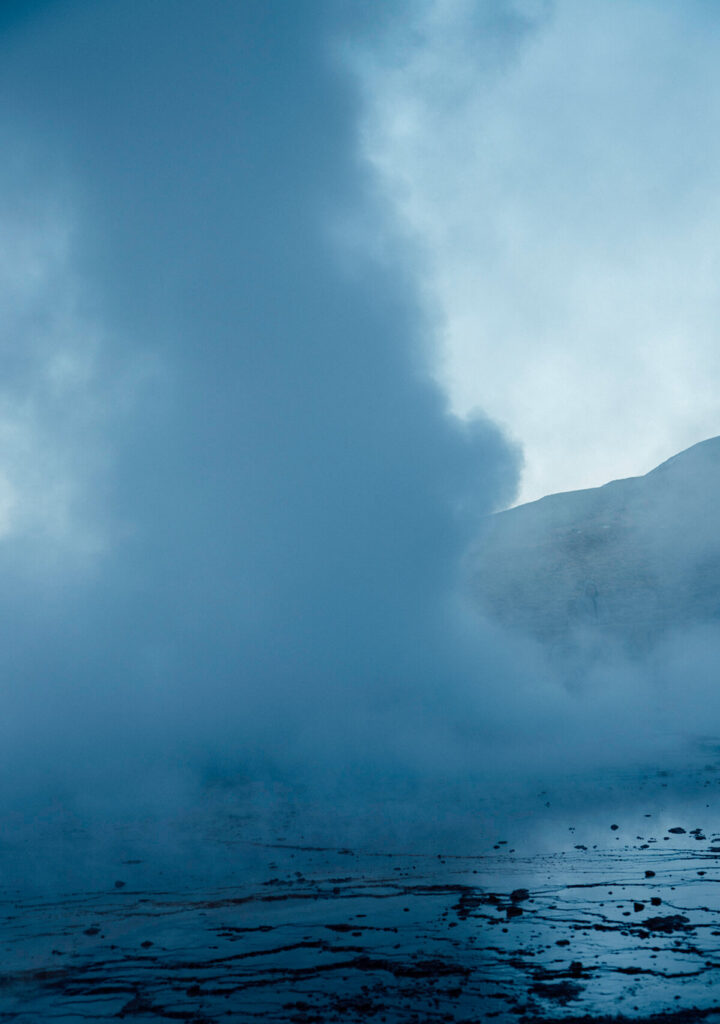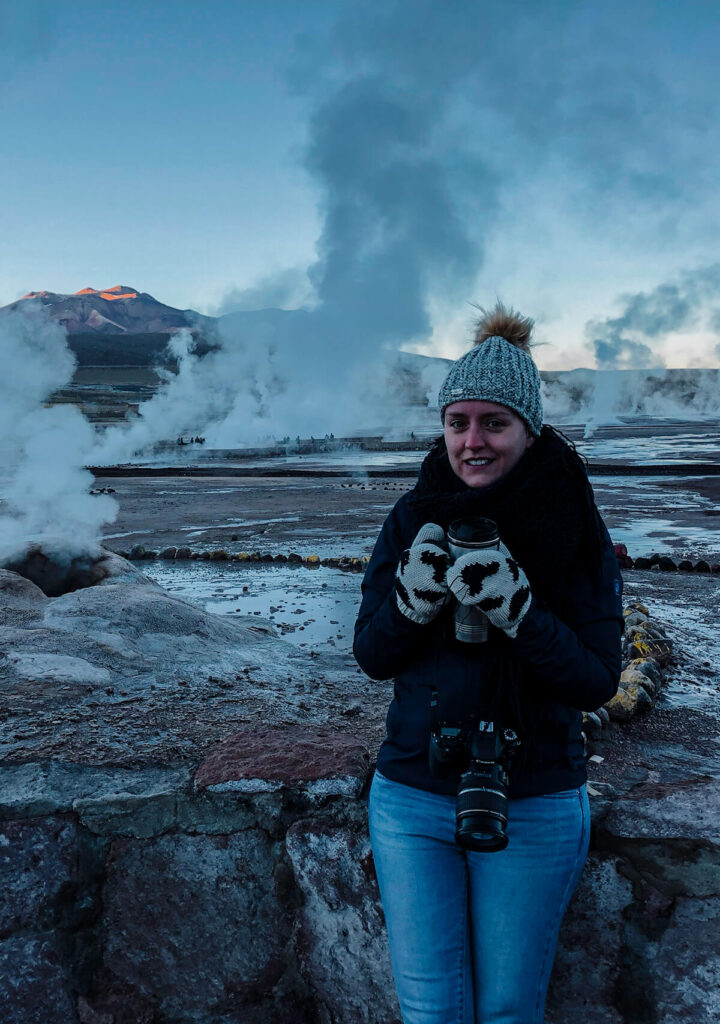 Walking among the steam plumes of Geysers del Tatio
Luckily we foresaw some additional time ibecause we literally arrived at the parking lot about 5 minutes before dawn (luckily just 100 meters from the El Tatio Geysers). We made it!
We felt relieved and excited at the same time. Seeing the steam of the geysers reaching towards the slowly brightening sky made our day. The geysers really are one of a kind.
Being in the middle of nature, surrounded by mountains, active geysers surrounding you, the sun starting to peep over the mountain ridges, in the blistering cold (-11° Celsius anyone?): it was absolutely breathtaking. Unforgettable.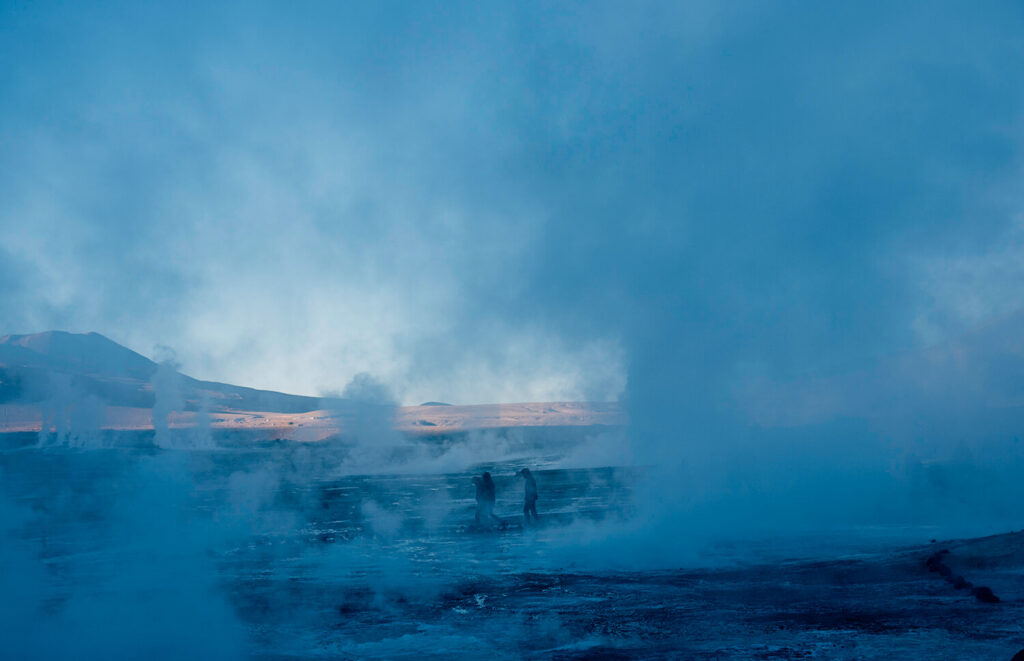 We enjoyed simply walking around the geysers: admiring them, being astonished by such a phenomenon of nature. The sun got higher and higher in the sky, starting to warm us all up (if only a little bit).
Even an hour later (an hour after dawn) the beauty of the geysers and surrounding nature still kept amazing us. Though it's certainly formidable to gaze at the geysers at dawn, don't fret too much if you arrive a bit later. The geyser activity remains impressive.
So basically if you're not keen on driving in the dark, you can still head up there in the light of day, however the steam plumes will get smaller when the temperatures start rising.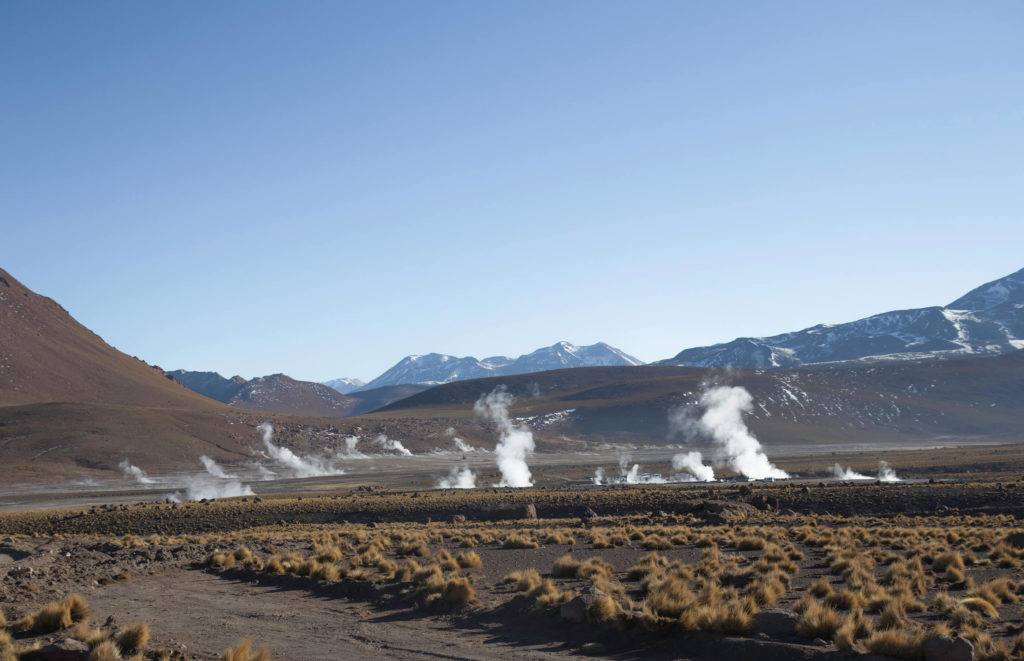 Driving from Geyser del Tatio to San Pedro de Atacama
After spending a bit less than two hours at El Tatio Geyser, we decided to head back towards San Pedro De Atacama. Driving back in full daylight makes you see what wonderous sights are to be admired along the way. Nature, untouched.
We basically were in awe the entire way back down. How weird it was to have been completely oblivious to such gorgeous sights while driving around here in pitch darkness.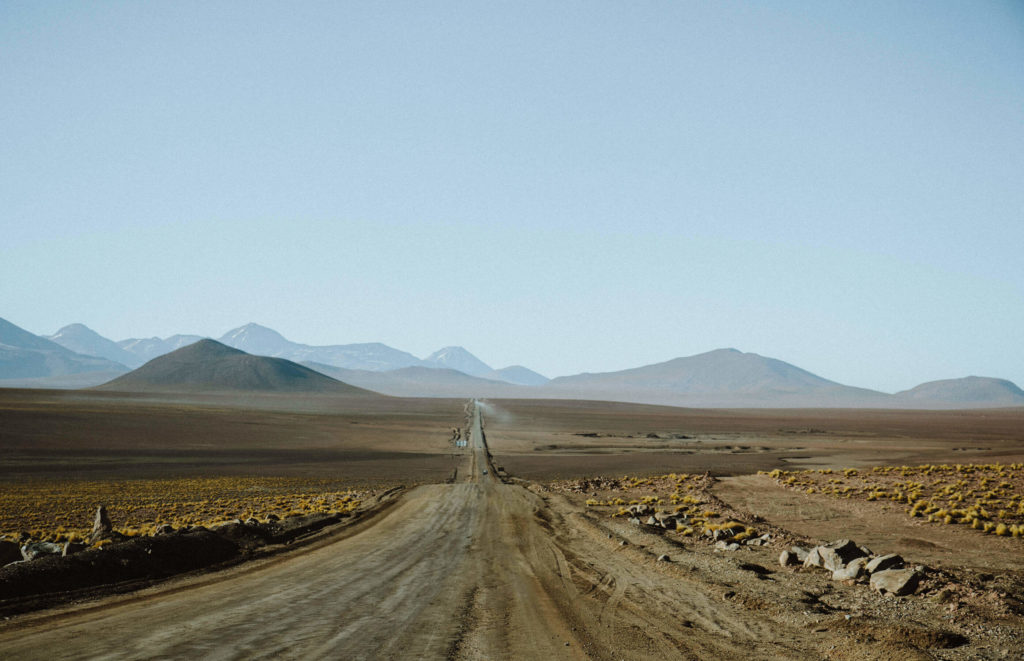 Putana lagoon viewpoint
We stopped at several magnificent viewpoints and made friends with some llamas when stopping in a small mountain village somewhere in the middle between San Pedro De Atacama and El Tatio Geysers.
First stop on the way back was at a lagoon formed by the Putana river. The setting is equally gorgeous and convenient as there are several viewpoints right beside the road.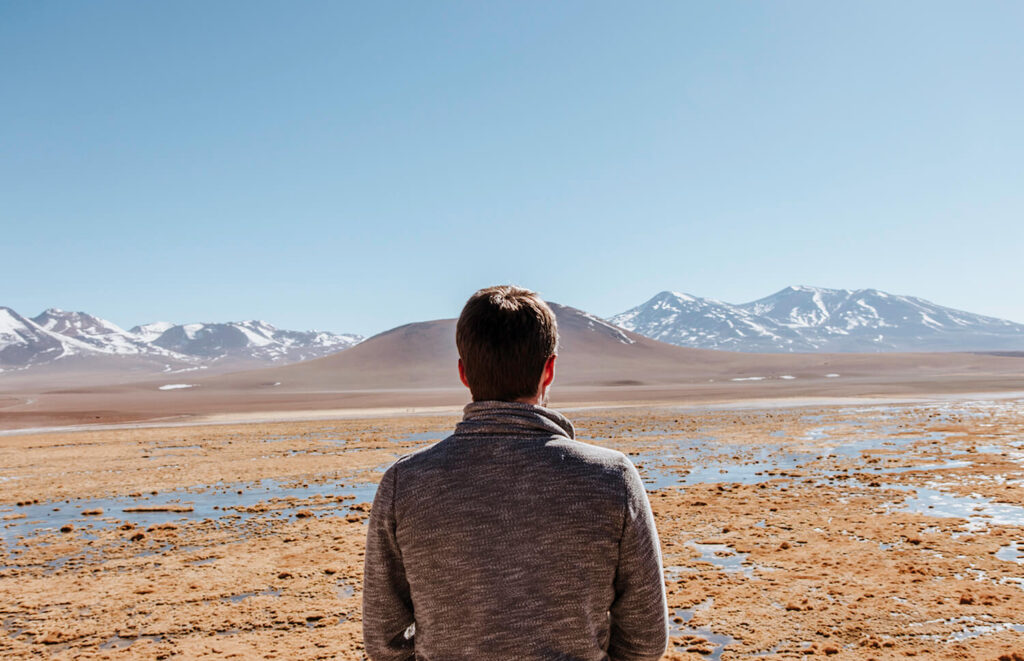 Machuca Village & Rio Grande Canyon
Machuca is a village you'll encounter on the way back to San Pedro de Atacama. Though it is kinda touristy, it's a great spot to admire some llama, eat some great local bbq and see a picturesque church.
The bbq is advertised as llama meat but it's just beef with a yummy marinade 🤤.
A bit outside of Machuca, you'll find a parking lot with a viewpoint over the Rio Grande river. While we were there (September) there was almost no water running through it but the canyon was really pretty. Also, almost no tourist vans stop here so you'll have this place almost entirely for yourself!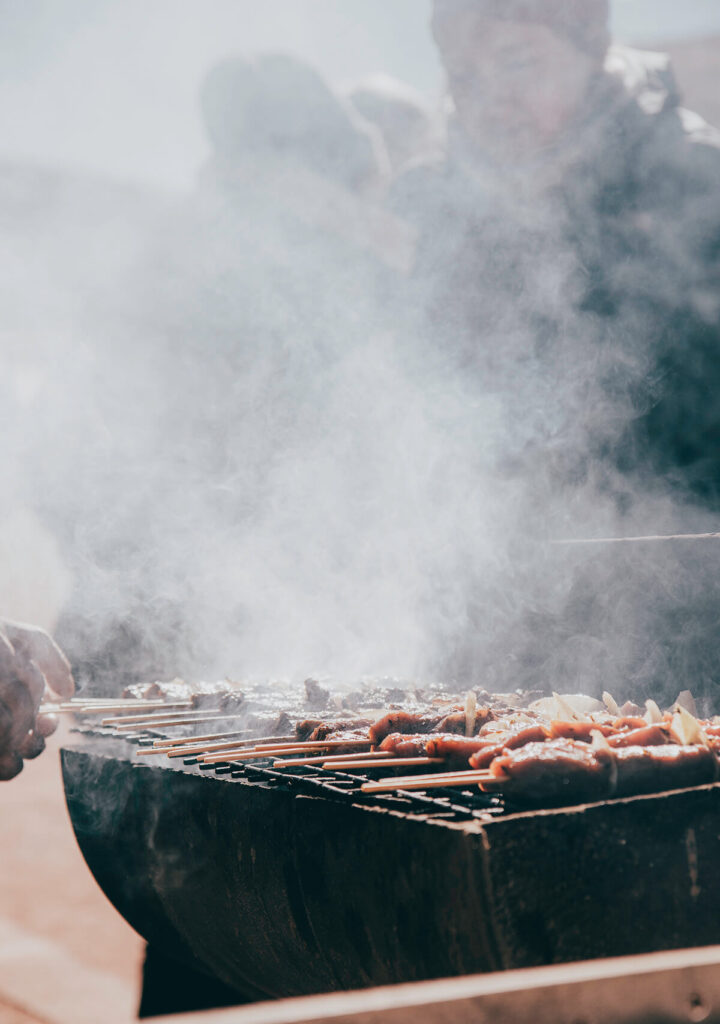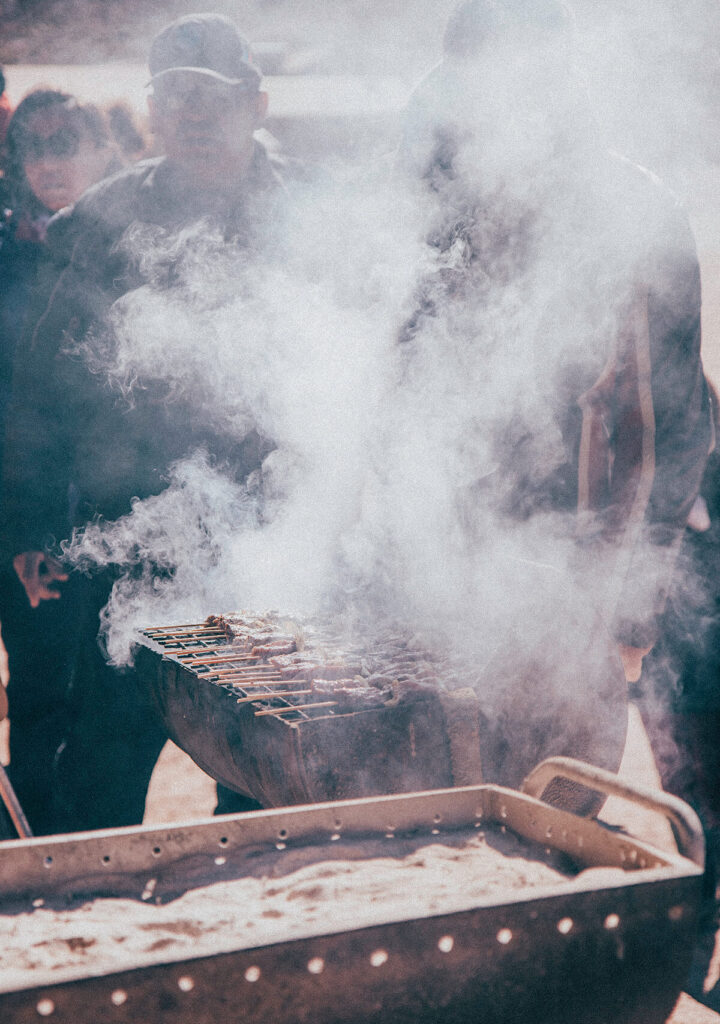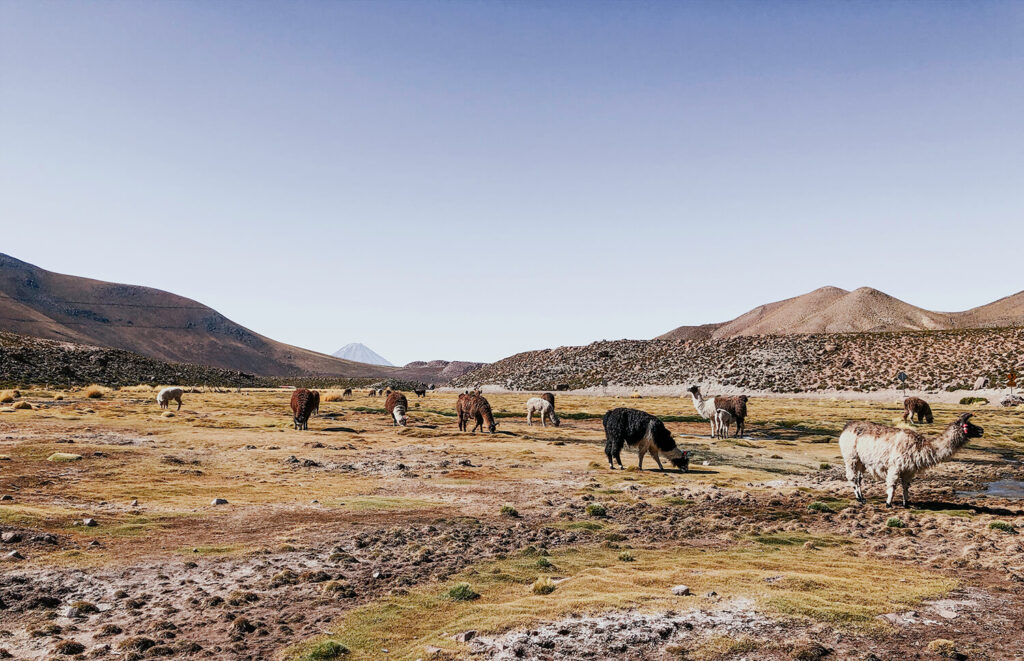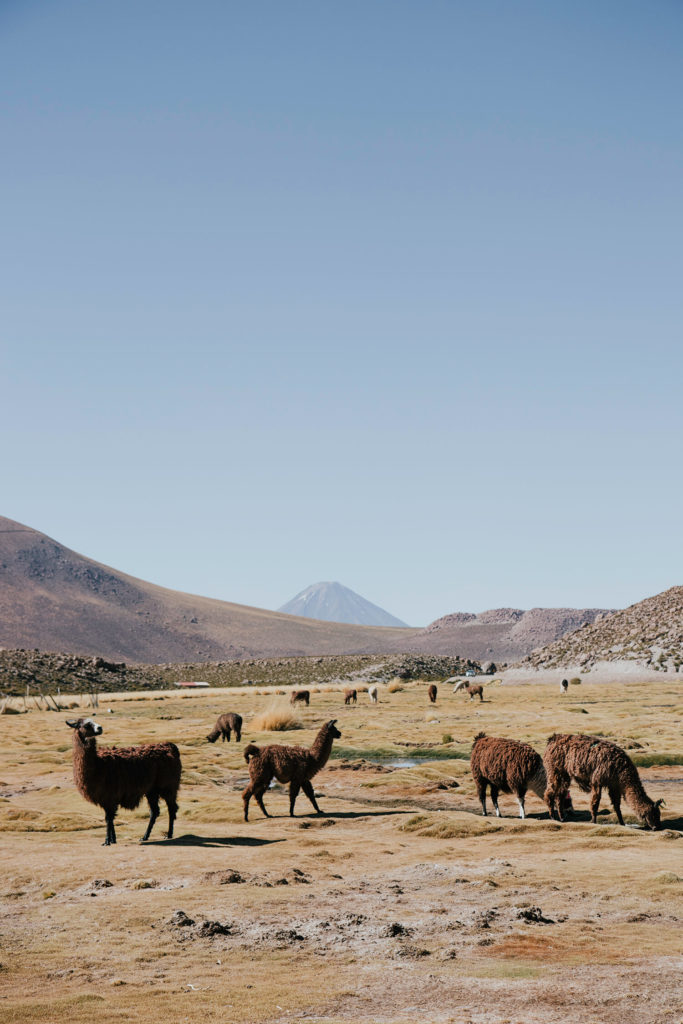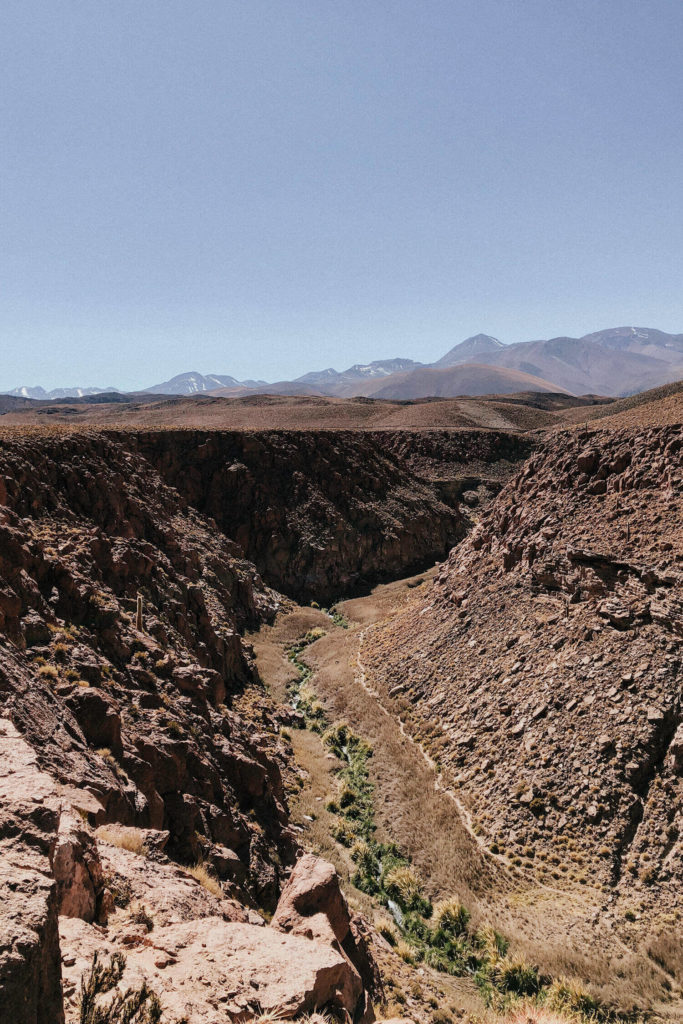 Termas de Puritama (hotsprings)
About 40min further, you can soak in the steaming water of the Termas de Puritama. After having spend several hours in freezing temperatures, this is the best way to end this day trip! If you won't be driving to Geyser del Tatio, you can take an excursion to the Puritama hot springs instead, like
this one
.
Somewhere at noon we arrived back in San Pedro De Atacama. Highly satisfied. Yet also quite tired. Though the day was only halfway, our adventure certainly took the energy of a whole-day adventure (also because of the altitude impact). Yet so much worth it! That day we didn't do one of the other Atacama desert excursions.
---
Our roadtrip in the Atacama desert would not have been the same without our visit to El Tatio Geysers, one of the best tours in San Pedro De Atacama.
And we cannot stress enough to make the best of your time in North Chile. While you're there, make sure to do some of the other Atacama desert expeditions or take one of the other tours from San Pedro De Atacama.
---
So many things to do in San Pedro De Atacama, but if you have to choose one, make sure you do this one! And of course if you have some additional time to spend, you can always participate in one of the Atacama tours going to all the must-see places in the driest place on earth.
And so don't forget, for the adventurous ones amongst you: yes, a self drive El Tatio is perfectly possible, though don't go unprepared. Talk to some of the locals. Prepare accordingly and then, once you head of ... enjoy El Tatio by car! If you feel less adventurous: choose a specific El Tatio Geysers tour.

LOVE IT, PIN IT!