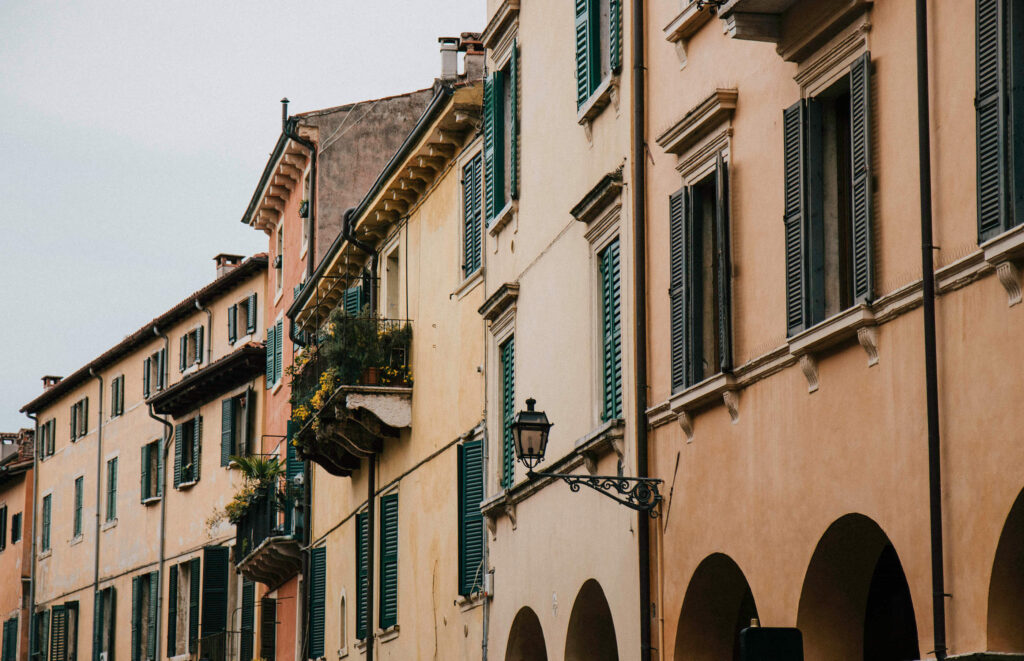 Verona felt like a breath of fresh air. We were desperately seeking a destination in Italy that wasn't sighing under the enormous pressure of tourism. As an alternative to touristy and overcrowded but undoubtably romantic Venice, we settled upon Verona. Equally romantic in nature -it is the birthplace of Shakespeare's Romeo and Juliet after all- but far less crowded, Verona city is (luckily) a clearly underrated destination. Verona is a welcome sip of pure, easygoing Italy!
Our short stint in Verona lasted 2 nights and was an ideal romantic getaway in March. If you have plans to visit Italy and are not sure if you should include Verona in your itinerary, we're here to convinence you with some dazzling photography of Verona's city center. The best way for us to observe Verona was with our cameras in hand; wandering those quaint and winding streets, and admiring its romantic balconies (which seem to be everywhere apparently). It was only fitting then, that we share with you our Verona photo diary and our recommendation on things to do in Verona, Italy.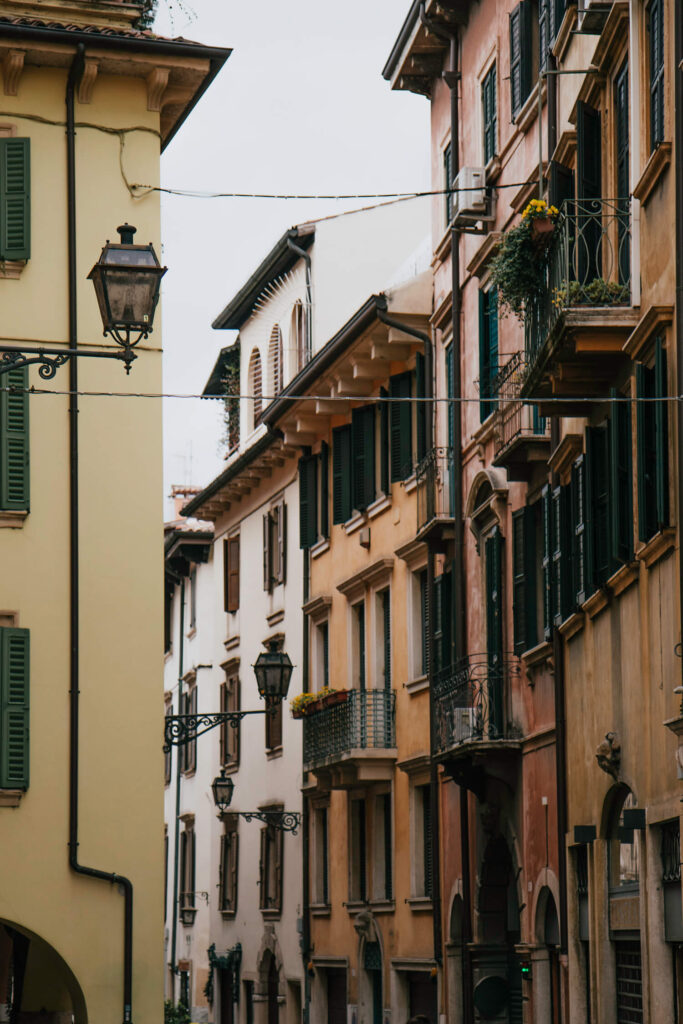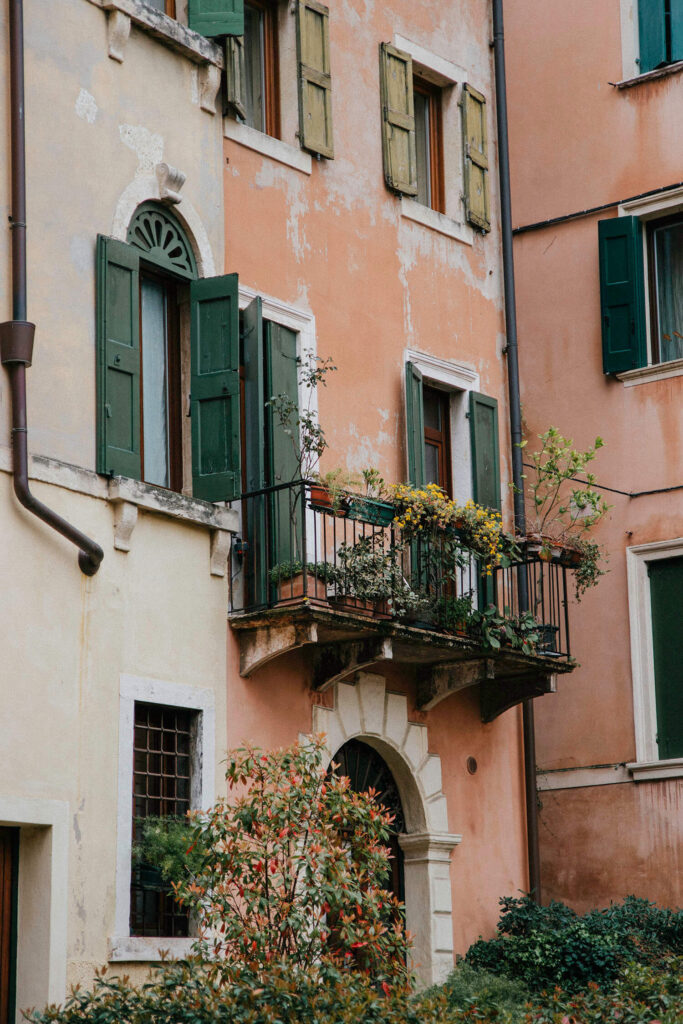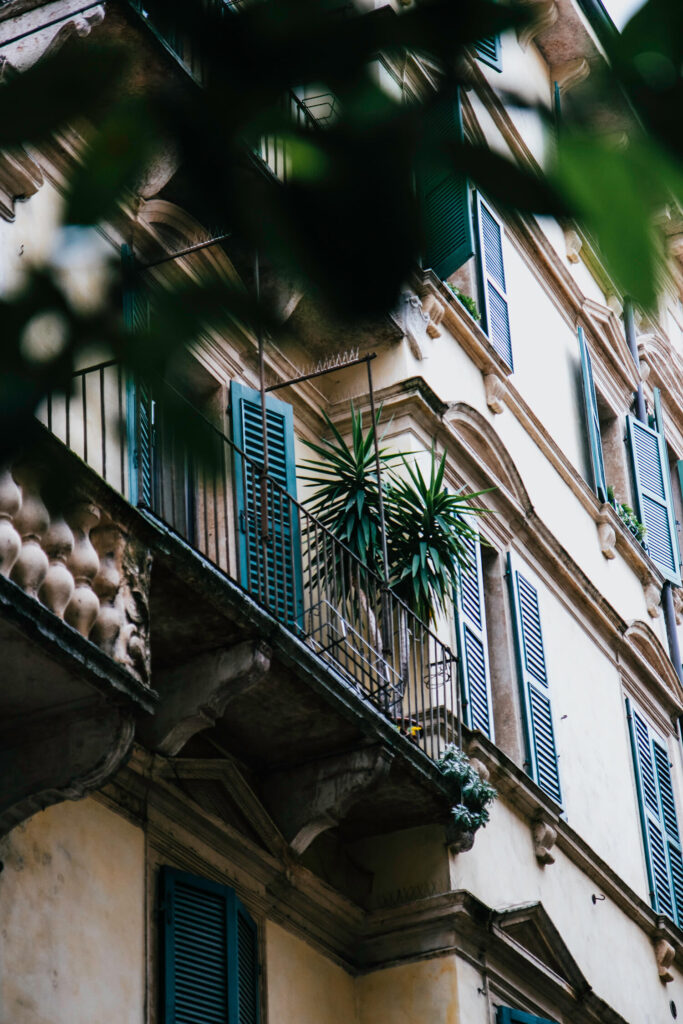 ---
The ultimate free walking tour of Verona, Italy
---
About the ultimate Free Walking Tour of Verona
As one of the most romantic cities of Europe, Verona old town just screams for romantic strolls. With this self-guided free walking tour of Verona, we're sharing all of our secrets about the best things to do in Verona.
Our Verona walking tour is about 6,5 KM (about 4 miles) long, depending on your walking speed and on which optional detours you choose to explore. We recommend allowing yourself at least xx hours to complete the walking tour, but you can easily spend a full day if you include time for lunch, drinks, wander the colorful streets in Verona and include plenty of stops along the way to appreciate Verona's history and culture.
Travel Tip: To make your exploring easier, we've created a Google Map of the free walking tour Verona that you can download to your phone and use offline while you're in Verona! We recommend bookmarking this post to refer to along with the map.
Ready to start your Verona walking tour? Here's what to do in Verona in a day on foot!
How to spend a day in Verona: things to do
What can you do in Verona in 1 day? Well, it happens to be plenty! While there are several free things to do in Verona, some attraction may require an entrance fee. In that case, you might want to purchase the Verona Card that offers reductions on plenty of them, before heading out. This free walking tour of Verona is perfect for anyone spending a weekend in Verona or planning a Verona day trip from nearby destinations like Venice or Lake Garda.
1. THE STUNNING VERONA ARENA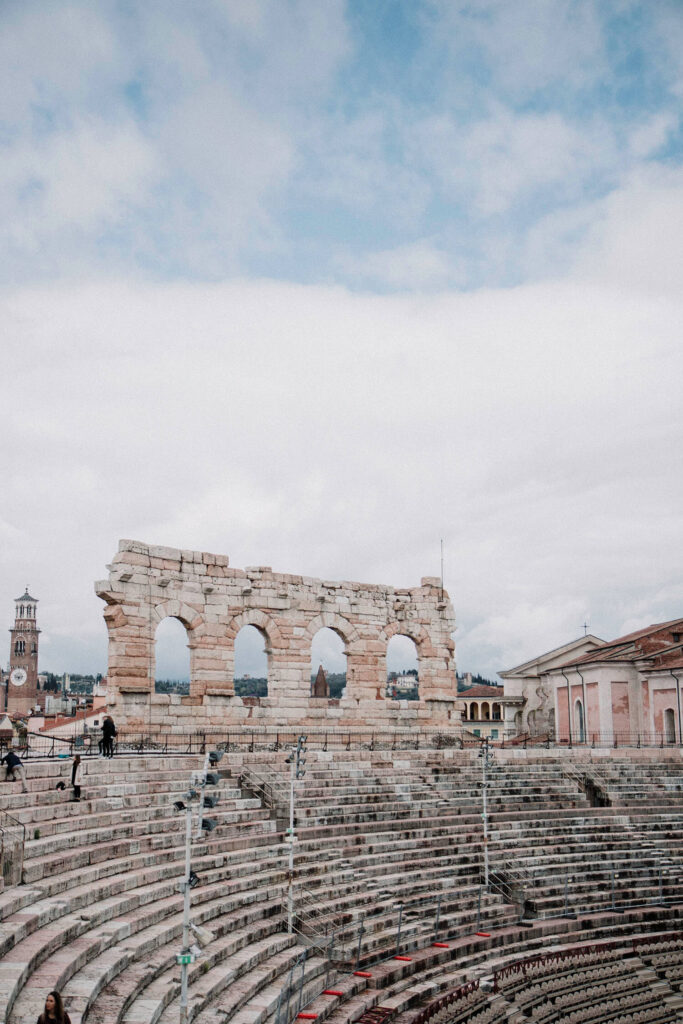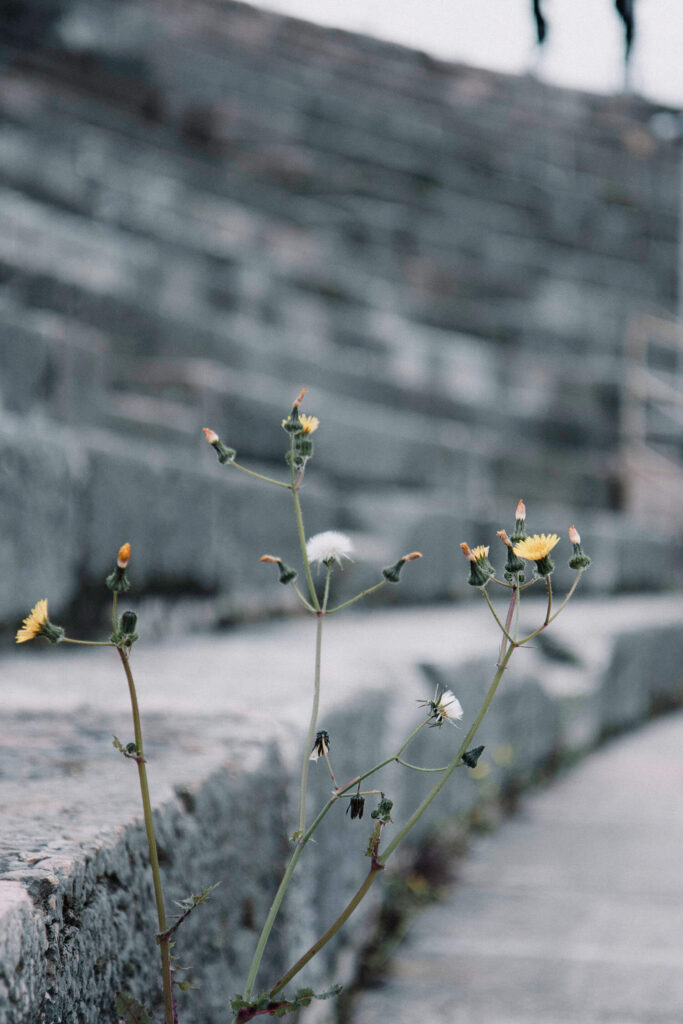 Start your tour at the iconic Verona Arena in Città Antica. The Verona Arena sits adjacent to Piazza Bra, one of Verona's main squares. This is one of the best preserved Roman ampitheaters and it is still in use today. In ancient times, nearly 30.000 people were able to witness the famous shows and games held there. Nowadays the Verona arena has featured many of world's most notable opera singers.
If you enjoy the opera, a night out might be the perfect occasion to enjoy the Verona arena. To us however, the permanent setup of the opera stage de-romanticized the site a bit. We never visited any other arena before and the sight must have been spectacular were it not for a huge stage and 15.000 folded chairs that are semi-permanently installed.
Though the setup might obstruct the view a bit, visiting the Verona arena is one of the top things to in Verona, Italy. You can purchase tickets to tour the inside of the arena or book a ticket to see a Verona opera performance here.
2. HAVE A CAPPUCCINO AT THE LARGEST SQUARE OF VERONA: PIAZZA BRA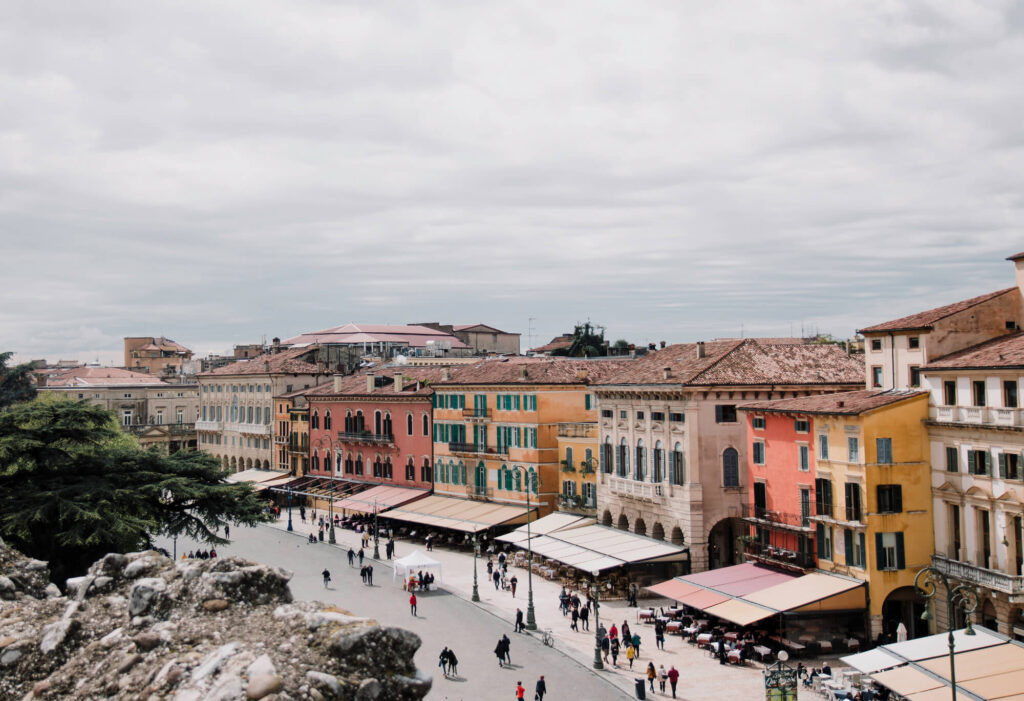 What better way to spend your time in Verona than sipping on a cappuccino with spectacular views of the Verona Arena? Though it's the biggest market place in Verona and surrounded by plenty of restaurants and cafés, it's still one of the most tranquil places to visit in Verona, Italy. In March at least 😉. We came here frequently to enjoy the spaciousness of it.
3. JULIET'S HOUSE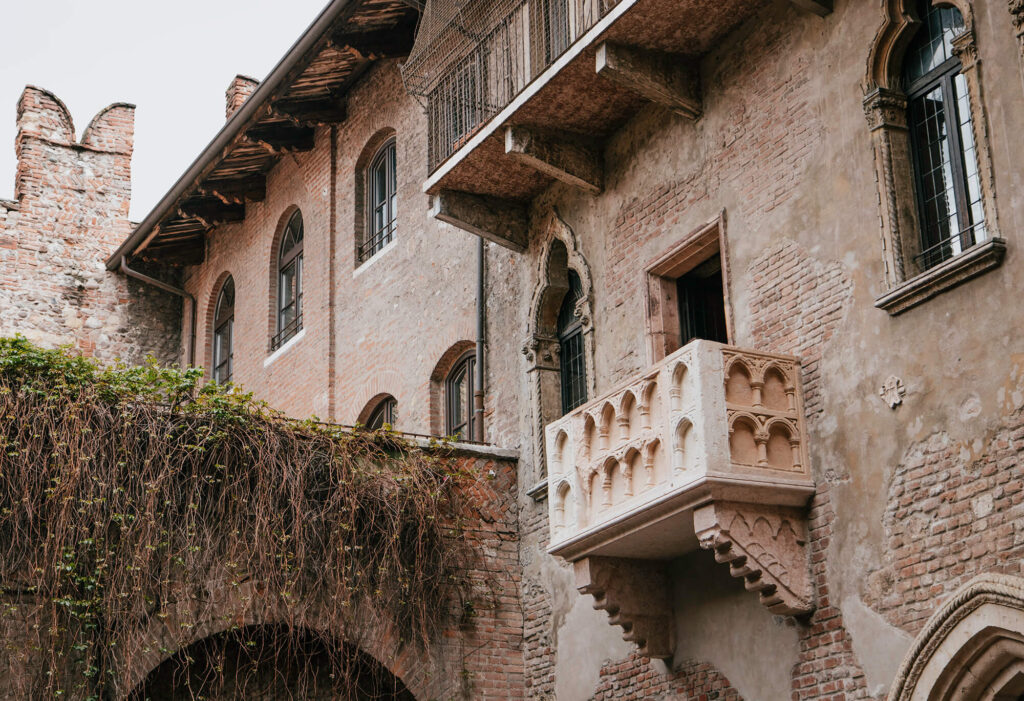 Verona is undoubtedly most famous as the scene for Shakespeare's legendary love story, Romeo and Juliet. While in Verona, try to take a quick peek at the famous balcony of Juliet house but do not sacrifice any more of your precious travel time at this tourist trap. Although it is considered as one of the top things to do in Verona, Italy - it just wasn't my thang.
I'm baffled that thousands of people desire to be crammed into this small square everyday just to see this balcony -which was added on in the 20th century nonetheless- and to have their picture taken with the statue of Juliet. Also, do not waste your precious funds to enter Juliet's House, it is 100% not worth it.
4. PIAZZA DELLE ERBE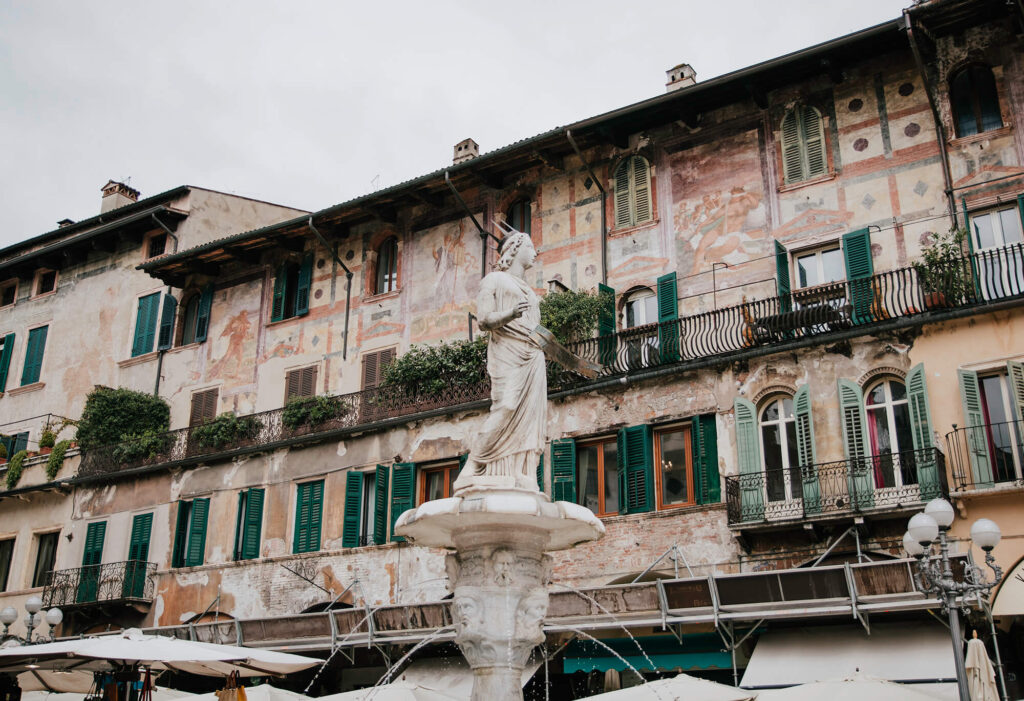 Another lavish piazza surrounded by scenic façades and yet another dozen balconies. We couldn't seem to get enough of the views from Piazza delle Erbe and revisited this area numerous times during our time in Verona. If the weather is nice, flat your buttocks in one of the outdoor cafés chairs, order yourself an overpriced Aperol Spritz and amuse yourself people-watching. A must do in Verona!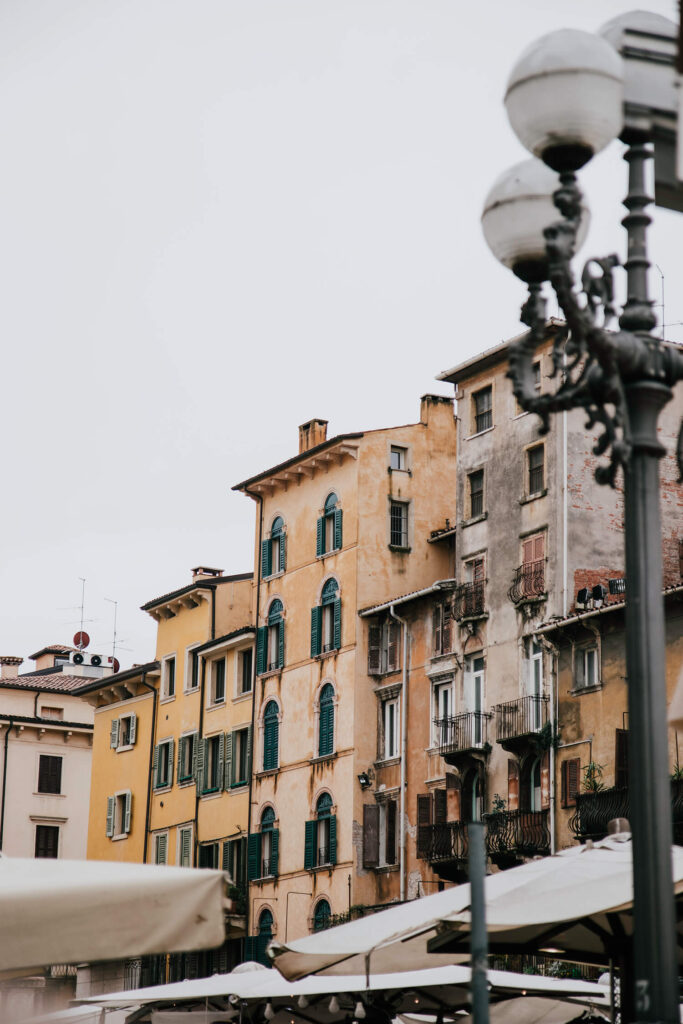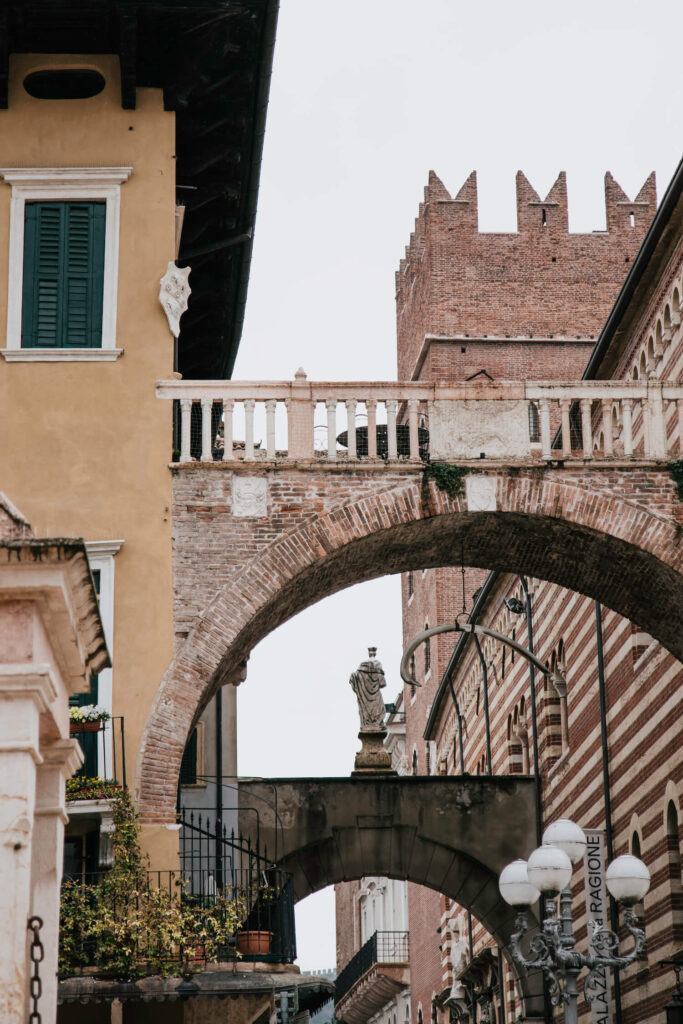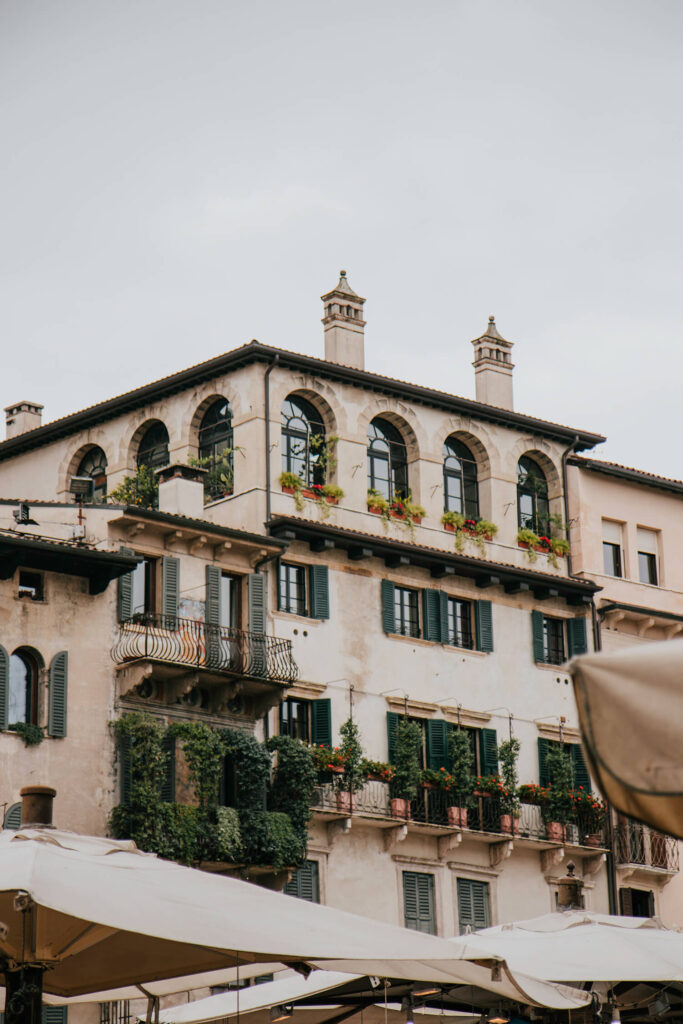 5. TORRE DEI LAMBERTI
Located right next to Piazza delle Erbe is Torre dei Lamberti; one of the best ways to enjoy 360° Verona city views. The panoramic views over the City of Love's red rooftops are just incredible. The Torre dei Lamberti houses four bells that ring every half our. Visitors ye be warned ;-).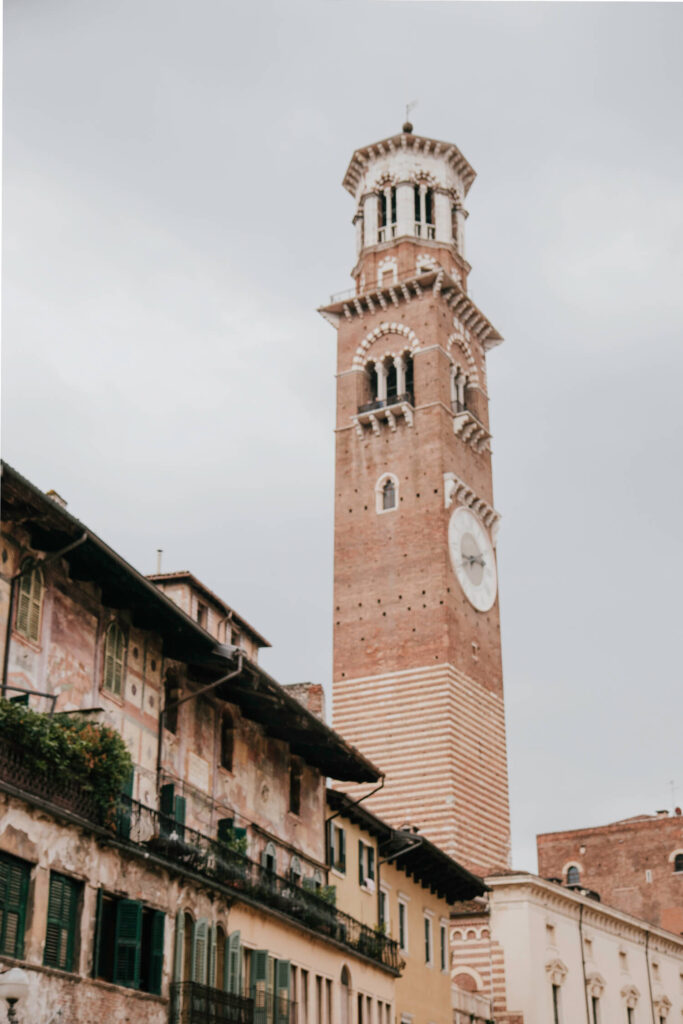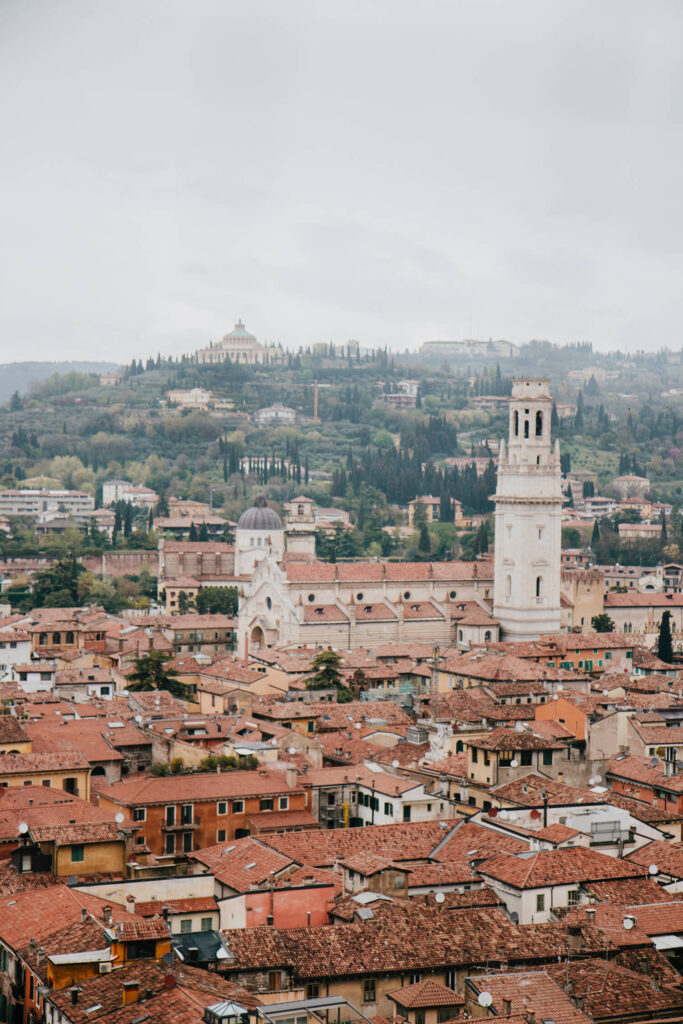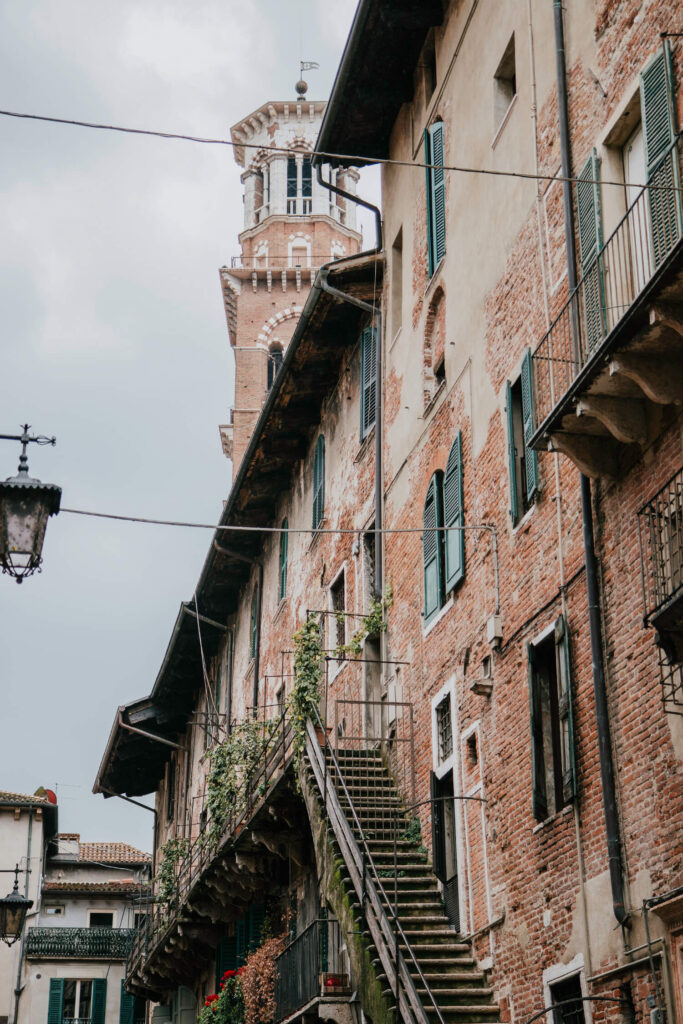 Entry prices include a ride up the elevator to the top (no discount if you want to take the stairs). The tower is open everyday of the year except December 25th. Ticket prices are €8 and the hours of operation are 10 am – 6 pm Monday through Friday and 11 am to 7 pm Saturday and Sunday.
6. MARVEL AT BALCONIES AND COLOURFUL STREETS IN VERONA'S HISTORIC CITY CENTER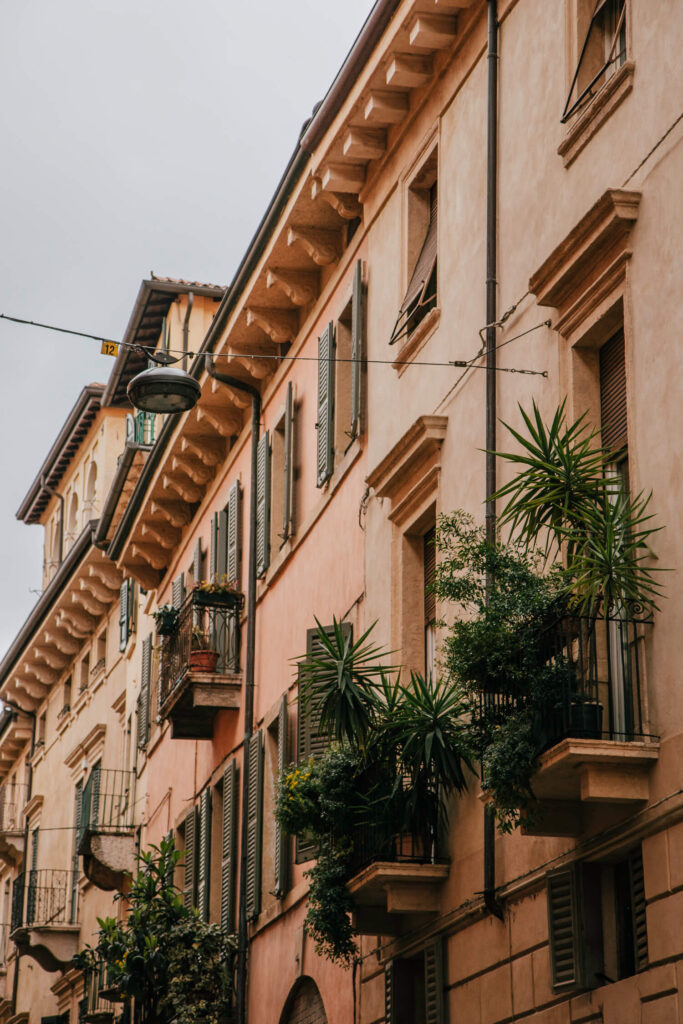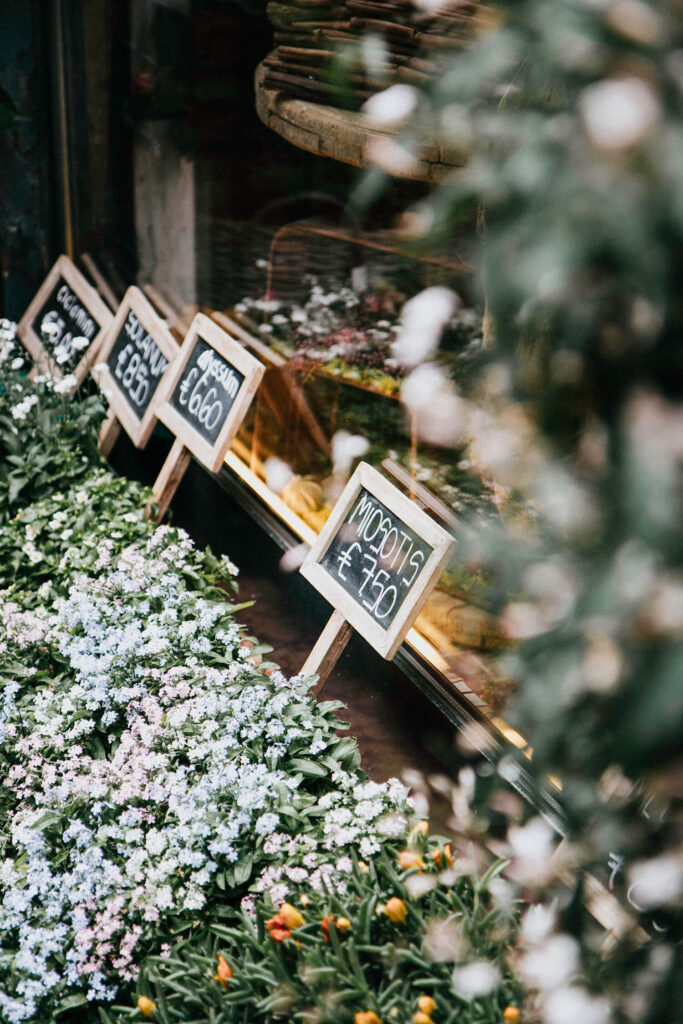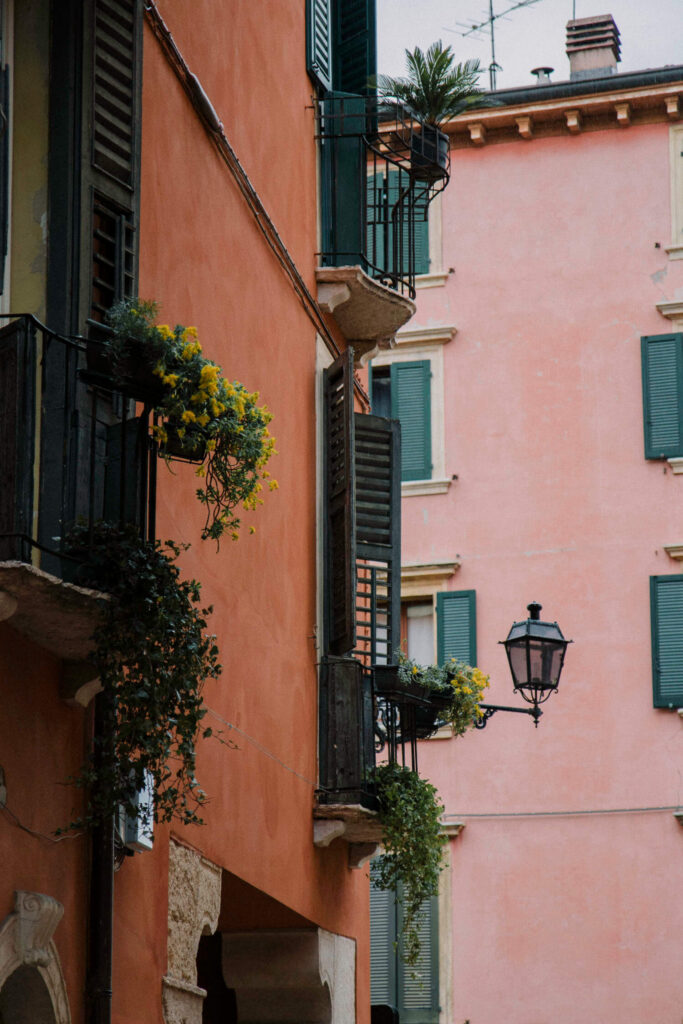 The Centro Storico is the historic center of Verona. The atmosphere created by Verona's narrow streets, dreamy balconies with luscious plants and curious corners make it a great place to explore. This is where you will find many of the main sights and what to see in Verona: the many piazzas, Verona's Arena, Torre Dei Lamberti, Juliet's House and some incredible churches. Brimming with enchanting outdoor eateries, fragrant alleyways of flower shops and bakeries, bars and cute shops, the streets of Verona are a wonderful place to wander around and explore.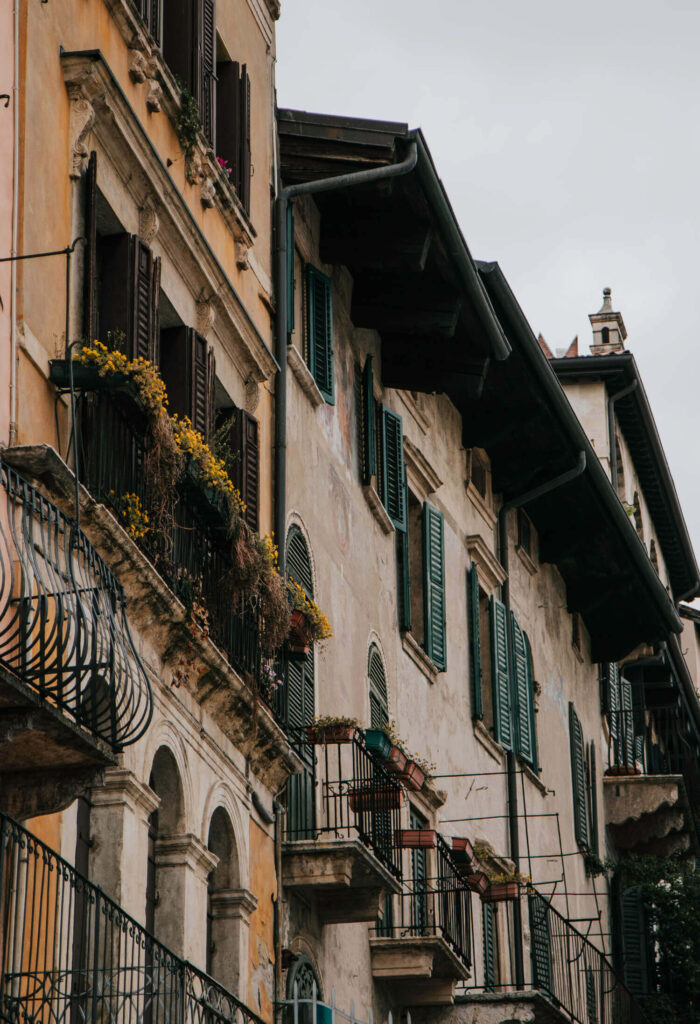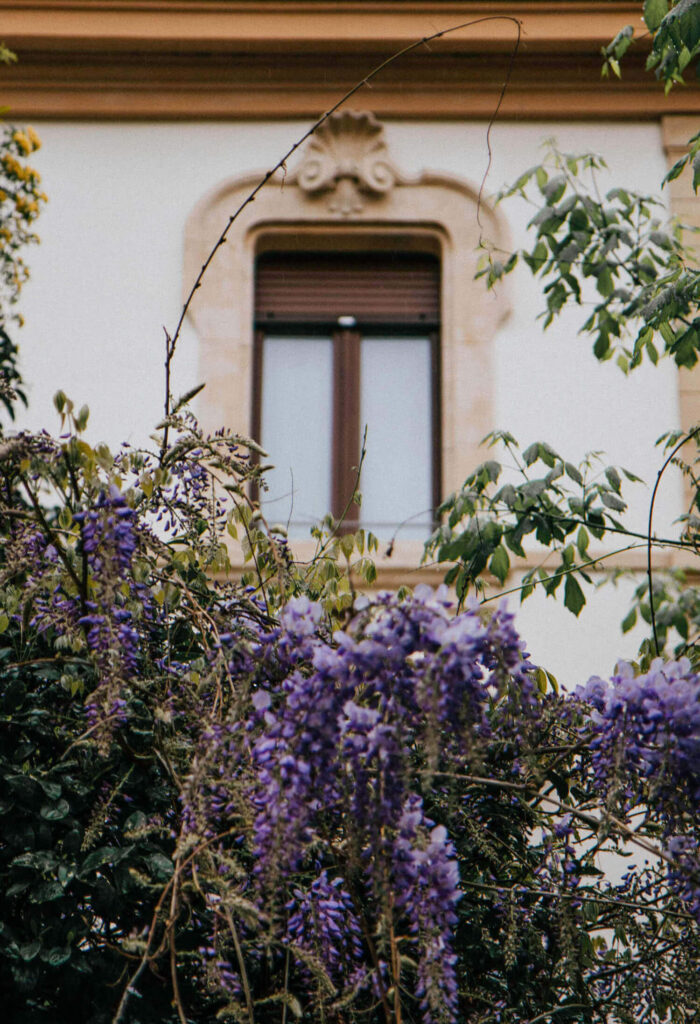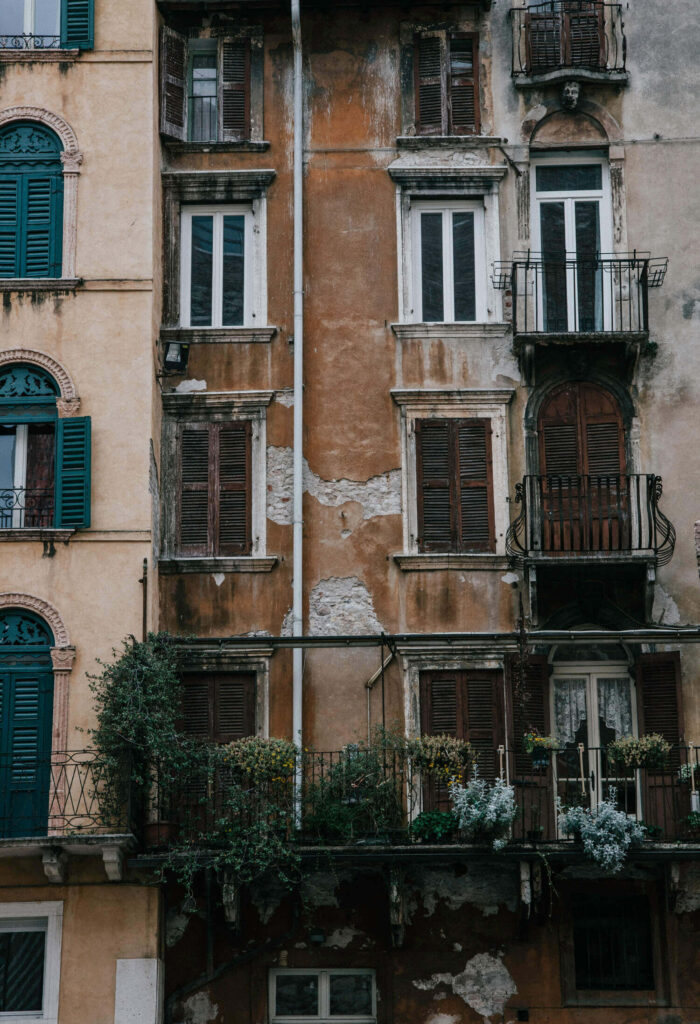 7. BASILICA ST ANASTASIA
This beautiful basilica in Gothic style, is located in the most ancient part of the Verona, near the Ponte Pietra. You can opt for a single entrance ticket (€3,00 p.p.) or a cumulative ticket (€6,00 p.p.), the latter providing you access to the Basilica di San Zeno, the Cathedral Complex, the Basilica di Santa Anastasia, and San Fermo.
If you are in possession of the Verona Card, you can use it for free entrance to the Basilica St Anastasia.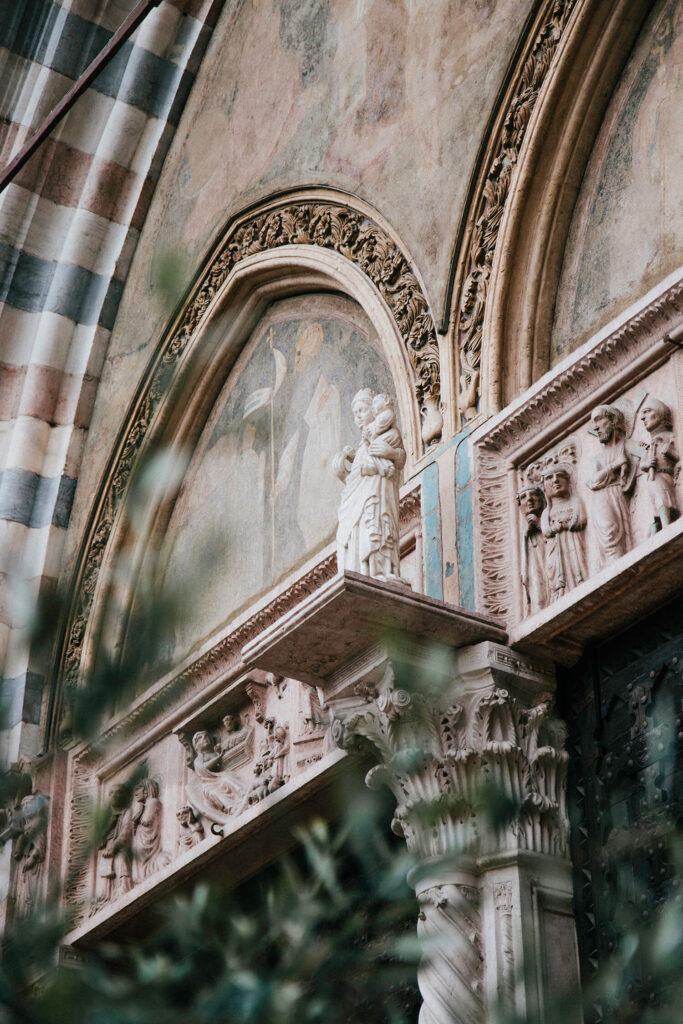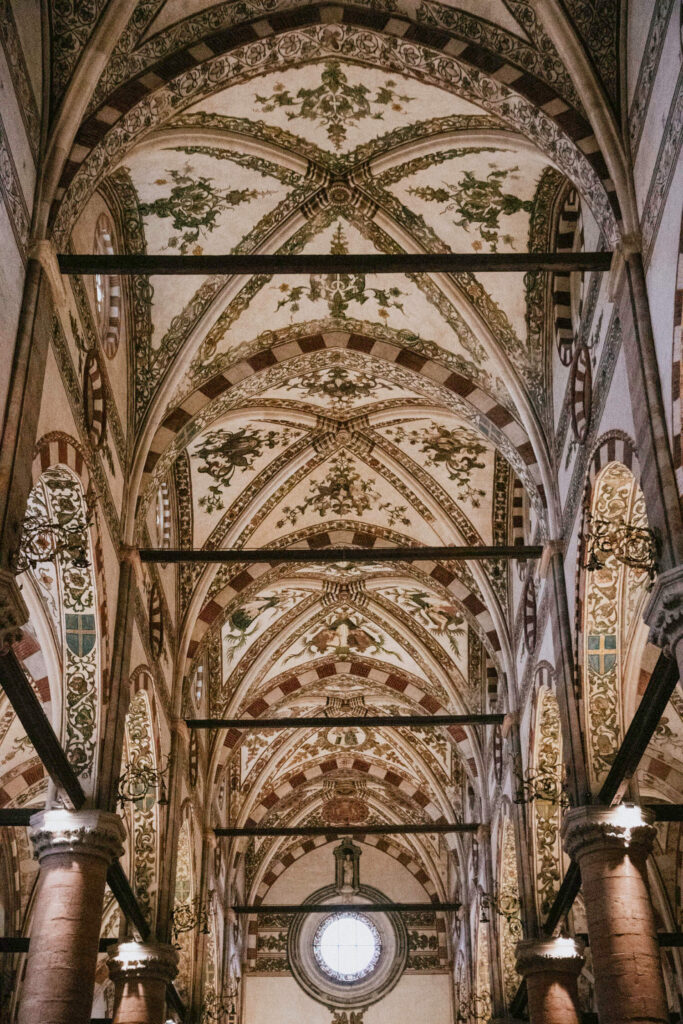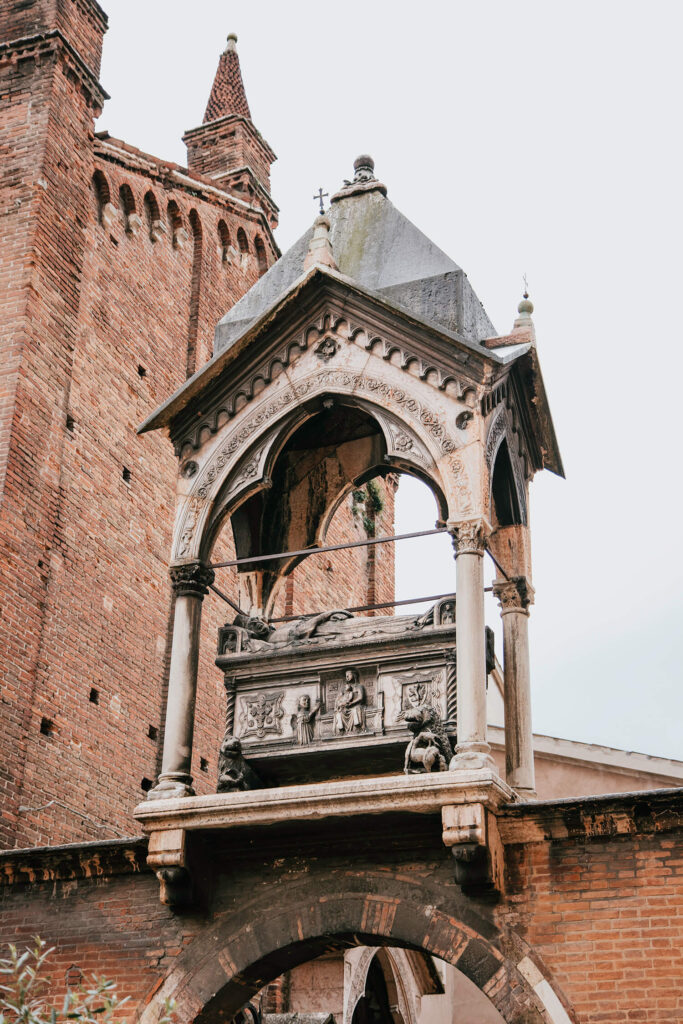 8. PONTE PIETRA
Any Verona 1 day itinerary should include a walk over the Ponte Pietra bridge. This is imo the prettiest bridge in the city. Ponte Pietra connects Verona's Città Antica with the Teatro Romano and Castel San Pietro in the Valdonega neighbourhood. When low on cash, this is on of the best free things to do in Verona.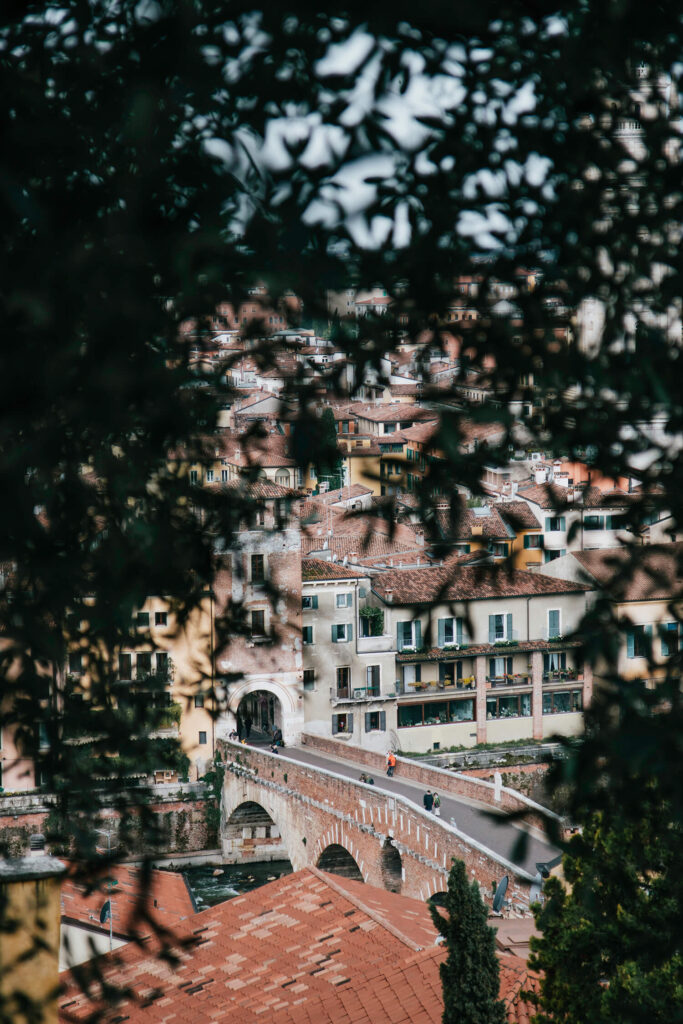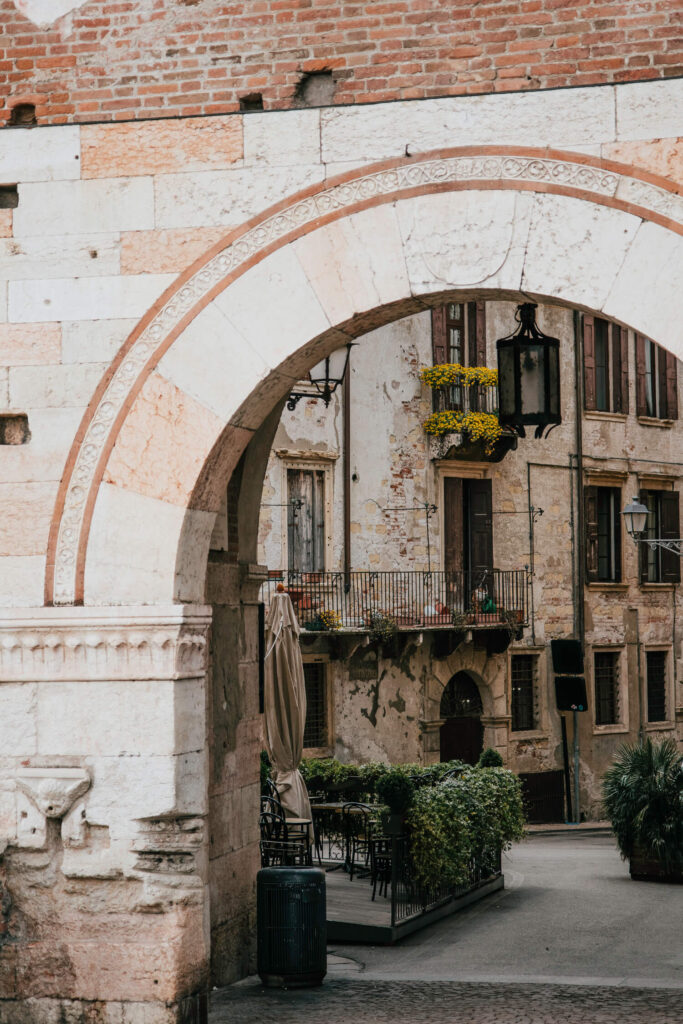 9. CLIMB THE STAIRS TO PIAZZALE CASTEL SAN PIETRO
Now you've crossed into Valdonega neighbourhood, climb up the stairs to Piazzale Castel San Pietro for another great view over Verona's red rooftops. Do note that this is only viewpoint, the castle is currently closed and not open for visitors. If you're looking for a beautiful viewpoint while in Verona for one day, make it this one!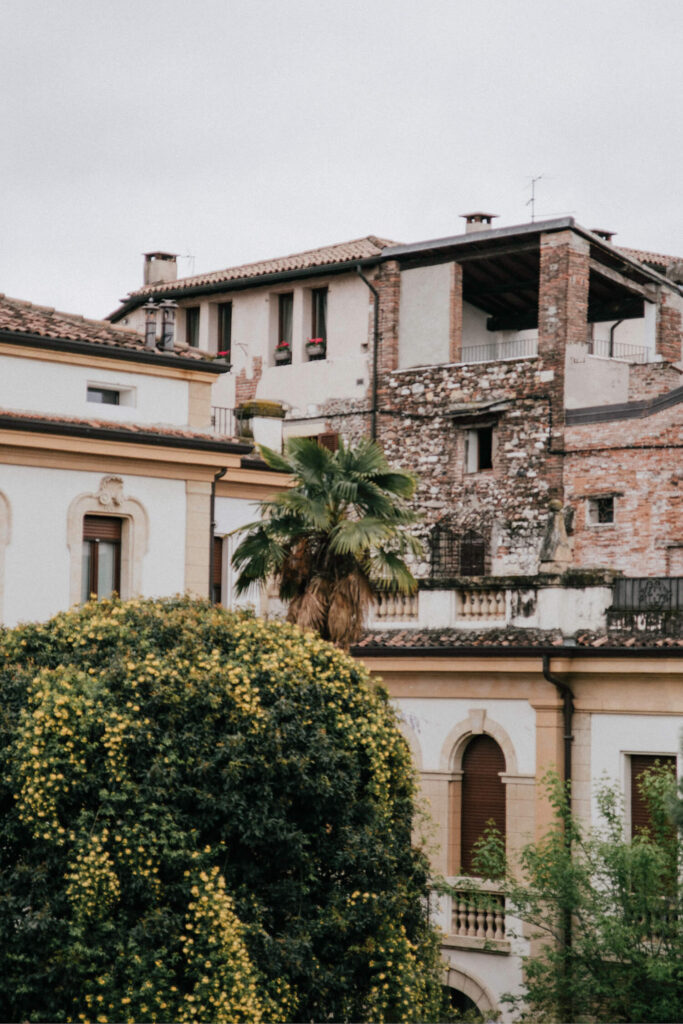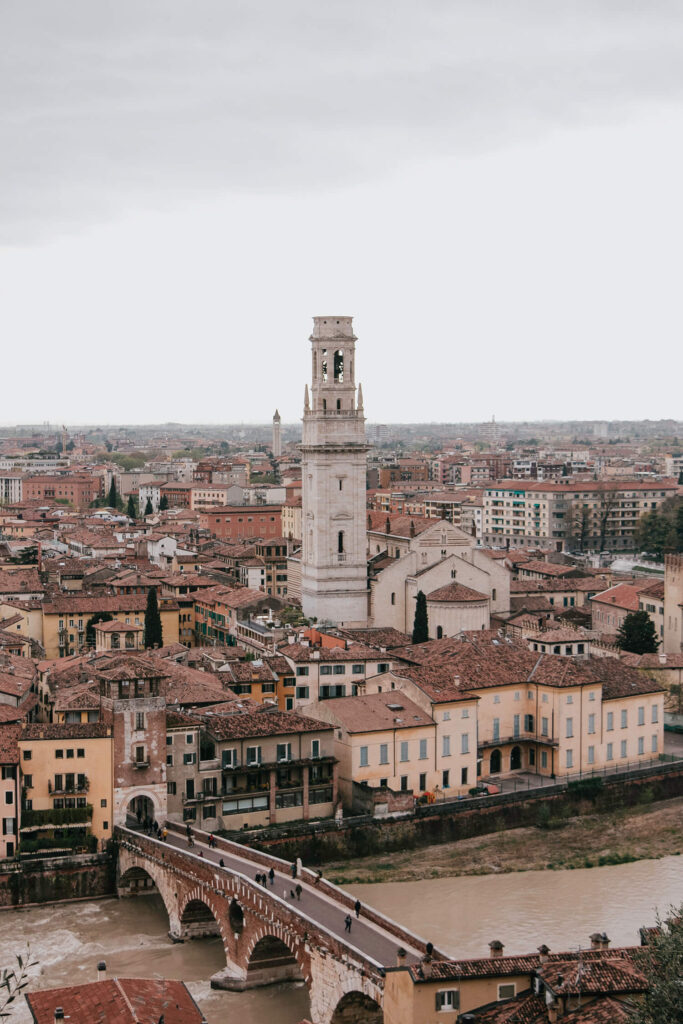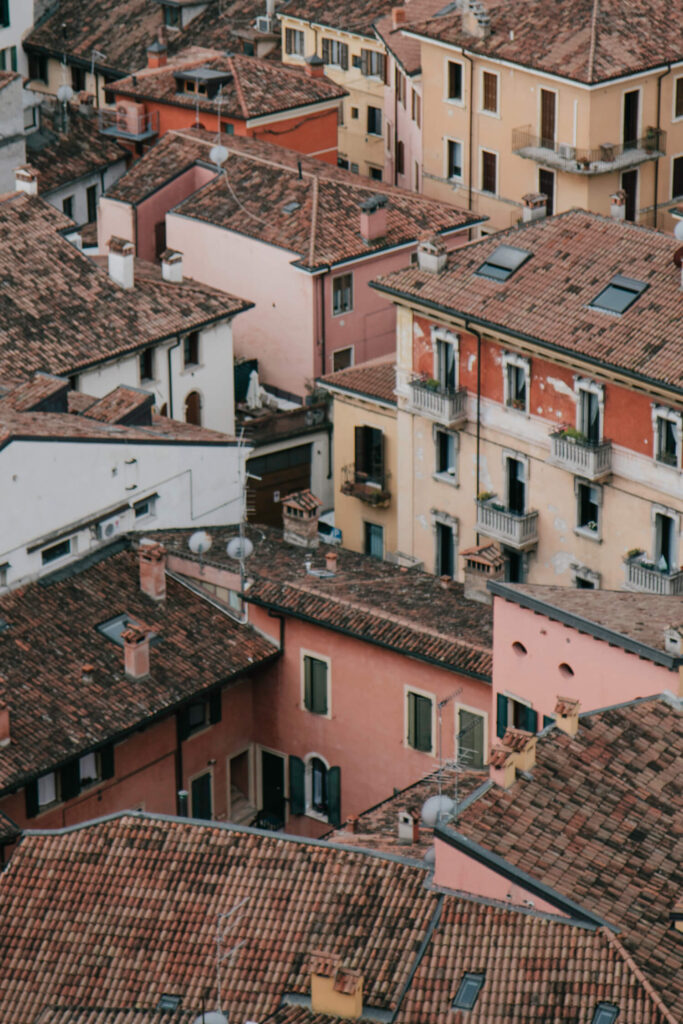 10. TEATRO ROMANO
Unfortunately the beautiful theater wall was not preserved and there seems to be a permanent setup with a stage that obstructed a large part of it. 100% honesty here, I was not super impressed by the Verona Roman Theatre and would not put it on a 'Verona top thing to do' list, instead I would recommend you focus on the onsite museum.
The museum was pretty interesting though so if you're into museums I would definitely recommend you visit the one at the Teatro Romano. We spend about an hour here, admiring the beautiful sculptures, mosaics, fresco's and pottery.
11. PONTE SCALIGERO AND CASTELVECCHIO
From Valdonego you walk along the Adige river into the Borgo Trento neighbourhood, known for Castelvecchio. Castelvecchio is one of those places that we unfortunately missed on our one day in Verona. We included it in our Free Walking Tour Verona simply because other visitors to Verona rave about this place.
The beautiful medieval bridge is one of Verona's iconic spots that makes it onto every 'What to see in Verona, Italy' list. Castelvecchio will certainty interest the history buffs: a medieval castle turned into a museum. The castle is open daily and tickets cost €7.
12. BASILICA DI SAN ZENO MAGGIORE
The Basilica di San Zeno Maggiore is not of the most popular things to see in Verona but is a nice stop on this walking tour nevertheless. It got its fame as the "Romeo and Juliet" church: the crypt is the location of the wedding in Shakespeare's Romeo and Juliet.
You can buy a ticket that provides entrance to the four major churches in Verona at each church. The major points of interest of San Zeno Maggiore are the incredibly well preserved massive wooden entrance doors, the gorgeous ceiling and the colonnade courtyard.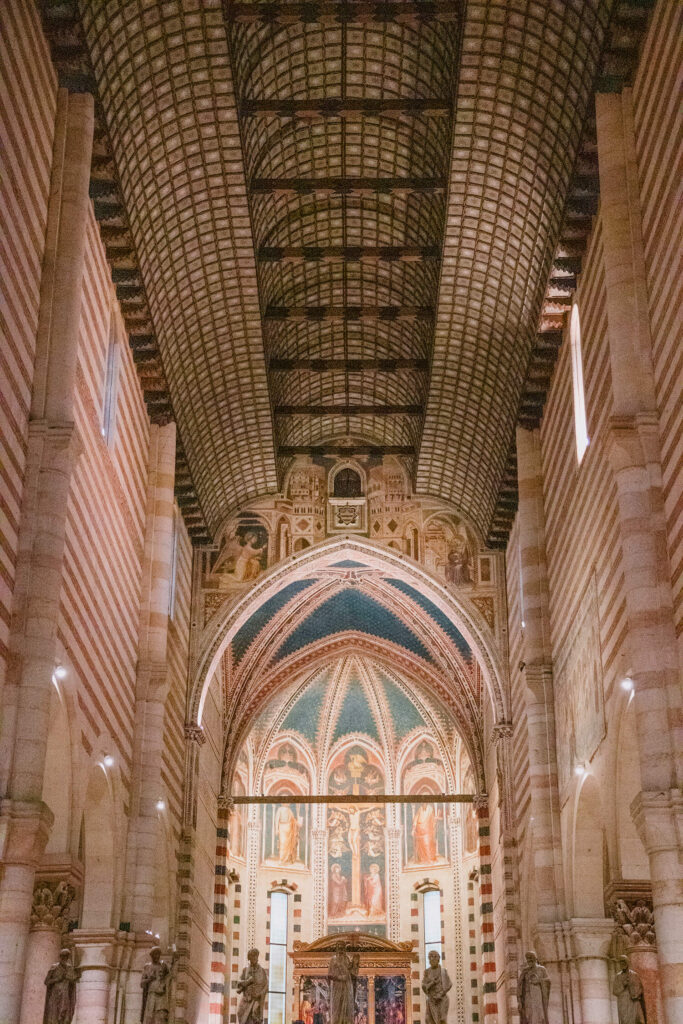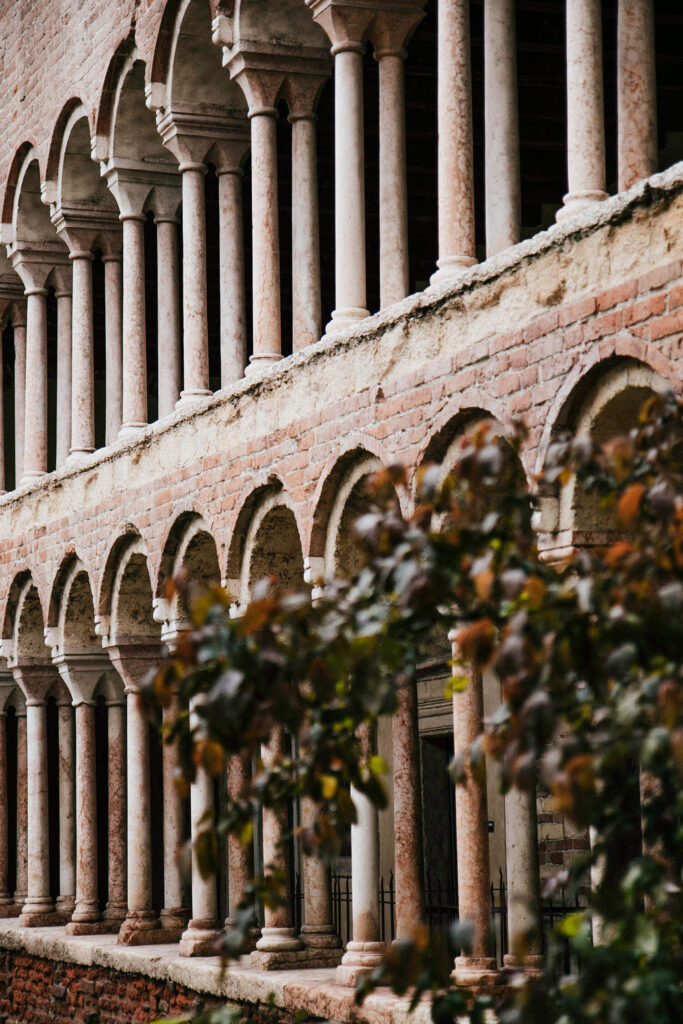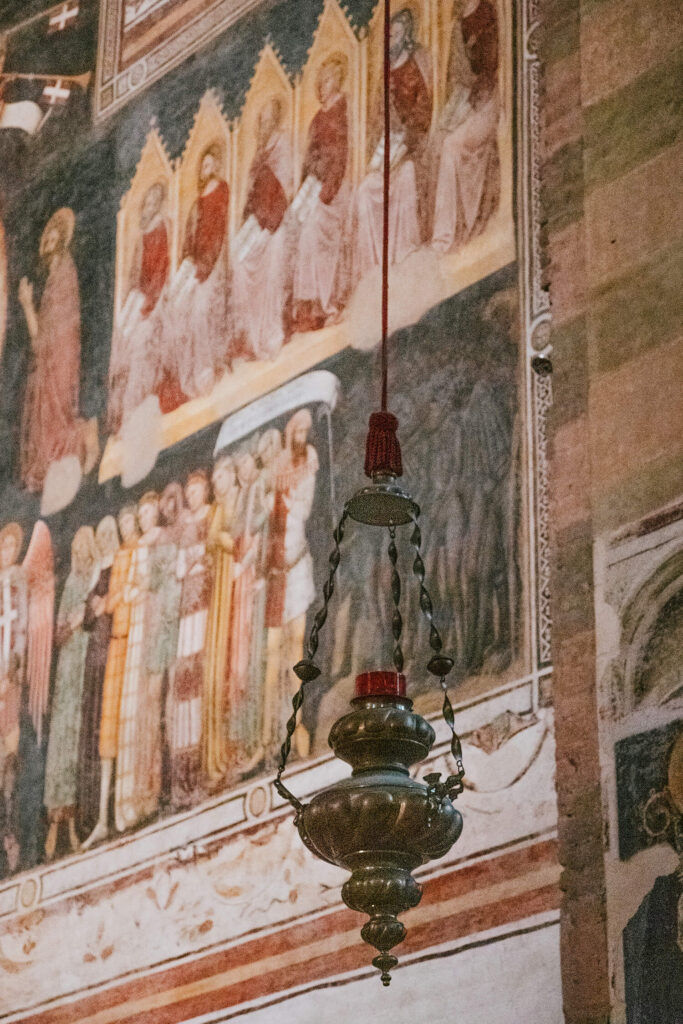 Map of Verona, Italy: the Verona Walking Tour map
To help you plan your walking tour route, we've created a Verona walking tour map with what to see in Verona, Italy in one day. I recommend saving our Verona tourist map to your phone so you can access it offline in Verona, and bookmarking this page to refer to as you go!
This tour is 6,5 KM (about 4 miles) long and can be done in about 4-6 hours, depending on how long you want to stroll the historic streets in Verona. This does not include the time you want to spend exploring the Verona Arena or time inside any of the museums.
Where to stay in Verona
Verona is a pretty small city with almost all must do attractions in Città Antica. This makes Città Antica the best area to stay in Verona. Here's a list of Verona hotels we were looking at for our stay in the City of Love.
Where we stayed: Escalus Luxury Suites Verona, which I can't recommend enough. We stayed in a boutique luxury apartment suite, a two minute walk from Verona's Arena and Piazza Bra. Definitely the right call, as this is a pretty quiet area at night yet close to shops and restaurants. Definitely one of the best affordable boutique hotels in Verona.
Here are some other Verona hotels we adored:
Corte Realdi Luxury Rooms: With only 6 rooms, Corte Realdi Verona is an intimate boutique hotel set in a 17th-century building. Located a mere 400 meters (1300 feet) from gorgeous Piazza delle Erbe.
Il Relais: this 4 bedroom boutique hotel is set in the 19th-century Palazzo Tommasi in the heart of Verona, opposite the Castelvecchio Castle. A bit further from the Centro Historico but the luxury totally makes up for it!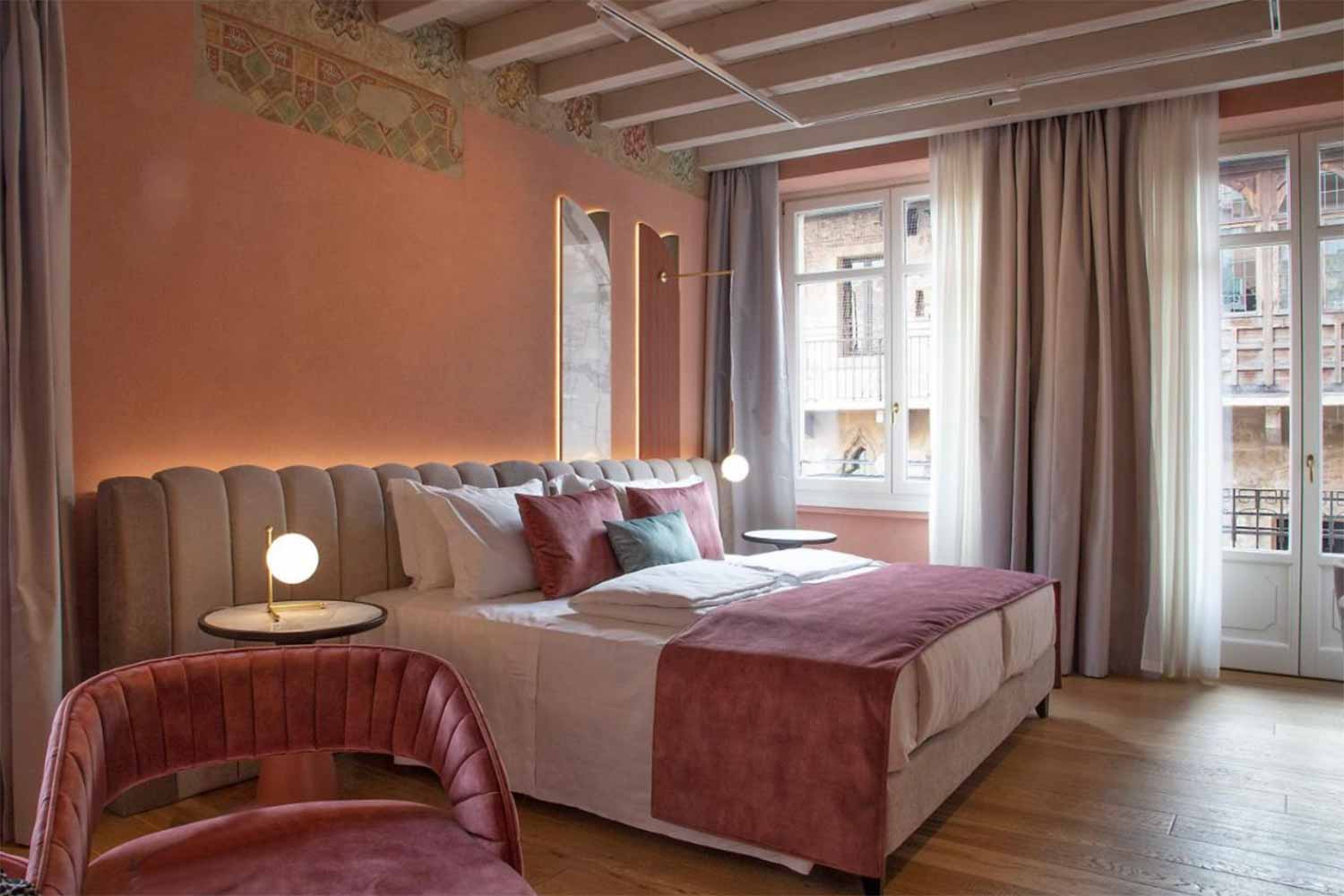 Relais Balcone di Giulietta ****
Price as from 173€ per night
Located right next to Juliet's balcony and just 400 meters from Via Mazzini in Verona, the hotel offers free WiFi, express check-in, and check-out services. This is the epitome of romance if you're looking for an intimate stay with your other half. Guests can enjoy a hot tub and bicycle rental. The selling point of this hotel is that some rooms have a view of Juliet's balcony!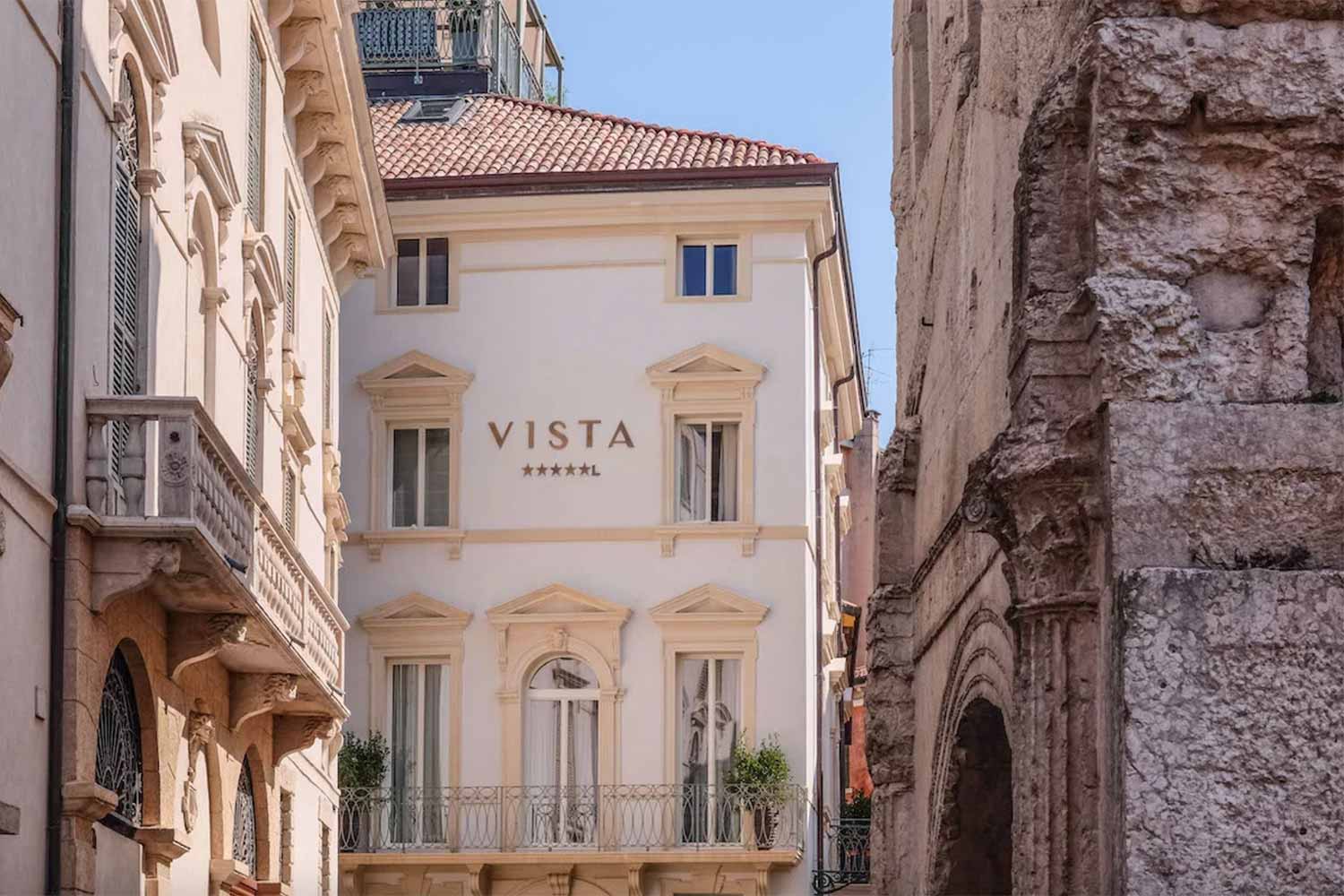 Vista Palazzo Verona *****
Price as from 930€ per night
The hotel provides 5-star accommodations with a spa center. Ideally situated in the heart of Verona, Vista Palazzo offers air-conditioned rooms, a fitness center, free WiFi, and a shared lounge. With a restaurant, terrace, sauna, and hot tub, the property ensures a luxurious stay. Guests can also enjoy room service and a concierge service.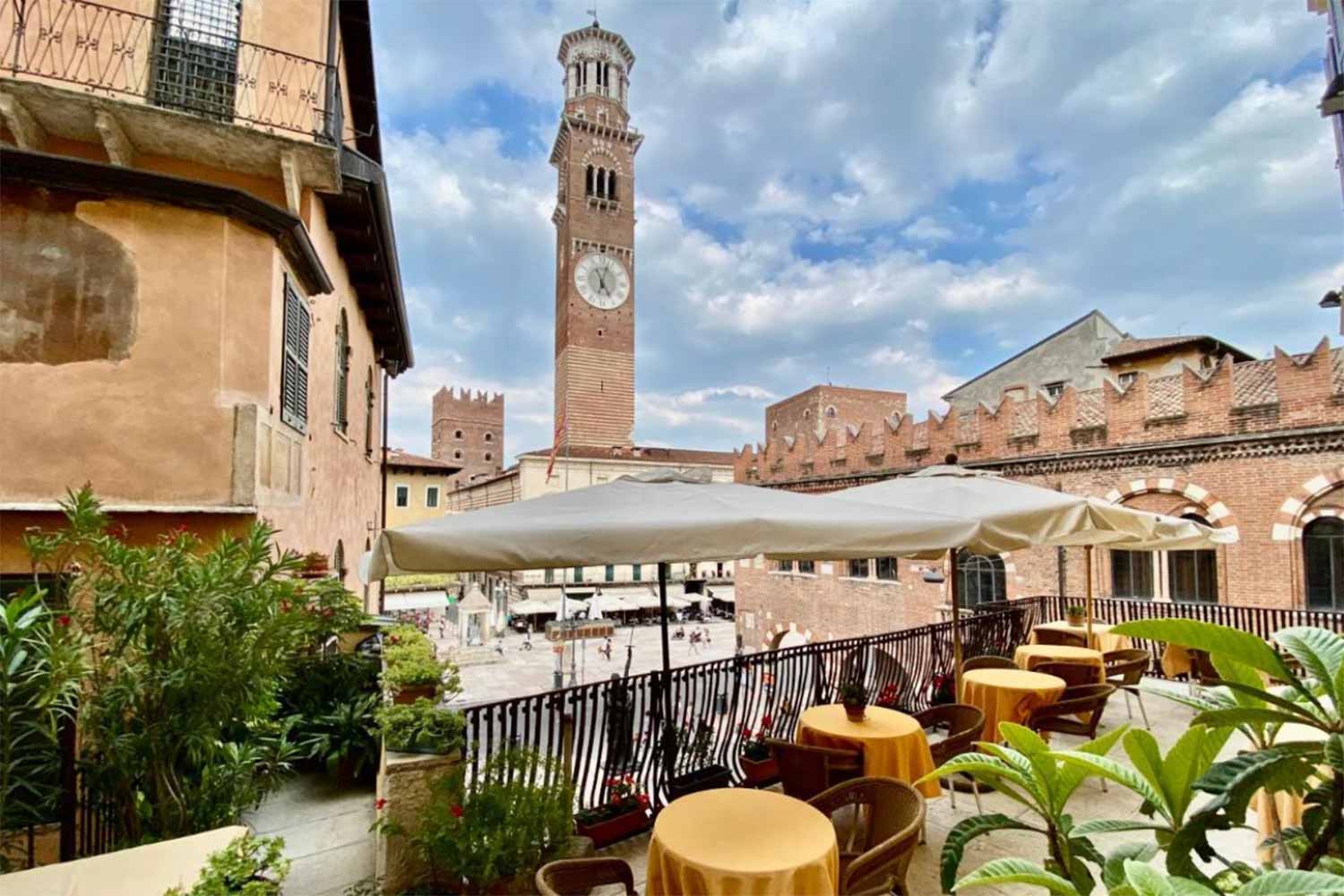 Hotel Aurora ***
Price as from 175€ per night
Located 150 meters from Juliet's Balcony, Hotel Aurora offers free Wi-Fi and classically furnished rooms with air conditioning, parquet floors, and a satellite LCD TV. The daily buffet breakfast on the city-view terrace is the absolute selling point of this hotel in our opinion. The Verona Arena is just 500 meters away, and Verona Cathedral is an 8-minute walk from the hotel.
Best places to eat in Verona
What to eat in Verona
What is worth your bucks though is Verona's exquisite food. The colourful streets in Verona's city center are the beating gourmet heart of Verona's traditional cuisine and definitely worth the calorie splurge.
Must-try Verona dishes are:
Risotto all'Amarone: the risotto gets its flavor and colour from the region's most powerful wine: Amarone della Valpolicella. The wine has vibrant red colour and an intense palette with aromas of dried fruits, tobacco, and dried spices.
Bigoli: the signature pasta of the Veneto. A bit thicker than regular pasta and can come with several types of sauces.
Pandoro: a Veronese cake that is popular during the Christmas holiday season (imo tastes great whatever time of the year 🤷‍♀️).
Where to eat in Verona
Is your mouth already watering thinking about these delicious Italian dishes? Enter Osteria Ponte Pietra: one of the best restaurants in Verona. And I'm not only talking about the food, the views of the Ponte Pietra from their romantic balcony terrace are to die for!
Osteria Ponte Pietra was where we tasted the best Bigoli during our trip. A Verona restaurant with a view and menu that's hard to beat!<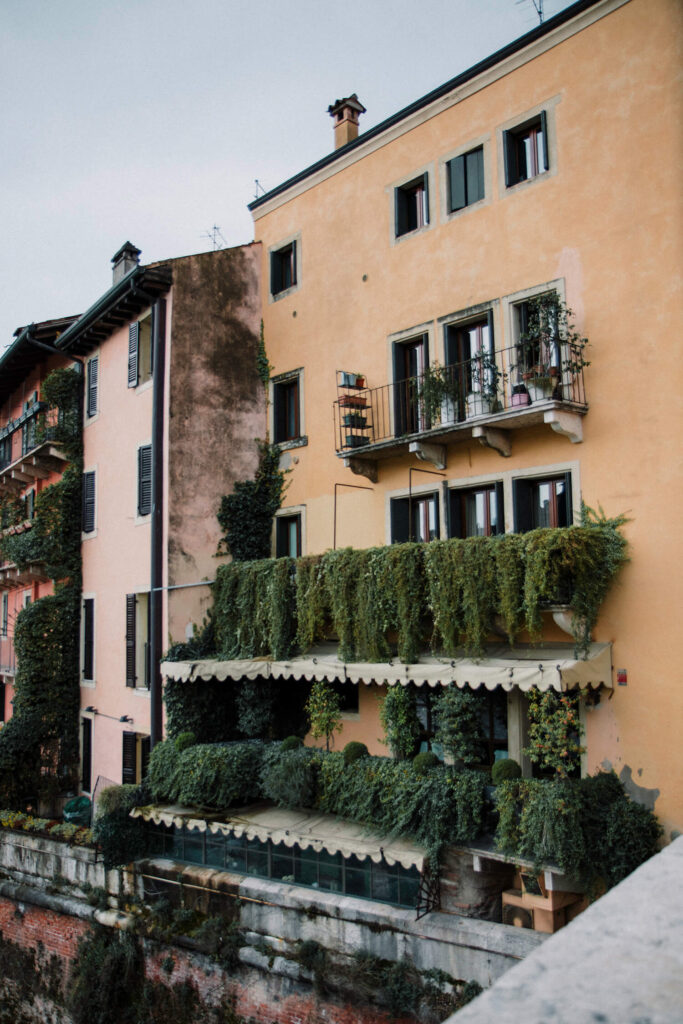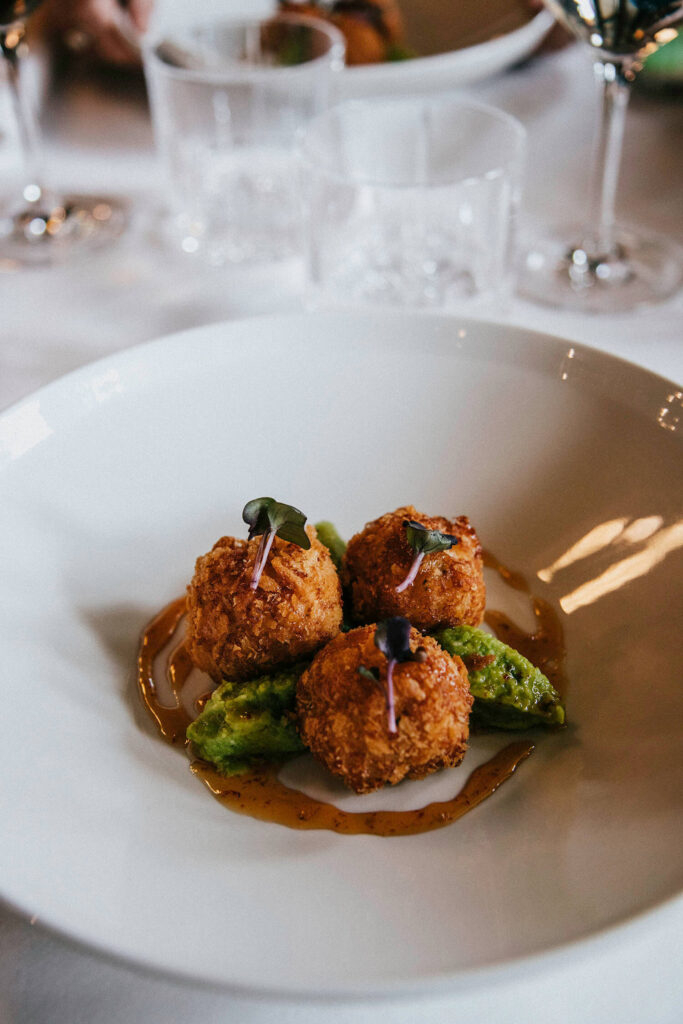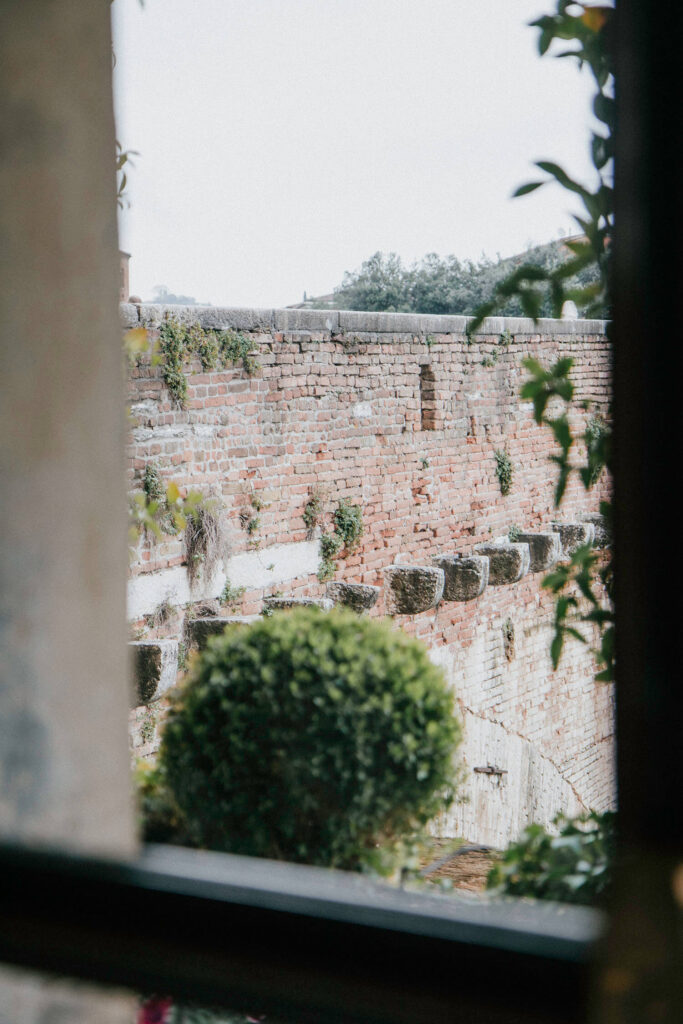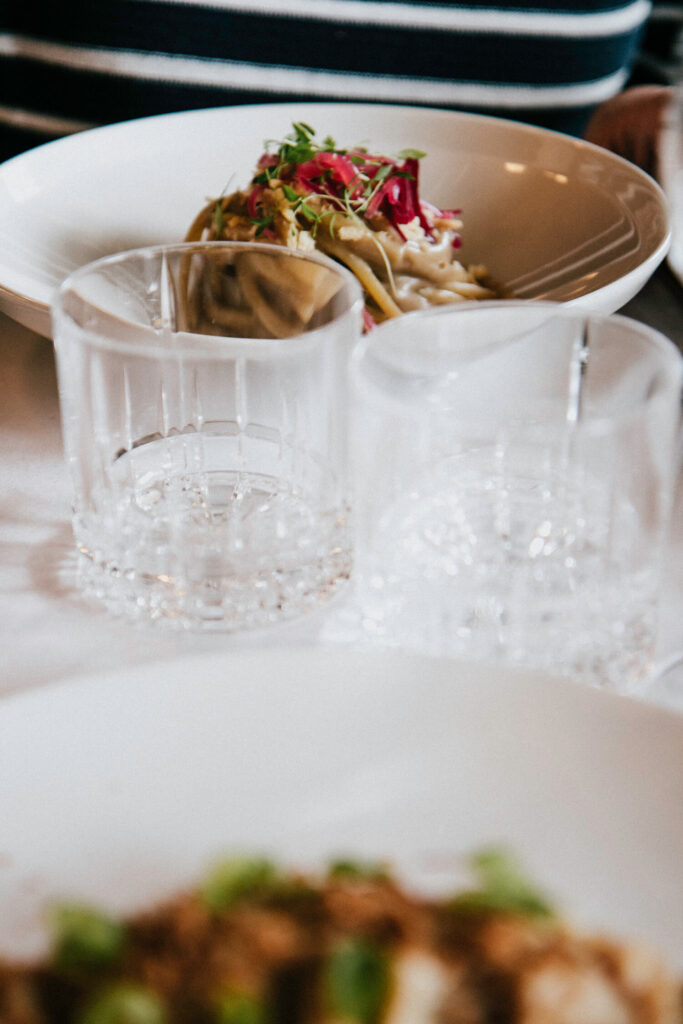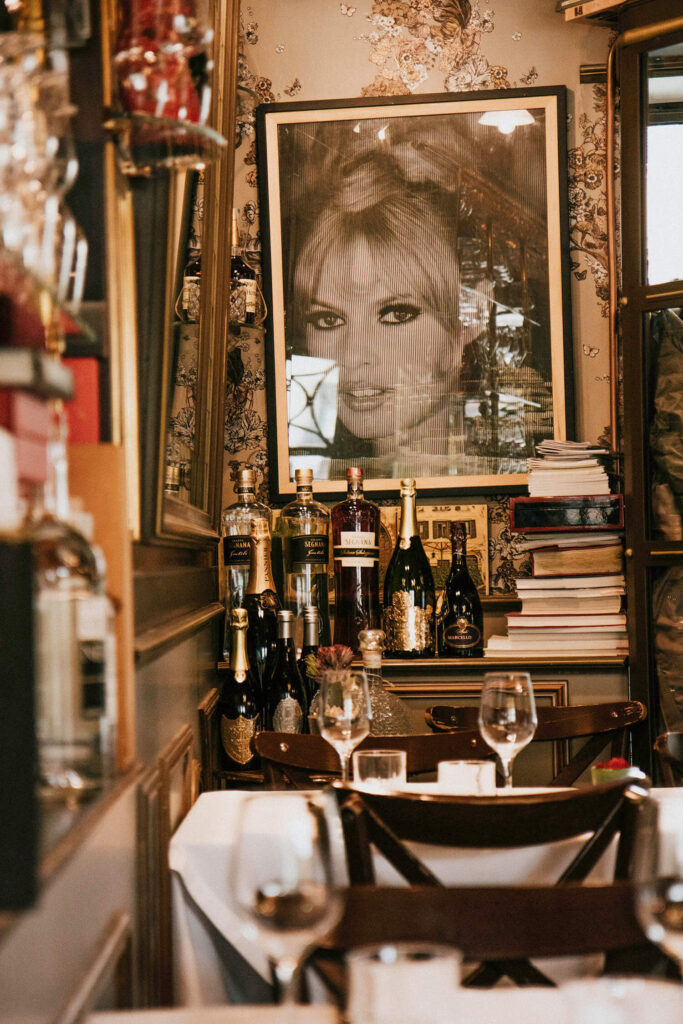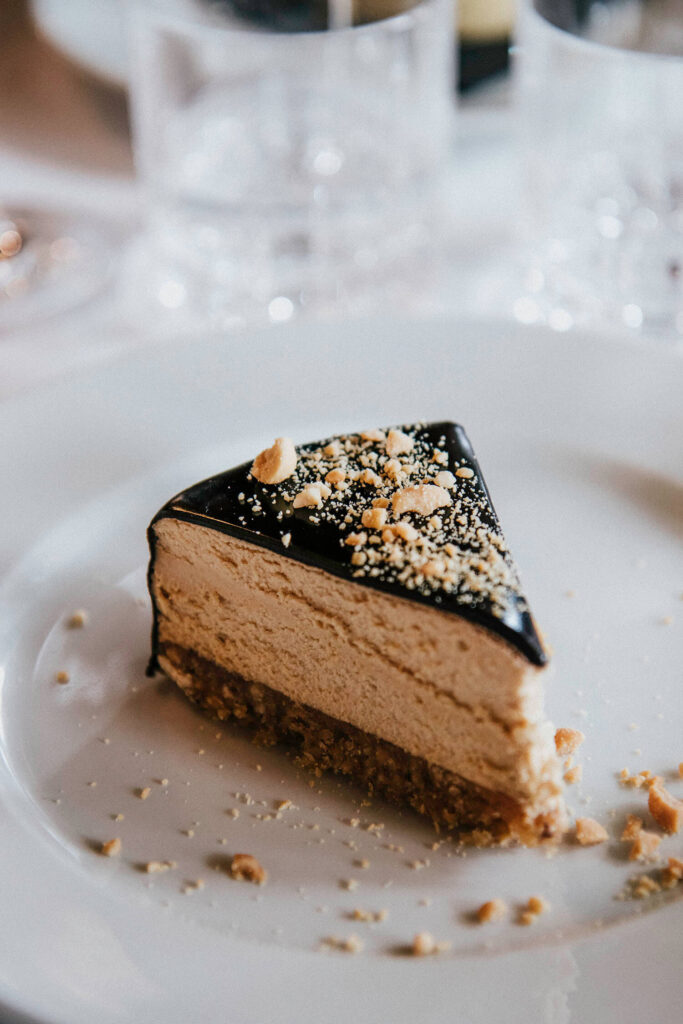 Craving for a tasty antipasti? Click your heals twice and get whisked away to Caffè Monte Baldo, one of the best authentic restaurants in Verona. Popular amongst locals for their incredible spread of appetizers at an incredibly reasonable price, we also credit them for a delicious Risotto all'Amarone. The courses are generous though, we never made it to secondi plati 😋.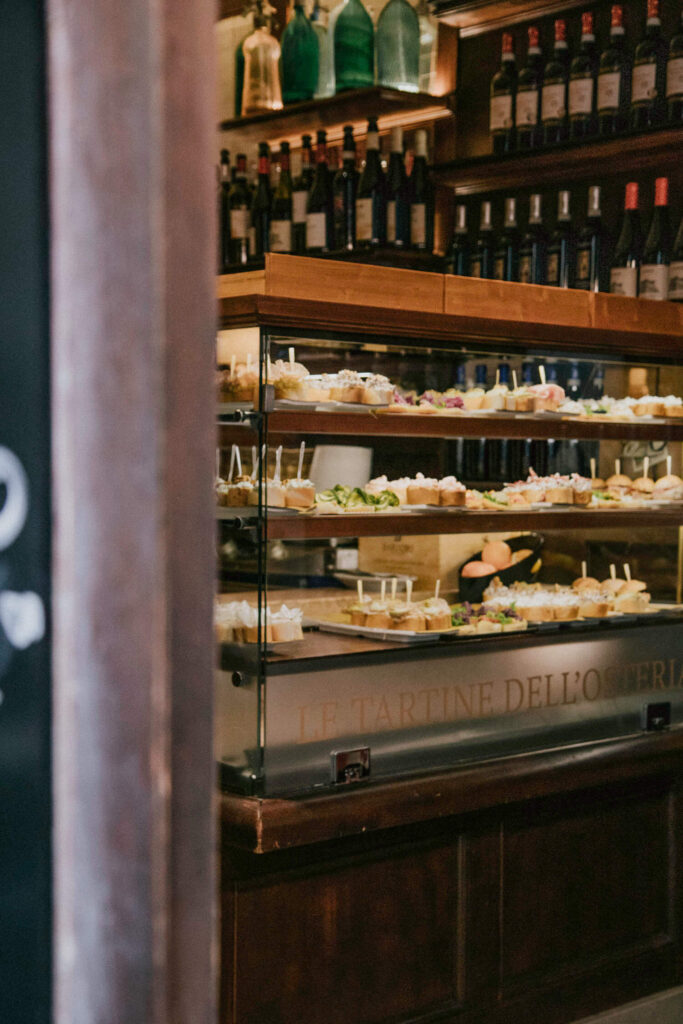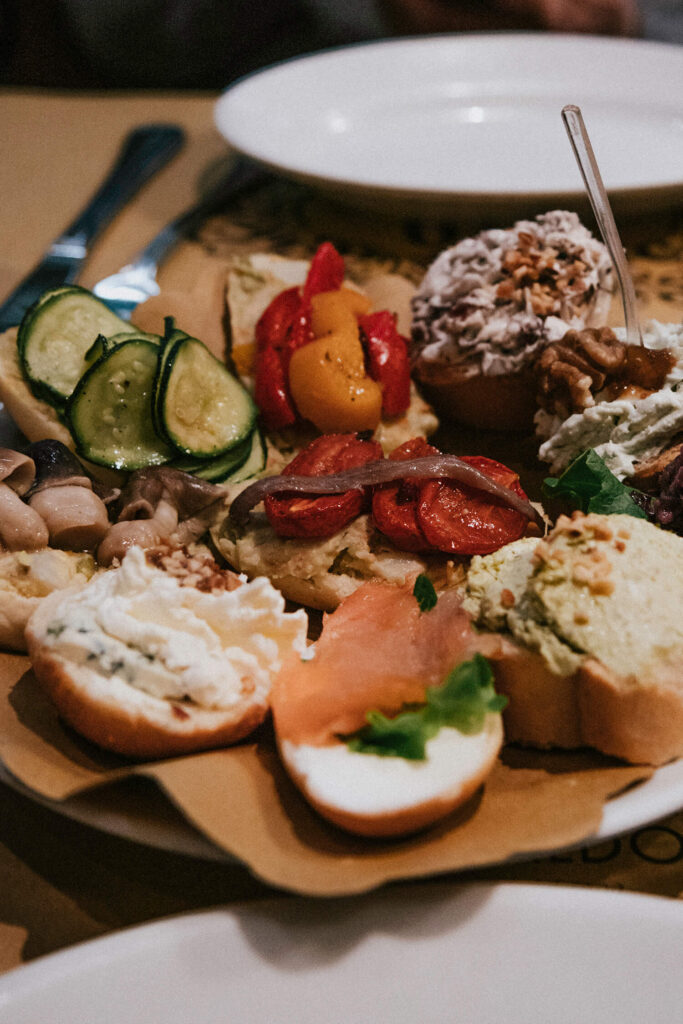 Room for desert? Stroll the romantic streets of Verona's historic city center to Gelateria La Romana for the best gelato in Verona. Indulge in the sweet sweet flavours of probably the best gelato you'll ever have 🍦. Or why not try to make it yourself? No better way to shamelessly feast on gelato when attending a cooking class like this one, right?
The best day trips from Verona, Italy
Spending a weekend in Verona or more? Here are some lovely day trips from Verona that you could take!
From Verona to Lake Garda
Did you know for example it only takes slightly more than one hour to go from Verona to Lake Garda? I mean, you can literally go from the most romantic "Romeo and Juliet" city in Italy, to the most romantic lake in Italy… all in one Verona weekend trip! You can book a private trip to Lake Garda with romantic boat trip from Verona right here.
Verona Wine Tasting
Or what about wine tasting? The rolling fields surrounding Verona hosts vineyards that produce gallons of ridiculously good wine for you to sip on 🍷. You can book a private wine tasting tour in Soava from Verona here.
So there you have it, our recommendation on best things to do in Verona. Are you ready to strap on your favorite walking shoes and hit the streets of Verona? Which stop on this self-guided free walking tour of Verona are you most excited to visit? Drop us a comment below!
LOVE IT? PIN IT!