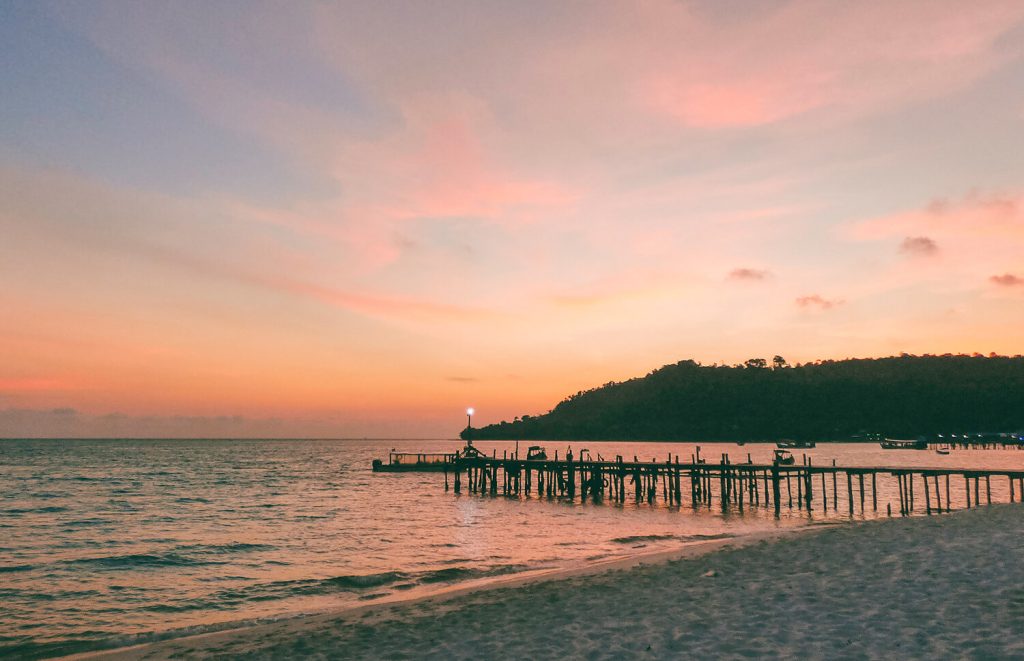 * This post contains affiliate links for which we earn a small commission, but come at no extra cost to you. If you're planning a trip to Koh Rong, please consider making your booking through these links. You will help keep this site running and keep it add free. Thanks for your support!
---
All you need to know about Koh Rong, Cambodia
---
For some years now, I have been on a quest the find the perfect beach. That kind of beach that perfectly hugs my buttocks in sandy bliss while I sip my coconut water fresh from the fruit (with mandatory pink umbrella of course).
If I had to dream up one place -the ultimate place- to unwind, then Koh Rong would be my dream come to life. Rich in seemingly never-ending beaches, crystal clear turqoise waters, a tropical jungle-clad interior and minimum crowds. I guess it was a match made in heaven right from the start ??‍♀️❤️. The scattered islands on Cambodia's south coast seem to have been created with one holy purpose alone: being my ultimate beachbum heaven!
WAIT.
Holy cow, is this it? Is this the end of my quest?
For my sake (for all our sakes really), I hope I can lift my sandy bum out of my hammock long enough to continue our discoveries around the world. Never underestimate the power of palmtrees and pretty blue waters – just a single look can turn even the most active grown woman into the most determined couch potatoe ever (aka the title of my future autobiography).
Thinking of adding Koh Rong to your
trip to Cambodia
? Don't hesitate, just do it! If it's postcard-perfect beaches you're after, you're at the right place. In the meantime, let me whisk you away to our days on the island.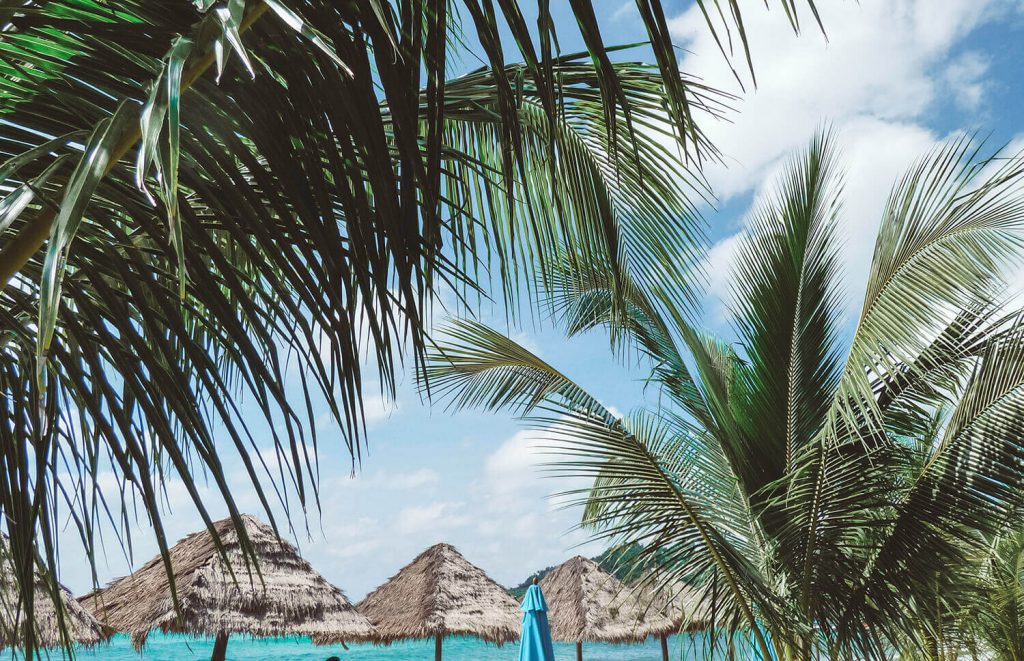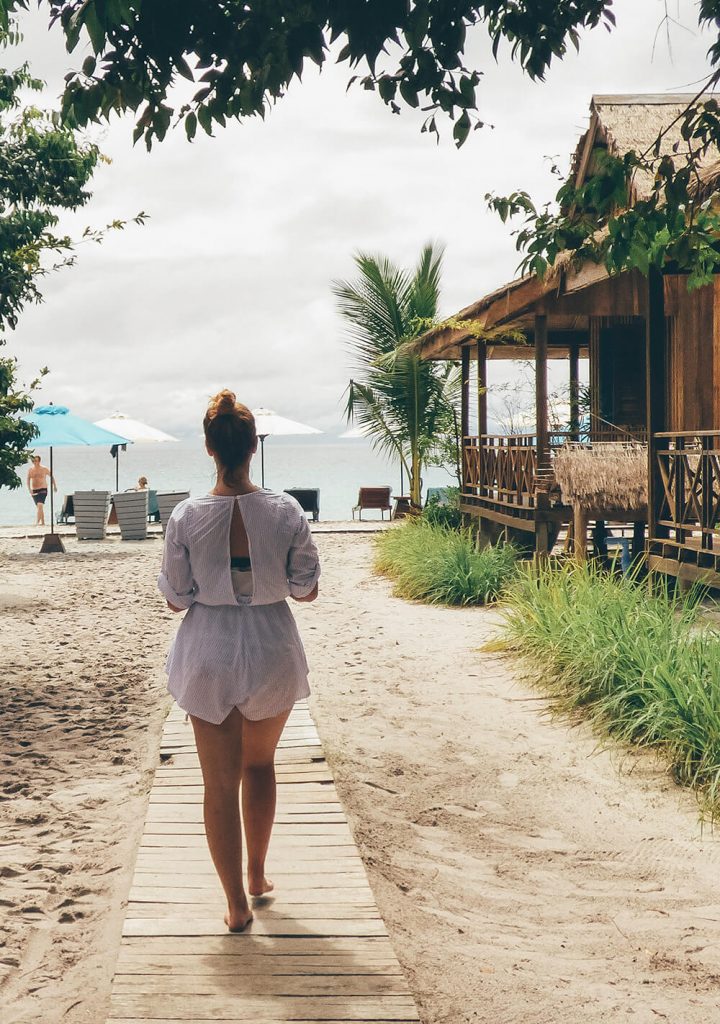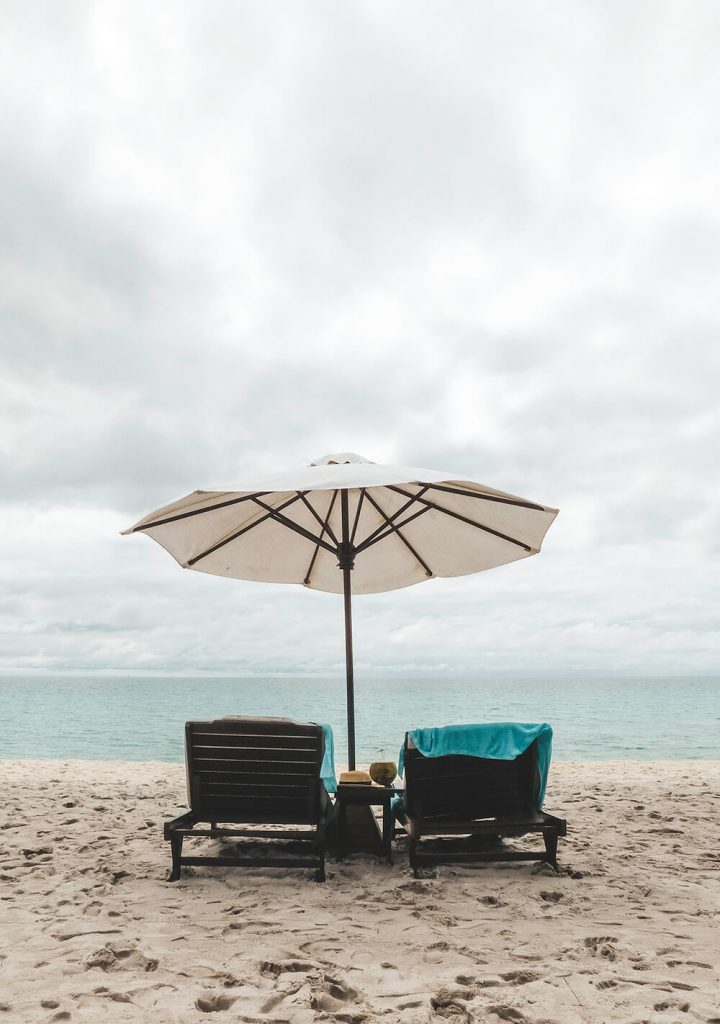 ---
Top things to do on Koh Rong
---
Though Koh Rong was the setting for one of
Survivor
's seasons, if it is an action packed trip you're planning you're better off channeling your inner Lara Croft when visiting
Angkor Wat
back on mainland. I had no trouble channeling my inner Homer Simpson though.
Discover secluded beaches
Yo, Koh Rong houses some uh-mazing beaches! Koh Rong's magically beautiful beaches with pure white sand and turquoise water are unreal. I almost melted into a puddle of stupid joy when our speedboat docked at the Sok San pier on Long Beach. This was real. This was actually happening. My first tropical turqoise water and perfect white sand beach island gettaway! I basically just stood there, smiling like a crazy person.
Expect perfect tropical island conditions, as long as you are traveling in the right season of course. This is when it is winter in Europe and dry season in Cambodia. It's still a pleasant stay during the rainy season though the water will look a bit greener.
Long Beach, 4K beach and Palm Beach are the most scenic. When staying at
Sok San Beach resort
, Long Beach is just a roll out of bed away! If you prefer staying at the Koh Tuich Village, you'll get to 4K Beach after a 15-minute easy stroll. To get to Palm Beach, you'll have to find yourself a boat to take you there as it is currently undeveloped.
Setting Sail with Adventures Adam
While I do love to bake like a pancake on the beach once in a while, you know flipping myself around every few minutes until I'm golden brown, sometimes I did feel the need to get my activity levels up a bit. For a few dollars you can spend an entire day at sea. Possible activities are fishing, snorkeling and discovering undeveloped beaches. It's a great day out and it doesn't break the bank. Expect to pay around 10$ for an entire day including lunch and a beer. Just the way we like it. If you're into a surprise day our, ask around for
Adventures Adam
or plan a trip through his website. He basically has no fixed schedule and takes you on a tour around the island, stopping wherever the waves and his adventureous heart take him. Count on spending about $20 for this adventure.
Snorkling with luminous plankton
In addition to chillaxing on the beach and floating around on the ocean, there's a special kind of natural phenomenon that happens on Koh Rong's shoreline. A certain type of plankton which lights up when in rapid moving water. You can swim with the plankton on one of the organized tours but you can also try to do it yourself. Find a a dark part of a beach (no or minimum light pollution) and swim a few meters into the ocean. You'll find yourself surrounded with little points of bright blue-ish light. Bring your snorkeling gear as you'll see them much better under water. A truly magical moment!
---
Where to stay on Koh Rong
---
The
Sok San Beach Resort
proved to be the perfect host during our stay on Koh Rong. We opted for a stay on Long Beach instead of Koh Tuich Village as we were looking for a more intimate experience of the island. You know, a romantic stay on a bounty island and all that. The Sok San Beach Resort has bungalows starting from $92 per night. If you're looking to immerse yourself into pure luxury,
The Royal Sands Koh Rong
might be the perfect fit for you! It's also located on Long Beach and offers a real luxurious and high-end experience.
If your budget is a bit tighter or you'd prefer to be closer to the lively Koh Tuich Village, the
Gauguin Resort
merits your attention. It's the place we would've picked if we would've stayed near Koh Tuich.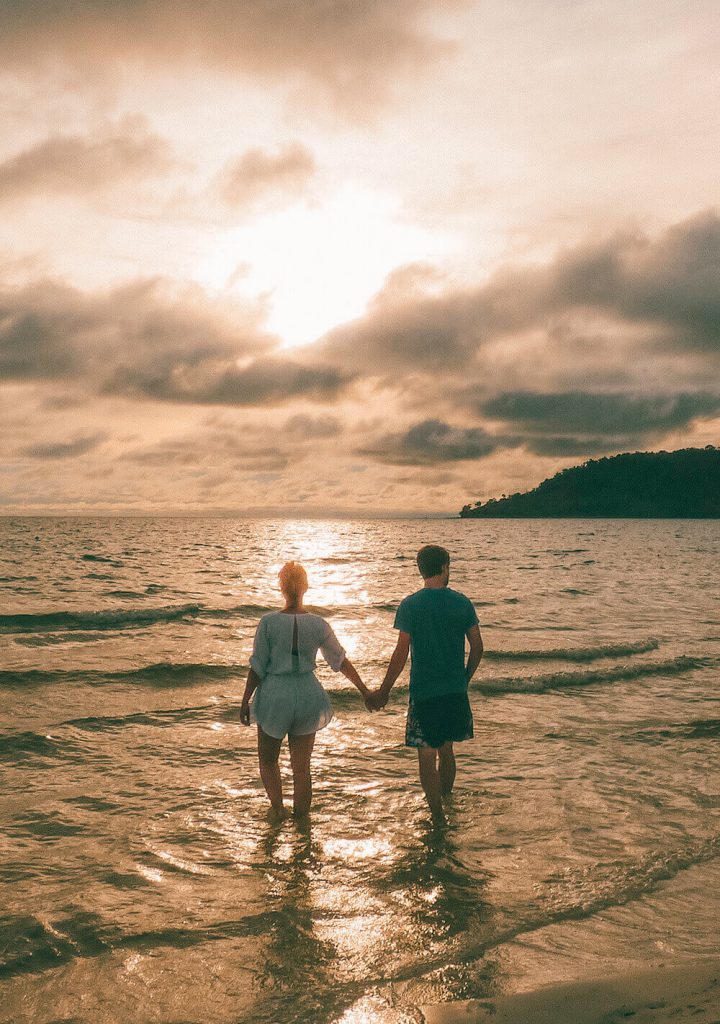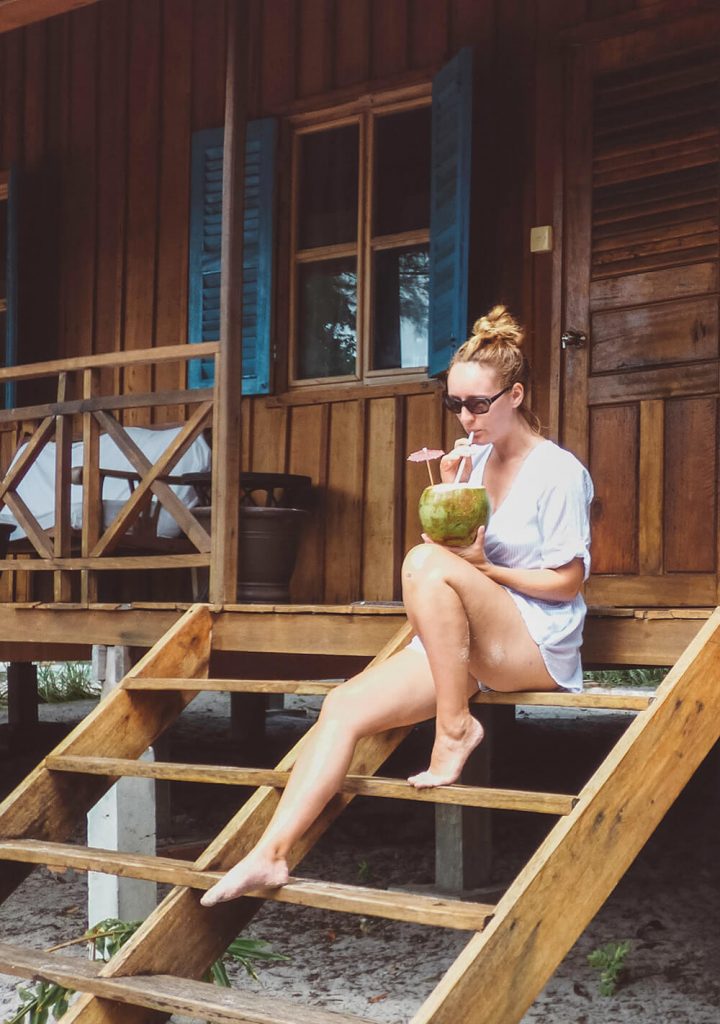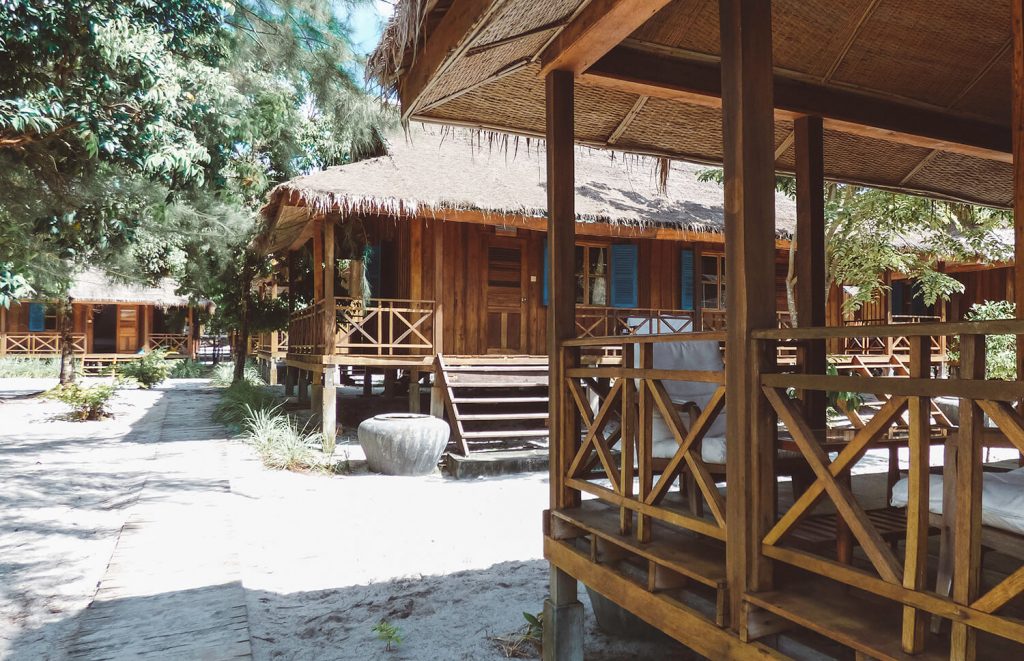 ---
How to get to Koh Rong
---
The easiest way to get to Koh rong is by getting yourself on a relivately cheap flight to either Bangkok or
Phnom Penh
and to travel from there to the coastal town of Sihanoukville. If you're already traveling through Cambodia, like we did, you can reach Sihanoukville by nightbus from
Siem Reap
. We booked our ticket through
Giant Ibis
.
Once you're in Sihanoukville you can easily buy a ferry ticket to Koh Rong or Koh Rong Samloem. A return ticket will cost you about $20 and you can choose when you want to travel back to Sihanoukville. The ferry will drop you off at Koh Tuich Village, the backpackers area of the island. If you stay anywhere else such as in Sok San Village you can get a texi biat from here. If you're staying at the
Sok San Beach Resort
, you'll be boarding a different speedboat that brings you directly to the resort.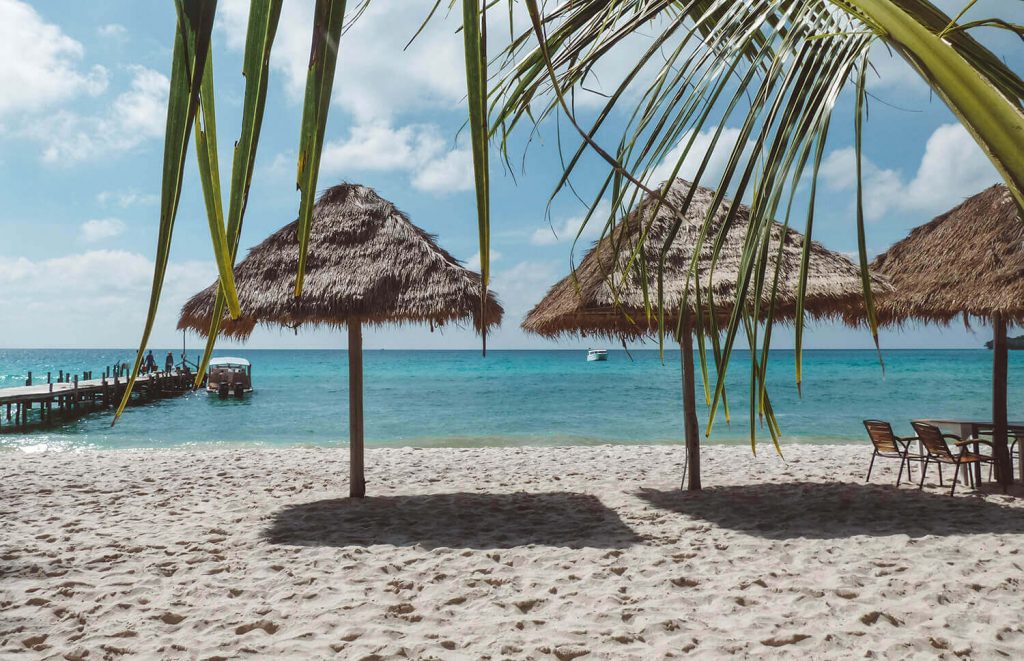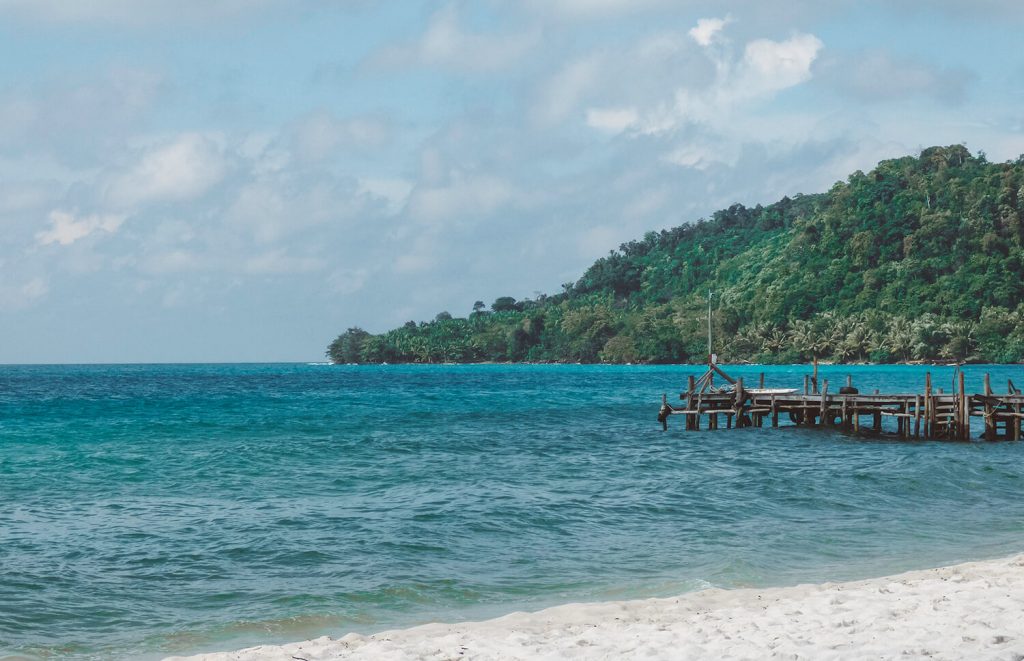 ---
We stayed three complete days on Koh Rong and have loved every single minute of it! You can choose to stay either at Long beach or in Koh Tuich Village or decide to split your time bteween both locations. It's all good man.
So far, Koh Rong is still a relatively undeveloped island, though it is changing fast. A major foreign investor has some big plans for the island and is even planning on building an airport. If you like to experience Koh Rong as it is today – tranquil and mostly untouched – don't wait too long!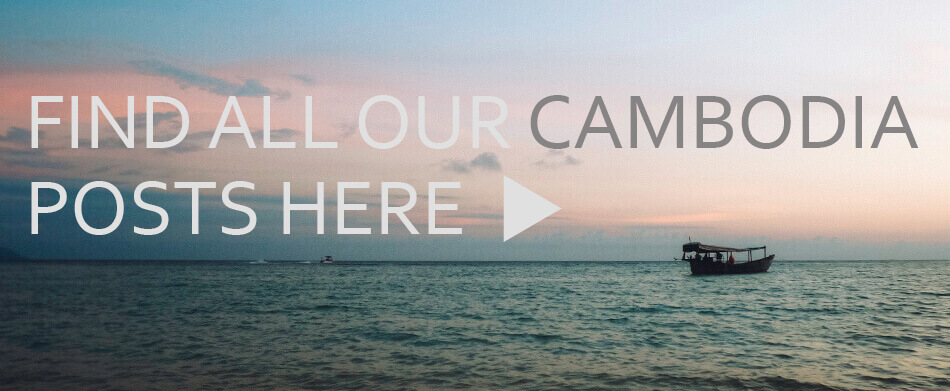 ---