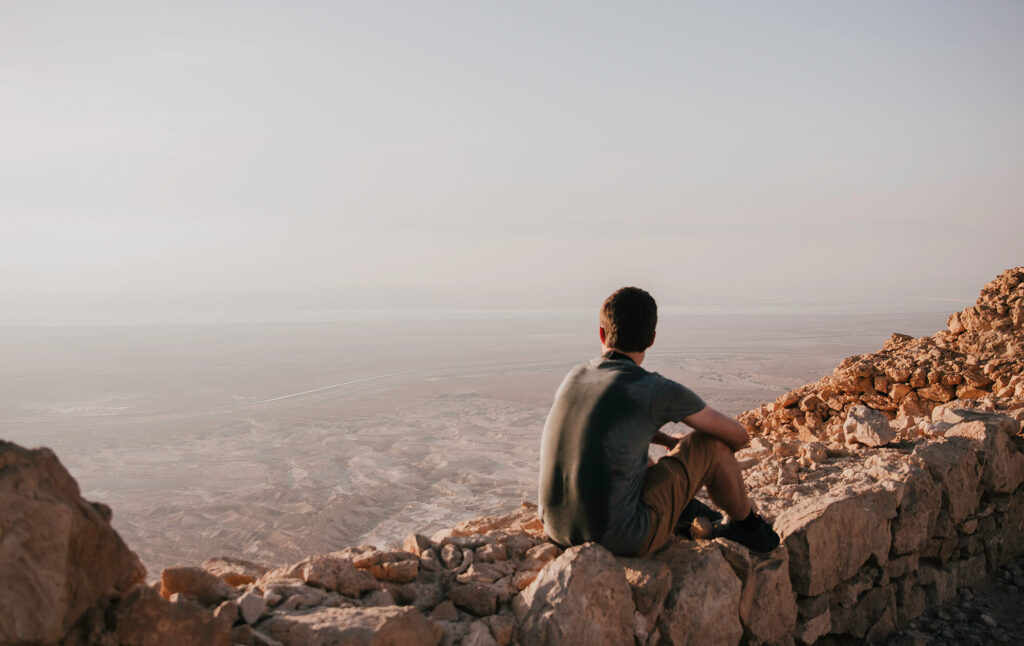 The Negev Desert, located just a mere few hours drive from Tel Aviv, Israel, is the kind of raw and dusty paradise we were looking for when booking our tickets.
If you've been following along here for any stretch of time, it's no secret we love desert landscapes. Kristof and I have spent countless days exploring the
Atacama Desert
back on our Andes road trip in Chile, and it was exciting to finally experience the Negev Desert linked to so many religious and historic tales in Israel!
Have you ever fallen head over heels in love with a place? That's the epitome of travel isn't it? And boy, we fell for Israel HARD.
We rented a car from
Tel Aviv
and even after half an hour we could already see the rocky Israeli desert catching up on us. After some research we selected a boutique self catering cottage in Zuqim for the next few days.
Midbara Cabins
was the perfect glamping hideout in the middle of the Negev Desert and centrally located amidst all the surrounding attractions and promising beautiful views!
It felt like home right after the first day on the road. Back to our most beloved landscape: the desert!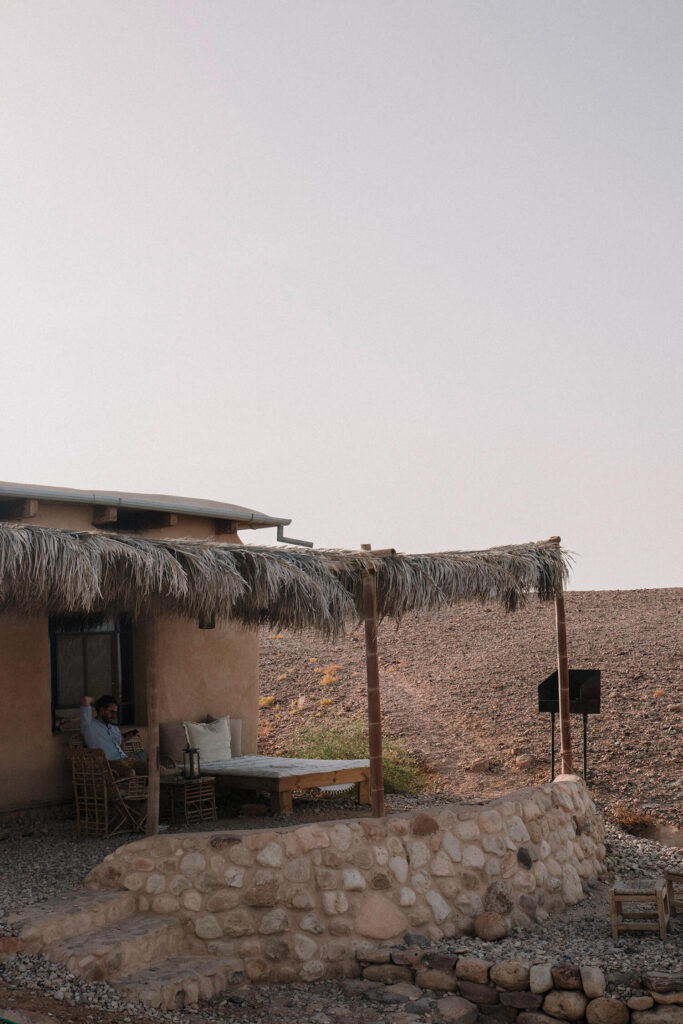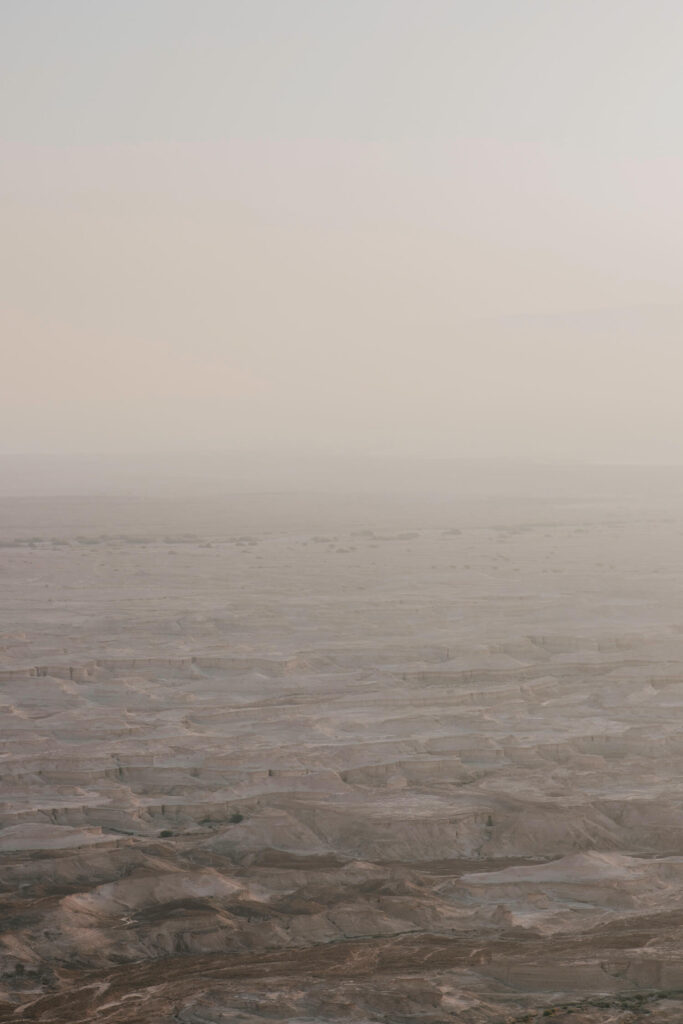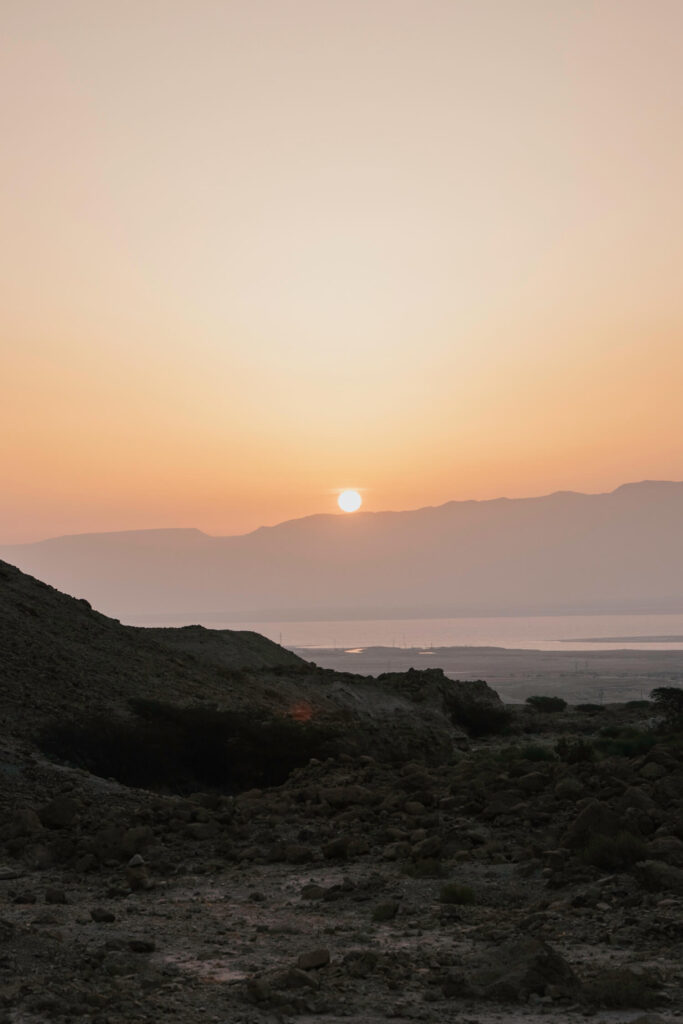 Are you ready to discover more of Israel's Negev Desert? Take a look at what took our interest on our two night, three days stay in this stunning part of the world.
There is a really good chance that this post contains affiliate links. If you click one of them, we may receive a small commission (for which we are deeply grateful) at no extra cost to you.
---
Hey, thinking about planning a trip to Israel? Here are some posts that might be useful for your trip:
---
Negev Desert: the ultimate Israeli desert road trip
---
Sweet teas and falafel are not to be missed in Israel, but pleasant surprises like raw unspoiled landscapes and epic romantic sunsets every evening just dazzled us. The days felt anchored by the incredible sights that set apart this region. It is home to landscapes that are completely unique to this part of the world!
Take a look at our road trip guide to the Negev Desert and see just why you'll want to visit this part of Israel too!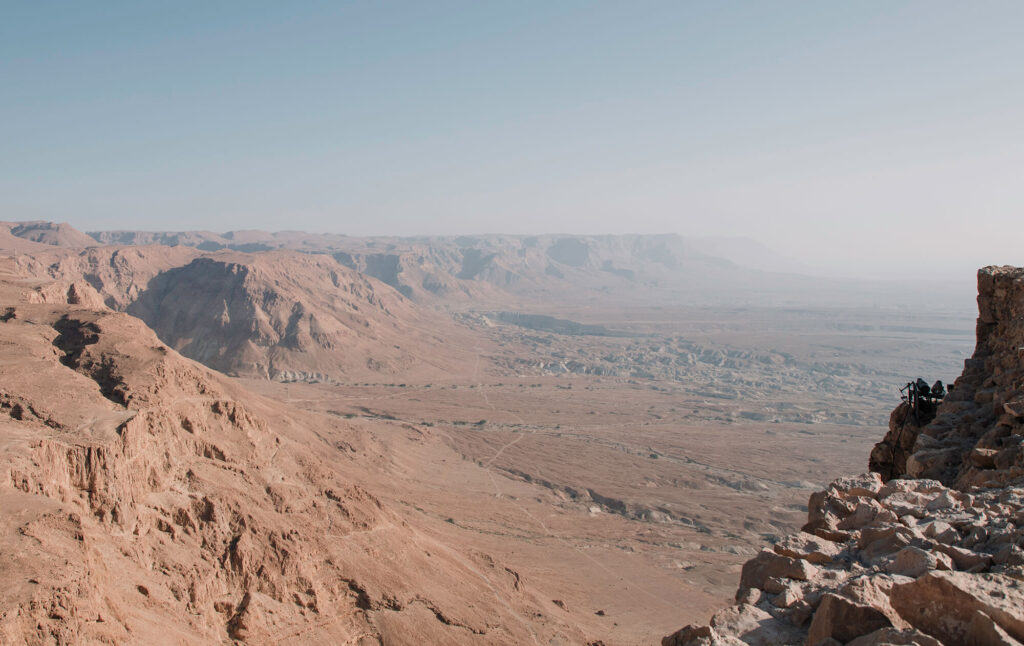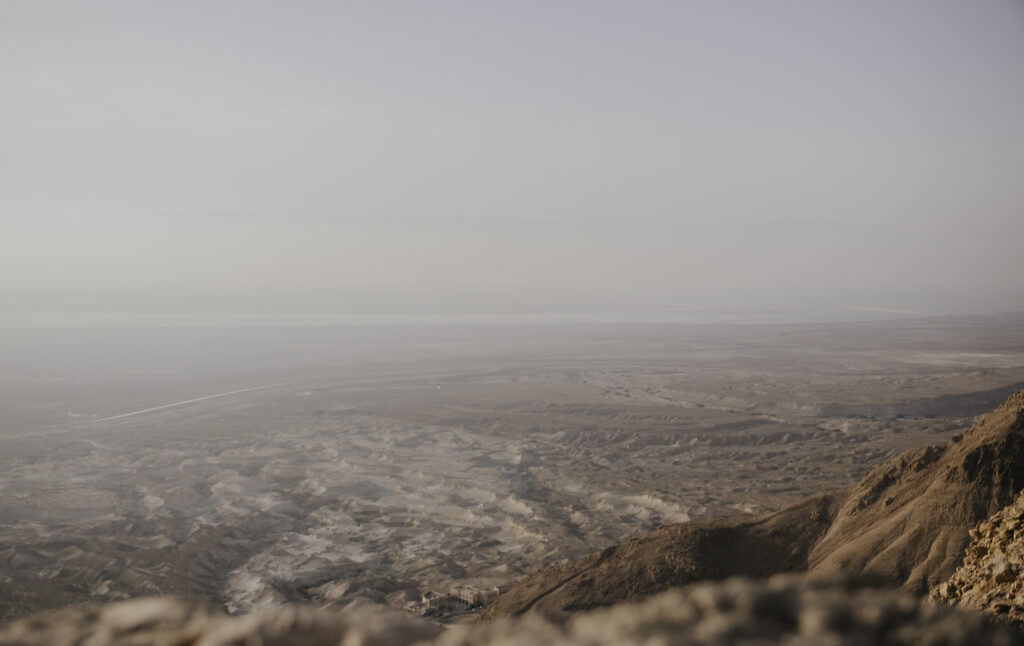 To get from Tel Aviv to the Negev Desert, or from Jerusalem for that matter, there are a few options. It all depends on what part of the Negev Desert you want to explore, it covers half of Israel after all.
By plane:
The newly opened Ramon International Airport Eilat has an hourly service from Tel Aviv and handles all flights coming to Eilat, the southernmost part of Israel near the Red Sea.
By bus:
From Tel Aviv or Jerusalem you can easily catch a bus to Be'er Sheva or Eilat. Towns and villages throughout the Negev are connected by bus to Be'er Sheva, but service could be infrequent. Try to book your bus ticket in advance in order to avoid having to stand the entire way there.
By car:
What some folks don't realize is that there's more to the Negev Desert than just Masada and the Dead Sea! It isn't just a remote box of sand, there are roads. So, you can easily take a
rental car from Tel Aviv
directly to your destination in the Negev Desert and explore surrounding attractions from there, which is what we did.
Two highways for private vehicles cross the Negev from north to south:
– Route 90: The eastern Jordan Valley route from Jerusalem past the Dead Sea to Eilat.
– Route 40: The central route, through Be'er Sheva and Mitzpe Ramon (Israel's Grand Canyon), which will merge with the eastern route.
We suggest make a true Israeli desert road trip out of it and driving south on Highway 40 towards Eilat from Tel Aviv. The landscape becomes strikingly beautiful shortly south of S'de Boker (home and gravesite of David Ben-Gurion). This road actually runs right through the Makhtesh Ramon – Israel's 'Grand Canyon'. We took Route 90 on our way back to take in the sights near de Dead Sea. The infrastructure and roads are in excellent condition and even better than back home in
Belgium
.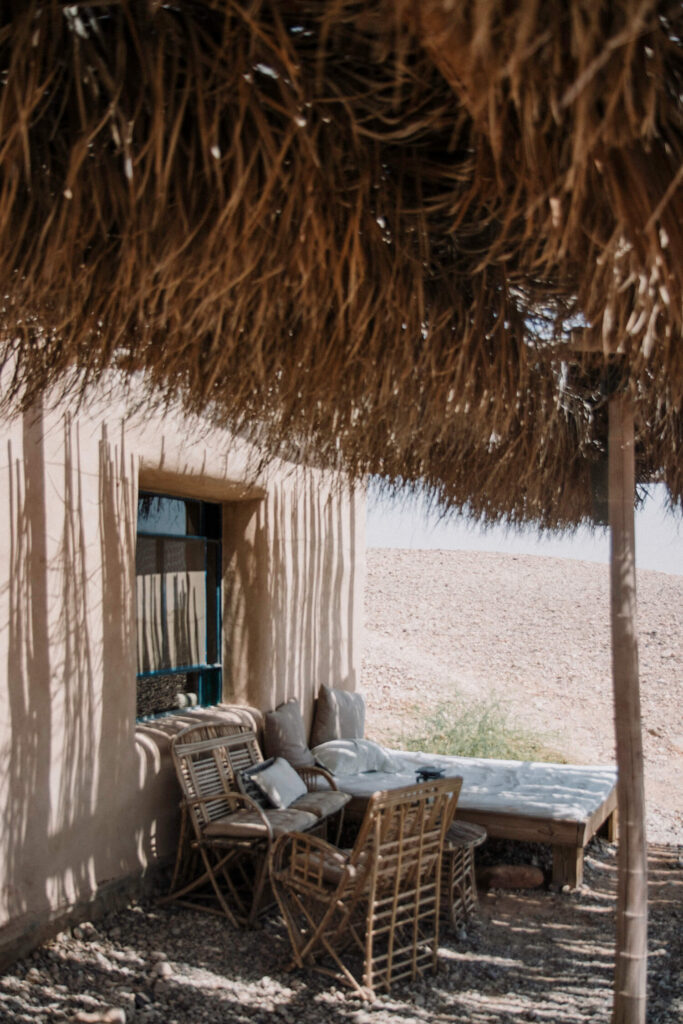 Dead Sea and Masada day tour vs. overnight stay in the Negev Desert?
If you're short on time or just looking to spend the day floating in the Dead Sea, you might want to head to the southern part of the Dead Sea near Ein Bokek. A day tour to the Dead Sea and Masada,
like this one
, might be right up your alley!
Not venturing deeper into the Negev Desert might be a mistake though.
To truly experience the remoteness and beauty, go glamping under the stars like we did at
Midbara Cabins
. Hook up a rental car in Tel Aviv for 3 days and explore the desert on your own!
Why wouldn't we recommend one of the most popular day trips from Tel Aviv or Jerusalem? Well, because it is kinda rushed and touristy. We preferred to float into the Dead Sea on our own schedule and loved hiking the Snake Path up to Masada on our own pace.
So, bottom line? The best way to visit the Negev Desert is to stay overnight! By choosing to stay overnight in the Negev Desert, you can still support the local economy and you can can do it at your own leisure. That's a win/win guys!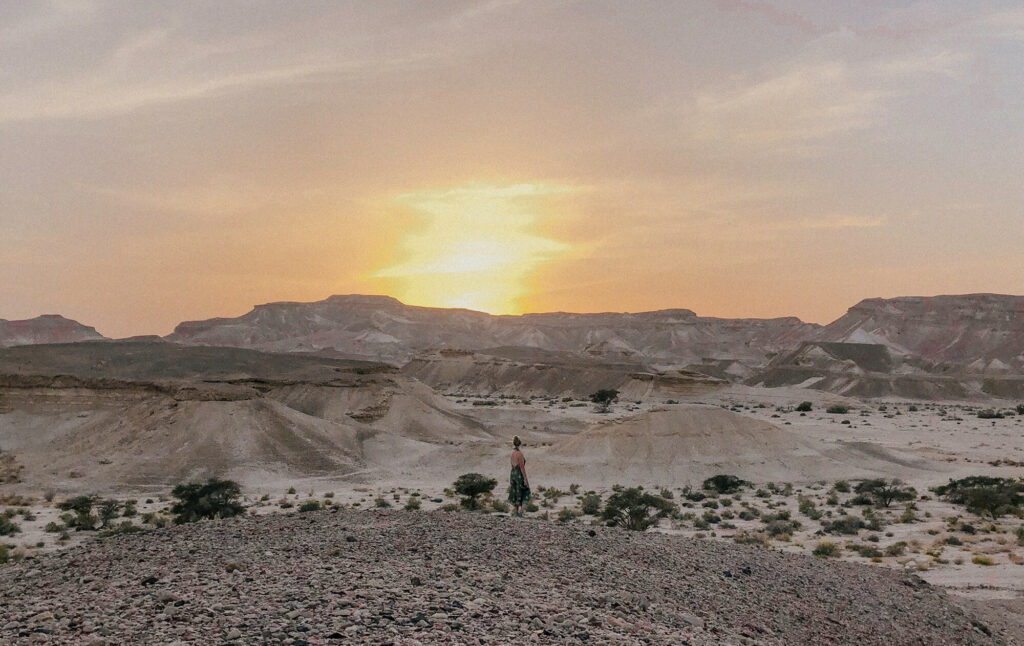 Where to stay in the Negev Desert
Tucked away in the peaceful village of Zuqim, south of the Dead Sea, is
Midbara Cabins
. The beautiful boutique resort is located, together with 3 other resorts, right next to the Nachal Ashosh (River Ashosh) reserve and guarantees spectacular views!
We were seeking peace and quiet, a hammock, a private pool and vistas that would blow our socks off.
Midbara Cabins
was exactly what we needed!
This small family-run property has 13 handmade mud huts peppered throughout the desert landscape. Each mud hut is individually unique. Equipped with all modern amenities you need to enjoy your stay, most cabins also have a dumpling pool to cool off, a hot tub or chilly desert evenings, a barbecue and deck chairs to enjoy the most spectacular scenery and sunsets you'll ever experience.
Bonus: a traditional Israeli breakfast spread is delivered straight to your room for 60NIS per person.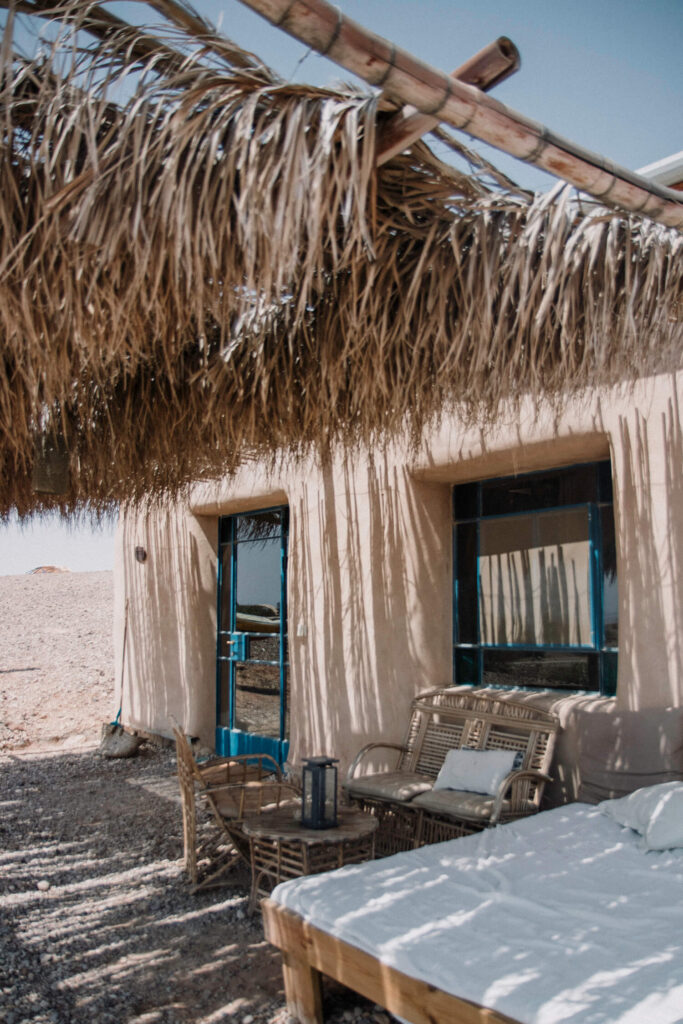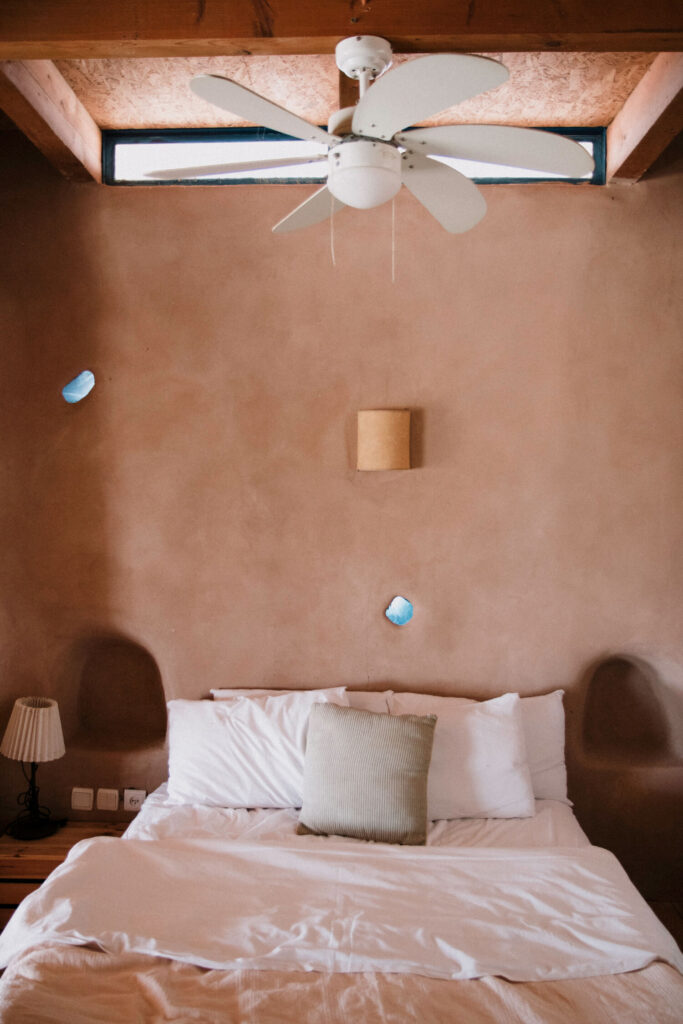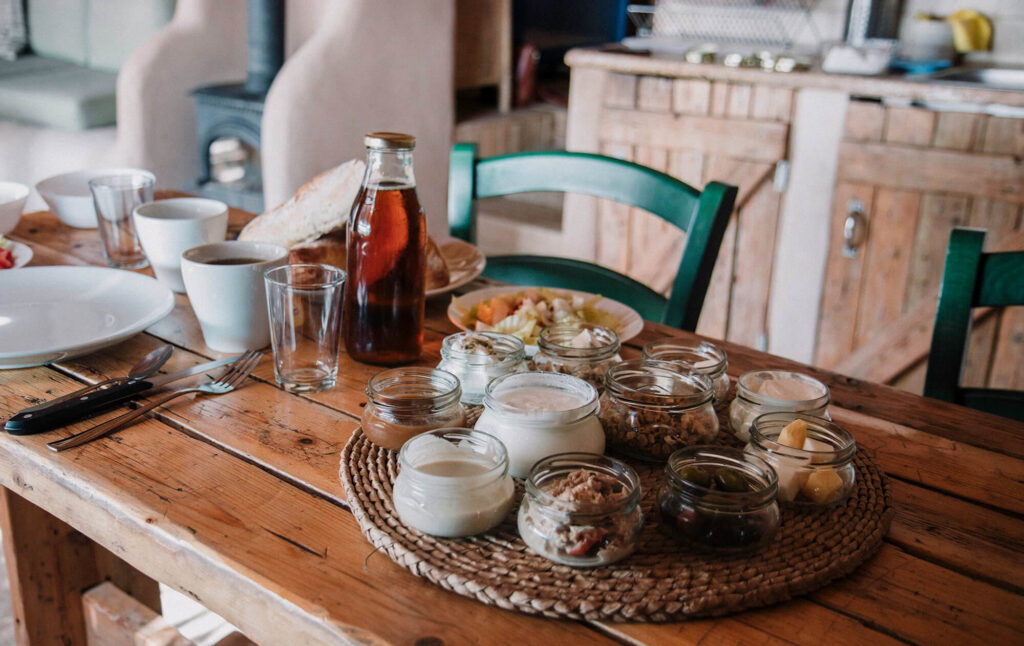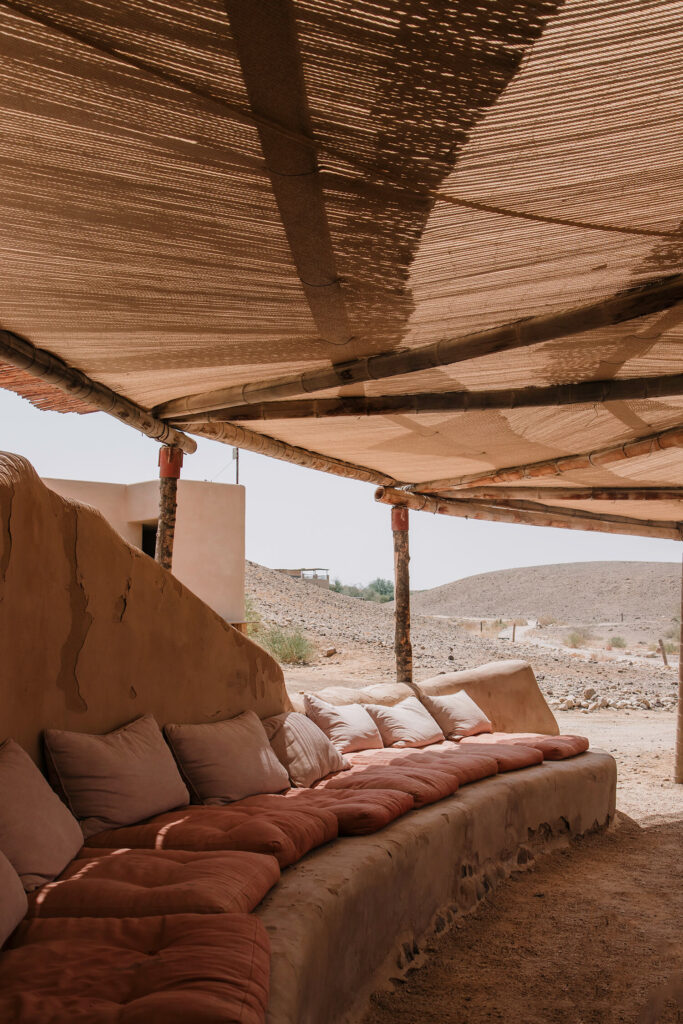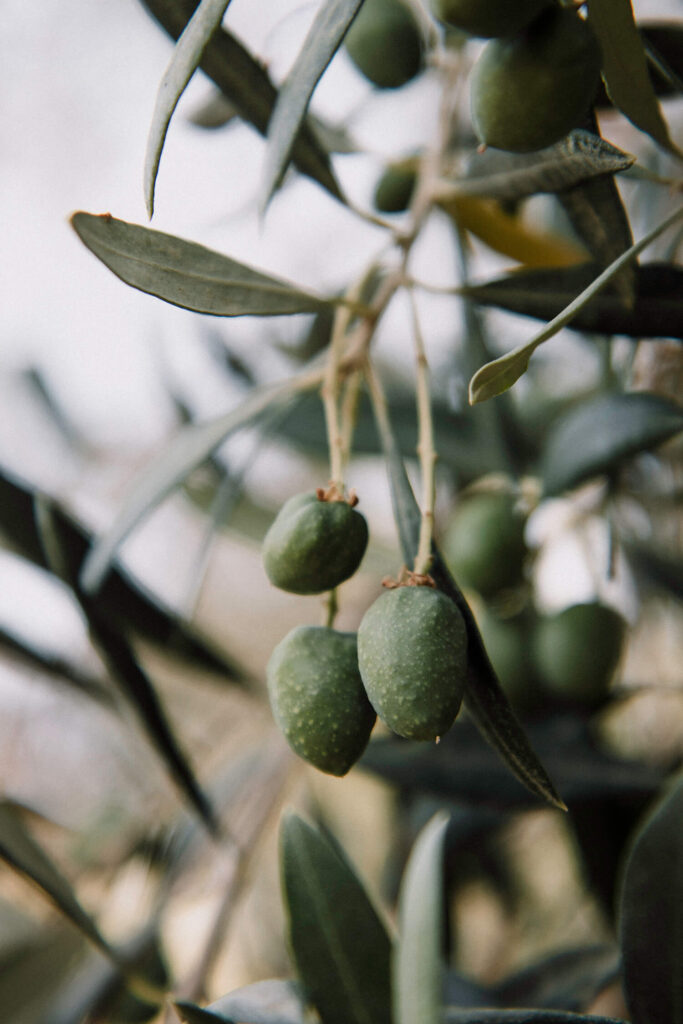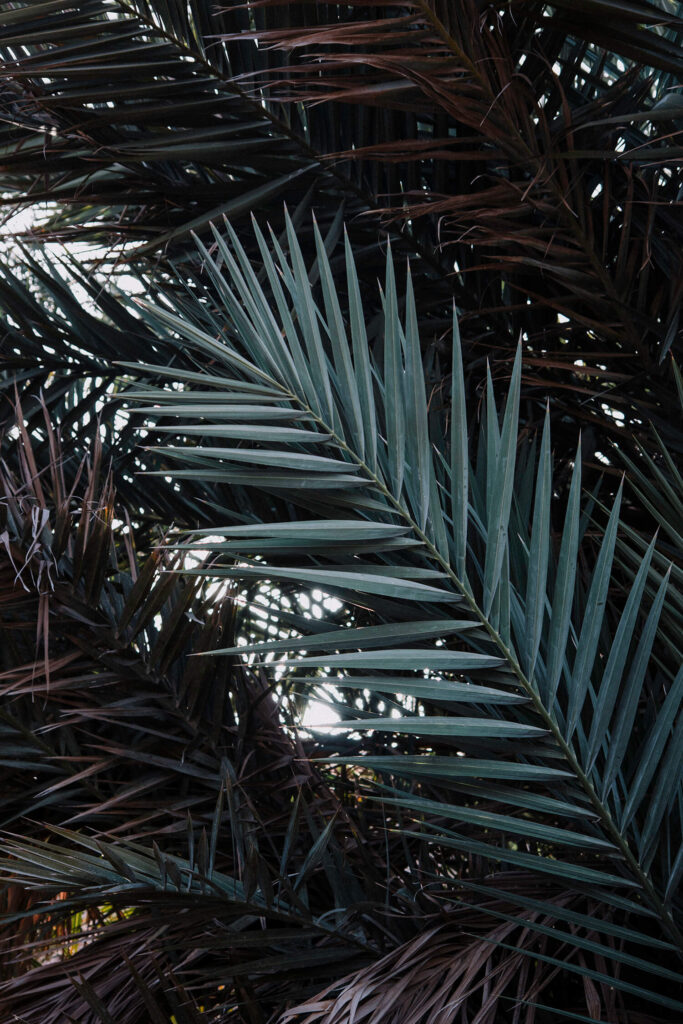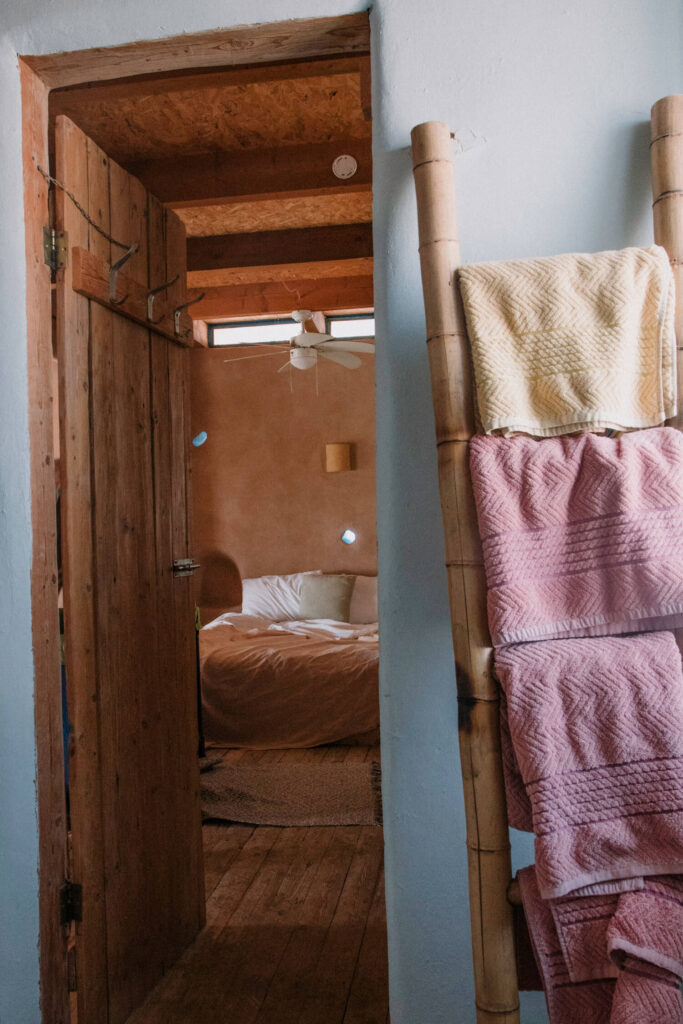 You can bring your own food, a fridge is provided in every cabin, but there's also the honesty pantry. A pantry stocked with all amenities you need from wine and soft drinks to olive oil, pastas and sauces and snacks. Fancy a glass of wine and Israeli cheese platter while watching the sun drip behind the horizon? Check!
We highly recommend a stay at
Midbara Cabins
if you're visiting the Negev Desert!
Things to do in the Negev Desert
There's more to the Negev Desert than just a quick dip in the salty waters of the Dead Sea. Yes, it is a once in a lifetime experience but there are other hidden gems ready to be discovered. Here are the top 5 things to do when you're visiting the Negev Desert.
1. Walk on the moon in Mitzpe Ramon/Ramon Crater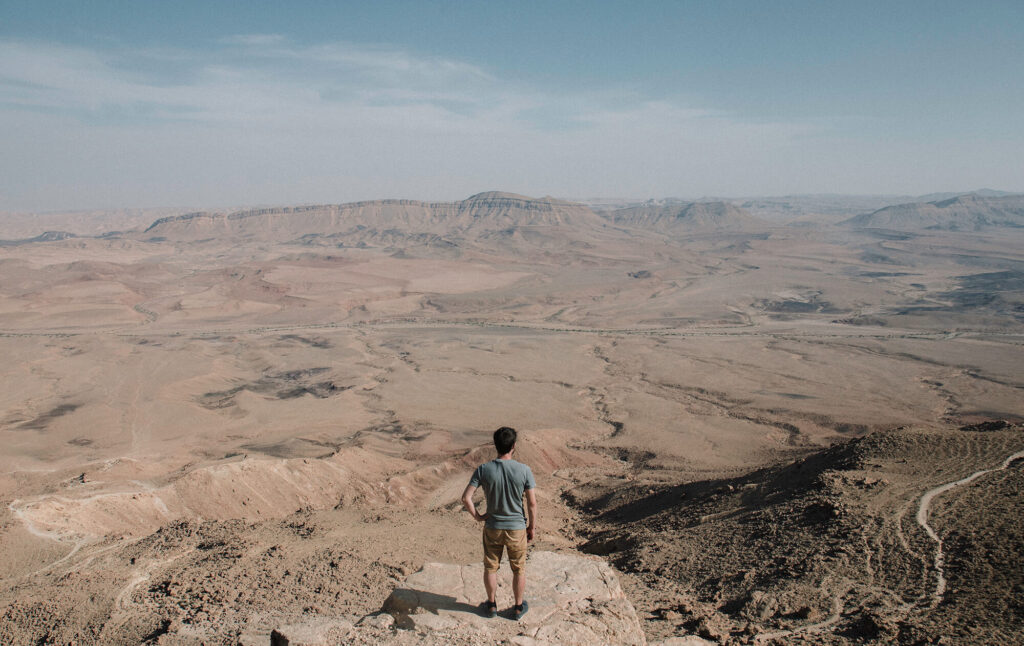 Nicknamed Israel's Grand Canyon, the Ramon Crater is anything but unimpressive. The sheer size alone will have you at awe, never mind the view. Mitzpe Ramon, which means Ramon viewpoint, offers the best views over the crater. Behind the visitor's center you can leisurely stroll along the crater rim. Watch out though, part of the walk is not fenced nor any other safe measures are taken. It's a sheer drop to the bottom so keep kids (and overly excited husbands) in tow!
visiting the crater is free and perfectly doable with a normal car. You can pick up a map of the park at the visitor center where roads that are only accessible by 4x4s are clearly indicated.
We never felt the 'normal' roads were lacking and offered impressive views inside the crater. Though nothing beats the viewpoint from atop the crater rim at the visitor's center, we seriously enjoyed hiking the Ammonite Wall Trail. Though sadly there aren't much Ammonite fossils left anymore, the hike up to a nearby hill offers superb views.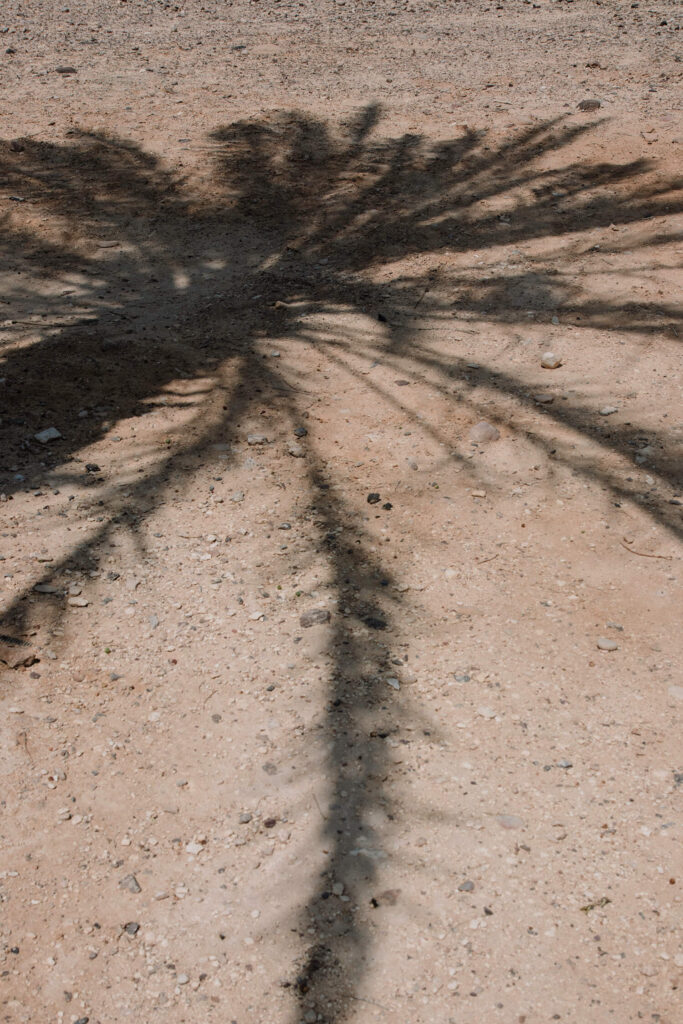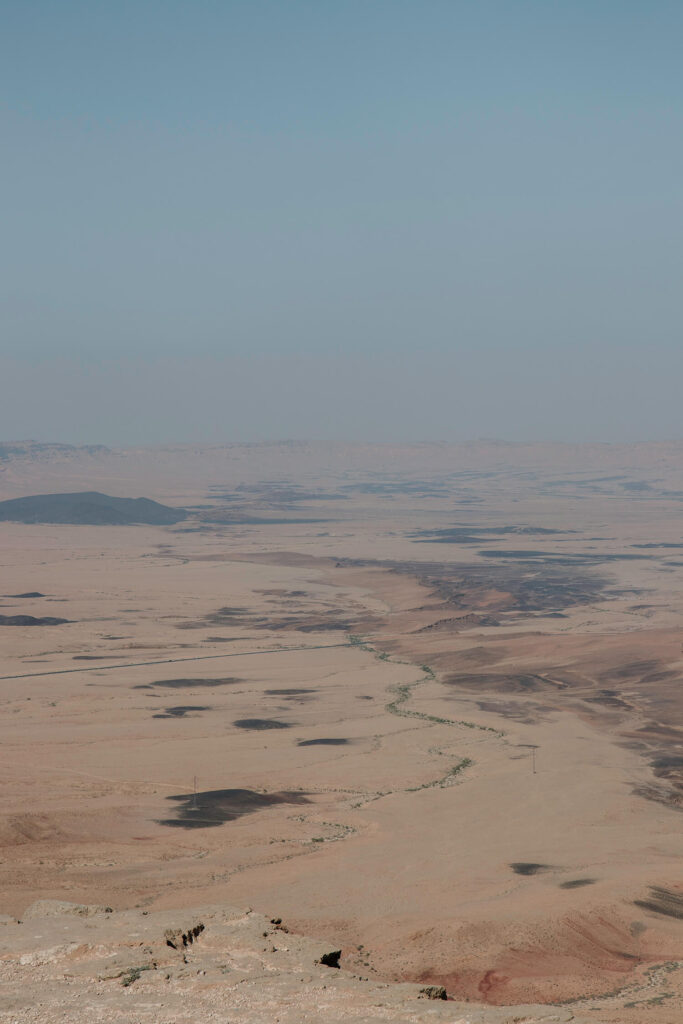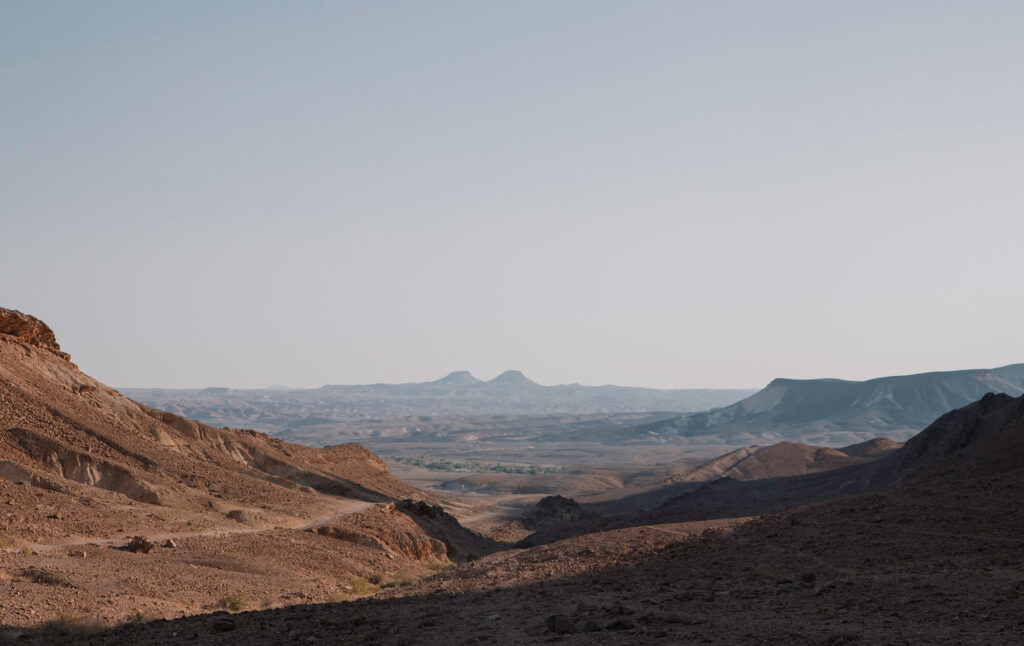 Starting and Finish Point of the hike: Highway 40 – Ammonite Wall sign
Length of the hike: 3km (round trip), about 1,5 hours
Best time to hike: early morning or afternoon (try to avoid the midday heat especially between May-September.
​
Head on the red trail for about 500m until you see the "Ammonite wall" sign. Once you see the sign, take a few minutes to admire the Ammonite fossils. These are pretty big fossils of sea creatures (their shell has a spiral shape) which got extinct around the same time as the dinosaurs.
​
Backtrack the trail a bit until where you last saw the green trail. Take the green trail north, and follow it all the way to the top. You'll arrive at "pick 660" (named after its elevation). Enjoy the majestic 360 degree view. Then continue on the green trail and head down towards the road and back to your car.
Keen on venturing deeper into the Ramon Crater?
Desert Eco Tours
come highly recommended, especially for their trip into Wadi Rim/Zim Valley.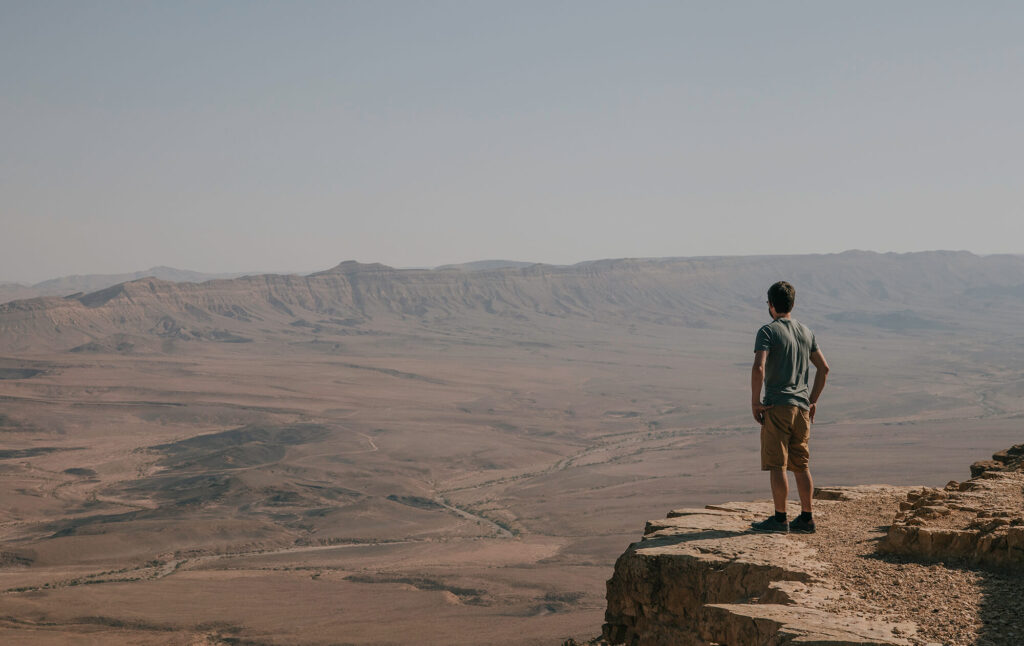 2. Hike the Snake Path to Massada for the most incredible sunrise!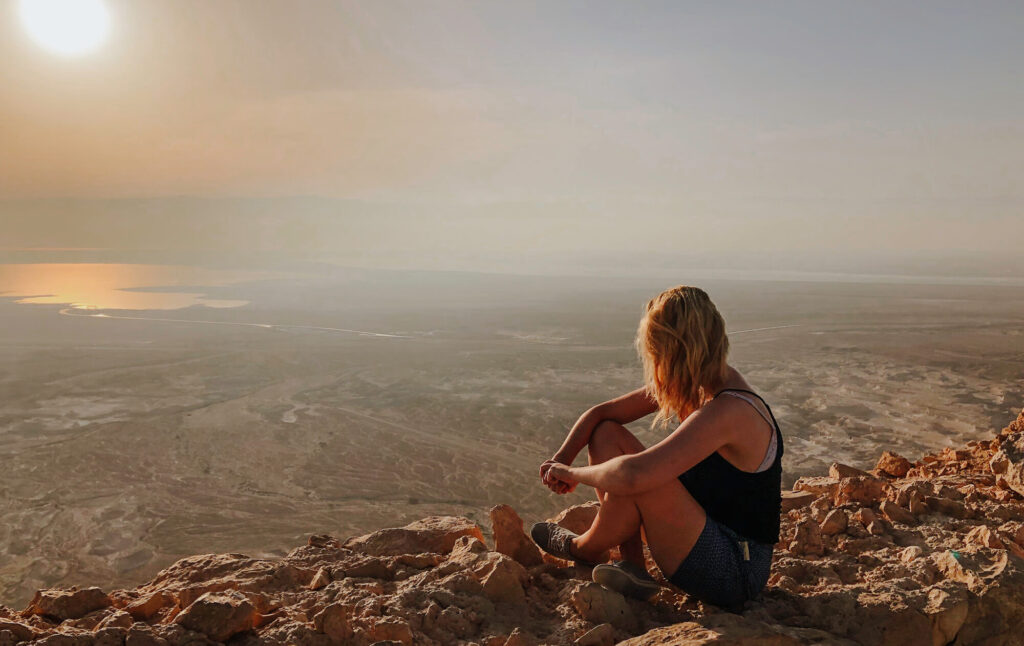 Okay, strictly speaking you're entering the Judean Desert now but as this is one of the top things to do from our Negev Desert hideout, we'll include it into this post.
The Masada Snake Path is one of the most iconic hikes in Israel and therefore cannot be missed… yes, even by non-hikers ;-). The fortress at Masada was built by King Herod, conquered by a group of Jewish zealots, and was besieged by the Romans soon after. Some turmoils went on over there but it left Israel with some impressive history, ruins and an epic hike.
The Snake Path winds its way up approximately 400 meters from the lowest place on earth, the Dead Sea, to the peak with the archaeological remains of Herod's fortress. Magnificent views of the Dead Sea and badlands await hikers that reach the top in time for sunrise. The moment the sun rises and casts a reddish glow over the Dead Sea below and the rocky surfaces of the surrounding desert is truly an unforgettable moment that will stay etched in our memories forever.
It might just have been the most epic sunrise we've every witnessed.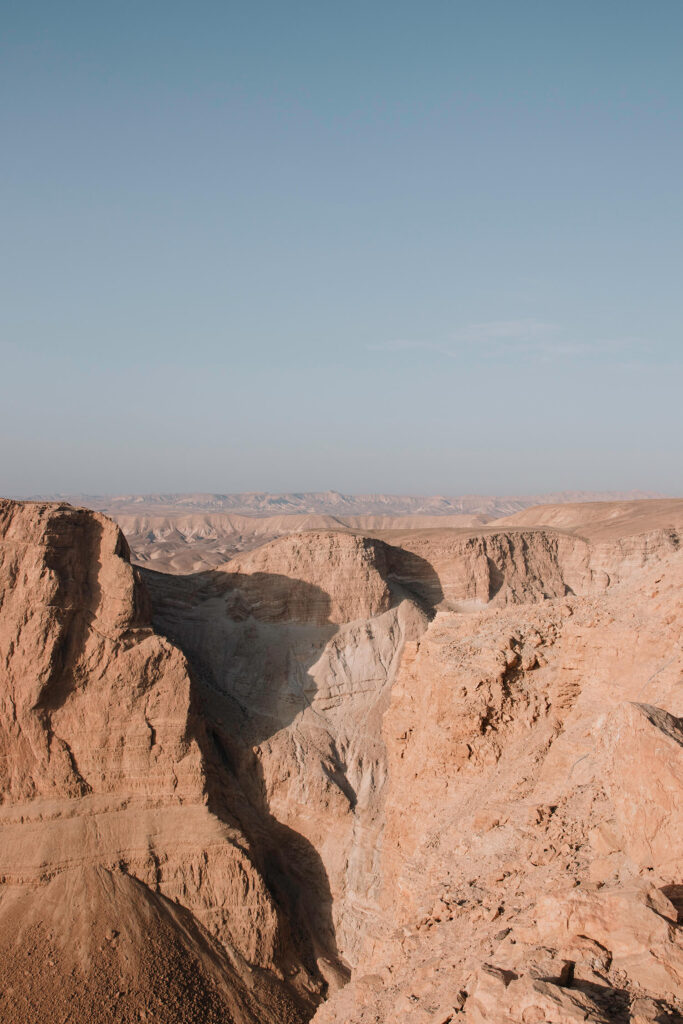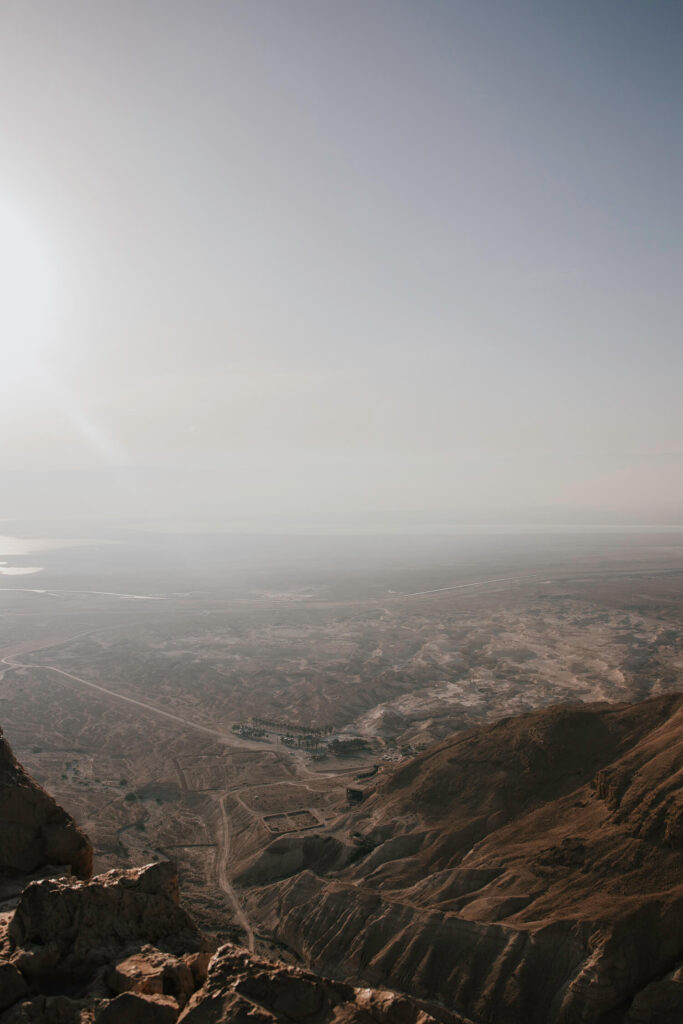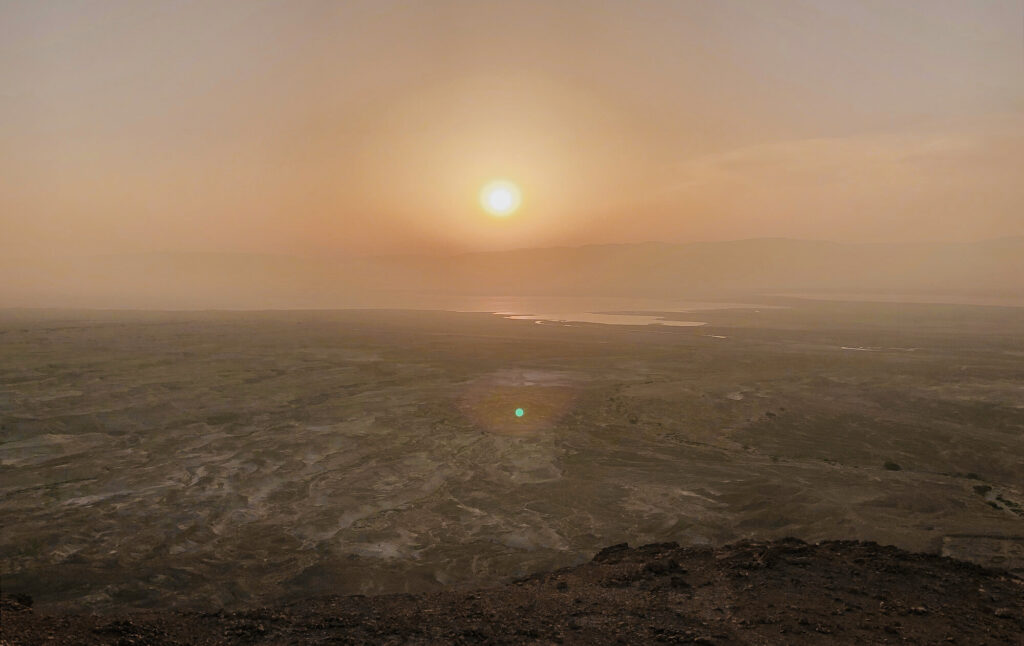 Starting and Finish Point of the hike: Masada National Park eastern car park
Length of the hike: 2km (one way) – we did it in about 45minutes including photo stops and short snack breaks
Elevation gain: takes you up 349.9 meters in altitude (1,148 feet)
Best time to hike: start one hour before sunrise (summer, start hiking at 5am) – temperatures are still cool, it was about 22°C when we did the hike
Opening hours: the Snake Path opens to hikers as from 1 hour before sunrise. During winter times, you can start the hike until 9am, in summer times it is possible until 8am due to the heath.
Entry fee: 28 NIS (per adult) and one-way cable car rides (starting at 8am) cost 29 NIS if you don't fancy walking back down.
​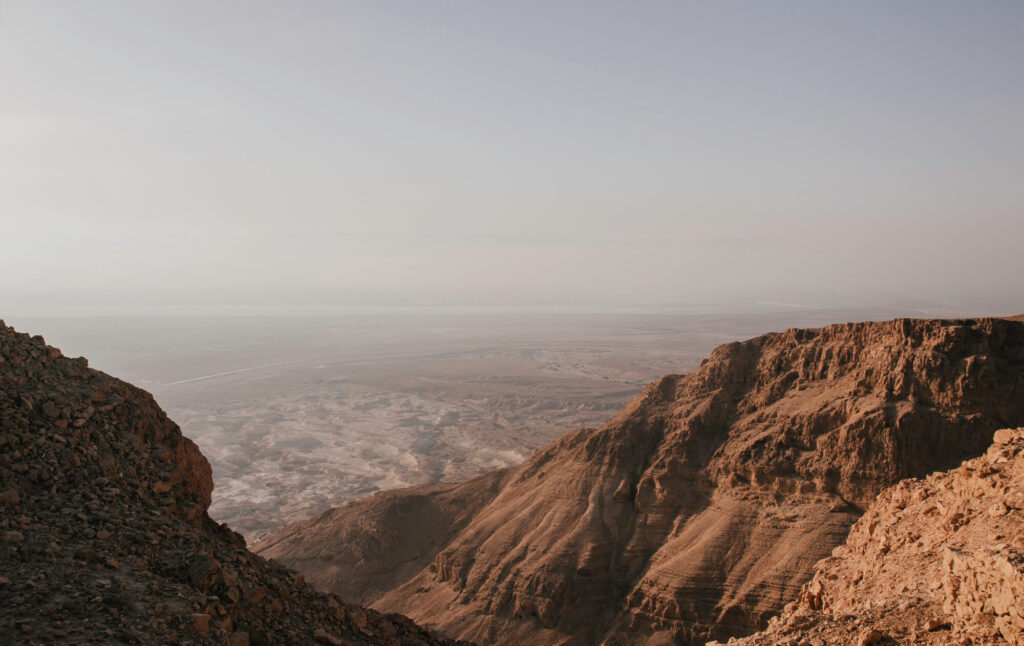 3. Go chasing waterfalls at Ein Gedi
Unfortunately we did not have the time to properly include Ein Gedi into out itinerary. The temperatures were over 40°C and we did not feel comfortable starting a hike in those weather conditions.
We've read wonderful things about the
Ein Gedi reserve
though and it came highly recommended by locals. Thanks to rainfall in the Judean Mountains, Ein Gedi National Park is an oasis amidst the surrounding desert. While the surrounding desert is dry and brown, Ein Gedi is alive: wildlife, lush vegetation and cool streams and waterfalls.
The lower Nachal David trail (also called David's Stream) is the most popular trail and takes about 1 hour (circular trail). Nachal David is named after King David, who hid here when he was being pursued by King Saul, as described in the Bible. Walking this trail to the main waterfall is a highlight and do take a bathing suit with you so can plash around and cool off at the base of the fall.
4. Nachal Ashosh (River Ashosh) reserve
You can simply walk from your cabin into the Nachal Ashosh plain and follow the dry river bed. Midbara Cabins offers a map (you can get it at the pantry) with directions. The duration of the hike is around 2 hours.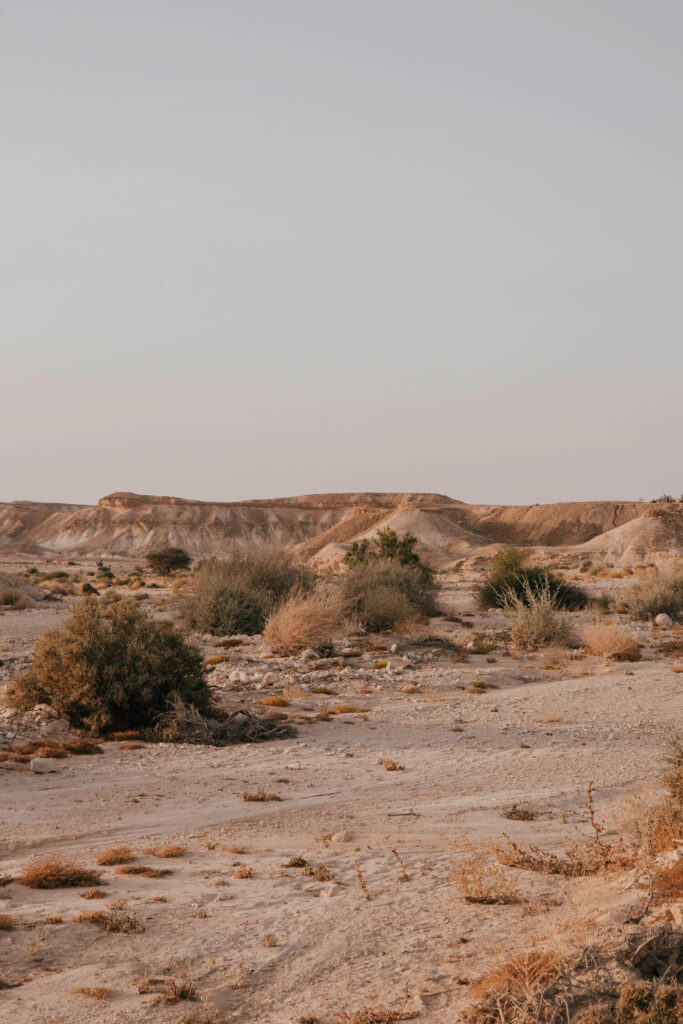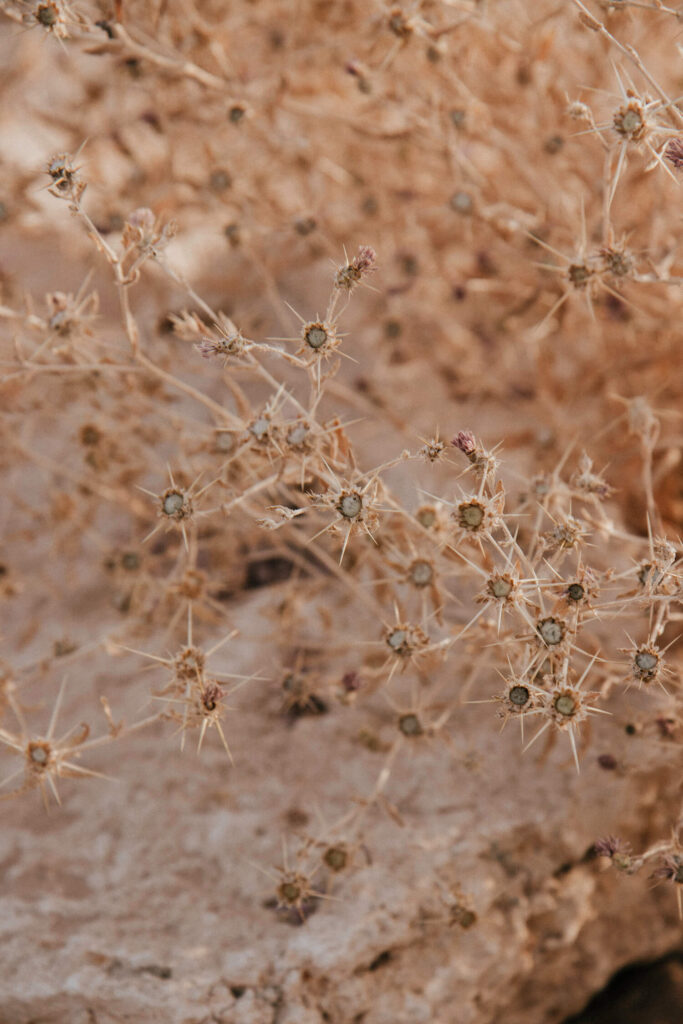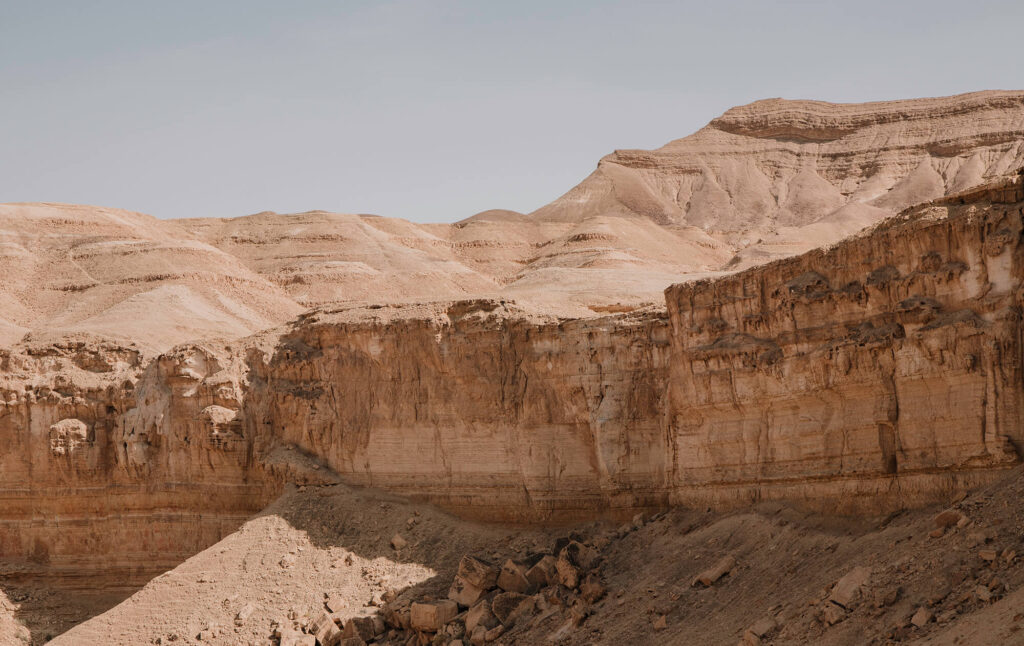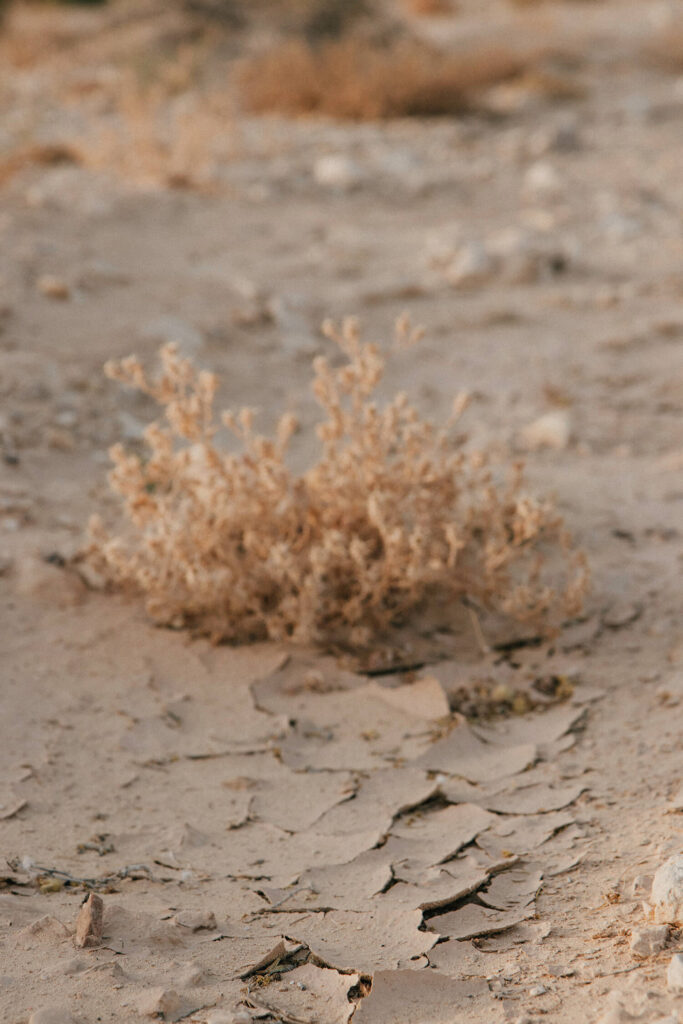 5. Spot camels
While driving through the Negev Desert keep your eyes open for camels. You'll regularly encounter traffic signs cautioning drivers of their closeness to the roads.
6. Float in the Dead Sea: the saltiest and lowest place on earth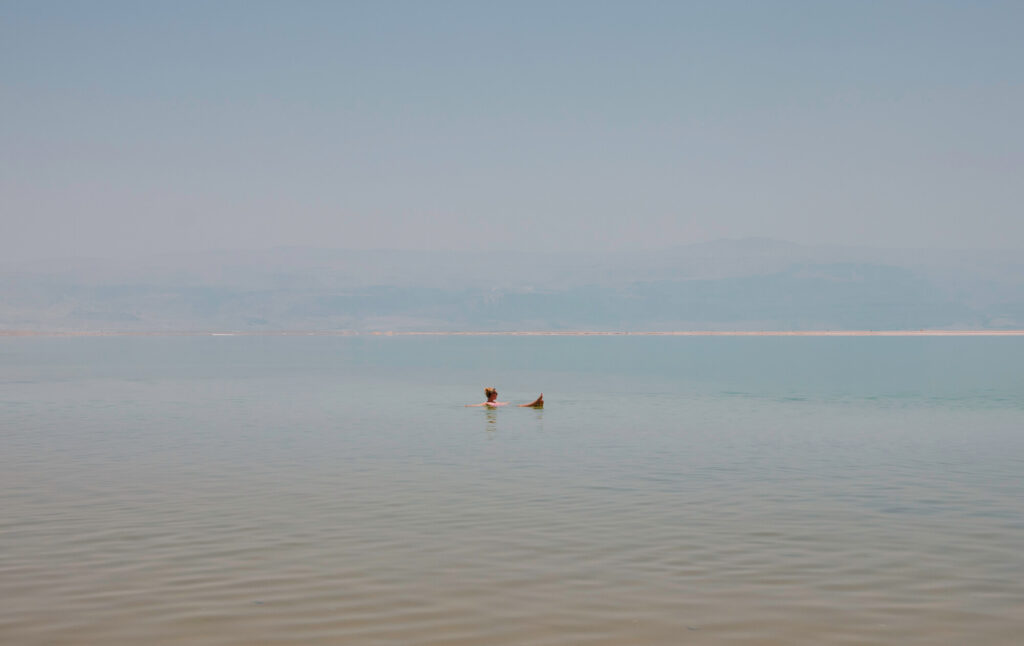 A truly unique experience is floating in the Dead Sea. Though Kristof already experienced a similar phenomenon in the Atacama Desert, it was a first time for me!
I never thought floating would be so easy. You just walk in, crouch down, lay back and float! The water has like an oily kind of texture and there are several salt crystals on the ground so watch your feet.
We first went to the Ein Bokek public beach (free) which has showers, water fountains and shops with Dead Sea mud nearby but found a bit busy. It also has a beach shore which didn't really comply with my dream vision of the Dead Sea. In search for more salt pools and less Vegas vibes (the coastline does look like the Las Vegas strip with bling bling hotels) we ventured a bit further south to Neve Zohar. This area seemed more raw and had far less visitors.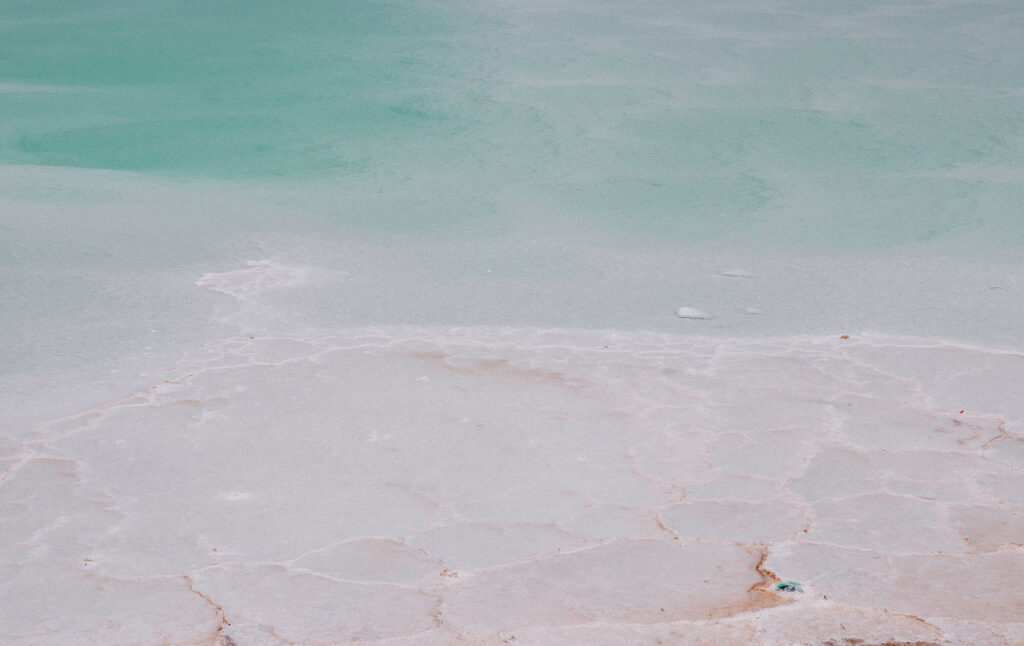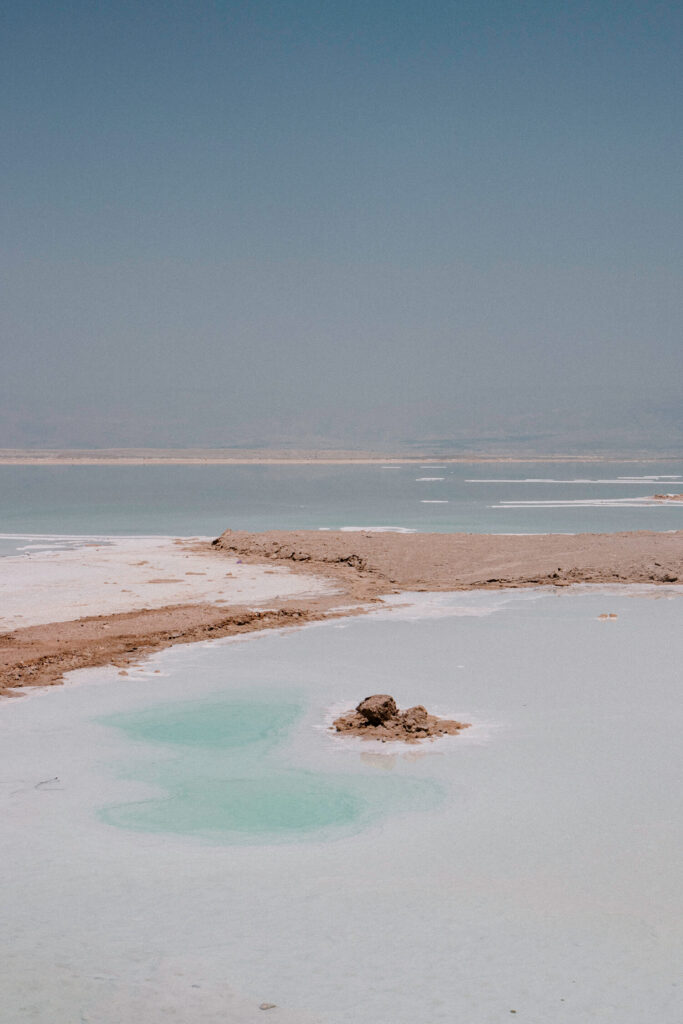 7. Just sit back quietly and enjoy the sunset
Pour yourself a glass of wine, get yourself some Israeli cheeses and snacks and just enjoy the show!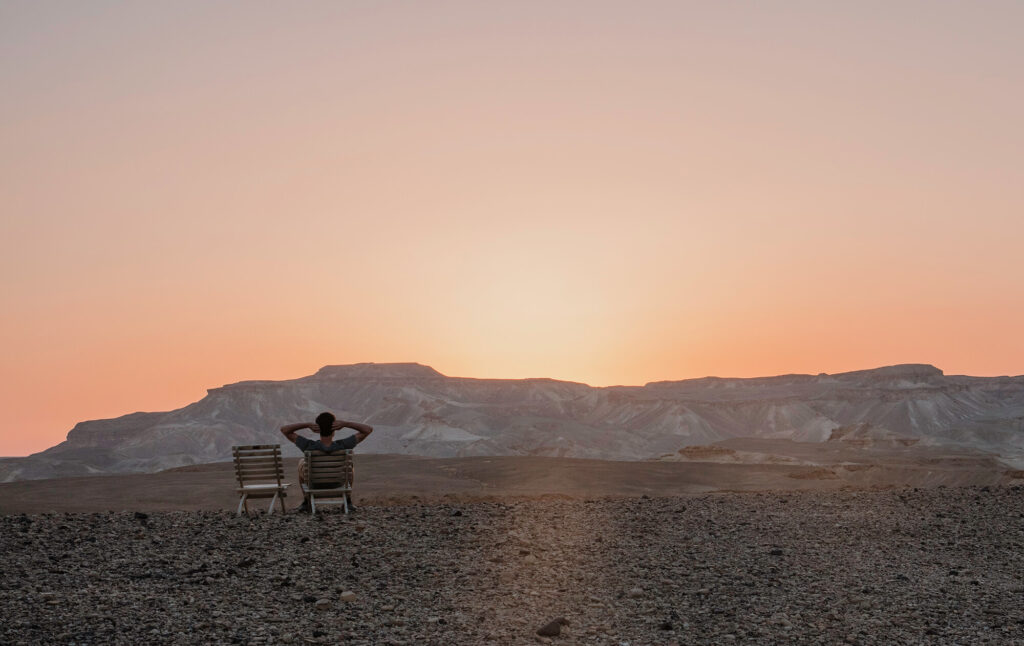 What to pack for a trip to the Negev Desert?
Now that you're all ready to hit the road into Israel's most beautiful piece of nature, what are you going to pack for the Negev Desert? No worries, we got you! Here's a quick summary of the most important things to bring to the Negev Desert.
Stainless Steel Insulated Water Bottle: You'll be headed into a desert in the Middle East. Being hydrated wil be your top priority! Stainless steel reusable water bottles are a perfect item to take with you. Israel has drinkable water everywhere and you can find water fountains sprinkled throughout various attractions (yes, even in the desert) which make it super easy and cheap to refill your water bottle.
Reef-Safe Sunscreen: If you plan on floating into the Dead Sea, you'll definitely need sun protection. We always wear reef-safe biodegradable sunscreen when we go swimming or snorkeling. Even though life in the Dead Sea is, you know…. dead, we prefer not to bring any extra harmful stuff into the water. Here's a full-sized bottle and here's a travel sized care pack for carry-on luggage.
Full-Sized Microfiber Beach Towel: This is a must when you're heading to the Dead Sea. Nothing is more horrible than finding out you haven't brought a towel on your travels when you're at the beach. This awesome travel towel is pretty and oversized, meaning it's super comfortable to sit in (aka not getting your butt in the sand) and weighs next to nothing. It rolls up small into a zipper bag and dries quickly so you're not lugging around a heavy wet towel all day.
Bug Repellent: This is our favorite bug repellent! It's organic, it smells nice, is incredibly effective and doesn't make a greasy mess when you apply it. Small bugs fly around at the Dead Sea's shores and in the desert sand.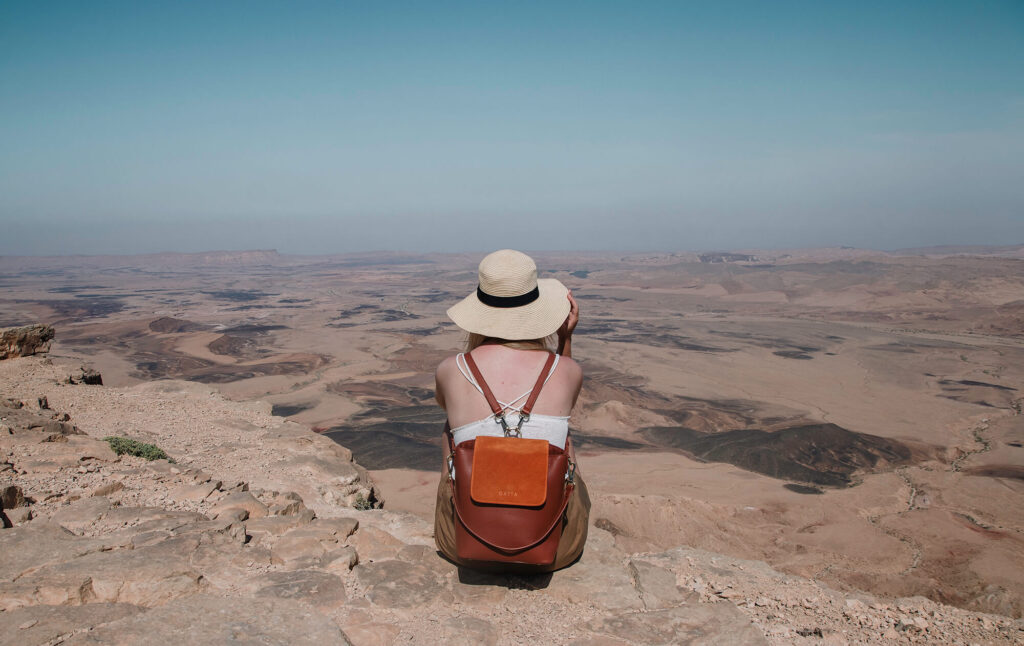 A bathing suit you don't care that much about: the salt in the Dead Sea might cause some discoloring so better to choose a bathing suit that you're not that fond of. However, do bring your favorite swim suit if you want cool off in your private pool at Midbara Cabins.
A cute hat: staying in the desert means spending lots of time in the sunshine. I could not imagine not having my boater hat with me, it was such a life saver! Unfortunately I get frequent headaches because of direct sunlight on my head so I NEVER travel without a cute hat.
Lightweight breathable clothes: You'll probably have noticed Kristof and I are not the most fashionable people around the world wide web. We're all about comfort and try to find clothing items that are practical, durable and also look at least semi cute! My favorite pieces of travel clothing right now are my L Space Andes Pants (they're breathable, stylish and come in different colors), these linen shorts and striped tie shorts, my Teva sandels for when I'm out exploring and my stylish babouches for a leisurely evening or restaurant visit. Lastly, you will probably want a pair of casual shoes that can be worn for anytime you need something closed-toe (e.g. when you go hiking), like the Adidas Swift Run Shoe.


LOVE IT? PIN IT!