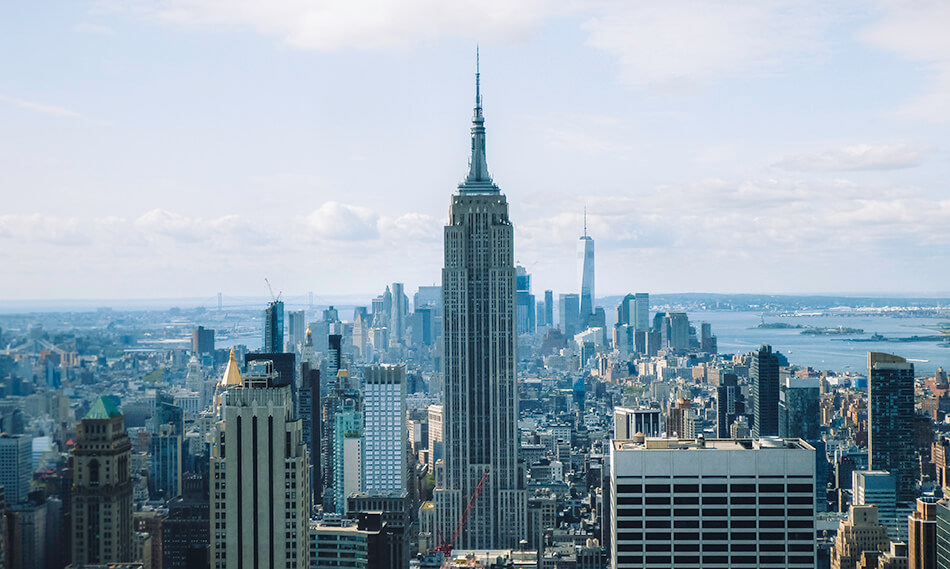 My hands were sweaty and my heart was pounding… Groggy after an 8hour flight, Kristof and I joined the swirling sea of people lining up for customs.
We made it! We finally got to New York!
A dream undoubtedly many people share. During the landing we had our first glimpses of the Manhattan skyline. It was exhilarating and scary at the same time. Because I knew that after spending a fantastic time traveling New England, I was going to stay in New York for a few months for work – alone – and Kristof would go back home. This would be my first time ever living on my own and this while being on a new continent, working and socializing in a language that is not my own, embracing a new culture and new people… and have lots of FUN.
In the end I was a New York resident for about three months. I know that hardly qualifies me as a New Yorker but it nonetheless gave me time to explore the big apple and many of its secrets. Even after my three month stay, I have the feeling I barely scratched the surface of everything this city has to offer. So I understand many people visit New York and focus on Manhattan's main attractions as well as TV and movie locations. New York City has so many things to offer which makes it hard to squeeze everything into a typical four or five day visit.
If you plan to make a trip to the city that never sleeps, and don't like to spend your time like the average tourist, then check out my personal favorites and full four day suggested itinerary.
Pin me for later!
Statue of Liberty – Ellis Island
A visit to the big apple is not complete without saying hi to Lady Liberty. Although it is mainly a tourist attraction and many New Yorkers haven't even seen the statue, I find it one of Manhattan's most iconic landmarks which represents an important part of New York's history. I can very well imagine how impressive the sight must have been for the immigrants who endured months at sea in hope for a better future in America. If you're interested in learning more about the immigrant experience and how these people helped New York City to become the city it is today, I highly recommend buying a combo ticket to Ellis Island. If you're not really into museums, or if you're short on time, I suggest you enjoy the free Staten Island Ferry. It doesn't make a stop at Liberty Island but still offers spectacular views of Lady Liberty and the Manhattan Skyline. I did both and enjoyed fantastic views each time.
Battery Park
Battery Park is a good place to take a short stroll, do some people watching and enjoy some performers. Battery Gardens has the perfect location at the tip of Manhattan for stunning views over New York Harbor. Don't get tempted to have a bite to eat here though, Battery Gardens isn't exactly known for its food. Instead, take a 20min stroll up the East side via South Street or through Pearl Street to the South Street Seaport.
South Street Seaport
This historic district is not commonly on the average tourist's radar and highly underrated in my opinion. I LOVE this area! You can find two blocks of restored 19th century buildings located next to the East River. Short brick buildings and cobblestone streets take you back to the old days when "tall ships" and sailboats filled the river. If you haven't indulged on a snack on your way over here yet, check out the South Street Seaport food court for a quick lunch. A series of rotating food vendors serve up dishes ranging from pizza to hot dogs, Italian food, Ice Cream and more. If you're planning to see a Broadway Show during your New York stay, you can purchase tickets at the
TKTS booth
with the same discounted tickets as the booths at Times Square but fewer crowds!
Stroll around the neighboring piers and enjoy the view over the Brooklyn Bridge. If you like shopping, the streets around the intersection of Front and Fulton Streets house some well-known brands as well as small boutiques with clothing and other goods created by local artists.
Financial District
A 5 min walk will take you to Wall Street where you can watch people whiz in and out of buildings conducting financial business that's been happening in this area for 225 years. Not into the whole financial stuff? Then maybe you can appreciate Wall Street for its history. Wall Street got its name for the wooden stockade constructed on the northern boundary of New Amsterdam. Wooden markers in the cobblestone street are reminiscent of the wall designed to protect the Dutch colony from British invasion. If you like history, then I recommend you pop into Federal Hall across the street from the NY Stock Exchange, this is where George Washington took his oath of office. The museum is in my opinion too much overlooked. If you like the more offbeat attractions, this is something for you! Moreover the place is small and doesn't take too much of your precious time.
Another 5 min stroll across Beaver Street brings you to the Charging Bull, one of the most photographed sculptures in New York City. There you will also find a tiny green space, Bowling Green Park, which claims to be the very spot where Manhattan Island was bought from the Indians for $24.
Trinity Church
Continue up north along Broadway to the gothic style Trinity Church which contrasts nicely with the more modern looking high rise buildings surrounding it. The original building burned down a few decades ago but was reconstructed nicely. Make sure to take a quick peek into the colonial graveyard.
World Trade Center & 9/11 Memorial
At the bottom of the new Freedom Tower is a park commemorating the victims of the 9/11 attacks along with a museum. Two waterfalls mark the place where the old Twin Towers used to be. The top of the Freedom Tower is also one of the prime locations to enjoy panoramic views over the Manhattan Skyline.
By now you're probably exhausted due to all the walking, jetlag… Head to bed early for some well-deserved zzzz's… you'll need them tomorrow ;-).
City Hall
You'll probably want take the subway to Brooklyn Bridge-City Hall Station, the starting point to cross the Brooklyn Bridge. Before we're hopping over the East River, NY City Hall deserves a quick peek. The cozy little park on the front of City Hall is a wonderful location to relax on a bench and have breakfast or just people-watch before heading over to Brooklyn.
Brooklyn Bridge
Not far from City Hall, the Brooklyn Bridge Promenade takes you over the East River to Brooklyn in about 30 minutes. I would suggest to walk the entire way to Brooklyn to enjoy the fantastic views over Manhattan from Main Street Park and Brooklyn Bridge Park! I love wandering around the cozy streets of DUMBO, enjoying the little boutiques, street art and great places to eat. Try to cross the bridge early when there are fewer crowds.
If you have the time in your itinerary, try to come back to Brooklyn later in the day when the sun starts to set. The views of the setting sun over Manhattan are to die for!
SOHO, Little Italy and Chinatown
Although you can easily visit these districts on your own, I really liked the free neighborhood tour by
Free Tours By Foot
and would definitely recommend it for a first time visit! The tour starts around 2pm and a local takes you on a relaxing 2 hour stroll through SoHo, Little Italy and Chinatown. Along the way they point out each neighborhood's details and history that you would easily miss out on as a self-guided tourist (who knew SoHo is known for its cast iron buildings?).
Empire State Building
Take the subway and leave Lower Manhattan behind to travel north to Midtown. The Empire State building is an iconic New York landmark and should not be missed, be it from the ground or from the top. The entrance fee for the Empire State Building equals the Rockefeller Centre but the queues can be a lot longer.
New York Public Library & Grand Central Station
A 15min walk along 5th Avenue brings you past the New York Public Library and to the Grand Central Station. When walking towards Grand Central Station, you will see the iconic tower of the Chrysler Building shaping the skyline. Take time to enter Grand Central Station's main concourse and gawk at the painted ceiling depicting different star constellations.
Rockefeller Center
There is always something going on and people whizzing in and out of shops at the Rockefeller Center. If you haven't been to the top of the Empire State Building, you can always take the elevator to the Top Of The Rock. I did both but I preferred the view from The Rockefeller Center. From the Top Of The Rock you can have the icon Empire State Building in your picture and you also have a view over Central Park (which you cannot from the Empire State Building !). Make sure to get up there right before sunset, that way you can take pictures during daylight and enjoy the gazillion lights coloring Manhattan when dark.
The High Line
A favorite among tourists as well as locals! Try to avoid the weekend and start early in the morning to avoid the crowds. The High Line is an elevated old railway that has been converted to a gorgeous urban pathway decorated with greens and in summer even the occasional sunbeds! It runs from Gansevoort Street in the Meatpacking District to West 34th Street, between 10th and 12th Avenue.
Besides the views over the Hudson River and the New Jersey shores, you will pass by the docks where the Titanic should have moored and the Chelsea Market. The several food stalls offer possibilities for a quick and delicious snack while you people watch or read a book in one of the cozy lounge areas.
Greenwich Village
Okay, let me tell you that this is one of my favorite parts in New York! I love everything about it, the historic 19th century buildings, the cozy winding streets,… but when it comes to food… this is the place to be! Yesterday you took a guided tour through the historic districts of Soho, Little Italy and Chinatown. Today, I recommend taking a food tour through Greenwich Village. The same organization,
Free Tours By Foot
, organizes a free food tour discovering the best food Greenwich Village had to offer. Make sure to start this tour with an empty stomach ;-).
Washington Square Park & Lower East Side
Take a break and rest your feet at pleasant Washington Square Park. Enjoy the street musicians, people gaze and take a look at nearby NYU (New York University). Need another shopping fix? Head to Lower East Side, my favorite place in the city to do some major shopping in the cute boutiques before heading back to your hotel and freshen up for a night out on Broadway!
Times Square
No matter when you visit Times Square, it is always packed with tons of tourists. Locals don't come here unless to go to a Broadway Show. Times Square is on the top of many tourist's 'must visit' list and the twinkling neon lights symbolize what New York's all about: the city that never sleeps. Therefore a quick visit at night, when the neon colors are the brightest, is a must experience… but only once ;-). Climb the red stairs at the TKTS boots for the best view.
Broadway Show
I LOVE Broadway Shows! I get so invested in the storyline, the music, the clothes… *sigh*. I couldn't imagine a visit to New York without going to a Broadway Show. They can however, be quite expensive. Try to score tickets at a TKTS booth or consider an off-Broadway production. .
A personal favorite alternative to Broadway of mine is called "The Serials". It is a late night play competition that features NYC's hottest young playwrights and directors. Five teams perform original ten-minute episodic plays. The audience votes for its three favourite plays, which return the next week with a new episode. The teams with the two least popular stories must likewise come back the following week, but with entirely different serialized plays. For only $12 you get an entrance ticket and a bear. Check out their schedule
here
!
Metropolitan Museum of Art
New York houses some great museums and some of them truly deserve a place on a first timer's itinerary. My personal favorite is The Mets. I'm a big fan of their historical collection including an Egyptian temple, so if you're into archeological exhibitions, this is the place to be!
Budget a few hours to visit this museum as it is one of the biggest museums in the world. Note that the $20 entrance fee is just a suggestion, you can actually 'pay as you wish'.
American Museum of Natural History
If you're not really into art or historical artifacts, you might prefer the dinosaur exhibition at the American Museum of Natural History. I grew up during the high days of Jurassic Park so dinosaurs were a big part of my childhood. My inner child screamed of happiness when I visited the museum. Besides prehistoric mammals the museum houses exhibitions on nature, human evolution and marine life.
Central Park
After spending your entire morning peeping at the museum's displays, I would suggest to experience Central Park as a local: get some take-out food, bring a blanket and a good book and pick nick in Sheep Meadow! Take your time and relax, spending the last hours of your New York escapade reading, sunbathing or wandering around, discovering the hidden gems of Central Park.
So there it is, our suggestions for a perfect first time visit to the Big Apple! Off course New York has a lot more to offer and the above itinerary barely scratches the surface of the enormous amount of activities available. But by following our tips, we guarantee you loads of fun, excitement and some checks on your bucket list!
What's on your New York bucket list? What would you add?
Tell us about it in the comments below!