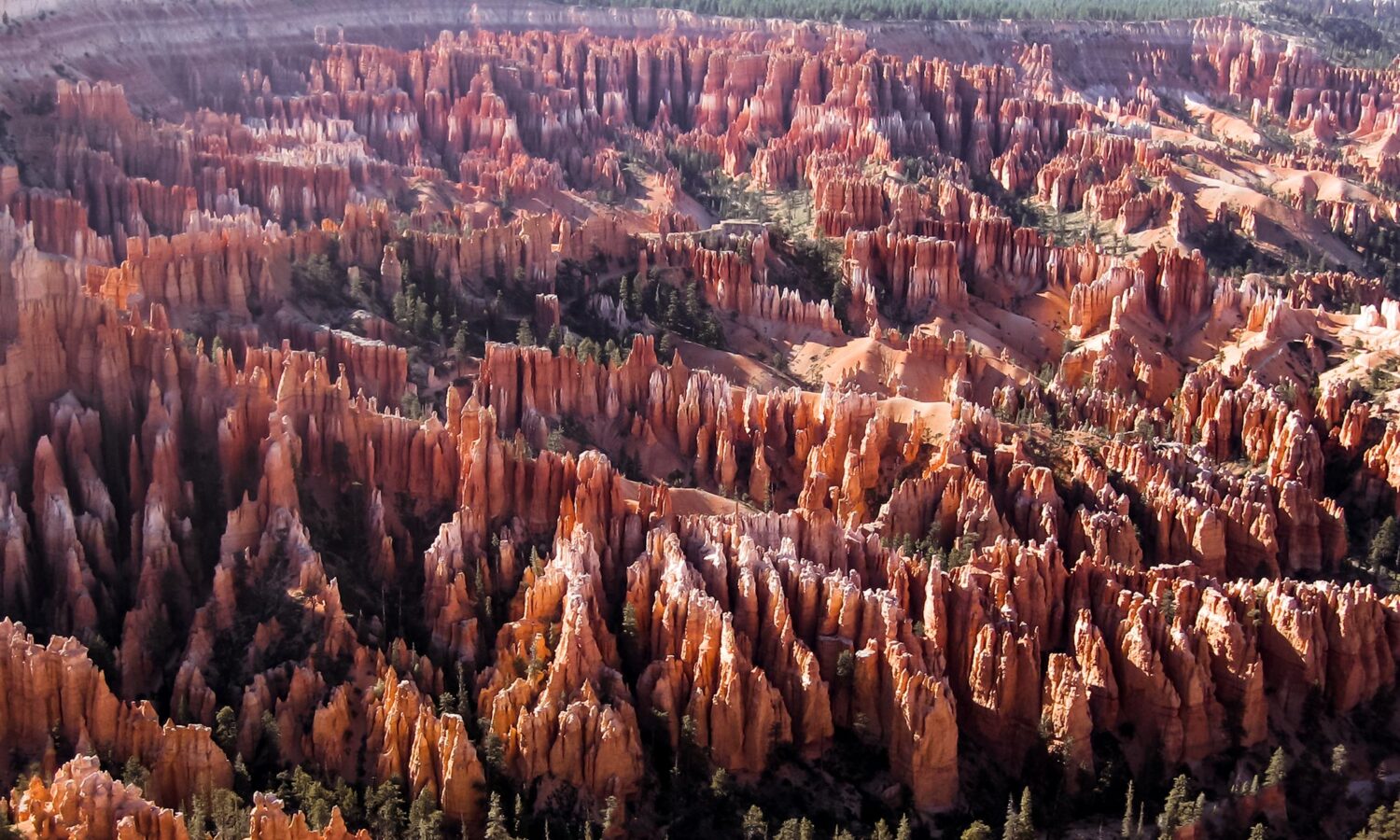 Nothing prepared us for the absolute magnificence Mother Nature created in Bryce Canyon National Park. We headed there straight after hiking Angels Landing in Zion National Park, not able to wait a second longer to contemplate the explosion of colours that paint the extra-terrestrial landscape. Once again, Pinterest and Instagram had done a wonderful job, skyrocketing our expectations.
Here are our recommendations on what to do at Bryce Canyon in one day.
---
HOW TO SEE THE BEST OF BRYCE CANYON IN ONE DAY: A PERFECT ITINERARY
---
1. Grab a free map at the Visitor Center
Try to start your day early and pick up a free map of the park at the visitor center. The map is very useful as it shows the different viewpoints, parking spots and driving distances between each stop.
Bryce Canyon is open 24 hours per day, which means that you do not have to wait for the entrance to open in order to get into the park. Don't be alarmed if there is no ranger at the park entrance in the eraly hours. You can simply enter the park and pay your entrance fee later. The Visitor Center isn't open 24 hours though, but opens at 8 am so if you arrive before, you'll not be able to grab a free map unfortunately.
Visitor Center opening hours:
Summer: May – September 8:00 a.m. – 8:00 p.m.
Fall: October 8:00 a.m. – 6:00 p.m.
Winter: November – March 8:00 a.m. – 4:30 p.m.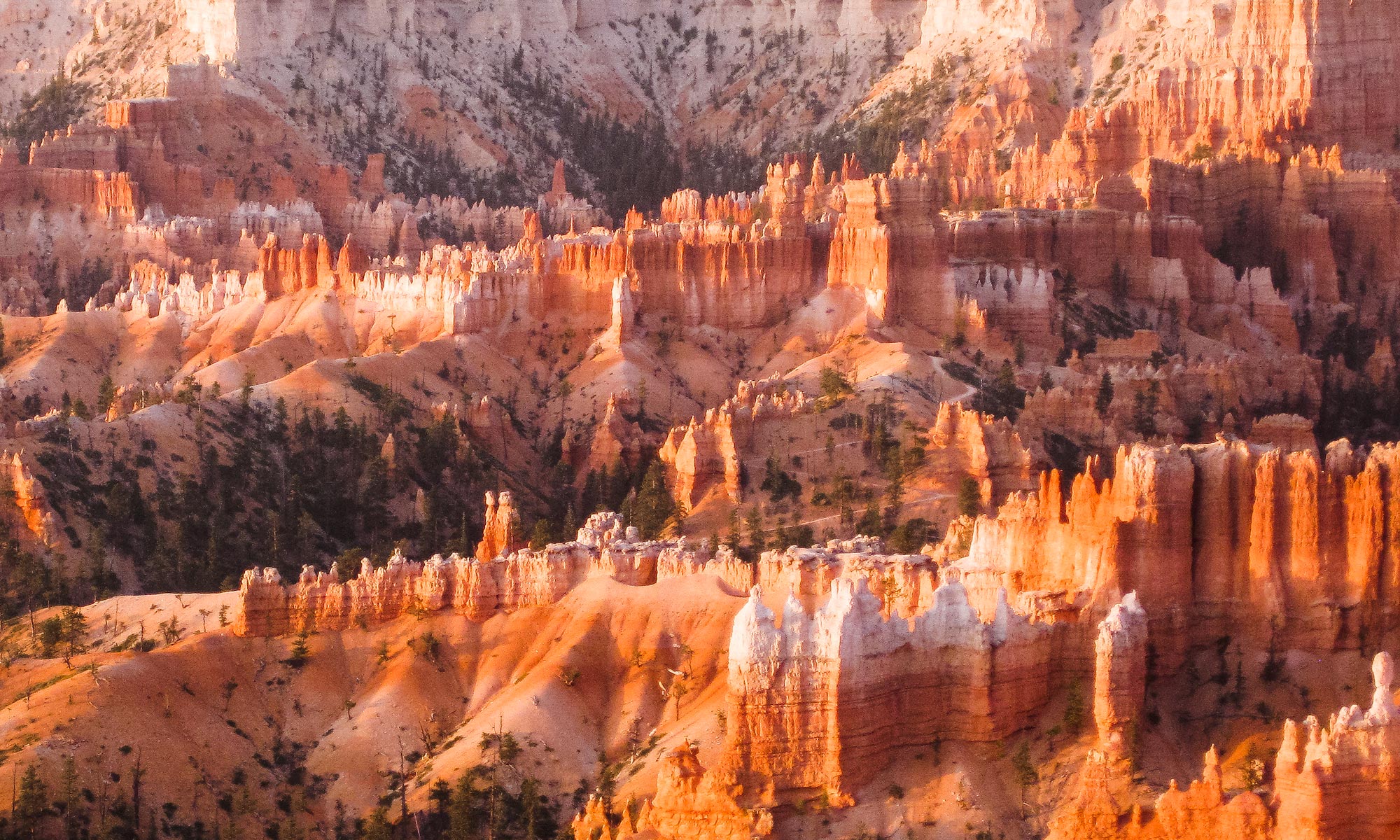 2. Cruise the Bryce Canyon scenic drive
One of the best ways to see Bryce Canyon is to drive the Bryce Canyon scenic drive. Unlike some of the other national parks, like Zion where you have to take a shuttle bus in order to get to the viewpoints, you can drive to all of them yourself in Bryce Canyon. We spent the next three hours chasing the sunshine and visiting as many viewpoints as possible.
We were able to enjoy all of the park's major overlooks in a rather short amount of time as you basically just get out of your car and take a leisurely stroll out to the edge of the pavement. No need for serious hiking.
Pro tip:
When visiting the park during peek visitor times, we recommend to drive all the way to the southern end of the road and visit the viewpoints from south to north. Seen all the viewpoints are located on your left hand side, this will avoid you having to turn left accross traffic.
The 18-mile scenic drive offers several pull-outs and viewpoints, lining the edge of the main amphitheatre, which can become quite busy during peak season (July and August). We definitely wanted to see the most popular viewpoints like Sunset, Inspiration point and Bryce Point. Not many visitors continue south past Bryce Point but we loved it!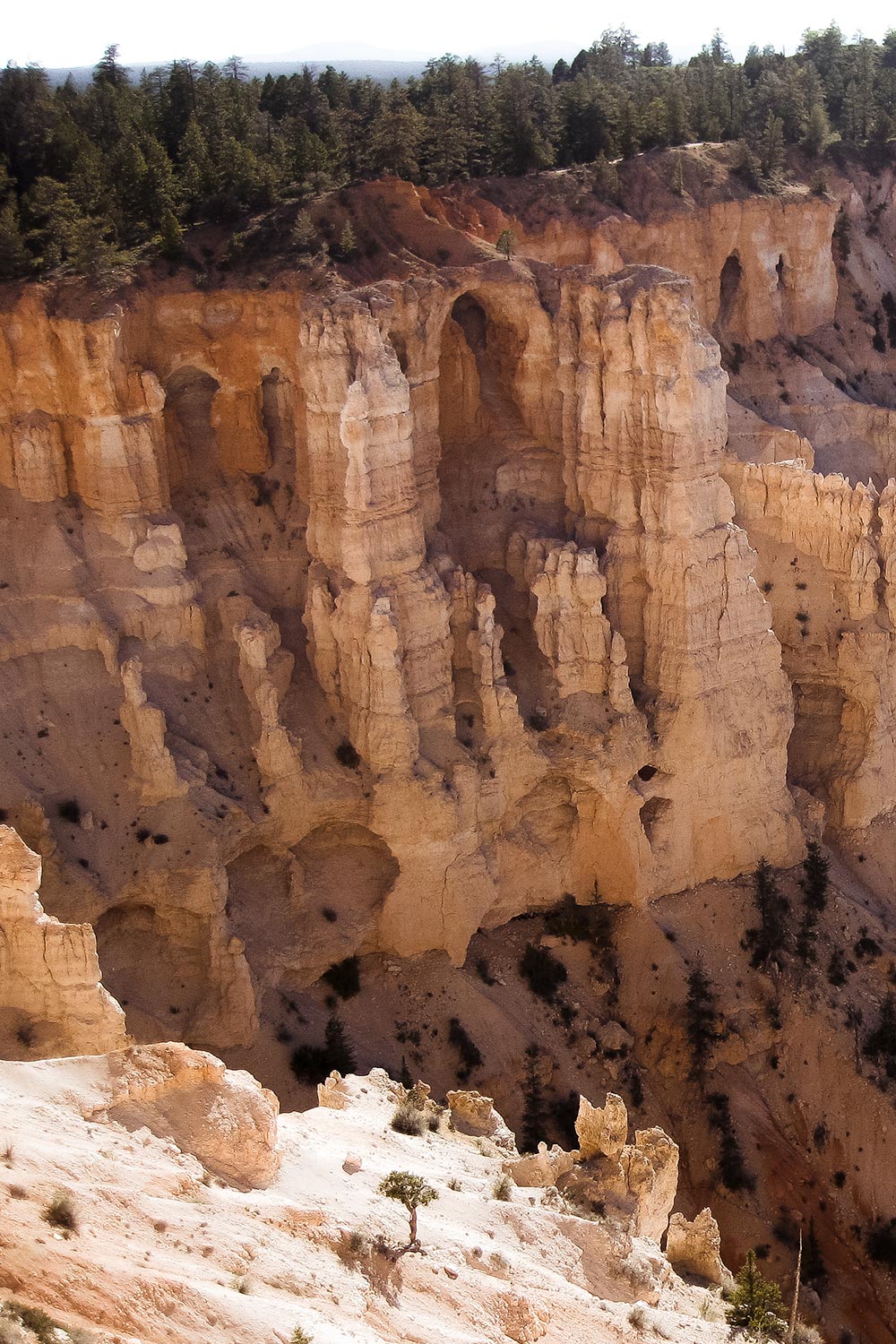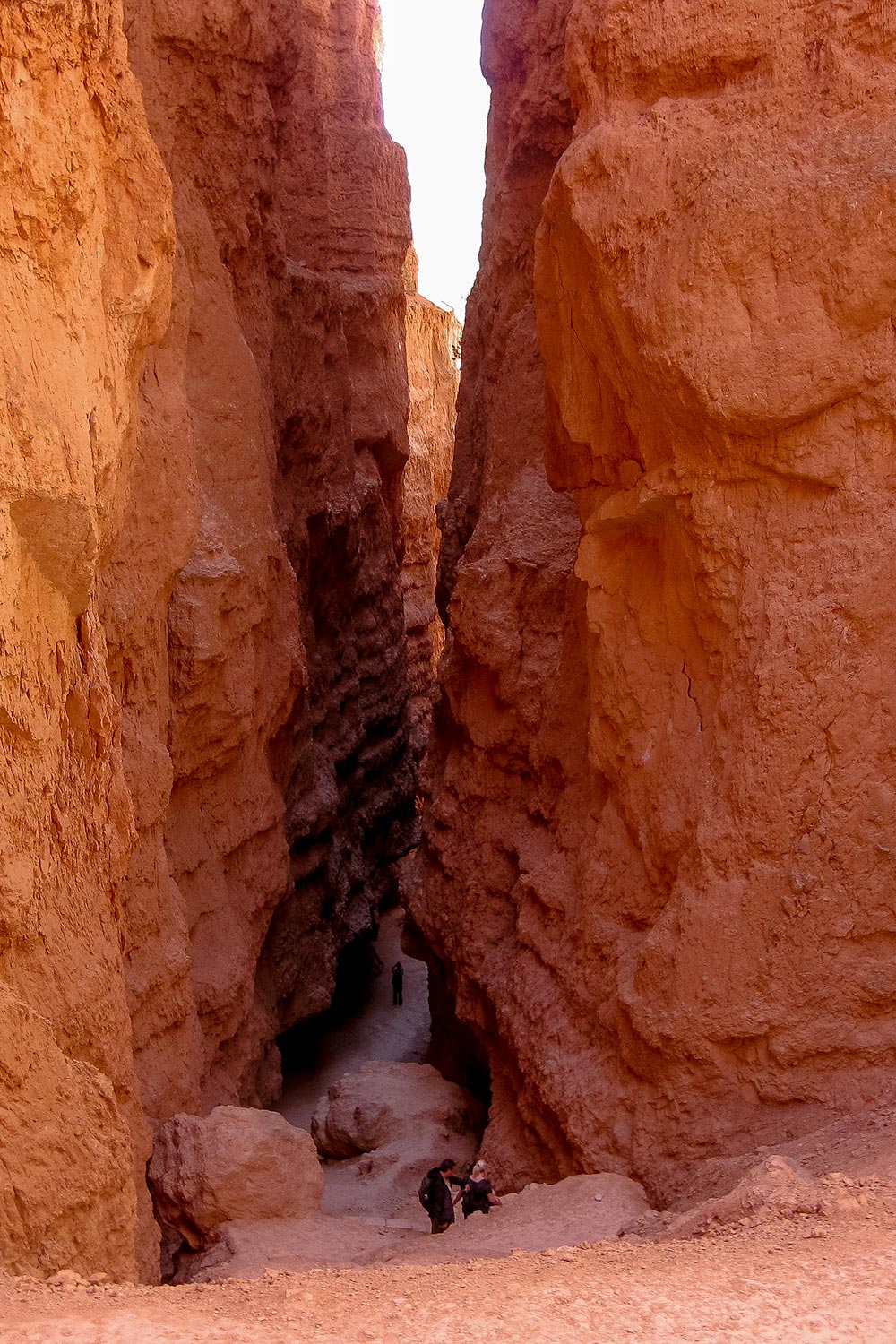 ---
---
Stop 1 & 2: Yovimpa and Rainbow Point
The first two view points you'll encounter when you've driven to the far north of the Bryce Canyon Scenic Drive are Yovimpa Point and Rainbow Point. Both are only a short walk apart yet offer different vistas. Yovimpa Point allows you to gawk over Grand Staircase-Escalante National Monument. It is one of the best spots to see the "steps" which give the Grand Staircase its name.
From Rainbow Point you can see muchof Bryce Canyon National Park. At an elevation of 9,115 feet, this is the highest area of the park and offers you the best views of everything located below. From here you can see the snaking rim of the Pink Cliffs and many of the park's hoodoo-filled amphitheaters.
Stop 3: Ponderosa Canyon
This lookout point offers views of the Ponderosa Canyon – named because huge Ponderosa pine trees grow on the canyon floor. We have to be ghonest, it wasn't our favorite viewpoint, in our opinion it can be skipped, especially since Farview Point (which comes later on) is kind of similar looking.
Stop 4: Agua Canyon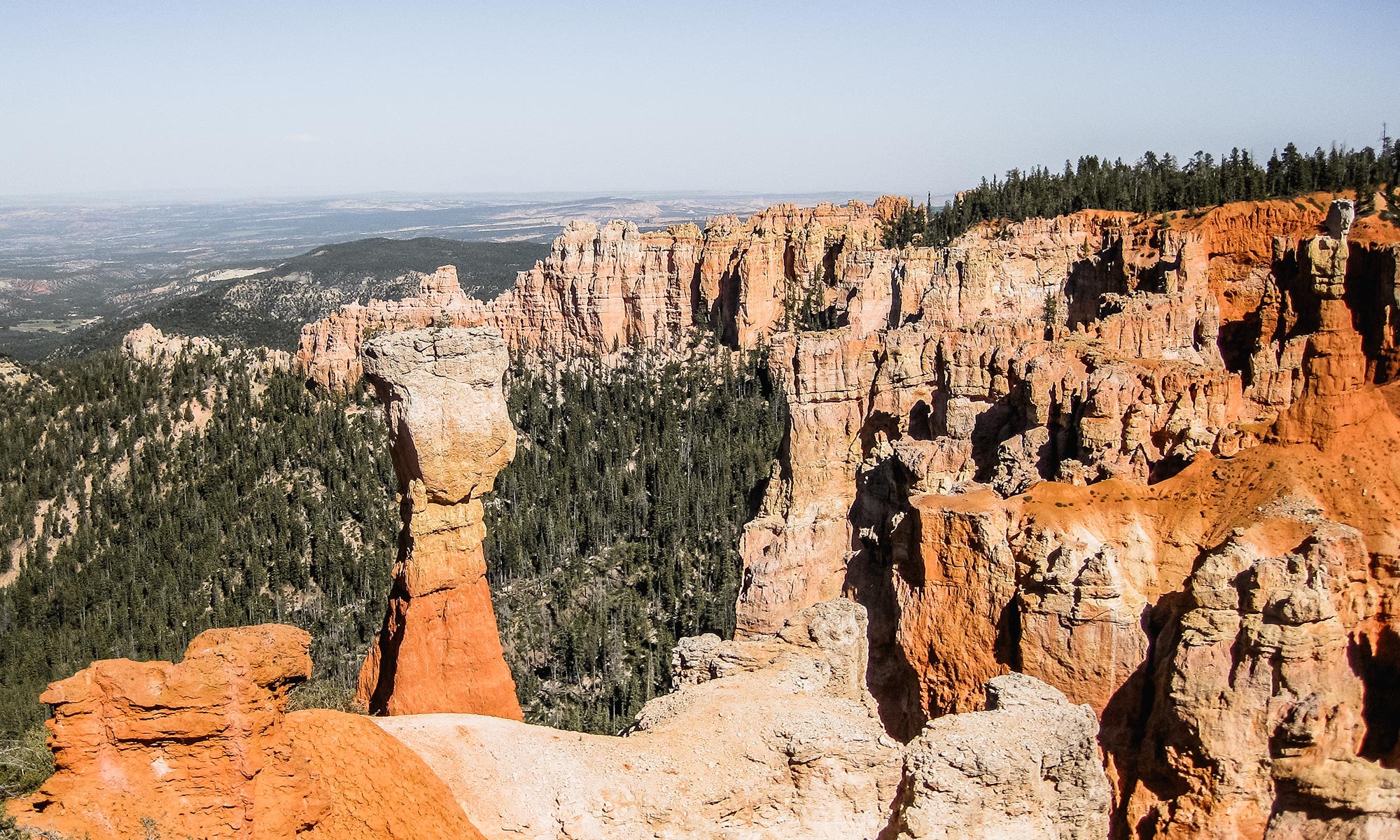 We liked the Agua Canyon vista though! You can admire sheer cliffs and hoodoos and with a little imagination, you may be able to pick out two hoodoo formations called "the Hunter" and "the Rabbit" (or sometimes also know as "the backpacker") below.
Stop 5: Natural Bridge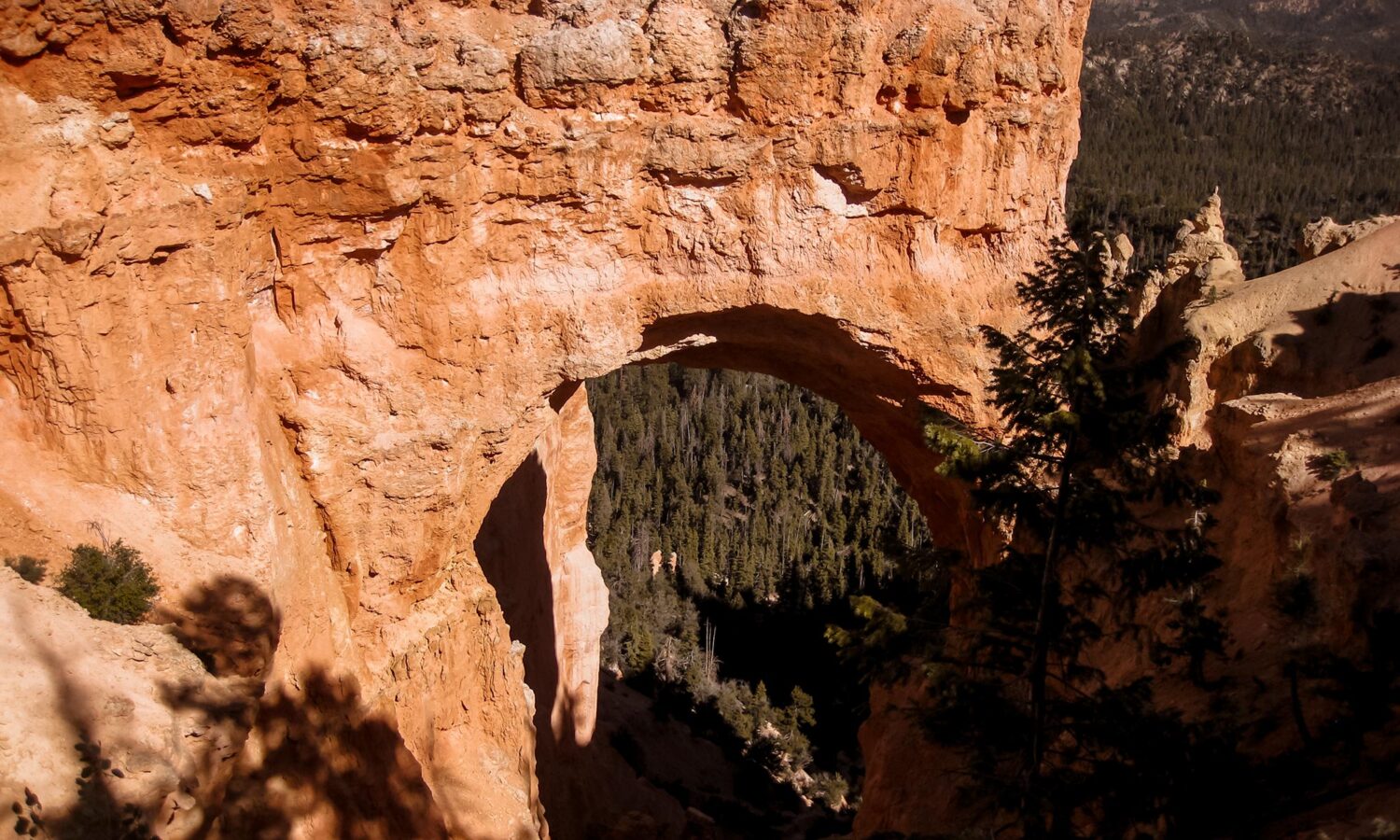 This large feature lies just off the road, close to the pull out parking. It is 54 feet wide and 95 feet high and is actually an arch (not a bridge) formed by weathering from rain and freezing, not by stream erosion, as with a true natural bridge.
Stop 6: Farview Point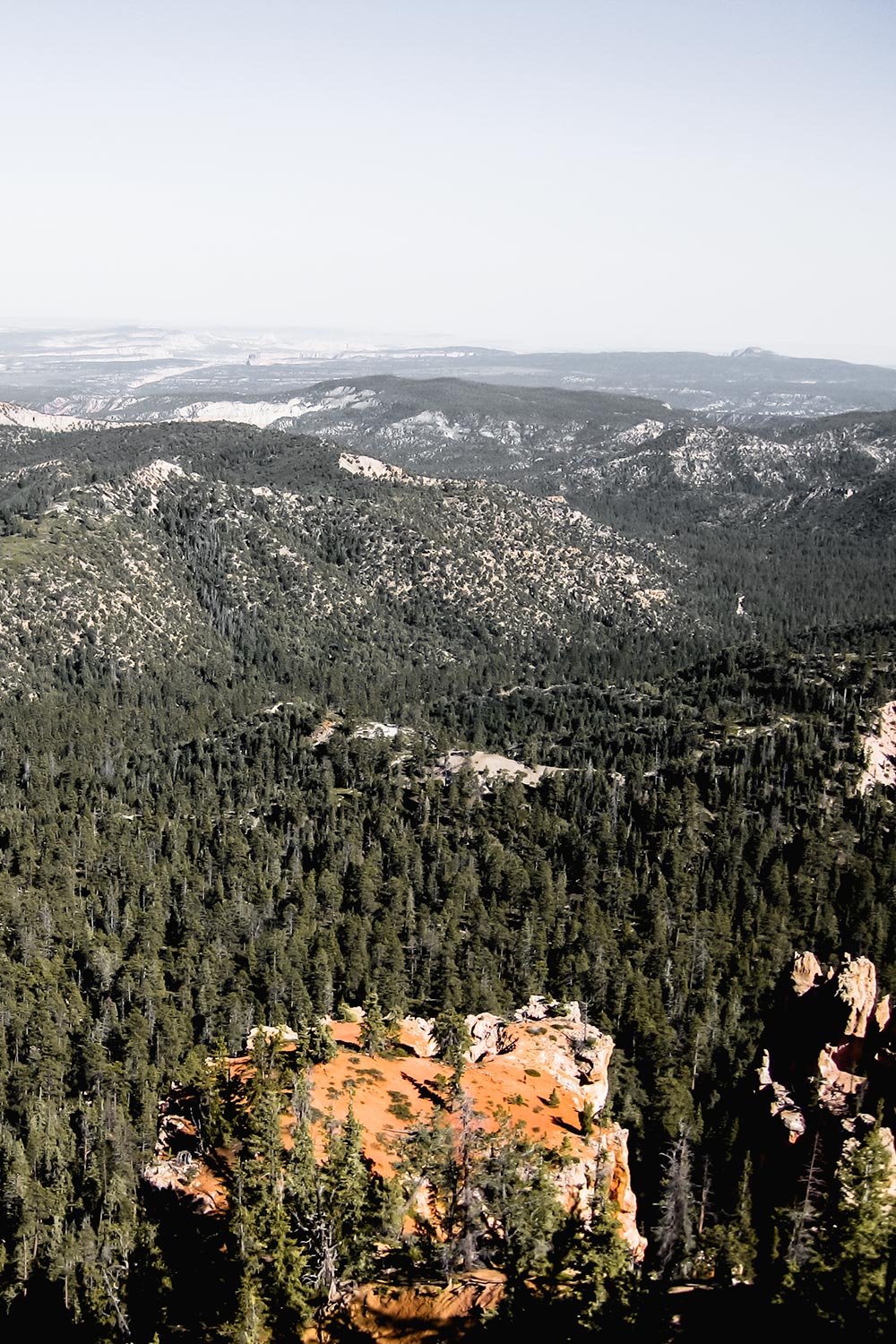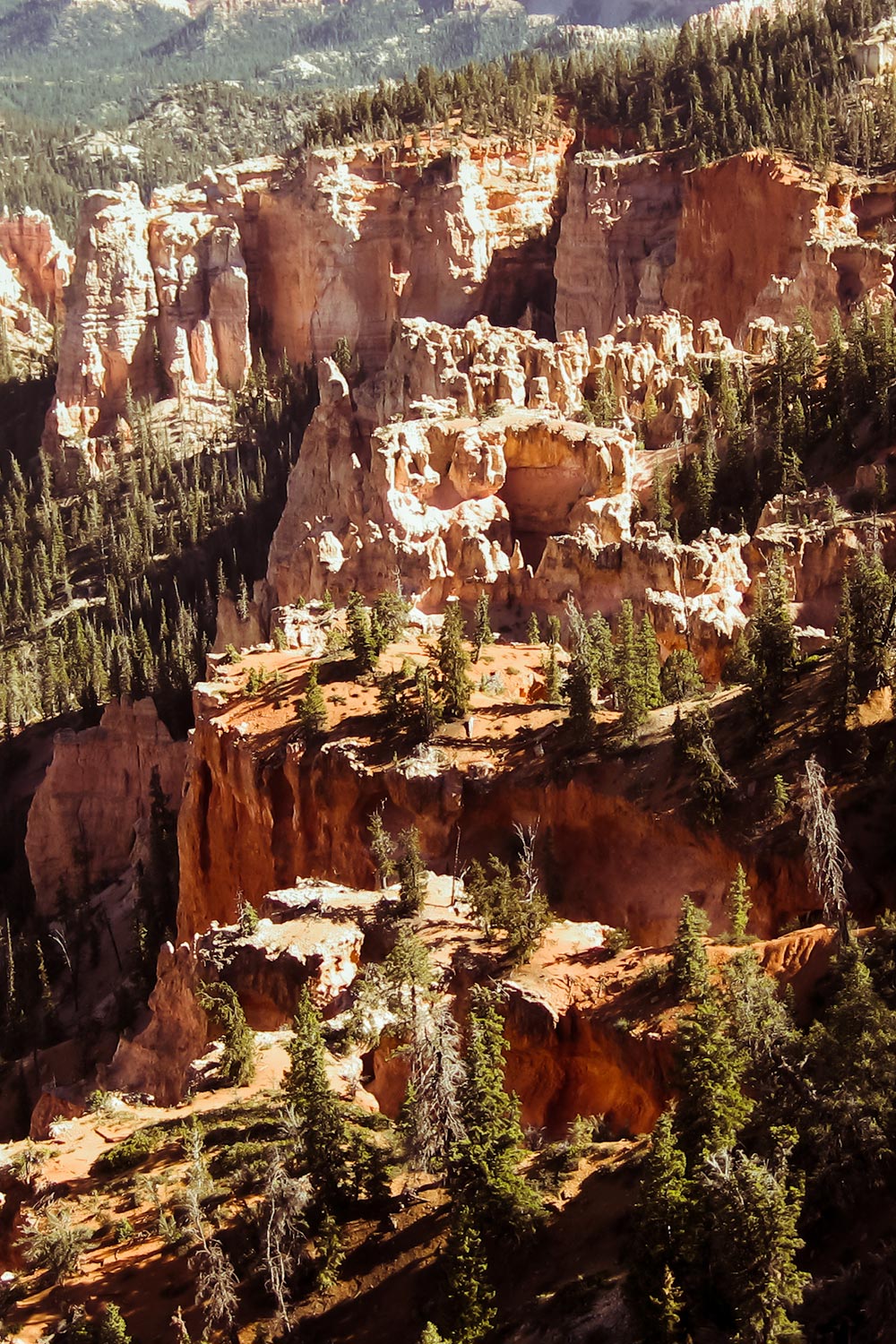 This sweeping panorama offers vista's over Bryce Canyon as wel as GRand Staircase-Escalante National Monument. From north to south you can see the Aquarius Plateau (Pink Cliffs), the Kaiparowits Plateau (Grey Cliffs), and Molly's Nipple (White Cliffs). If you peek behind the White Cliffs, you'll see glimpses of the Kaibab Plateau. On clear days you can see Navajo Mountain.
Stop 7: Paria Point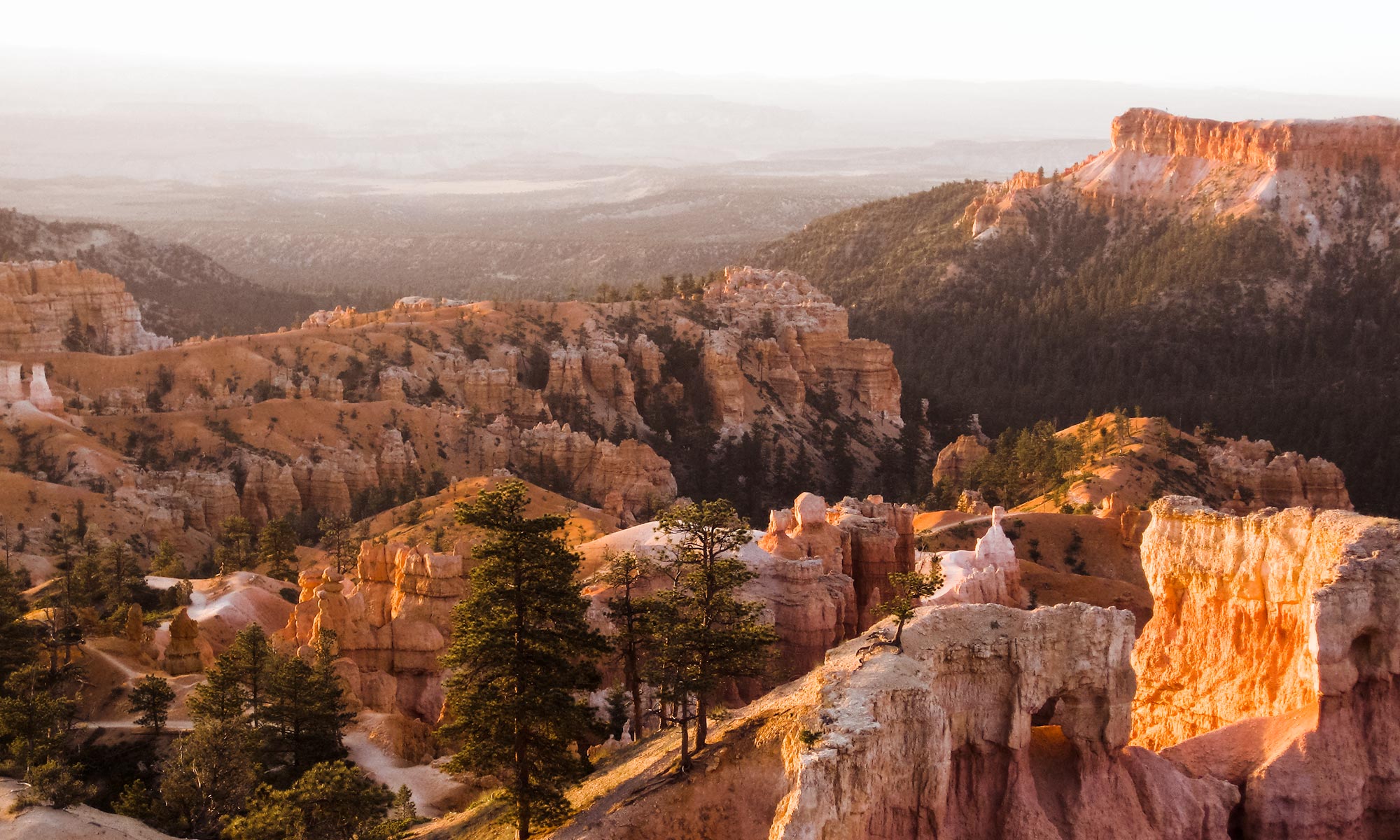 From this view point you can see part of the Under-the-Rim Trail winding up a hillside near the mouth of the amphitheater below. In the distance you might notice the Paria River Canyon, White Cliffs and Navajo Mountain.
Stop 8: Bryce Point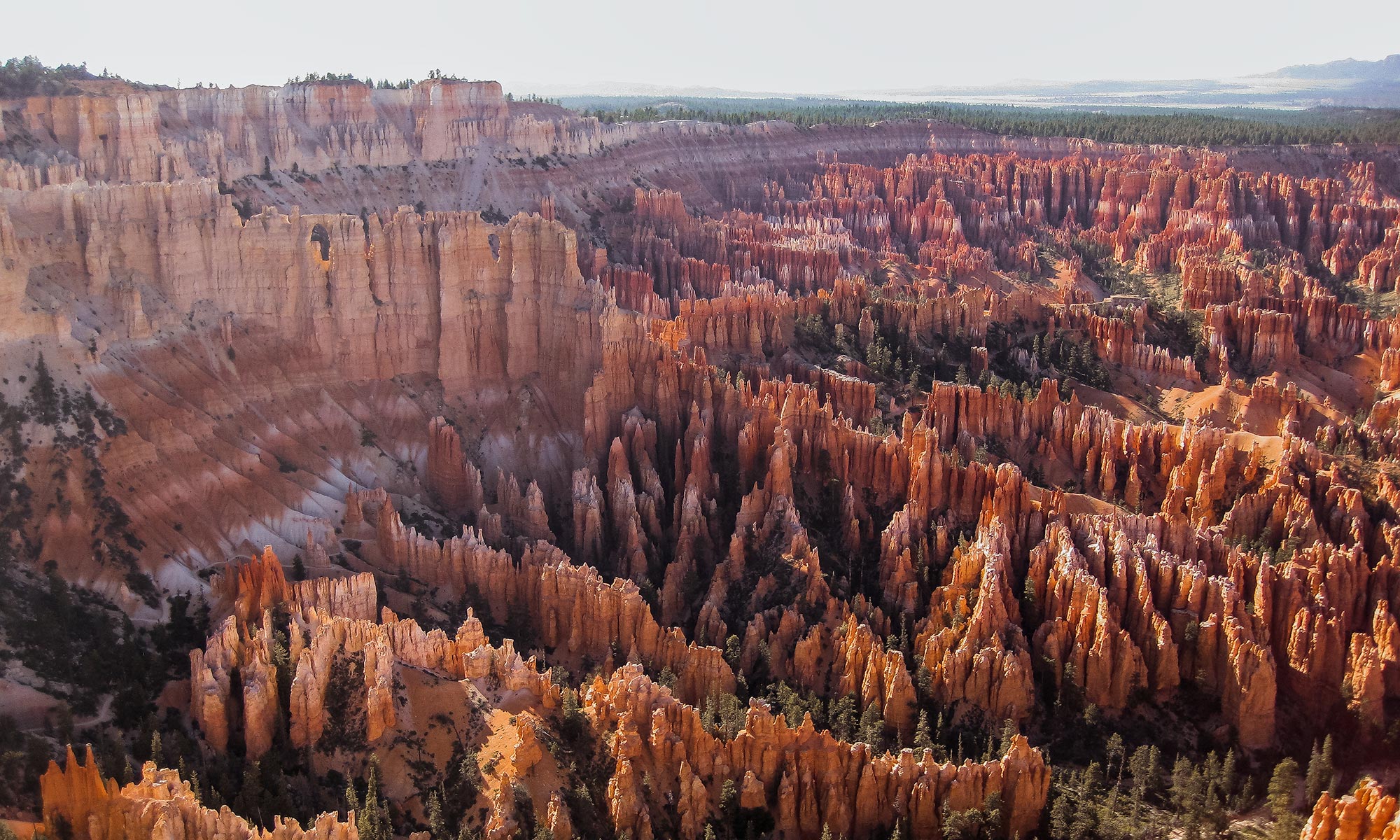 This vista at the south end of Bryce Amphitheater has expansive views to the north and east and is one of our favorite viewpoints!
If you're planning on being active, this is the perfect place to start one of the following trails:
Rim trail: 1.0-11.0 mi (1.6-17.7km) – 1-7.5 hrs to complete – easy hike (not a loop!)
Peekaboo Loop: 5.5 mi (8.8 km) – takes 3-4 hrs to complete – strenuous hike
Under-the-Rim Trail: 22.9 mi (36.9 km) from Bryce Point to Rainbow Point
Stop 9, 10 & 11: Sunset, Sunrise and Inpiration Point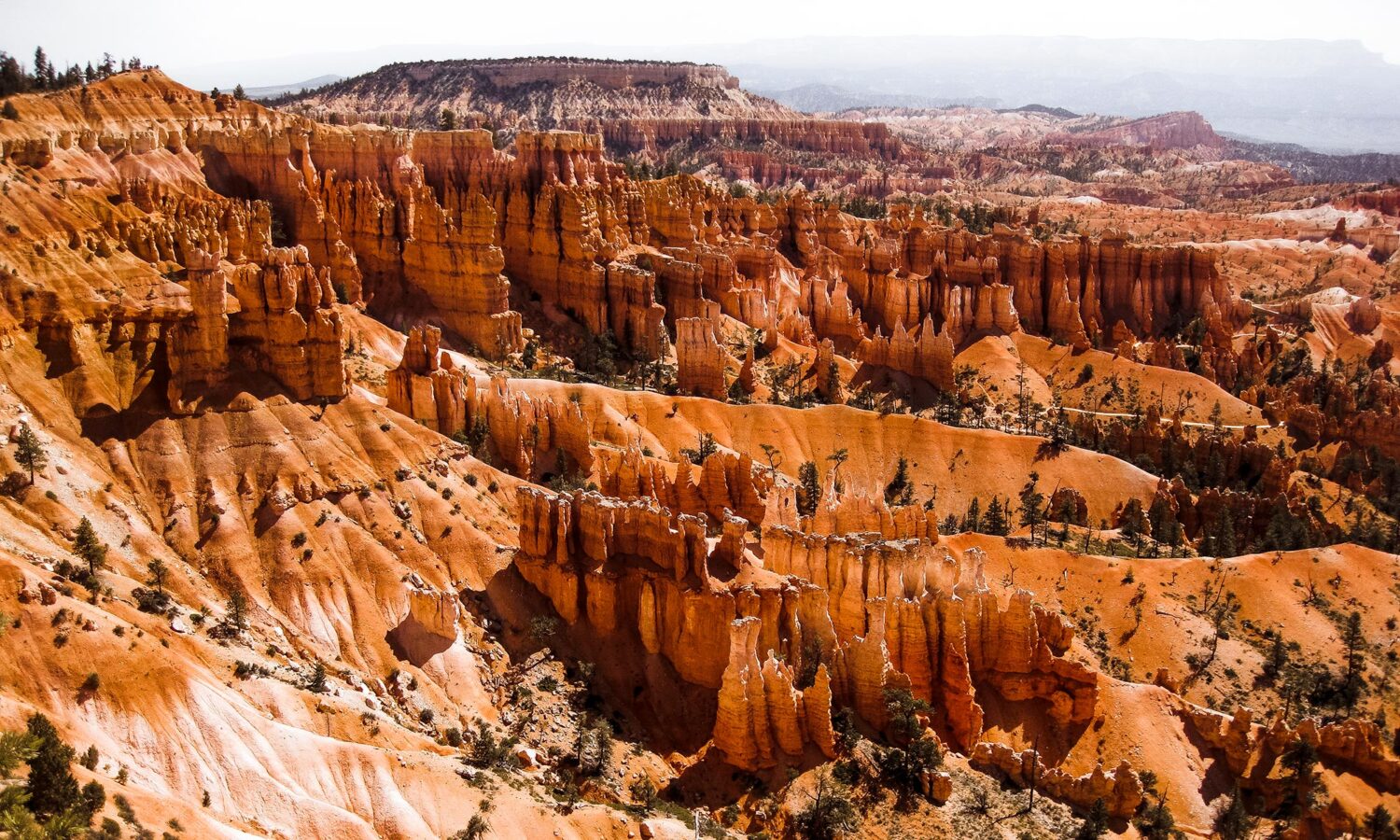 Suset and Sunrise Point can be found close to the visitors center and are connected by a 0.5-mile paved section of the Rim Trail.
Both lookouts take in large areas of Bryce Amphitheater and eve beyond. The Aquarius and Table Cliff Plateaus, which you've seen at Farview Point, rise along the skyline. A short walk down either the Queen's Garden Trail or the Navajo Loop Trail from Sunset Point will bring you close to Bryce's hoodoos and provide a totally different experience from what you get atop the rim. Read on for our experience hiking the Queen's Garden Trail ad Navajo Loop Trail.
The amazing hoodoo viewing made for a perfect experience at Bryce Canyon, even if you only have one day. Our first look over the Bryce Canyon amphitheatre took our breath away. I mean, we were gobsmacked, our mouths dropping open and forming the perfect 'O'. It must be one of the most out-of-this-world natural landscapes we've ever seen, even surpassing the extra-terrestrial landscape of the Quiraing in Scotland.
Inspiration Point requires a short 0.75-mile walk south along the Rim Trail from Sunset Point to see a fantastic maze of hoodoos.
Stop 12: Fairyland Point
Fairyland Point is the last stop when driving the Bryce Canyon Scenic Drive from North to South. Just inside the park boundary, just 0.8 mile from the visitors center, you can spot the whimsical forms of Fairyland Canyon a below. You can descend into the fairyland on the Fairyland Loop Trail or continue along the Rim Trail for other panoramas.
Pro tip:
When fit, hike the Fairyland Loop Trail. 8.0 mi long (12.9 km), it would take between 4-5 hrs to complete this uncrowded trail past theChinese Wall, Tower Bridge and tall hoodoos.
Got less than one day to spend in Bryce Canyon?
The Bryce Canyon scenic drive is a superb choice and can be done in about 3hours either by driving your own car or riding the convenient free shuttle bus. This is the absolute minimum amount of time you need to enjoy Bryce Canyon National Park.
2. Whitness an out-of-this-world sunrise at Bryce Canyon Sunrise viewpoint
If you manage to arrive at Bryce Canyon early, or a lucky to spend the night at Bryce Canyon, allow some time to explore the famed Bryce Canyon hoodoos in the golden light of sunrise.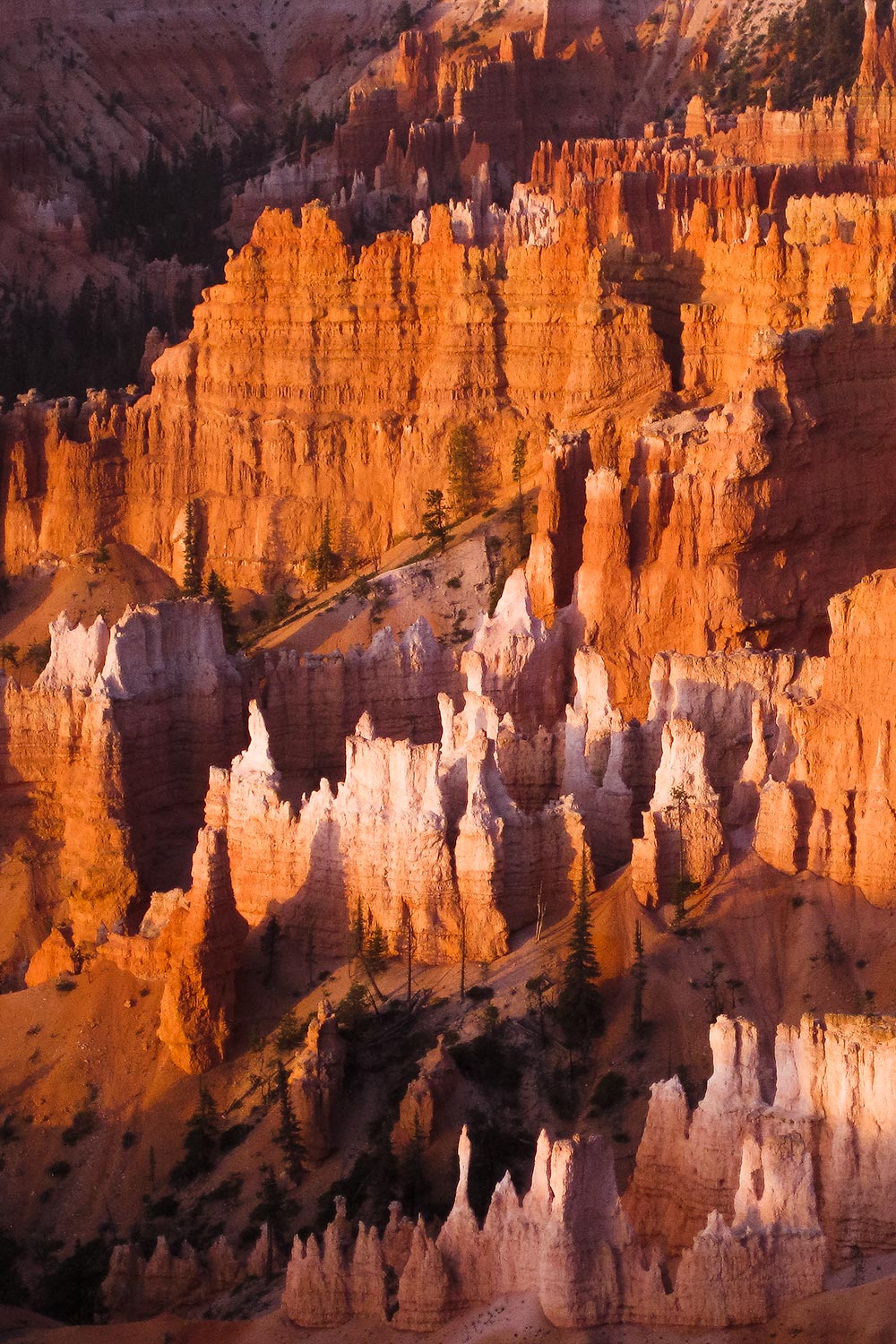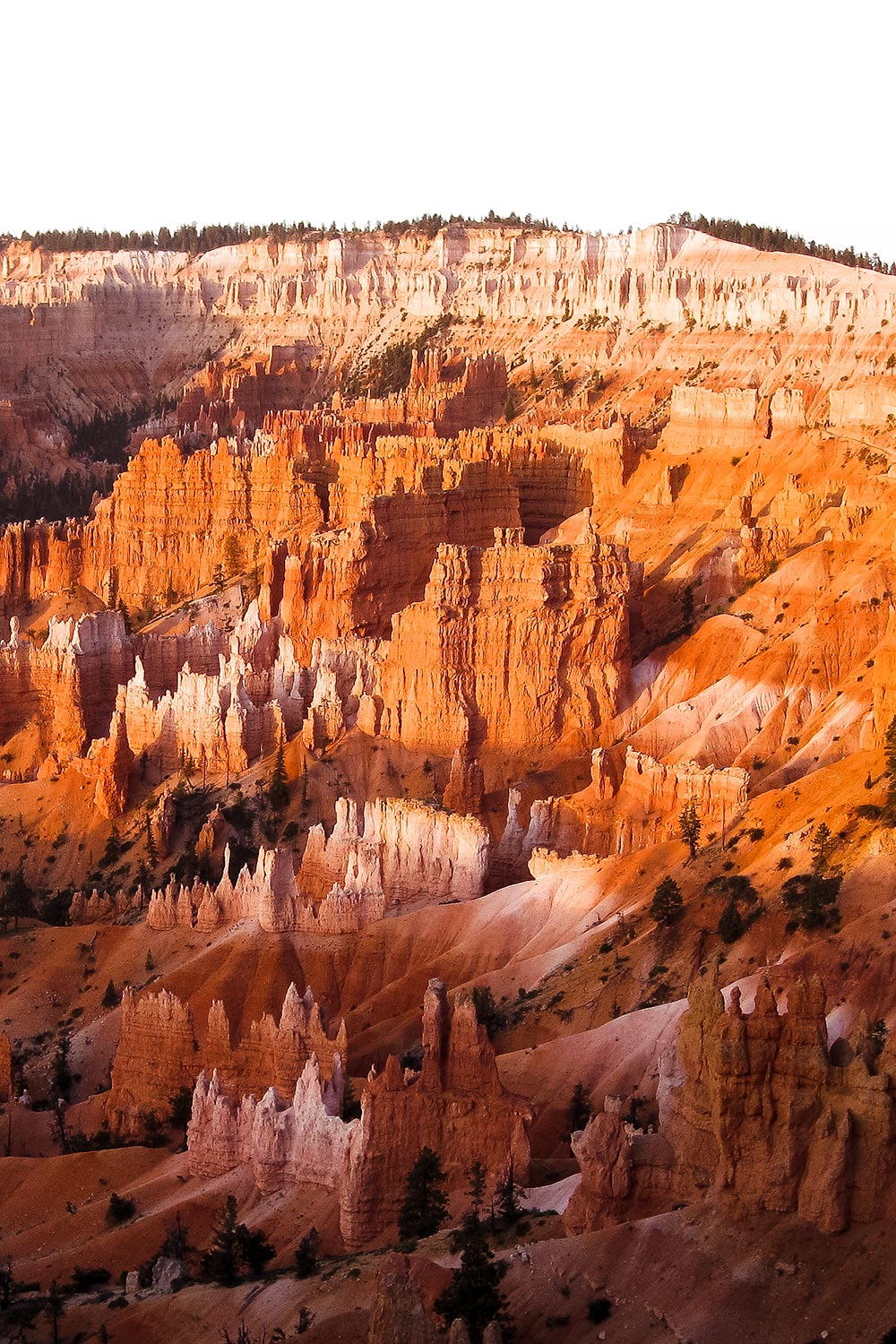 Morning came and we arrived first at the scene in order to catch the earliest sunbeams at Sunrise Point. The moment the first streaks of daylight peak over the Amphitheatre walls and highlight the golden colours of the oddly shaped hoodoos below, is simply magical. The viewpoint was quite crowded but there seemed to be a common understanding to enjoy this moment in pure silence with only the sounds of nature as a background soundtrack.
---
---
3. Hike your way into an incredible alien landscape
Excitement for our nearing hike through the enchanted forest of hoodoo clusters below got us all giddy and nervous! We prepared ourselves to hike down into the field of hoodoos.
We'd seen amazing photos from the Navajo Loop trail and were thrilled to get up close to some of the famous rock formations like Thor's Hammer. Slowly descending into the canyon we realized how tall these skinny spires of rock actually are. They seem so small from up above!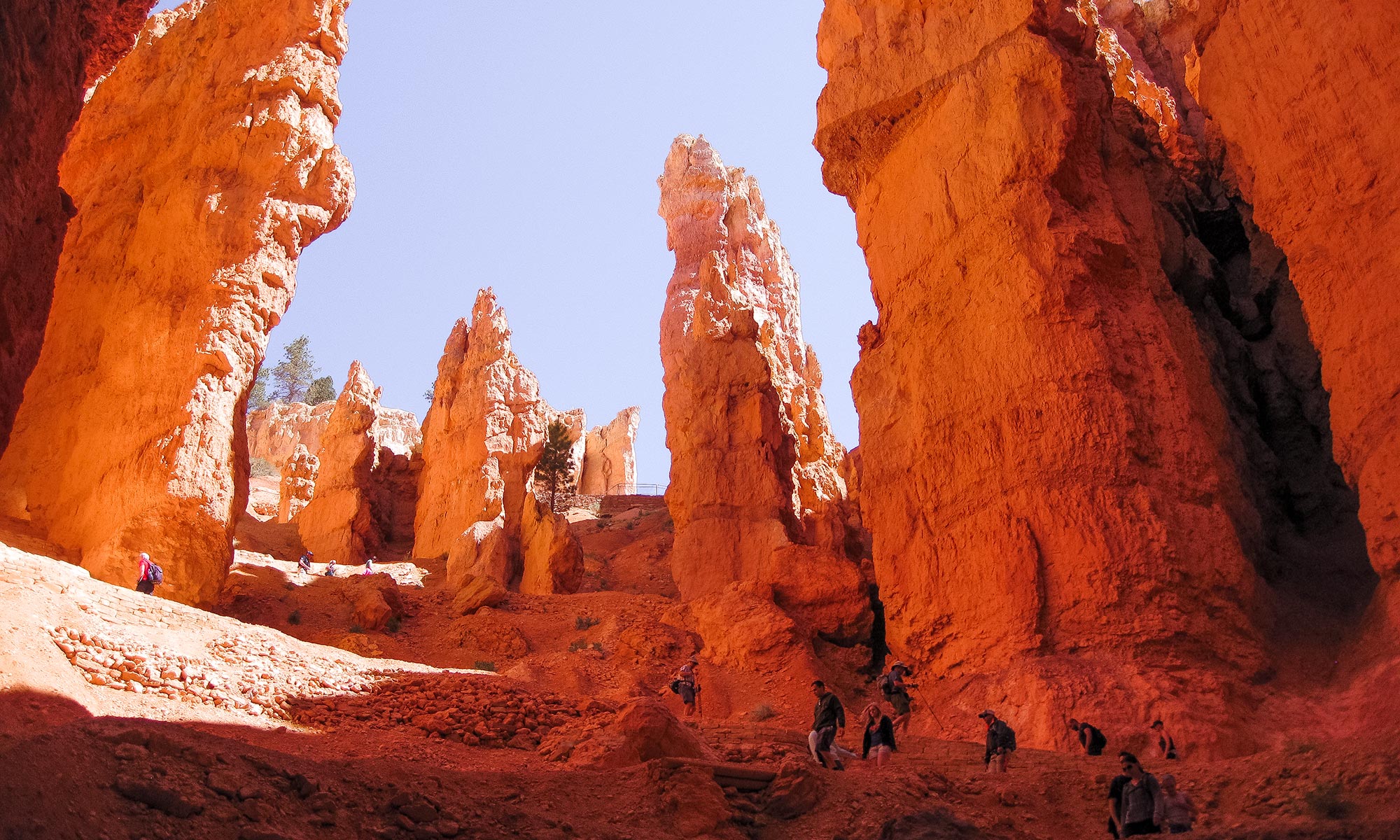 These spires seem to change from different angles – one moment they're shrouded in a purple haze and look like fairies and other mythical creatures might actually live here, and the next the sun turns the canyon into a hellish landscape where alien life might be lurking behind the corner. We had indeed embarked on the Navajo Loop trail which we combined with the Queen's Garden Trail.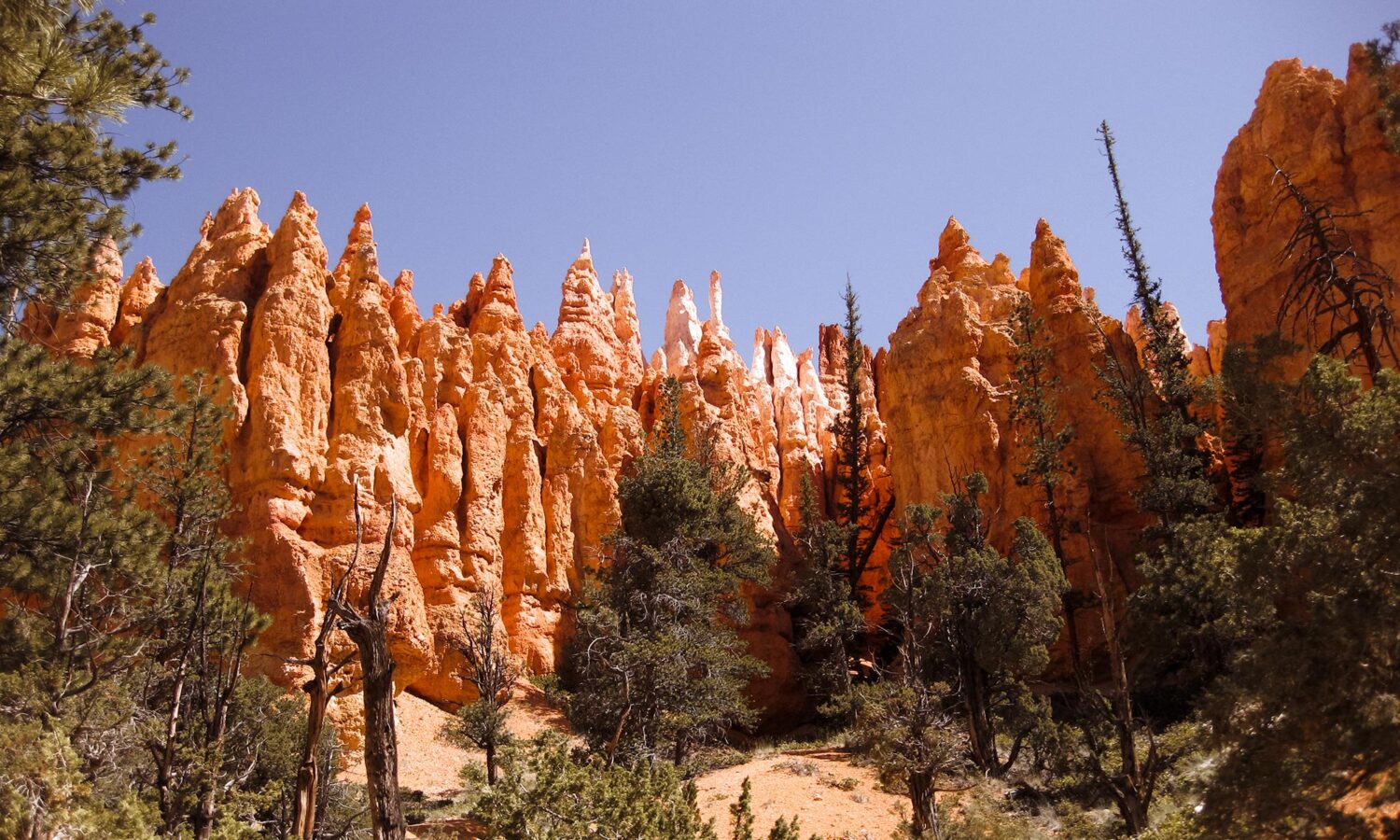 The trail is considered one of the best trails in the world and we absolutely agree. You can walk between hoodoo clusters and even through them via obvious man-made openings in the limestone rocks. Sadly we just missed the remaining snow (in June!) which would only have added to the extraordinary experience we had in Bryce Canyon National Park. The route is fairly easy with a steep incline at the beginning and steep ascent at the end, giving you reason to pause, take a breath and take in the astonishing views. Oh, and of course immortalize this moment by taking the most amazing photos you'll take during your Southwest road trip.
4. Whitness beauty upon entering and exiting Bryce Canyon National Park
Beauty can be found even before entering Bryce Canyon National Park. Wherever you're coming from, your drive towards Bryce Canyon will always be magical. The area is peppered with National Monuments, forest and canyons and you'll be mezmeried before reaching your destination. We drove from Zion National Park to Bryce Canyon National Park and from Bryce Canyon towards Page to visit Antelope Canyon, it was hands down one of the most epic scenic drives we've ever driven… absolutely gorgeous!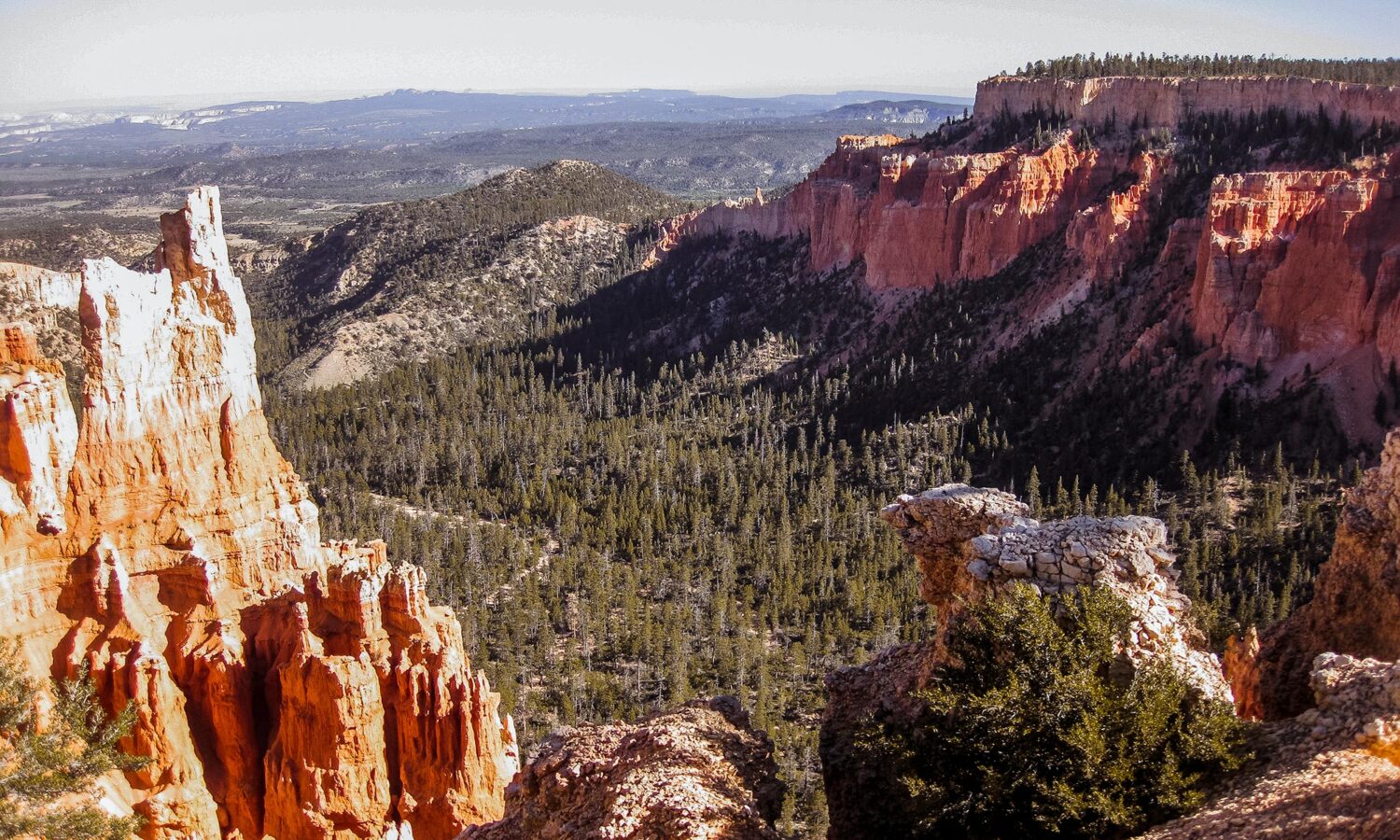 What to know before you go to Bryce Canyon
Where is Bryce Canyon located?
Bryce Canyon National Park is located in southwestern Utah off of UT-63. When coming from Zion National Park, you'll drive one of the most amazing scenic drives we've cruised so far!
The highest portion of the park is just above 9200 feet, due to the elevation it can be quite chilly in Bryca Canyon Nation Park, even in summer.
Can you visit Bryce Canyon National Park and Zion Natioanl Park in the same day?
The distance between Bryce Canyon National Park and Zion National Park is only 62 miles. As the distance is quite limited, most travelers wonder if it's possible to visit both parks in one day.
The absolute minimum amount of time needed in Bryce Canyon National Park is 3 hours to complete the 12 viewpoints along the 38-mile (roand trip) Bryce Canyon Scenic Drive.
You could tag on a short hike in Zion Natioanl Park if you really want to do both parks in just one day. However, we would recommend to spend at least one day in each park.
When to visit Bryce Canyon?
Bryce Canyon can be visited all year long. In the winter months, the hoodoos get a fairytale-like layer of snow while spring and fall generally has pleasant weather and the advantage of smaller crowds. The summer months can become quite busy and parking spots near the viewpoints can fill up quickly..
Does Bryce Canyon offer a shuttle service?
From mid-April to November, Bryce Canyon National Park offers a free shuttle service to all the major viewpoints in the park. You aren't required to use the shuttle here like you are at some other parks (like Zion and the Grand Canyon), meaning you can still choose to drive your own car if you want.
Where to stay when visiting Bryce Canyon?
For those of you who want to stay inside Bryce Canyon National Park, the Bryce Canyon Lodge is your only option. It is a beautiful hotel, thouh being located near the star attraction of the park – Bryce Amphitheater – it fills up quite quickly.
A great option is to stay near the entrance of Bryce Canyon, in the town of Bryce. There are not too many hotels right near the entrance but your best bets are Best Western PLUS Ruby's Inn and the Best Western PLUS Bryce Canyon Grand Hotel. Both are just minutes from the entrance to the park!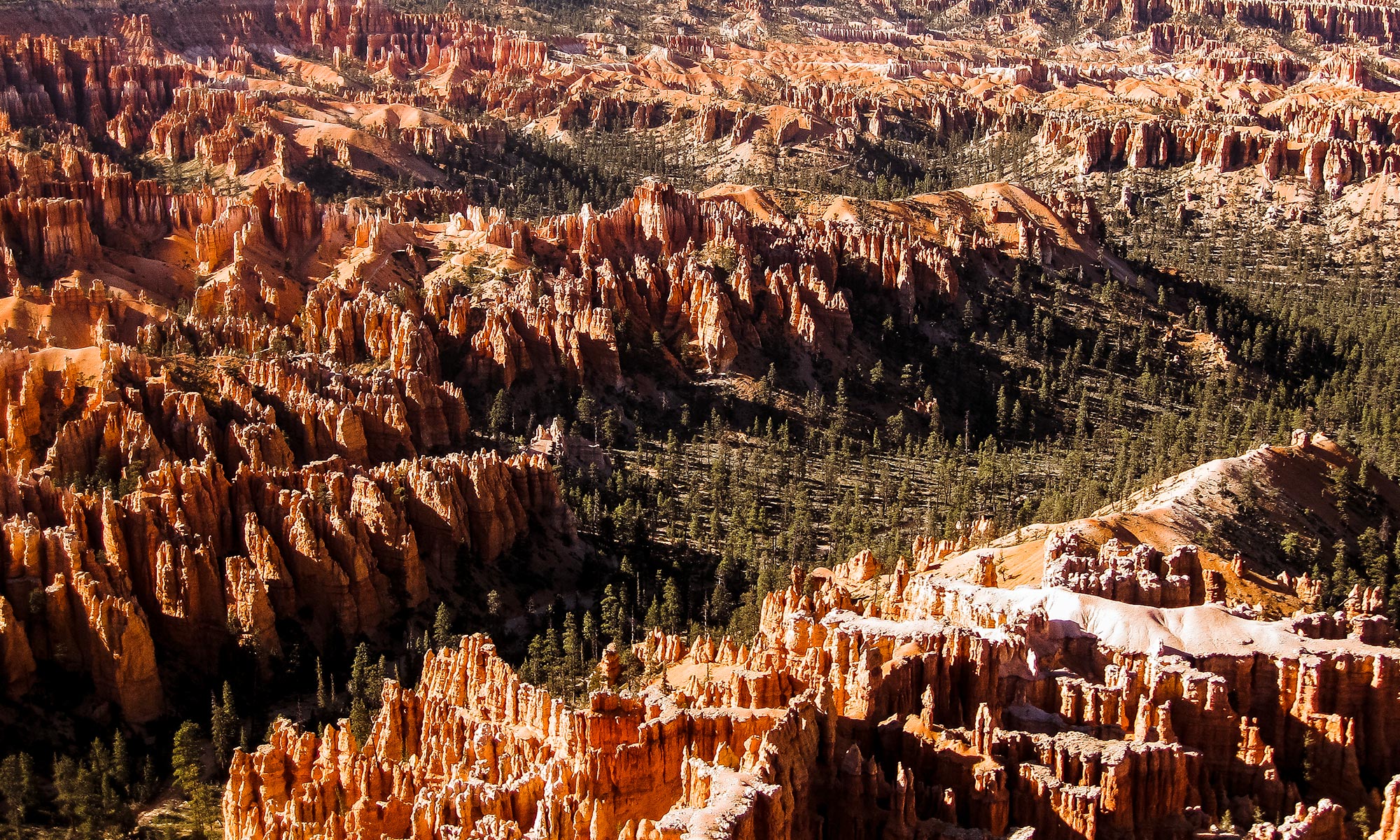 How to get to Bryce Canyon National Park
By plane
Bryce Canyon Airport is the closest regional airport. Charter flights are available to and from Las Vegas (Utah), St. George (Utah), Cedar City (Utah) and Salt Lake City (Utah) and Page (Arizona).
The closest major international airports are Salt Lake City (Utah) at approx. 4h drive, Las Vegas (Nevada) at approx. 4h drive, Phoenix (Arizona) at approx. 7h drive and Denver (Colorado) at approx. 8h drive.
By car
How to get to Bryce Canyon National Park from Las Vegas
The closest international airport to Bryce Canyon National Park is located at Las Vegas, Nevada. Close is a relative term as you still have to bridge 260 miles to get to Bryce Canyon from Las Vegas. The drive will take around 4 hours without stops.
Interesting stops along the way include Valley of Fire State Park, Dixie National Forest, Red Cliffs National Conservation Area and Zion National Park.
How to get to Bryce Canyon National Park from Zion National Park
Bryce Canyon and Zion National Park are located close together (only 62 miles apart) and are often combined into one trip.
Take the UT-9 E and turn left onto US 89 N for 43miles. Turn right onto UT – 12 E and again at UT-63 S. Follow the signs to Bryce Canyon National Park. The drive takes 1h30min.
Although we recommend to spend at least one day in Bryce Canyon National Park and at least one day in Zion National Park, you can visit Bryce and Zion in one day, if you drive the 3hour scenic loop in Bryce Canyon and do one short hike in Zion National Park. You won't be able to do both parks in one day if you're looking to do a more challenging hike like Angels's Landing in Zion National Park.
How to get to Bryce Canyon from Antelope Canyon and Horseshoe Bend (Page, Arizona)
Bryce Canyon is a logical next stop on any South-West USA roadtrip when you've just been to Antelope Canyon and Horseshoe Bend. Heading from Page to Bryce Canyon National Park takes about 2h40min. Take into the account the time difference as you cross state borders!
If you leave early, you can schedule a stop at Kanab and join this tour that takes you on a guided walk through the Peek-A-Boo Slot Canyon of the Grand Staircase-Escalante National Monument.
Take the US-89 N for about 130 miles and turn left onto UT – 12 E. Follow the signs to Bryce Canyon National Park.
---
After seeing all the above photos, you might not be surprised to hear that we think Bryce Canyon National Park deserves some of your time when on a road trip through the Southwest. One day in Bryce Canyon is largely sufficient to cover the main viewpoints and get up close with the out-of-this-world looking hoodoos.
It's pretty darn unique as far as national parks go!
Have you been to Bryce Canyon National Park? What was your favorite viewpoint?