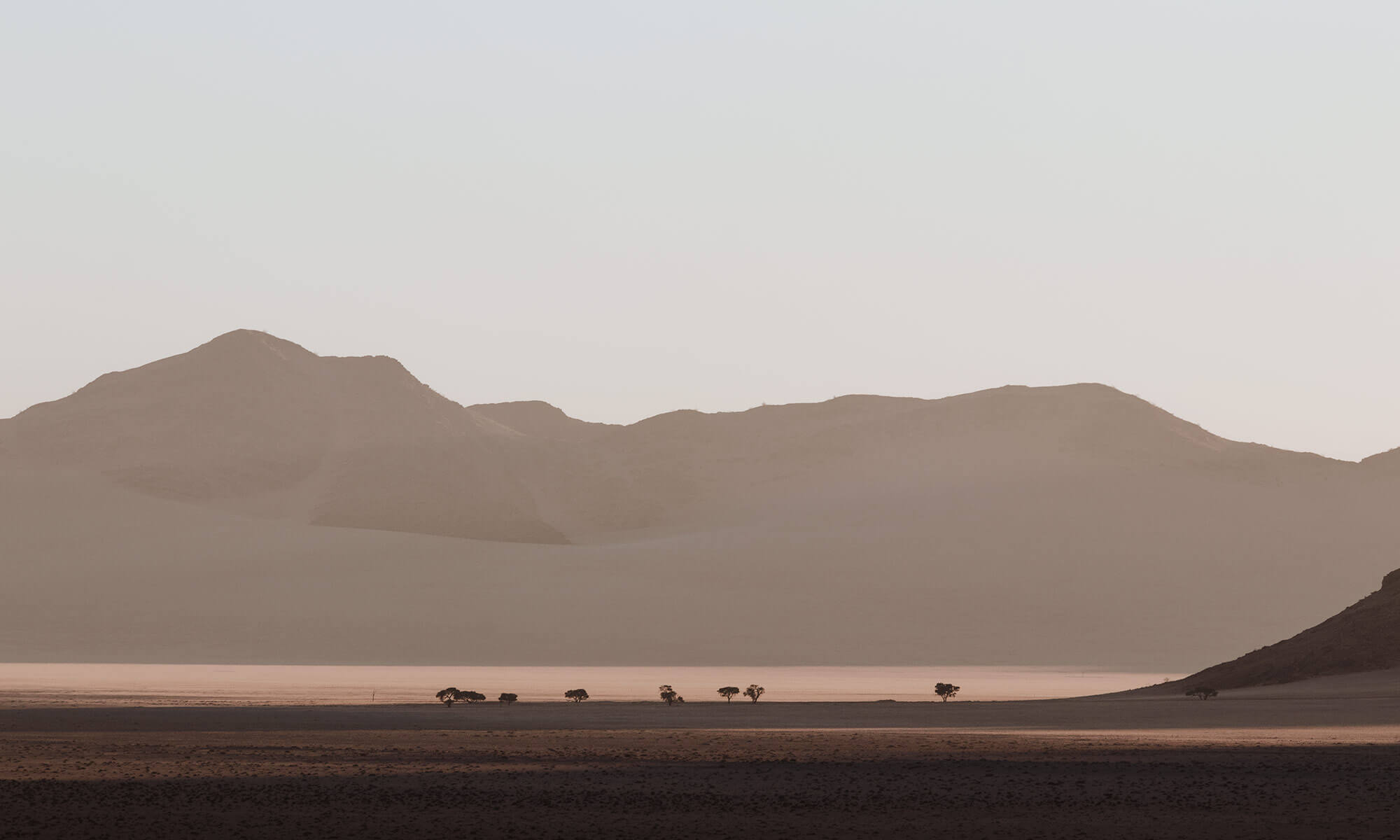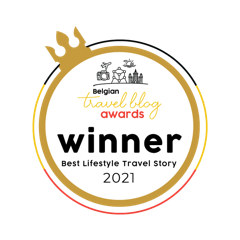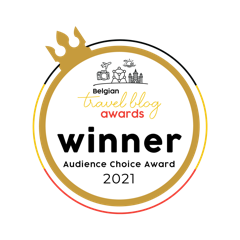 Namibia is nature untamed. A place where you can still find absolute remoteness and get up close with the most extreme landscapes in Africa. This part of the Namib Desert has been reinvented by Namibia's Naankuse Wildlife Sanctuary. Now adventurers and dreamers can soar freely through these breathtaking panoramas and explore nature's splendors responsibly. Kanaan Desert Retreat is where nature, luxury and conservation meet. This is truly Namibia off the beaten track.
---
Staying at Kanaan Desert Retreat, Southern Namibia's ecotourism hotspot
---
We slowly climb out of our sturdy Toyota Fortuner, leaving solitary footprints in the hot terra-cotta colored sand. Our five-hour journey through an extraterrestrial environment of rock formations surrounded by pale purple and orange sand dunes, seemingly ending on a foreign planet. At the end of what can be considered to be a 300km long dirt road driveway, we emerge out of the lingering manmade dust-cloud our car left behind, into the desert resort of Namibia's Naankuse Wildlife Sanctuary.
A luxury ecotourism accommodation in Southern Namibia
Our home for the next two nights is the
Kanaan Desert Retreat
, consisting of 8 luxury tents nestled at the foot of a rocky hill. Each tent lovingly decorated, using local craftsmanship to adorn the interiors. I step onto the front porch of our tent to find the sky a shade of turquoise and the air sweetly fragrant of Namibian myrrh. The bedsheets and towels infused with the luscious scent, making it a joy returning to our luxurious safari hideaway.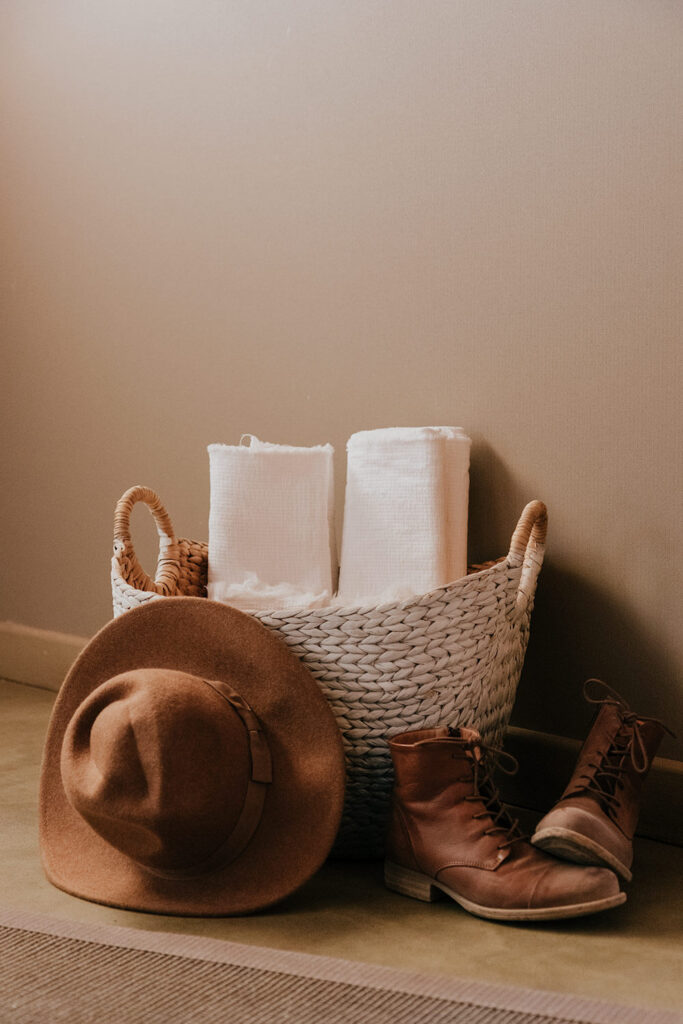 We pause and drink in the view of a group of oryxes, slowly walking past our tent. Staring up at us as if they had been waiting for our arrival, Namibia's national animal was putting on a private welcome show.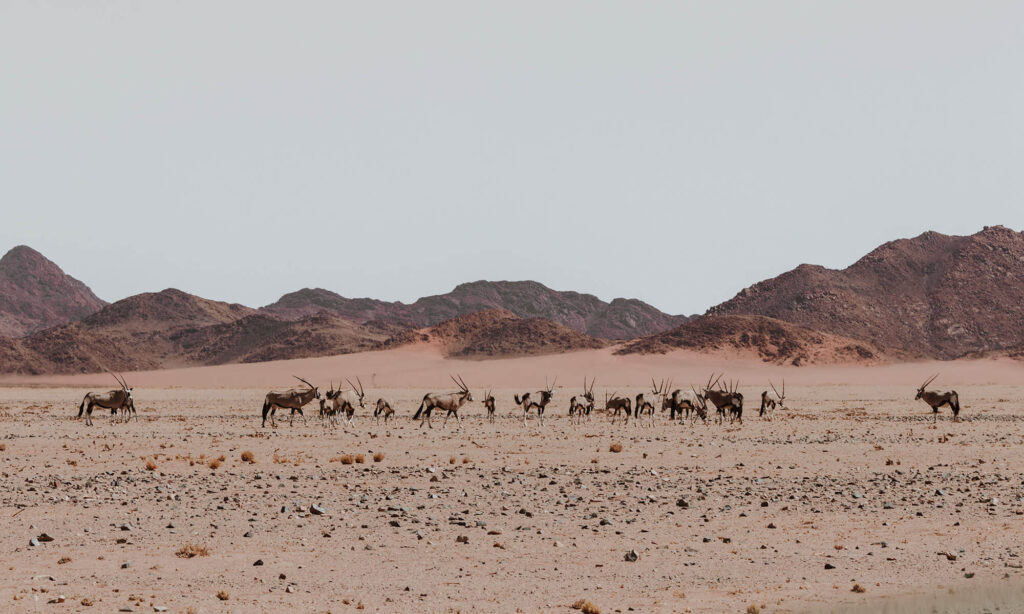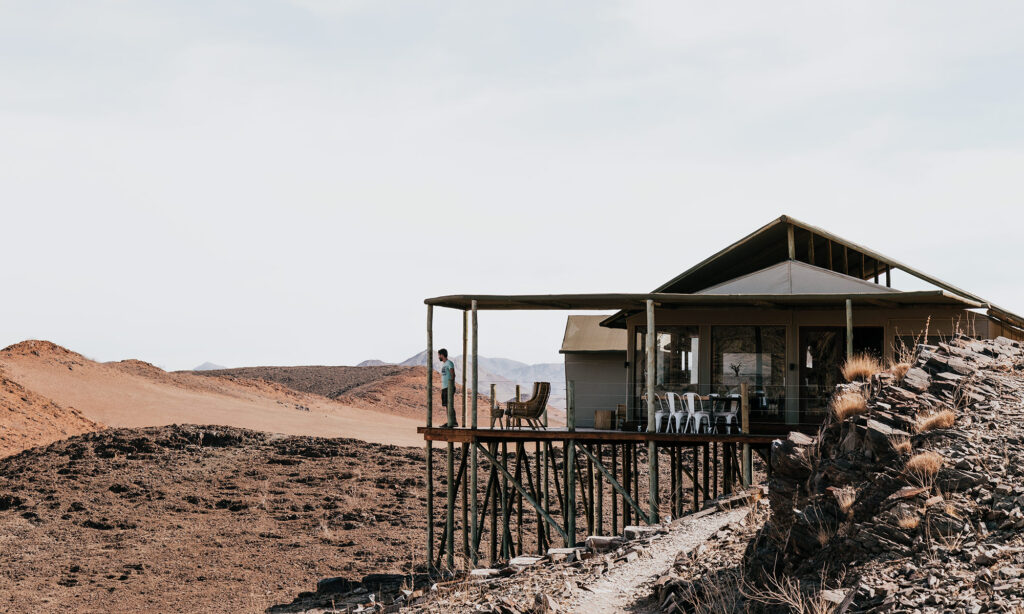 Afternoon light drapes the oryxes horns and slim shoulders. Flicking their tales against flies, they are watching us and we are watching them.
We can easily stand here for hours, human and oryx, focusing exclusively on one another in a kind of silent conversation. It's so quiet, I am unable to tell if I'm hearing my own heartbeat or the sound of ocean waves moving up through all those miles of sand and stone. It is impossible of course - the Namibian coast is a good 130km away.
But it shakes me, how dry and vast this part of the Namib Desert is, while a few hours away an immense body of water and cooler temperatures await. The Namib Desert is believed to be the world's oldest desert and it has been arid for at least 55 million years. While the western world's closest encounters with climate change are the climate strikes and Greta Thunberg's army of climate justice warriors, Namibia is actually feeling its impact on a daily basis.
"the real essence of the Kanaan N/a`an ku sê Desert Retreat is pure escapism"
"We haven't seen normal amounts of rain in Kanaan since eleven years" says Alec, our private guide for the next three days. It turns out he's not joking. He drives us through some of the most extraterrestrial landscapes we've encountered in this part of the world. The occasional rare touch of green growing in dry riverbeds that haven't seen water in more than a decade. The underground rivers, a hidden world of secret caves and trickling streams, the only source of water to feed the plants and animals in this outlandish part of Namibia. "Without our
boreholes
, this place would be completely inhabitable".
Each of the 8 tents has access to the borehole pumped waters, making the tapped water completely safe for consumption while solar panels provide electricity and warm water, even allowing for luxurious spa showers in isolation. Eco-conscious from inception, no refrigerators can be found in the tents but cooled drinks can be enjoyed from the verandah deck of the resort's restaurant. From here, Kristof and I plot how to explore the reserve the next days. Led by the retreat's knowledgeable guides, the excursions are the kind visitors don't want to miss - whether that's heading into desolate rusty sand dunes pre-dawn to watch the sun rise or stargazing to see the Milky Way more clearly than anywhere else on the planet. But the real essence of the
Kanaan N/a`an ku sê Desert Retreat
is pure escapism. In a sense, it is a bold, almost mystical experiment in off-map tourism. It is Namibia off the beaten track.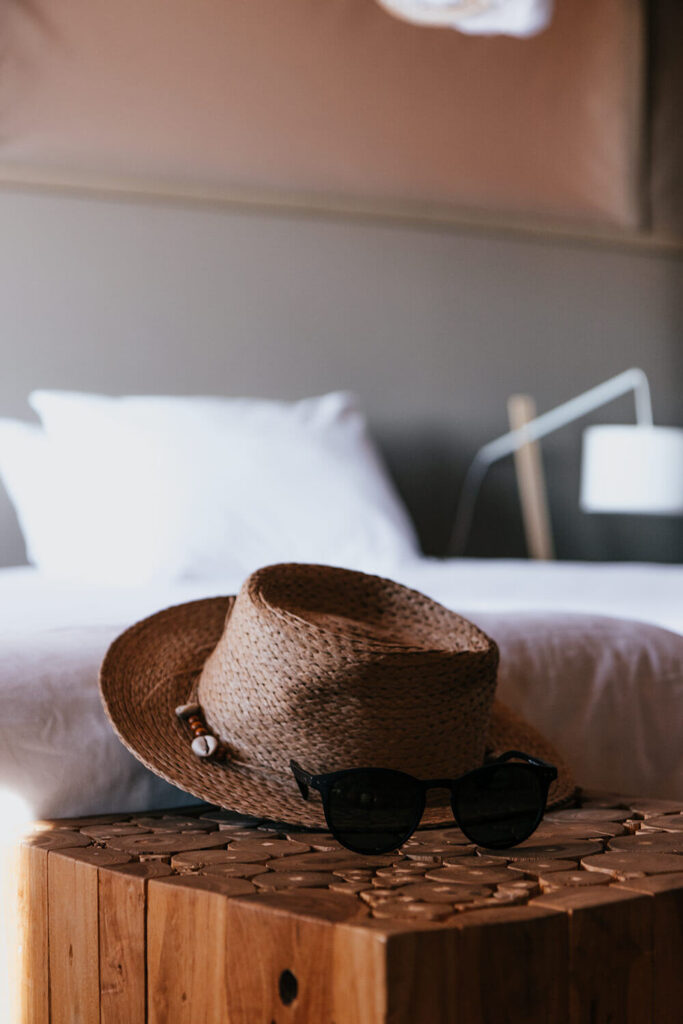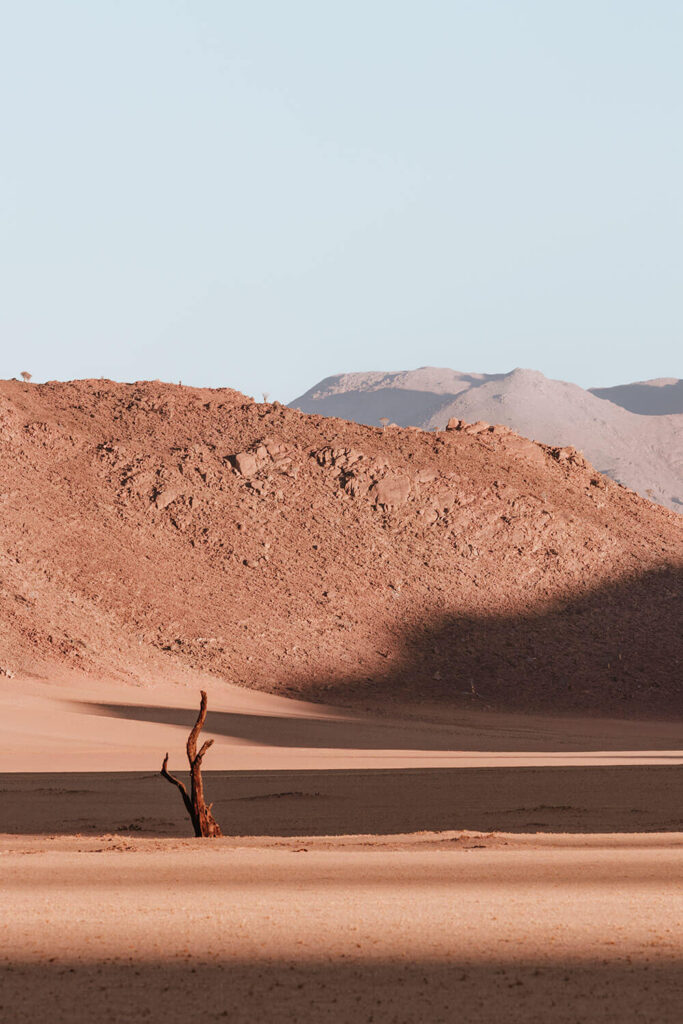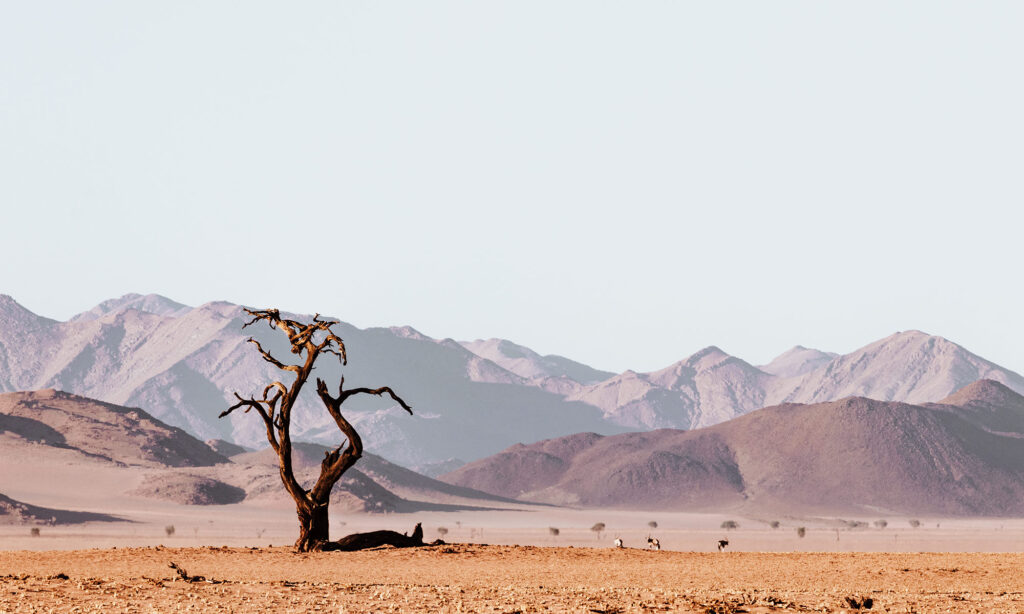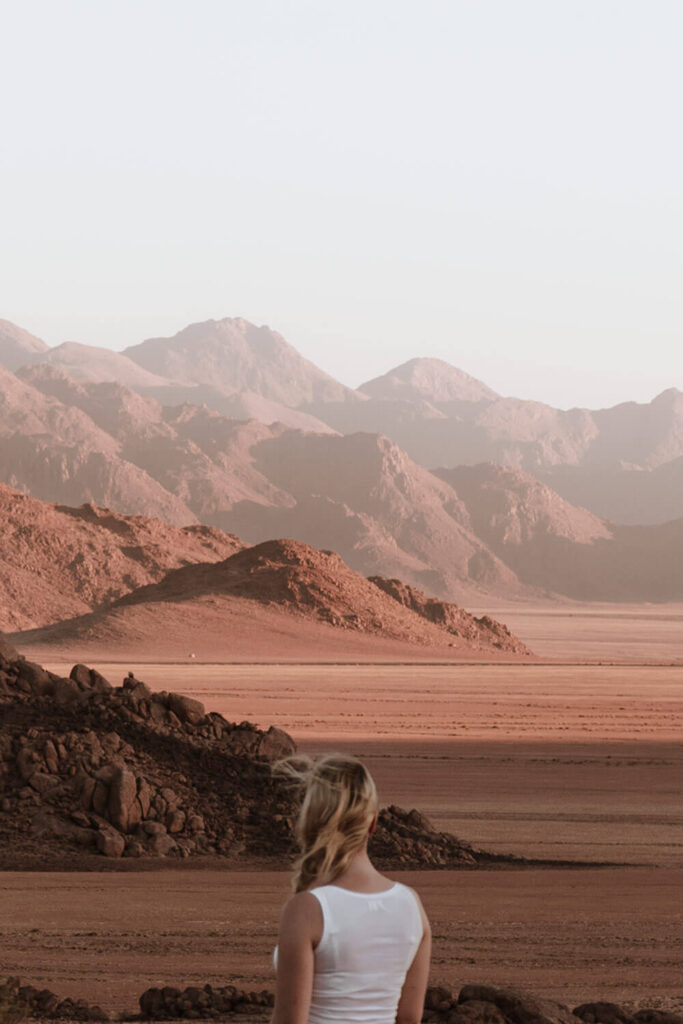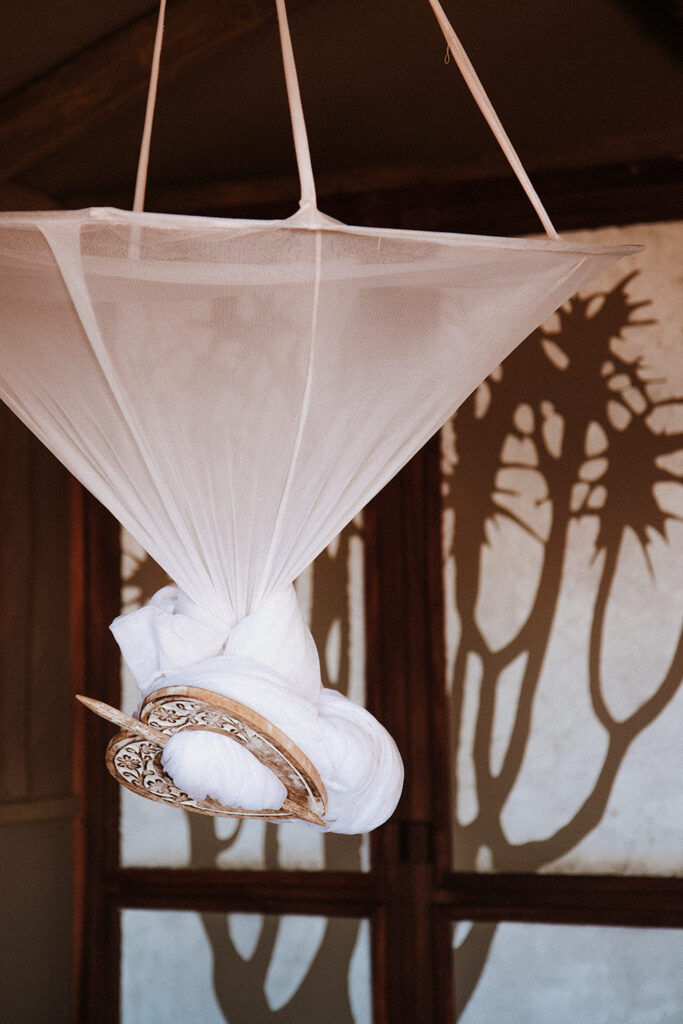 Things to do at Kanaan N/a`an ku sê Desert Retreat
Desolate, yet ravishing
On our first night at Kanaan Desert Retreat, Alec takes us for a nature drive in one of the closed safari vehicles. I only see sand and stones as I glare into limitless distances, the rare bush and quiver tree sprouting out of parched and petrous terrain. And yet it has to be one of the most beautiful spectacles I have ever seen. It seems Namibia comes with surprises. Its ravishing beauty: dramatized by its earthy colors and its coarse and untamed reaches and sheer scale.
But more surprisingly, the persistence of life -both human and animal- in these seemingly inhabitable lands. Only the bushman hunting tales and their use of the local quiver trees (which are actually giant aloe) demonstrate otherwise. The Khoisan, a tribe of hunter-gatherers, used the hollowed-out branches of the shrubs as quivers to hold their poison-tipped hunting arrows. The touch of an arrow, capable of slaying a kudu in mere seconds, puts survival in these regions into a different perspective.
Peering through the window of our safari truck, I find myself in a self-induced daydream of Khoisan hunters camping along the dry river bed we're slowly passing by. Cocooning under canvas, they're planning their next hunting trip by a flickering fire. My phantasy dissolves as we stop for our sundowner perched atop the rocky outcrops overlooking the desert. Night was falling. The Kanaan Desert Retreat appears like a distant mirage, shimmering and unreal in this desolated part of the world, welcoming us for a delicious supper of game. Am I still dreaming?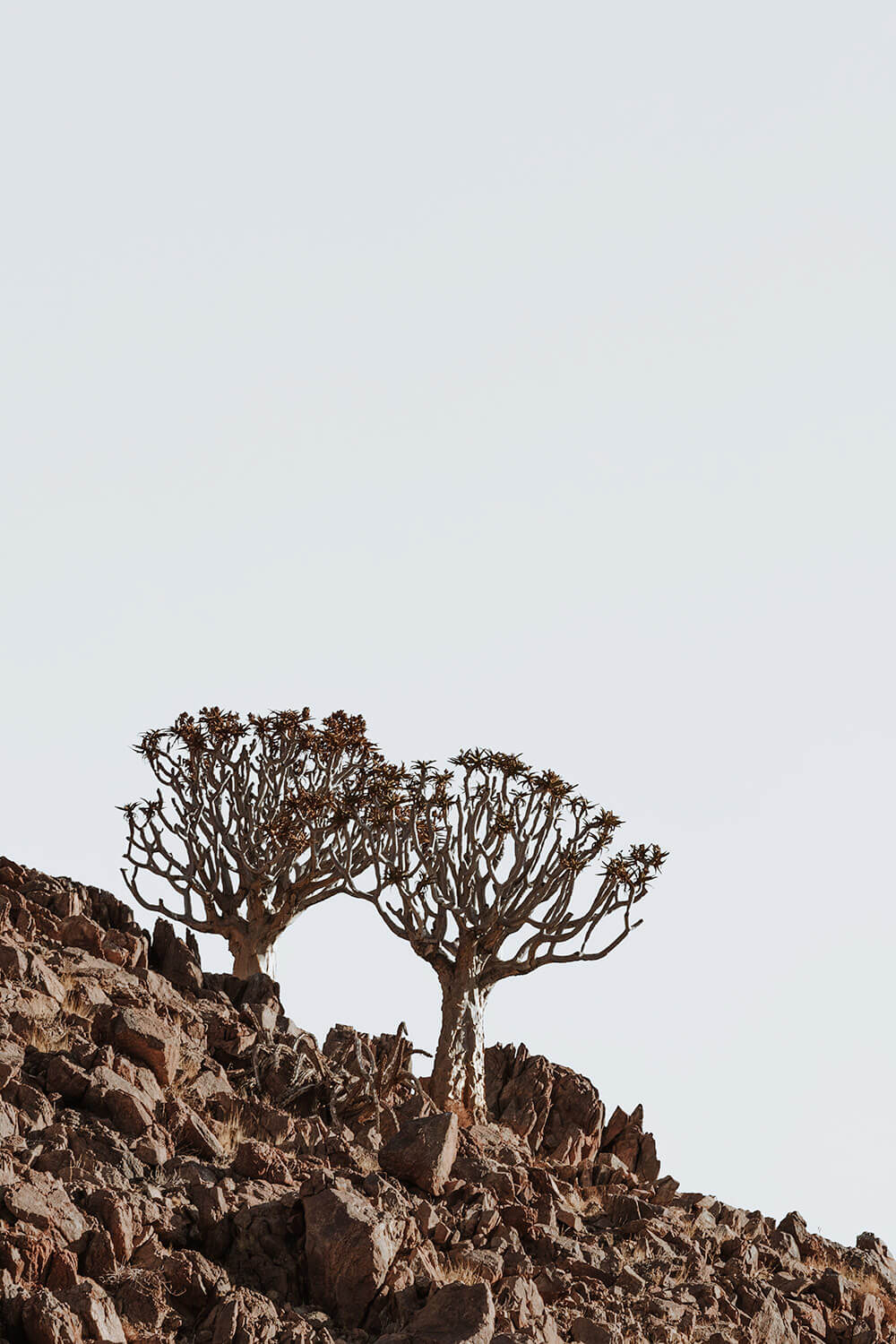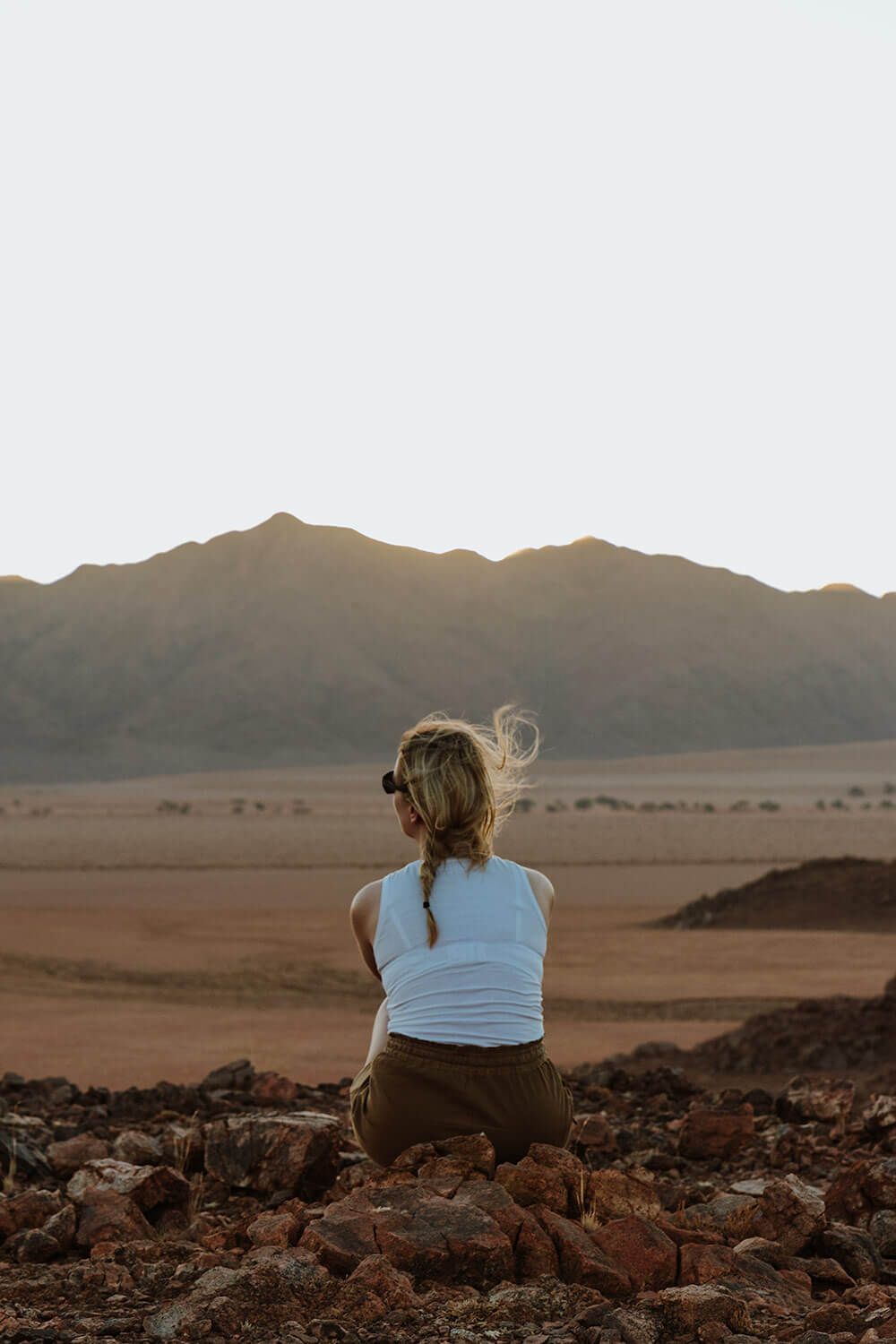 "The Namib Desert is utterly hypnotic: equally exhilarating as decompressing"
Off the beaten track: rusty mountains of sand in Namibia's outback
There's a Hemingway quote that says: "I never knew of a morning in Africa when I woke up that I was not happy". And he sure was right. The crisp early morning air quickly wiping any memories of sleep from my mind as we slowly cruise through the Namibian dunes in our safari jeep. I didn't know what to expect. According to all standards, we've already ticked the box of 'Mother of all desert' when we visited the Atacama Desert on our trip through the South American Andes. Will the Namib Desert be able to even reach the fingertips of Chile's Atacama Desert?
If the Atacama Desert made me feel insignificant, the Namib Desert makes me feel like the tiniest grain of sand. This is Namibia's outback – arid, desolate and one of the loneliest and most beautiful places in Africa. It is utterly hypnotic: equally exhilarating as it is decompressing. This entire place lends itself beautifully for meditative long walks traversing the Namib dunes. And these are best ended one way: enjoying a warming 'doorstep' breakfast under the golden light of the warming Namibian sun.
Whitnessing a cheetah feeding
I have never considered myself a brave person. My trembling voice and shaking knees confirming that I am still not courageous nor fearless when I am on eye-level with KFC. "No chicken here I'm afraid, only 'Kanaan Finest Cheetah' " Alec jests when he notices my nervousness. She's so close I can almost feel the tremor of her purrs through the soles of my boots. "She'll challenge you" Alec continues when he prepares her lunch. "When she approaches, make yourself as large as you can". Not something that would calm a 5.3 feet tall woman down. Here I am, waving my one arm in the air while holding a wooden stick in front of me with the other. A unique wildlife encounter is what I want but what I feel I really need is a personal bodyguard with a Richard Madden level of commitment.
The intimidation game has started. Are we supposed to be here? Accompanied by Alec, we tread a little closer and my hands start to shake a little faster. KFC using her territory as her own ballroom, walsing around us in big circles like she's the queen of the prom. Just like a prom queen only has eyes for her crown, KFC only has eyes for the lunch Alec brought for her. "She's ill, we nurse her by hiding her medication in pieces of meat" Alec explains. "Herds of oryx graze on carpets of desert sand. Predators such as cheetahs and hyena stalk them. But she can't". Releasing carnivores, both cheetahs and leopards, is a top priority at N/a`an ku sê – "returning the wild to the wild" being the mantra that forms the backbone of the Wildlife Sanctuary's projects.
Namibia's wildlife conservation guidelines are strict: breeding with captive large carnivores is strictly forbidden, as is the touching of any animal or taking pictures with any animal as habituation of any kind can lower their survival chances in the wild. The Kanaan N/a`an ku sê Desert Retreat currently looks after two cheetah's that are too weak to be introduced into the wild, but offers not courageous visitors like myself the opportunity to whitness them in an intimate moment.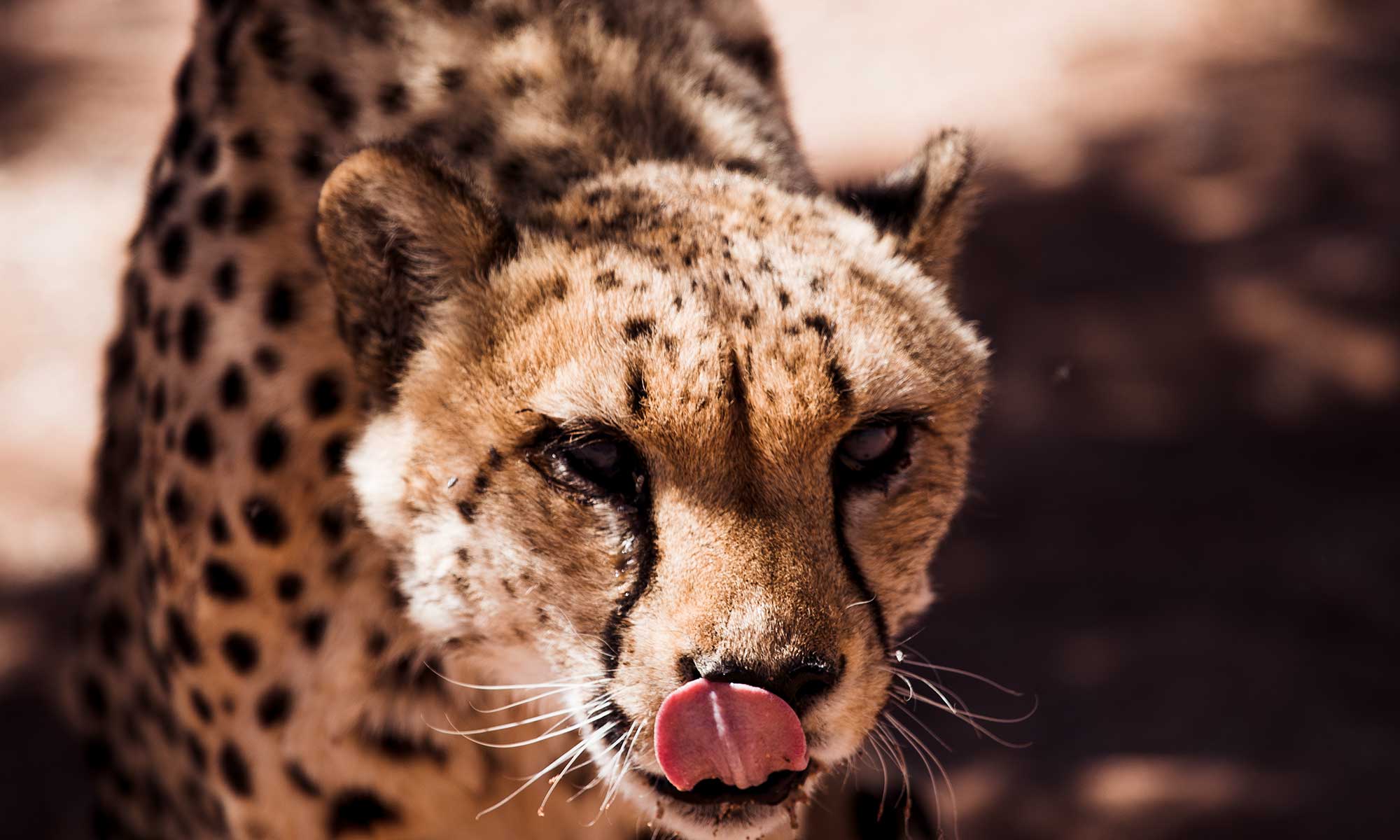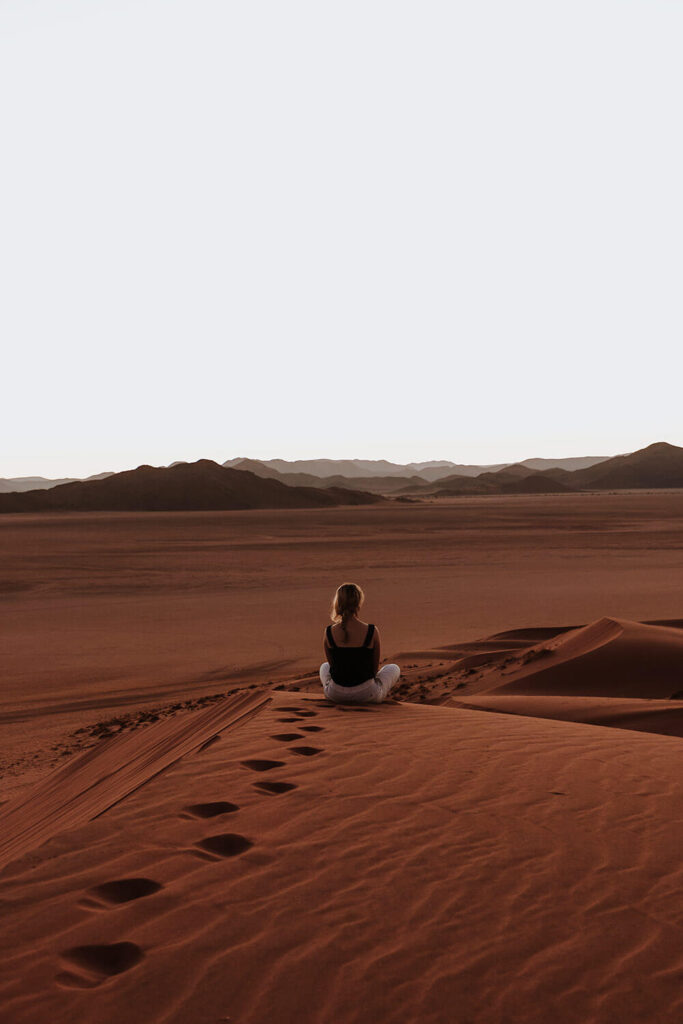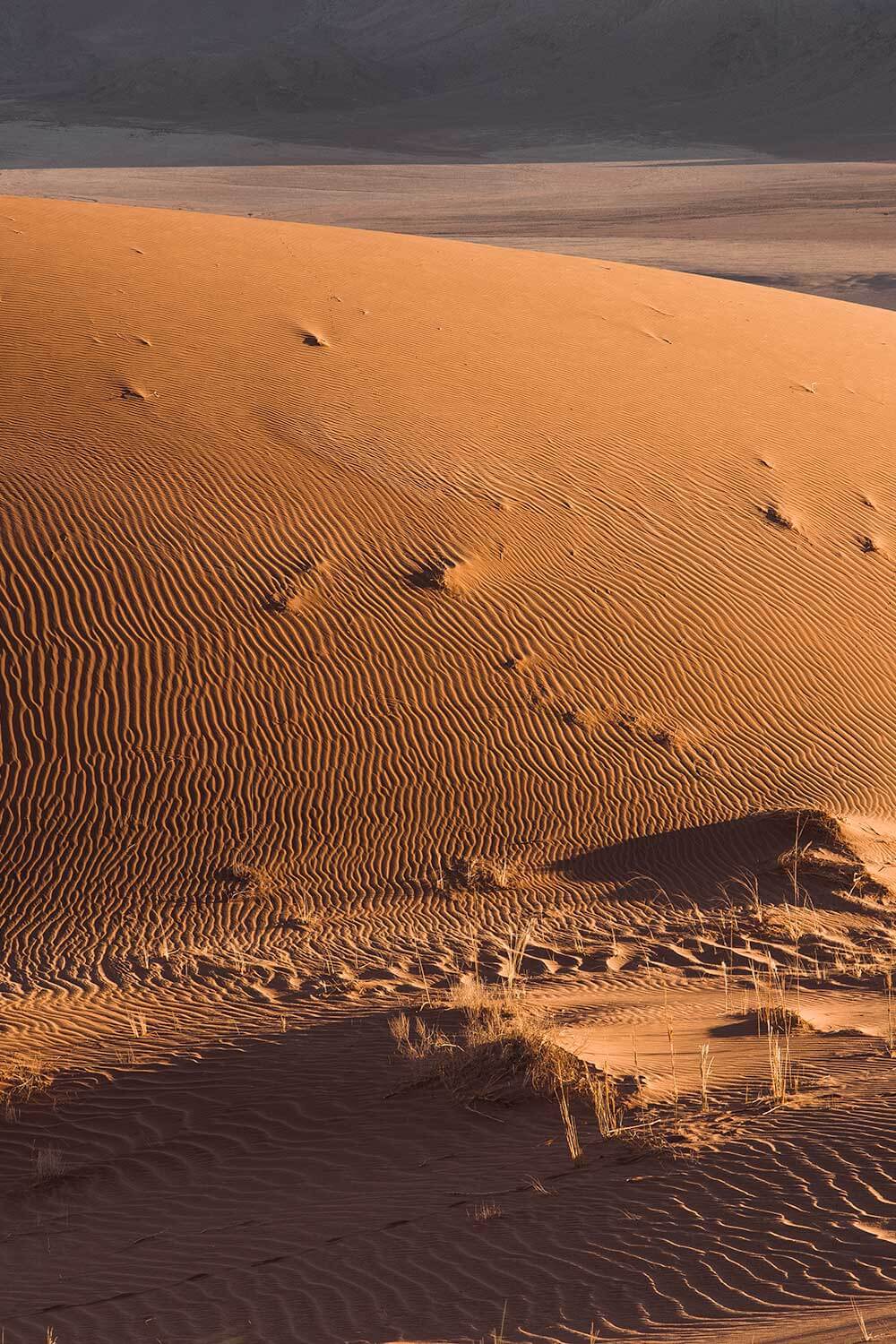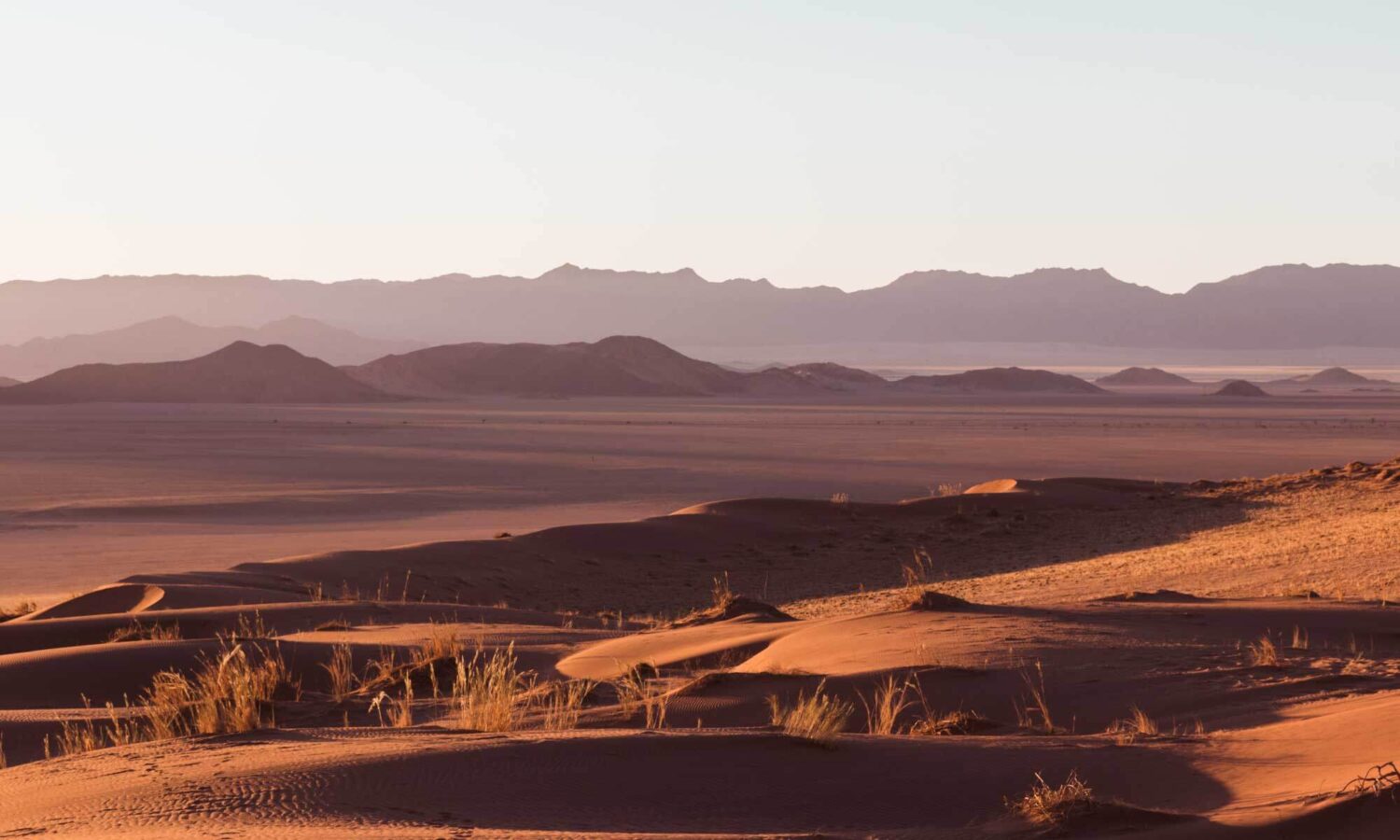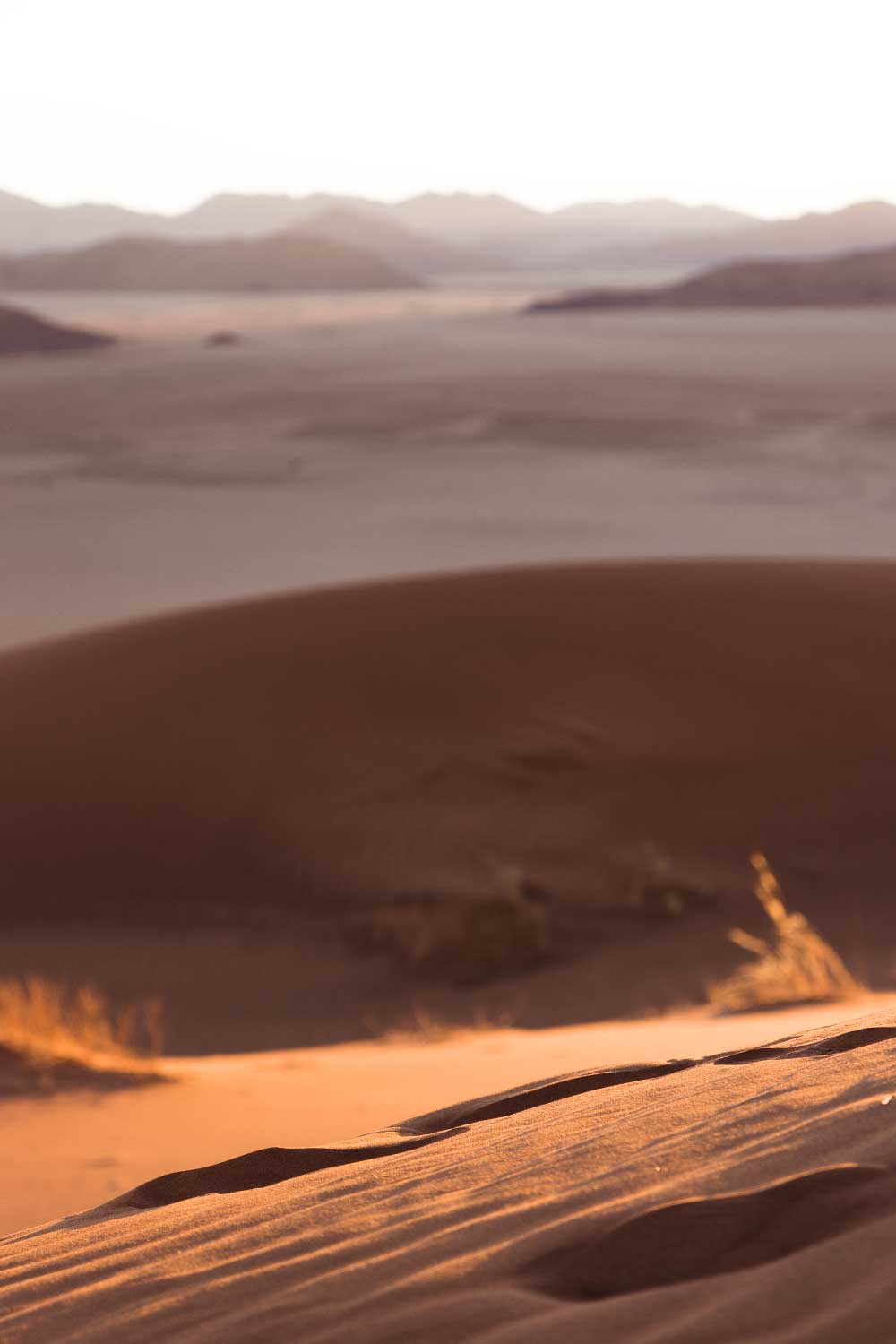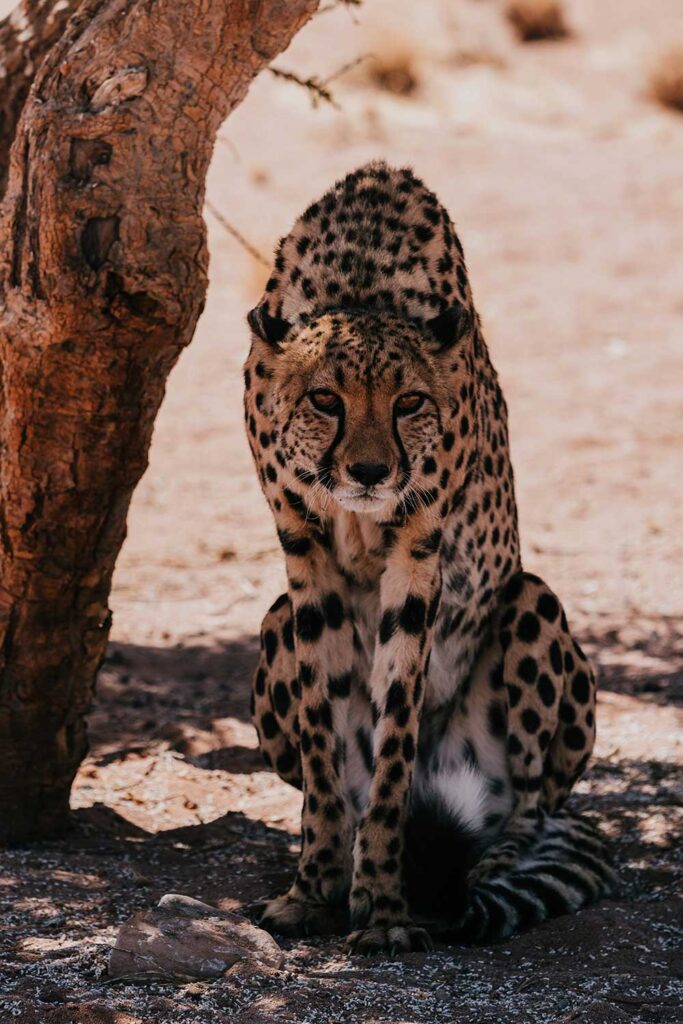 Professional photography tours
With fewer crowds and calmer vibes, Kanaan N/a`an ku sê Desert Retreat is Nambia's underrated B sides, but undeniably as compelling as its big hits. Kanaan N/a`an ku sê Wildlife Sanctuary attracts photographers and videographers, like myself, from all over the world to capture its seductive sand curves and rampant Tiras Mountains.
Photographers will be delighted to know this tour is completely private and includes a sunrise drive to the imposing dune belt, a sunset scenic nature drive, an astrophotography tour and a cheetah photography session. Advised to stay at least 2 nights in this Southern Namibia eco accommodation order to enjoy the full potential of this package.
Volunteer at the N/a`an ku sê Wildlife Sanctuary
The Kanaan Desert Retreat is located on 33,000 hectares of unspoiled land in Namibia's N/a`an ku sê Wildlife Sanctuary - which means "God will protect us" in the San Bushman language. Their ambitions regarding conservation and research projects, focusing mainly on studying large carnivores like the spotted and brown hyena, becoming more important each day Namibia's climate impact gets more urgent. While only animals too ill, abused or habituated remain at the sanctuary, the general amount of animals in the area is sadly dwindling. The Kanaan volunteer research program is a once in a lifetime experience to help scientist better protect the 33,000 hectares of Kanaan.
Volunteers at Kanaan help gather numbers on wildlife population, setup camera traps and aid in large carnivore study projects. My cheetah encounter might have shattered all my dreams of becoming the next the Steve Irwin but serious wildlife enthousiast might just get their once-in-a-lifetime experience at Kanaan.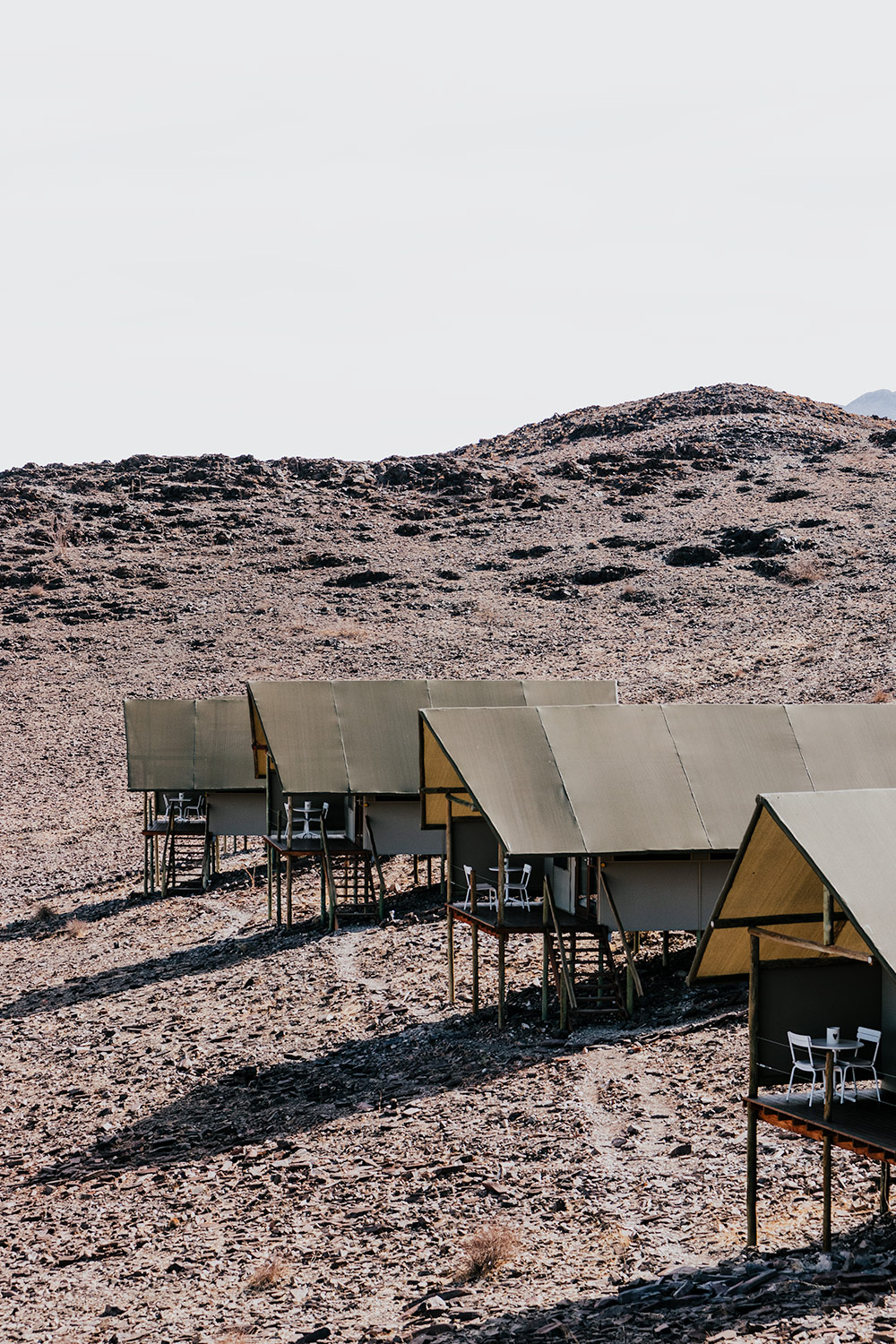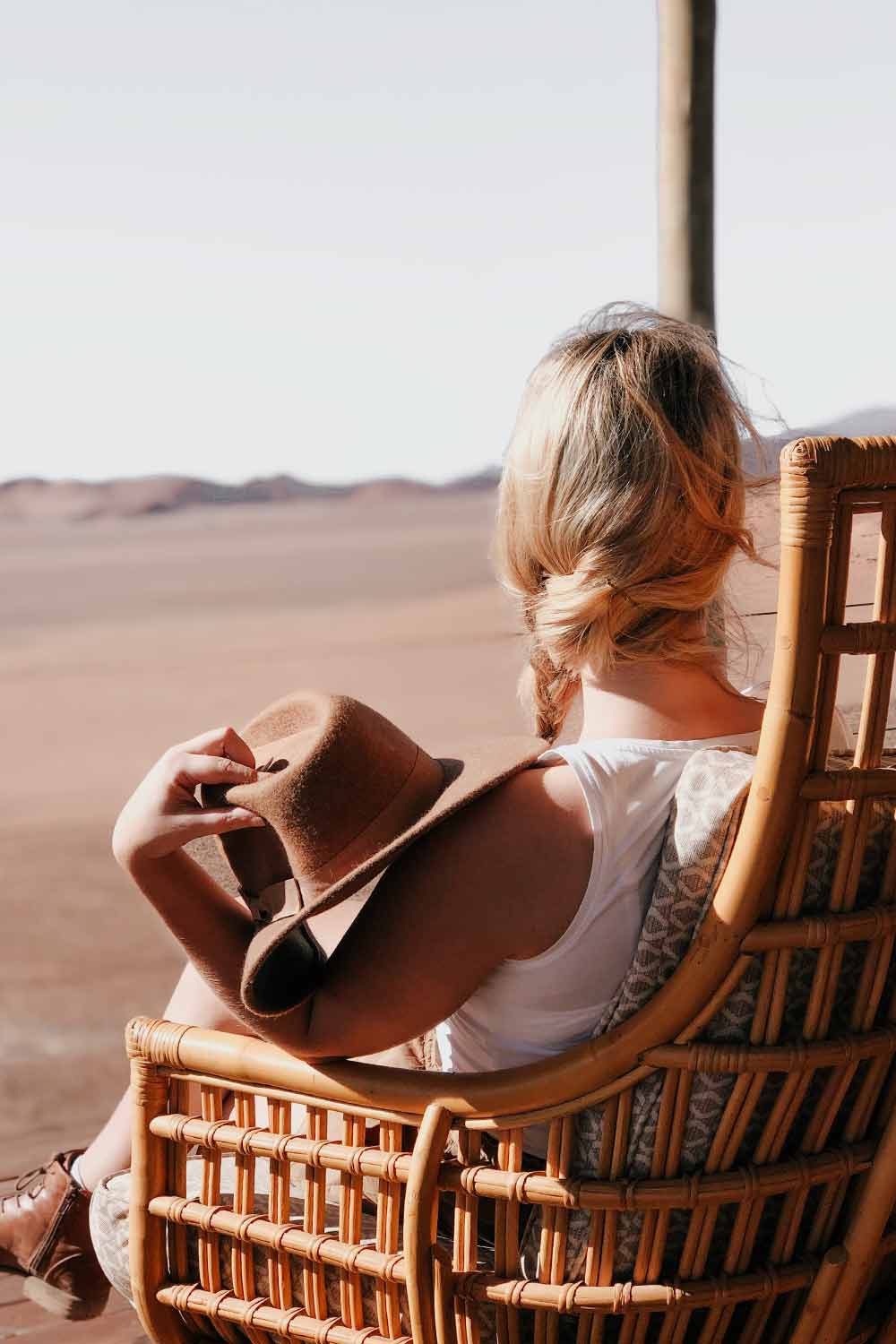 What to expect from a stay at Kanaan Desert Retreat?
The rhythms of the days at Kanaan Desert Retreat become hypnotic. It began with the distant call of oryxes resounding through the tent flaps, then the dry river beds becoming figments of my daydreams, the rumbling purrs of Kanaan's finest carnivores and Alec's 'doorstep' breakfasts in the rusty dune belt. Make time before or after lunch to sit on the verandah of the restaurant, which overlooks the Namib Desert under the loom of the nearby Tiras mountains. It's a bittersweet moment where you'll realize just how badly you never want to leave. Kanaan Desert Retreat is a special hideaway for romantics, creatives, intrepid travelers and dreamers.
The rooms
8 safari tents are bedded into the flanks of rocky outcrops, offering spectacular views of the Namib desert and her roaming game. The tents are furnished minimally but elegantly with Namibian crafted pieces of furniture. The bedroom features a mosquito canopy as well as a fan. Eco-centricity is at the heart of the Kanaan Desert Retreat and both A/C, WiFi and refrigerators are only available in the main areas.
The en-suite bathroom is spacious, complete with a fantastic shower and ecological amenities. The large porch at the front of the safari tent is perfect for enjoying a sundowner and taking in the incredible views.
Essentials
As much as we loved our safari tent, it's the impressive outdoor landscapes that really leave a lasting impression. Just off the safari tents lies the restaurant area, fully wrapped by an impressive shaded deck. Other amenities include a swimming pool, daily housekeeping, private parking and laundry service. Promoting sustainable tourism in Namibia, the lodge employs locals and A/C and WiFi is only available in the main areas of the retreat.
Need to know
This experience is unfortunately not suited for people with limited mobility. stairs are frequent as you need to take them to reach your tent as well as to get to the restaurant. Just remember where you are, completely off the beaten in track in Namibia's untamed outback!
How to get there
Getting to Kanaan Desert Retreat is as much of an adventure as the excursions you'll experience while there. It is recommended to hire a car with high clearance like a Toyota Fortuner as public transport is practically nonexistent. You'll drive on dirt roads most of the time, sometimes in bad condition. The nearest international airport to Kanaan is the Hosea Kutako International Airport in Windhoek. From Mariental it took us 5h 30min to get to the retreat.
GPS COORDINATES:
South: 25° 55' 4.9692" East: 16° 8' 3.6816"
How to get there:
Drive B1 south to Mariental, then turn right on to C19 towards Maltahohe. Continue through town to the T-junction, then left on to C14, then continue for35km, then turn right on to D824. Continue for 11km, follow D831 left, and right on to D826 towards Duwiseb Castle. Continue to Betta, then left on to C27 towards Farm Spes Bona. At Spes Bona, turn right on to D707, continue for 45km to Kanaan entrance.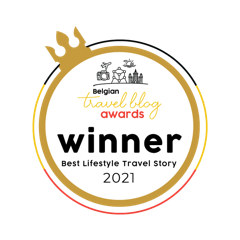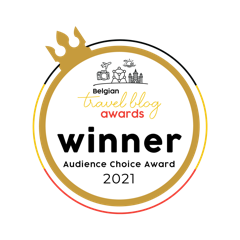 LOVE IT? PIN IT!