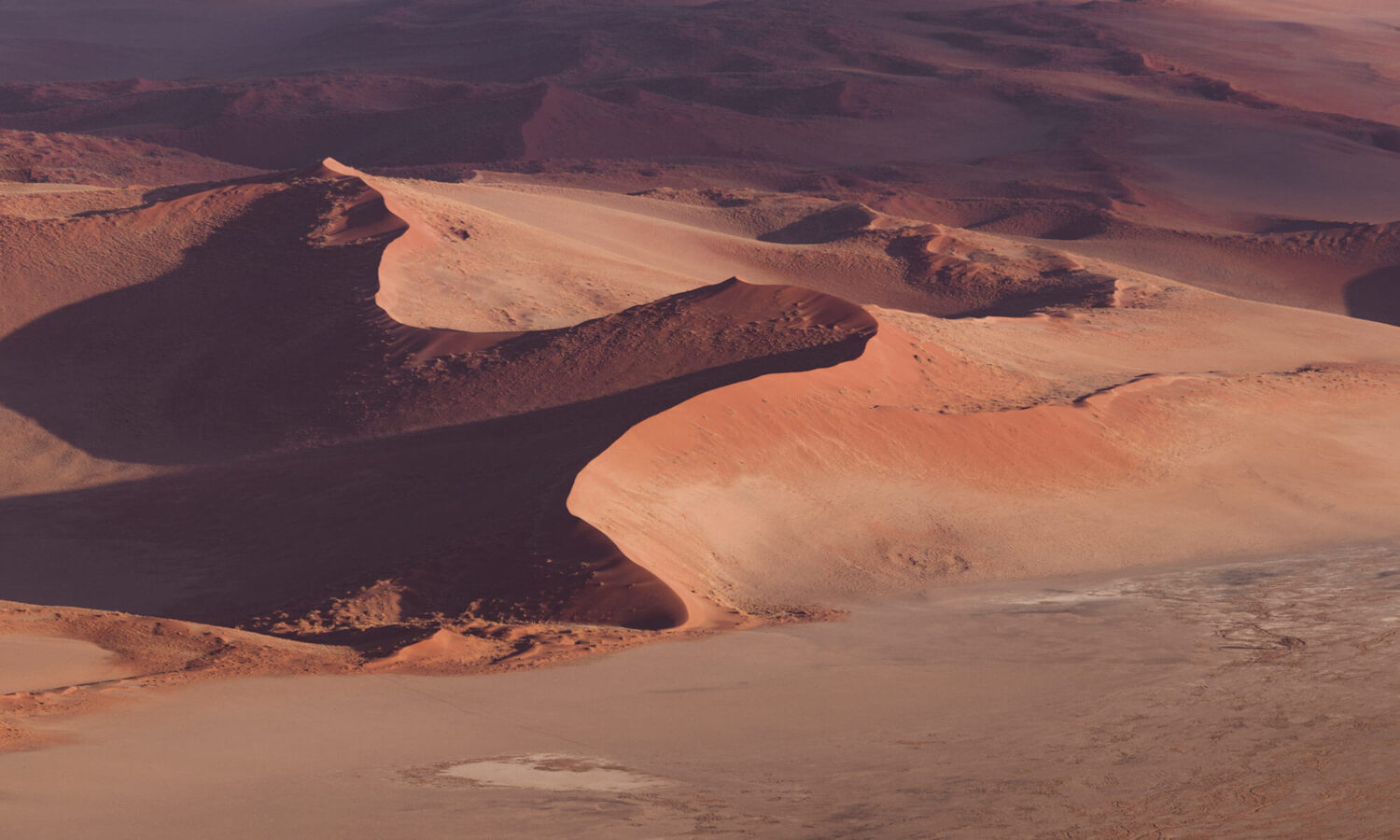 If Turkey has the fairy towers of Cappadocia, and Bolivia has the Uyuni salt flats, then Namibia has the Namib Naukluft Park, an expansive stretch of ochre sand that connects the Atlantic and inner Namibia in the West.
Considered as one of Namibia's top highlights, Sossusvlei certainly can't be missed from any travels to this untamed land. But for a truly romantic experience in the Sossusvlei, one needs to hitchhike a hot air balloon ride over the mighty rust-color sand dunes.
"This is what it would look like if James Bond would scoop up his double-agent girlfriend and travel to untamed lands in order to start a new life" I remark. The excitement of peering into the crevices of Namibia's highest dunes almost getting the best of me. Floating above nature's most impressive embodiment of Dante's Inferno, the romantic escapade seems almost real. The curling shapes of the dune ridges bearing much resemblance with slain dragons peacefully resting below.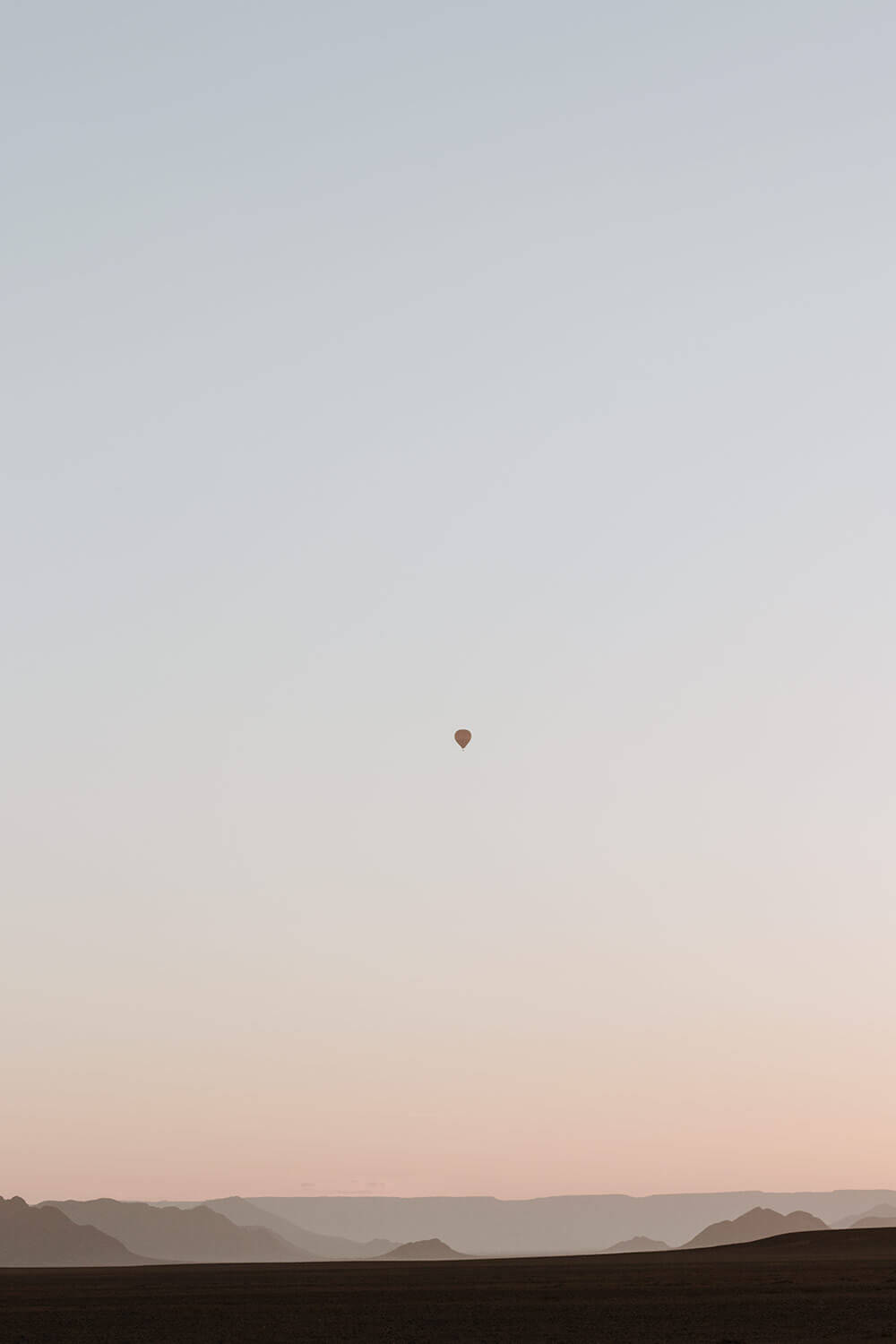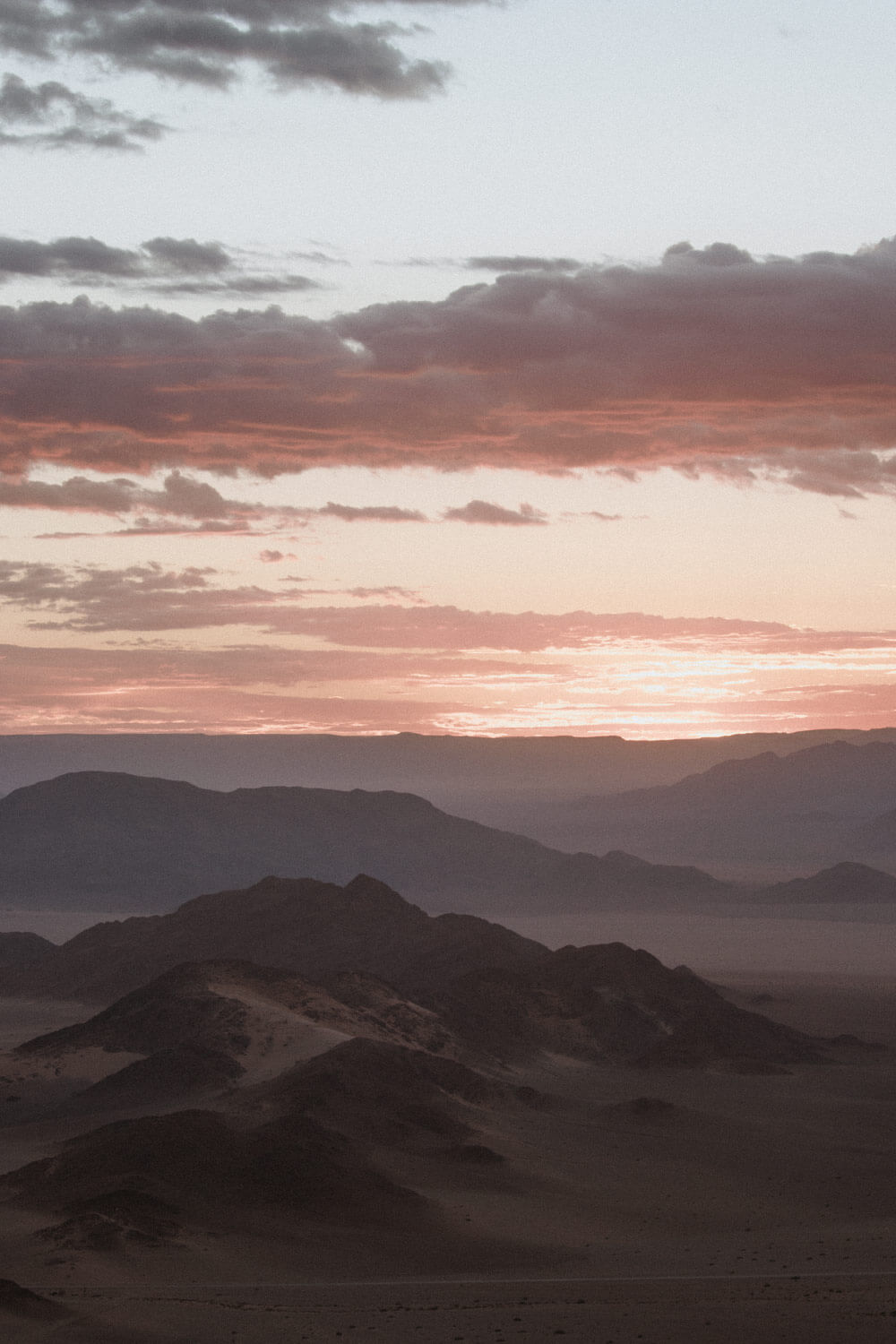 I know it might be hard to believe, but Vesper Lynd I am decidedly not. Despite bearing no resemblance to the very skinny and attractive Eva Green, it was the moment I fell in love with the impossible quietness of the Namib Desert that I decided I couldn't handle the girly dresses, harrowing thick layers of make-up and dreadfully boring and opulent parties I would be attending as a Bond girl anyway.
Yes, the stale leftovers of a half eaten sandwich and crusty napkins from our gas station lunch two days ago that are currently crumbling in the bottom of my backpack, have absolutely nothing to do with my current lack of Bond-Girl charm.
Daydreams aside, the formidable spectacle below is slowly getting more charming when the rising sun finally casts the devilishly good-looking landscape below into a golden angelic glow.
---
A scenic flight over Sossusvlei in a hot air balloon
---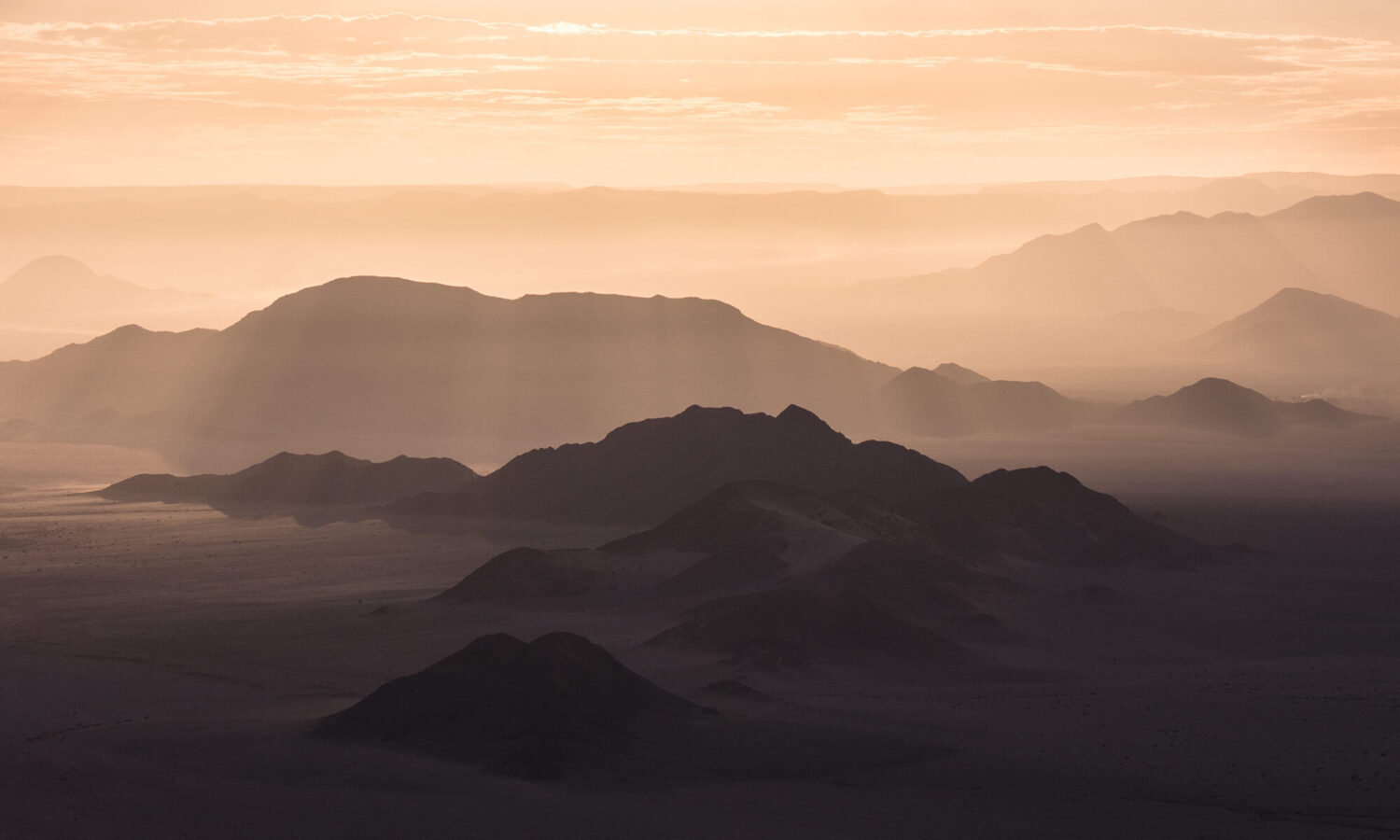 Why you should join a hot air balloon in Namibia
"Is it going to live up to my expectations?"
How utterly ridiculous that questions now sounds as we drift above the most incredible shapes of sand. I must confess I felt a bit apprehensive at first. Joining a hot air balloon in Namibia is known to be expensive and does not seem to be the most instagrammed event on the planet like ballooning in Cappadocia. Was I at risk of being disappointed?
Just yesterday we were walking through the most iconic Namibian image: giant orange colored sand castles forming a protective wall of dunes around a salt pan of dead trees, like a natural bassin. An incredible adventure in search of solitude at Deadvlei.
So how could flying in a tiny basket with a dozen of other people ever outshine that first all-encompassing moment?
It's Namibia photography heaven: grasp the true greatness of its massive dunes
Views as far as the eye can see.
Sun rays are taming the the devil's rusty sand beasts by bathing them in an angelic glow, casting away all evil and creating a beautiful canvas for nature to paint on. Words can hardly describe the experience. From down below you can appreciate its sheer scale, from up above you can appreciate its vastness and rainbow of colors. Never in my life did I expect to witness that many shares of oranges and browns.
The views from up above eclipse everything I have seen thus far. I feel utterly insignificant and very much privileged to be able to lay eyes on such natural beauty. Witnessing and photographing the sand dunes in Namibia from this angle is a photographers dream. Admiring incredible details which are shaped by millions of year of blistering sunlight and drought, that would otherwise be missed.
Offering all participants spectacular views, the hot air balloon operator makes several 360° turns so all passengers get an equal share of dreamy sights.
Untouched and untamed.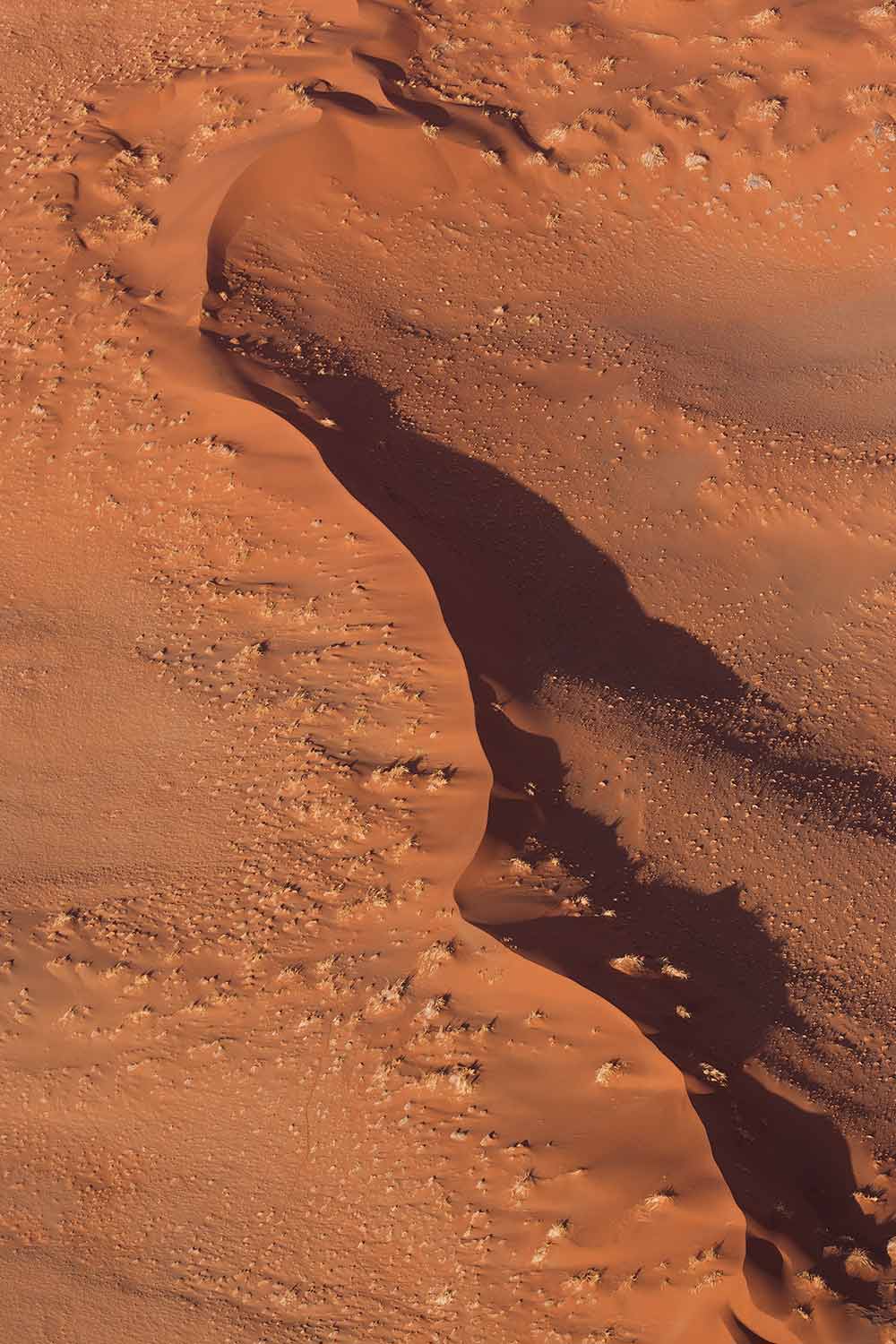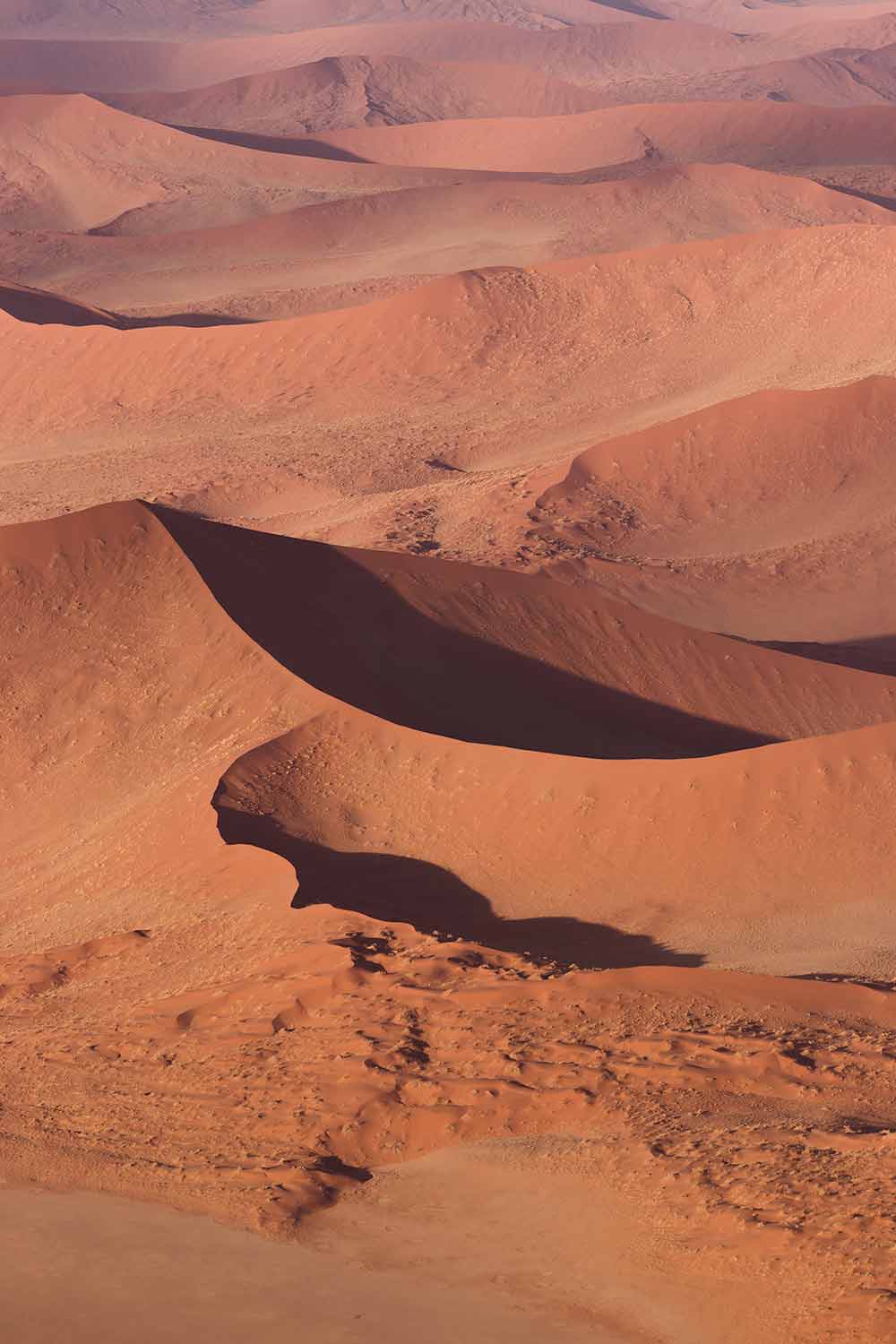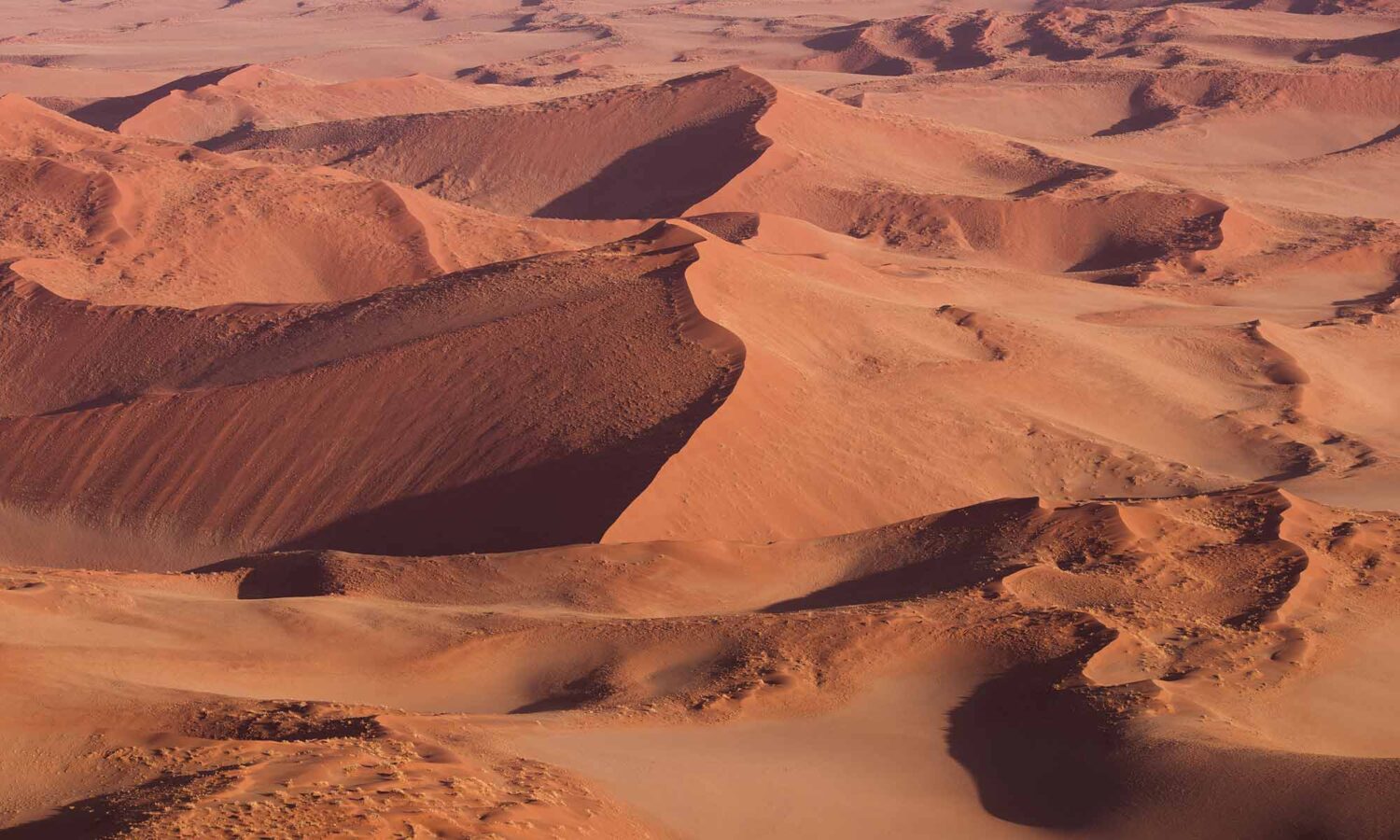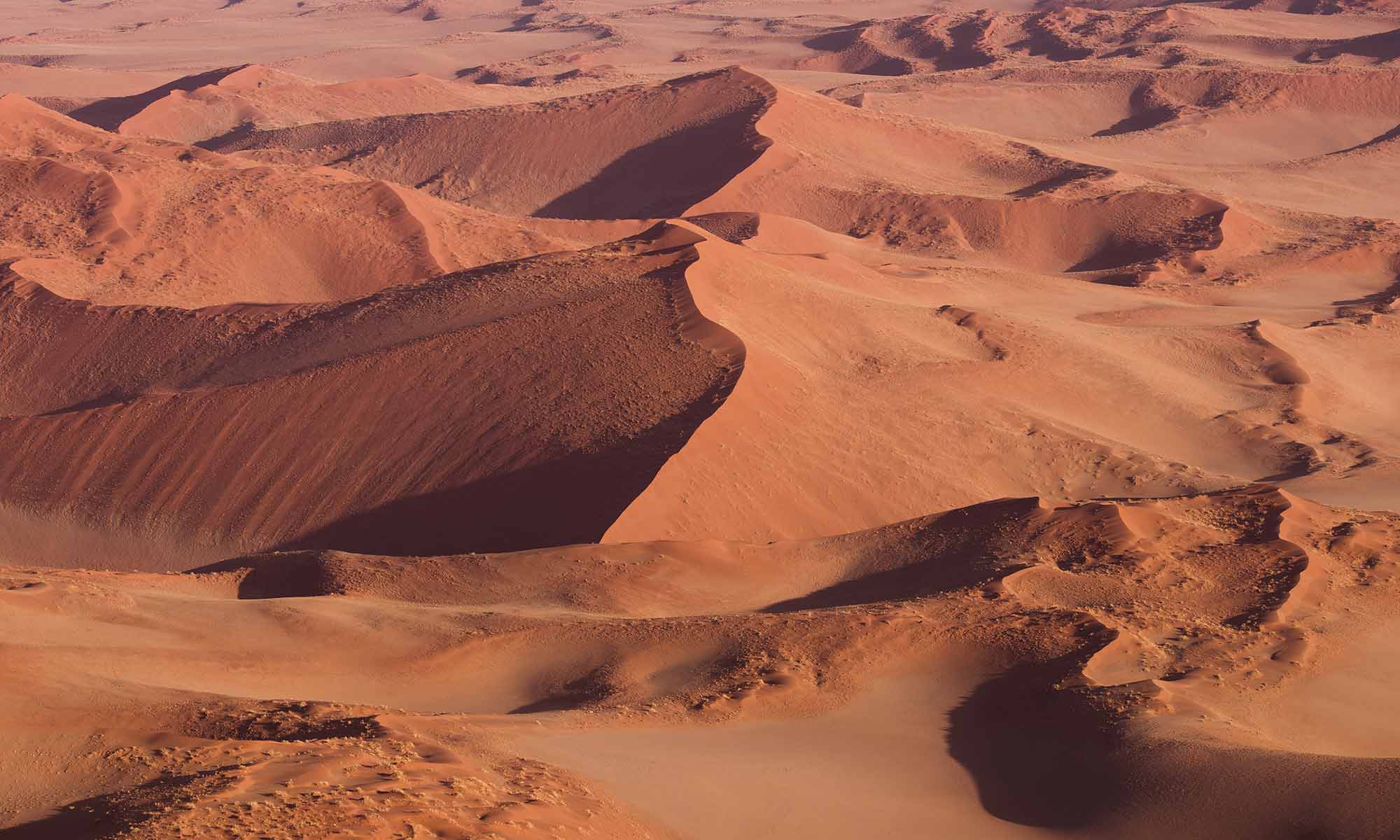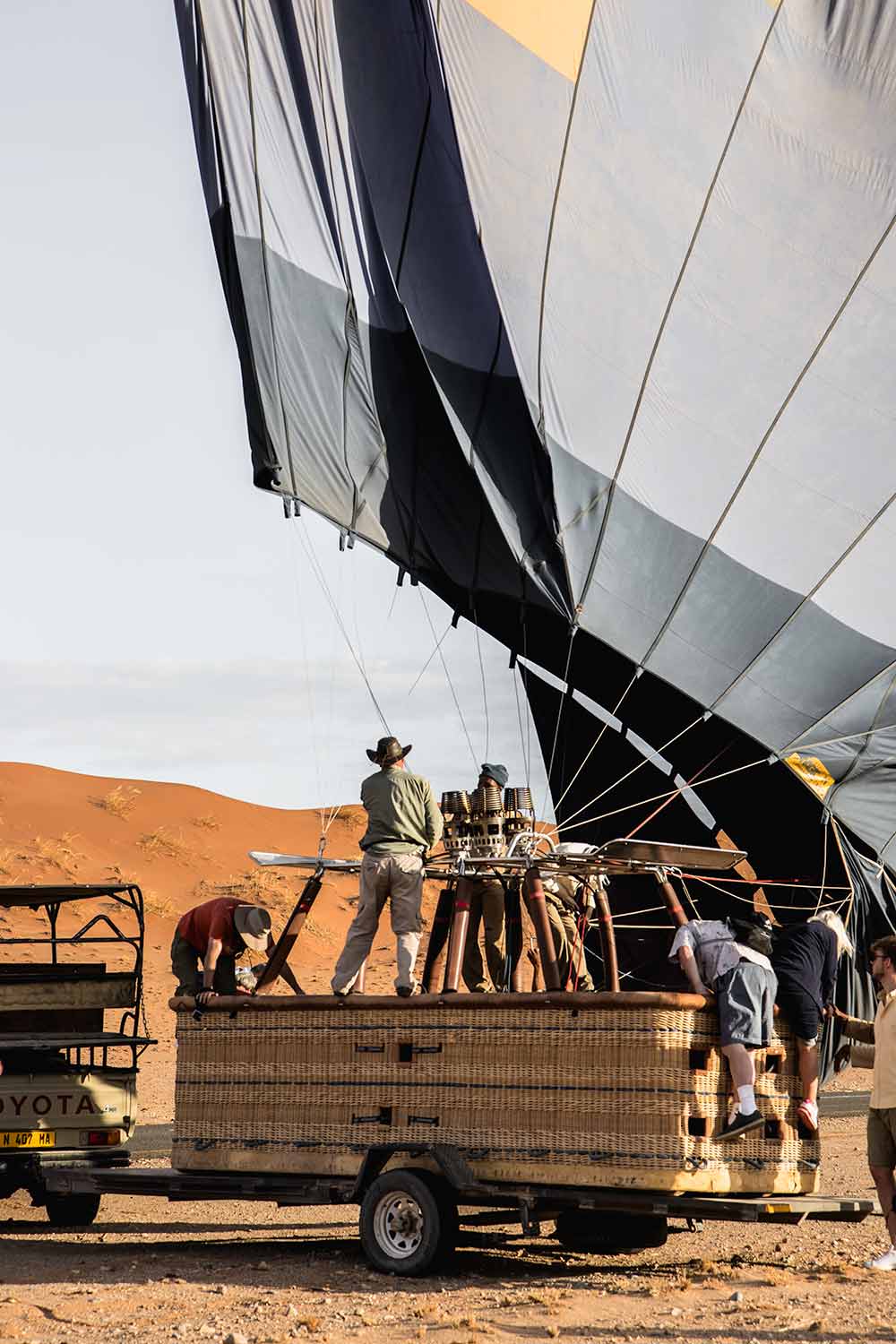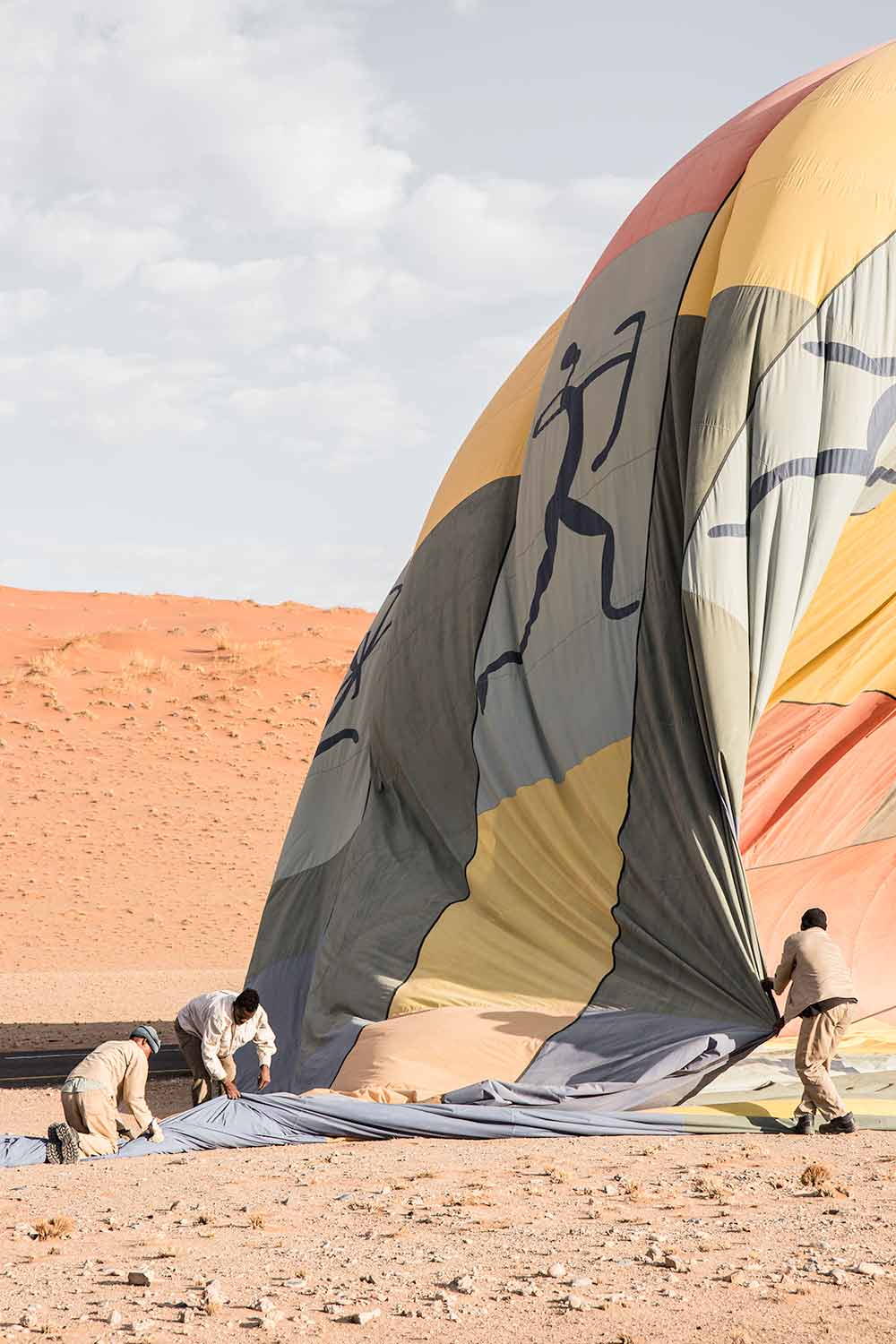 It's less crowded than it's European counterparts
The idea of being cramped in a tiny weaved basket with several other people made me feel claustrophobic.
Luckily, it appears Namibian hot air balloon flights are a bit more generous when it comes to available square inches per person than its European counterparts. While every hot air balloon basket is divided in four compartments, the Namibian operators allow up to four people per compartment while in Europe you'll often be with six people in a compartment.
Most European hot air balloon flights very between thirty minutes and one hour of flight time while in Nambia the standard flight time is one hour when joining a Sossusvlei hot air balloon scenic flight.
The limited number of people on board make it feel uncrowded, as I feel I have plenty of space to move around and stow away my belongings and photography equipment while I'm simply enjoying the views.
It's an incredibly romantic experience in Sossusvlei
Back on the ground, it's a spread of local meats, cheeses, pastries, fruits and a glass of sparkling champagne in what can only be called the biggest restaurant in the world.
"It looks just like those luscious wedding tables on Pinterest" I remark. Safari style seats and a long breakfast table have been setup among the dunes of the Namib-Naukluft Park. The crisp white linen tableclots contrasting with the reds and ochres from the surrounding scenery. It's a safari-style romantic Sossusvlei experience I've been longing for and found in the desolated backcountry of Namibia.
A glass of champagne at arrival invites us to join the luxurious breakfast spread. Homemade fruit kebabs, pancakes, pastries and fresh cheeses and meats great my grumbling tummy. A perfect ending to a unique experience, soaring over the Sossusvlei dunes in a hot air balloon.
I'm sure Vesper and James would agree.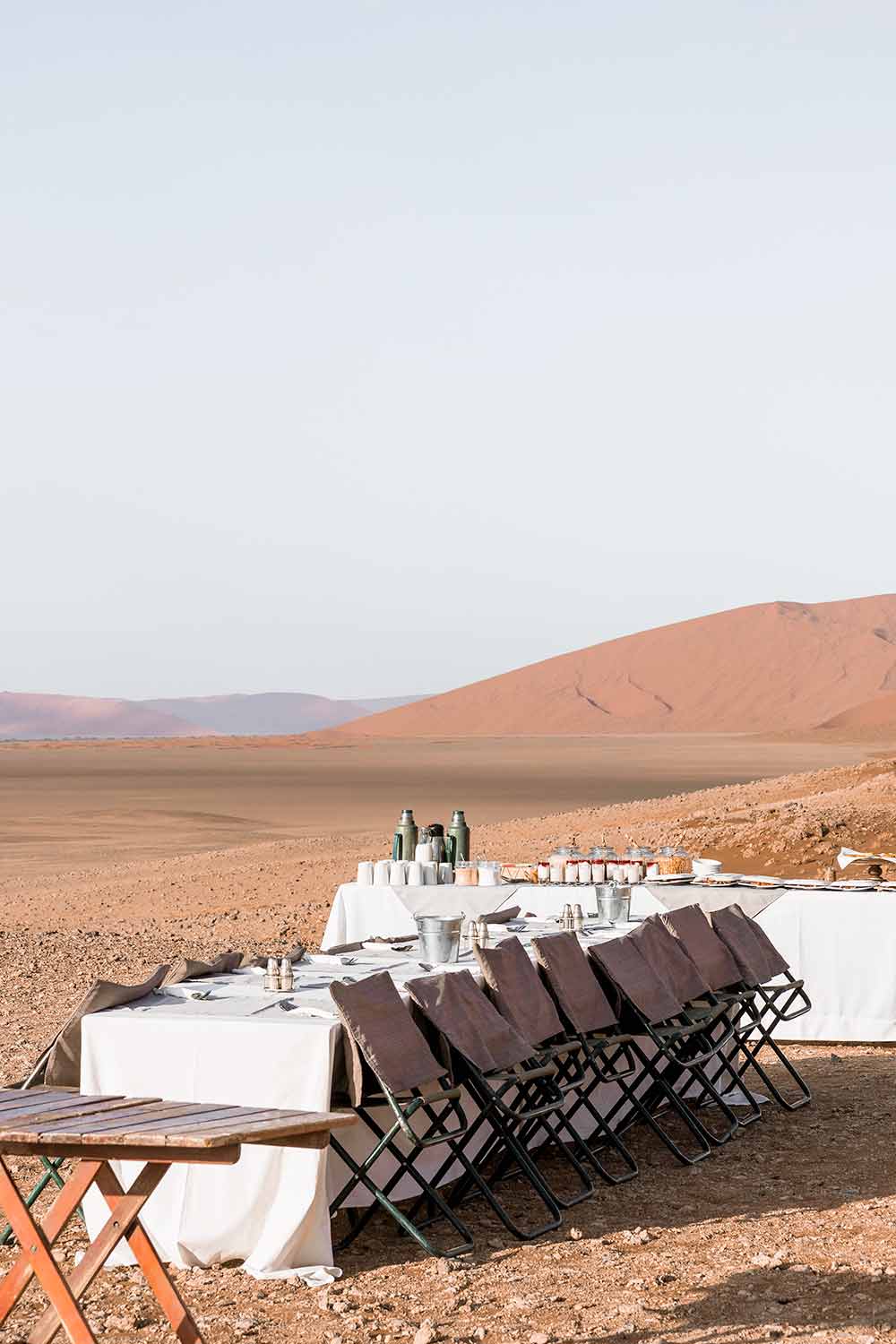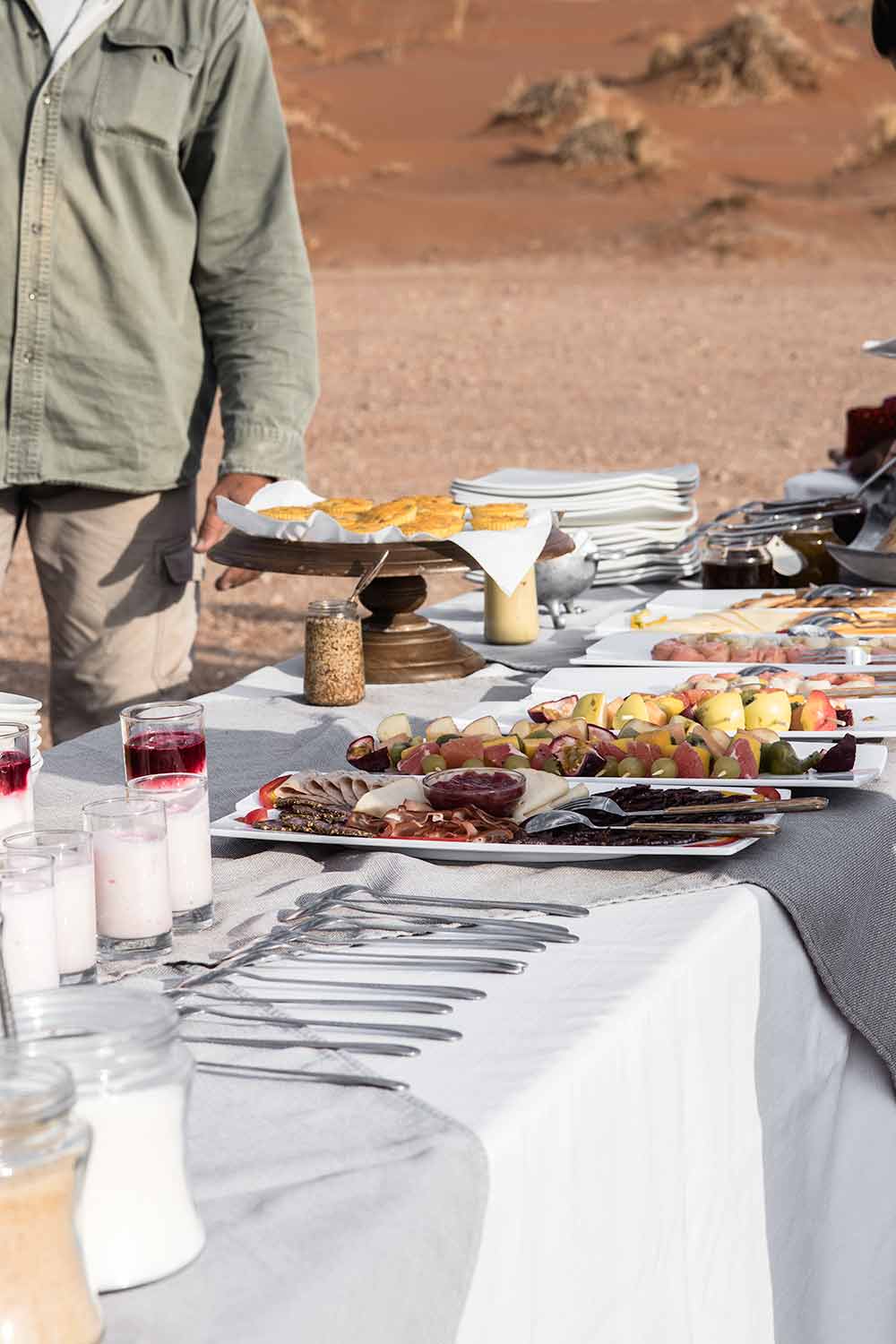 What does a trip on a hot air balloon in Sossusvlei cost
Our hot air ballon scenic flight in Sossusvlei cost us €440 per person with Namib Sky Balloon Safaris.
We did not require any upfront payment as take offs can always be cancelled if the weather conditions aren't suitable. That's what we liked about Namib Sky Balloon Safaris. If you pay upfront, you can reschedule your trip but if you're only staying for a couple of nights, the risk of not being able to reschedule is present.
You can pay by cash but paying per credit card seems the more sensible option.
While this may be an expensive experience, it is undoubtedly one that is etched in our memories forever. The price includes all transfers from and to one of the pick-up points, a one hour balloon flight, champagne breakfast and park entry fees.
BOOK | HOT AIR BALLOON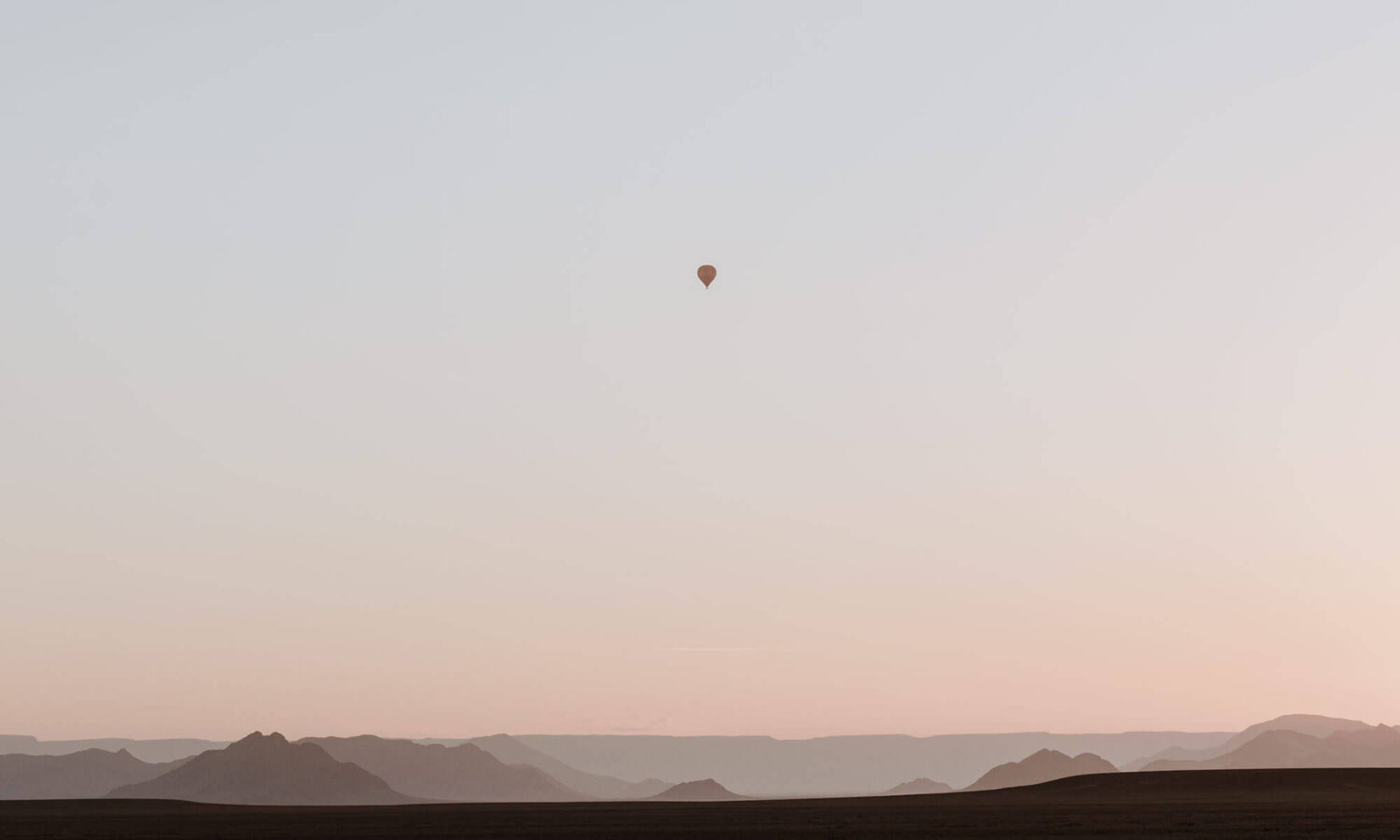 How to book hot air ballooning in Namibia
There are two main balloon operators in the Sossusvlei area: Namib Sky Balloon Safaris operating from Sossusvlei and Samawati Hot Air Ballooning operating from Solitair area. All include hotel pick-up and drop-off, plus a glass of champagne and a certificate after your flight.
Bookings are taken long in advance. Since offer on the Namibian market is scarce, they tend to book up fast, especially in high season. We took our flight on the very last before Namib Sky's one month summer break and even in the dept of low season our flight was fully booked.
When you're staying at one of the following hotels, you'll by flying with Namib Sky Balloon Safaris:
The hotels will usually keep an eye on the flying schedule and will be able to tell you if your scheduled flight is confirmed and at what time you'll be picked up (approximately 45 minutes prior to sunrise).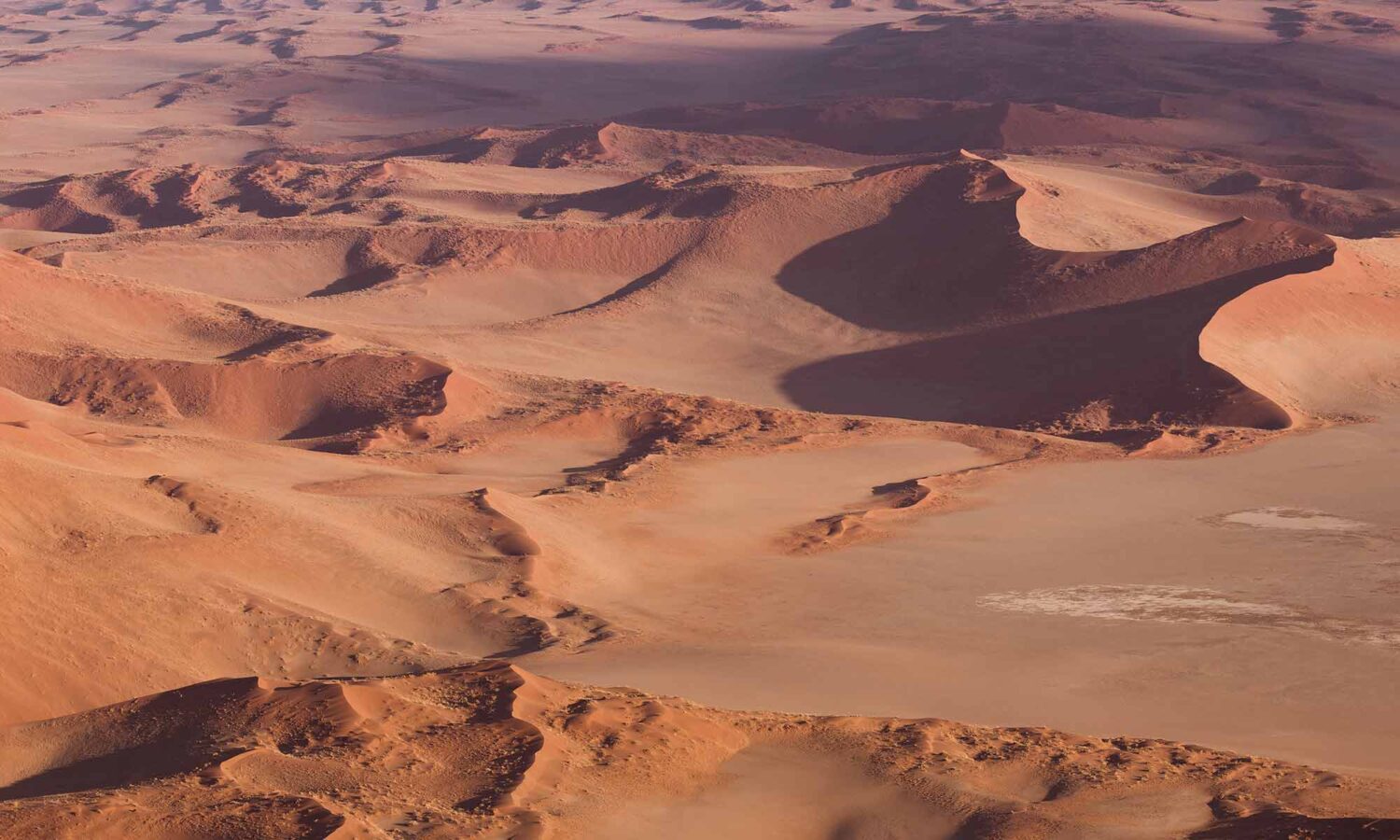 Our experience with Namib Sky Balloon Safaris
Our Sossusvlei hot air balloon trip left us with memories that we will hold on for a lifetime. When spending two day in Sossusvlei, we highly recommend putting hot air ballooning on your schedule. One of the best things to do in Sossusvlei!
It was a truly memorable holiday moment capped off by what we thought was a spectacular landing, right onto the trailer that was no bigger than the basket itself. I didn't feel a thing.
Our pilot and founder of Namib Sky Balloon Safaris, Eric, was born and bred in the DRC with Belgian roots. Living with his family in Namibia since 1991, Eric knows every crook and cranny of the Namib-Naukluft Park and is happy to share his knowledge with everyone on board.
We applaud sustainable practices and Namib Sky Balloon Safaris is a company we love to support. Not only do they operate the company's head quarters with solar energy and only use bio degradable cleaning materials, they also only use used dirt road tracks and even broom away all footprints after their guests leave.
BOOK | HOT AIR BALLOON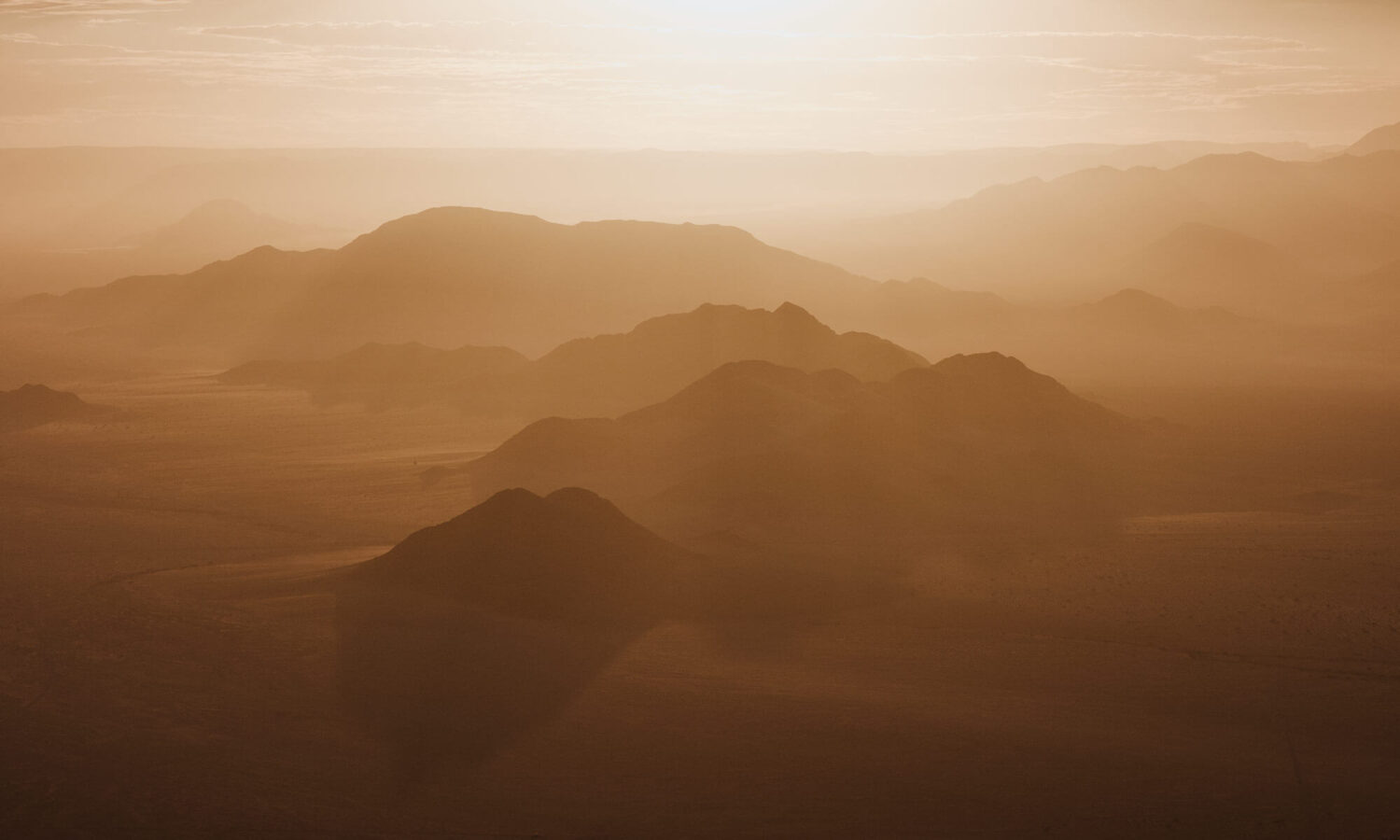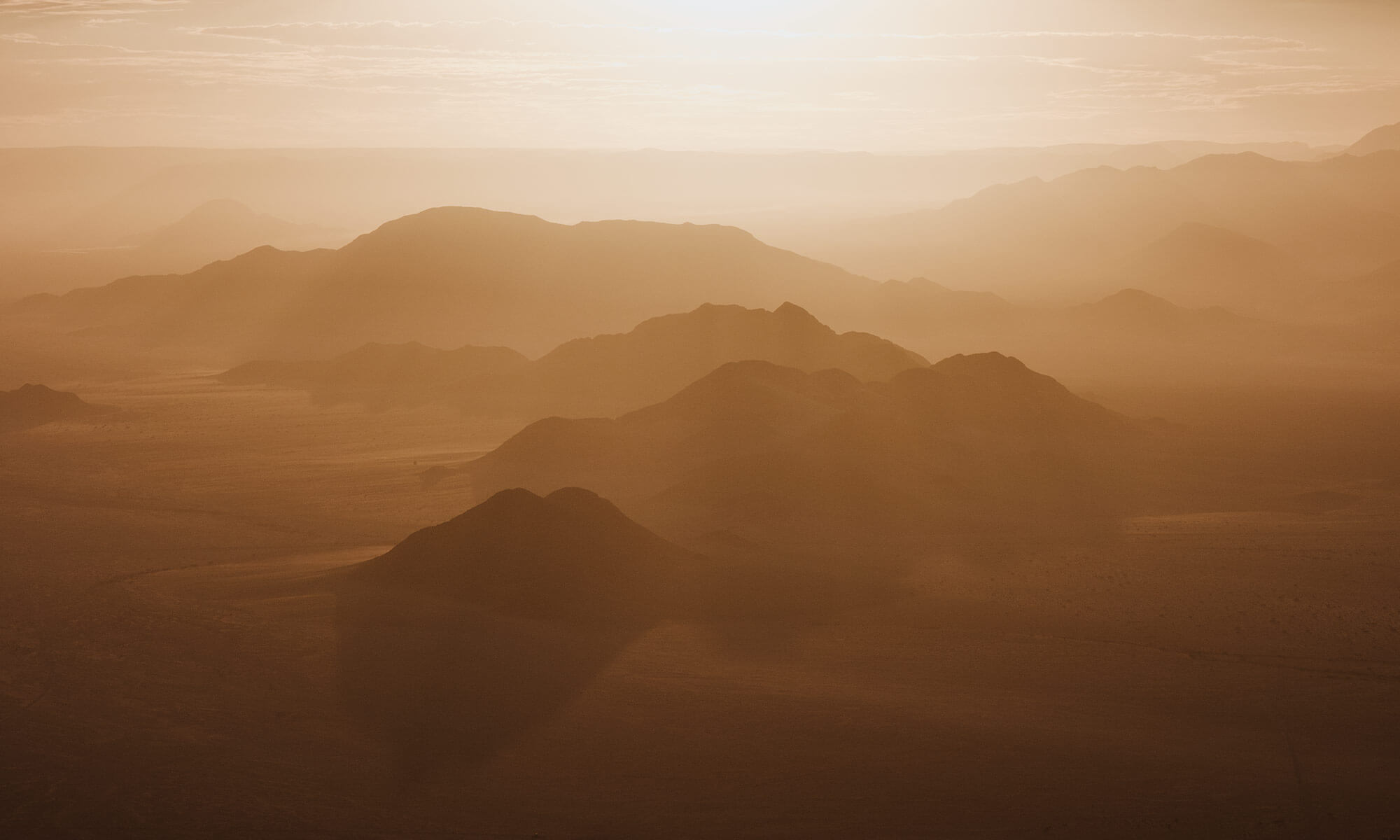 ---
Some of the links on this post are affiliate links.
If you choose to purchase using these links, we receive a small commission at no extra cost to you.
---
LIKE IT? PIN IT!