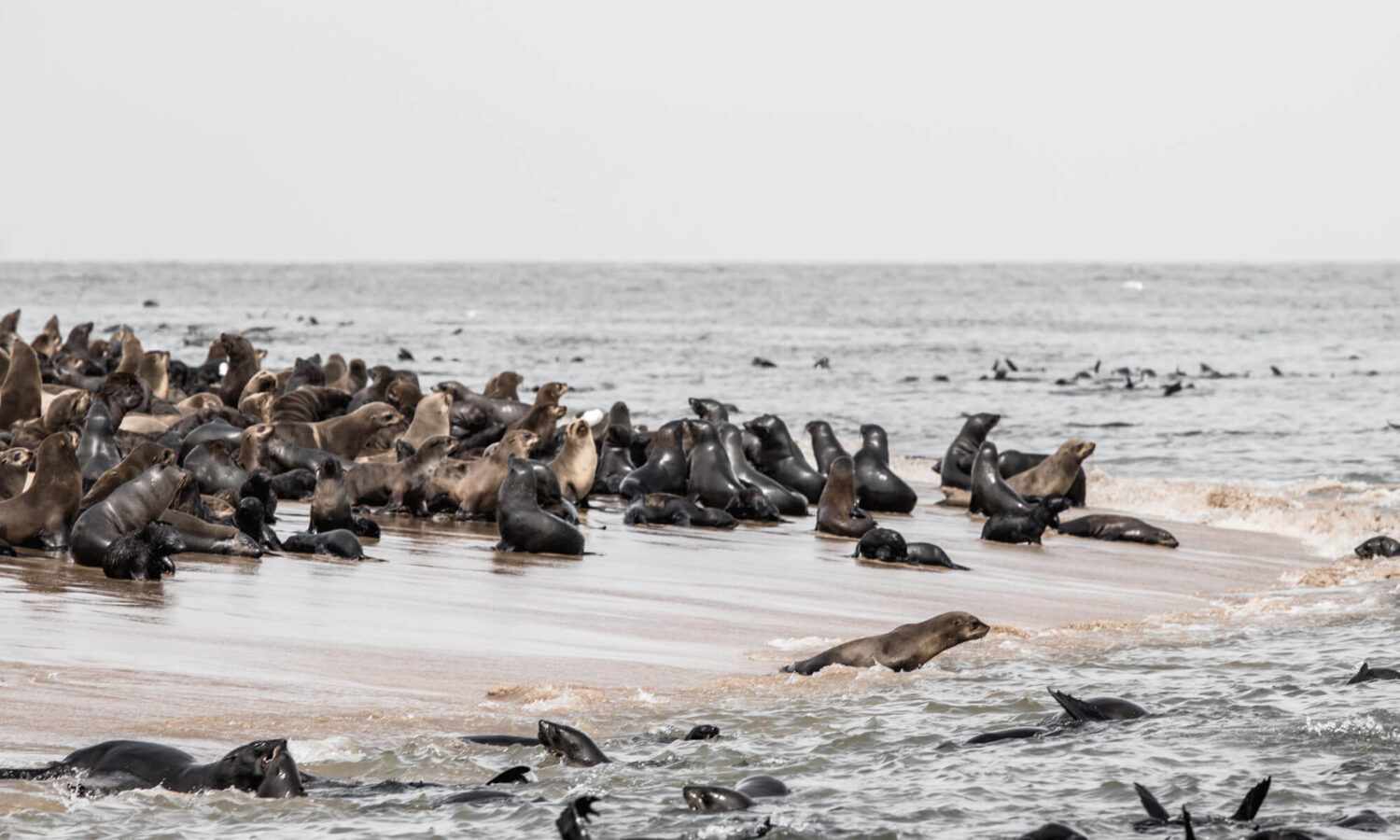 The small city of Swakopmund, 350 km east of Windhoek, sits at what seems to be end of the world. A very long dusty road traverses from Sossusvlei to Swakopmund through the desolate Namibian desert, ending at the wild Atlantic Ocean.
Not that we minded.
Coming from the sweltering Sossusvlei, Namibia's number one tourist hotspot, it was a delight to travel through Namibia's outback, to the cooler temperates of the Swakopmund's seaside resort.
In a country that is renowned for its ecotourism lodges and policies as well as extensive wildlife, it's not hard to find activities at the coast that breathe the same values. So we went on a boat cruise from nearby Walvis Bay to spot Namibia's big 5 of the sea: the seal, dolphin, whale, sea turtle and Mola Mola (also known as Ocean Sunfish).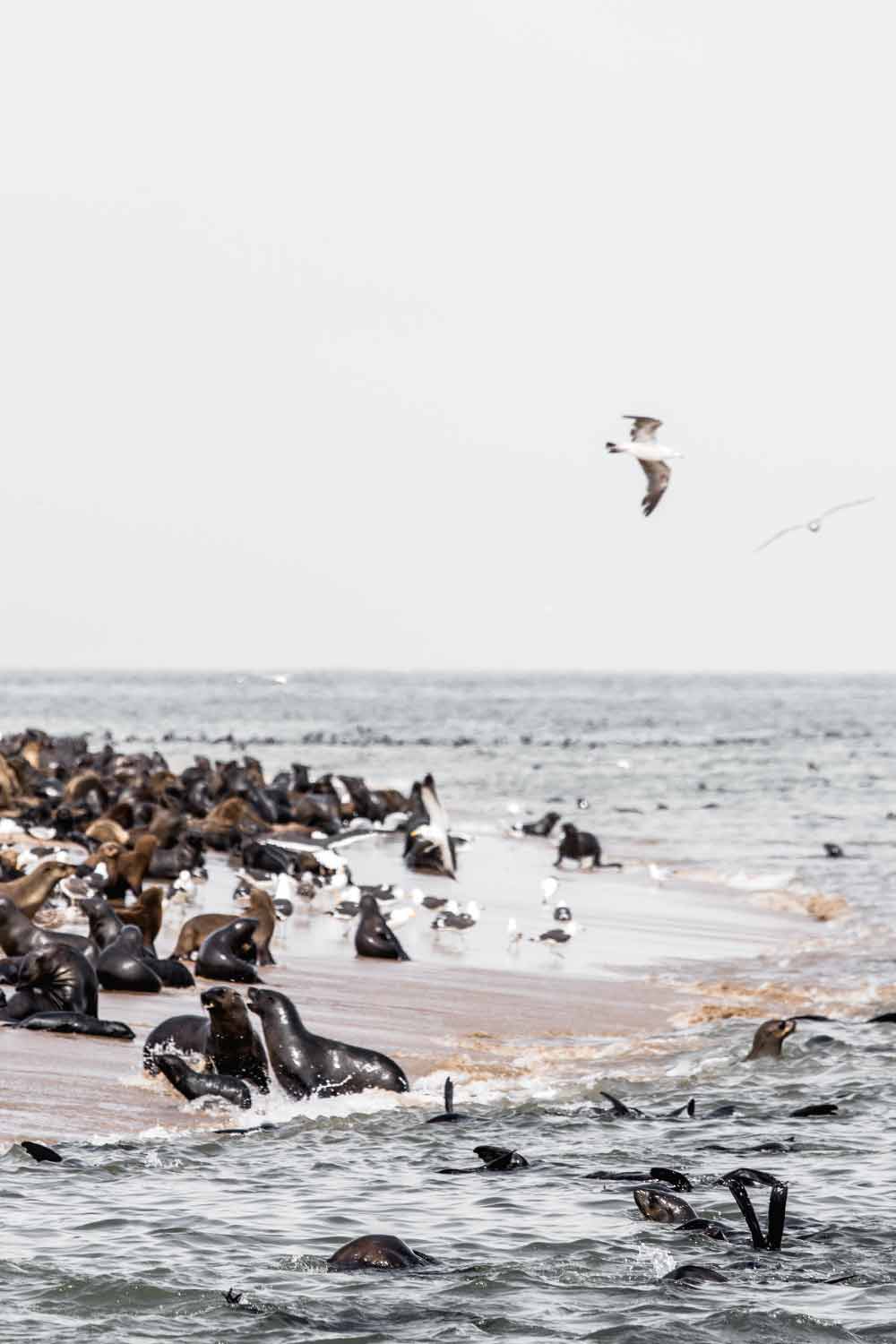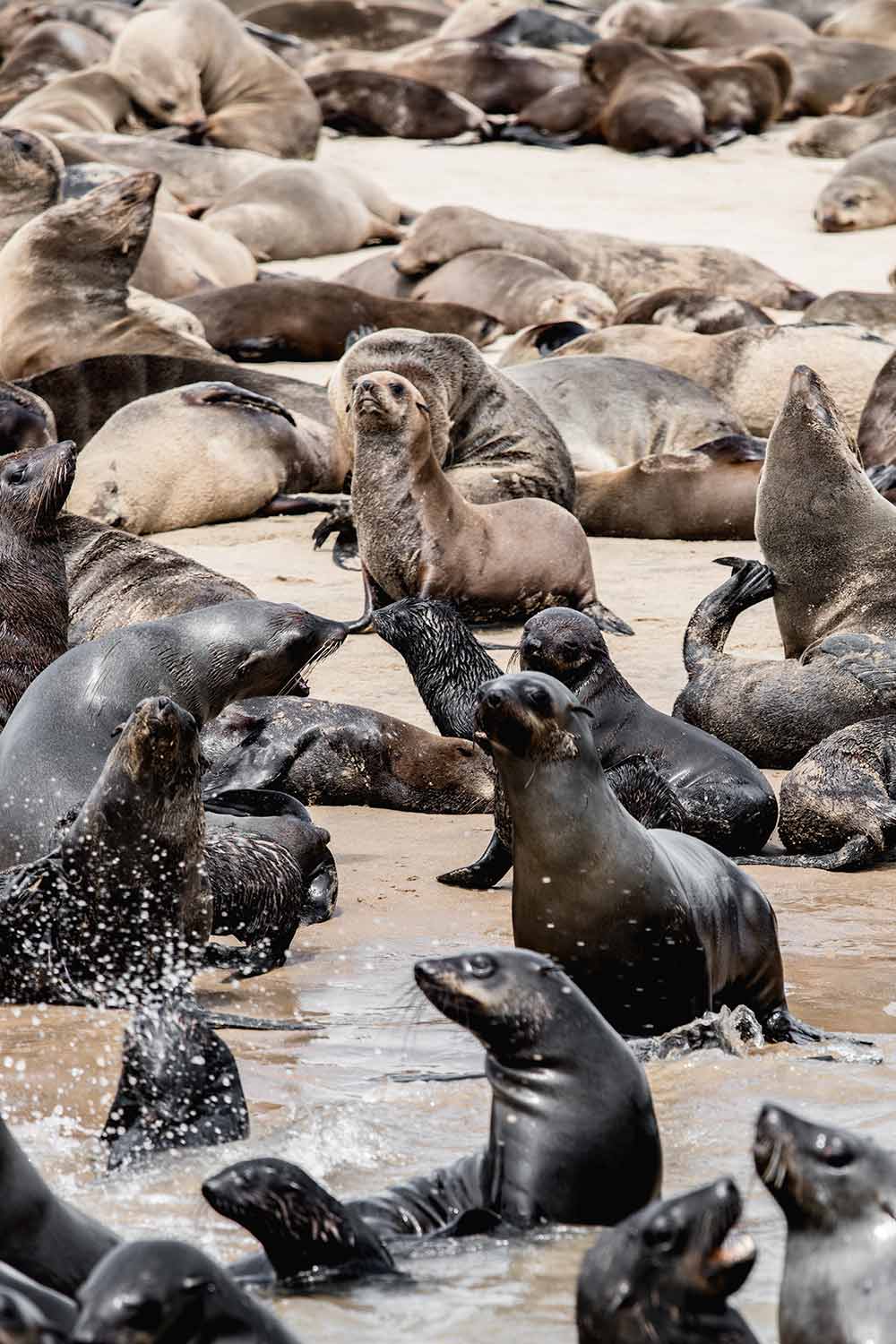 Our own ocean safari started at 8 a.m. from lovely Swakopmund. As one of the fun activities from Swakopmund, we headed towards nearby Walvis Bay to start our catamaran tour for the entire morning. A short 30min drive brought us to Walvis' Bay harbor where our catamaran trip into Namibia's ocean waters began.
We knew spotting dolphins and whales would be very hard to non existing this time of the year but visitors can have the time of their lives in July and August, peak whale watching season in Walvis Bay. But even in the septs of low season, the Cape Fur seals were seemingly everywhere!
Approximately 1.7 million Cape Fur seals are found in the waters off southwestern southern Africa. More than half are found in the waters on the Namibian coast and the rest in South Africa and nearby Angola.
While admiring the playful show they put on before us, we're being educated about the sad fate of these beautiful creatures. Namibia, together with Canada and Greenland, is currently harvesting seals commercially. Though not at danger of extinction, the yearly 80.000 quota for seas pups and 6.000 bulls might cause a threat to the population in the future.
A prospect seeming unfathomable when more than ten thousand seals are playfully sunbathing right in front of us. This appears to be a small colony, our guide mentions. At Cape Cross, up north in the Skeleton Coast National Park, seal colonies have been known to reach over 250.000 members. It's hard to even conjure up an image of what such a large group of seals would look like.
Or smell.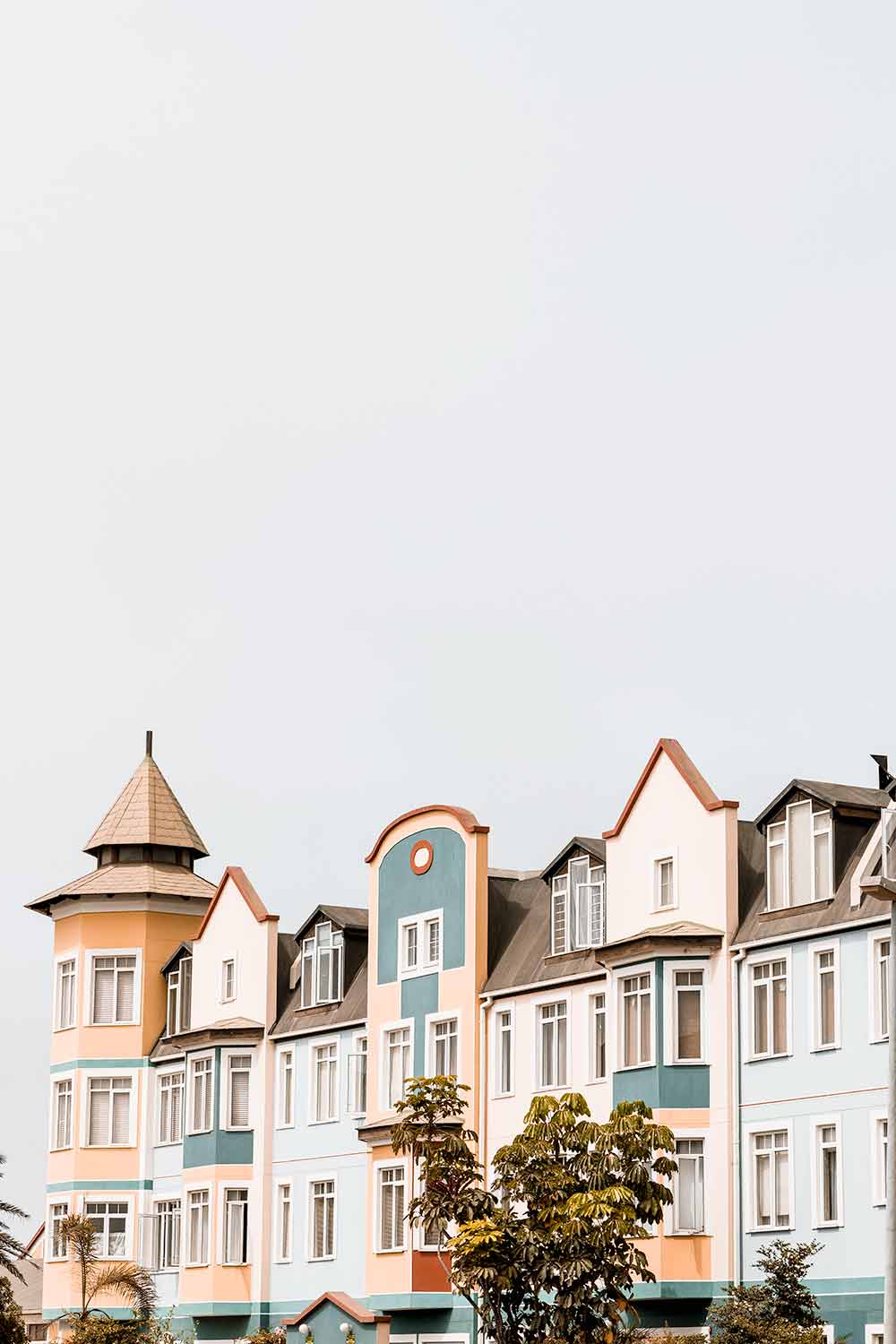 A tangy smell was lingering in our nostrils well before we were anywhere near the seals, announcing them in the most peculiar way. It all started with one coy seal, summersaulting out of the water.
And another.
Our fingers lingered over camera shutters, never quite quick enough to capture the beautiful moves our eyes could see.
A continuous game of hide-and-seek.
Eventually, we gave up trying to take photos of them breaking gracefully though the water surface, instead taking the time to simply enjoy the experience while feasting on one of Namibia's delicacies: fresh oysters. To be eaten just as they should: natural, with some ground pepper, a few drops of lemon or tabasco and of course a glass of bubbly champagne.
When selecting a Walvis Bay dolphin cruise, we highly recommend choosing one that offers the oyster tasting experience. They're so fresh and very large compared to oysters produced in other countries. The Namibian waters being just perfect for these edible pearls of ocean.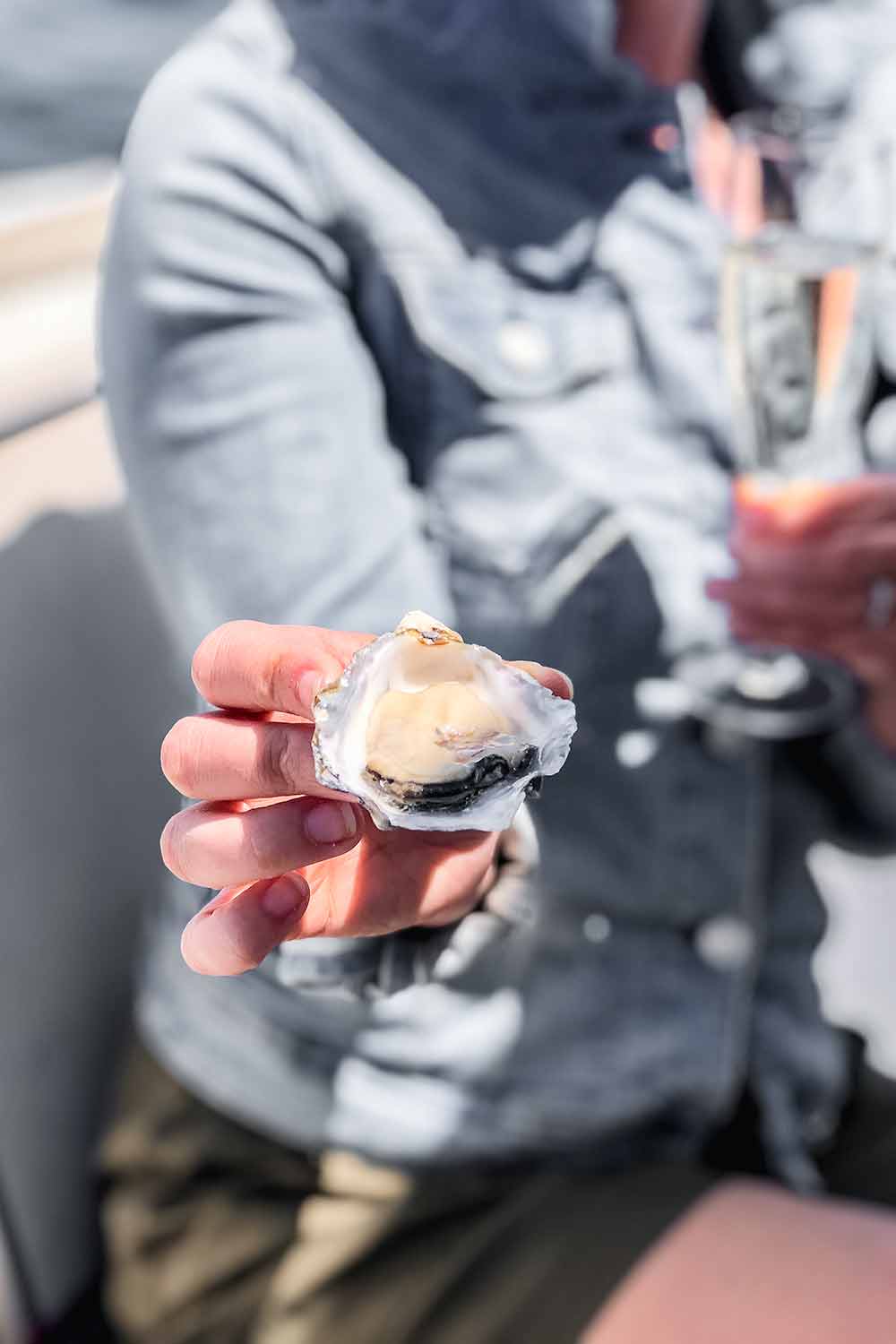 Making our way back to Walvis Bay, we couldn't help but beam at one another. Perfect blue skies, only disrupted by streaks of perfect pink pelicans, and the occasional thrill of spotting a rare animal that we may never see again: the Mola Mola. This rare creature of the sea can weigh up to one ton and is considered one of the largest bony fish in the world.
It's not the ocean's prettiest creature though. With a fishlike head, enormous laterally flat body and short tail, it is as marvelous as it is ugly. It was graced with such a lovely name from their habit of basking in the sun to warm up before they dive hundreds of meters beneath the ocean.
Kind in nature, the Mola Mola or Ocean Sunfish is not dangerous to humans. On the contrary, they are more in danger of getting hurt by passing boats or getting caught in fish nets.
Having never seen a Mola Mola before, I was amazed at how big fish could actually get. Namibia is known for its great wildlife, and Swakopmund for its adventurous activities, but this experience at the edge of Namibia's coastline is why we travel - discovering new animals, trying out locals food and simply enjoying the wind blowing through our hair.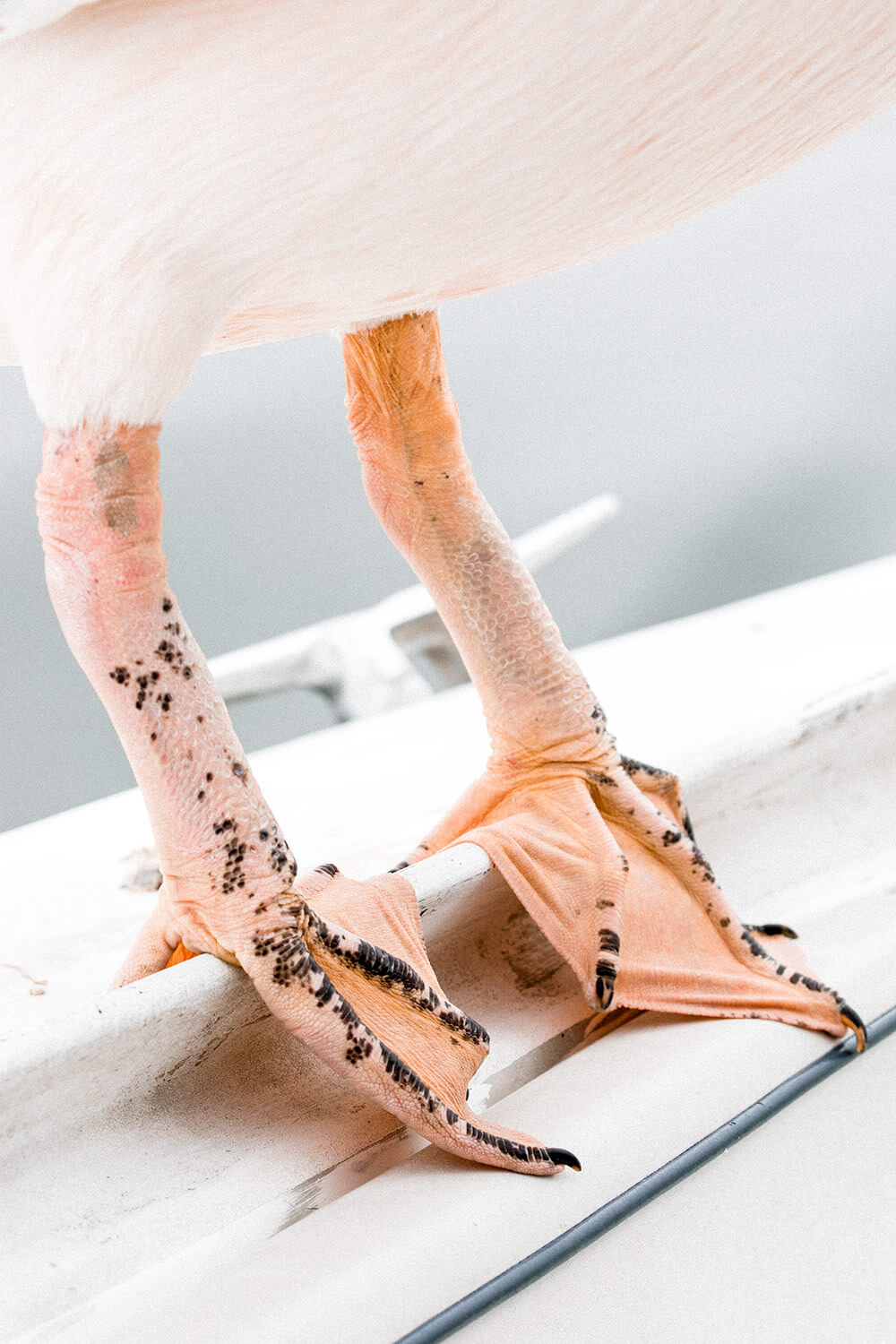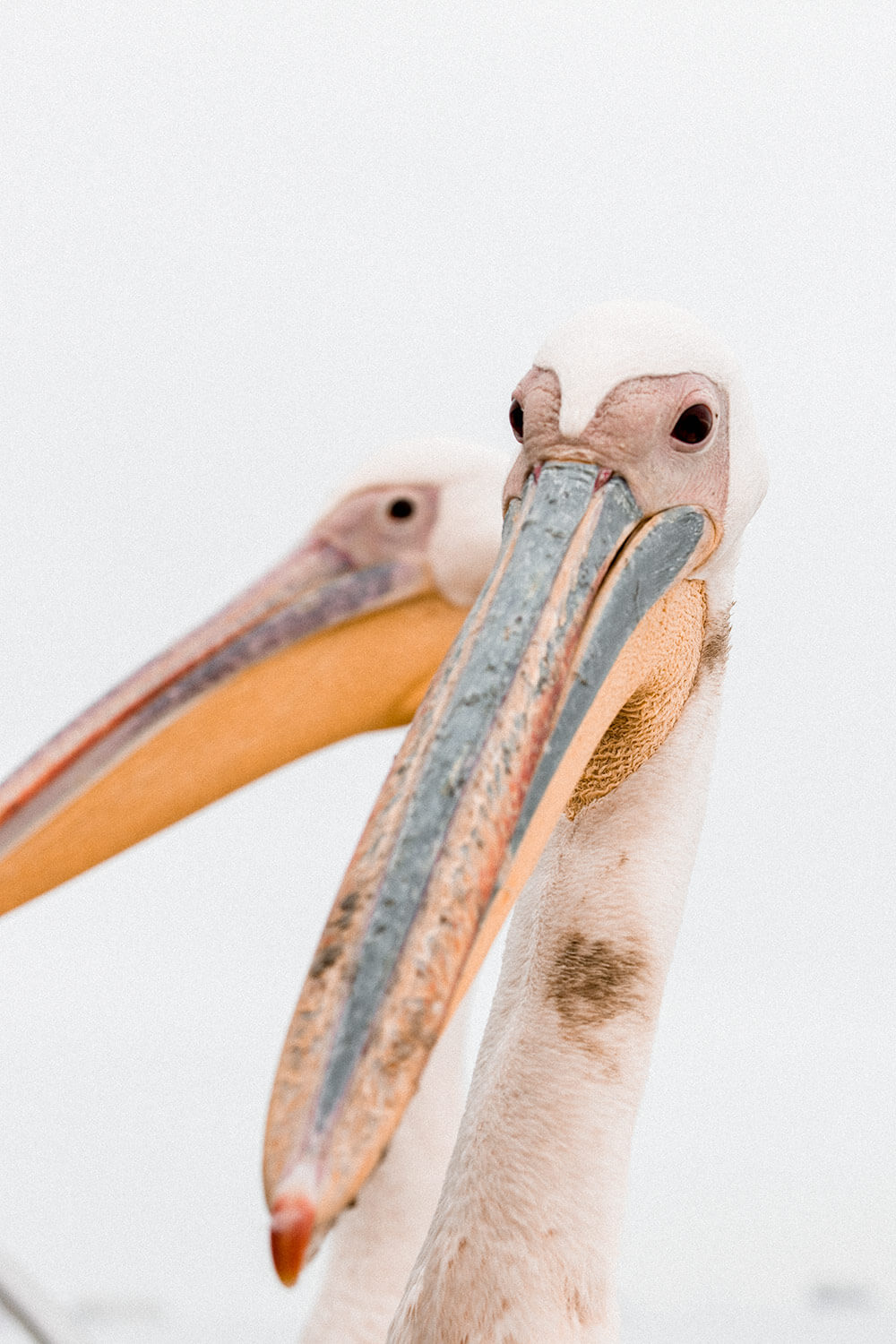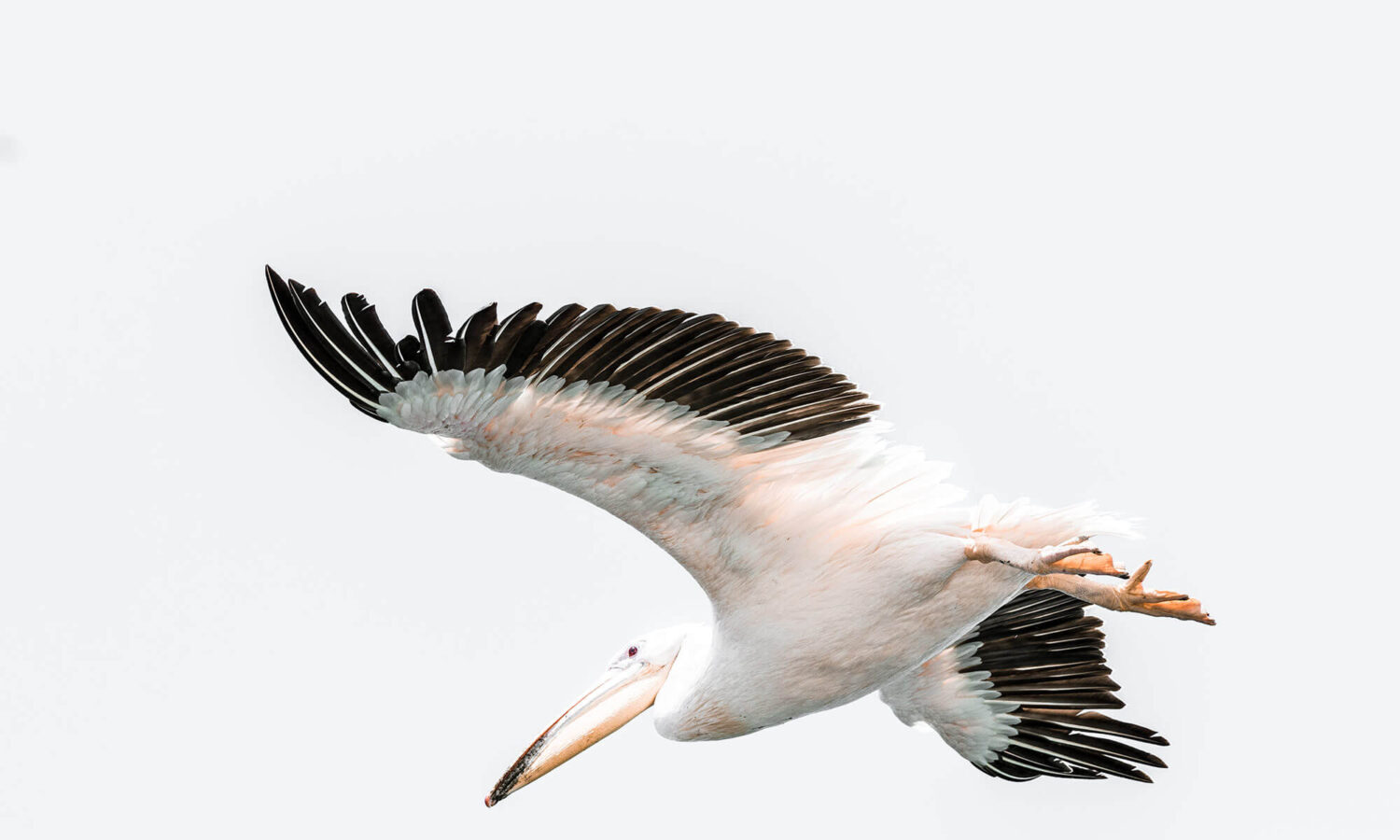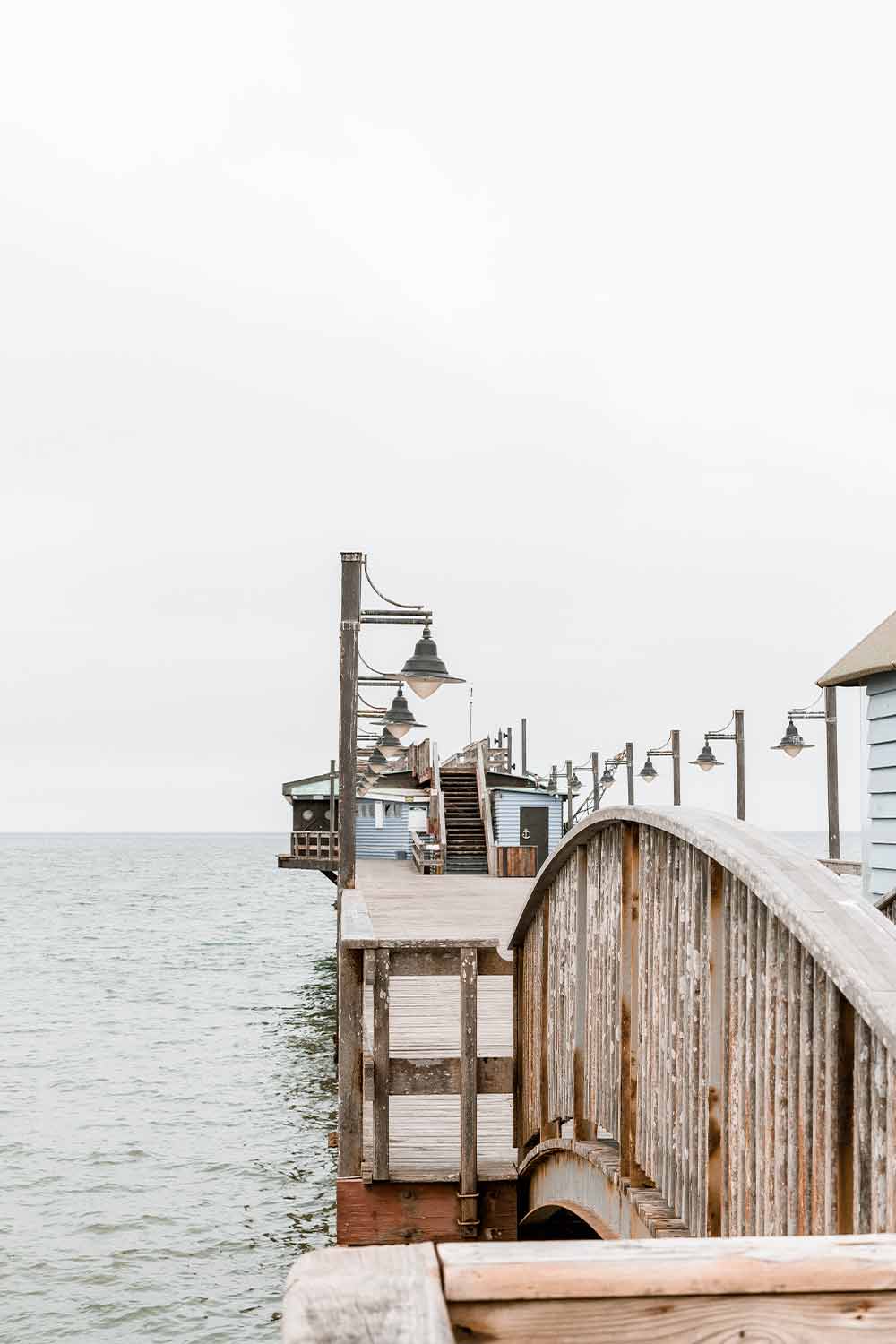 How to join a seal spotting boat cruise in Walvis Bay
The dolphin and seal catamaran cruises leave from Walvis Bay, about 30min south of Swakopmund. While it's perfectly situated for people staying in Walvis Bay, we opted to base ourselves in colorful Swakopmund instead. The boat cruises can luckily also be booked from Swakopmund and contain a transfer to and Walvis Bay and back to Swakopmund. We truly enjoyed our day out and consider it one of the best activities to do in Swakopmund.
DRIVE | If you're traveling through Namibia independently, it's pretty straightforward to make your own way there. If you're staying in Walvis Bay, a short 5-10minute drive will bring you to the Walvis Bay harbor. If you're staying in Swakopmund, the drive from Swakopmund to Walvis Bay will take about 30-35minutes. You can try your luck and book a ticket at the harbor directly or make reservations through your hotel or the Walvis Bay tourism center.
TOUR | Book a day tour from Swakopmund is an easy option and the one we went with. During low season (December-January-February) you'll be picked up at your hotel in Swakopmund at around 8 a.m. and back at your hotel at around 1p.m.
BOOK | SWAKOPMUND BOAT CRUISING DAY TRIP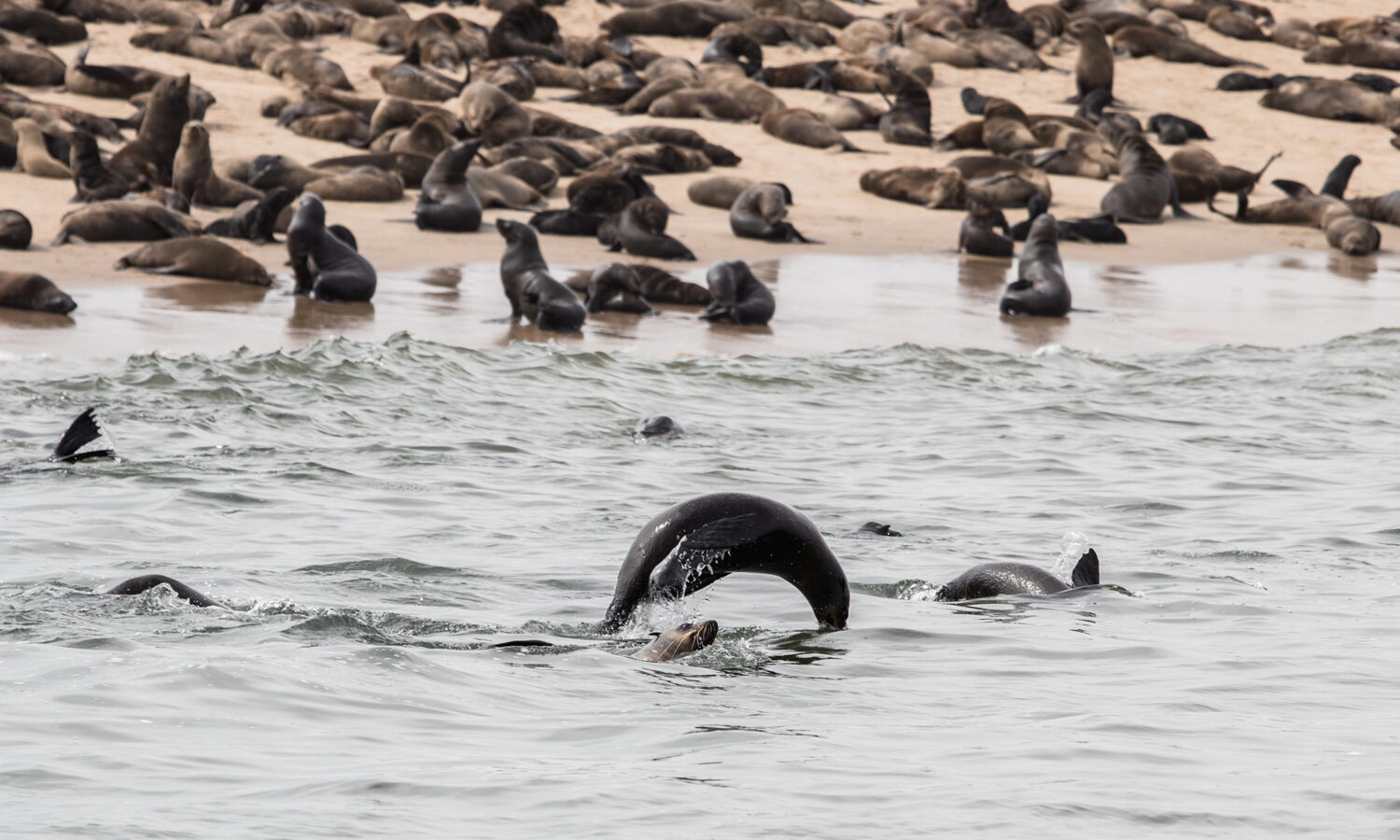 Tips for a more responsible experience
Most importantly, by putting your money towards this experience you are being helpful and responsible in bringing attention to the Cape Fur seals. Without your money, it's possible that no progress will be made in reducing the Namibian quotas for harvesting seal pups and bulls for their fur.
Secondly, it is an activity that is run by locals. Your money will stay in Namibia and not find its way to a foreign bank account.
It's really important to ensure that your boat driver sticks to rules put in place to ensure the safety of the marine life. Our driver was excellent, but just in case, it's worth remembering that the boat should never be driven directly at a pod of dolphins, seals or any other animals. The engine of the boat should be turned off once close to the animals, as boat propellors are one of the main causes of death of the Sunfish.
Do not bring any plastic water bottles on this trip, or at least make sure they do not end up in the water. Lunch, snacks and drinks are included in this trip and you'll be well taken care off. Champagne is served in glass flutes so no plastic cups are used and water or soft drinks are available on board. The speed of the boat trip, and the wind it causes, might make plastic water bottles end up in the ocean.
And finally, you'll notice that there are a number of stands selling artisanal goods and standard touristic trinkets at the harbor - support them if you can, even if it's only something small. Namibia has an extremely inequality when it comes to income, making the poor in this country extremely poor. 5$ won't break your bank but it makes a world of a difference to them!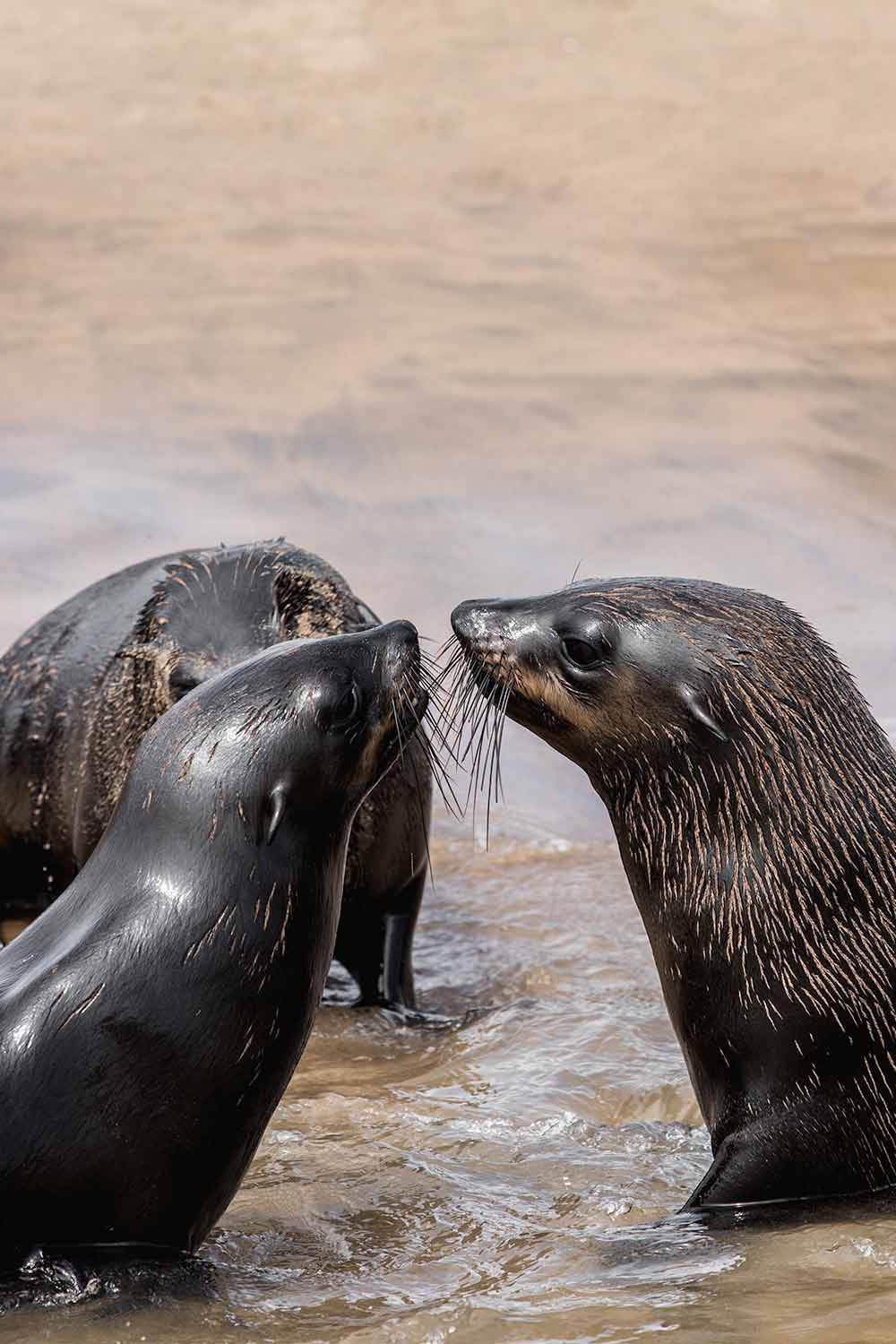 An alternative to the boat cruise from Walvis Bay
A fantastic alternative to the catamaran cruise from Walvis Bay, is the option to join a half-day kayak tour, during which you'll explore the area around Pelican Point.
There is no seasonality regarding the presence of the Cape Fur seals, they are present all the time, but as the kayaks are significantly quieter than the boats, it's possible that you'll have increased chances of spotting a dolphins on this tour.
Tours cost around $45 for transport, guide and kayak use. Make sure to book additional transport to Walvis Bay if you're staying in Swakopmund though.
If you're look for a full-day-trip, you can add a 4x4 trip to Sandwich Harbor in the afternoon, offering an incredible sight of Namibia's sand dunes meeting with the wild Atlantic Ocean!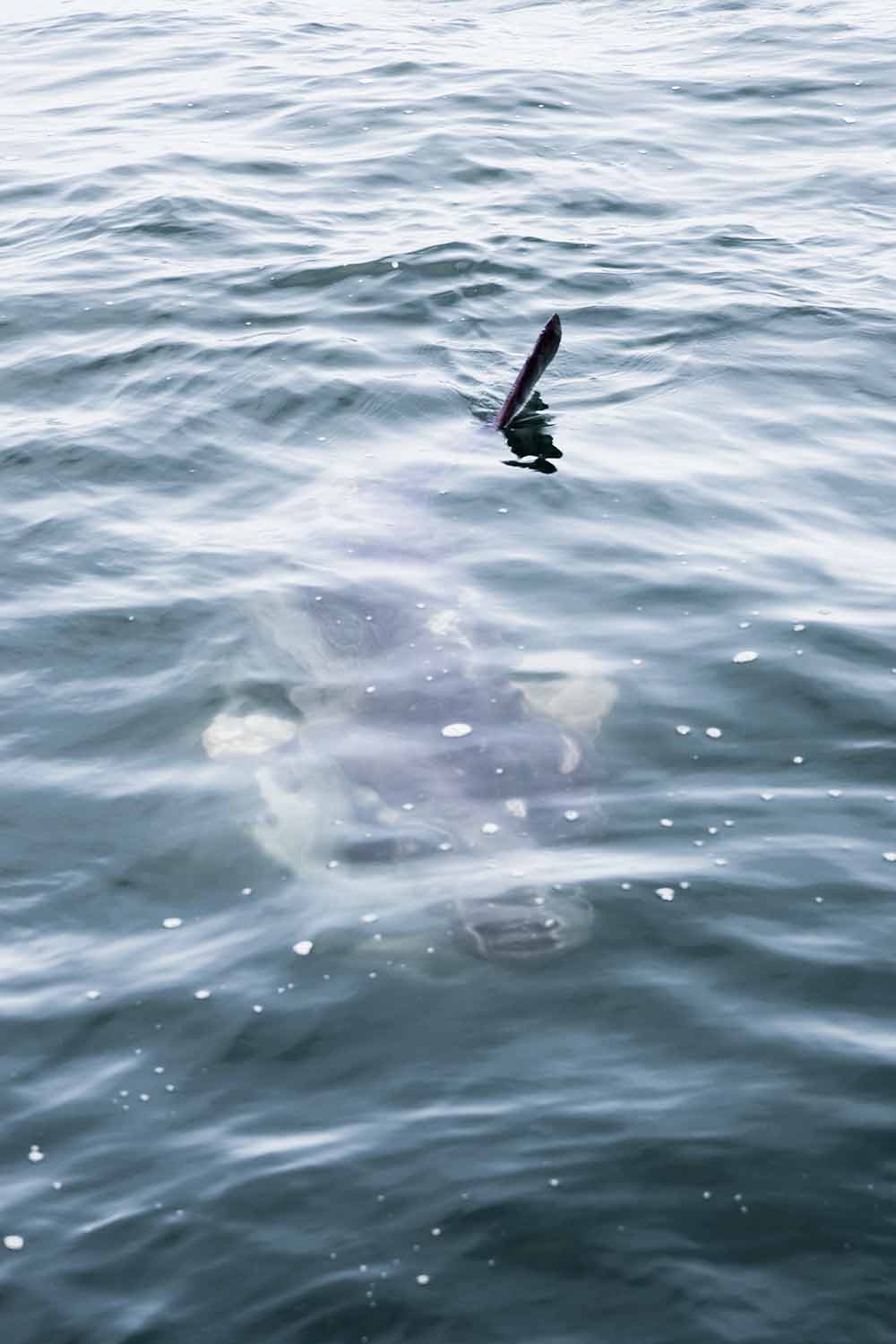 Where to stay in Swakopmund
Swakopmund is not at the very beginning of its tourism journey but luckily, like the rest of Namibia, it's not the mass tourism coastal destination like we know in Europe.
Though a lot of Germans reside here - and even have a second holiday home - it's achieved to keep its original charm. While traveling in low season (January) we were surprised it wasn't more crowded in Swakopmund, a destination at the coast where temperatures are much more agreeable than the sweltering inland.
We opted to stay at a more contemporary hotel that didn't specifically cater to the German tourists and chose The Delight as our base in Swakopmund.
Part of the Gondwana collection, the The Delight Swakopmund appealed to us because of its values. The Gondwana Collection is a company we love to support: it is Namibian, lead by Namibians and is dedicated to sustainability and conservation. The vibrant colors were a delightful and fresh change the to the more natural colors we got used to staying in Namibia's desert. The hotel felt fresh, vibrant and new.
BOOK | THE DELIGHT SWAKOPMUND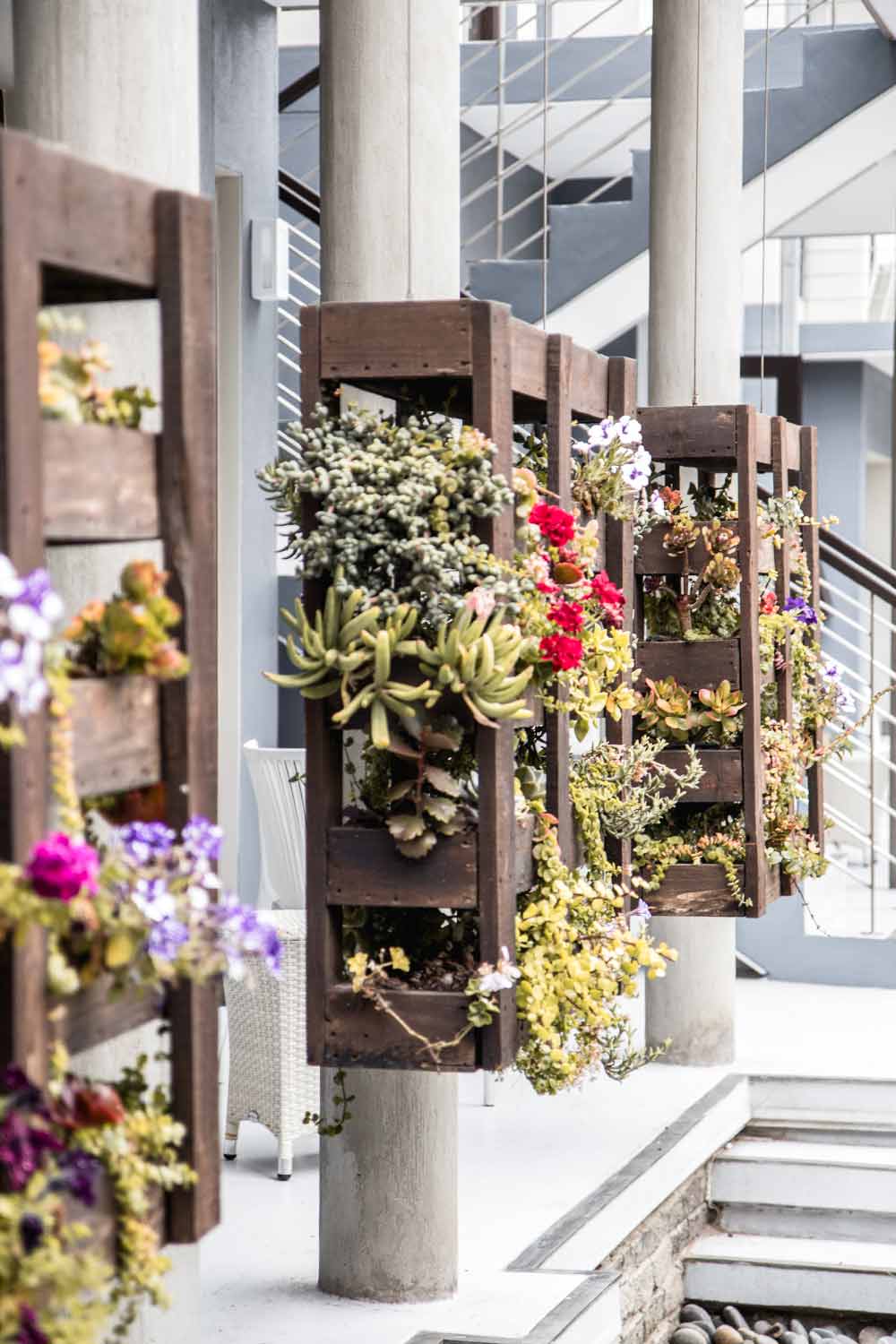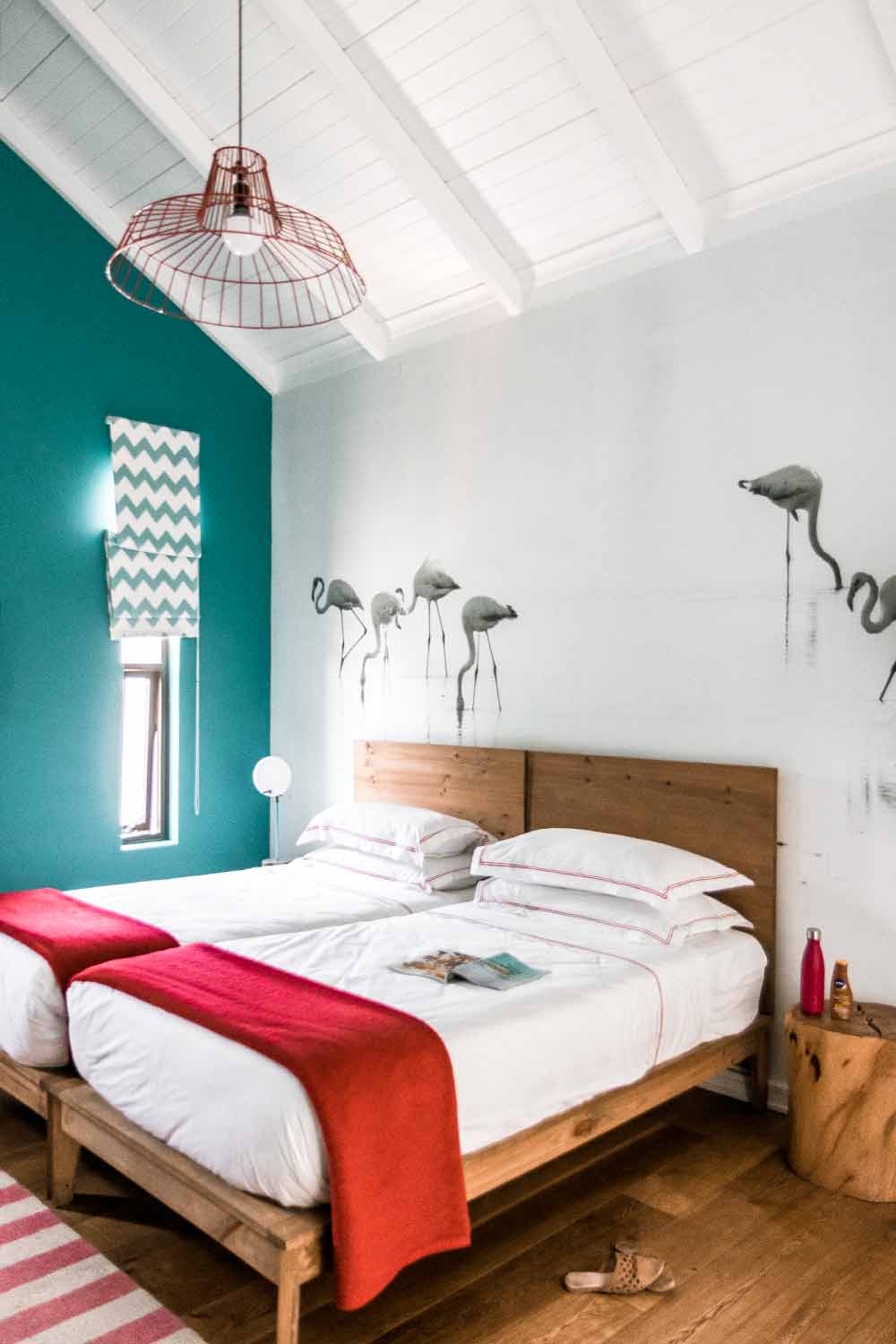 ---
Please note that some of the links in this blog post are affiliate links.
If you choose to purchase through these links, we may receive a small commission at no extra cost to you.