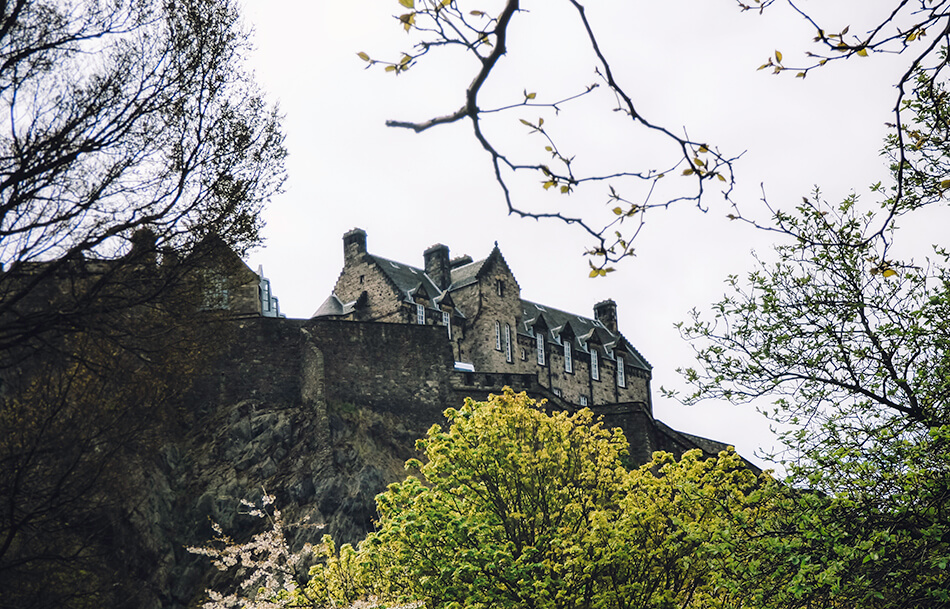 The Athens of the North, quite a name to live up to…
Not many people may know it, but this really is one of the nicknames of one of the most exciting cities we've visited while traveling around the world.
Click

here

to find the best hotels to stay in Edinburgh.
Yes indeed, we chose Edinburgh as the hub for our one-week roadtrip in Scotland. Consequently, we didn't give us that much time to explore this fascinating city and its surroundings. But hey, who doesn't like a challenge? We had 36 hours to fill and we planned way up ahead to make sure we wouldn't have to lose anytime.
For those of you who already start panicking on the foresight of having to rush yourself through this citytrip, don't fret! With good planning and our useful tips, you'll get all the best of the Scottish capital without having to fear you missed out on something crucial.
And that's where we are convinced this blog article will serve as very convenient! You can find our Edinburgh free walking tour
here
.
Important to know when you arrive is that most of the touristic highlights are pretty much in the vicinity of the city's vibrant and well-known Royal Mile. So let's just start from there shall we?
First port of call: The Royal Mile. The Royal Mile connects Holyrood Palace (if you're lucky you might just see the British Royal Family passing by) with the city's most famous historic building: Edinburgh Castle! In between – for about a mile remember – you can find shops giving you a a glimpse of the best things Scotland has to offer: whisky, real Scottish cashmere, …, and many, many eateries.
Although being a little too touristic for the both of us, you really need to take your time to stroll around here and enjoy the atmosphere. Pssssst…don't forget to peep into the hidden closes!
Along your path, you will encounter the statues of David Hume (a philosopher) and Adam Smith (groundlayer of today's modern economic theory) two of Edinburgh's most famous inhabitants.
Look out for the colourful houses of Victoria Street and give your legs a break at the Grass Market which has some cosy pubs and eateries.
Oh and, if you should have a too rainy day, don't forget the nearby National Museum has free entry and has some really fascinating exhibitions going on from Scottish history to fashion and technology. Don't forget to go take a quick look at the rooftop for amazing views over the city and yet another angle to gawk at Edinburgh Castle.
My personal favorite activity in the Scottish capital is the climb to
Arthur's Seat
which starts just a little bit further than Holyrood Palace. It's a very nice, short hike in a beautiful, peaceful natural environment within the city's centre. After a 2 km easy to moderate climb, you'll reach your destination giving you a beautiful overview of Edinburgh's infamous historic centre while being completely surrounded by nature.
Another infamous viewpoint is to be found on Calton Hill. Also not far away from Holyrood Palace. You just take the oppositie direction of the walk leading you to Arthur's Seat. You can take some great pictures or just enjoy the view of the many historic buildings to be sighted while having a short break before heading back to the city centre itself.
Saving the best for last, we want to share two hidden gems for you to discover. They are only a short walk from the Princess Street Gardens, which themselves are situated beneath Edinburgh Castle.
The first one is Dean Village, a peaceful (it is really calm over there) and picturesque side of the town which makes you wonder if you're not all of a sudden somewhere way out of Edinburgh. Take some time to stroll around and enjoy the views and relaxed atmosphere there.
The same applies for Circus Lane, by far the cutest street in all of Edinburgh. Yes it's small but oh so cosy and adorable with its charming little houses, cobblestoned street, …
Edinburgh, a city to remember, and once you've visited it, it'll become a part of your best travel memories forever. You can be sure of it!
Have you been to Edinburgh? What would you add to our walking tour?
Share your ideas in the comments!