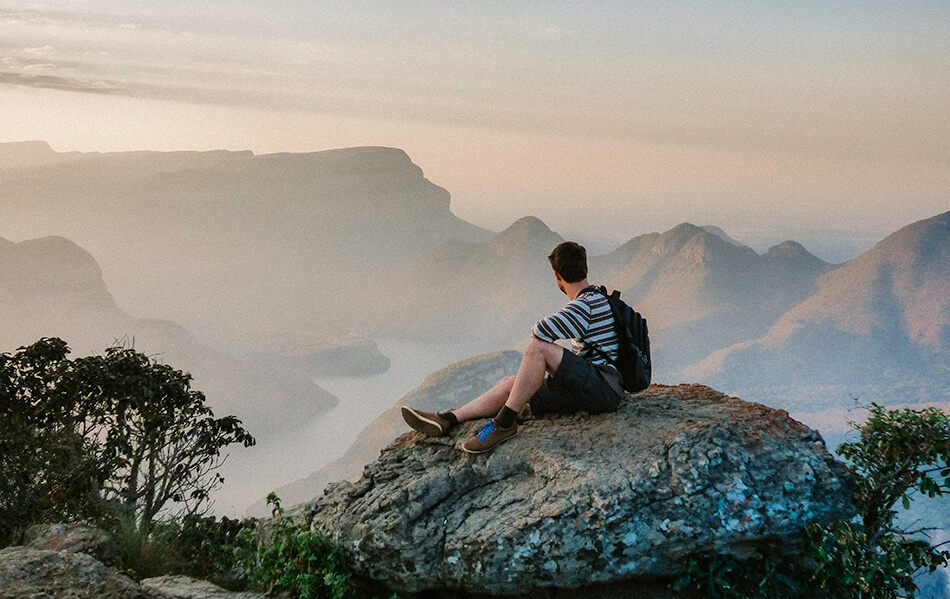 It was quite a puzzle putting together our South African road trip itinerary. There are so many beautiful spots to be found and we had quite the priority list too. Our road trip must, in any case, include a stop in a number of the famous national parks for safari's, offer great hiking opportunities and possibilities to absorb the South-African spirit and culture. Fortunately, the majority of distances in South-Africa are pretty reasonable, which makes for lots of possibilities. Are you also trying to put together a South African road trip travel itinerary? Here are some tips for you as well as our 3 week South African road trip itinerary!
Tips for creating your South African road trip
Public transportation or rental car?
If you like low-budget road trips or backpacking in South-Africa, you needn't think long about it: the bus is your best friend. If you got some more bucks to spend, a rental car is ideal in South-Africa as it will give you all the freedom and comfort you need and save you some precious time as well!
Best travel period?
South-Africa is blessed with excellent weather conditions and can easily be traveled the entire year. If you're planning on indulging on safaris, your best chances to see animals are during the dry South-African winter (June-September). The lack of leaves on the trees will make your field of vision much greater. Moreover, temperatures are cooler and the animals need less cooling off. Try to avoid the Western Cape during that time though, it might be getting lots of rain.
Reversibly, South-African summer (December-March) is an excellent period to discover the dry and hot Western Cape but known for its heavy thundershowers in the rest of the country, including Kruger National Park.
We decided to avoid the rainy Western Cape and famous
Garden Route
during our June travels and to focus on the East of South Africa by doing a roundtrip from/to Johannesburg instead of the usual tourist route from Johannesburg to end with
3 days in Cape Town
(or vice versa).
Our route through South-Africa in 3 weeks
You can do the route below in a minimum of 2 weeks but we would strongly recommend you take 3 weeks for this loop so you have enough time to explore the various destinations at your leisure. If you like to take your time traveling or wish to extend your stay, 4 weeks is even better. Then you have time to linger or add some destinations.
Tempting Jo'burg
Johannesburg
, more commonly known as Jo'burg, is a vibrant city in the heart of South Africa. After many years of apartheid and a history of violence of poverty, the city is now undergoing an incredible rebirth. We experienced Jo'burg as an extremely friendly, unstuffy city with a lot to see, from sobering reminders of the country's recent past at the Apartheid Museum to the bustling Neighbourgoods Market in Braamfontein. So let Jo'burg seduce you and don't let its history and bad reputation hold you back!
Townships
Although Jo'burg is undergoing some major changes, crime and poverty haven't completely been eliminated. Townships such as Soweto are home to many of the city's most disadvantaged residents yet boasts heavy amounts of history and culture. You happen to be in Johannesburg? Then we definitely recommend visiting the Soweto township and the Nelson Mandela Museum.
Impressive Drakensberg Mountains
South of Johannesburg, different national parks in the Drakensberg Mountains form the border with the Kingdom of Lesotho (a small country in the middle of South Africa). If you love hiking, this is your paradise! We would definitely recommend spending a couple of days discovering the various national parks and enjoyed the beauty of God's creation. If you're looking for an extra stamp in your passport, hop on a day trip over the Sani Pass. The trail takes you from the foot of the mountains over a snake winding path through the mountains to the border with Lesotho.
So close to wildlife
From the Drakensberg Mountains we travelled into the Kwazulu-Natal and Mpumalanga provinces, dotted with wildlife parks including famous Kruger National Park. Eastern South Africa is a perfect place for safari's. Many camps also organize walking safaris. These will give you the possibility to explore on foot, under the guidance of a ranger, the vast savannahs and look for the Big Five and other animals.
Panorama Route
What can we say? The Panorama Route definitely lives up to its name! A scenic route takes you past gorgeous vista's and waterfalls. A perfect stop before we would head back to Jo'burg, where we ould start and end the last leg of our South African road trip.
Extending your South African road trip
Victoria Falls
After all those impressions, traveling eastwards to Mozambique or northwards to Zimbabwe is the icing on the cake of a perfect South African road trip. We decided to spent a few days in Zimbabwe to check off one of the items on our bucket list: the famous Victoria Falls!
It was an emotional farewell. Every time I have to leave a country and its beautiful people behind, I silently shed a few tears. After three weeks of impressions, we were definitely not looking forward to go home… we wanted to go further and wanted to see more. When we were getting ready for our flight back home, we made a vow ever to return to this beautiful country.
---
Have you been on a South African road trip? What's the most epic road trip you've ever been on?
---