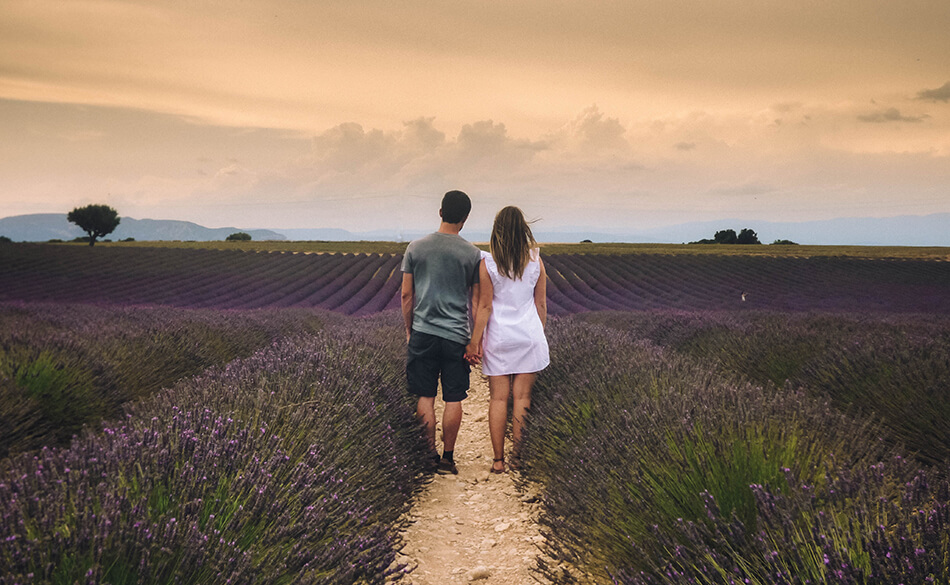 If it's your first time in the Provence, nothing can really prepare you for its romantic, charming, sunny and fragrant setting. It's always a pleasure when a trip lives up to its expectations, and boy did the Provence have a reputation to live up to! The Provence embodies every French fantasy and daydream you've probably ever had… and then some more.
Enjoying wine, French bread and cheese in France must be any food lover's dream. Add dreamy villages and endless fields of fragrant flowers to the mix and you get the ultimate layback getaway in the south of France!
– Where to stay –
Kristof and I arrived to our home for the next four days at Airbnb Les Spirous near Aix-en-Provence (
get a discount for your first booking here
) and immediately fell in love with the property and its super relaxing vibe.
We had our own maisonette, could use the different terraces on the property and most importantly; a gloriously opulent pool!
– Transportation –
The best way to see the Provence is by car. There is public transportation available but then you're limited with timing and the stops you'd like to include along the way. It is super easy to rent a car from Marseille airport and in about 30min we were at our Airbnb in Aix-en-Provence. Having the flexibility of your own car is also a major plus if touring the lavender fields ranks your priority list, certainly if you wish to take some pictures during sunset.
– 7 Suggested experiences –
# 1 – Visit local markets:
Don't miss out on some local markets like
Le Jardin des Senses
. We loved browsing the market and purchased the freshest local produce, fromage et vins locals which make for a distinctively French experience that always seems to have a different flavour when enjoyed in its natural habitat.
# 2 – Les Gorges du Verdon: The Provence is full of delights and one of our favourites is found at Lac Sainte Croix: the entrance into the Gorges Du Verdon. The canyon is known for its bright blue waters and is popular among locals and tourists. Though known for its hiking opportunities, we decided to skip the overland discoveries and joined the crowds on the turquoise blue waters with a paddleboat (€15,00 for one hour). If you had the foresight to bring a pick nick, this would be the ideal location to have one: pull up on the bank, take a plunge in the refreshing water and then feast on your pick nick while getting a glorious tan on the rocks of the Verdon riverbank.
# 3 – Drive the Route des Crètes: Le Palud-sur-Verdon is the starting point for one of the most stunning scenic drives in the area, the Route des Crètes. Along the way you'll find several marvelous viewpoints (belvédères) over the river gorge below.